Age Islam News Bureau
27 Nov 2012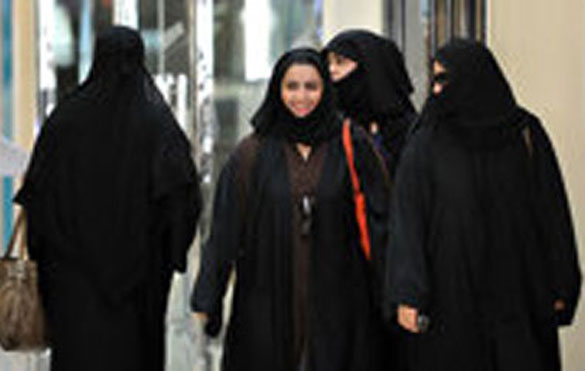 • In Pakistan Five Peasant Girls Gang-Raped For 'Demanding Wages'
• Ethiopian Maid Who Hid Baby in Suitcase Convicted Of Causing Death
• UN Passes First Resolution on Female Genital Mutilation
• Girls' School Torched In Chaghai, Baluchistan
• Egyptian Divorcee Fleeces Former Husband, Flees Country
• Child Marriage Carries Terrible Toll on Girls
• African Children's Choir Share Message of Hope
• Saudi Women to Work in Abaya Shops within Six Months
• On Lessons from Aceh and the Role of Women
• Equal Participation of Women Must In All Sectors: Bangladesh Speaker
• Yemeni Women Demand More Rights
• Rihanna Apologizes to Media over Catastrophic Plane Tour
• Forum to Highlight Women's Role in Promoting Urban Heritage
E• ducated Women Asked To Champion the Cause for Girl-Child Education: Ghana Minister
• Women Human Rights Defenders: Activism's Front-Line
Compiled by New Age Islam News Bureau
Photo: Saudi Women to Work in Abaya Shops within Six Months
URL: https://www.newageislam.com/islam,-women-and-feminism/new-age-islam-news-bureau/calls-to-end-child-marriages-in-malaysia-after-12-year-old-weds/d/9450
-------------
Calls to End Child Marriages in Malaysia after 12-Year-Old Weds
By LIZ GOOCH
November 27, 2012
KUALA LUMPUR — The marriage of a 12-year-old Malaysian girl has outraged advocates for children and women, who called Monday for a ban on child marriage.
The girl, Nor Fazira Saad, married her boyfriend, Mohammad Fahmi Alias, 19, on Nov. 17 and the groom's family held a celebration last Saturday, according to local news media reports.
In Malaysia, a Muslim-majority country, the legal marrying age is 16 for Muslim girls and 18 for Muslim men. However, they can marry before those ages with the permission of their parents and the Sharia courts.
For non-Muslims, the minimum legal age is 18, though a girl can marry as young as 16 with permission from her state's chief minister. Azmi bin Abdul Rejab, a marriage registration officer at the Islamic religious office in Kulim, a town in the northern state of Kedah, confirmed that the Sharia court there had given Ms. Nor Fazira permission to marry.
"It is good that we are marrying early, rather than risk being in an illicit relationship," Mr. Mohammad Fahmi was quoted as saying by The Star newspaper in its Sunday editions.
Ms. Nor Fazira told the newspaper that she had stopped attending school last year but now planned to resume her studies, as her husband had encouraged her to do so. The girl's father, Saad Mustafa, supported the marriage, telling the local news media that it was better for the couple to get married than do something "improper."
A report released this month by the U.N. Country Team Gender Theme Group found that in 2011 Malaysia's Sharia courts had approved 824 marriages involving Muslims in which at least one party was younger than the legal age. The report did not look at marriages involving non-Muslims. Researchers suspect that the overall number of underage marriages is higher because not all couples who have taken part in religious weddings register with the authorities.
Ratna Osman, the executive director of Sisters in Islam, a Muslim women's advocacy group in Kuala Lumpur, said that the 2000 census showed that 6,800 girls and 4,600 boys younger than 15 were married. The 2010 census did not include similar data.
Ms. Ratna argued that the government should raise the minimum marriage age for everyone to 18, rather than allow Sharia courts or state ministers to make exceptions for younger children.
"How did the judge determine that a 12-year-old was ready for marriage?" she asked. She noted that having sex with a 12-year-old girl who is not one's wife is considered statutory rape under Malaysian law.
"Yet once you do it under the name of marriage, she is no longer a minor? Her body has suddenly transformed into an adult body?" Ms. Ratna said. "You would be charged under the law on statutory rape but get permission from the court and suddenly it's O.K. to have sex with a 12-year-old."
Sharmila Sekaran, chairwoman of Voice of the Children, a rights group in Kuala Lumpur, also said the government should outlaw child marriage.
"This should not be happening regardless of the fact that the parents had consented. I don't think parents should be allowed to consent for children the age of 12," she said. "There has been research done which shows that children at the age of 12 are not sufficiently mature to understand their role within a marriage and certainly in terms of becoming parents; they themselves are still children."
Ms. Sharmila added that studies had found that young girls who become pregnant and their babies faced greater health risks than older women.
But Nazri Aziz, the government minister responsible for legal affairs, said the government had no plans to amend the law regarding the minimum legal age of marriage "because it concerns Islamic law."
He said the government could not pass any law that would be inconsistent with Islamic law.
The U.N. report included Malaysian census data showing that in 2010, about 1.4 percent of married women, or more than 82,000, were 15 to 19, up from 1.2 percent, or about 53,000, in 2001.
The researchers interviewed six girls and one boy who married below the legal age and found that their reasons for getting married included to avoid premarital sex, which is forbidden under Islam; to avoid being arrested for Khilwat, an Islamic offense in which unmarried men and women are found together in "close proximity;" coercion by family elders; and pregnancy.
This article has been revised to reflect the following correction:
Correction: November 27, 2012
Because of an editing error, an article on Tuesday about child marriage in Malaysia misspelled the surname of the government minister responsible for legal affairs in Malaysia. He is Nazri Aziz, not Nazri Zziz. The article also misidentified the United Nations agency that produced the report on child marriage. It is the U.N. Country Team Gender Theme Group, not the U.N. Population Fund.
http://www.nytimes.com/2012/11/27/world/asia/calls-to-end-child-marriages-in-malaysia-after-12-year-old-weds.html?_r=0
------
In Pakistan Five Peasant Girls Gang-Raped For 'Demanding Wages'
By Asad Kharal
November 27, 2012
LAHORE: A family of farmers in Punjab had to pay a heavy price upon asking for their wages – five of their teenage girls were allegedly gang raped by eight local landlords in Kitro, Sheikhupura district.
According to B*, a resident of Noon village, his daughter and nieces – all between 14 and 18 years – were abducted by the landlords and taken into the fields, where they were gang raped.
The girls are all unmarried, police officials said.
B and his family, who had two weeks ago temporarily moved to Kitro to work in the fields, had demanded their two-week salary from their employers – Zaheer and Tassadaq, alias Mara Jutt.
In turn, the two 'infuriated' landlords and their accomplices warned them of 'dire' consequences. Their threats materialised later that night when they attacked B's dera and tied up his family with ropes, before taking off with the girls.
According to contents of the FIR, B said they managed to set themselves free and set off on a search for the girls and the men. They found the girls in the field, while the accused managed to escape.
Chief Minister Shahbaz Sharif visited the residence of B, the complainant in the case, and directed the police to immediately arrest all the accused.
He also presented cheques to the victim's family, and assured them that the accused would be brought to justice.
Four out of the eight accused have been identified as Tassadaq alias Mara Jutt, Noor Ahmad alias Noori, Aqeel, Zaheer Ahmad, while the identities of the other four is yet to be ascertained.
The victims were shifted to the District Headquarters (DHQ) Hospital in Sheikhupura.
Narang Mandi Police Station SHO Chaudhry Muhammad Iqbal while talking to The Express Tribune said that initial medical reports confirmed that the girls were raped.
A case has been registered with the Narang Mandi police station against the eight accused men, the SHO said.
He added that three of the main accused have been arrested, while the remaining would be arrested soon. *name has been concealed to protect The VICTIMS' privacy
http://tribune.com.pk/story/471498/brutal-punishment-five-peasant-girls-gang-raped-for-demanding-wages/
--------
Ethiopian Maid Who Hid Baby in Suitcase Convicted Of Causing Death
27 November 2012
A 29-year-old maid, who suffocated her newborn daughter after she put her in a suitcase to hide her from her Emirati sponsor family, has been sentenced to a suspended one-year prison sentence.
The Ethiopian housemaid, who will be deported, has been on trial for murder in the Court of First Instance.
According to court records, she had an illicit sexual relationship with a Pakistani man and she killed the baby by hiding her for several hours inside a suitcase, one day after her birth.
She and the Pakistani have also been charged with illicit consensual sex in the Court of Misdemeanours.
The maid admitted in the investigation that she got pregnant from an illicit relationship and admitted she gave birth on April 26. But she said the baby had been stillborn. She said she cut her umbilical cord with a kitchen knife the following morning, before wrapping her in clothes and a towel and placing her in a suitcase for several hours.
The body was found by the sponsor's 17-year-old son who said the family entered her room, outside the house, on April 27 and searched her bags against her will, after she skipped work the previous day.
The forensic doctor said the baby was about one-day old and normal and that she died due to asphyxiation.
http://www.khaleejtimes.com/nation/inside.asp?xfile=/data/courtroundup/2012/November/courtroundup_November70.xml&section=courtroundup
-------------
UN passes first resolution on female genital mutilation
Nov 27 2012
United Nations : The UN General Assembly passed its first resolution condemning female genital mutilation, which opponents say more than 140 million women worldwide have had to endure.
Though outlawed in most nations, the measure represents the first time the traditional practice in African and Middle East nations has been denounced yesterday at such a high level in the United Nations.
More than 110 countries, including more than 50 African nations, co-sponsored the resolution in the General Assembly's rights committee, which called on states to "complement punitive measures with awareness-raising and educational activities" to eliminate female genital mutilation.
Full report at:
http://www.indianexpress.com/news/un-passes-first-resolution-on-female-genital-mutilation/1036916/
-------------
Girls' School Torched In Chaghai, Baluchistan
27 November 2012
QUETTA: Unidentified people on Monday set on fire a girl's school in mineral-rich Chagai District of Baluchistan. According to Levies sources, the incident occurred in the area of Afghan refugees' camp in Killi Rehmatullah. They also said that the unidentified people, using kerosene oil, set the boundary of the school on fire, resultantly some rooms and its boundary were burnt. "The fire broke out and engulfed three rooms and veranda of the school building, damaging the things present in the rooms," Levies officials said. They added that the area where girls' school was torched is close to the Pakistani area bordering Afghanistan and Iran. Full report at:
http://www.dailytimes.com.pk/default.asp?page=2012\11\27\story_27-11-2012_pg7_7
-------------
Egyptian Divorcee Fleeces Former Husband, Flees Country
27 November 2012
An Egyptian woman deprived her ex-husband of almost all of his Dh43, 000 monthly incomes in a divorce settlement for more than five years, before fleeing to Europe with the pair's two children and her new husband.
The woman got married to her countryman and moved with him and their two children to the UAE. But the marriage dissolved, with the woman winning custody and assurance that her ex-husband would provide a home for them to live in, a housemaid, all utility bills and the fees for an expensive school the children attended, alongside other personal expenses.
Full report at:
http://www.khaleejtimes.com/kt-article-display-
-------------
Child Marriage Carries Terrible Toll on Girls
November 26, 2012
After an unforgivably long time, the revolutionary idea that girls should get the same education as boys seems to be gaining acceptance. What's surprising, then, is that one of the great impediments to keeping girls in school – particularly girls in the developing world – remains largely unremarked upon and unaddressed. By this we mean the stubborn persistence of child marriage.
Child brides remain alarmingly common. An estimated 10 million marriages occur worldwide each year in which at least one spouse, usually the female, is younger than 18. In 16 countries, half of girls marry by that age. West Africa has the highest incidence of child marriage, South Asia the largest numbers. In many places, brides are preposterously young. In Niger, 36 percent of girls are wed before turning 15.
Full report at:
http://www.theolympian.com/2012/11/26/2332279/child-marriage-carries-terrible.html#storylink=cpy
-------------
African Children's Choir share message of hope
26 November 2012
Hearts melted and eyes moistened as the young ambassadors for Africa's vulnerable children brought joy to this small corner of the world.
With their impressive singing, dancing and percussion skills, colourful clothes and beaming smiles, the African Children's Choir shone like a rainbow at the end of a wet weekend.
Tupton Hall School's hall was full to capacity last night (Sunday, November 25) to hear the choir which had sung on Gary Barlow's song for Queen Elizabeth's diamond jubilee "This is for our Queen," said one of the little girls in the choir as she introduced a delightful performance of Sing.
Full report at:
http://www.derbyshiretimes.co.uk/lifestyle/what-s-on/african-children-s-choir-share-message-of-hope-1-5167539
-------------
Saudi Women to Work In Abaya Shops Within Six Months
27 November 2012
The Ministry of Labour will start allowing women to work in accessories and Abaya stores within six months.
Fahd Al-Nikhaifi, assistant undersecretary in the Ministry of Labour and director of women's employment in private sector, said the plan excluded perfume and eyeglasses stores.
Al-Nikhaifi said the ministry's strategy is to follow up on the implementation of the resolution by appointing supervisors from Taqat employment centre, which helps job seekers.
Full report at:
http://www.arabnews.com/women-work-abaya-shops
-------------
On lessons from Aceh and the role of women
November 26 2012
On Nov. 13 and Nov. 14 this year, The World Bank conducted site visits to several post-tsunami development projects across Aceh. The organization is part of the Multi Donor Fund (MDF), which was set up shortly after the 2004 earthquake and has since pooled US$655 million from 15 donors for various rebuilding efforts in Aceh. During the visit, The Jakarta Post's Iman Mahditama talked with World Bank vice president for East Asia and the Pacific Pamela Cox about the progress of the development projects so far. The following is an excerpt of that interview.
Full report at:
http://www.thejakartapost.com/news/2012/11/26/on-lessons-aceh-and-role-women.html
-------------
Equal Participation of Women Must In All Sectors: Bangladesh Speaker
27 November 2012
Equal participation of women must be ensured in socio-economical, political and cultural activities to achieve the expected development of the country, said Abdul Hamid, Speaker of the parliament, yesterday.
Terming violence against women a social disease, he said necessary steps must be taken to make every woman aware of her rights and provide them with sufficient legal and economical security to end violence against women.
Full report at:
http://www.thedailystar.net/newDesign/news-details.php?nid=258921
-------------
Yemeni Women Demand More Rights
Abdurrahman Shamlan
November 27, 2012
Only one female lawmaker in parliament, nearly 60 percent of women are illiterate
Sana'a — "My face is not shameful; I have every right to walk in the street without covering my face and not be cursed or harassed by people," posted a 20-year-old Yemeni girl on her Facebook page. Her comment drew mixed reactions, reflecting Yemenis' polarized positions regarding women's rights.
"You are right and we all stand by you," posted Yusif Saleh, adding "Who said women's faces are shameful?
But another responder, Mohammed Ali, felt very differently. "You can't under any circumstances call into question our Islamic teachings and you just have to take them as they are," he wrote.
Full report at:
http://themedialine.org/news/news_detail.asp?NewsID=36553
------
Rihanna Apologizes to Media over Catastrophic Plane Tour
November 26, 2012
Flying in the face of the title of her new album "Unapologetic," Rihanna has apologized to journalists, after they joined her on a seven-day, seven-country, seven-concert trip that turned out to be a publicity catastrophe.
The tour on a Boeing 777 had begun on an agreeable note, with the 24-year-old R&B star pouring champagne for the press on day one, Nov. 14, en route from Los Angeles to Mexico City, said The Hollywood Reporter.
Full report at:
http://www.thejakartaglobe.com/lifeandtimes/rihanna-apologizes-to-media-over-catastrophic-plane-tour/558289
--------
Forum to Highlight Women's Role in Promoting Urban Heritage
27 November 2012
The Second National Urban Heritage Forum will be held under the patronage of Eastern Province Governor, Prince Muhammad bin Fahd from Dec. 10-12. The event will have a special session highlighting women's role in promoting national urban heritage.
The forum will highlight women's active role in boosting the Kingdom's traditional architecture and encouraging more women to take part in reviving and preserving this sector. Saudi women have acquired a notable reputation for their interior design works, especially in Jazan and Asir areas, manifested in decorating the walls of houses with color embellishments, bespeaking natural beauty.
Full report at:
http://www.arabnews.com/forum-highlight-women%E2%80%99s-role-promoting-urban-heritage
-------------
Educated Women Asked To Champion the Cause for Girl-Child Education: Ghana Minister
Nov 26 2012
Cape Coast, Nov. 26, GNA - The Central Regional Minister, Mrs Ama Benyiwa Doe has called on women who have benefited from education to serve as role models and champion the campaign for the education of the girl child.
She said education was the only tool that would quicken the empowerment of women in the country and that it was time for all to put their hands on deck to ensure that many more girls were sent to school.
Mrs Benyiwa Doe was addressing the Cape Coast chapter of the Mfantsiman Old Girls Association (MOGA) in Cape Coast after a peace march to climax its first anniversary celebration.
Full report at:
http://www.ghananewsagency.org/details/Education/Educated-women-asked-to-champion-the-cause-for-girl-child-education/?ci=9&ai=52891
-------------
Women Human Rights Defenders: Activism's Front-Line
26 NOVEMBER 2012
JENNIFER ALLSOPP
There is growing recognition by the international community that women human rights defenders are best placed to respond to violence against women and a crucial force for peace; but the international protection framework needs to be made more accessible to those in need, says Jennifer Allsopp.
"Women human rights defenders are passion holders, speakers, people with a vision, we hold the front-line." - Betty Makoni
Full report at:
http://www.opendemocracy.net/
--------
URL: https://www.newageislam.com/islam,-women-and-feminism/new-age-islam-news-bureau/calls-to-end-child-marriages-in-malaysia-after-12-year-old-weds/d/9450