New Age Islam News Bureau
11 March 2018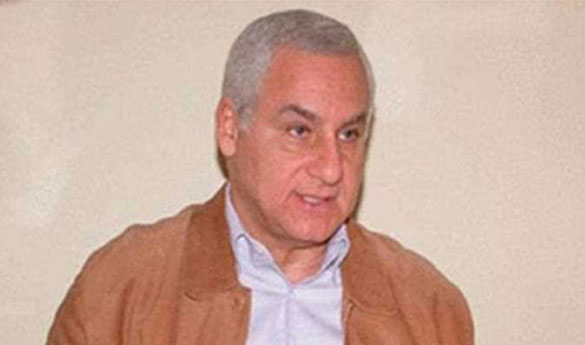 Photo: In "Urgent Message to Egypt's Women," controversial author Cherif Choubachy says the hijab became widely worn in Egypt in the late 1960s and early 1970s with the rise of political Islam and the Muslim Brotherhood movement.
----------
• Kerala Love Jihad Case: Hadiya Thanks PFI for Support, Asks What's Wrong In Converting To another Religion
• Actress Suzan Najm Aldeen Shows Respect for Cairo's Mosques with a Hijab Look
• Violence against Women Remains Rampant In Indonesia
• Tunisian Women March for Same Inheritance Rights As Men
• Careem Pledges to Recruit 20,000 Female Captains By 2020
• Divorced Saudi Mothers Win New Rights to Child Custody
• Meet Pakistan's Fierce Female Kick boxer Who's Inspiring Other Girls to take up the Sport
• British Indian MP Priti Patel Rejects Labels for Minorities
• International Women's Day, A Time to Reflect on Gender Rights in the Arab World
• Poor Economy and War Forcing Yemeni Women to Break with Tradition and Become Breadwinners
• Kuwaiti Women Choose Competitive Shooting as Launchpad for Success
• Arab Mothers Describe Cross-Cultural Experience Raising a Child In The UK
Compiled by New Age Islam News Bureau
URL: https://www.newageislam.com/islam-women-feminism/call-egyptian-women-remove-hijab/d/114553
--------
Call on Egyptian women to remove hijab provokes a heated debate
Choubachy said Islamist movements use the hijab to exploit political and economic failures to further their agenda.
March 11, 2018
CAIRO - A book urging women to stop wearing the Islamic headgear known as the hijab is stirring heated debate in Egypt and unnerving the country's Islamists, especially its ultra-orthodox Salafists.
In "Urgent Message to Egypt's Women," controversial author CherifChoubachy says the hijab became widely worn in Egypt in the late 1960s and early 1970s with the rise of political Islam and the Muslim Brotherhood movement.
The emergence of that attire coincided with the 1967 defeat of the Egyptian Army by Israel and the occupation of the Sinai Peninsula, entailing the collapse of Arab nationalism, which was strongly propagated by late pan-Arabist leader Gamal Abdel Nasser.
"Instead of nationalism, the general public, suffering deep frustration at the time, found solace in religion," Choubachy writes in his book.
This retreat from Arab nationalism into religion was aggressively manipulated by the Muslim Brotherhood and other Islamist movements to achieve political goals.
"One of the objectives was, of course, for the radical thinking of these groups to prevail. In this, the hijab turned from a mere headgear to a political statement," Choubachy said.
Egypt's Muslim conservatives, the Salafists in particular, were angered by the call that those who want women to be allowed to show their hair "only want to spread vice."
They rejected the notion that the hijab was linked to the rise of political Islam. "The hijab was present hundreds of years before the world came to know political Islam or the Muslim Brotherhood," claimed leading Salafist Walid Ismail. "This is less about hijab and more about the anti-Islam sentiment some authors are trying to promote in our society."
Choubachy, who spent 20 years in Paris working at UNESCO and then for Egypt's Ahram newspaper, said Islamist movements use the hijab to exploit political and economic failures to further their agenda.
In the 1970s, the Muslim Brotherhood tried to convince female university students that covering their hair and body was a sign of religious piety. The Brotherhood even bought scarves as gifts for female university students who agreed to wear the hijab.
"We paid for these scarves from our own pockets to encourage the girls to wear the hijab," Brotherhood leader Mahmoud Ghozlan said in 2012 at the height of the movement's political empowerment in Egypt.
Egyptian writer Farida al-Naqqash said the group specifically sought poor female university students from the countryside who considered the free headgear a gift they should not miss.
"This was how they ensured that the largest number of women would wear the hijab," Naqqash said.
She said she recalled Mohamed Mahdi Akef, the late head of the Muslim Brotherhood, saying that the group would only prevail when all Egypt's women wore the hijab.
Choubachy said he saw more women wearing the hijab day after day. However, he noticed that, as the society covered up, sexual harassment and unregistered marriages among university students increased.
He first called on women to take off their hijabs in an April 2015 Facebook post, which triggered angry reactions including being called an "enemy of Islam."
In his book, he cites some of the Facebook messages he received in response to his call. For two years, he says, he received virulent and often obscene messages, mostly from people claiming to defend an important tenet of Islam.
Choubachy said he was not surprised that his call made him a nemesis of Egypt's Islamist groups.
"I expected a shocking reaction to this invitation," he said. "I was considered a disbeliever before, anyway."
He specifies that his call is addressed only to women who are coerced by male family members to wear the hijab. In encouraging women to revolt against male domination he wants them to be free.
"My battle against the hijab is one against despotism and suppression," Choubachy writes. "It is a battle against the coercion of women and turning them into second-class creatures."
thearabweekly.com/call-egyptian-women-remove-hijab-provokes-heated-debate
--------
Kerala Love jihad case: Hadiya thanks PFI for support, asks what's wrong in converting to another religion
Mar 11, 2018
Kerala-based Hadiya, an alleged victim of love jihad, has expressed happiness at being "free now," days after the Supreme Court set aside a Kerala High Court order annulling her marriage with a Muslim man.
"I am happy to be free now," she said after visiting Popular Front of India (PFI) chairman E Aboobacker along with her husband, Shafin Jahan.
Speaking to reporters, Hadiya said her marriage became a topic of discussion only because it was accompanied by religious conversion. What was wrong in converting to another religion?" she asked.
They called on the PFI chairman to thank him for standing with them in fighting their case, Hadiya said.
"I approached many other Muslim organisations to help me with my desire to embrace Islam. It was only PFI which stood by my side and helped us fight the case legally in the apex court," she said.
Hadiya said she would like to express her gratitude to PFI for standing by her side when others refused to help.
DNA Edit - It's Hadiya's choice: Supreme Court once again come to the rescue of ordinary individuals
During the campaign for the Gujarat elections, BJP president Amit Shah had castigated Congress-supported candidate JigneshMevani for allegedly accepting money from PFI. He had said: "JigneshMewani'spictures of accepting money from PFI has gone viral. PFI has always indulged in anti-national activities. Rahul Gandhi meets such a person who has relations with an anti-national outfit and Congress gives up its seat for him for vote bank consolidation. Congress knew of his relations with PFI otherwise they would have given him a Congress ticket. They knew of the relations so they made him contest as an independent candidate and supported him from outside"
In November 2017, a sting operation carried out by a TV channel allegedly showed members of the PFI admitting they received hawala funding from Gulf countries. Six PFI members had allegedly joined ISIS claimed by Kerala police. However, the Kerala police had denied reports that they had demanded a ban on the PFI.
The expose showed members of the PFI admit that they receive hawala funding from Gulf countries and ran elaborate conversion factories.
Also in November, union minister RS Prasad had warned that the Centre would consider using anti-terrorism laws to ban the PFI, saying the home ministry has been given a report linking it to terror activities. The National Investigation Agency (NIA) had claimed that the group was involved in terror acts.
The sting, Prasad said, has caught PFI founding members saying that they received funding from abroad and had converted over 5,000 persons to Islam, and an Islamic state was their final goal. "You in India are running a terrorist group with an aim of making an Islamic state by taking funds from abroad. Young sons and daughters are being radicalised for this. It is a very serious threat to the national security," he had said.
The apex court had on March 8 set aside a Kerala High Court order annulling her marriage to Jahan.
Hadiya is pursuing her mandatory house surgeon internship at the Sivaraj Homeopathic Medical College and Research Institute in Tamil Nadu's Salem district for completing her Bachelor in Homoepathy Medicine and Surgery (BHMS) course.
The supreme court had in August last year asked the National Investigation Agency to probe the case of conversion and marriage of Hadiya, as the agency claimed a "pattern" was emerging in Kerala.
The matter came to the fore when Jahan had challenged a Kerala High Court order annulling his marriage with her and sending the woman to her parents' custody.
On November 27 last, the apex court had freed Hadiya from her parents' custody and sent her to college to pursue her studies, even as she had pleaded that she should be allowed to go with her husband.
The high court had in May last year annulled the marriage terming it as an instance of 'love jihad', following which Jahan had approached the apex court.
dnaindia.com/india/report-love-jihad-case-hadiya-thanks-pfi-for-giving-her-legal-aid-2592758
--------
Actress Suzan NajmAldeen Shows Respect for Cairo's Mosques With a Hijab Look
Published March 11th, 2018
NajmAldeen wrote that she toured Cairo's Al-Azhar area and the Hussien Mosque. (Source: suzannajmaldeen - Instagram)NajmAldeen wrote that she toured Cairo's Al-Azhar area and the Hussien Mosque. (Source: suzannajmaldeen - Instagram)
Fans commended Syrian actress Suzan NajmAldeen's style after she donned a headscarf while touring Old Cairo's historic religious sites in a recent visit.
The actress' followers on Instagram commented on her elegance in the hijab and praised the respect she showed for the mosques she was visiting.
NajmAldeen wrote that she toured Cairo's Al-Azhar area and the Hussien Mosque.
She also shared a video of herself performing prayers during the tour, while captioning it: "may Allah accept the good deeds from you and us."
The Syrian actress is preparing for a new film, inspired by her successful role in her latest TV soap "Shouq", which has earned her wide acclaim across the Arab world.
albawaba.com/entertainment/actress-suzan-najm-aldeen-shows-repect-cairos-mosques-hijab-look-1100636
--------
Violence against women remains rampant in Indonesia
ISMIRA LUTFIA TISNADIBRATA | Published — Sunday 11 March 2018
JAKARTA: Indonesia's National Commission on Violence Against Women, or KomnasPerempuan (KP), recorded last year an increase in violence against women, mainly in private domain, by 25 percent from 259,150 reported cases in 2016 to 348,447 in 2017.
A KP commissioner, ThaufiekZulbahary, told Arab News that the commission also recorded a rising trend of incest and cyber-based violence against women, in which women fell victim to bogus work recruitment, cyber harassment, malicious distribution, online defamation and infringement of their privacy, among others.
"Cyber-based violence has emerged massively but there's a lack of reporting and handling of the cases. Cyber-based violence degrades women's lives. They can fall victim to it more than once and the case affects them for the rest of their life," Zulbahary told Arab News.
The KP released its annual report on violence against women on March 8 every year since 2001 in conjunction with the International Women's Day. The commission recorded cases of violence against women that occur at private, community and state level.
"Cases of abuse against women are increasing in varied forms while response from the authorities remains slow. The trend also shows that the perpetrators are those in the productive age bracket," Zulbahary said.
Another KP commissioner, Mariana , told Arab News that husbands being abusive to their wives constitute the largest part of the reported cases occurring in private domain, with 5,167 cases, followed by 2,227 cases of violence against daughters or young girls and 1,873 cases of abusive dates.
The report also recorded 1,210 cases of incest committed by older males.
Human trafficking cases involving women tricked into bogus recruitment by men in their community also marked violence against women at community level.
Most of these women were lured into recruitment with the promise to work as a migrant worker in neighboring Malaysia or Middle Eastern countries, where domestic workers from Indonesia are in high demand, despite a government-imposed moratorium on placement of Indonesian domestic workers to 21 countries in the Middle East since 2015 following a string of abuse cases of Indonesian migrant workers by their employers.
TyasWeningsihPutri was a victim of trafficking when she tried her luck to work in a bird's nest cultivation factory in Malaysia. It was her second time to work as a migrant worker in Malaysia so she was able to sense that something was wrong when her local ID bears an address that is different with the location of the factory where she worked.
She told Arab News that she did not receive the 900 ringgit salary that was promised to her and when the police raided the factory in March 2017, she wasn't immediately freed but had to endure another two months in jail on immigration violation charges. She was freed in May and had returned to her hometown in Kendal, Central Java now.
The KP urged the Parliament to pass the Violence Against Women Bill into a law while ensuring it has a gender perspective of human rights and protection to victims.
"The police also has to start thorough documentation on femicides so they can have a map on what causes the problem and determine steps to prevent and deal with the cases," said KP Deputy Chairwoman YuniyantiChuzaifah.
arabnews.com/node/1263651/world
--------
Tunisian women march for same inheritance rights as men
AFP | Published — Saturday 10 March 2018
TUNIS: Tunisian women led a march by more than 1,000 demonstrators Saturday, including men, to demand equal inheritance rights for both sexes in the North African country.
Tunisia's inheritance law is based on Islamic jurisprudence stipulating that men inherit double the amount received by women.
The demonstrators marched to the seat of parliament in the Tunisian capital chanting equal inheritance rights "are a right, not a favour".
Last year, President BejiCaidEssebsi announced plans to set up a commission to examine "individual liberties" and "equality in all domains", including inheritance.
His announcement sparked opposition from Muslim clerics who issued a statement saying the proposals amounted to "a flagrant violation" of Islamic precepts.
Tunisia, which adopted a 1956 Personal Status Code extending several rights to women and abolishing polygamy, is seen as a pioneer on women's emancipation in the Arab world, although tensions often surface between conservatives and reformists.
The 2011 revolution in Tunisia toppled the regime of autocratic president Zine El Abidine Ben Ali and sparked uprisings across the Arab world, where changes to inheritance rights are considered a taboo.
But activists on Saturday stressed the demand for equality among the sexes in Tunisia.
"There must be equality, it is in the constitution," adopted after the 2011 uprising, said Sana Ben Achour, president of the Beity association which supports women.
arabnews.com/node/1263501/middle-east
--------
Careem pledges to recruit 20,000 female Captains by 2020
ARAB NEWS | Published — Sunday 11 March 2018
Careem, a leading ride-hailing app in the region, has announced its commitment to recruit more women as "Captains" (Careem drivers) on its platform. Founded in 2012 in Dubai, Careem now has a footprint of close to 100 cities across the wider Middle East and some 500,000 Captains signed up to its platform.
Careem currently has female Captains in the UAE, Egypt, Pakistan, Jordan, Morocco, Lebanon, and Palestine. Despite societal norms of driving being a job associated only with men, Pakistan leads the female fleet in numbers and sees female Captains signed up to drive bikes and rickshaws as well as cars.
Following the historical announcement in Saudi Arabia in September 2017 that women would now be allowed to drive, Careem was quick to register more than 2,000 women across Riyadh, Jeddah and Dammam. With a female-only call center already operational in Jeddah, Careem will look to launch a female-only training center in the Kingdom later this year with specialized training materials and female coaches.
The Women Captains Committee at Careem will work on a range of projects such as improving experience for female Captains in all markets as well as preparing female Captains to drive in Saudi Arabia. The committee includes Captain Experience, Safety and Security, Social Impact, Sustainability and Supply teams, who together, will create tailored programs for female Captains to both attract and retain them. In light of the ongoing instability in certain areas of the region, heightened safety and security measures will be put in place to keep female Captains safe.
Careem said it will also address the needs of mothers wishing to register on their platform, looking into incentive structures and comfortable, flexible environments for them to work in.
MudassirSheikha, CEO and co-founder of Careem, said: "We realize that up until today we have focused our efforts predominantly on attracting and catering to male Captains.
It's time for us and the entire industry to wake up. Not only is there a moral obligation to do so, but there's also a huge opportunity to grow our business around women and give them the economic opportunity to excel. Women are often the primary breadwinners and are looking for alternative, flexible ways to support their families."
arabnews.com/node/1263596/corporate-news
--------
Divorced Saudi mothers win new rights to child custody
RUBA OBAID | Published — Sunday 11 March 2018
JEDDAH: Divorced women are no longer required to file a lawsuit to gain custody of their children, provided there are no disputes between the parents.
Mothers may now simply submit a request to the relevant court, without the need for legal action.
The new process was outlined in a circular to the courts from Sheikh Walid Al-Samaani, the minister of justice and president of the Higher Council of the Judiciary.
The circular also gives the mother the right to carry out all formalities related to her children at government departments, embassies, education offices and schools, and to apply for and collect her children's passports.
She will also be able to collect all child support and maintenance from government and civil entities, but may not travel with her children outside the Kingdom without a judge's permission.
"In the past, the mother had to file a lawsuit for the right to custody of her children, and it could take a very long time, which had negative effects on the mother, the family, and particularly the children," the prominent Jeddah lawyer MajedGaroub told Arab News.
"Protracted litigation over custody was hard for the mother, and there were litigation expenses too,.
"It was a great strain for the mother, the father would be contesting her over custody, and the case would go the the court of appeal, and it could start all over again. However, now it is radically different. The priority of custody of children goes automatically to the mother."
arabnews.com/node/1263631/saudi-arabia
--------
Meet Pakistan's fierce female kickboxer who's inspiring other girls to take up the sport
RameeshaShahid was the only female student at the time to join K7 Fitness & Kickboxing Academy
"I doubt there is any sport which I have not tried my hand at," says RameeshaShahid, the first and only female kickboxing instructor in Pakistan. "But kickboxing kind of stuck with me."
There are around 15 to 18 girls in workout gear in her morning class. "I have around 30 female students," she says. "The rest take my evening class." Rameesha teaches kickboxing in two shifts at the K7 Fitness & Kickboxing Academy in Karachi.
And when she is free from her classes, you will find her cycling with 'Critical Mass' or maybe horseriding. Check for her on the cricket field, too. "I just can't remain still. I have to be doing something and it has to be some sort of physical activity," she says. Sometimes she also sneaks into the children's gym classes at K7 to pick up tips on gymnastics. Then you'll find her doing headstands, handstands and cartwheels!
"Everyone's been calling me 'tomboy' since I was little," Rameesha smiles. "We used to live in a joint family near Hill Park in Karachi. My cousins and I had this pastime of uphill cycling or watching World's Most Amazing Videos on AXN and trying to reenact them ourselves," she says.
I earned my black belt when I was 14 in Class Eight," she says.
"The older boys in the family always wanted me to bowl as they practised their batting, which helped me become good at cricket too. I was even selected for the women's national team as a teenager when I went for trials but then when I heard that that would mean giving up my studies or wasting a year or two due to our busy schedule, I dropped the idea of playing professionally. Now I only play Ramazan Cricket with 'KheloKricket'," she adds.
In school, Rameesha discovered Taekwondo. "I must have been 10 then. And I earned my black belt when I was 14 in Class Eight," she says. Rameesha's specialty is breaking ice and bricks.
Having a solid base in martial arts, she had no problem switching to kickboxing later. "I was googling badass sports one day and kickboxing came up. I thought it should be fun. There were very few clubs or academies here offering kickboxing. But then I stumbled upon K7 Fitness & Kickboxing Academy. It is near Zamzama Park, which was also close to my home. I decided to pay it a visit," she says.
It was one year of tough practice before she graduated as a master.
Rameesha was really impressed by the skill of the other kickboxers there. "They were serious practitioners of the sport, I wanted to join them," she says. But they had no other female student. Still, seeing her interest, the chief instructor, Master Jamil Chandio, who himself is an international fighter and a multiple-time national champion, took her on as a student.
"I just can't remain still. I have to be doing something and it has to be some sort of physical activity," she says. Sometimes she also sneaks into the children's gym classes at K7 to pick up tips on gymnastics. Then you'll find her doing headstands, handstands and cartwheels!
It was one year of tough practice before she graduated as a master. Now since she is there and more and more people are learning about her, there are other girls too coming to the academy to learn and train in kickboxing. "Of course they have their reservations. They ask many questions before joining as do their parents, especially their mothers, about developing muscles like men or gaining weight, breaking bones, getting scars on the face, etc.
Since she is started, more and more people are learning about her, there are other girls too coming to the academy to learn and train in kickboxing.
"But we don't throw them into the sparring ring immediately. We work on their fitness first. Sparring comes after building of confidence too. Then it also involves wearing head, chest and shin guards. Besides, only those who I think have the potential are allowed to spar," she says.
Meanwhile, the instructor herself isn't invincible either. "I get bruises all the time. My parents are pretty much used to them now," she says laughing. "Sometime back I was trying a jumpkick and a new combination when I landed awkwardly on the floor and almost fractured my right ankle. I have also dislocated my wrist once," she says. But such things don't bother Rameesha very much. "I am always back at the academy for practice the next day whatever the injury might be," she says.
images.dawn.com/news/1179633/meet-pakistans-fierce-female-kickboxer-whos-inspiring-other-girls-to-take-up-the-sport
--------
British Indian MP Priti Patel rejects labels for minorities
PTI | Mar 10, 2018
LONDON: A prominent British Indian MP in the UK Parliament has rejected labels attached with the black, minority and ethnic population, calling them "patronising and insulting".
Conservative party MP Priti Patel, who was the first Indian-origin member of the UK Cabinet until she resigned last year, said that she had made it clear to her political colleagues and civil servants that she does not like the term Black, Minority Ethnic (BME).
"I don't like the labelling of people. I don't like the term BME. I'm British first and foremost, because I was born in Britain," she was quoted as saying by BBC.
"I challenge all my colleagues in the Conservative Party and in Westminster: Don't label me as a BME. I've said that to people in the Cabinet. I've said that to civil servants. I think it's patronising and insulting," she said.
The 45-year-old former international development minister said the term was "totally unhelpful because we are people and everybody wants to be recognised for their individual merits".
The MP who represents Witham in Essex also expressed doubts over whether the UK could one day have a minority ethnic incumbent in 10 Downing Street.
"Who knows?" she said, when asked if she could be Prime Minister.
Patel was forced to resign from her Cabinet post in November 2017 after revelations of a series of undisclosed meetings with Palestinian officials had made her position in government untenable.
In reference to the controversy, she said the "whole thing was incredibly messy" but that she had been "very clear with the Prime Minister and also I took responsibility for what she felt was not acceptable, so I think I did the right thing".
Patel, now as a backbench MP, continues to be among the most vocal pro-Brexit voices in the Conservative party.
timesofindia.indiatimes.com/world/uk/british-indian-mp-priti-patel-rejects-labels-for-minorities/articleshow/63247234.cms
--------
International Women's Day, a time to reflect on gender rights in the Arab world
From Tunisia to Saudi Arabia, times are changing in the Arab world and women are gaining more and more rights.
March 11, 2018
International Women's Day, celebrated March 8, serves as an opportunity to hail advances in women's rights and voice support for women around the world. This year, the observance drew attention to the Middle East and North Africa, where some of the most exciting reforms and positive developments have emerged.
For the first time, Saudi Arabia was at the top of the list. Over the past year, the kingdom introduced landmark reforms for women's rights and promoted women to key positions in government.
The process began in February 2017 when Sarah al-Suhaimi was appointed the first female chairman of the Saudi Stock Exchange (Tadawul) and Rania Mahmoud Nashar was named the first female chief executive officer of a major Saudi banking firm, Samba Financial Group.
This was quickly followed by the Saudi government granting women the right to drive and announcing it would open more jobs and career opportunities for Saudi women. In February, Tamader bin Youssef al-Rammah was appointed deputy minister of labour and social development.
The exemplary reform movement is the brainchild of Saudi Crown Prince Mohammed bin Salman bin Abdulaziz, whose Vision 2030 aims to modernise and diversify the Saudi economy. A key part of this process is ensuring equality for women.
Saudi Arabia was not the only country to see improvements in women's rights. Tunisia passed legislation to protect women and ensure equality between the sexes.
Last summer, Tunisia — along with Jordan and Lebanon — scrapped legal provisions that allowed rapists to evade punishment by marrying their victims. The Tunisian parliament also passed a law criminalising all violence against women, which was hailed by UN Women, a gender equity group, as "a major step towards achieving gender equality."
Last September, Tunisian President BejiCaidEssebsi took on bigger challenges. He overturned a law that prohibited women from marrying non-Muslim men and set in motion legislation to reform the country's inheritance law, which currently allots men double the amount of their female counterparts.
If legislation granting men and women equal inheritance rights is approved, it would cement Tunisia's status as a leader on women's rights in the Arab world.
While women must continue striving for their rights — in schools, universities, courtrooms and all public spaces — their struggle must also be championed by Arab men. After all, empowering women is important for all of society. We cannot succeed unless we protect and invest in all citizens, men and women.
Lingering gender inequality in the Arab world taints the region and presents a negative image. Many in the West believe that women in Arab societies live under conditions of marginalisation and oppression, secluded from public life.
The situation is not that dim. Many Arab women are active members of their societies, playing key decision-making roles in the family and enjoying the right to equal pay at the workplace. This while issues of gender inequality in the workplace persist in the United States and Europe, serving as a troubling reminder that Western liberalism has also failed women.
While Arab women have indeed faced many challenges, their achievements have surpassed expectations.
In the United Arab Emirates, a regional pioneer in women's empowerment, about 70% of school and university students over the past five years have been female, the World Economic Forum's Global Gender Gap Report 2017 stated.
Since its establishment on December 2, 1971, the UAE has enabled women to occupy leadership roles in the state and private sectors. Women have played key roles in the country's development drive and have held positions in government, from ministers to speaker of the Federal National Congress.
From Tunisia to Saudi Arabia, times are changing in the Arab world and women are gaining more and more rights — a fact much of the world is still ignorant of. While many in the West have a distorted view of women in MENA, they have been busy securing hard-fought rights.
Looking ahead, their struggle should continue with the same urgency. Despite the progress made, there are elements of society — particularly of the Islamist creed — that are determined to roll back women's rights and reshape society into how it was centuries past.
It is up to all of us — men and women — to make sure their project does not succeed and that women continue to be empowered and respected in all areas of life.
thearabweekly.com/international-womens-day-time-reflect-gender-rights-arab-world
--------
Poor economy and war forcing Yemeni women to break with tradition and become breadwinners
MOHAMMED ALI | Published — Sunday 11 March 2018
ADEN: Like most Yemeni women, Hafsah bint Raweh used to stay at home and rely on her husband to provide for the family.
But since early 2016, when a stroke left her husband partially paralyzed and unable to work, Raweh has been forced to go out to work.
Every day, the mother of five wakes early in the morning to buy zucchinis and leeks from the market in Taiz, before going house to house to resell her goods.
"In the beginning, it was difficult to work selling vegetables, but it was my only choice as I faced the difficulties of trying to eke out a living for my family," she told Arab News.
The dire economic situation and hardship caused by the four-year conflict in Yemen has added to the burden faced by many women — and brought a dramatic shift in gender roles. Women such as Raweh have had to break taboos in their conservative society by going out to work in order to support their families.
Before the war, which has killed more than 10,000 people and sparked a vast humanitarian crisis, it was rare for women in many areas to leave their homes and interact with men in public places.
"We have a difficult choice: Either work or see our families starve to death — so many women, including myself, decided to work," Raweh said.
"I have been selling vegetables since 2016, so now I have my regular customers and I have adapted to the work."
Her husband, Mohammed Moqbel, worked as a deliveryman in the Taiz markets before his injury. Now, however, he lies immobile in their small house while Raweh goes out to work. She wants to help him, but his treatment costs too much.
"I took my husband to many public hospitals in Taiz city, but doctors confirmed that they cannot help, telling me to take my husband to Aden or abroad," said Raweh, who is in her 40s.
"I am a poor woman and cannot pay for his treatment, so I brought my husband to the house and Allah will help us."
Raweh decided to start working after she saw other women selling vegetables, perfumes, bread and other items.
NaefNouraddin, a social worker in the education office in Taiz, said the war has forced many women to venture out in order to make a living.
"Food is the most important thing for people, so when women lose their breadwinners and they don't find someone to help, immediately they choose to work," he told Arab News.
"Either they work or they see their family starve. So they usually choose work."
Amani Abdullah, in her 20s, had no choice but to work when her father died in Taiz in 2016, after a lengthy battle with liver cancer. As the eldest child in her family, she needed to look after her four siblings.
"My father used to work in a car workshop together with my younger brother, but after my father's death, I decided to give my younger brother a chance to complete his studies," she said.
Abdullah graduated from the National Institute in the Al Turba area in Taiz. When she needed work, she decided to set up a small stationery stand near the institute.
"A philanthropist helped me with some money, so early in 2017, I opened this small stationery stall and now I can take care of my family," she said, showing off her goods.
Before starting the stall, she worried how people would react to her, a single woman, working outside. But she soon realized that people felt sympathy and did not judge her for working.
Bilal Al-Sharafi, a pupil at the National Institute, said that many fellow students buy their stationery from Abdullah because they want to help her open a bigger shop in future.
"It's true that I did not see a girl working in a stationery stand before this, but I support this idea and hope to see more girls working in such settings," Al-Sharafi said.
arabnews.com/node/1263516/middle-east
--------
Kuwaiti women choose competitive shooting as launchpad for success
11/03/2018
KUWAIT, March 11 (KUNA) -- The Kuwaiti woman has excelled in all fields in the midst of the society's decades-long efforts to empower and provide her with the role she so rightfully deserves.
Her success story has become a model women's rights activists from around the region look to follow.
Competitive sports are one of these fields illustrating a clear example of these successes, particularly in shooting, once categorized as a male-only affair.
Kuwaiti women, aged 9-22, gather every day at Kuwait Shooting Club to train. Their training covers all disciplines of the sport, using both pistol and rifle.
The potential shooters are cleared to join the club on the conditions of good conduct and physical ability, former women's shooting team chief Amina Ismail told KUNA.
They are all allowed to compete locally, however, international competition is only granted to those with the highest points, according to Ismail.
The most notable of Kuwaiti women shooters is Maryam Erzouqi, who competed in both the women's 10m air rifle and women's 50m three position events at the London 2012 Summer Olympics.
The shooter, who was 25 years old at the time, managed to come 28th and 44th, respectively in both competitions.
Others have also made their mark in the sport.
Trap shooter Shahad Al-Hawal was the first Arab woman to have qualified for a World Cup, back in 2009 in San Marino, and came fourth in the subsequent tournament a year later in Italy.
She has also clinched Arab Championship gold for three consecutive years and an Asian Clay Shooting Championship silver medal at Almaty, Kazakhstan, in 2009.
As for the difficulties that face the shooters, these include impaired visibility due to sandstorms that occur from time to time in the country's harsh desert climate, Iman Al-Shamaa says.
Another hindering factor is the extreme heat, with temperatures sometimes rising to above 50 degrees Celsius, adds the trap shooter, who has also won several local accolades. (end) mar.sd
kuna.net.kw/ArticleDetails.aspx?id=2700282&language=en
--------
Arab mothers describe cross-cultural experience raising a child in the UK
Lina Slaymaker, an Iraqi mother of two teenage daughters, spoke about her experience raising her daughters whose father is Italian-English.
March 11, 2018
LONDON - Mother's Day is an important celebration of the pivotal role that a woman has in the life of her child and in society. Arab mothers described their experience raising their children in the United Kingdom and the effect both British and Arab societies had on the mothers' decisions.
ZaheiraBarok, a Yemeni mother of three daughters, spoke about her experience dealing with Arabs after her divorce.
"Arab people judged me because I was on benefits," Barok said. "If I was English I don't think I would be judged as much. Being an Arab Muslim, we have to be more aware of society around us.
"Over time I decided to ignore what society thought of me and decided to raise my girls the way I saw fit. I found a way to answer people and I think this is where my aggression comes from. I felt I constantly had to justify my actions and decisions. Then I thought: 'Why do I have to justify myself?'"
Barok said she had to lie that her daughter was married after she learnt her daughter was pregnant out of wedlock.
"I only told one friend at work that my daughter fell pregnant out of wedlock," she said. "I had to tell everyone else I knew that she was married. If I was English, I wouldn't have to lie.
"My parents were angry because they are traditional but they never let the grandchildren feel the anger. My family embraced them straight away. Even though they are traditional, they have very good foresight. My parents never blamed me for my daughter's actions even though society straight away blames the mother."
Lina Slaymaker, an Iraqi mother of two teenage daughters, spoke about her experience raising her daughters whose father is Italian-English.
"It is challenging raising children of two cultures," she said. "There are a lot of clashes starting with religion. Even though I wasn't raised very religious, we believe in God and we follow basic Islamic principles.
"I teach my daughters about Islam but they are constantly being influenced by their friends. For example, my daughters say I'm homophobic but I am not. They think I'm weird. Although I could be wrong, to my understanding this is not the norm.
"I found it hard to explain to my girls that I respect people in the way they want to live their life but if it was normal then two people from the same gender could produce offspring. Although I treat homosexuals as anyone else, my daughters push me to accept them as the norm and their father backs them up."
Slaymaker's daughters have learnt to accept that it is hard for their mother to change her mentality and resolve culture clashes by coming to a common understanding.
"What they have learnt to accept is I need time to accept new ideas. I try to adapt to their way of thinking but it's hard because I was brought up in a different society," Slaymaker said. "My daughters say religion was written for a different time but for me, religion applies to every generation.
"I don't want my daughters to be like me because that's impossible as they are raised in a different society but I want them to understand my culture. If I was married to an Arab, I think my daughters' understanding will be a lot better. If I was an Arab brought up in England, it would be a lot easier as I would understand the culture more."
Maha al-Mufti, an Iraqi mother of a daughter and a son, explained how she raised them when they were teenagers.
"I tried to treat my son and daughter equally but there are certain things I kept in mind for my daughter such as reputation," she said. "However, morals and daily practice is exactly the same. At home it is not 100% pure English, neither 100% pure Arabic or Muslim traditional way of life.
"My children were exposed to both cultures and all beliefs. That's why they accepted and understood our culture. The only difference is my son was allowed out late whereas my daughter was not unless it was with a close family friend. My daughter protested this. The reason I imposed this rule is because she is a girl and I felt she could be abused. However, in reality, both genders are vulnerable so it is wrong."
Mufti said she would not have raised them any differently but would have influenced them with their choice of friends more.
"My son always preferred non-English people whereas with my daughter all her friends are English. I found my daughter's settlement and integration is much better than my son. She accepts the English culture without judging. My son judges," she said.
"Although my daughter's exposure to the Arabic culture is a lot more than my son's she does not practise it as she feels Arabs judge more than English do. My son's exposure to the Arab culture is limited but he practises it much more."
Mufti's daughter is married to an English-French man and is pregnant. Mufti said she wanted to teach her granddaughter the basics of Islam.
"For my granddaughter, I can only advise but I cannot interfere," she said. "However, when I have my granddaughter with me, I plan to pray in front of her, read the Quran and speak Arabic because Arabic is the language of Islam. I want to give her the basics and pillars of Islam. Once she grows up, she can research more if she wants."
Mufti experienced the influence of Islamic extremism with her son.
"I was concerned about the information that was passed on to him by his friends. He said hijab and niqab [are] compulsory but I explained this is not the case and he understood," she said. "I told him not to listen to friends and they might not understand Islam properly. I advised him not to search on the internet about Islam because most of it is wrong and not to listen to preachers in mosques. He should pray in a mosque and leave."
AsmahanAlkarjosli, a Syrian mother of three sons, explained the importance of perfecting English while living in England and not letting another language and culture prevent that.
"In Syria I was an artist and an art teacher so I wanted to be a teacher when I arrived in England," she said. "Before I came here my English was really bad. I felt people didn't respect me because I didn't speak English well even though I was more educated than a lot of them. However, I took English courses and involved myself in English society which I love to do."
Alkarjosli said she was proud to be Syrian but she felt women's rights were prevented there. That has led her to resent the society she was raised in.
"I have always been rebellious in Syria. I really pushed for women's rights," she said. "Even though there are a lot of things I don't agree with about Syrian society, I still consider myself Syrian because I spent my childhood there. I tell my sons they are Syrian even though they don't know Arabic and only went to Syria once. I never let them forget they are Syrian."
Although Alkarjosli taught Arabic in England, she did not push her children to learn Arabic.
"I was against teaching my children Arabic. Even though I taught Arabic to English people in a school, I don't want my children to have any influence from Arabic society. I didn't want my children to be split minded about their identity and I was afraid if I spoke to them at home in Arabic, it will hinder their ability to speak English well," she said. "Even though it's beneficial to have a second language in the long-term, I wanted to give my children the choice to learn it when they grow up."
thearabweekly.com/arab-mothers-describe-cross-cultural-experience-raising-child-uk
URL: https://www.newageislam.com/islam-women-feminism/call-egyptian-women-remove-hijab/d/114553