New Age Islam News Bureau
23 December 2021
• Taliban Begin Removing Pictures Of Women From Beauty Salons In Kabul
• All Afghan Girls To Return To School After Winter Break: Taliban Official
• I Will Never Marry a Muslim Guy; Currently Reading the Bhagavad Gita Says Urfi Javed of Bigg Boss Fame
• Moroccan NGO Condemns Israeli Abuses of Jailed Palestinian Women
• PHCC MD Dr. Mariam Honoured With 'Excellence Award For Arab Women'
• New Centre at Princess Nourah University to Promote Saudi Women's Role In Society
• Life In Turkey Takes Toll On Female Afghan Mps Who Fled Taliban Rule
Compiled by New Age Islam News Bureau
URL: https://www.newageislam.com/islam-women-feminism/indonesian-women-hijabs-backlash/d/126019
---------
Call for Indonesian Women To Cover Up, Wear Hijabs And Avoid Close Contact With Men Sparks Backlash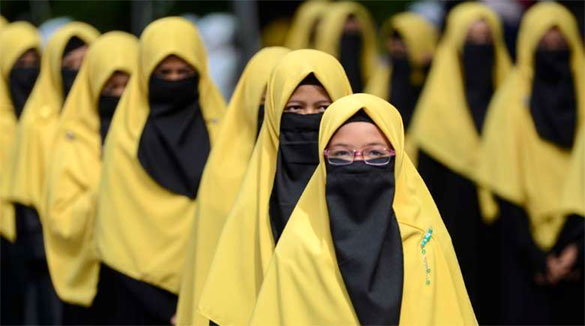 The National Commission on Violence against Women recorded 431,471 cases of sexual violence against Indonesian women in 2019. (Photo: AFP)
----
Katharina Reny Lestari
December 23, 2021
A civil society group in Indonesia has come under fire from rights activists after it called on Muslim women to cover up, wear hijabs and avoid close contact with men to prevent them from falling victim to an increasing number of sex attacks.
In a letter issued early this week, the Family Welfare Movement (PKK) in Salatiga in Central Java province said all Muslim women should wear hijabs and cover up when out in public.
The PKK is a national voluntary movement of mainly women that focuses on development, primarily in villages.
The group also called for Muslim women "to dress modestly when they are at home" and "to sleep in separate bedrooms with males unless they are married couples."
It justified the calls by saying the number of sex assaults on women in the city had increased from 18 in 2020 to 23 in 2021.
The number is relatively small compared with nationwide figures compiled by the National Commission on Violence against Women, which recorded 431,471 cases of sexual violence against women in 2019.
The group's calls immediately drew condemnation when the letter went viral on social media, with critics accusing the group of being out of touch and intolerant.
"We appreciate the PKK's goodwill in addressing the issue of violence against teenagers and women in Salatiga. However, the PKK's letter containing such an obligation is not the right instrument to tackle sexual violence cases," Sayyidatul Insiyah, a researcher at the Setara Institute for Democracy and Peace, said on Dec. 22.
"They have failed to understand the reason why violence against women can happen. By issuing the letter, they seem to agree that women's clothes are the main cause of violence against women."
Calling this view a "fallacy," she said many sex attacks against women happened not because of the way women dress but because men see themselves as dominant and think they can get away with it.
"The PKK's letter fails to pay attention to the principles of equality and non-discrimination, which are the main principles of human rights … The letter should also have mentioned the role of males and what measures they should take to such attacks. PKK volunteers are not only women but also men," Insiyah said.
The call "is a form of intolerance because it restricts the freedom to dress," she said, urging the group to withdraw its call for the sake of pluralism.
Source: UCA News
https://www.ucanews.com/news/call-for-indonesian-women-to-cover-up-sparks-backlash/95502#
---------
Taliban Begin Removing Pictures of Women from Beauty Salons in Kabul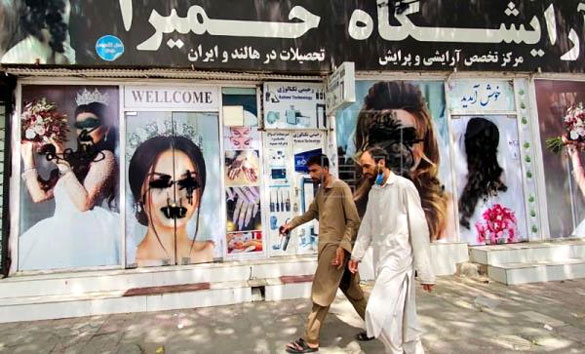 Afghan men walk past the billboard of a beauty salon with defaced posters of models in Kabul, Afghanistan, 20 August 2021. EPA-EFE/FILE/STRINGER
----
December 22, 2021
Kabul, Dec 22 (EFE).- The Taliban have begun to remove images of women from beauty salons in Kabul for supposedly being anti-Islam, a member of the radical group told EFE Wednesday.
"This is the decision of the Islamic Emirate (the name used by the Taliban for themselves) made in the cabinet meetings and suggested by the Ministry of Propagation of Virtue and Prevention of Vice," said Niamatullah Barakzai, a municipal spokesperson in the Afghan capital.
He added the decision to remove the women's faces from shop windows – many of which had already been blackened due to fear of reprisals following the capture of Kabul on Aug.15 by the Taliban – would soon be implemented across the country.
"This decision will be implemented throughout Afghanistan, but we are only responsible for implementing it in all the 22 districts of Kabul province," said Barakzai.
Moreover, the spokesman said that the measure not only affected posters at beauty salons but all images considered to be contrary to Islamic law by the fundamentalists.
An official at the powerful Ministry of Virtue, located in the same building that formerly housed the Ministry of Women, however denied issuing an order for removing the pictures of women.
"So far we have not made any action and neither issued any order (in this regard)," said Mohammad Sadiq Akif.
The owners of shops and beauty salons claim that this order to remove the posters is a new setback for their business, especially amid the severe economic and humanitarian crisis in the Asian country.
"We attract most of our clients thanks to photographs and posters, especially those who cannot read and are guided by the images," Razmina Rasooli, owner of a beauty salon in the Afghan capital, explained to EFE.
Before the Taliban seized power, her business had somewhere between 30-40 clients every day.
"These days it has reduced to 10-15 and some days we don't have even a single client," rued Rasooli, whose salon helps support her six-member family.
The Taliban have claimed that they will allow women to work and study, but have so far banned secondary and higher education for girls until a so called ideal environment could be created for them to return to classrooms.
The Islamic fundamentalists have also limited women's return to certain jobs, triggering international condemnation. EFE
Source: La Prensa Latina
https://www.laprensalatina.com/taliban-begin-removing-pictures-of-women-from-beauty-salons-in-kabul/
---------
All Afghan girls to return to school after winter break: Taliban official
December 19, 2021
By Moncho Torres
Kabul, Dec 18 (EFE).- Taliban official Mohammad Sadiq, who wields a great influence over the fate of Afghan women as a spokesperson of the all-powerful ministry for propagation of virtue and prevention of vice, says female students will return to schools and universities after the winter break.
The only member of the ministry authorized to speak to the press receives EFE in his office in one of the buildings of the former women affairs ministry.
On the way to the office, there are several closed doors with a mutilated sticker of a breastfeeding woman on one of them.
The decisions made in this ministry are based on strict interpretation of Islam passed through the filter of the conservative Afghan culture, where the main obsession is to protect women from the corrupted male gaze.
Here are the excerpts of an EFE interview with Sadiq.
QUESTION: A few weeks ago, the ministry issued a series of recommendations for media, specifying, among other things, that women cannot appear in movies or the type of clothes that journalists must wear on screen. Could you clarify this?
ANSWER: We distributed some principles to the media that mentioned that women, even men, should not work in movies or series that disrespect Islamic and Afghan values. Women working in the media must wear a hijab (headscarf).
Q: There are anti-vice patrols aimed at ensuring that society complies with aspects that you consider important in Islam, such as men keeping beard and woman covering up. Do you strictly impose this or are they only recommendations?
A: So far we have not said anything because someone cuts his beard nor have we threatened him. You can see my secretary, who trims his beard (…) We only explain to them what the Islamic law says.
Q: Could you explain the relationship between a beard and Islam?
A: We have several ahaadith (sayings) of our prophet (Muhammad) regarding having a beard and it is even mandatory in Islam. Science has also recently confirmed the advantages of having a beard. None of the prophets of Islam shaved (…) It is prohibited.
Q: In the previous Taliban regime between 1996 and 2001, these measures were forcefully imposed. Is there a change of mentality?
A: I don't want to say anything about the previous Taliban government as I was not an adult at the time, but I can say that there was a lot of propaganda about the Taliban, such as that they were forcing women into marriage or beating them.
Q: For the West, one of the most important issues in relation to the new Taliban regime is women's rights, whether they will be able to go to work, school, or go out alone in the streets. Will they have those rights?
A: The rights Islam has given to women are not in other religions. Before Islam, girls were buried alive, women were forced to be with animals when they were menstruating. Before Islam, the birth of a girl in the house was a shameful thing but Islam grants perfect rights to women… Islam does not use women as a means for marketing but gives them respect and honor. Islam has given women education and working rights. We want to facilitate a safe, working environment for women.
Q: In the previous government too, the Taliban promised that women would be allowed to work and get education, something that ultimately did not happen. Will the same thing happen now?
A: At that time, we were at war and recognized by only a few countries. The world didn't allow us to build the ideal platform for women to work and receive an education. Today too, the world says that we must meet some points in order to be recognized and we complete all the requirements.
In the previous (Taliban) government, there were some female workers, such as at airports, and this time also we have female workers in some positions where they are required. Women are not totally prohibited from working, they are invited to work in some departments.
Q: After girls were not allowed to return to secondary schools in mid-September, there is now talk that they will be able to return after the winter break. Is this official, will it happen?
Source: La Prensa Latina
https://www.laprensalatina.com/all-afghan-girls-to-return-to-school-after-winter-break-taliban-official/
---------
I Will Never Marry a Muslim Guy; Currently Reading the Bhagavad Gita Says Urfi Javed of Bigg Boss Fame
Grace Cyril
December 22, 2021
Urfi Javed, who was the first contestant to get evicted from Bigg Boss OTT, is often in the news because of her interesting fashion choices. In an exclusive interview with IndiaToday.in, Urfi, who comes from a conservative Muslim family, opens up about being trolled on pretty much a daily basis, her views on marriage and love. Urfi Javed says it outright that she will never marry a Muslim man and that she's currently reading the Bhagavad Gita.
"MUSLIM MEN WANT THEIR WOMEN TO BEHAVE IN A CERTAIN WAY"
Urfi Javed feels that the reason society disapproves when she flaunts bold looks is because she doesn't have a Godfather in the industry. But, more importantly, because she is a Muslim. Urfi starts off, "I am a Muslim girl. Most of the hate comments I receive are from Muslim people. They say that I am tarnishing the image of Islam. They hate me because Muslim men want their women to behave in a certain way. They want to control all the women in the community. I don't believe in Islam because of this. The reason why they troll me is because I don't behave the way they expect me to as per their religion."
"I WILL NEVER MARRY A MUSLIM GUY"
When asked if she will ever marry someone out of her community, if she fell in love, Urfi says, "I will never marry a Muslim guy. I don't believe in Islam and I don't follow any religion, so I don't care who I fall in love with. We should marry whoever we want to."
"I AM CURRENTLY READING THE BHAGAVAD GITA"
Urfi believes religion shouldn't be forced, and everyone should have the free will to choose what religion they want to follow. And that's something she's learnt at home. "My father was a very conservative man. He left me and my siblings with our mother when I was 17 years old. My mother is a very religious woman, but she never forced her religion on us. My siblings follow Islam and I don't, but they never force it on me. That's how it is supposed to be. You cannot force your religion upon your wife and children. It should come from the heart, otherwise neither you nor Allah would be happy," says Urfi.
In fact, the actress is currently reading the Bhagavad Gita. "I am reading the Bhagavad Gita right now. I just want to know more about that religion [Hinduism]. I am more interested in the logical part of it. I hate extremism, so I just want to extract the good part of the holy book."
Urfi Javed gained fame after her short stint on Bigg Boss OTT. Since then, she has mostly made headlines because of the various controversies she's courted.
Source: India Today
https://www.indiatoday.in/television/celebrity/story/i-will-never-marry-a-muslim-guy-says-urfi-javed-1890789-2021-12-22
---------
Moroccan NGO condemns Israeli abuses of jailed Palestinian women
Khaled Majdoub
22.12.2021
RABAT, Morocco
A Moroccan women advocacy group on Wednesday condemned abuses against Palestinian female prisoners in Israel.
"We express our condemnation and outrage at the brutal assault on Palestinian female prisoners, including placing some of them in solitary confinement," the Moroccan Women Against Political Detention said in a statement.
The NGO stressed its "full solidarity with the Palestinian female prisoners brutally assaulted by the Zionist repressive apparatus inside prison."
It also demanded the immediate release of all Palestinian prisoners from Israeli prisons.
On Tuesday, the Prisoners' National Movement, a group representing Palestinian prisoners, called for dedicating the coming Friday to show solidarity with Palestinian female prisoners in Israel.
Palestinian factions have earlier called for "an appropriate response" to attacks on female prisoners in Damon and Nafha prisons.
Prisoners' rights groups on Sunday accused Israeli prison authorities in Damon of "carrying out successive abuses against Palestinian female prisoners."
There are around 4,500 Palestinian detainees in Israeli prisons, including 32 women, and 170 minors, according to institutions concerned with prisoners' affairs.
Source: Anadolu Agency
https://www.aa.com.tr/en/middle-east/moroccan-ngo-condemns-israeli-abuses-of-jailed-palestinian-women/2454806
---------
PHCC MD Dr. Mariam honoured with 'Excellence Award for Arab Women'
23 Dec 2021
Doha: The General Secretariat of the Arab League awarded Managing Director (MD) of Primary Health Care Corporation (PHCC) Dr. Mariam Ali Abdulmalik, the 'Excellence Award for Arab Women' in its first session, in recognition of her role in confronting the coronavirus (COVID-19) pandemic, as this year's award has been allocated to women working in the field of medicine in appreciation of their efforts in the health sector.
Dr. Mariam heads the tactical leadership team for health services in the community, which consists of a number of key partners, in addition to clinical and operational leaders from the Ministry of Public Health (MoPH), PHCC, and Hamad Medical Corporation (HMC) - considering that they are responsible for leading the planning and implementation of quarantine/isolation facilities in the country.
These institutions are also responsible for planning and managing the capacity of the isolation facilities, as well as preparing policies and procedures related to sanitary isolation practices and ensuring their compatibility with the services of the sector on a larger scale.
The healthcare services provided by PHCC are an essential part of the planning and response process for the emergency measure, to ensure a consistent and integrated approach by the concerned authorities in the country in case of any emergency, to ensure an immediate, effective and optimal response to major emergencies.
In addition to the rapid and immediate measures taken to ensure business continuity and the sustainability of basic services during the coronavirus pandemic, the Corporation launched a package of distance services, that reduce direct contact between patients and service providers, which - in turn, should reduce the chances of spreading the virus.
The distance services included telephone and video counselling services, the inauguration of the community call center and home delivery of medicines, in the context of taking advantage of the latest technology tools and harnessing them to confront the outbreak of the COVID-19 pandemic, as well as provide more innovative and advanced health solutions to meet the needs of patients.
In cooperation with MOPH and HMC, PHCC is at the forefront of institutions that provide COVID-19-examination services, follow-up and direct COVID-19 cases through their centers that have been designated for this purpose, in addition the vehicle-examination service in 14 centers, which contributed to the successful implementation of the national immunization program against coronavirus.
These services have been provided within the framework of expanding the national program for vaccination against the virus, as the center was able to vaccinate more than 650,000 people during its operation period.
Source: The Peninsula Qatar
https://thepeninsulaqatar.com/article/23/12/2021/phcc-md-dr-mariam-honoured-with-excellence-award-for-arab-women
---------
New Centre at Princess Nourah University to Promote Saudi Women's Role In Society
December 22, 2021
RIYADH: Saudi Education Minister Hamad Al-Asheikh, announced a royal approval for the establishment of the Sarah Al-Sudairi Center for Women's Studies, at Princess Nourah University.
The center aims to enhance the role of women and their participation in society, as well as support scientific research projects on them.
Al-Asheikh also announced an SR20 million ($5.3 million) royal grant from King Salman to support the center.
The minister expressed his thanks and appreciation to the king and Crown Prince Mohammed bin Salman for their approval.
Al-Asheikh underlined the leadership's reiteration on the importance of women's studies, which will contribute to enriching the role of Saudi women.
He said the establishment of the center is a qualitative leap in women's studies, providing activities, events and programs that contribute to building knowledge, strengthening partnerships with community institutions, and maximizing the impact of their scientific and research contributions.
He praised the scientific and research capabilities of Saudi women, and their successes in this field, affirming that the center represents one of the most important initiatives to support them.
Source: Arab News
https://www.arabnews.com/node/1991431/saudi-arabia
---------
Life in Turkey takes toll on female Afghan MPs who fled Taliban rule
December 22, 2021
LONDON: Dozens of female former Afghan government officials seeking refuge in Turkey have lamented their treatment at the hands of the Turkish government.
Cut off from their bank accounts, which have been frozen by the Taliban, dozens of women have said they are struggling to access nourishing food, medical support, and education for their children.
A former senior minister, who did not want to be named, told The Independent: "We don't have any direction. We never thought the country would collapse in August suddenly. Right now we don't have any opportunities."
The politician, 56, has been in Turkey for four months, but has been unable to access financial support, leaving her family, which includes a severely disabled daughter, simply "sitting in the house."
Speaking on behalf of 35 female Afghan politicians, including ministers and deputy ministers, she said: "We don't have any support from the Turkish government. There is no welfare support for immigrants. No medical support, no education, no financial support. I have three daughters. They can't go to school as the cost of education is too high."
She added: "It is really, really challenging. I did not cry for three or four years, now I'm crying every day, as we don't have any future."
The former minister said the uncertainty of their situation is exacerbated by a lack of clarity over their right to remain in Turkey.
She added that she and her former colleagues had only been issued temporary six-month visas, and they are unsure if they will be able to renew them.
The anonymous politician said they feel abandoned by the West, having had multiple asylum applications ignored.
Despite visiting the UK twice during her tenure in the Afghan government, she said her asylum applications to Britain had gone unanswered three times.
The same had happened for citizenship applications to Germany, France, Italy, Canada and other countries.
"We are now eating cheap, basic food," she said. "We had a big house in Afghanistan. All of the luxuries. We came to Turkey with nothing. The Taliban froze our bank accounts. We were on the frontline, standing up for human rights and women's rights in Afghanistan, and now the international community ignores us."
Heather Barr, associate director of the women's rights division at Human Rights Watch, told The Independent that the hardship faced by female politicians and campaigners who have escaped Afghanistan is "sadly really familiar."
She said: "The number of people who feel like they have no choice but to escape Afghanistan is so much larger than any country has been willing to resettle.
"Their situation is incredibly precarious ... they have no ability to resettle (in Turkey) permanently. No ability to renew their visas. No ability to work and earn an income and send their children to school." She added: "It feels like the door is slamming in Afghan refugees' faces."
Source: Arab News
https://www.arabnews.com/node/1991211/middle-east
---------
URL: https://www.newageislam.com/islam-women-feminism/indonesian-women-hijabs-backlash/d/126019
New Age Islam, Islam Online, Islamic Website, African Muslim News, Arab World News, South Asia News, Indian Muslim News, World Muslim News, Women in Islam, Islamic Feminism, Arab Women, Women In Arab, Islamophobia in America, Muslim Women in West, Islam Women and Feminism