New Age Islam News Bureau
26 Nov 2015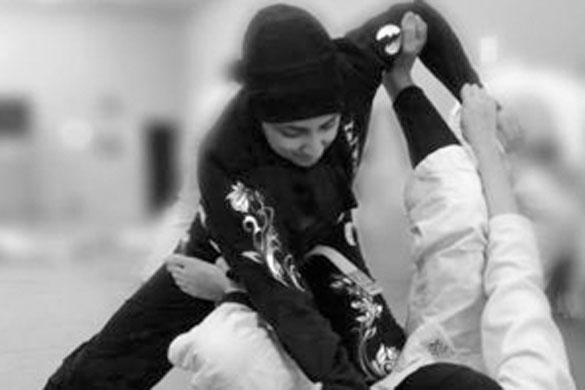 Photo: Zenab Awan demonstrates a move at the KJR Brazilian Jiu Jitsu Academy in Calgary. | KJR Brazilian Jiu Jitsu Academy Calgary Facebook
------------
• Burqa-clad women to be fined £6,500 in Switzerland
• Bombay high court reunites Hindu-Muslim couple from Rajasthan
• One in three women around the world are subjected to violence
• Report says women depicted more in Pakistani media but men still dominate
• UN chief calls for steps to end violence against women, girls
• Young Muslim's defiant letter to Donald Trump goes viral
• Labor Ministry extends retail store feminization deadline
Compiled by New Age Islam News Bureau
URL: https://newageislam.com/islam-women-feminism/calgary-self-defence-class-teach/d/105429
----------
Calgary Self-Defence Class Will Teach Muslim Women To Protect Themselves
11/25/2015
In response to recent acts of violence and Islamophobia across Canada, a Calgarian is offering a self-defence workshop to teach her fellow Muslim women how to protect themselves.
One of the event's organizers wrote on Facebook that the class is "in light of recent attacks on Muslim Women in Toronto and abroad" and will be taught by Zenab Awan, a Brazilian jiu jitsu instructor.
Awan was inspired to host the workshop after hearing from friends who "became fearful of leaving their homes," she told the Calgary Herald.
While the Dec. 6 class is focused on Muslim women, she's urging women of all faiths to sign up. "We're all women, we all empower each other."
Men are not welcome, so the female attendees have the privacy to remove their hijabs. If women would rather keep their head covering on, they can look to Awan for inspiration — she designed and sewed her own sport hijab for practices and competitions.
"I actually find it a lot easier to roll in a hijab than without one," Awan told the Muslim Female Fighters Tumblr page. "When I roll at home I usually am not in a hijab and I constantly have to stop in the middle of a session to fix my hair. It is very inconvenient."
Women who attend Awan's class will learn both verbal and physical techniques for self defence.
Outburst, a Toronto non-profit group, is holding a series of similar workshops in late November. "Some of us want to strengthen our options to stay safer, this is one way to do it," the organizers wrote in a Facebook post.
Attacks on the rise
Incidents targeting Muslim women in Canada have been on the rise after recent terrorist attacks in Paris.
A Muslim woman was assaulted in Toronto on her way to pick her children from school, while two women while on the Toronto subway.
An Ottawa woman told Buzzfeed that she received a note in her mailbox that read, "Canada is no place for immigrants or terrorists. Go back home."
http://www.huffingtonpost.ca/2015/11/25/calgary-self-defence-muslim-women_n_8649450.html
----------
Burqa-clad women to be fined £6,500 in Switzerland
November 26, 2015
Bern - Women who wear full face veils in public in a Swiss state could be fined up to £6,500 under new rules imposed by the local government, Daily Mail Wednesday reported.
Females Muslims will be banned from wearing the burqa in shops, restaurants or public buildings in the Italian-speaking canton of Ticino. The local government in the southern Swiss state approved the ban after a referendum in September 2013 saw two in three voters backing the move.
According to the Local, the Ticino government had wanted to ban burqas and niqabs as well as masks worn by demonstrators and balaclavas.
However, MPs voted for a law that only applies to veils worn by some Muslim women and makes no exceptions for tourists visiting the area. The minimum fine is 100 francs (£65) and women can be given a penalty of up to 10,000 francs (£6,500).
The Swiss Parliament says the ban does not violate federal law but it is not yet known when the new rules will come into force. Visitors coming into Ticino will be informed at airports and by customs officers at the Italian border it is illegal for people to hide their face under a burqa or niqab, while in the state. The ban on the burqa echoes similar legislation put in place in France, where women can be fined an initial penalty of £35 for wearing the garment, which can be increased to £150. France's parliament passed the burka ban in 2010, leading to protests from Islamic groups who said it was discriminatory. France has the biggest Muslim population in western Europe, and many believe that society has an agenda against them.
However, an attempt by a British legal team to reverse France's burka ban was rejected by the European Court of Human Rights last year.
In a test case which will have widespread implications in other countries, judges said that the measure aimed at stopping women covering their faces in public was entirely justified. They said that the right of ordinary people to 'live together' was a 'legitimate objective', and that Muslim women wearing face coverings threatened it.
http://nation.com.pk/international/26-Nov-2015/burqa-clad-women-to-be-fined-6-500-in-switzerland
----------
Bombay high court reunites Hindu-Muslim couple from Rajasthan
Nov 26, 2015
The Bombay high court reunited a Hindu-Muslim couple from Rajasthan, after the woman was taken away by her parents and forcibly married-off to another man later.
Rajasthan Police produced the woman on November 23 before a bench of justices Ranjit More and Shalini Phansalkar-Joshi on a Habeas Corpus petition filed by her husband (whom she had married earlier).
The woman from the minority community fell in love with a Hindu man and they eloped from their village in Rajasthan. They went to Ujjain in Madhya Pradesh where they got married on June 8 this year, as per Hindu rites.
However, the woman's relatives took her away to her parents' house on the pretext that she would be brought back to her matrimonial home in Madhya Pradesh. Later, she was forced to marry another man in Gujarat.
Meanwhile, the man (to whom she was married earlier) moved to Mumbai and filed a police complaint at Ambarnath town in nearby Thane district stating that his wife, who was pregnant with his child, was missing. He urged the police to trace her and bring her back.
After the police could not find the woman, the husband filed a Habeas Corpus petition in the high court urging that police may be asked to find her.
The petitioner told the high court that he received a telephone call from his wife saying that she was kept in wrongful confinement at a place in Rajasthan.
The HC directed the Rajasthan Police to visit the woman's house and she was produced before the court on November 23.
The judges asked the woman if she wished to go back to her parents or stay with her husband who had filed the Habeas Corpus petition. To this, she replied that her choice would be to join her husband in Mumbai to whom she was married earlier.
The bench then ordered that the couple be reunited and allowed them to stay together.
http://www.hindustantimes.com/india/bombay-high-court-reunites-hindu-muslim-couple-from-rajasthan/story-nE1a9oKOGjGIE5xNPsnJVN.html
----------
One in three women around the world are subjected to violence
November 25, 2015
Dubai: One in three women around the world are victims of violence, and only four out of 10 survivors seek help, the UN said on Wednesday.
Violence against women and girls remains "one of the most serious and the most tolerated human rights violations, both a cause and a consequence of gender inequality and discrimination," UN Women executive director, Phumzile Mlambo-Ngcuka, said in a statement to mark the International Day for the Elimination of Violence against Women on November 25.
"We say again: It is not acceptable. It is not inevitable. It can be prevented."
According to UN officials, one in three women worldwide has experienced physical or another form of violence, most often by an intimate partner.
However, less than four in 10 survivors of such violence, in most countries, seek help, Babatunde Osotimehin, executive director of the United Nations Population Fund (UNFPA), said.
"Violence against women and girls includes domestic and physical violence, human trafficking and harmful practices, such as forced child marriage, gender-based infanticide and female genital mutilation," he said.
More than 140 million girls and women have undergone some form of female genital mutilation, also called female circumcision, around the world.
In another form of violence, one in every three girls in developing countries, is married before reaching the age of 18, and one in nine before 15, UN figures showed.
While violence deprives women and girls of their human rights to health, education and participation in their communities affairs, "survivors often lead lives shadowed by fear and stigma," added a UN statement.
"We have made progress in improving the laws that distinguish these acts and others as ones of violence and invasion of human rights. Some 125 countries have laws against sexual harassment, 119 have laws against domestic violence, but only 52 countries have laws on marital rape," Mlambo-Ngcuka said.
Next month, an international meeting will discuss ways to end violence against women.
It "will discuss what is working on the ground and how to prevent violence ," Oisika Chakrabarti, an official at UN women told Gulf News.
The conference, scheduled in Istanbul, Turkey on December 9 and 10 will be attended by senior officials from around the world, high level experts, academics, practitioners and women advocates.
http://gulfnews.com/news/uae/crime/one-in-three-women-around-the-world-are-subjected-to-violence-1.1626560
----------
Report says women depicted more in Pakistani media but men still dominate
HANEEN RAFI
Nov 26, 2015
KARACHI: There has been an increase in the presence of women in mainstream Pakistani media in the past five years, it emerged on Wednesday.
According to a Global Media Monitoring Project (GMMP) 2015 national report titled "Who Makes the News", it increased to 36 per cent in 2015 from 27 per cent in 2010.
Coordinated by the Uks Research Centre, a resource-based publication centre dedicated to the cause of gender equality and women's development, the GMMP 2015 report is based on the monitoring of six newspapers (print), four news channels (television), two radio frequencies and five news websites, and tweets. All content was monitored by a team of 17 volunteers, mostly university students, on Wednesday, March 25, 2015. The report focuses on several aspects of gender representation in news content.
Though there has been an increase in women representation in news stories as compared to 2010, men still "dominate the news stories in all topics from politics, crime, social issues, to health and even celebrity and arts".
The main theme that dominated the news, according to GMMP 2015, was social and legal issues followed by crime and violence, and politics and government, respectively.
However, only four per cent of news stories aired delved in to the issue of gender inequality, and content challenging stereotypes remaining negligibly low. Also, when reporting on victims, "61 per cent of news stories had female subjects and 38 per cent male".
This is not a unique phenomenon, as the GMMP 2010 report revealed "media content, including the portrayal of girls and women in the media, remains largely patriarchal, gender-insensitive and sometimes violates consumer rights, as well as media responsibility and accountability".
On the day of the monitoring of media content, the only story focusing on women reported across Pakistani media was of political activist, Asiya Andrabi of Hurriyat Party who made news by hoisting the Pakistani flag on Pakistan Day and singing the national anthem in India-held Kashmir.
"Another woman who made news across most media was a Pakistani supermodel, caught in an airport, laundering money, by the customs police."
GMMP began in 1995 when volunteers in 71 countries around the world monitored women's presence in their national radio, television and print news. This is the second time Pakistan has been involved in GMMP, both times coordinated by Uks.
The report also reveals an increase in the overall presence of female reporters from 11 per cent in 2010 to 16 per cent in 2015.
However, though the presence of women as reporters and presenters may have increased, "actual stories about the 'real' Pakistani women remain invisible and stories with women being sensationalised and trivialised".
Sexual objectification still persists in the Pakistani media, "more so in the regional and Urdu language media than the English language ones, across all media".
The report does also acknowledge that "a single day of media monitoring is not enough to reflect the media practices and/or violations of ethics that prevail".
Published in Dawn, November 26th, 2015
http://www.dawn.com/news/1222238/report-says-women-depicted-more-in-pakistani-media-but-men-still-dominate
----------
UN chief calls for steps to end violence against women, girls
MASOOD HAIDER
Nov 26, 2015
UNITED NATIONS: Expressing concern over atrocities committed against women and girls in conflict zones as well as domestic abuse reported from across the world, United Nations Secretary-General Ban Ki-moon on Wednesday called for collective action to end violence against women.
In a statement marking the International Day for the Elimination of Violence against Women, Mr Ban described crimes against women and girls as "grave threats to progress". "I am deeply concerned about the plight of women and girls living in conditions of armed conflict, who suffer various forms of violence, sexual assault, sexual slavery and trafficking," he said.
"Violent extremists are perverting religious teachings to justify the mass subjugation and abuse of women."
He stressed that such crimes were not merely random acts of violence or the incidental fallout of war but "rather systematic efforts to deny women's freedoms".
"As the world strives to counter and prevent violent extremism, the protection and empowerment of women and girls must be a key consideration."
Even in areas of peace, violence against women existed in the form of sexual assault, female genital mutilation, early marriage and cyber-violence, which traumatised individuals and tore "the fabric of society", Mr Ban said.
The UN chief called for increased contributions from the governments to the UN Trust Fund to End Violence against Women, citing severe underinvestment in this area.
He recalled that the newly adopted 2030 Agenda for Sustainable Development recognised the importance of eliminating violence against women, with related targets across several of the Sustainable Development Goals.
http://www.dawn.com/news/1222396/un-chief-calls-for-steps-to-end-violence-against-women-girls
----------
Young Muslim's defiant letter to Donald Trump goes viral
November 26, 2015
After GOP presidential front-runner Donald Trump proposed a plan that would require Muslims to wear ID badges in the US, one young Muslim girl came up with a great response.
Marwa Balkar, a California resident, welcomed Trump's proposal and posted a picture of herself on Facebook wearing what her ID badge would be: a peace sign. By doing so, Balkar hoped to send a message to Trump, reports a news portal attn.
"Dear @realdonaldtrump, My name is Marwa and I am a Muslim. I heard you wanted us to start wearing ID badges, so I decided to choose one for myself." Balkar said on Facebook.
"I am not easily identifiable as a #Muslim just by looking at me, so my new badge will let me display proudly who I am. I choose the peace sign because it represents my #Islam. The one that taught me to oppose #injustice and yearn for #unity. The one that taught me that killing one innocent life is equivalent to killing humanity," Balkar added.
As Islamophobia sweeps over the nation, Trump too it seems is riding the wave and told NBC News that he would work to implement a database system that would track Muslims.
"I heard you wanted to track us as well. Great! You can come with me on my Cancer Awareness at the local middle school, or you can follow me to work where it is my job to create happiness. You can also see how my local mosques can make PB&J sandwiches for the homeless and interfaith dinners where everyone is welcomed. Maybe then you'll see that me being Muslim doesn't make me any less American than you are. Maybe if you walk in my footsteps, you can see that I am not any less human than you are."
Balkar signed the post with the Arabic expression "Salaam Alaikum," which means "peace to you."
Over the course of four days Balkar's post has received more than 300,000 likes, including a like from Facebook founder Mark Zuckerberg, reports attn.
Other Muslims are protesting Trump's comments on Social Media
Balkar is not alone and hundreds of other Muslims have been tweeting pictures of themselves displaying some form of an ID badge with the hashtag #MuslimID.
According to attn, former US marine Tayyib Rashid posted a tweet of his old ID card from the US military.
A Muslim student from Princeton University and Massachusetts of Institute Technology tweeted their student IDs.
Eventually, many Muslims from all over started using the hashtag to proudly display their Islamic faith and American citizenship.
After mounting backlash over his comments, Trump attempted to clarify his position in a tweet.
http://www.thedailystar.net/world/young-muslims-defiant-letter-donald-trump-goes-viral-178336
----------
Labor Ministry extends retail store feminization deadline
Nov 26, 2015
Abdulrahman Al-Misbahi
JEDDAH — The Ministry of Labor announced on Tuesday that it has extended the deadline for feminizing women's retail stores.
Assistant Deputy Minister of Labor Abdulmunim Al-Shihry said during the Jeddah Human Resources Forum 2015 that the original deadline for feminizing women's retail stores was Oct. 14.
"The ministry decided to postpone the deadline to give owners of women's retail stores more time to make the workplace and work environment suitable for women employees," said Al-Shihry.
He also said more and more Saudi women are being employed in the private sector.
"A total of 466,609 women were employed in 2014. Several programs have been launched by both private and public establishments to tackle the issue of women's unemployment. The programs included raising awareness among women of the opportunities available to them and how to apply for a job," said Al-Shihry.
He also said for a company to employ women, it must adhere to the ministry's Charter and must adjust the workplace in order to make it suitable for women.
"Women's privacy in the workplace must be respected. The employer must also take into account transportation, working hours, maternity leave, and space for a creche," said Al-Shihry.
"We encourage women to participate in all fields of work and industries. We are working on empowering women by offering full-time, part-time and distance working opportunities. We are also incorporating high school students, university students and students who were on scholarships abroad through talent programs such as "Mowhiba" which is held in cooperation with the Ministry of Education," he said.
In 2012, the ministry started the feminization campaign, and decided to phase out men from women-exclusive showrooms and stores in three phases. By October 2016, the ministry had planned to achieve its goal to employ women in all stores selling women's accessories.
http://saudigazette.com.sa/saudi-arabia/labor-ministry-extends-retail-store-feminization-deadline/
URL: https://newageislam.com/islam-women-feminism/calgary-self-defence-class-teach/d/105429
New Age Islam, Islamic Website, Online Islam, Islamic World News, Womens in Islam, Islamic Feminism, Arab Women, Womens In Arab, Islamphobia in America, Muslim Women in West, Islam Women and Feminism