New Age Islam News Bureau
2 Dec 2013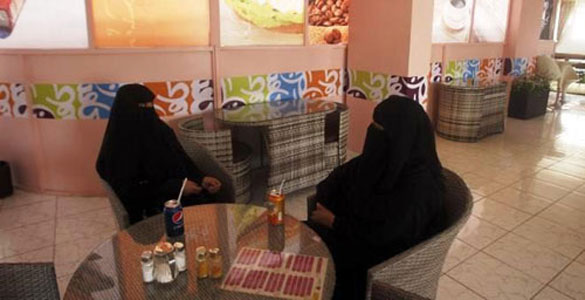 Two women drinks in Café for Girls
--------------
• 40 Women Killed, 500 Detained Since Morsi's Ouster
• Swedish Archbishop Abused For Her Tolerance to Islam
• Justice and Reparation for the Women of Communal Violence Demanded for Riot Victims
• Colombia Steps Up Campaign to Stop FGM among Embera Indians
• Rwanda: Girls Urged to Live As Go-Getters
• Rwanda Doing Well in Women Empowerment — Gender Boss
• Yemeni Families Get A WFP Cash Injection
• Ladies National Sports Teams Raise UAE Flag Proudly
• Qatar Cycling Federation's First Women's Team Begins Training
• Bahrain Celebrates Women's Day
Compiled by New Age Islam News Bureau
URL: https://www.newageislam.com/islam,-women-and-feminism/new-age-islam-news-bureau/café-for-girls-a-welcome-site-in-sana'a/d/34690
----------
Café for Girls a Welcome Site in Sana'a
Dec 02, 2013
For the first time in the history of Yemen, a businesswoman has opened a café exclusively for girls. Girls Café came to give the Yemeni women more comfort and freedom, well suited to the traditions of Yemen's conservative society.
Yemen lacks public parks, resorts and places where women can casually spend their free time. Most women in Yemen suffer from a male-dominated culture where men prefer women to stay at home while they spend most of their time outside the house. Many Yemeni families don't allow their girls to be in mixed (co-ed) cafes, for women's presence in a room crowded with men doesn't comply with the Islamic religion teachings and traditions. The overcrowding of men prevents women from speaking or even moving comfortably in these establishments..
To address these issues, Najat al-Qwas decided to open a café for girls. al-Qwas said that the reasons that pushed her to establish this cafe is the need of Yemeni women for a place that suits the community culture and at the same time meets the standards of safety and comfort due to the lack of such atmosphere in Sana'a, "the café gives women the freedom to enjoy themselves and have fun with privacy required for our daughters," she said.
Najla, a worker in the Ministry of Health, said that before she used to go to mixed cafes with hers friends to break their daily routine, but they could never be comfort because of the men presence.
"I found a lot of comfort, safety and privacy in Girls Café, where I can practice whatever I want without embarrassment, which reflected positively on my work and the rest of the day. Unfortunately there are no cafes with this privacy," said Najla, who considers Girls Café a wonderful and great initiative that suits our customs and traditions.
Nasim Mohsen, student, said that the café is a very comfortable place and she comes to it every day with her friends to study, "when I am in Girls Café, I feel as if I am at home, we can take our veils, laugh, eat, study and use the internet without the crowding of men. In Girls Café everything is convenient for girls."
According to al-Qwas the opening of the café received satisfaction by more than 90% of the visitors with the presence of several suggestions to improve the café and provide better service in the future.
"Our goal was to provide a good place for high school and university girls, but we surprised with customers from all levels housewives, educated women, students and workers," she pointed "that shows the importance of the project that achieved their satisfaction".
The café's guests have numbered more than expected, especially in the evening when work ends and women are free to drink coffee and discuss different topics.
Yemeni women have been deprived from a lot of opportunities like education and entertainment, so this café strives to enable women to engage in feminist debates while encouraging others to have business meetings or study/reading sessions. New friendships can be made, and new knowledge or insight gained through daily discussions.
In addition to all that, the café provides job opportunities to girls. There eight female workers in the café. Eman Ahmed, accountant, explains that she graduated from high school and was directly "employed" to help my family, "they didn't allow me to work in any place but when they learned it was for girls, they agreed," she said " I really enjoy my time in the café and all the visitors are so kind with me".
The café provide the girls with drinks, food, ice cream and internet.
http://nationalyemen.com/2013/12/02/cafe-for-girls-a-welcome-site-in-sanaa/
----------
40 women killed, 500 detained since Morsi's ouster
World Bulletin / News Desk
2 December 2013
Some 40 female supporters of ousted president Mohamed Morsi have been killed and 500 others arrested since the July 3 ouster of the elected leader.
"The coup has committed crimes against women in violation of international norms and conventions," the "Women against coup" movement said in a new report cited by Anadolu Agency on Saturday.
According to the group, the first casualties among pro-Morsi women occurred in the Nile Delta province of Mansoura on July 19 when four women were killed during pro-democracy rally.
The pro-democracy group said that "killings of women continued" until the dispersal of pro-Morsi sit-ins in Cairo in mid-August, in which hundreds of people, including many women, were killed.
The report said that 250 female supporters of the ousted president were arrested in the first three days that followed the eviction of the pro-Morsi sit-ins.
Twenty-two female supporters were also arrested in Alexandria during a pro-Morsi rally on October 31, the movement said.
On Wednesday, an Alexandria court sentenced 14 of the arrested protesters to 11 years in prison on charges of "illegal assembly and joining a banned group".
The report accused the military-backed authorities of trumpeting up charges against pro-Morsi female supporters, calling on civil society organizations and the international community to form fact-finding commissions into what it called "violations committed by coup-makers" against Egyptian women.
It also called for bringing those responsible for these "violations" to justice.
The report, however, did not mention the number of women who have been released.
The Interior Ministry has not released any data about the number of detainees since Morsi's overthrow.
http://www.worldbulletin.net/?aType=haber&ArticleID=124027
-----------
Swedish Archbishop Abused For Her Tolerance to Islam
World Bulletin / News Desk
2 December 2013
Antie Jackelen, Sweden's new and first ever female archbishop has admitted her shock at the amount of abuse she was getting from anti-Muslim groups in the country who oppose her tolerant stance.
She was chosen as the new archbishop in October, but will not take over until next year. Despite this, she has already been the target of abuse, which she has called 'spiteful'. One person even suggested that she be burned at the stake.
Speaking to Swedish Sveriges Radio P4 Kristianstad, she said "I was not prepared for this spite and hatred. It's clear that I am being personally referred to, it is hard to protect yourself when there is so much aggression."
She described the source of the abuse as "nationalism and an incredibly great fear and hatred of Islam."
As in many places around Europe, Islamophobia has been on an increase in Sweden. In August a Muslim woman was attacked for wearing a headscarf. However, following the incident, both Muslim and non-Muslim Swedes alike started a mass 'hijab campaign' in support of women's freedom of choice to wear the headscarf.
http://www.worldbulletin.net/?aType=haber&ArticleID=124025
-----------
Justice and Reparation for the Women of Communal Violence Demanded for Riot Victims
Kalpana Mehta and Ranjana Padhi
Dec 02, 2013
(New Delhi, Sri Lanka Guardian) The explosion of communal violence in Muzaffarnagar, Shamli and adjoining districts of Uttar Pradesh is the latest in a long series. The collusion between patriarchy and communalism has been starkly exposed in Muzaffar Nagar case too. Patriarchal control of women's sexuality and opposition to the idea of women's freedom of choices in relationships has been given new dimensions by the gatekeepers of caste and community, who have created the fiction of 'love jihad' to camouflage the reality of sexual violence.
As the virus of communal politics gathers force once again in the countdown to the 2014 elections, sexual violence is once again being deployed as a tool to secure electoral gains. We fear that Muzaffar Nagar is only the beginning - there will be more such attempts to turn women's bodies into battlefields where contending parties vie for votes.
These sentiments were echoed in a meeting organized by Women against Sexual Violence and State Repression a network of women's rights, Dalit rights, human rights and civil liberties organizations and individuals across India, in Delhi on 30th November, Saturday.
Even though Gujarat 2002 stands out for the unprecedented explosion of sexual violence that was unleashed on minority women and despite the public outrage and the many pledges of preventing a repetition of this horrifying scenario, the violence in Muzzafar Nagar is a warning that the strategy piloted in Gujarat is still a central element of the right-wing political arsenal, rooted as it is in the age-old perception of women - whether Hindu or Muslim - as the 'property' of the community and as the repositories of 'community honour'.
In Muzaffarnagar, inflammatory speeches and frenzied slogans of 'bahu bachao, beti bachao' and 'beti bahu ki izzat bachao' were used to mobilise men of the dominant castes by convincing them that "their women" were in imminent danger." The notion of protecting community honour was invoked to justify a direct call for targeted violence against minority women. A wave of sexual violence was unleashed against women immediately after the Mahapanchayat held on 7th September 2013 in Muzaffar Nagar.
Women and girls were chased down as they tried to flee the mobs, and subjected to rape and gang rape. Young girls were singled out for particularly humiliating and degrading forms of violence.
As in Gujarat, the impact of the riots has been magnified and intensified by the passivity, if not the outright collusion, of the local administration. The Mahapanchayat of 7 September was allowed to proceed despite its being a blatant violation of prohibitory orders.
Sehba Farooqui from AIDWA told that two Mahapanchayats held prior to the riots were active in spreading rumours about Muslim youth harassing Hindu women.
Farah Naqvi, member of NAC, talked about the internal displacement and absence of emergency response in such situations. "What bothers me most is the internal displacement caused by such incidents. It impacts women severely and leads to increased sexual violence."
Even after 3 months, there are little or no arrangements for provision of even basic minimum food grains, health-care or sanitation in the camps where victims are housed in inhuman conditions. There has been no action on the question of return and rehabilitation of the survivors' ghetoised in the camps. Women are being intimidated to remain silent about the sexual violence to which they have been subjected.
The Nellie massacre of 1983, the anti-Sikh carnage of 1984, the 2002 pogrom in Gujarat, the attacks on Christians in Orissa in 2007 and 2008, the communal violence in 2012 in Assam, as well as other incidents and episodes, too many to count, are still bywords for horror. The unwillingness of the political and administrative system to make itself accountable has led not only to the loss of innocent lives, but to the permanent uprooting and displacement of lakhs of people who have little hope of justice, reparation or restoration of their lives.
As women, as feminists and as citizens committed to human rights and democracy, we must and will counter the anti-women, anti-democratic methods and means being deployed by a shamelessly patriarchal, communal and violent political system that is clearly bereft of all morality.
We call on all democratic and peace-loving people to expose, condemn and oppose those who are turning women's bodies into battlegrounds for petty political gains. We demand justice and reparation for the women who are confronting and resisting the politics of sexual violence in Muzaffarnagar as well as in other parts of the country.
The meeting was addressed by Farah Naqvi (member NAC), Sehba Farooqui (AIDWA) Haseena (Awaz-e-niswan, Mumbai), Seema Mustafa (Centre for Policy Analysis), Pushpa (Vanangana), Mohan Rao (Professor, JNU), Purnima Gupta (Nirantar, Delhi), Uma Chakraborty (Feminist Historian), Kalyani Menon-Sen (renowned feminist).
http://www.srilankaguardian.org/2013/12/justice-and-reparation-for-women-of.html
----------
Colombia steps up campaign to stop FGM among Embera Indians
Dec 02, 2013
BOGOTA (Thomson Reuters Foundation) – Colombia is pushing ahead with a national campaign to eradicate female genital mutilation (FGM) among the country's Embera indigenous tribe, to prevent physical injury and even death that can result from the procedure, the United Nations has said.
Since the 2007 death of a newborn Embera girl from an infection after undergoing FGM, Colombian authorities and the United Nations Population Fund (UNFPA) have been working with several Embera communities in the country's western Risaralda province to eradicate the practice.
FGM involves the partial or total removal of the external genitalia using anything from razor blades to scissors to broken glass. In its most extreme form, the vaginal opening is sewn closed. The procedure can cause severe bleeding, pain, shock, recurrent urinary tract infections, cysts, infertility and in some cases can be fatal.
It is predominantly found in Africa, where around 3 million girls are thought to undergo FGM every year, along with parts of the Middle East and Asia.
As a result of Colombia's five-year campaign, leaders representing 25,000 Emberas living in two indigenous reserves in the Risaralda province vowed to stop FGM in their communities last year.
But despite the gains made, FGM has not been completely eradicated from the 150,000-strong Embera tribe in the country.
While there are no figures on how many girls undergo FGM every year, the practice has been reported in 16 other regions across Colombia where the Emberas live, the UNFPA said.
"We've started a national plan for the prevention and attention of FGM that will be extended to other Embera communities across Colombia, drawing from lessons learnt and experiences during the pilot campaign," Esmeralda Ruiz, UNFPA's gender and rights adviser, told reporters in Bogota earlier this week.
She said the national programme to eradicate FGM – overseen by various state entities and the UNFPA – will focus next on Emberas living in rainforest reserves along Colombia's Pacific coast in the western province of Choco.
A HEALTH AND WOMEN'S RIGHTS ISSUE
The practice was banned among certain Embera communities in Colombia because it went from being seen as a cultural tradition passed down through generations to a health and women's rights issue, Ruiz said.
"The starting point and basis of agreement was that culture should generate life not death. The Emberas agree that a cultural practice can't harm its own people, and more importantly that cultures can change," said Ruiz.
Reasons for carrying out FGM vary within the Embera tribe, UNFPA says. Some communities believe it preserves a girl's virginity and prevents promiscuity after marriage, while some girls are taught that to get married they must have undergone FGM.
"During our field work, we learnt there's no agreement about the origin of FGM and what it means. We found many Emberas didn't know why it was practised," said Ruiz.
"What's important, though, is that you can't judge a culture and say they have savage practices. You have to understand and respect their culture. The emphasis can't be on coercion. A culture doesn't change by force or punishment."
Changing social and cultural attitudes towards FGM among the Emberas was not easy. It required "years of patience, persistence and building trust", said Ruiz.
"The community has to make a collective decision about FGM in a public assembly involving hundreds of people, including fathers, husbands, elders, women and the midwives who carry out FGM. Perhaps the hardest part is for communities to inform their own people that FGM has stopped," said Ruiz.
GETTING WOMEN TO TALK
It was a challenge getting Embera women, who have little status within the community, to discuss the taboo issue of FGM in public, Ruiz added.
"We found women were really margainlised. They weren't represented and didn't have a voice. It was fundamental to get Embera women talking. Some didn't speak Spanish or make eye contact with you at first. It was a long process," she said.
Some Embera women who took part in workshops on the health risks of FGM paid a 'high price', said Ruiz.
"We did hear of some women who were beaten by their husbands after they had attended a workshop. They left their kids at home and men didn't know how to deal with their wives' new role as activists. Men felt a loss of control," she said.
Lorena Lozano, a journalist with the National Indigenous Organisation of Colombia (ONIC) and member of the Pijao indigenous group, is optimistic that FGM will eventually disappear in Colombia.
"I think it's possible to reach a day when FGM is totally eradicated in Colombia. Awareness about FGM and its risks has already been raised. That's the first key step," she said.
http://www.trust.org/item/20131129172038-iz6y0/?source=hpeditorial
----------
Rwanda: Girls Urged to Live As Go-Getters
BY JEAN PIERRE BUCYENSENGE, 2 DECEMBER 2013
Girls have been urged to keep working hard and remain committed to their targets in order to excel in life and be a source of inspiration for others. Imbuto Foundation Director General Radegonde Ndejuru, who was speaking at a workshop that brought together beneficiary schoolgirls of the Foundation, yesterday, urged the girls to enhance a go-getter attitude.
The two-day workshop dubbed, "Let us dream big and act," was conducted under the Youth Empowerment and Mentorship Programme targeting girls who were rewarded by Imbuto Foundation during the Promotion of Girls' Education Campaign.
It is being organised for the fourth time and gathered around 200 girls from Inkubito z'Icyeza clubs from 10 secondary schools across the country. Inkubito z'Icyeza are excellent girls who were recognised by Imbuto Foundation for their outstanding school performance, in an annual reward ceremonies that started about a decade ago.
More than 3,000 girls have so far been rewarded as part of the programme. The workshop, which took place in Huye District, aimed at encouraging the girls to dream big and participate in the realisation of their goals and targets, according to Ndejuru.
"This is an opportunity for these girls to interact between themselves and other successful individuals as a way of continuously instilling into them the spirit of excellence," Ndejuru said. "It gives them an occasion to set their own targets and gives them an opportunity to think of their role in building the country."
Aiming for the moon:
She called on the girls to make efforts to remain successful not only at school but also in real life and their career with a never-give-up and go-getter attitude. She said, "Dreaming big will allow them to inspire others within their communities and impact on the lives of other individuals."
Christelle Umubyeyi, a senior five student of Lycee Notre Dame de Citeaux, said the workshop has been inspirational and helpful. She said interactions with others help to shape one's experience and future. "The sharing of ideas, skills, experience and savoir-faire helps us to remain excellent and successful and improve on our contribution to the nation's building," Umubyeyi said.
She said she will share the acquired skills with other girls, especially members of her group, to make sure they benefit many individuals. She also vowed to keep working hard and remain committed to her studies in order to keep performing well.
Huye Vice Mayor for Social Affairs Christine Niwemugeni described the mentorship programme as "unique" and said it is an opportunity for the girls to learn from others and commit themselves to successful lives.
http://allafrica.com/stories/201312020027.html?aa_source=sptlgt-grid?aa_source=sptlgt-grid
----------
Rwanda Doing Well in Women Empowerment — Gender Boss
BY FRANK KANYESIGYE, 2 DECEMBER 2013
Despite various initiatives to empower women in all aspects of life, many are still denied their rights to property, especially inherited from parents and husbands. Most disturbing, however, is that some women are not being assertive enough to claim their rights in a society that still habours some archaic cultural norms against women.
The New Times' Frank Kanyesigye spoke to Rose Rwabuhihi, the Chief Gender Monitor at the Gender Monitoring Office (GMO) on the progress of women empowerment and brings you the excerpts
What is the mandate of GMO?
Gender Monitoring Office (GMO) is a government body set up by the 2005 amended constitution. It is responsible for monitoring the implementation of gender equality in all sectors across the country.
The body is committed to ensuring that the principle of gender equity is upheld across the country and we are delighted to say that our country is proving to the world that gender equality is applicable and sustainable.
There is a lot going on if you look at several government laws. Much effort is being put in place to ensure gender parity. For example the land reform law which gives equal land rights to men and women. In all sectors of the economy, women have the same voice as men. However, we need to ensure that gender equality is implemented at all levels.
How does GMO do its work?
We monitor gender issues through application of Participatory Gender Assessment (PGA) in institutions to determine whether gender equality is implemented. We monitor if women and men have equal opportunities in accessing finance, education and other incentives.
We also carry out studies to establish whether gender equality is applicable in all sectors of the economy, where there is a gap we put in place mechanisms to fill it.
What challenges do you face in enforcing gender equality?
There is a challenge of inadequate knowledge and skills. Some of the experts in monitoring gender equality have little knowledge on how to approach gender situations and come up with proper analysis. Planning for gender equality needs desegregated data which might be unavailable during the process of implementation. We are trying to discuss with those who have data regarding gender equality to enable us streamline our approaches.
What are your expectations from the 64 per cent women representation in Parliament?
There is nothing specific we are expecting from women parliamentarians despite their numerical strength. Both men and women represent Rwandans. I think the big number of women in parliament will play a key role in implementing gender issues.
We want them to be gender sensitive to all issues that are tabled in Parliament. We believe women will be much more sensitive than their male counterparts in the legislative assembly when it comes to laws that may have discriminatory clauses. On the other hand, they both have equal obligations when passing laws.
How can the GMO leverage women majority in Parliament to expand opportunities for woman in the private sector?
It is true women have not engaged themselves in private sector development and there is a big gap here. For instance the level of investment in the private sector by women is very low. The issues of cultural background and the capacity to look for investment resources have hindered the growth of women numbers in the private sector compared to public sector.
As you know, women have just been given rights to inherit land. Land is an important asset that can be used as security for accessing loans from commercial banks. Since women had no land or any other property, they were not in position to invest. As the GMO, our mandate is to do advocacy to increase the number of women in the private sector. We shall also partner with stakeholders to address challenges affecting the position of women in the private sector.
What is your take on the draft law to reduce maternity leave days for working mothers?
We have received complaints from the civil society asking for that law to be looked at. However, the discussion is still on to make sure that everybody understands the implications of the law and the benefits of changing that law.
Any change has to be substantiated. It has to be justified how the change will benefit the nation not the individuals. We are in discussions and very soon, we are going to come up with resolutions and respond to those who have concerns. If there is something that harms the principle of gender equality in this law, it will be addressed.
What is your take on the status of women in the country?
I think Rwandan women are empowered because the law is clear-women and men have equal rights. Most of the laws and policies are trying to align with that principle. The challenge is that a lot needs to be done especially in the private sector.
If we want women to be fully empowered, we have to push young girls to go for careers that were once dominated by men. In the field of diplomacy for example, women are scarce despite the fact that women participation inside the country is strong.
We want to expose women to that level. There is also the challenge of poverty among women. As I said earlier, the number of women in the private sector is still very low meaning that women are not empowered in the sector.
What are the priorities of GMO for the year 2014?
We are planning for the 2014-2015 Financial Year. We are discussing with the ministry of gender, National Council of Women and the National Child Commission and women parliamentarians to come up with ideas and initiatives for the year. On our side, we have identified sensitive areas where emphasis should be put. Such areas include; security, finance and health. We are compiling viable data on how gender equity can be attained in these areas.
We also plan to engage various sectorss to see what methodology will be applied to come up with viable data of gender equality. The same thing is going to happen in all the districts to find out how gender equality stands in the districts and this will help us address some of the challenges that may be hindering the implementation of gender equality in the country. This will put us in a position to provide best practices to others who may want to learn about Rwanda's gender initiatives.
How are you addressing Gender Based Violence?
In line with the law that established the GMO, we are supposed to receive cases of GBV and enable the victims to get the services they need. Our mandate is to assess how services are provided to the victims and advocate for issues we have noticed during monitoring and assessment. When victims of GBV come to us, we listen to them, offer advice and counselling, before referring them to the right institutions. After that, we do a follow-up to make sure they get the services they need.
Any achievements in implementing your mandate?
One of the major achievements is that the institution has helped gender equality take root. Implementing gender equality is not easy. Imagine auditing institutions to find out if they are sensitive to gender issues and providing results. It's really an achievement we can be proud of. Several institutions have been given good advice that has helped them plan for gender equality and understand how gender can be reflected in what they do.
Another important aspect is how we support districts and ministries to execute gender-sensitive budget. We have produced several indicators to service providers to enable them plan for gender equality.
What are the major challenges Rwandan women face today?
Shifting the mindset on gender equality is something that takes time. We appreciate the fact that our government has a strong political will to empower women, but there is a challenge of culture that impedes women empowerment.
We still have a long way to go to make people understand the principle of gender equality. For example, on the issue of land rights, we have achieved the full implementation of gender equality but women still believe that they do not have equal rights to land. It's not easy to make men understand that they have 100 per cent equal rights with women when it comes to land issues, even when both have title deeds.
There are a lot of complaints from women who have been denied access to land inherited from their husbands and parents. Women also face the challenge of lack of self esteem. We have realised that some women think that their husbands have the right to beat them for not cooking food.
Anything you may want to add?
I want to stress that people have to understand that gender equality is important to everyone because it is about transforming lives, homes and the government. We want to see girls in schools like boys. We have seen cases where parents have removed a girl child from school in favour of a boy. We do not want this mindset anymore, because both girls and boys have equal rights and capacity to provide for the family and the nation. Girls who have been deprived of their rights are engaged in prostitution. Parents should know that if girls are denied their rights, they will end up doing what their parents do not want them to do.
Providing support to girls and women is paramount to fight poverty in the family and in the country.
http://allafrica.com/stories/201312020028.html?viewall=1
----------
Yemeni Families Get A WFP Cash Injection
Press release
Dec 02, 2013
In Yemen, five million people worry at the end of each day whether they have just eaten their last dinner or if they will be able to secure the next day's meals for their children. In a country where hunger is a common fixture of many Yemenis everyday lives, WFP's newly-launched cash assistance give a bit of hope to many families.
"Receiving this money means I will not have to send my three young children to work in the villages collecting plastic. I will spend in on basic food stuffs for the family," says Hanan a 27-year-old mother in Al-Dumay village near Taiz.
This month, WFP began providing cash transfers to 57,000 households in Ibb and Taiz governorates. Designed to help people supplement their food consumption, cash transfers are part of WFP's US$250 million emergency operation.
Through the programme, each targeted family receives the equivalent of US$27.50 per month. While families are free to spend the cash as they want, surveys have shown that most of the money is spent on food with the remainder being used for other essentials such as health care or schooling.
For Mohamed, a 40-year-old father of five, the cash assistance will enable him buy both food and medicine. "This afternoon I will walk with my sons to the market to buy wheat, sugar, oil and rice while my wife will go to the pharmacy to buy medicine for our new-born daughter," he said.
WFP is implementing this innovative assistance tool in cooperation with the Yemeni Posts and Postal Services Corporation and the Ministry of Education in selected districts with developed financial services and local markets.
"When the right conditions are there such as the availability of food in the market and providers to disburse the cash, cash transfers are often more appropriate than simply handing out a food basket," said WFP Representative and Country Director Bishow Parajuli. "This type of assistance introduces the element of choice and helps to stimulate local markets."
http://nationalyemen.com/2013/12/02/yemeni-families-get-a-wfp-cash-injection/
----------
Ladies National Sports teams raise UAE flag proudly
Dec 02, 2013
ABU DHABI: Under the patronage of Fatima Bint Mubarak Ladies Sports Academy, the UAE Ladies National Sports teams including the Football, Ice hockey, Figure-skating, Handball, Horse-jumping Riders, Fencing, Karate, and Volleyball gathered at Emirates Palace, along with the Academy's management, to celebrate the 42nd UAE National Day.
As the UAE Ladies National Sports Teams raise the UAE flag proudly, all showed great appreciation and gratitude to President His Highness Sheikh Khalifa Bin Zayed Al Nahyan, Their Highnesses the Supreme Council Members and Rulers of the Emirates, and General Sheikh Mohamed Bin Zayed Al Nahyan, Crown Prince of Abu Dhabi and Deputy Supreme Commander of the UAE Armed Forces.
The Fatima Bint Mubarak Ladies Sports Academy, also praised Sheikha Fatima Bint Mubarak, Chairwoman of the General Women's Union (GWU), Supreme Chairwoman of the Family Development Foundation (FDF) and Chairwoman of Supreme Council for Motherhood and Childhood, President of the General Federation of Arab Women's Organisation, and to Sheikha Fatima Bint Hazza Bin Zayed Al Nahyan for her elaborated and continuous support in the field of women sports in the Emirate of Abu Dhabi.
http://gulftoday.ae/portal/9995056e-1f6b-467a-8a28-c060f59a3c18.aspx
----------
Qatar Cycling Federation's First Women's Team Begins Training
Dec 02, 2013
The Qatar Cycling Federation (QCF), in a bid to have its own women's team at the 2016 UCI Road World Championships in Doha, has taken the first step in that direction.
A 25-member developmental team, consisting mostly of riders between 13 and 21 years, was unveiled yesterday and has already begun training near the Losail International Circuit.
"We have been trying to start a women's team since 2005, before the Doha Asian Games, but unfortunately couldn't find an Arabic-speaking coach at that time. It was also difficult to bring a professional coach as we were thinking that it won't be easy for her to establish a good rapport with the trainees. So due to all these obstacles, the plan did not work.
"But the younger generation has proved they don't necessarily need Arabic coaches to do well. Now we've hired former Finnish rider Pia Sundstedt to train them. They've only recently begun training and have a long way to go. Our eventual aim is to have them ready for the world championship," said QCF general secretary Majed al-Naimi.
Sundstedt is employed with Aspire currently but her credentials and big experience prompted the Qatar Cycling Federation to approach her and the former four-time Finnish national road race champion and expert mountain bike racer agreed to take up the challenge of building Qatar's national team.
"I am having a fantastic time. They are young... the youngest one is 13 and the rest are in between 15 to 21. They are of the right age to start with. I am really excited," said Sundstedt, who has 15 years of professional experience.
Taking about the potential of the girls, she said: "I have some good riders with me. They're very talented and ambitious. Some of them have it in them to make it big.
"The children were training indoors for a while, but have moved outdoors now. They have to learn a lot and I have the feeling that they have the will to learn and that's very important," she added.
Some of the cyclists like Ramz Sbeitan (17 years), Salma Marey (16), Reem Sbeitan (13), Nermeen Ghounim (16), Rana Sbeitan (16) and Dana Othman Abuhejleh (16) were present when Al-Naimi unveiled the team yesterday.
"QCF board member Amani al-Dosairi has done a lot of hard work behind this project. Now the plan is to support the girls as much as possible. Then we'll pick the national team. After further extensive training, we aim to take part in the Arab Road Racing Championship in September 2014," Naimi said.
"We have started the team and one day, we'd like to see them on the podium. That will be our reward," Naimi added.
Naimi said the QCF plans to enter the female team in the World Road Racing Championship, scheduled to be held in 2016 in Qatar.
"Also, we aim to compete in the 2016 World Championship with the national team. The Qatar Olympic Committee is supporting us. The QCF will also do its best for their preparations. We want them to put in their best and see where they finish," Naimi added.
Qatar's woman cycling team members pose with their coach Pia Sundstedt (6th from right) and Qatar Cycling Federation general secretary Majed al-Naimi.
http://www.gulf-times.com/sport/192/details/373263/qcf%E2%80%99s-first-women%E2%80%99s-team-begins-training
----------
Bahrain celebrates Women's Day
Dec 02, 2013
The achievements of the Bahraini women will be celebrated at a special forum to be held under the patronage of Her Royal Highness Princess Sabeeka Bint Ibrahim Al-Khalifa, Wife of His Majesty King Hamad Bin Isa Al-Khalifa, the King of Bahrain, and President of the Supreme Council for Women.
The event will be held under the theme "Women and Media" on Wednesday at Bahrain's National Theater to mark the Bahraini Women's Day, which is annually celebrated on December 1.
Princess Sabeeka said it has become a national day for the country and for Bahraini women in particular.
"This is an important occasion to express appreciation and honor the achievements of women on all levels in order for the progress of women to become one of the main reasons for the development and advancement of their country," she stated.
Princess Sabeeka praised the continued support of His Majesty, demonstrated by his determination in ensuring the continued presence of women in all fields.
This is achieved through directives given to all authorities to implement the concept of "equal opportunities" in accordance with the Kingdom's constitutional principles. This ensures the presence and participation of women in the public arena, guaranteeing their rights and family status in order to support them to accomplish their national duties with confidence and competence, she said.
Princess Sabeeka expressed appreciation to all official and private institutions in the Kingdom and praised their active participation in this occasion through honoring working women in these institutions or through highlighting Bahraini women's accomplishments as part of acknowledging the pioneering role played by women in the advancement of Bahrain, presenting it as a role model on the regional level.
This is achieved through highlighting the magnitude and quality of women's participation with the continuous support of Bahraini society, proving to the world that the presence and participation of women is deep-rooted and its development is inevitable and is nurtured by the cooperation of official and civil entities.
On the occasion of the 6th anniversary of Bahraini Women's Day, Her Royal Highness reiterated the SCW's commitment to accomplishing more for Bahraini women in the context of mainstreaming women's needs in National Plans and in ensuring qualitative change towards the consistency of women's advancement.
This is especially since the capabilities and the qualifications of Bahraini women are considered essential national gains in the context of the comprehensive development path. Her Royal Highness acknowledged and expressed her appreciation for every Bahraini woman insisting, despite all the difficulties, on making the efforts to serve Bahrain and protect the national gains obtained since the beginning of the last century.
The SCW had organized a number of events leading to Bahraini Women's Day, such as the Media Rally Competition launched last May with the aim of focusing on effective media productions with regards to women's issues.
As part of the supporting events for Bahraini Women's Day, the Youth Committee at the Supreme Council for Women (SCW) organized a Youth Forum entitled "Women & Social Media" in October.
Also, the council had organized a workshop on "Media Practices: Through content, implementation and accountability" in June. The workshop aimed to enhance the legal education and to build the capacities and skills among media personnel and to improve the media discourse, utilizing such skills while presenting women's issues.
Additionally, the SCW in cooperation with the German Embassy in Bahrain and Deutche Welle Academy, hosted the Media Forum entitled "Women's Portrayal in Arab Media" in May this year. The forum aimed to establish a media network including women media figures from GCC countries
http://www.tradearabia.com/news/MISC_247479.html
----------
URL: https://www.newageislam.com/islam,-women-and-feminism/new-age-islam-news-bureau/café-for-girls-a-welcome-site-in-sana'a/d/34690