New Age Islam News Bureau
11 June 2022
• Women in Saudi Arabia Must Still Cover Hair and Neck in ID Photos: Civil Affairs Spokesman
• Specialized Training Programs for Women to Obtain a Marine Driving License in Dubai
• Crowd Funds London Dream of Afghan Girl, Laila Rasekh, Who Fled Abusive Home
• How an Urban Garden Helps Syrian Women Cope with Exile in Amman
Compiled by New Age Islam News Bureau
URL: https://newageislam.com/islam-women-feminism/manchester-female-muslim-councillor-shaheena/d/127226
--------
Bury's (Greater Manchester, England) First Ever Female Muslim Councillor, Shaheena Haroon, Becomes Mayor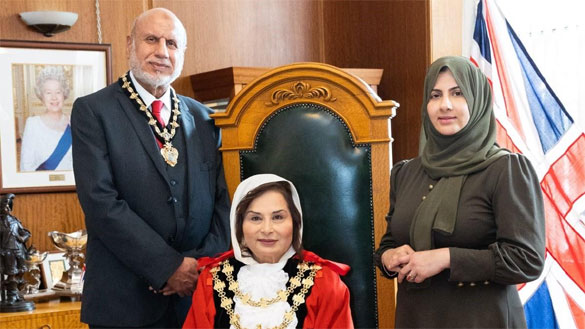 The new Mayor of Bury, Cllr Shaheena Haroon, with her husband Mr Raja Haroon Khan who will serve as her consort and her daughter, Cllr Ayesha Arif, who will be her mayoress
-----
JUNE 06, 2022
By Alice Gerrard
A councillor who became Bury's first ever female Muslim councillor is now the borough's mayor.
Redvales councillor Shaheena Haroon is the new mayor of Bury for the 2022/23 year.
Cllr Haroon took over the chains of office from the Holyrood councillor Tim Pickstone at the annual Bury Council meeting.
Cllr Haroon was first elected to Bury Council a decade ago in 2012, becoming the first female Muslim councillor in Bury's history.
She was born in Kalri (Bhimbar, Azad Kashmir) Pakistan into a family that served the British Army, Indian Army and the Army of Pakistan since WWII.
Her political career began in 1983 in Pakistan, helping women in communities where economic opportunities were severely limited.
She supported the homeless and unemployed and became an advocate for women who were wrongly imprisoned.
In 1999, Shaheena and her family moved to the UK and in 2010 was awarded the title of Bury Woman of the Year due to her work and dedication in supporting homeless facilities, acting as an interpreter and supporting domestic violence and abuse victims.
She is a founding member and vice-chairman of Bury Asian Women's Centre (now Bury Active Women's Centre) and is currently employed at the centre facilitating support and help to those in need.
Her husband Raja Haroon Khan will serve as the mayor's consort and her daughter, Cllr Ayesha Arif, will be her Mayoress.
Cllr Haroon said: "I am extremely honoured to become the mayor of Bury and am looking forward to my new role over the year ahead.
"I love meeting people from all walks of life, and this is a great opportunity to meet people from all Bury's diverse communities.
"I'm also looking forward to encouraging and supporting local charities and promoting local businesses, attending local community events, youth groups and activities, as well as championing the borough and representing the council at official functions."
The mayor's charities will be Bury Veterans Hub, Jigsaw, Bury Hospice, Jinnah Day Care Centre and Bury Defence Academy.
The Mayor's Chaplain will be Imam Hassanat Ahmed from Noor Ul Islam Mosque.
At the meeting, councillors voted to install Moorside councillor Sandra Walmsley as deputy mayor for the coming year.
Medallions were also presented to the outgoing mayor, Tim Pickstone, and his consort Wayne Burrows, in recognition of the service they had given.
Source: Bury Times
https://www.burytimes.co.uk/news/20189251.burys-first-ever-female-muslim-councillor-becomes-mayor/
--------
Women In Saudi Arabia Must Still Cover Hair And Neck In ID Photos: Civil Affairs Spokesman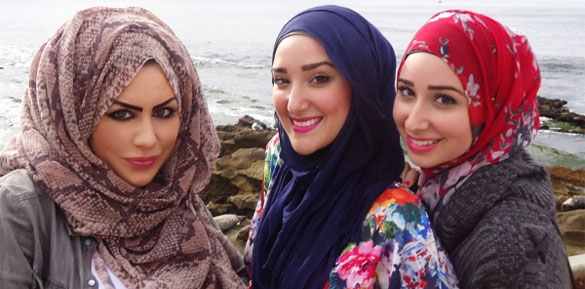 Representative Image
----
Mohammad Al-Kinani
June 11, 2022
JEDDAH: It is not true that women in Saudi Arabia can show their hair or necks in civil status ID card photos, according to Mohammed Al-Jasser, spokesman for the civil status department in the Kingdom.
The Council of Ministers has approved amendments to the regulations of the Civil Status system, with article 17 no more stating that "it is obligatory" for women to cover their hair and necks in photos for civil status ID cards.
Al-Jasser told Arab News that only females between the ages of 10 and 14 years old can appear in ID photos with their hair uncovered, although he added that older women with certain health conditions might also be eligible for exemption.
Meanwhile Article 146 has been amended to state that the national identification document, printed or digital, should contain the following information: the ID holder's photo, first name, father's name, grandfather's name and family name/surname in both Arabic and English, place of birth, date of birth in Hijri and Gregorian format, civil registry number, ID expiry date in Hijri and Gregorian format, ID copy serial number, official logos, and security features, and any data the Ministry of Civil Status deems necessary to be added or deleted.
Source: Arab News
https://www.arabnews.com/node/2101141/saudi-arabia
--------
Specialized training programs for women to obtain a marine driving license in Dubai
June 9, 2022
The Dubai Maritime City Authority at the Ports, Customs and Free Zone Corporation has conducted its training program specialized in qualifying women to obtain a license to drive a marine craft in Dubai waters.
Sheikh Saeed bin Ahmed bin Khalifa Al Maktoum, Executive Director of the Dubai Maritime City Authority, said that with the United Nations announcement of the International Day for Women in Maritime Transport Sector for the first-time last May, the Dubai Maritime City Authority decided to provide an exclusive opportunity to empower qualified women to obtain license to drive a marine craft in Dubai through launching an integrated training program conducted by an experienced parties within the authority.
Sheikh Saeed added: "To enhance the UAE's membership in the Arab Women in Maritime Association (AWIMA), the Dubai Maritime City Authority seeks to continue providing the necessary support related to education and training for qualified female cadres with the aim of strengthening the maritime sector with future female capabilities, and we are amid preparing other plans and initiatives within the framework of our powers and our services which aim to enhance the female element in the maritime sector".
The Executive Director of the Dubai Maritime City Authority stressed that the authority gives a great importance to empowering women competencies and
providing them with the skills and resources necessary to enter the maritime sector, based on its leading role in society, and in appreciation of the vital role that women play in the global maritime industry.
About 20 women graduated as part of the first batch of the training program held by the Maritime Traffic Department at the Dubai Maritime City Authority last May which lasted for a week. The program included theoretical training programs on maritime leadership instructions and practical training on board of marine crafts to ensure their compliance with the rules and regulations applied by the authority in Dubai waters.
The authority decided to continue holding these training programs, with a specialized training program for women only. Those wishing to apply for a marine driving license in Dubai can submit an application via e-mail to info@pcfc.ae or call the 247 Call Center 800990.
Source: Zawya
https://www.zawya.com/en/press-release/government-news/specialized-training-programs-for-women-to-obtain-a-marine-driving-license-in-dubai-nt3cadfi
--------
Crowd Funds London Dream of Afghan Girl, Laila Rasekh, Who Fled Abusive Home
11th June 2022
By KV Navya
CHENNAI: Laila Rasekh from Afghanistan was seven years old when her mother pushed her to work that no child should ever be forced for. She was tortured by her own family. But Laila managed to be brought to India by Women for Afghan Women (WAW) in 2014 and managed to complete her schooling at a reputed institution in Kodaikanal.
Laila, who always wanted to be a journalist and with quite some stories in her kitty, recently completed her postgraduate diploma in journalism from the Asian College of Journalism, Chennai. To finish the last leg of her education at the School of African and Oriental Studies (SOAS) in London, she is seeking funds through a crowd funding platform. As much as Rs 14.8 lakh of Rs 20 lakh has been raised so far. She has got admission for Masters in International Politics.
After her mother went to prison, WAW took her to one of their Children's Support Centres in Afghanistan. In 2013, when she was in Class 9, her mother was released from the prison and wanted to take Laila back with her and threatened to kidnap her. Laila had then no other option, but to flee to India.
Nityanand Jayaraman, who was her guardian, said, "I knew a member of WAW, who contacted me asking if I can be Laila's guardian in 2014. I got to witness an innocent girl, who did not know a word of English, Tamil or Hindi, transform into a fierce and strong-minded woman over the years. Everywhere she went, she had a scholarship."
Chennai is my home, says 23-year-old Laila. "Whenever I had a break in school, I would come to Chennai. This city is where my journey began. My journey, though painful, has been instrumental in shaping my worldview and underscoring the importance of education, especially for girls," she said.
"I got admitted to one of the world's best institutes. But what stands between me and the education, that will set me free to pursue a meaningful career, is money for tuition and expenses. This is a terrifying moment for me. The SOAS course is not merely the final step toward my career. It is the only thing that keeps me from being sent back to Kabul."
In the years that she has spent in India, the situation in Afghanistan has gone from bad to worse. "If I return, my efforts and education will be for nothing as women have no standing in today's Afghan society," said Laila.
Source: New Indian Express
https://www.newindianexpress.com/good-news/2022/jun/11/crowd-funds-london-dream-of-afghan-girl-who-fled-abusive-home-2464188.html
--------
How an urban garden helps Syrian women cope with exile in Amman
Khaled Yacoub Oweis
Jun 10, 2022
Before she fled her home in a Damascus suburb in 2014 to Jordan, Narjas Kilani rarely went to the market to buy produce.
Along with members of her family, she cultivated a half-acre piece of land near their building in Otaybah in Eastern Ghouta, an expanse of old farmland and urban centres east of Damascus.
"We were not farmers but agriculture is ingrained in the Ghouta society. We had a well and the land next to our home supplied us with almost everything," said Ms Kilani.
Eastern Ghouta rose up days after peaceful demonstrations against five decades of Assad family rule broke out in southern Syria in March 2011. The revolt militarised after violent suppression by the regime and by the end of the year there was civil war.
Ms Kilani fled to Jordan with her four children shortly after Syrian security forces abducted her husband, an assistant engineer, when they were in a car stopped at a roadblock in Ghouta.
After her husband disappeared, Ms Kilani paid a smuggler to take her and her four children to Jordan.
She ended up living in a five-storey building in a modest neighbourhood in north Amman. The building houses 25 Syrian women, mostly widows, and their 80 children.
It is a microcosm of the human effects of the Syrian conflict — and of people quietly trying to help its victims in Jordan. Hundreds of thousands of Syrians have fled to the kingdom in the past decade.
German aid organisation Hilfe zur Selbsthilfe, which means Helping People Help Themselves, donated a drip irrigation system in the garden of the building and on the roof for residents to grow fruit and vegetables to feed themselves.
Since the system was installed in January, Ms Kilani has grown cabbage, aubergine, lemons and lettuce, as well as herbs such as melissa.
"The land is not as fertile as Ghouta and the produce takes more time to grow," she said.
But the limited output helps lower the food bill for her and for the other women heads of households in the building.
Amman, like the rest of Jordan, is parched, with municipality water coming one day a week. Most of the green spaces surrounding buildings and homes are in more affluent parts of Amman and are grown mostly for decoration.
In the afternoon, the shadow of the building where Ms Kilani lives falls on the garden, hindering the growth of crop. On the roof, a plastic house has been installed. Mother-of-three Hiyam Saeed tends to an array of herbs.
In 2016 she fled Mheen, a village in central Syria to Jordan. Her husband died from an illness soon after they arrived. Before 2011, Mheen produced wheat and olive oil.
"An agricultural engineer showed us how to use the system and now we are familiar with it," said Ms Saeed while tearing a basil leaf full of aroma.
Although farming has been the mainstay of the economy since Jordan was founded in the 1920s, many who do the farming in Jordan now are from Egypt and South Asian countries.
Syrian teacher Nada Mohammad, who oversees activities in the building sponsored by charities, said the women in the building cannot go back to Syria because most of their homes have been destroyed, they have no money and the economy in their homeland has been destroyed.
"There is nothing to go back to," said Ms Mohammad, who also teaches the children mathematics and chemistry.
At least two have gone on to Jordanian universities to study computer and nursing, financed by donations.
Others help differently. The building's Jordanian owner charges below market rents, and Korean students studying Arabic at Jordan University stop by the building regularly to give children English lessons, Ms Mohammad said.
Source: The National News
https://www.thenationalnews.com/weekend/2022/06/10/urban-garden-helping-syrian-women-cope-with-exile-in-amman/
--------
URL: https://newageislam.com/islam-women-feminism/manchester-female-muslim-councillor-shaheena/d/127226
New Age Islam Islam Online, Islamic Website, African Muslim News, Arab World News, South Asia News, Indian Muslim News, World Muslim News, Women in Islam, Islamic Feminism, Arab Women, Women In Arab, Islamophobia in America, Muslim Women in West, Islam Women and Feminism