New Age Islam News Bureau
3 Feb 2013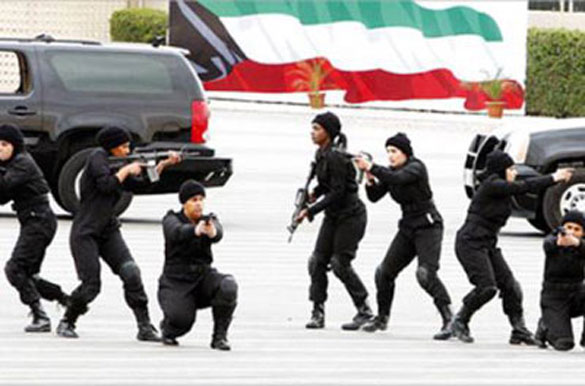 • Egyptian Christian Girl, 13, Abducted By Muslims
• Kuwaiti Women May Become Military Pilots
• Of Women dress codes and social values in Sharjah
• Police Call For Caution after Arrest of Egyptian Rapist
• Saudi Arabia's Most Famous Female Photographer Breaks With Muslim Stereotypes
• Yemeni Capital Holds Its First Fashion Show amid Tight Security
• Afghan Female Artist Beats the Odds to Invigorate Kandahar's Art Scene
• Women with Heart Disease At Greater Risk Of Cognitive Problems
• Pakistan Govt Takes over 15 Women's Crisis Centres Named after Benazir Bhutto
• Indian woman, in Dammam who lost her memory recovers
Compiled by New Age Islam News Bureau
Photo: Kuwaiti women have displayed impressive skills in security arrangments
URL: https://www.newageislam.com/islam,-women-and-feminism/new-age-islam-news-bureau/"burquas-for-babies"--saudi-cleric's-new-fatwa-causes-controversy/d/10250
------------
"Burquas For Babies": Saudi Cleric's New Fatwa Causes Controversy
03 February 2013
A Saudi cleric has called for all female babies to be fully covered by wearing the face veil, commonly known as the Burqua, citing reports of little girls being sexually molested.
In a TV interview on the Islamic Al-Majd TV, which seems to date back to mid-last year, Sheikh Abdullah Daoud, stressed that wearing the veil will protect baby girls. The Sheikh tried to back his assertion with claims of sexual molestation against babies in the kingdom, quoting unnamed medical and security sources.
Recently picked up on social media, sheikh Dauod's statement prompted wide condemnation from his fellow Saudis on Twitter. Some tweeps called for the Sheikh to be held accountable because his ruling denigrates Islam and breaches individual privacy.
Sheikh Mohammad Al-Jzlana, former judge at the Saudi Board of Grievances, told Al Arabiya that Dauod's ruling was denigrating to Islam and Shariah and made Islam look bad.
Jjzlana urged people to ignore unregulated fatwas and explained that there are special regulations set by the Saudi authorities to administer religious edicts and appoint those who are entitled to issue them.
He said that he feels sad whenever he sees a family walking around with a veiled baby, describing that as injustice to children.
http://english.alarabiya.net/articles/2013/02/03/264031.html
-------------
Egyptian Christian Girl, 13, Abducted By Muslims
2-3-2013
(AINA) -- On December 23, 2012, 13-year-old Agape Essam Girgis from the village of Nahda, el-Ameriya, near Alexandria, went to school as usual. Failing to return home, the family knew that she went out of school accompanied by the Muslim social worker Heba and two teachers, one of the them a Salafist. She stayed missing for 9 days during which the family and sympathizers organized a sit-in in front of the renowned Alexandria Library. The Coptic Church in Alexandria also organized a conference on December 30 on the abduction of Coptic girls, with focus on Agape, which was attended by journalists and the public.
On December 31 state security contacted Bishop Pachomios and told him that they have the kidnapped girl. She was handed over to her family and the church priest where she stayed with his family for some time due to the terrible ordeal she experienced during her abduction.
Bishop Pachomios said in an aired interview with Al Balad TV that what happened to Agape is "heart-breaking." He said that she went in a taxi with her school's social worker Heba and two men, and that she was drugged and awakened to find herself in a secluded place with an elderly woman. He said that after she returned home he spoke to her and she said that the Salafists tried to convert her to Islam.
Activist Ramy Attia Zakaria, of the April 6 Liberal Movement in Alexandria, interviewed Agape upon her return and said it is now confirmed that her Muslim social worker Heba was behind the abduction. "Agape left school with her and two teachers. The girl was drugged in the car to wake up in a secluded house with two sheikhs and an elderly woman," Ramy said. He added that Agape stayed there for about eight days until three sheikhs came and spoke with one of the sheikhs she was staying with, telling him that Agape has to returned to her family as they are making demonstrations for her return. Agape said that during her stay with the Salafis sheikhs they tried to make her convert to Islam by saying the "Islamic Two Faith Confessions" but she refused. They forced her to wear the full veil and took photos of her in this dress. Agape said that she was beaten two or three times when she refused to convert to Islam.
After her release she was taken to el-Ameriya police station where she was told to say that "she has left home and went to el-Ameriya, where she found a sheikh and she told him that she wants to convert to Islam," continued Ramy. When her family received her from the police station, her father, who works as a tailor, said they do not wish to accuse anyone in this case as he was pleased to get his daughter back. "Besides I have a younger daughter and I fear for her safety" said her father. Agape's father and their church priest decided that she will not go back to school. Activist Ramy said that most of the Coptic inhabitants of Alexandria are refusing to send daughters older than 9 to school. He accused the Salafist Sheikh Sherif el-Hawary in el-Ameriya of being behind all abductions of Coptic girls in Alexandria and surrounding areas. "When a girl is abducted we go and get her from this sheikh," said Ramy.
"From the beginning of the Egyptian Revolution on January 25, 2011 until January 26, 2013, over 500 girls have been abducted," says Ebram Louis, founder of the Coptic non-governmental organization Association of Victims of Abduction and Enforced Disappearance (AVAED), which handles cases of abducted Coptic minors. Louis blamed the interior ministry for all the disappearances of Coptic minors, saying the ministry colludes with the Muslims. "There is hardly a day which passes by without a Coptic girl disappearing."
According to Louis it is Salafists sheikhs who are behind nearly all abduction cases, especially in Alexandria (AINA 7-13-2011) and Mersa Matrouh. "In every Egyptian province there is a Salafist association which handles the kidnapping of Coptic girls. They have homes everywhere where they keep them." He added that "if we inform the police where the kidnapped girl is being kept, they inform the Salafists, who then move her away to another home and then we lose all trace of her."
Attorney Said Fayez, who also works for AVAED, said the reason for the escalation of cases of adduction and forced Islamization of girls since the 2011 Revolution is that before the ousting of the Mubarak regime the then so-called State Security was carrying out these abductions for political reasons, and the Salafists at the time were doing the kidnapping on their behalf. "After the Revolution and with the dissolving of the State Security, it is the Salafists now that are abducting the girls." Fayez said that whenever a girls goes missing the new central security directs us to ask certain Salafist sheikhs on her whereabouts, depending on the area where the kidnapping took place. "We have observed that the age of the abducted girls is growing younger -- 13, 14 years old. A girl disappears until she is 18 years old, which is the legal age for marriage and conversion of religion." He said that they were directed by security to go to the Salafist leader of the area, Sheikh Sherif el-Howary. Attorney Fayez confirmed that this is an organized operation which includes Salafist leaders, parliamentarians and the police.
By Mary Abdelmassih
http://www.aina.org/news/20130202195322.htm
-------------
Kuwaiti women may become military pilots
By Habib Toum
February 3, 2013
Manama: Kuwaiti women are likely to be allowed to sit in the cockpits of military aircraft if a study recommends it.
Kuwaiti local daily Al Rai on Sunday said that there was "a serious study being conducted to allow women to join the Kuwaiti air force."
Quoting military sources it did not name, the newspaper said that the decision was made after only seven men signed up to become army pilots even though Kuwait needs a much higher figure for the army aircraft.
"There is now a serious tendency to benefit from the potential of Kuwaiti women to join this significant and sensitive sector, especially that the political leaders have been encouraging young men and women to become members of the army," the sources said. "Kuwaiti women have already proven their prowess in the security forces where they have held high positions as officers. They have displayed impressive levels on assuming responsibility, especially in dealing with the people."
The study will be referred to the cabinet for a decision.
According to the sources, the initial stages of the army women's flying training will on how to be helicopter pilots.
Women have been facing a struggle to enter all sectors of society, but have shown sufficient stamina to reach parliament where they won four seats in the 2009 elections, lost them in February 2012 and regained three in the December 2012 polls.
Two women hold ministerial portfolios in the cabinet.
http://gulfnews.com/news/gulf/kuwait/kuwaiti-women-may-become-military-pilots-1.1141177
-------------
Of Women dress codes and social values in Sharjah
By Faisal Masudi and Aghaddir Ali
February 2, 2013
Sharjah: A marked rise in women sporting liberal wear in Sharjah is falling on the wrong side of prevailing community standards, residents say.
In spite of the increase, no women were fined last year for dressing incompatibly with "decency rules" in Sharjah, a senior police official said.
Some long-time residents of Sharjah complain about several instances of women wearing too little in malls and other public places. Gulf News visited different areas of Sharjah and found this to be true..
The police official, who requested anonymity, explained: "There are no records of fines for such cases; they are not breaking the law as such. What we do is create awareness through brochures and through the efforts of female police staff, who occasionally approach women visitors and residents of Sharjah to inform them about social values."
Sharjah's decency guidelines, in place since 2001, cover a variety of public behaviour guidelines, including how women — and men — should dress in public.
The guidelines advise women against wearing clothing that exposes the stomach and back; short clothing above the knee; tight and transparent clothing that highlights body shape.
Men are urged to refrain from wearing very short pants in public or commercial places like malls and public offices. They are also advised against 'chest nudity' or display the 'ezar' in public. An ezar is a long waist-wrapper worn under traditional Emirati male garments and is also often used by mainly South Asian expatriates as regular day wear in public.
Prime suspects
Malls, tourist spots and beachside resorts are places where the dress code is violated. Although swimsuits are allowed on some beaches, many tourists make the short trip between the beach and hotel wearing just towels over bathing costumes. An example of this is the stretch of hotels on Al Meena Street in Al Khan area in Sharjah, popular with tourists.
Though officials have raised awareness in the past, residents say it is becoming commonplace to see women dressed inappropriately.
During a 2008 awareness drive by the Sharjah Commerce and Tourism Development Authority (SCTDA), these guidelines were stipulated in handouts in several languages for distribution among tourists and residents.
No immediate comment from the SCTDA or other officials was available through requests to the Sharjah Media Centre, which often coordinates between press queries and government departments.
One media centre official advised queries be routed to police, who had no further comments.
A mall manager did not wish to speak on the issue, only saying there was a "courtesy policy" in place in Sharjah and Dubai malls that outlined what was acceptable dressing.
He referred to posters and signs in malls that prohibit revealing clothing and public displays of affection.
A controversial Twitter and social media campaign last year called for a federal law to enforce decency rules, but lawyers told Gulf News that no such measure is in place.
http://gulfnews.com/news/gulf/uae/general/of-dress-codes-and-social-values-in-sharjah-1.1141054
-------------
Police Call For Caution After Arrest Of Egyptian Rapist
3 February 2013
The police have called on residents living in apartment buildings to be extra vigilant and look after their children and domestic help, after the recent arrest of a man suspected of raping and molesting Asian women in elevators late at night.
The Capital's police directorate Director Brigadier Maktoum Al Sharifi appealed to residents to take into account safety measures particularly when using the elevators, after the recent arrest of the 30-year-old Egyptian suspect who targeted women as soon as they entered elevators in their buildings. Al Sharifi stressed the importance of accompanying children while using elevators.
Full report at:
http://www.khaleejtimes.com/nation/inside.asp?xfile=/data/crime/2013/February/crime_February3.xml&section=crime
-------------
Saudi Arabia's Most Famous Female Photographer Breaks With Muslim Stereotypes
By Steve Shay, Highline Times
http://gulfnews.com/news/gulf/uae/general/of-dress-codes-and-social-values-in-sharjah-1.1141054
Samia El-Moslimany was raised both in Burien and the Middle East. Considered Saudi Arabia's most famous female photographer, she has photographed both princes and paupers. She also shot the Sept. 19, 2009 Time Magazine cover. That image, you might say, mirrors her own. Depicted are two very different female Arabs standing side by side. On the left is a chic, attractive woman clutching a soft black briefcase. On the right, her more traditional counterpart, who dons a black burkha covering her entire body except her eyes, and holds no briefcase.
Full report at:
http://en.ammonnews.net/article.aspx?articleNO=20140
-------------
Yemeni capital holds its first fashion show amid tight security
02 February 2013
By ABDULAZIZ AL-HAYAJIM
The Yemeni capital has held its first fashion show on Thursday amid tight security measures following threats by extremist groups.
The show, which aimed to highlight the country's traditional attire but in a modern twist, saw the attendance of government officials along with wives of Arab and foreign ambassadors as well as female activists and many women interested in fashion design.
Full report at:
http://english.alarabiya.net/articles/2013/02/02/264003.html
-------------
Afghan female artist beats the odds to invigorate Kandahar's art scene
02 February 2013
Charred bodies lie scattered against blood-stained walls and debris covers the ground. The unusual thing in this gruesome scene is that the "blood" is red paint, and part of an art installation.
It's a work by 23-year-old Afghan artist Malina Suliman. She risks her life, Suliman says, sometimes working by flashlight after dark, to create art in southern Kandahar province, still one of the most dangerous areas in the country.
Her pieces, which range from conceptual art to paintings and sculpture, are bold representations of the problems facing her generation.
Full report at:
http://english.alarabiya.net/articles/2013/02/02/263938.html
-------------
Women With Heart Disease At Greater Risk Of Cognitive Problems
3 February 2013
ISLAMABAD: A new study claimed that women with heart disease might be at three times the risk of developing problems with thinking that could lead to dementia.
US Mayo Clinic researchers found that older women with heart disease were three times more likely to go on to develop problems with their thinking skills, such as problem solving, language and judgement, than healthy women.
The problems are associated with certain types of dementia but they do not involve memory loss.
Full report at:
http://www.dailytimes.com.pk/default.asp?page=2013\02\03\story_3-2-2013_pg11_8
-------------
Pakistan Govt Takes over 15 Women's Crisis Centres Named After Benazir Bhutto
By Shahbaz Rana
February 3, 2013
ISLAMABAD: The federal government has taken the liability of 15 women's crisis centres named after Benazir Bhutto, despite the delegation of social sector services to the provincial governments under the 18th amendment.
In addition to being unconstitutional, the decision to place the projects under the Ministry of Human Rights has further strained the already overstretched Public Sector Development Programme (PSDP). The cost of the 15 Shaheed Benazir Bhutto Centres for Women is almost three times the non-development budget allocated to the ministry for the current fiscal year – the government has allocated only Rs366.8 million for the human rights ministry's non-development expenses while the cost of one centre is around Rs50 million.
Full report at:
http://tribune.com.pk/story/501973/double-standards-govt-takes-over-15-womens-crisis-centres/
-------------
Indian woman, in Dammaa who lost her memory recovers
3 February 2013,
An Indian woman who had lost her memory is now recovering and wishes to go home.
Shanta Kumari was found about eight months ago on the streets of Khafi, a town in the Eastern Province. The Saudi Red Crescent Society brought her to the psychiatric hospital in Dammam, said social worker Safiya Ajith.
Full report at:
http://www.arabnews.com/saudi-arabia/indian-woman-who-lost-her-memory-recovers
----------
URL: https://www.newageislam.com/islam,-women-and-feminism/new-age-islam-news-bureau/"burquas-for-babies"--saudi-cleric's-new-fatwa-causes-controversy/d/10250