New Age Islam News Bureau
28 Aug 2017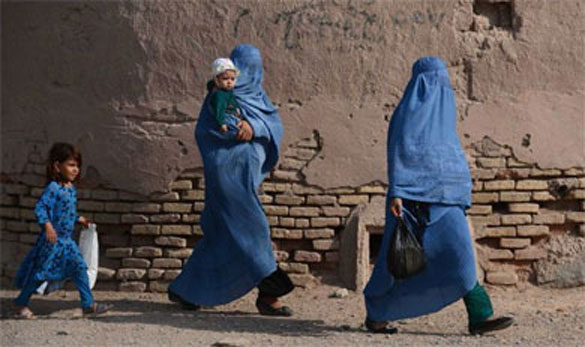 PHOTO: The Burqa is a symbol for a totalitarian ideology that suppresses women, says Dr Elham Manea. (Getty Images: Aref Karimi/Stringer)
------
• Mob Attacks Hijab-Wearing Woman in Spain in 'Islamophobic' Assault
• Muslim Woman from Utah Makes Splash on 'Project Runway'
• This UAE Women's Day, Explore the Work of a Celebrated Emirati Artist
• 'Why Najib? Can't A Female Lead Women's Advisory Council?'
• Indonesian Woman Jailed For Suicide Bomb Plot at Jakarta Palace
• As The Caliphate Crumbles, Taliban Steals ISIS' Tactics to Target Women
Compiled by New Age Islam News Bureau
URL: https://www.newageislam.com/islam-women-feminism/burqas-political-symbols-islamic-ones/d/112359
--------
Burqas Are Political Symbols Not Islamic Ones, Muslim Scholar Says
August 28, 2017
Pauline Hanson's recent Burqa stunt attracted criticism from both sides of Parliament, but a Muslim scholar and human rights adviser says it's the garment itself that's offensive.
Associate Professor Elham Manea, a Swiss-Yemeni citizen and the author of Women and Sharia Law, argues it is naïve — even racist — to regard the wearing of a Burqa as a sincere act of faith.
Media player: "Space" to play, "M" to mute, "left" and "right" to seek.
AUDIO: Listen to the full interview (Religion and Ethics Report)
"The Burqa is not Islamic," she told the Religion and Ethics Report.
"It's a tradition that comes from the heart of Saudi Arabia, a region called Nejd."
Dr Manea says the veiled garment was not worn by women outside of Nejd until Saudi Arabia's Wahhabi regime came to power in the late 1970s.
"The re-Islamisation of Saudi Arabia according to the Wahhabi Salafi fundamentalist principles led to the mainstreaming of the Burqa," she said.
"With Gulf money you had a promotion of this ideology and a reading of Islam that turned the Burqa into an 'Islamic' tradition."
Criticising the Burqa, not the stunt
The Koran calls for both men and women to "cover and be modest", but this reference is open to interpretation.
In Australia, few Muslim women wear Burqas, though many wear other kinds of hijab or head coverings.
Dr Manea, a member of the University of Zurich's political science institute and a former advisor to the Swiss government, believes conversations around the validity and religiosity of the Burqa are essential.
"To tell me that by talking about the Burqa we are hurting the feelings of the Muslims is not only inaccurate, with all due respect, it's almost racist," she said.
Though she was careful not to align her views with those of Senator Hanson, Dr Manea did agree with one of the politician's points: the Burqa is not a religious requirement.
"[The Burqa] is a sign of segregation, separation, rejection of the values we see all around us — values of acceptance and tolerance and otherness," she said.
"[It reflects] a culture that treats woman as a sexualised object that has to be covered.
The scholar went on to criticise the Parliament's bipartisan condemnation of Senator Hanson's stunt, in particular citing the well-publicised censure from Attorney-General George Brandis.
Senator Brandis flatly rejected Hanson's call to ban the Burqa in Parliament, saying: "To ridicule [the Muslim] community, to drive it into a corner, to mock its religious garments is an appalling thing to do and I would ask you to reflect on what you have done."
Stressing the diversity of Muslim identities, and connections to faith, Dr Manea called out the Western liberal tendency of homogenising and defending "the other".
"Like far-right groups, who believe every Muslim is a potential terrorist, they come [from] the other side and say every Muslim is religious and therefore we have to support these poor people who need our protection," Dr Manea said.
"It's an essentialist perception — they can't believe that Muslims are people with different identities and attitudes."
Defending women's right to choose
However, La Trobe University lecturer Nasya Bahfen, argues Senator Brandis's denunciation of Senator Hanson's stunt was well-founded.
"You can criticise and absolutely have a discussion around issues to do with the Burqa," Dr Bahfen said.
"I just don't think the condemnation of Pauline Hanson was unwarranted.
Despite referring to the Burqa as a "dehumanising sack", Dr Bahfen, who herself wears a hijab, said it's important to defend the right of Muslim women to wear what they wish.
"I have two sisters who don't wear the hijab," she said.
"It was never something that was forced upon us.
"You're not trying to make a political statement to declare yourself holier than thou, and you're not trying to appease men in your family — it's [about] your relationship with Allah."
http://www.abc.net.au/news/2017-08-28/Burqas-are-political-symbols-not-islamic-says-muslim-scholar/8843916
--------
Mob attacks hijab-wearing woman in Spain in 'Islamophobic' assault
Aug 26, 2017
A mob in Spain has brutally assaulted a hijab-wearing Muslim woman in the country's capital of Madrid, in what police describe as an "Islamophobic" attack.
A group of young men attacked and beat the Muslim woman up in front of the Usera Metro Station in the south of the Spanish capital, leaving her with cuts, bruises, and a mild concussion, according to media reports published on Friday.
The 38-year-old woman, whose name was not revealed, was transferred to hospital for treatment.
The victim told authorities that she saw little of her attackers' faces and that they started beating her because she was wearing a hijab.
Police in Madrid said they were treating the violent assault as an "Islamophobic hate crime," adding that no arrests had been made until then.
Hundreds of Muslims in Spain held a protest rally last week against a rise in anti-Muslim hate crimes in the wake of a pair of recent terrorist attacks in Barcelona and Cambrils that killed 14 people.
A van rammed into a multitude of people on Rambla Avenue in the center of Barcelona on August 17, killing at least 13 and injuring more than 120 others. The Moroccan driver, Younes Abouyaaqoub, fled the scene after the attack but was later declared to have been shot dead by police.
A day later in the seaside resort of Cambrils, 100 kilometers away from Barcelona, five terrorists drove a car into pedestrians before being fatally shot by security forces. One of the pedestrians died and six others sustained injuries in the attack.
Both terror attacks, considered the deadliest in Spain in more than a decade, were later claimed by the Takfiri Daesh terrorist group.
Members of the far-right group Hogar Social purportedly attacked the main mosque in the southern Spanish city of Granada with flares and smoke bombs last Saturday.
Vandals also defaced mosques with racist and anti-Islamic graffiti in some other cities in Spain, including Seville.
Some two million Muslims live in Spain, making up around four percent of the total population.
http://www.presstv.ir/Detail/2017/08/26/532985/Spain-Madrid-hijabwearing-woman-Islamophobic-attack
--------
Muslim Woman From Utah Makes Splash on 'Project Runway'
Aug. 27, 2017
SALT LAKE CITY (AP) — A Muslim designer from Utah chosen for the fashion-competition show "Project Runway" said she tried out for the TV show to promote her modest clothing designs. But to her surprise, she also has become a role model.
Ayana Ife says since appearing on the show, she has received feedback on social media from many Muslim women saying, "Wow, you're representing us well."
She has been told she is "normalizing Muslims," Ife said.
"When I first started on 'Project Runway, my main goal was, obviously, I want to win," Ife told the Salt Lake Tribune (http://bit.ly/2viwVIR .) "And I really, really, really need this exposure. I want to be an acclaimed designer for the modest market. I really want to be branded that way. Not just for Muslim women — for women who love modest fashion.
"But now that I'm actually on 'Project Runway,' the feedback I've been getting came out in a way that I didn't really expect."
Ife, 27, who was born in Brooklyn, New York, and grew up in a small New York town, moved to Salt Lake City two years ago in search of a fresh start following a divorce.
Ife moved in with her sister until she found a place of her own. Somewhat to her surprise, she discovered she likes Utah a lot, Ife said.
"I actually had a really warm, welcoming experience," she said. "Before I came here, I didn't know any Mormons. But now I have Mormon friends, and they're really cool."
Ife has also widened expectations of who lives in Salt Lake City. Chances are most viewers don't expect to see a Muslim from Utah.
While "Project Runway" contestants tend toward outrageous, revealing designs, Ife's fashion niche is she creates modest but chic clothing, not exposing a lot of skin.
"It didn't get in the way of me advancing," she said. "More than anything, the judges really, really encouraged us as designers to be who we are. There are a couple of ups and downs when it comes to different types of challenges. That's going to be something you have to watch for."
Ife admitted to being a bit overwhelmed when she arrived in New York for the show and met hosts Heidi Klum and Tim Gunn.
"It really was the craziest, most surreal experience," Ife said. "When Heidi said, 'Oh, hello designers' — in that moment, I was, like, 'Oh my gosh, I'm in the show! I'm in the TV screen!' "
Ife wears a hijab — a Muslim headscarf.
People often are surprised to discover she actually speaks English, she said. People assume she's from the "Middle East" or is "supposed to be Arab or something like that" just because she is Muslim. Ife said. Her family is from the Caribbean nation of Trinidad and Tobago.
She realizes her platform on "Project Runway" is much larger than an opportunity to win a reality TV competition show.
"Of course, I want to inspire my little sisters and tell them, 'Yay! Live your dreams,' " she said. "But this kind of ended up being a little bigger than maybe I had initially planned. And so it's a little scary. That's a lot of weight on my shoulders.
"But at the same time, I think it's such a positive thing that I'm going to do my best to continue representing in the best light."
Copyright 2017 The Associated Press. All rights reserved. This material may not be published, broadcast, rewritten or redistributed.
https://www.usnews.com/news/best-states/utah/articles/2017-08-27/muslim-woman-from-utah-makes-splash-on-project-runway
--------
This UAE Women's Day, explore the work of a celebrated Emirati artist
28 August 2017
LONDON: With Emirati Women's Day being celebrated on Monday, it is the perfect time to celebrate one of the UAE's most prominent artists, Sheikha Khawla Bint Ahmed Khalifa Al-Suwaidi.
She just wrapped up her first solo art exhibition in the UK, which was on show at the ultra-chic Saatchi Gallery in London. The body of work is entitled "Letters of Love & Peace, Spoken with Ink and Paper."
Her beautiful calligraphy, accompanied by her powerful poetry, lifts the spirits and invites the viewer to think about the meaning of love — in both its earthly and spiritual capacities.
There is a sensitive understanding of deep human feelings in her writing. She elucidates this particularly well in her piece titled "Ma El Hawa (People Wonder, What Is Love?)."
"I've been asked, what is love?/ I answered, it's the /longing that/sweeps the hearts/ and melts them with/passion. It is lonely nights/flooding with tears/ the heart helpless/and powerless/weeps/ a love sick/ only with kisses/ can be revived/have mercy on your soul/young lad/and beware the love/that torments/that ruins."
In "Ghazzal (Words of Love)," she writes:
"Your eyes kill with words/of love. God has scattered the/ cosmos to match your/ beauty. Your words only flirt. Lord have mercy on my/ Heart."
In "Keys of Happiness," she writes: "Keys of happiness/ giving/ love/ respect/ faith/ contentment/ appreciation/ forgiveness."
Al-Suwaidi began studying calligraphy in 2005 under Emirati master Mohammed Mandi. She learnt about both calligraphy and the materials used for this highly-specialized art form from Mandi. She particularly likes to work with papyrus and specializes in Andalusian-Arab calligraphy.
She grew up in a family with a great love of culture and the arts. Her father, Ahmed Khalifa Al-Suwaidi served as the UAE's first minister of foreign affairs. He founded the Abu Dhabi Cultural Foundation, home of the first National Library.
Her husband, Sheikh Tahnoun bin Mohammed Al-Nahyan, who was appointed a National Security Adviser in 2016, shares her love of the arts.
Though a gifted artist, her university studies were business orientated. She has a degree in business administration and subsequently studied interior design, fine arts and photography.
In an interview with Arab News, she described the creative inspiration behind her work.
"My poems belong to the specific moment of their inspiration. Such feelings come to me and overwhelm me unexpectedly at any time and place. Sometimes, I'm moved by another poem that I read, or by some incident that I witness or patriotic feelings that shake me. Each has a different atmosphere and effect on me which I portray in my work," she said.
"My passion for reading led me to writing poetry and (practicing) Arabic calligraphy. I can convey my poems and ideas so they can reach the hearts of people as messages of love and peace," she added.
Asked about the kind of atmosphere she likes to work in, she said: "These works are the outcome of my time in my own place, which has its own conditions and rituals. The table that I draw on, the right lighting and the music that takes listeners to a world of inspiring ideas where letters can be put together to create poems."
Her love of reading and music is channelled into her work, she said.
"I have always had a passion for reading and music. I was very touched by the world of music and loved the arts, which made me seek a way through which I could convey my poems. I was able to do that with the clear Andalusian font — it has the capability of touching people's hearts in a unique and new way," she explained.
She is particularly moved by the reaction of young people to her work.
"I'm amazed by the young generation because they attach great importance to letters, words and poems. Young people from the audience stand in front of the paintings to read the poems. They care about the written word if you can find a way to convey it to them," she said.
People seem to be able to connect with her art and poetry because her work deals with emotions and experiences in a very moving and humane way. It was notable that viewers in the gallery took their time to read the poetry alongside each painting.
http://www.arabnews.com/node/1151766/art-culture
--------
'Why Najib? Can't a female lead Women's Advisory Council?'
August 27, 2017
kasthuri-1
PETALING JAYA: Batu Kawan MP Kasthuri Patto has questioned the appointment of Prime Minister Najib Razak as chairman of an advisory council of a new government body tasked with empowering women in the corporate sector.
She said the post should instead be assigned to a suitable woman leader.
The DAP legislator said the federal government's stated intention to increase the number of women in decision-making positions was badly reflected by the "power grab" in the Women's Innovation Academy (MyWin), which comes under the Prime Minister's Department.
On Friday, Najib said he was invited by MyWin co-founder and president Shahrizat Abdul Jalil to be its advisory council chairman. Educationist Lim Kok Wing is its deputy chairman.
"In what way is the government going to ensure that women hold decision-making positions when the prime minister shamelessly takes that post?" Kasthuri asked.
"To add insult to injury, even the deputy chairman of this advisory council is also a man," she added in a statement today.
"Is Najib trying to say that there are no credible, intelligent or courageous female leaders in the entire Malaysian cabinet who can lead this?"
She said it was illogical for Najib to chair the council parked under the Prime Minister's Department as a woman academician or NGO could easily lead it.
Kasthuri also said Najib had in 2012 also taken over the role of women's development minister, replacing Shahrizat after her term as senator expired.
At the launch of MyWin on Friday, Najib said the academy was serious about naming and shaming public-listed companies with no women on their boards.
"Currently, women account for only 16.8% of director positions in the top-100 listed companies on Bursa Malaysia," he was quoted as saying by New Straits Times.
"Creating the next generation of women innovators in the corporate sector is very much in line with our continuous efforts to increase the number of women in decision-making roles in the corporate sector," he added.
http://www.freemalaysiatoday.com/category/nation/2017/08/27/why-najib-cant-a-female-lead-womens-advisory-council/
--------
Indonesian woman jailed for suicide bomb plot at Jakarta palace
28 August 2017
JAKARTA: A Jakarta court has sentenced a female would-be suicide bomber to seven and a half years in prison, prosecutors and her lawyer said, the first time a woman has been convicted in Indonesia for planning such an attack.
Dian Yulia Novi, 28, was arrested late last year on suspicion of plotting to blow herself up outside Jakarta's presidential palace during the changing of the guard. She was arrested along with her husband, Muhamad Nur Solikin.
Indonesia, the world's largest Muslim-majority nation, has seen a surge in homegrown militancy inspired by Islamic State, and has grappled with a series of small-scale attacks in the past two years.
Prosecutors had demanded a 10-year sentence for Novi, whom they said received instructions to carry out the attack from Bahrun Naim, an Indonesian militant believed to be fighting with Islamic State in Syria.
"Her sentence was reduced because she admitted to her actions," Novi's lawyer Kamsi told Reuters on Monday. He said the verdict was handed down by East Jakarta District Court on Aug. 25.
Judges delivered the verdict earlier than expected because Novi is pregnant and due to give birth in early September, her lawyer said. She is detained at a Jakarta area facility.
Her husband is on trial for the same plot. His next hearing, at which he is expected to enter a plea, is scheduled for Sept. 6.
Kamsi said Novi, who was believed to be radicalized through social media while employed as a domestic worker in Taiwan, did not intend to appeal her verdict.
Police said they had intercepted a letter that Novi intended to send to her parents stating her intention to carry out jihad. Later an unexploded bomb was found in a room the woman had rented in Bekasi, about an hour outside Jakarta.
Counter-terrorism forces are worried that militants may be using new and more sophisticated tactics to try and carry out attacks - like recruiting female suicide bombers or using dangerous chemicals to make "dirty bombs".
http://www.channelnewsasia.com/news/asiapacific/indonesian-woman-jailed-for-suicide-bomb-plot-at-jakarta-palace-9163660
--------
As the caliphate crumbles, Taliban steals ISIS' tactics to target women
Aug 28, 2017
A glossy women's magazine has hit virtual newsstands, its front cover splashed with the image of a woman, veiled from head to toe, walking off into a yellow-hued desert.
But, unlike other fashion or beauty publications, this one has a niche audience in mind: would-be female jihadists.
The English-language magazine -- which debuted online but in a print-style format -- was published by the Pakistani Taliban, Tehreek-e-Taliban (TTP), earlier this month without much fanfare.
The first edition of Sunnat E Khaula, which harks back to a seventh-century female Muslim warrior named Khaula, calls on "like-minded jihadi sisters" to organize "secret gatherings at home," arrange "physical training classes" and "prepare for martyrdom operations."
"We want to provoke women of Islam to come forward and join the ranks of mujahideen [holy warriors] of Islam," an opening editorial reads.
The TTP's women's magazine -- the first of its kind -- takes a page out of the ISIS propaganda playbook to target women. And the timing of its release isn't accidental. As ISIS' self-proclaimed caliphate crumbles in Syria and Iraq, the Taliban has seized on an opportunity -- offering an alternative for radicalized women willing to shift their loyalties.
"The first thing I would think of with a piece of propaganda like this coming out is that they [the TTP] are trying to replicate efforts by Islamic State, particularly now that the caliphate is in decline," Nikita Malik, a senior research fellow at the Henry Jackson Society, told CNN.
Malik, who has studied women and radicalization extensively, says that while the Taliban has used women before, the magazine signals a change in strategy. Despite the group's historically violent subjugation of women -- whom they have killed, barred from attending schools and forced into marriages -- it seems they're trying to attract a new audience.
"It is definitely an attempt, especially as it's the first one, to reach out to a different audience, to reach out to different recruits," Malik said, adding that it's unusual for the TTP to actively seek out women to take up arms.
The 45-page magazine features a lengthy article, entitled "Time of martyrdom has come," that looks at ways women can assist the TTP in waging jihad. Among various action points outlined, the piece calls on women to "train yourself in weapon handling, self-defense." The text is overlaid on photos of women dressed in niqabs, carrying assault rifles.
"I ask you sisters to prepare yourself for martyrdom operations. There are lots of mujahideen working in Pakistan, please help them in achieving their aim," the article reads.
Last week, in a speech announcing plans to expand US military intervention in Afghanistan, President Donald Trump blasted Pakistan for being a terrorist hotbed.
Georgia State professor Mia Bloom, whose 2011 study, Bombshell: Women and Terrorism, explores women's roles in terrorist movements, said she's seen a progression over time in how groups like the TTP reach out to women -- whether it's with al Qaeda's Al-Shamikha magazine (dubbed 'Jihad Cosmo') or its Al-Khansaa women's webzine.
"It's really a strategic logic that these terrorists are using," Bloom told CNN. "For them, women are a tool or an instrument, to be exploited for whatever purposes necessary, and their objectives are ultimately longevity, survival and to flourish."
Bloom explained that both the Taliban and ISIS have increasingly used women as a tool to recruit other women, reward militants, retain their base and produce the next generation of fighters.
"When you start to look at the progression over time, all of these publications attracting women are trying to cast a wide net and create the broadest possible appeal," Bloom said.
ISIS has been particularly adept at attracting women to suit these needs, according to Bloom, who tracks the group's propaganda output.
As women begin to flee what ISIS claims as the caliphate, Bloom said she sees small signs that the militant group's message to female recruits is changing. A video released by ISIS earlier this month showed young girls for the first time, reciting passages from the Quran in a classroom.
"Here you have ISIS saying, 'We're educating our girls; we're not like Boko Haram; we're not like the Taliban.'"
The Taliban banned girls from schools in Pakistan's Swat Valley in 2009. Three years later, militants shot Malala Yousafzai, the schoolgirl turned women's rights advocate, for defying them. But with its new publication, the group appears to be specifically targeting educated, upper-middle class, English-speaking women.
In an article titled, "My journey from ignorance to guidance," a Pakistani woman, who the magazine says studied overseas and received her PhD, tells how she contemplated traveling to Saudi Arabia and Syria before joining the TTP.
Louisa Tarras-Wahlberg, who has researched ISIS' propaganda targeting women, explained that this personal story -- among others in the magazine -- is aimed at engaging women who are already actively seeking to "wage jihad."
"They're treating this as a window of opportunity. They're seeing that ISIS is struggling and people are fleeing from Syria and Iraq," Tarras-Wahlberg told CNN. "This is the perfect moment for another organization to enter the playing field and try to attract that group of women ... women who are already highly engaged."
http://www.nbcmontana.com/news/world/as-the-caliphate-crumbles-taliban-steals-isis-tactics-to-target-women/613372165
--------
URL: https://www.newageislam.com/islam-women-feminism/burqas-political-symbols-islamic-ones/d/112359
New Age Islam, Islam Online, Islamic Website, African Muslim News, Arab World News, South Asia News, Indian Muslim News, World Muslim News, Women in Islam, Islamic Feminism, Arab Women, Women In Arab, Islamophobia in America, Muslim Women in West, Islam Women and Feminism