New Age Islam News Bureau
15 Feb 2016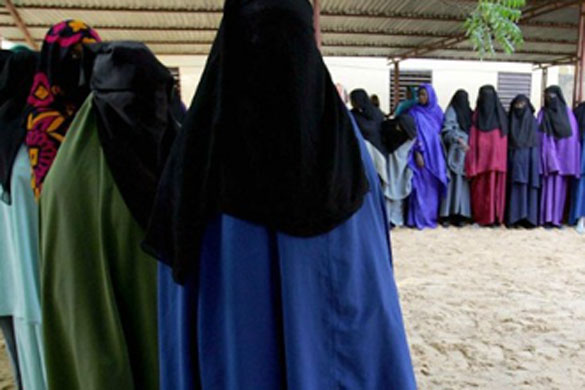 Photo: Chad bans burqas after Boko Haram bombing. Photo: english.alarabiya/AFP
----------
• Yazidi Woman Breaks Down During Speech to UN Security Council
• Sindh Becomes First Pakistan Province to Adopt Hindu Marriage Bill
• Pakistan Women Boxers Make History - Bano's Hopes of Winning a Medal Cut Short
• Jordan Participates In Arab Women's Forum in Morocco
• Faith and Female Fashion Issues in Spotlight at Al-Maktoum College Lecture
• Meet Hijarbie, the Muslim Doll
Compiled by New Age Islam News Bureau
URL: https://newageislam.com/islam,-women-and-feminism/new-age-islam-news-bureau/burqa-bans-rise-in-sub-sahara-over-fear-of-suicide-bombers-hiding-behind-veils/d/106357
--------
Burqa Bans Rise In Sub-Sahara Over Fear Of Suicide Bombers Hiding Behind Veils
February 14, 2016
Increasingly, questions are being raised about burqas and security concerns in sub-Saharan Africa, where Boko Haram, the radical Islamist militant group operating out of Northern Nigeria, has conducted numerous terrorist operations.
In some cases burqas have been used by suicide bombers to infiltrate crowded places.
A burqa by definition conceals identity and allows ample room for wearers to conceal bomb vests. When a male suicide bomber wearing a burqa murdered 15 people in Chad's capital, N'Djamena, last summer it came amid increasing scrutiny in the region over the security threat posed by allowing full face and body veils.
In June, Chad's government banned the burqa amid a raft of fatal suicide bombings, saying the garb was being used as "camouflage" by militants. Amid a growing regional threat posed by Boko Haram, the Islamic State group-aligned, Nigeria-based radical Islamist group that threatened four West African countries, local governments have adopted (a) burqa-ban stance.
In July, Cameroon followed Chad's example, banning the garb in five of its 10 provinces, while Niger implemented the ban in its restive Diffa province. The Republic of Congo also prohibited the burqa last year. In Nigeria, President Muhammadu Buhari is mulling a similar policy. Senegal is, too.
Security measures have been implemented in the region in recent months to combat a rising tide of suicide bombings, including curfews, increased scrutiny of vehicles with tinted windows, and even a ban on motorbikes (a preferred bomb-delivery device) in crowded areas.
Most people in Chad, Senegal and Niger are Muslim while one in five Cameroonians practice Islam. But historically, adherents in the region have been adverse to extreme Islamic expressions, including the full face veil and the baggy, black burqa, which are considered by many in the region to be a practice foreign to local traditions. Muslim women in the region have historically leaned toward colorful, face-exposing head scarves.
But in the past few decades, owing largely to Saudi Arabia's efforts to spread its super-strict brand of Islam, the full black body veil has taken root in sub-Saharan Africa.
"We thought it would never be part of the culture in Senegal, but more and more people are following these rituals," Aliou Ly, a Senegal-born assistant professor at Middle Tennessee State University, told The Economist in a report published Saturday.
afkinsider.com/119447/burqa-bans-rise-in-sub-sahara-over-fear-of-suicide-bombers-hiding-behind-veils/#sthash.uJFG7QUn.dpuf
-----------
Yazidi woman breaks down during speech to UN Security Council
15 Feb 2016
A woman from the Iraqi minority Yazidi community who was kept as a sex slave for three months by violent jihadists has described seeing her family slaughtered.
Nadia Murad, 21, is in the UK as part of a campaign to build solidarity with victims of violence in Iraq and unite the world against the Islamic State of Iraq and the Levant.
She described how she was orphaned when Isil fighters killed six of her brothers and her mother in northern Iraq.
"When I speak I didn't speak just on my behalf, but on behalf of all the women and children affected in the war zone," she said, according to The Mirror.
The Yazidis of Iraq
The Yazidis of Iraq are considered heretics by Isil Photo: The Yazidis of Iraq
"Two months have passed since I have been campaigning and people have been happy, not just Yazidis, about this message.
"About 5,800 Yazidi women and children were captured by the so-called Islamic State. They have killed many people in Iraq and Syria and displaced millions.
"For us, the Yazidis, they killed the men and took the women and children.
"They were committing all kinds; murder, rape and displacing people by force in the name of Islam.
"Many people may think my story is difficult, but many more had more difficult than mine.
"They killed six of my brothers, but there are families that have lost 10 brothers."
She was speaking at Trade Union Congress House in central London and is in the UK to address parliamentarians.
She wants more help for Yazidis living in refugee camps, and an investigation into whether the militant group has committed genocide against the Yazidi people.
Isil considers them heretics.
A number of mass graves, containing hundreds of women's bodies, have been found around Miss Murad's hometown of Sinjar.
She said 3400 women were still being held by Isil.
"A year and a half has passed and the genocide against the Yazidis is continuous. We die every day because we see the world silent in the face of our plight," she said.
"My mother saw them killing my brothers and then they took my mother and killed her.
"I was already orphaned as I didn't have a father, all I had in the war was my mother.
"But when they took me to Mosul and raped me, I forgot my mother and brothers. Because what they were doing to the women was more difficult than death.
"Imagine until now, for more than a year and a half, girls as young as nine are being rented and sold out [for sex]."
telegraph.co.uk/news/worldnews/middleeast/iraq/12157230/Islamic-State-sex-slave-describes-how-her-family-was-massacred.html
-----------
Sindh becomes first Pakistan province to adopt Hindu Marriage Bill
Feb 15, 2016
Pakistan's Sindh Assembly today passed the Hindu Marriage Bill making the province the
first in the country to allow the minority community to register their marriages, amid calls
from a leading Hindu group to remove a controversial clause in the landmark bill.
The bill, moved in the assembly by Parliamentary Affairs Minister Nisar Khuhro, will apply
to entire Sindh province, which has a sizeable population of Hindus.
"Since the creation of Pakistan, it is the first time that such a law is being passed. The
decision has been taken to provide mechanism for formally registering Hindu marriages in
Sindh," Khuhro said.
It was passed after a national parliamentary panel last week cleared its draft, paving way
for registration of marriage and divorce for the Hindu community in Pakistan.
The bill fixes the minimum age of marriage at 18.
According to the bill, it is necessary that a marriage is solemnised after consent of both
male and female and at least two witnesses must be present at the time of the
solemnisation and registration of the marriage.
According to the bill, every marriage being solemnised under this act will be registered
with the union council/ward within 45 days of the solemnisation.
The bill should have retrospective effect for the purpose of validation and registration of
the marriage prior to this law. Any person who fails to get his marriage registered will be
liable to pay a fine of 1,000 rupees.
Other provinces and the federal government need to adopt separate bills to enable Hindu
get marriages registered.
The absence of a Hindu Marriage law was a huge hindrance to get marriage certificates,
national identity cards and share in property. Hindus in Pakistan have long demanded a
separate personal law to regulate their marriages.
But the bill has generated controversy in equal measures over a clause that calls for
annulment of marriage if any of the spouses converts their religion.
Ramesh Vankwani, patron in-chief of the Pakistan Hindu Council, said the Hindu
community in the country was concerned about the clause.
"The objectionable clause 12(iii) of the Hindu Marriage Bill can be used for forced
conversions of Hindu girls and women. It states that a marriage could be terminated if
either spouse converts to another religion," he said.
"Already we have brought up the issue of forced conversion of Hindu women and girls
particularly in rural areas of Sindh with the government and this clause can lead to its
misuse," said Vankwani, also a lawmaker of the ruling PML-N party.
There were many instances when Hindu girls were abducted and later presented before
court with certificates confirming their conversion and marriage to a Muslim man, he said.
Seeking to put an end to the controversy, chairperson of standing committee on law and
justice Nasreen Jalil said she has called a meeting of the committee this week to discuss
the concerns expressed by the Hindu community.
thehindubusinessline.com/news/world/sindh-becomes-first-pakistan-
province-to-adopt-hindu-marriage-bill/article8240887.ece
-----------
Pakistan women boxers make history - Bano's hopes of winning a medal cut short Join our daily free Newsletter
15/02/2016
(MENAFN - Arab Times) Three Pakistani women are making history this weekend as they step into the boxing ring at the South Asian Games in India, the first time the conservative Muslim nation has fielded women boxers internationally.
Khoushleem Bano, Rukhsana Parveen and Sofia Javed say to achieve their dream of competing they had to battle conservative groups in Pakistan who believe women should not participate in the sport.
"It was not an easy path for us when we shared our idea of women taking up the macho sport in a conservative country like Pakistan. There were a lot of anti-groups who didn't accept us," 23-year-old Bano said in the northeast Indian city of Shillong.
Bano's hopes of winning a medal were cut short on Saturday night when she lost her first fight to Nepal's Minu Gurung in the fly-weight (51 kg) category.
"It was a good experience for me. I will come back stronger next time," Bano told AFP.
Javed will take to the ring for the first timegainst India's Pooja Rani in the 75 kg category, while Parveen will glove up against Sri Lanka's M. Vidushika Prabadhi in the evening.
The trio only took up boxing in early 2015 and have been trained by their coach Nauman Karim - a bronze medallist at the 2003 World Boxing Championship - for the South Asian Games.
They credit India's Mary Kom, a five-time world champion who is also competing at the 12th South Asian Games, including a biographical film of the Olympic bronze medallist as inspiring them to take up the sport.
"My only dream was to represent Pakistan. I only want to make my country proud in the field of the sport. I have achieved the first step despite all odds," Bano said. Parveen was formerly a member of the Pakistan World Cup team for Indian wresting-style sport kabaddi, with the team winning bronze in 2014.
The 60 kg category boxer from Multan in Punjab province said she took up the challenge after learning that Pakistan "had no woman boxers".
menafn.com/1094591023/Pakistan-women-boxers-make-history---Banos-hopes-of-winning-a-medal-cut-short
-----------
Jordan participates in Arab women's forum in Morocco
15/02/2016
Amman, Feb. 14 (Petra) -- Jordan joined 20 countries at the Arab Women Parliamentarians Network for Equality "Ra'edat" 2016 forum held in Rabat, Morocco.
The participants discussed a unified agenda towards a more gender-responsive policy in the region and the inclusion of women in politics. The Forum is organized by the Arab Women Parliamentarians Network for Equality "Ra'edat" (Pioneers), the European Union and UN Women, in the framework of the Spring Forward for Women programme.
"Advocating women's right to equal representation in the decision making process is not only our duty towards women, it is our duty to our countries because women's participation makes a difference and enhances the quality of policy making," said, Rula Alhroob, member of the Jordanian House of Representatives and President of "Ra'edat" Network.
The wide range of representation in the Forum will allow for considerable exchange of experiences and good practices regarding supporting women in decision making positions and achieving equal representation of women in the political process.
For the newly established "Ra'edat", the forum provides a unique opportunity to build on the combined expertise of its members to influence national policies with a unified regional voice for Arab women parliamentarians with considerable international support.
Several studies empirically show that the inclusion of women in political decision-making processes have a positive effect on the fields of education, infrastructure and health at the national level and correlates with economic progress and standard of living.
"UN Women's experience in supporting women in politics and peace-building in the region has proved that women are capable of acting as brilliant agents of change and peace-builders. Their right to build their nations is non-negotiable and their voices are instrumental for a better future for all of us," said Mohamed Naciri, Regional Director for Arab States, UN Women.
The Regional Programme for the Economic and Political Empowerment of Women in the Southern Mediterranean Region ("Spring Forward for Women") provides a mechanism to advance the economic and political empowerment of women in the Southern Mediterranean region.
The programme (2012-2016) supports women across the region, focusing on priority countries undergoing unrest, transition and reform, such as Egypt, Jordan, Libya, Palestine and Tunisia, to have greater influence in shaping the future of their countries while protecting their previous gains.
It connects stakeholders to ensure that marginalised women in these countries receive capacity building, advocacy, information and partnerships that address the barriers that have impeded their access and engagement in economic and public lives.
The programme is financed through a contribution of €7 million from the European Neighbourhood Partnership Instrument (ENPI) and of €1.2 million from the UN Women core budget.
petra.gov.jo/Public_News/Nws_NewsDetails.aspx?Site_Id=1&lang=2&NewsID=237928&CatID=13&Type=Home&GType=1
-----------
Faith and female fashion issues in spotlight at Al-Maktoum College lecture
February 15, 2016
THE relationship between religion, faith and female fashion is under increasing scrutiny today, with more and more Muslim women focusing on the way they dress.
Professor Reina Lewis – author of Muslim Fashion: Contemporary Style Cultures – will discuss this topic in an open lecture at Dundee's Al-Maktoum College of Higher Education this week (Thursday, February 18).
Professor Lewis – Artscom Centenary Professor of Cultural Studies at the London College of Fashion, UAL – has researched the way in which modest fashion scenes offer a kind of mediation between people of diverse faith backgrounds.
Her Faith Fashion public talk series bring together academics, bloggers, designers and consumers to discuss the relationship between religion and fashion.
Her recent book, 'Modest Fashion: Styling Bodies, Mediating Faith', examines the growing number of women who, for reasons of faith or personal preference, decide to cover their bodies and dress in a way that satisfies their spiritual and stylistic requirements.
"There is a need to discuss the opportunities and challenges involving faith issues and the fashion scene," Professor Lewis will tell her audience in Dundee.
She will explain that since the turn of the century a niche market for modest fashion has grown with designers and entrepreneurs involved in cross-faith dialogue trying to cater to modesty requirements from religious and secular women.
Her audience will hear that young women are emerging as global influencers in a dialogue that extends into discussions about personal religious and spiritual identities.
In her lecture, Professor Lewis will elaborate on how fashion can help in the development of young women in positions of responsibility, leadership, and inspiration within and beyond the Muslim community.
"This is a intriguing and important matter for discussion," said Dr Hossein Godazgar, principal and vice-chancellor of Al-Maktoum College.
"Professor Lewis has talked and written extensively on the subject so we are extremely pleased that she's coming to Dundee to share her thoughts with us."
The lecture takes place at Al-Maktoum College on Thursday, February 18, 2016 at 6pm.
It is FREE to attend and open to the public. However, registration is required due to capacity.
allmediascotland.com/media-releases/115307/media-release-faith-and-female-fashion-issues-in-spotlight-at-al-maktoum-college-lecture/
-----------
Meet Hijarbie, the Muslim doll
2016-02-14
In another city and country the simplest of sights and sounds can pique one's interest, more so when the surroundings are of a rich culture and heritage.
Doha - An Instagram account featuring a doll wearing the Islamic veil in a number of fashionable ways has attracted tens of thousands of followers.
Haneefah Adam, a 24-year-old Masters graduate from Nigeria, created the "Hijarbie" account nine weeks ago on the popular photo-sharing website.
"I set up the account initially to create an avenue to make modest outfits for dolls, because I haven't really seen one before," Adam told Al Jazeera.
"Before I created the account, I hadn't seen a doll in hijab that had her own account and personality. This account provided that hijabi style avenue."
Adam's account has gathered 34 800 followers with 51 posts since December.
The official Barbie Collection has a World Culture collection featuring Venetian Muse, Tribal Beauty, Maiko and Inuit Legend, but as yet no hijab-donning figure.
"I was a little bit surprised [by its success], but then, most people haven't seen something like that before."
She said she started wearing the hijab at a young age, when the veil was less of a "fashion statement".
The pharmacology postgraduate studied in England and lives in Nigeria. She also runs a lifestyle blog aimed at Muslim women.
Fashion with faith
"I think the most important thing to have as a Muslim or a non- Muslim is a very good character.
"The hijab is actually more about modesty than fashion but who says you can't incorporate both together? Fashion with faith," she said.
In the future, Adam hopes to gain more followers.
"A lot of people have adopted [the veil] now because they know they can be fashionable without actually compromising their faith," she said.
"There a lot of concepts to still explore on the page, and I can't wait to have fun with it."
The first black Barbie was named Christie and launched in 1968. The first African-American Barbie was created in the 1980s.
The company recently launched a collection featuring curvy, tall and petite dolls.
news24.com/Africa/News/meet-hijarbie-the-muslim-doll-20160214
URL: https://newageislam.com/islam,-women-and-feminism/new-age-islam-news-bureau/burqa-bans-rise-in-sub-sahara-over-fear-of-suicide-bombers-hiding-behind-veils/d/106357
New Age Islam, Islam Online, Islamic Website, African Muslim News, Arab World News, South Asia News, Indian Muslim News, World Muslim News, Womens in Islam, Islamic Feminism, Arab Women, Womens In Arab, Islamphobia in America, Muslim Women in West, Islam Women and Feminism