New Age Islam News Bureau
14 Apr 2018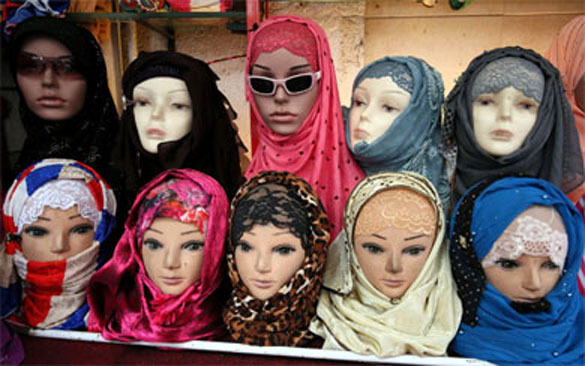 Islam is the second most popular religion in Austria and is practised by seven per cent of the population, around 600,000 people.
----
• Austria: Chancellor Meets Muslim Body over Headscarf Ban
• Balochistan CM Announces Three-Month Remission for Female Prisoners
• Girls Attacked At School in Sanaa for Refusing To Shout Houthi Cry
• Malala Yousafzai on Her Critics, Western Feminism and the Role of Men in Her Movement
• Fife Woman Helping To Secure Better Future for Women in Pakistan
• Afghan Woman Football Star Helps Street Kids Score World Cup Goal
• Conservative Women Join Iran Water Protests
• Young Yemeni Woman On Death Row Suffers The Wrath Of The Houthis' 'Psychological War' On Opponents
Compiled by New Age Islam News Bureau
URL: https://www.newageislam.com/islam-women-feminism/brutal-rape-murder-girl-widens/d/114937
-------
Brutal Rape, Murder of Girl Widens Religious Rift in Jammu's Kathua
Apr 13, 2018
Ever since they began living in the tiny Rasana village of Kathua district around four decades ago, the Bakarwal tribe — a nomadic community of Muslim cattle grazers — has had strained relations with the Hindu villagers.
The Bakarwals allege that Hindu men have been trying to force them out of the village by misbehaving with their girls and kicking around vessels they use to collect water. The Hindus say the Bakarwal Muslims are trying to construct a mosque and often graze cattle on land belonging to them.
While these tensions have prevailed for years, a dispute over the burial of an eight-year-old girl, who was allegedly gang raped and murdered in January, further widened the rift. The crime later took a political and communal turn, making matters worse.
"On the same day that my granddaughter's body was found, some Hindus from the village refused to allow the girl's body to be buried on a land that has been serving as our burial ground for years. We waited for hours before deciding to bury her in another part of the village late in the night," alleged the girl's grandmother.
The Hindus of the village, however, said the land was a disputed private property and they ensured arrangements for the burial elsewhere.
"We were not treated with respect even during a tragedy involving a child," said Mohammad Shafi, a Bakarwal who readied to leave for the mountains with his family and cattle for the next four summer months, an annual practice involving the tribe.
Over the years, the rift between the two communities has seen both sides approach the police multiple times. "If our cattle ventured into land belonging to Hindus, they would use sharp weapons to maim our animals. Does an animal know the difference between a Hindu and Muslim property?" said the murdered girl's grandfather.
After the girl's murder, both sides have been vocal about the crime. A few days ago, Hindus formed a "non-political" group called the 'Hindu Ekta Manch'. "We don't want the situation politicised, but we will stand united for our own safety," said Suresh Sharma, a villager.
Earlier in February, a retired government employee who is accused by the Jammu and Kashmir Police's crime branch of masterminding the girl's murder had earlier told a news channel that he would neither allow a mosque to be built, nor for the Bakarwals to graze cattle in his fields.
He said he was innocent in the murder case, but was arrested by the crime branch a few days later. Earlier, his 22-year-old son and 14-year-old nephew had been arrested for the rape- murder. "Ever since the murder, the Bakarwals have been trying to scare us by shouting pro-Pakistan slogans and rattling our gates with iron rods," his daughter alleged.
Shafi said the murder and the subsequent activities were part of a plan to oust the Bakarwals from the village. "But we will return to this village after four months in the mountains. The village has been our home for decades," he said.
https://www.hindustantimes.com/india-news/denial-of-land-for-burial-of-8-year-old-kathua-girl-widens-rift-between-two-communities/story-RAh2rs67L2tIbdoExufSFP.html
-------
Austria: Chancellor meets Muslim body over headscarf ban
13.04.2018
Austrian Chancellor Sebastian Kurz in a meeting with representatives of the country's Muslim body on Friday reiterated his stance on a headscarf ban in kindergarten and primary schools.
Kurz met Ibrahim Olgun, the head of the Islamic Religious Authority of Austria (IGGO) and the authority's representative for women Carla Amina Baghajati.
"I told the Islamic Religious Authority of Austria that as the Austrian government, we are determined to put the headscarf ban into effect in kindergartens and primary schools," he said after the meeting.
Olgun, speaking to Anadolu Agency, said that Austrian Muslims will challenge the ban legally, adding that the headscarf is not a political symbol.
"We told Mr. Chancellor that the headscarf is a religious subject. Muslims do it out of their free will. There is no force or pressure, and a majority of Muslim families don't make their children cover their heads in kindergartens or primary schools.
"But we can't understand the Chancellor's manner about it," Olgun said.
He expressed fears that the ban may be extended to high schools and universities.
Austria's new coalition government, consisting of the far-right Freedom Party and centre-right Austrian People's Party, is aiming to create a draft law to ban young Muslim girls to wear headscarves in kindergartens and primary schools, a culture which they say attacks the country's mainstream culture.
In the elections last October, the coalition campaigned against the influx of immigrants in Europe.
In Austria, where Islam has been one of the officially recognized religions since 1912, there is a population of over 600,000 Muslims, corresponding to seven percent of the population, according to figures obtained from the Vienna Islamic Federation.
https://m.aa.com.tr/en/europe/austria-chancellor-meets-muslim-body-over-headscarf-ban/1117632
-------
Balochistan CM announces three-month remission for female prisoners
Apr 14, 2018
QUETTA: Balochistan Chief Minister Mir Abdul Quddus Bizenjo on Friday announced a remission of three months for female prisoners serving a range of sentences for committing various crimes. He made this announcement while talking to media persons during visiting Quetta district Jail and Police Station.
Provincial Ministers for Home Mir Sarfraz Bugti, other ministers, Members Provincial Assembly, Prisons Inspector General Malik Shujah Kasi and officials also accompanied the CM during his visit.
The chief minister inspected the facilities being provided to the prisoners and district jail sectors where he also listened to the prisoners' problems and directed the jail authorities for their early solution.
He said provincial government is trying to provide facilities to the masses in a short time despite a lot of problems being faced by the province.
He said prisoners would provide education in various sectors when they will return home after completing their sentences. This, he said, would give them an opportunity to to play their role for betterment of country as contributing and useful citizens of the society.
Bizenjo also directed to ensure the provision of facilities of prisoners including health and other amenities in district jails, besides ordering an ambulance for each district jail on demanding of IG Prisons.
He announced to inaugurate Quetta Safe City project within the next week.
Guard of honor was presented to Chief Minister Balochistan in Quetta district Jail.
Later, the CM along with other ministers visited a local police station where he released a man, who was taken into custody without First Information Report over a dealing of money involving 19,000.
He gave the money from his pocket at the moment and expressed his displeasure over the police personnel who detained him without fulfilling legal formalities.
Sarfraz Bugti said that measures are being taken to improve skills of prisoners including children and women prisoners in different sectors through training with cooperation of non-government organisation so that the prisoners can earn their livelihood after being released from the prison.
https://www.pakistantoday.com.pk/2018/04/14/balochistan-cm-announces-three-month-remission-for-female-prisoners/
-------
Girls attacked at school in Sanaa for refusing to shout Houthi cry
14 April 2018
A Houthi supervisor attacked school girls at Al Manar high school in Sanaa when they refused to repeat a cry of allegiance to the Houthis.
The school principal told the girls to shout the call, but the students chanted (no Houthi after today) instead.
The supervisor chased the girls and beat them up after they threw stones at him, then he called an armed crew, who shot live bullets at the girls as they chased them.
schools across Sanaa are experiencing rebellion attitudes from student uprising, as they refuse to chant the Houthi cry, which the Houthis are trying to impose instead of the Yemeni national anthem.
In addition to their attempts to change the curriculum and force students to join their lines in the battlefields.
https://english.alarabiya.net/en/News/gulf/2018/04/14/WATCH-Girls-attacked-at-school-in-Sanaa-for-refusing-to-shout-Houthi-cry.html
-------
Malala Yousafzai on Her Critics, Western Feminism and The Role Of Men In Her Movement
APRIL 13, 2018
In 2012 in Pakistan, 15-year-old Malala Yousafzai was shot in the head by a Taliban gunman in retaliation for her activism. She survived, and the name Malala has come to represent the movement for the right to education. Now 20, Ms. Yousafzai has used funds raised by her charity and the money from her Nobel Peace Prize to build schools in Pakistan and promote education programs for girls in Afghanistan, India, Nigeria and countries that house Syrian refugees. Between delivering two public talks in Toronto, Ms. Yousafzai sat down with The Globe and Mail to discuss her critics, her views on Western feminism and the role of men in her movement.
You made your first trip back to Pakistan just a couple of weeks ago – the first time since being shot. Tell me what the most jarring thing was about returning to that country.
Going back to Pakistan after 5½ years was the most beautiful and exciting time for me and my family. I think just going there and going to my home and seeing the street, my room, my old trophies, dining place, everything again was the most beautiful moment of my life and I really, really enjoyed it. It's something I can't describe in words. Even the warmth of the air, even just putting my feet on the land again was an incredible moment.
There are many critics of the work that you do and what you represent back in Pakistan – they say it's anti-Islamic. How do you respond to that?
Firstly, it's a very small number of people who are criticizing my work for education. I think most of them do not understand my message or the cause I'm standing up for. There are still Pakistanis standing with me and supporting me. I think some of these criticisms are actually absurd and they don't make sense, but I hope that people will understand what I stand for and that I am standing up for all girls in Pakistan and around the world to have safe and quality education.
You've spent more than $6-million now from the Malala Fund to build schools in Pakistan. But there's still a lot of content in the curriculum the government has created that promotes suspicion of the West and is in support of anti-blasphemy laws. How do you take on a challenge like that?
I think curriculum is an issue in Pakistan and in other countries as well. That's why when we talk about education for children we talk about quality education that encourages critical thinking, problem-solving skills, but also questioning among children. I hope that our government authorities and the responsible people will aim to bring quality education and we'll also try our best to make sure children have access to safe and quality education.
You've lived in Britain now for several years. How have you come to view Western feminism and the goals of that movement compared with where your activism began?
Growing up in Pakistan, I thought that in the West everything's perfect for women. When I came to the U.K. and I started to [hear] about the issues women are facing, it actually shocked me. Hearing that women are not paid equal as men - there's a gender gap in that. Women are not equally participating and given opportunities in politics even. I think the issues may vary that women are facing in the West compared with the Eastern countries, compared to the developing countries, but it is a positive sign that women are at least raising their voices, joining their hands.
You speak a lot about your father and the sort of hero status he has in your life. But there are not a lot of other Pakistani fathers who have played similar roles in their daughters' lives or hold the same politics or sense of activism that he does. What is the role of men in this movement?
I think it's a good question and I have been asked this many times. What can men do? What can boys do? I think it is important for men to understand what is it that is good for their daughters, for their wives, for their sisters. Thinking that's how they should treat other women as well. Women don't need any extra training or any other extra skills. All they need is no one standing in their way in allowing them to achieve their dreams - no one stopping them. Men's contribution in that would be really helpful to allow women just to follow their dreams. My father says, "Don't ask what I did for my daughter, ask me what I did not do. I did not clip her wings."
https://www.theglobeandmail.com/canada/article-malala-yousafzai-on-her-critics-western-feminism-and-the-role-of-men/
-------
Fife Woman Helping To Secure Better Future for Women in Pakistan
Apr 14, 2018
Joanna Reid, a former St Andrews resident and pupil of Madras College, is based in Islamabad where she is involved in projects aimed at improving communities, including schemes to secure a better future for Pakistani women and girls, according to Courier.co.uk.
A key component of the Commonwealth Heads of Government Meeting, taking place in London on April 16 to 20, will be discussing how to improve the future of young people living in the organisation of 53 member states.
Reid said, although Pakistan was currently the "second worst place in the world to be a woman", there are also reasons to be optimistic.
"Pakistan has an interesting reputation, but it's becoming more and more peaceful," she said.
"This year is a very exciting year. We've got an election this summer.
"The 2013 election was only the first civilian to civilian transfer of power. Pakistan is 70 years old and this will only be the second civilian to civilian transfer of power. It's shocking, but it's a real sign of progress."
However, there are still huge inequalities, with 22 million children not in school and two-thirds of adult women unable to read or write.
In addition, 60 million people live under the poverty line and 44% of children are stunted because of poor nutrition.
The Department for International Development (DIFD) said that since 2011, 6.8 million children in primary school, including 3.3 million girls, had benefited from its support of education reforms.
And 5.2 million children, including 2.4 million girls, had been helped by DFID to complete primary education.
Reid said enabling children to continue their education through secondary school was one of the challenges.
She said there was a connection between the education of women and family planning, with women who are given more career opportunities more likely to have fewer children.
"The population is growing faster than the economy," she said.
"Family planning and education for girls is such a building block for everything else."
The world's most famous campaigner for women's education is Pakistan's Malala Yousafzai, who recently returned to the country after being shot by the Taliban for standing up for the right of girls to go to school.
"I think she's done amazing things for raising the issue of girls' education, not just in Pakistan but globally," said Reid.
https://www.pakistantoday.com.pk/2018/04/14/fife-woman-helping-to-secure-better-future-for-women-in-pakistan/
-------
Afghan woman football star helps street kids score World Cup goal
Apr 14, 2018
Yelling commands and lunging for the ball on the balding astro turf, Khalida Popal drilled the team of nine Mexican teenage girls through soccer training, weeks before they jet off to Russia for the World Cup - the street children's version. For Popal, former captain of the Afghan women's football team, football can open new avenues and boost self-esteem for the Team Mexico girls, who laughed and high-fived as they tackled and scored in the baking heat.
"When you enter the pitch, you forget about everything. The only thing you think about is the ball and the game - that's the beauty of football," said Popal, who was forced to flee her homeland after death threats. "I know what it is being without identity, being without family, being without networks," said the ambassador for Street Child United, a British charity, wearing a number 10 top with her name emblazoned on the back. "What always helped me to come through that tough and difficult situation was to play football."
Children from more than 20 countries, including India, Brazil and Kenya, will converge on Moscow in May for the Street Child World Cup, whose ambassadors include Brazil's Gilberto Silva and England's Alex Scott, ahead of FIFA's 2018 event. With up to 150 million children living on the streets worldwide, according to the United Nations, the organisers hope the event can help erase the stigma surrounding street children and improve their treatment.
"This is a global issue of children not being in a safe home," said Joe Hewitt, head of Americas for Street Child United, on the pitch sidelines. The event is also a child rights conference, said Street Child United, which works with Casa Alianza, a non-profit in Mexico that provides a home to more than 100 children, many victims of violence, sexual abuse and trafficking.
Despite growing up half a world away, the Mexican girls related to Popal's story of overcoming intense opposition and intimidation in war-torn Afghanistan to play football.
"Her personal experience is very like ours, it's very difficult. But she moved forward and, like me, sought to become a footballer," said Jazmin, 15, who also wants to become a lawyer. Popal recounted how Afghanistan's first women's national team worked to encourage more women and girls to play football, despite attacks and pressure from people opposed to them playing a "man's game".
https://www.dailysabah.com/football/2018/04/14/afghan-woman-football-star-helps-street-kids-score-world-cup-goal
-------
Conservative Women Join Iran Water Protests
April 13, 2018
Frustration with water shortages in Iran's third-largest city is growing, with conservative women seen marching for the first time to protest the situation.
A social media video monitored by VOA's Persian service and identified as having been filmed in Isfahan's eastern district of Khorasgan on Friday showed a group of women wearing chadors marching behind male protesters.
A chador is a long garment, often black, that leaves only a woman's face exposed. It is worn by Iranian women who follow the conservative dress code of Iran's ruling Islamist clerics.
Social media users said the chador-wearing women were from farming families in nearby villages who had come to Khorasgan's town center to join their husbands in protesting the lack of water for their farms.
The video begins with male protesters marching on a street, followed by the women, who appear 40 seconds into the clip. The women can be heard chanting: "Our enemy is here, it is not America." Men are also seen riding motorcycles and walking alongside the women but at a distance, apparently to protect the group from any intrusion.
It was the fourth consecutive day of water shortage protests reported by social media users in Isfahan city.
On Friday, the Iranian government's leader of Friday prayers in Isfahan lost patience with the protesters. State news agency IRNA quoted Ayatollah Yousef Tabatabaye-nejad as saying: "Repeated demonstrations and chants indicate that these people are hostile and seeking to cause riots and sedition."
Tabatabaye-nejad also said he had "always" defended farmers and their rights, but added: "I no longer believe they are right." Some residents angered by what they see as government mismanagement of local water resources turned their backs to the cleric during a prayer sermon last month.
Iranian leaders have accused foreign powers such as the United States of instigating a series of street protests over various grievances across Iran since late December. Washington has said it supports Iranians engaged in peaceful protests against the Iranian government.
https://www.voanews.com/a/conservative-women-join-iran-water-protests/4347464.html
-------
Young Yemeni Woman On Death Row Suffers The Wrath Of The Houthis' 'Psychological War' On Opponents
13 April 2018
Asmaa al-Omeissy set off from southern Yemen to seek safety and reunite with her father in the capital Sana'a. Instead, the 22-year-old, who has two young children, was subjected to a brutal ordeal that has left her as the first known Yemeni woman on death row on 'state security' charges.
In September 2016, her husband, an al-Qa'ida suspect, fled and left her during an ambush by forces from the Saudi Arabia-led coalition near the southern city of al-Mukalla. After briefly detaining her following the ambush, the coalition troops let her go. But this was only the start of her troubles.
A family friend had offered to drive her from al-Mukalla to the Huthi-controlled Sana'a so that she could re-unite with her father. Another male passenger travelled with them. On 7 October 2016, Huthi security forces stopped their vehicle at a checkpoint in the capital and whisked them away for interrogation. Following their detention, Asmaa al-Omeissy's father was also summoned and arrested.
Their arrest marked the beginning of a horrific ordeal including enforced disappearance, torture and other ill-treatment, and death sentences following a grossly unfair trial. Because of their connection with the armed conflict in Yemen, these violations by the Huthis may amount to war crimes.
Since the Huthi armed group and its allies took control of large parts of Yemen in late 2014, thousands of people have been arbitrarily detained, forcibly disappeared, and tortured on the basis of their perceived political allegiance or religious beliefs, rights groups say. Amnesty International and other local and international human rights groups have documented such cases and urged the Huthis to respect their obligations under international law.
But far from heeding these calls, the Huthis have been widening their crackdown against opponents and critics, including journalists and human rights defenders. Those detained include people they perceive as supporting their adversaries – Yemen's UN-recognized government, based in the south, and its backers, the Saudi Arabia-led coalition. Moreover, the Huthis have also been increasingly using the judiciary to settle political scores, with several grossly unfair trials resulting in death sentences.
These trials and the process leading up to them demonstrate a complete disregard for Yemeni and international law. Asmaa al-Omeissy and her three co-defendants, for example, were barred from contacting the outside world for months while they were taken from one facility to the next, including a "secret" part of the Criminal Investigations Department. She was unable to get any news about her two children from a previous marriage – now four and seven years old – who currently live with family members in the south.
Asmaa al-Omeissy was beaten up in front of her 50-year-old father Matir al-Omeissy, including being punched and hit with a cane by a policewoman, the father told me. She was also forced to watch two other detainees in the case being tortured, hung from the ceiling by their wrists as they were kicked and punched all over their bodies.
She was interrogated over alleged links to al-Qa'ida, and wrongfully accused of committing an "illegitimate sex act" with her male travel companions. "It was a psychological war," Asmaa al-Omeissy's father told me.
"Can you imagine what it's like for a woman to be kept alone in [an interrogation] room and accused of such things all the while being innocent?" he said, explaining how interrogators tried to break her by attacking her "honour." In Yemen, extra-marital affairs are both illegal and taboo.
It was not until May 2017 that Asmaa al-Omeissy and the others were finally charged and referred to Sana'a's notorious Specialized Criminal Court that handles "terrorism" and "state security" cases. The charges included "aiding a foreign country in a state of war with Yemen," a reference to coalition member the United Arab Emirates. None of the defendants had legal representation during the trial.
While the three men were released on bail months before the verdict, including two on medical grounds, it is not clear why Asmaa al-Omeissy was the only defendant in the case who remained in custody. All three men subsequently fled to safety in areas of Yemen outside Huthi control, and she alone was present in court on 30 January when the judge sentenced her and two of the other defendants to death. The spurious "indecent act" charge landed her an additional sentence of 100 lashes and her father, a 15-year prison sentence.
Those who have spoken to Asmaa al-Omeissy at Sana'a Central Prison have told me her morale is extremely low. Her prison conditions continue to be woefully inadequate. She has to pay for her food, has no access to clothes or hygiene products, and her relatives haven't visited, out of fear of being detained themselves.
Conditions in Yemeni prisons have long been inhuman and degrading, but local activists say they have only worsened under Huthi control. Detainees are crammed into filthy, overcrowded cells, and are systematically extorted for money.
And although abuses against female detainees, including rape and other forms of sexual violence were reported in the past, activists say they are shocked at the recent rise in reports of such abuses. One human rights defender told me his group has documented hundreds of cases of female detainees who were subjected to torture and humiliation, including "degrading use of women prisoners in construction work."
Asmaa al-Omeissy's father tells me he wants the world to know about her case and that she is innocent. A lawyer has filed an appeal request on her behalf, but he has been struggling to obtain the case file from the court. Meanwhile, the court has been liberally issuing death sentences, including in January against 52-year-old prisoner of conscience and member of the Baha'i community, Hamid Haydara.
Huthi authorities must stop making a mockery of justice: they must immediately quash these unsafe convictions and death sentences, and end the use of this inherently cruel punishment. Every day Asmaa al-Omeissy spends behind bars and on death row compounds this injustice, leaves her at risk of further violations, and is time stolen from her children's lives.
https://www.amnesty.org/en/latest/news/2018/04/young-yemeni-woman-on-death-row-suffers-the-wrath-of-the-huthis-psychological-war-on-opponents/
-------
URL: https://www.newageislam.com/islam-women-feminism/brutal-rape-murder-girl-widens/d/114937
New Age Islam, Islam Online, Islamic Website, African Muslim News, Arab World News, South Asia News, Indian Muslim News, World Muslim News, Women in Islam, Islamic Feminism, Arab Women, Women In Arab, Islamophobia in America, Muslim Women in West, Islam Women and Feminism