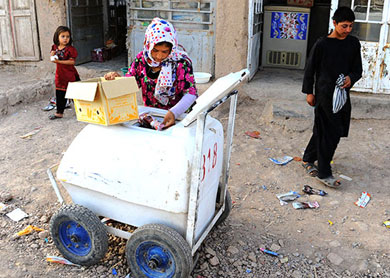 Fatima fills up her ice cream cart as she prepares to head out into the streets of Herat to sell the pops. (AFP Photo)
Malala Yousafzai, Nobel Laureate, Is Assailed by Schools Group in Pakistan
Makkah Girls Detention Home Accused Of Violations
Canadian-Israeli Woman 'Joins' Kurds to Fight ISIS
Women Benefit From Anti-Smoking Clinics: Ali Al-Wadae'e
Ice Cream Is a Job, Not a Treat, For This Afghan Girl
Malaysia's Sharia Law Keeps Non-Muslim Mothers From Their Kids
The Headscarf Debates Return in Europe and Turkey
Kidnapped Nigerian Girls' Plight Inspires Artist
Girl Suffers Tremendously As Parents' Marriage Fails
Compiled by New Age Islam News Bureau
URL:
-----------
Brothers Kill Mother, Teenage Sisters for 'Honour' In Pakistan
11 Nov, 2014
LAHORE- Two brothers on Tuesday murdered their mother and two sister in an 'honour killing' in Lahore, a private news channel reported.
According to the report, the brothers; residents of Township area of Lahore, bludgeoned their mother and sisters to death with a sharp weapon at around 3am. The victims were asleep at the time of attack.
Afterwards, both the men confessed their crime in a local police station and were stated that the women's 'immoral acts' led them to their murder.
The victims were identified as 55-year-old Sughta, 16-year-old Muqaddas and 14-year-old Amina. The bodies have been shifted to Jinnah hospital for a post-mortem.
An investigation has been launched into the event by the police to confirm the motive behind the killings.
http://www.pakistantoday.com.pk/2014/11/11/national/brothers-kill-mother-teenage-sisters-for-honour/
----------
Malala Yousafzai, Nobel Laureate, Is Assailed by Schools Group in Pakistan
11 Nov, 2014
ISLAMABAD, Pakistan — A network of private schools on Monday unleashed a scathing public attack on Malala Yousafzai, the teenage Nobel laureate, in the most concerted assault yet on her reputation in her home country.
The All Pakistan Private Schools Federation, which claims to represent 150,000 schools across Pakistan, declared that Monday would be "I am not Malala" day and urged the government to ban her memoir, "I Am Malala," because it offended Islam and the "ideology of Pakistan."
"We are all for education and women's empowerment," said Mirza Kashif Ali, the organization's president. "But the West has created this persona who is against the Constitution and Islamic ideology of Pakistan."
The public denunciation of Ms. Yousafzai, 17, who has been hailed all over the world as a figure of courage, reflected how differently her celebrity has been received in some parts of Pakistani society — even after she jointly won the Nobel Peace Prize with the Indian child rights activist Kailash Satyarthi last month.
Abroad, Ms. Yousafzai is revered for continuing her impassioned advocacy of education and girls' rights after being shot in the head by a Taliban gunman in 2012. She is currently studying in Britain, where she lives with her exiled family.
But in her homeland, Ms. Yousafzai divides opinion. While some Pakistanis have lionized her as a national hero, others portray her as a Western stooge who has maligned both country and religion.
Conservatives frequently cite from her memoir, written with Christina Lamb, a journalist, to bolster their case. During the news conference on Monday, Mr. Ali accused Ms. Yousafzai of defending the author Salman Rushdie, whose novel "The Satanic Verses" remains banned in Pakistan, in her book.
"It is clear that Malala has a nexus with Salman Rushdie and is aligned with his club," he said.
In fact, the book notes only that Ms. Yousafzai's father saw "The Satanic Verses" as "offensive to Islam," and that he said that Muslims should first read the novel, then respond.
"Is Islam such a weak religion that it cannot tolerate a book written against it? Not my Islam!" the book quotes her father as saying.
Yet tolerance is in short supply in Pakistan these days, and accusations of disrespecting Islam can be fatal. Last week, an enraged mob killed a Christian couple over accusations of blasphemy and incinerated their bodies. Dawn, a major English-language newspaper in Pakistan, reported that the wife had been pregnant.
An antiterrorism court on Monday remanded four people into custody over the killings.
The denunciation of Ms. Yousafzai by the schools network, which is based in Lahore, triggered an angry backlash on social media. The group represents private schools from mostly poor and middle class areas, and not the country's elite schools.
Declan Walsh contributed from London.
http://www.nytimes.com/2014/11/11/world/asia/malala-yousafzai-nobel-laureate-is-assailed-by-schools-group-in-pakistan.html?partner=rss&emc=rss
----------
Makkah Girls Detention Home Accused Of Violations
11 November 2014
MAKKAH — The National Society for Human Rights (NSHR) and the Control and Investigation Board (CIB) in Makkah are currently investigating alleged violations at the local detention home for girls.
The two bodies are considering a complaint filed by a mother of a girl who is currently serving a sentence of four years at the home.
She accused staff at the facility of committing various acts of violence against the inmates.
The NSHR has sent a letter on the case to the chairman of the Bureau of Investigation and Public Prosecution (BIP) to investigate the allegations.
Um Tariq, mother of the detained girl, would not reveal why her daughter was locked up but said she gave a hand-written message containing a description of the violations committed against the inmates.
The mother said the violations included preventing inmates to meet privately with their visitors, among others.
"A woman supervisor from the home is always present during these meetings to make sure that the incarcerated girls will not talk about what is happening inside the home," the mother said.
She said her daughter and other inmates are being maltreated by employees of the home and suffering from malnutrition.
"The food served to the inmates is either insufficient or expired," she added.
She said the majority of the inmates live on the "inadequate" dry food served to them for breakfast or dinner.
The mother said the inmates are also complaining about dirtiness in the rooms, the halls and the toilets.
"I was once prevented from visiting my daughter, who was kept in solitary detention," she said.
Hafsa Shuaib, director of the home, denied the mother's accusations and said she was never prevented from visiting her daughter during the 18 months she has so far spent in the home.
She said the daughter was once sent to solitary confinement because she had violated the home's rules and regulations.
The director said she found out that it was some of the employees who have been instigating the inmates to talk to the press and social media through their relatives and visitors with the aim of creating unrest at the home.
She said according to the rules, a supervisor must be present when family and friends visit inmates.
The director accused Um Tariq of inciting her daughter to publish her complaint in the local press and the social media.
"We asked the mother to sign an undertaking never to do this again but she refused," Shuaib said.
http://www.saudigazette.com.sa/index.cfm?method=home.regcon&contentid=20141111223983
----------
Canadian-Israeli woman 'joins' Kurds to fight ISIS
11 November 2014
A Canadian-born woman who emigrated to Israel and served in its military has joined Kurdish militants fighting Islamic State of Iraq and Syria (ISIS) insurgents in northern Syria, Israel Radio reported on Monday.
The Canadian foreign affairs ministry would only say, "We are aware of reports that a Canadian individual has joined Kurdish forces."
The Israel Radio report, which identified the woman as 31 years old and a resident of Tel Aviv, said she had contacted Kurdish fighters over the Internet before traveling through Iraq to train at one of their camps on the Syrian border.
"They are our brothers. They are good people. They love life, a lot like us, really," she told the radio station.
The woman was preparing to enter combat zones in northern Syria, Israel Radio said, where Kurdish fighters, many of them women, have been trying to fend off ISIS militants.
The woman felt she could contribute from her Israeli military experience, the station said, without elaborating.
Israel has maintained discreet military, intelligence and business ties with the Kurds since the 1960s, seeing in the minority ethnic group a buffer against shared Arab adversaries. The Kurds are spread through Syria, Iraq, Turkey and Iran.
Worried about spillover from the Syrian war, Israel has been cracking down on members of its 20 percent Arab minority who return after volunteering to fight with Islamic State or other rebels opposed to Syrian President Bashar al-Assad's rule.
Israel bans its citizens from travelling to enemy states, among them Syria and Iraq, and officials did not respond to a Reuters inquiry about whether the woman could face prosecution if she returns to Israel.
http://english.alarabiya.net/en/News/middle-east/2014/11/11/Canadian-Israeli-woman-joins-Kurds-fighting-ISIS-radio.html
----------
Women benefit from anti-smoking clinics: Ali Al-Wadae'e
11 November 2014
Six hundred and sixty-one female smokers have visited anti-smoking clinics recently, said Ali Al-Wadae'e, general supervisor of the anti-smoking program.
"The number of patients registered with anti-smoking clinics has reached 7,200 of which 994 visit 'fixed' clinics and 6,202 attend mobile clinics. A total of 5,545 male and 661 female patients have visited our clinics so far," Al-Wadae'e said.
This has come in the wake of increasing awareness of the harmful effects of smoking and is an indication of the large numbers of people willing to seek help to rid themselves of this toxic habit.
Several awareness campaigns were held where therapeutic clinics, under the supervision of the anti-smoking program, offered treatment to citizens and residents in various parts of the Kingdom.
In the first phase of the mobile clinics program, several clinics opened up in a number of cities for the second and third time this year. An anti-smoking clinic is open in Taif at the International Mall; in Jazan at the Rosa Mall in Sabia and in Riyadh at the King Saud Medical City.
Al-Wadae'e said that the clinics provide a full range of outreach services, medical consultation and therapeutic services free of charge for smokers of both sexes to help them quit.
"The clinics receive patients in reception areas allocated for this purpose and record their information which is handled with utmost confidentiality. Then, the smoker is directed to the nursing station to have his vital signs such as pulse, temperature and blood pressure measured. After that, the patient enters one of three clinics that have specialized doctors who provide medical consultation and prescribe an appropriate treatment program for each individual case," elaborated the general supervisor.
He added that there are special sections for women with female staff where smokers are guaranteed complete privacy.
The clinics are also supported by a call center which contacts patients periodically to follow up on their cases and direct them to completing the treatment program, he said.
Al-Wadae'e pointed out that the responsibility for getting rid of smoking and supporting the anti-smoking program should be shared by other governmental authorities and not be confined only to the Ministry of Health.
Smoking is banned at all airports, government and commercial buildings and offices in the Kingdom.
In addition, a number of Saudi universities have been launching campaigns to curb smoking and making institutions smoke-free zones. The Saudi Commission for Tourism & Antiquities (SCTA) has also imposed a ban on smoking in all tourism facilities while the Royal Commission for Jubail and Yanbu has prohibited people from smoking in and around its buildings.
The ban also covers the smoking of shisha (water pipe) in public places and prohibits tobacco sales to people under 18.
Statistics reveal that the Kingdom is the world's fourth largest importer of tobacco and that 6 million Saudis spend about SR30 million a day on cigarettes.
http://www.arabnews.com/food-health/news/658236
------------
Ice cream is a job, not a treat, for this Afghan girl
Herat, Afghanistan, November 11, 2014
The gaggle of girls outside a school in Herat are all about the same age, but one of them sticks out.
Fatima, eight, isn't wearing a neat black and white uniform, or laughing and playing with classmates.
She is hard at work, selling ice creams to the other girls from her small cart as she tries to make enough money to feed her disabled father and the rest of her family.
Fatima yearns to go to school like her noisy, cheerful customers, but she is her family's only regular money-earner.
Her father, his two wives and six daughters all live in a dilapidated two-room, rented house with one bed and few other possessions.
She works from 7am to 4pm, starting her long day by picking up boxes of ice cream from a wholesaler and then pushing her cart through the rough and uneven streets of Herat city in the west of Afghanistan.
"My only and biggest dream is to have some money, so that I don't need to work anymore and can go to school and study just like other girls," Fatima told AFP.
"When I'm selling ice cream in front of this school and see other girls go inside, laughing and happy, I really wish I could go too."
Child labour is common in Afghanistan, with 17% of all girls aged between 7 and 14 either working outside the home or doing full-time household chores, according to UNICEF.
Fatima makes just a few dollars a day, and spends it all looking after her family, who eat a simple daily meal of vegetables, rice and bread.
Her father Ab Zahir is in a wheelchair, with his legs paralysed after a spine accident when he was working as a labourer in neighbouring Iran four years ago.
On days when he feels well enough, he tries to help his daughter by selling mobile phone cards.
Back at their home, Fatima helps him move laboriously from his bed to his wheelchair, and she also fixes on his feet braces and massages and cleans his withered limbs.
It is a heavy burden for a young child.
"I cannot afford to eat ice cream. I like it, though," she said. "I don't like being poor."
http://www.hindustantimes.com/world-news/ice-cream-is-a-job-not-a-treat-for-this-afghan-girl/article1-1284765.aspx#sthash.3AvX6K32.dpuf
------------
Malaysia's Sharia law keeps non-Muslim mothers from their kids
11 Nov, 2014
IPOH, Malaysia (AP) — It was the last round of a recurring argument: M. Indira Gandhi's husband wanted her to convert to Islam. A committed Hindu, she refused.
He threatened divorce. Both started shouting. Neighbors came looking. Suddenly, he snatched their 11-month-old daughter from the arms of an older child, tucked her under one arm and sped off on his motorbike.
That was more than five years ago. Gandhi hasn't seen her child since, even though a Malaysian civil court awarded her custody.
Her husband — who converted to Islam shortly before taking his daughter away — won custody in an Islamic court. Because Gandhi is not a Muslim, she was not even called to appear. Police have been unwilling to enforce the civil court's decision.
"I am pining to see my daughter. No mother should ever have to endure this pain," said Gandhi, a kindergarten teacher, in her small rented home in Ipoh city in Perak state, about 200 kilometers (124 miles) north of Kuala Lumpur, the capital. "Give us a chance. We are all Malaysians. We should have equal rights."
Gandhi's case and others highlight perils of Malaysia's divided legal system, where majority Muslims use Shariah courts for religious and family issues such as conversion, divorce and death. The other 40 percent of the country — mainly Christians, Buddhists and Hindus — use a secular legal system inherited from the Southeast Asian country's British colonial rulers.
Critics accuse the ethnic Malay Muslim-dominated government of doing too little to resolve problems when those legal systems collide. The government has become increasingly reliant on support from Islamist and right-wing pressure groups as other constituencies flock to the opposition.
M. Kulasegaran, an opposition lawmaker who is also Gandhi's lawyer, said there are many similar cases, including several he plans to file once Gandhi's case is resolved. Some earlier cases have turned out even worse for non-Muslims than Gandhi's case has so far: In 2007, the top civil court ruled that a Muslim spouse had the right to convert his children without the mother's consent.
Some lawyers and legal experts say spouses in especially bitter custody battles sometimes convert to Islam to gain an upper hand. A Muslim with a non-Muslim spouse who seeks custody from the Shariah court is almost certain to win because the spouse has no standing.
The government has long pledged to tackle legal ambiguities related to religious conversions. But a Cabinet decision in 2009 to allow minors to be converted only with both parents' consent has yet to be made legally binding.
In southern Negeri Sembilan state, Deepa Subramaniam's Hindu husband quietly embraced Islam in 2012 and formally converted both their children without her consent. He was then granted custody of the children by a Shariah court. Deepa turned to the civil court, which annulled her marriage on grounds of domestic violence and granted her custody of the children. Two days later, her ex-husband abducted their 5-year-old son.
National police chief Khalid Abu Bakar has refused to act on court orders to return either Deepa's son or Gandhi's daughter to their mothers. He has been cited for contempt but is waiting for a higher civil court to weigh in.
He was quoted as saying by local media that police were "sandwiched" between legal systems and proposed that children caught in custody tussles be placed in welfare homes. Khalid did not return text messages from The Associated Press seeking comment.
The abduction of Gandhi's daughter, Prasana Diksa, came days before her first birthday. Her mother had bought her a Minnie Mouse blouse and jeans, and had planned to take her to the temple for ear piercing, a traditional Hindu practice when a child turns 1.
Gandhi repeatedly called her husband and begged him to return Diksa, who was still on breast milk, in the hours and days after she was taken. Her husband, an odd-job worker now called Muhammad Riduan Abdullah, initially told her again to convert to Islam, then stopped replying to any of her requests.
Gandhi found out that he had officially converted to Islam when she went to a police station to report the abduction. There she learned that he had also changed the birth certificates of the couples' other two children to state they were Muslims. Fearing that Islamic authorities may seize them as well, Gandhi went into hiding.
The Shariah court granted Riduan temporary custody of all three children days after he abducted Diksa, and granted him permanent custody a few months later. No grounds were given by the Islamic court. In Perak and some other states, Shariah allows one parent to convert children to Islam without the consent of the other.
Gandhi turned to the civil court, which in 2010 awarded her custody of all three children and ruled that the Shariah court had exceeded its jurisdiction.
Last year, a civil court quashed the children's conversion to Islam in a landmark ruling. Civil courts had in the past said they had no jurisdiction in such cases.
Riduan appealed the civil court's custody decision but lost. His appeal of the ruling on his children's conversions has yet to be heard.
In May this year, the court ordered police to arrest Riduan for contempt of court and return Diksa, now 6, to her mother. Yet with police refusing to act, she is no closer to her daughter. The case continues to go through the civil court system, where it may take years to resolve.
Riduan declined to speak to a reporter. His lawyer, Anas Fauzi, said in an email that Riduan refused to comply with the civil court ruling because he was bound by the Shariah order.
Prime Minister Najib Razak has urged parents to resolve their disputes in the Federal Court, the nation's highest civil court, but has not condemned the abductions. An aide to Najib declined to comment further on the cases.
Many Islamic clerics view the prospect of a Muslim child being brought up in a non-Muslim household as unacceptable.
Abdullah Zaik Abdul Rahman, who heads the Islamic right-wing group Isma, defended the Shariah courts' actions, saying the Muslim fathers are in a better position to raise the children as Muslims. He said the law should be changed to allow Shariah courts to hear petitions from non-Muslims, and added that "its decision must be final."
But Muhammad Asri Zainal Abidin, an Islamic scholar and a former state mufti, said children caught in such custody battles should be able to live with non-Muslim mothers as long as they care for them well.
"There is no compulsion in Islam. Nobody can force others to embrace a religion, not even their parents. Leave the matter to the children to decide when they are old enough," he said.
Diksa, now called Ummu Habibah Muhammad Riduan, lives with her father in a Muslim community in northeastern Kelantan state. His lawyer, Anas, said she has adjusted well and that "both the father and the daughter receive moral and physical support from the local society."
Riduan does not provide financial support for his other two children, now 16 and 17, who have remained with Gandhi throughout the dispute. Anas said that since his client converted, "the conditions and the circumstances do not even allow both disputed parties to have any relationship."
Gandhi did, however, finally receive recent pictures of her youngest child this year. In one, a smiling Diksa is clad in a black Islamic headscarf, posing with her father.
Every day, at an altar in her home, Gandhi lights a candle for Diksa and prays that she comes home.
"Whether she is a Muslim or not, it doesn't matter," she said. "She is still my daughter. All I want is to hold and embrace her. I have missed many precious moments with her. I will fight until I get my child back."
http://news.yahoo.com/malaysias-sharia-law-costs-non-muslims-kids-061705866.html
----------
The Headscarf Debates Return in Europe and Turkey
11 Nov, 2014
The controversial headscarf debate has returned to the Turkish and European media due to recent regulations that permit the wearing of headscarves in secondary schools in Turkey.
Should children who are under 10 years old wear headscarves at school? If they wear headscarves, do they do so with their own informed consent or with pressure from their families? Are schools secular or religious institutions? Should "we" ban the headscarf everywhere, ban it only in certain institutions, protect the wearing of the headscarf entirely, or protect it only if it is worn in certain ways or capacities? European state authorities and the current government in Turkey have different answers to these questions. In our new book, "The Headscarf Debates: Conflicts of National Belonging" (Stanford University Press, 2014), we analyze the headscarf debates in Europe and Turkey of the last few decades. We show how these debates become sites for the articulation of national belonging.
The Muslim woman's headscarf seems to attract an unusually large set of interpretations in political debates in Europe and in Turkey. The kopftuch, foulard, voile, başörtüsü, türban, hoofddoek, Burqa, Niqab, or Hijab: Rather than simply being innocuous pieces of cloth used to cover a woman's hair, neck, face and/or eyes, the headscarf has become a foil for a long series of debates on the condition of religiously-identified Muslims' belonging in public spheres, marked by secularity or Western political traditions. Debates on where and on what occasion headscarves can be worn – schools, hospitals, private enterprises, only at home, or on the way to, but not at work – turn into conflicts, sometimes heated, about the kinds of places where Muslims can show their religiosity.
In Europe, political debates about the headscarf illustrate how the headscarf has become a symbol of diversity resulting from large-scale migration into European countries. The headscarf has come to signify two political stances. For those who think it can, or should, be part of the streetscapes and public spaces, the headscarf symbolizes an immigration-related decline of the coherent nation-state, a decline that is embraced as bringing a desirable cosmopolitan order one step closer. Both wearers and non-wearers supportive of women's right to wear a headscarf argue that they are proud to live in a country, city or neighborhood that can incorporate this kind of diversity.
Those who would much rather not see them worn perceive the headscarf as a threat to the very coherence of society. This is most apparent in France, where, as of 2004, girls in elementary and high schools can no longer wear a headscarf under a law that forbids the wearing of ostentatious religious symbols. Since 2011, women also cannot cover their faces in public, risking a fine and/or mandatory participation in a citizenship course if they do so. Both laws received very widespread support from the general public.
In the Netherlands and in Germany, headscarf-wearing women are allowed to wear headscarves on the street and at work, as long as they do not represent state authority (so a housekeeper can wear one, but a judge cannot). In the Netherlands, an ultra-right wing politician can propose a "headrag tax" in the protected sphere of Parliament, but the term enters everyday discourse where it is hurled as a slur to headscarf-wearing women. Others grant women the right to wear the headscarf, but in the words of one Dutch politician, "can't wait for women to toss off the scarf in freedom."
In Germany, teachers cannot wear headscarves in public schools, as it is regarded as a religious symbol that would, in and of itself, threaten the national educational mission. Most recently in 2014, a headscarf-wearing woman was dismissed from her job in a German religious institution, a dismissal upheld by the Federal Labor Court in Germany. Despite discrimination against headscarf wearing women, they protest these decisions and argue for equality in accessing their citizenship rights in Europe, thus attempting to enact their de facto citizenship rights.
Where does Turkey stand in the headscarf debate compared to Europe? Turkey stands divided on the headscarf. Similar to the negative discussions about the headscarf in European countries, in Turkey many see the wearing of headscarves as symbolic of a "dangerous yearning" for a political order in which religious authority supersedes the secular nation-state. Others argue, however, that the presence of headscarves in the public sphere should be taken as evidence of "true" democratic freedom and the rise of an Islamic bourgeoisie. Those critical of the headscarf argue that the wearing of headscarves is a threat to secular principles, gender equality and, most recently, children's rights. The most recent discussions on permitting headscarves in secondary schools suggest that the battle is now being fought over children's bodies.
Anna Korteweg and Gökce Yurdakul (2014) The Headscarf Debates: Conflicts in National Belonging (Stanford University Press).
http://www.hurriyetdailynews.com/the-headscarf-debates-in-europe-and-turkey.aspx?pageID=449&nID=74125&NewsCatID=396
----------
Kidnapped Nigerian girls' plight inspires artist
11 Nov, 2014
AN ARTIST in the United States has created a series of paintings of the 53 girls who evaded capture when the Islamic militant group Boko Haram stormed into their school in Nigeria earlier this year.
More than 220 of their classmates were kidnapped, but the 53 girls escaped and hid in the grounds of the school (News, 11 July).
The artist Mary Mihelic, from New York, said that she had been inspired by the girls' courage.
"They got away while all their classmates who did not run were kidnapped. The art is about that split-second decision when a person decides to run. It is as much about the experience of being human and feeling compassion for these girls as it is about feminism."
She has not yet finished her 53 paintings, and still hopes that the kidnapped girls will be released before the series is complete.
She said: "My 53 artworks bring into play many of the issues that surround the topics, including global feminism, religious freedom, and education for women. They are a way to remind everyone that we just can't give up on these kidnapped girls, married or not."
Last weekend, a man claiming to be the leader of Boko Haram said in a video that the girls had been married off to militants and had converted from Christianity to Islam. The man called himself Abubakar Shekau - the man whom Nigeria's military said they had killed a year ago. Nigeria's military also said last month that it had agreed a ceasefire with the group, and that the schoolgirls would be released, after a month of negotiations in Saudi Arabia.
The campaign to release the girls became global earlier this year, after the hashtag #BringBackOurGirls trended on Twitter, in response to criticism from the girls' families over the lack of action by President Goodluck Jonathan.
Last month, it was reported that four girls from the original group had escaped and walked for three weeks to get home. They said that they had been held in neighbouring Cameroon, and raped daily.
Boko Haram has intensified its attacks in in recent months.
http://www.churchtimes.co.uk/articles/2014/7-november/news/world/kidnapped-nigerian-girls-plight-inspires-artist
----------
Girl Suffers Tremendously As Parents' Marriage Fails
11 November 2014
RIYADH — A young girl has suffered physically as a result of a failed marriage between a Syrian man and a Moroccan woman that took place in Germany over 18 years ago, Al-Hayat daily reported.
Hibatallah, born 18 years ago in Riyadh, has lost weight, become depressed, dropped out of school and suffers from involuntary facial movements.
Her parents decided to settle in Saudi Arabia after leaving Germany.
However, problems started to crop up into her family life as the parents discovered they were not meant for each other.
The marriage ended in divorce and her father got married to a Syrian woman while her mother stayed in Riyadh.
She still goes with her mother to attend court sessions to resolve disputes between the couple regarding alimony and other expenses.
She currently lives with her mother in a small apartment, the memories of her parents quarrelling and cursing each other still etched on her mind.
Her mother refused to let her stay with the father and his new wife after Hibatallah complained that she was humiliated and beaten by them.
She accompanies her mother, who works as a hairdresser for a beauty salon, every day to her work and stays with her until she finishes her shift.
The mother said: "In our Arab societies, a divorced woman suffers because she doesn't have a supporter.
"Some people helped me financially after my divorce and I was able to take courses in hairdressing, find work and transfer my sponsorship to my current employer.
"I don't have relatives here and I go through a lot to protect my reputation and take care of my sick daughter."
The mother's only hope is to find a Saudi charity organization that will take her daughter and rehabilitate her and get her through her difficulties.
Hibatallah has studied up to intermediate level and has not completed her high school education due to her medical conditions.
The father told Al-Hayat that he and his new wife are patiently waiting for Hibatallah to move back to their house because they love her. He claimed that his daughter's health had deteriorated ever since she went to live with her mother.
Hibatallah has been a victim of her parents' contradictory statements. All she wants is to go back to school again.
http://www.saudigazette.com.sa/index.cfm?method=home.regcon&contentid=20141111223988
----------
URL: http://www.newageislam.com/islam,-women-and-feminism/new-age-islam-news-bureau/brothers-kill-mother,-teenage-sisters-for-'honour'-in-pakistan/d/99962