• Saudi Islamic Police Ban Women from Giving Birth without Male Guardian
• ISIS Forcing Raqqa Women to Wed Its Fighters, Say Activists
• MIT's First Female Saudi Fellow Setting Example for Compatriots
• Kurdish Girls Conquer Iraqi Taekwondo Team
• No Justice for Child Victims of Burundi's Sex-Traffic Rings
• World Acclaimed Somali Supermodel Deters FGM on Girl-Child Safa
• Jailed Daughter of Bahrain Rights Activist Freed
• 'Medical Evidence Is Strong Enough To Silence a Person Guilty Of Rape', Say Pakistan Judges
• Foundation Expands Rehabilitation Program for Saudi Women Prisoners
• Women Protection Package Set for March 8 Launch in Pakistan
• Muslim Women's Rights Document Discussed At Parliamentary Union of the OIC
• Karzai Orders Changes to Draft Law Following Claims It Would Hurt Women's Rights
• A Father Accuses King Fahad Hospital of Mutilating Newborn
Compiled by New Age Islam News Bureau
URL: https://www.newageislam.com/islam,-women-and-feminism/new-age-islam-news-bureau/british-women-flocking-to-syria-with-marriage-in-mind/d/35792
-----------
British Women Flocking To Syria with Marriage in Mind
17 Feb, 2014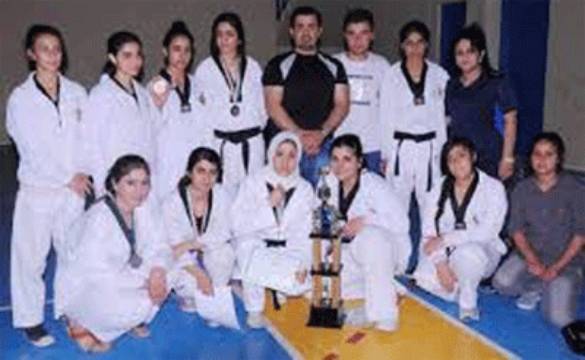 Kurdish Girls Conquer Iraqi Taekwondo Team, Photo Club File Photo
---------------
British women are travelling to Syria in increasing numbers to marry jihadists as the civil war radicalises Muslim societies across Europe.
Two women from Portsmouth, one from London and one from Surrey — one of them a convert — are known to have married English-speaking rebels fighting in Syria, and it is believed that dozens more are already there or are trying to follow them.
Other women with similar intent have travelled from countries including France, Sweden, Belgium and Serbia according to researchers at the International Centre for the Study of Radicalisation at King's College London.
Full report at:
http://www.thetimes.co.uk/tto/news/world/middleeast/article4007446.ece
-----------
Saudi Islamic Police Ban Women from Giving Birth without Male Guardian
17 Feb, 2014
Saudi Arabia's Islamic police have pushed girls back into a burning building because their hair wasn't covered and they're not about to let a little thing like childbirth get in the way of Islamic morals and Sharia law.
The Commission for the Promotion of Virtue and the Prevention of Vice (Haia) has officially prevented women from visiting medical clinics without male guardians.
This came after a member of the Council of Senior Scholars issued a "fatwa" (edict) prohibiting women from visiting male doctors without having male guardians present.
"Islamic law does not permit women to visit their doctors without male guardians," said Qais Al-Mubarak, a member of the Council of Senior Scholars. "Women are prohibited from exposing body parts to male doctors in Islamic law, especially during childbirth. This does not include medical emergencies. Islamic jurisprudence makes exceptions," he added.
Male guardians can only be the next of kin in Islam. They are sons, grandsons, husbands, brothers, fathers or uncles.
I'm sorry, if your husband isn't available, you're not allowed to give birth. There's a Fatwa.
http://www.frontpagemag.com/2014/dgreenfield/saudi-islamic-police-ban-women-from-giving-birth-without-male-guardian/
-----------
ISIS Forcing Raqqa Women to Wed Its Fighters, Say Activists
17 Feb, 2014
Beirut, Asharq Al-Awsat—Fear of reprisals from members of the Islamic State of Iraq and Syria (ISIS) has led to an increasing number of marriages between its fighters and local girls in the cities of Aleppo and Raqqa, say activists.
Monzir Al-Sallal, an opposition activist in Aleppo, told Asharq Al-Awsat: "This phenomenon is on the increase in the Aleppo area where members of ISIS are present."
"When fighters of the Free Syrian Army (FSA) arrested a leader of ISIS recently, they found a number of marriage certificates in his car," he added.
The marriages of foreign jihadists to Syrian women do not usually last more than two months because of the regular movement of fighters from one front to another.
Despite some foreign fighters who come to Syria to fight alongside ISIS bringing their families with them, the younger ones prefer to marry Syrian women, especially in the areas which are under the control of the group.
These marriages raise social tensions, especially in conservative, tribal areas where families are usually keen to know the backgrounds of men who want to marry their daughters.
Around two weeks ago, a 22-year-old university student called Fatima Al-Abdallah Al-Abou reportedly committed suicide by poisoning herself when her father tried to force her to marry a Tunisian jihadist affiliated to ISIS.
Opposition activists said: "Fatima was studying English at the Faculty of Humanities and belonged to Al-Ajail tribe. She lived in Al-Sahlabiyah village, east of Raqqa."
This incident raised great anger among the residents of Raqqa who continue to adhere to tribal customs and traditions.
Some activists in Raqqa said another girl who married one of the leaders of ISIS was hospitalized after he subjected her to sexual assault.
Since ISIS took control of Raqqa, and with the failure of the rival the Al-Nusra Front and Ahrar Al-Sham to evict them from the city, the group has reportedly sought to increase its control over the city by integrating itself into its social fabric, including by marrying into its tribes, whether by traditional means or by coercion.
Raqqa activists said: "some ISIS members married girls in Raqqa who did not want to marry strangers whom they knew nothing about." A number of opposition news websites reported that ISIS expelled displaced families who lived in camps to rehouse newlyweds.
Since taking control of Raqqa, ISIS have imposed strict rules on the inhabitants, including a specific dress code for women which includes the niqab and gloves. Activists told journalists last week the group recently flogged two women for breaching its rules.
http://www.aawsat.net/2014/02/article55329041
-----------
MIT's first female Saudi fellow setting example for compatriots
17 Feb, 2014
Women like Dr. Malak T. Al-Nory, who is the first Saudi female Ibn Khaldun Fellow in the Ibn Khaldun program, Massachusetts Institute of Technology (MIT), are setting examples for the Saudi women to do their best to come at par with their counterparts around the world.
The Ibn Khaldun Fellowship for Saudi Women was featured in the MIT and provides Saudi women scientists and engineers a one-year post-doctoral fellowship to conduct research with the MIT Faculty.
Dr. Al-Nory is the chair of the Information Systems Department in the College of Engineering at Effat University in Jeddah, Saudi Arabia. While at MIT, Dr. Al-Nory conducted research with Professor Steve Graves on the supply chain for water in the Kingdom of Saudi Arabia.
Dr. Al-Nory presented some of her MIT research at the 2013 International Desalination Association (IDA) at the World Congress on Desalination and Water Re-use in Tianjin city in China and shared the experience she had had in her last academic year attending the Ibn Khaldun Fellowship at the Centre for Clean Water and Clean Energy at MIT. She also elucidated her knowledge at King Fahd University of Petroleum and Minerals (KFUPM), and Mechanical Engineering Departments (KFUPM) at Effat University to let the students and attendees understand the Ibn Khaldun Fellowship program and its importance.
The IDA is the leading professional society in desalination, and the World Congress, the major biennial conference that IDA conducts for leaders in the field; her presentation was very well received by the attendees.
"The fellowship at MIT has given me great exposure to a world-class educational process and allowed me to build connections with top scientific research communities. This opportunity has undoubtedly been the greatest honor Effat has offered me," she explained.
The paper was titled "Water Desalination Supply Chain Modeling and Optimization: The Case of Saudi Arabia," that was presented by Dr. Al-Nory and Prof. Stephen Graves, professor of Mechanical Engineering Department and the Engineering Systems Division at MIT.
http://www.arabnews.com/news/526546
-----------
Kurdish girls conquer Iraqi Taekwondo team
17 Feb, 2014
The Iraqi Central Taekwondo Federation (ICTF) called six Kurdish female athletes to join the Iraqi senior squad. The players selected to join the Iraqi women?s team all passed the theoretical and practical tests set thanks to their advanced technique, qualifications, and strength.
Over the last decade, the performance levels and skills of Kurdish female Taekwondo fighters have risen considerably.
The inspiration for Taekwondo in the Kurdistan Region came from South Korean troops deployed in the area.
The introduction of Taekwondo was part of a Korean policy to win the hearts and minds of the younger generation. They trained and opened Taekwondo dojos in a number of villages and towns.
In the past, parents had not allowed their children from joining martial arts schools on the grounds that this type of sport has a negative impact on the players' health.
However, the professionals reject allegations that martial arts are not healthy for females, especially pregnant ones, and described Taekwondo as the safest type for them. The situation has moved on to a certain extent and some families now allow their daughters to learn Taekwondo.
Concerning the newly-formed Iraqi squad, Muzafar Akram of Erbil?s female Taekwondo team said: ?I am happy that four of my players have been called to join the Iraqi national team in order to represent the country at the Asian and Arab tournaments. This is the outcome of the players? love and dedication to their sport.?
The Iraqi women?s team consists of eight fighters, six of whom are Kurdish. Four of the six are from the Erbil Female team: Malak Obed, Fatima Najm, Shervan Ayoub, and Hana Sami.
The players have a fine opportunity to prove themselves as they are at the lower limit age-wise and have no social problems to overcome.
Most of the girls from the Erbil Female Taekwondo club are young and the majority claim to have begun sport because they want to be slim and healthy, with few seemingly driven by ambitions of becoming athletes.
Akram is optimistic about the future of his players, whom he has guided with his seriousness and his enthusiastic approach.
?I hope my players can perform at their best and do well in the competitions ahead.?
http://www.kurdishglobe.net/article/3267C6F0296E19AA475665C909B2813F/Kurdish-girls-conquer-Iraqi-Taekwondo-team.html
-----------
No justice for child victims of Burundi's sex-traffic rings
AFP, FEBRUARY 17, 2014
BUJUMBURA, Feb 17 ― Pamela comes from an affluent family and was doing well in one of Bujumbura's best high schools ― until two years ago.
She ended up being a sex slave after meeting a group of girls when she was 14. At first they proposed that she come along when they went out, then the trips out became dates with older men who picked up the bill ― initially without asking for anything.
But then she was taken to a house in Kiriri, a smart residential district of Burundi's capital Bujumbura, where she was locked up for three months under the close watch of "people in police uniform," she said.
"When a client came, if you didn't want to go with him they would slap you and whip the soles of your feet," Pamela recounted in a trembling voice. She was freed in a police raid after her mother reported her disappearance.
"Such places exist in every part of town. You just have to open your eyes to see them," said Florence Boivin-Roumestan, who heads the Canadian NGO Justice and Equity ― an organisation that has exposed the shocking scale of sex trafficking in the small central African nation.
"After months of investigations we're seeing that human trafficking and sex trafficking in particular exists in Burundi on a scale no one would have imagined," she said.
Victims include both girls from poor rural backgrounds and those brought up in middle-class families in the capital.
In an investigation lasting several months, Justice and Equity found that "young girls are recruited across the country and are either forced into prostitution or sold abroad."
"You find girls of nine or 10, but most of them are in the 13, 14, 15 age range," Boivin-Roumestan said.
No justice
The trafficking takes different forms. In Bujumbura, it is girls from well-off families who are targeted in the best schools of the capital. Fellow pupils, both girls and boys, recruited by pimps, play the role of intermediaries.
They gradually gain the confidence of the victims, who eventually end up in brothels.
Keza, who comes from a poor district of Bujumbura, says she was locked up and used as a sex slave by a senior intelligence officer for several months starting from age 15.
"He threatened me and he threatened my parents," said Keza, now 16, adding that she no longer wishes to see her family after the ordeal.
"I filed a formal complaint against him and he received several summons. But he has never shown up. The case has gone nowhere," she told AFP.
Khadija, a 15-year-old Muslim from an even poorer peasant farmer family up-country, is still traumatised by her year-long ordeal in which she was lured to the Gulf.
"Some people came to see my parents and said they had well-paid domestic work for me in Oman," she recounted, staring down at her lap.
"In fact I worked 16 hours a day, every day, I slept on the floor and I was never paid anything," she told AFP.
"Whenever my back was turned they would come up from behind and try to lift up my dress," she recounted, preferring not to give further details.
A good Samaritan took pity on her and arranged for her to leave the family and be flown home, she said, adding: "I came back with just the clothes I had on my back and the plastic slippers I had on my feet."
The three girls have been placed in families who work with Justice and Equity.
'Tossed away'
Boivin-Roumestan admits it is difficult to say exactly how many children are affected.
In Rumonge, for example, a small lakeside town south of Bujumbura, the study found that out of 50 adult sex workers questioned, half said they were forced into the trade when they were still underage.
President Pierre Nkurunziza has vowed to clamp down on the scourge.
"Things are changing. My budget has been increased; focal points are being set up in every province. Today something is being done," said Christine Sabiyumva, the head of Burundi's juvenile brigade, who says she knew exactly how serious the problem was but that she fought a lonely battle for years because she had no budget and because the top police bosses were simply not interested.
Trafficking networks have been dismantled in several towns and some brothels have been raided and closed down in the past two months.
"Arrests are made every day. We have meetings with ministers, generals, churches, youth groups and lawyers who all want to end this traffic," Boivin-Roumestan said. "But everything needs to be done. It'll take some time to end."
For some of the victims it is too little, too late.
"I'm angry, very angry. I feel like I've been used and tossed away," said Pamela, who does not dare return to her family.
"I want those who are responsible for what happened to me to be punished," she told AFP, although she knows that the man arrested after she was freed has already been released.
Her aim now is to go back to school and later pursue a law degree so that she can "help other girls who suffer what I suffered."
http://www.themalaymailonline.com/features/article/no-justice-for-child-victims-of-burundis-sex-traffic-rings#sthash.Vpsbtu74.dpuf
-----------
World Acclaimed Somali Supermodel Deters FGM on Girl-Child Safa
By: Maddy French/ the Guardian
17 Feb, 2014
Somalilandsun - When she was three years old, Safa Idriss Nour received something no girl in her slum in Djibouti had been given before – a signed contract from her parents stating they would never inflict genital mutilation on her.
In Djibouti, in the Horn of Africa, an estimated 98% of girls and women have undergone female genital mutilation (FGM), a procedure that usually involves cutting off the clitoris and some of the labia, so this was a remarkable event. Equally remarkable is the story of how Nour came to get the contract and, indeed, of her battle to ensure that her parents stuck to the terms of the deal.
Nour starred in a film adaptation of Desert Flower, the international bestselling autobiography by Somali model and anti-FGM activist Waris Dirie. Published in 1997, her first book follows Dirie from her birth into a nomadic family in Somalia – from whom she fled, aged 13, after her father attempted to marry her to a 60-year-old man – to her becoming an international supermodel.
In 2007, Nour was asked to play the young Dirie as she undergoes FGM – on condition that her parents sign a contract agreeing never to perform the same ritualistic operation on her.
Nour's experience reflects broader tensions that affect communities and activists involved in FGM around the world, and her story has now been documented in Dirie's latest book, Safa: The Rescue of the Little Desert Flower, first published in German and due out in translation in the UK later this year.
The book also provides compelling evidence of the pressures within particular groups, including those in England and Wales, where more than 66,000 women are thought to have undergone FGM and 24,000 girls under 15 are believed to be at risk.
A campaign to persuade the education secretary, Michael Gove, to help end FGM by ordering headteachers in England to educate parents and children about the practice has gathered more than 203,000 signatures since it was launched the week before last. It is backed by the Observer, the Guardian and a range of campaigners.
Dirie's new book begins in 2011, four years after the contract with Nour's parents had been signed, when she received a letter from the girl that suggested her parents were having second thoughts. "I was shocked and I was very angry," Dirie, 48, said. "I decided I had to fly to Djibouti immediately to save my little girl from this brutal crime."
Once in Djibouti, she realised that the family were being ostracised and Nour's fear of being forced to undergo FGM, rather than diminishing, had grown. Then seven, Nour told her: "Grandmother carried out lots of circumcisions in our house. The girls screamed so loudly, just like I did in the film."
Nour's parents confirmed that pressure from neighbours and others for Nour to undergo FGM was weighing heavily on them.
In such places the cutting of a girl's vagina is considered to be a symbol of purity, a sign of commitment to a future husband over a desire for sexual pleasure. In severe cases, the remaining outer labia are sewn together, often without anaesthetic, and only reopened after marriage, to "protect" a girl's virginity.
Traditional or spiritual motivations aside, the procedure is deemed a practical necessity for many parents – without it they cannot get a high bridal price when their daughter is married – if she can get a husband at all.
This is a fear shared by Nour's parents. They told Dirie that her daughter and the family were being treated as outsiders and neighbours were jealous of the financial and medical support they were receiving from Dirie's FGM campaigning charity, Desert Flower Foundation, in return for upholding the contract.
"Safa's family is surrounded by others struggling every day to survive. Even though the families have very little money, they save what money they have to cut their daughters, because otherwise they will not get a bride price from the future husband," Dirie said. "Because of our support, Safa's family is completely independent and the first family in the area to stop the vicious circle. This is a breach of their tradition, and people have big problems with this."
Dirie spent time with the family and took some of them to Europe to show them campaigning work and talk about the corrective surgery carried out by the Desert Flower Foundation. The experience was a turning point, particularly for the father, who once argued strongly with Dirie over cutting Nour. He now works as an activist for the charity.
"Safa's father has even invited neighbours to participate in our programme and the reactions were positive," Dirie said, demonstrating the difference that can be made when campaigns are led from within the communities they are trying to change.
Although the case of Nour's father was a success, trying to encourage broader behaviour change through education is not easy. "Educating communities is very difficult as people are very stubborn and not willing to change their habits even if it is against humanity," says Dirie.
http://somalilandsun.com/index.php?option=com_content&view=article&id=5024:world-acclaimed-somali-supermodel-deters-fgm-on-girl-child-safa&catid=36:in-depth
-----------
Jailed daughter of Bahrain rights activist freed
Associated Press
17 Feb, 2014
MANAMA, Bahrain (AP) - Bahraini activist Zainab al-Khawaja was released from prison on Sunday after nearly a year behind bars for multiple convictions including participation in an illegal gathering.
Friends and supporters greeted her in a coffee shop in a main mall hours after her release. The cafe has served as a gathering point for activists since the small island-nation's Arab Spring-inspired uprising.
"One year of prison is nothing," she told journalists defiantly after her release. "We have a cause... This will not stop us."
Bahrain's majority Shiites have led a three-year uprising seeking a greater political voice in the Sunni-ruled Gulf kingdom, which is home to the US Navy's 5th Fleet.
Al-Khawaja, who is popular online and on Twitter, said international attention should focus on an estimated 3,000 prisoners believed to be behind bars in Bahrain on politically related charges.
Her father is prominent human rights activist Abdulhadi al-Khawaja, who is among several opposition figures who are serving life sentences. He drew attention to his imprisonment with a lengthy hunger strike in 2012.
Her lawyer Mohammed al-Attiyah said she still faces two trials, one this month and one next month, on charges that include damaging police property, defacing a picture of Bahrain's king and insulting a police officer.
Copyright 2014 The Associated Press. All rights reserved. This material may not be published, broadcast, rewritten or redistributed.
http://www.kwwl.com/story/24739023/jailed-daughter-of-bahrain-rights-activist-freed
-----------
'Medical Evidence Is Strong Enough To Silence a Person Guilty Of Rape', Say Pakistan Judges
February 17, 2014
KARACHI: There has been a surge in the number of rape cases of girls, especially minor ones, in recent months in the country. These incidents have come on the heels of a ruling by the Council of Islamic Ideology (CII) – the country's supreme Islamic body – against the admissibility of the DNA test as 'primary evidence' in rape incidents.
Rape cases are already difficult to prosecute in Pakistan, as under the current Hudood laws, the victims must produce four witnesses – all male, adult and pious – for the accused to stand trial.
Despite these rulings, medical evidence is considered an important element by the police, legal experts, medical officials, and prosecutors. The judges also consider it vital and mention it in their verdicts.
"Regardless of the CII's decision, medical evidence is admissible in courts," said a prosecutor of the Anti-Terrorism Courts. "Call it primary or secondary, medical evidence is very important and it leads to conviction."
The prosecutor said that one cannot think about going against the teachings of Islam but DNA evidence is an internationally recognised method for determining the charges of rape with very less chances of going wrong.
Civil hospital MLO Dr Nisar Shah said medical evidence was indispensable in such incidents. Apart from medical and circumstantial evidence, Dr Shah said confession by the accused would be the only other way that would lead to conviction.
He said that 70 to 80 per cent results are provided by medical experts and not by religious scholars. "If science advances and introduces something better than the DNA, religious scholars will oppose that too."
A recent judgment, where a man was awarded life term and death sentence for raping two minor girls and killing one of them, observed that the investigation of one of the cases actually began after a female MLO issued a certificate declaring that the victim was raped.
"The medical evidence brought on record shows torture marks on the body and the victim clearly appeared to have been subjected to rape," the judge stated in the final verdict. "The prosecution's case is equipped with expert medical evidence," the judge ruled in the second judgment. The judgment of the case came after seven years.
Commenting on two rape cases in Defence and Mehmoodabad, DSP Tariq Mughal said that medical evidence was the main proof when the police accused someone of rape. "All evidence is important but medical and chemical evidences make a case strong."
DSP Mughal said that initial medical reports have already been submitted before the courts and the police and the prosecution would present the final medical evidence to make the case strong.
Fayyaz Qureshi is an investigation officer in a case of a six-year-old girl raped allegedly by her cousin in Orangi Town. He is of the view that medical reports are the most important evidence for the police.
He said that the Sharia law has been ignored and the police have inserted sections of the Pakistan Penal Code in such cases to use all such reports against the suspect in the court. "Hardly anyone confesses before the court. In rape cases, medical evidence silences the accused if he tries to fabricate a story."
Prosecutor Abdul Wahid Ansari said that DNA evidence was one of the most important corroborative evidences in such cases. "No one can discard it."
http://tribune.com.pk/story/672622/sexual-assault-medical-evidence-is-strong-enough-to-silence-a-person-guilty-of-rape/
-----------
Foundation Expands Rehabilitation Program for Saudi Women Prisoners
17 Feb, 2014
ABHA – The Prince Mohammad Bin Fahd Foundation for Humanitarian Development (PMFHD) has launched a project to help women prisoners lead a normal life.
The foundation's secretary-general Dr. Eisa Al-Ansari said the project would also be implemented in Al-Amal rehabilitation centres.
The project was implemented successfully in the Eastern Province over the past three years and will be expanded to include all areas of the Kingdom, he said.
"The project will also support small businesses and has successfully supported 20 such projects for women prisoners who have completed their sentences and for patients of Al-Amal hospitals who have been discharged," he said.
In addition, PMFHD will also launch a project to refurbish 100 houses around the Kingdom.
It has signed an agreement with Abha's Al-Bir charitable society to assist the community through different programs.
Al-Bir secretary-general Mohammad Fahhas said the agreement would facilitate the provision of different social services for the community and also lead to research on low-cost housing, development of women and training young people.
The projects will also lead to better care for special needs patients, he said.
http://www.saudigazette.com.sa/index.cfm?method=home.regcon&contentid=20140217195953
-----------
Women Protection Package Set for March 8 Launch in Pakistan
February 17, 2014
LAHORE: "Pakistan is the third most dangerous country for women. The Punjab has the highest number of cases of domestic violence. They are increasing at the rate of 10 per cent annually," said MPA Dr Nausheen Hamid said on Sunday.
She was addressing the launching ceremony of Women's Legislative Agenda: Current Status and the Way Forward. The event was organised by AAWAZ Voice and Accountability Programme and Aurat Foundation.
AAWAZ is a five-year accountability programme funded by the Department for International Development operating in Khyber Pakhtunkhwa and the Punjab.
The project is implemented through five NGOs; the Aurat Foundation, the SPO, The South Asia Partnership-Pakistan (SAP-PK), the Sungi Development Foundation and the Sustainable Development Policy Institute (SDPI).
Hamid said the Pakistan Tehreek-i-Insaf (PTI) had tabled a bill in the Punjab Assembly to protect women against domestic violence on January 17. She said Pakistan Penal Code's (PPC) Section 337 protected women from domestic violence but had not been enforced.
"We need separate legislation for women…the existing laws do not [specifically] protect women. Most women do not speak up against domestic violence because people consider it to be a family matter which can be resolved behind closed doors," she said.
Hamid said the government needed to take the issue of domestic violence seriously and impose strict penalties on those who subjected women to violence. "Often families turn against their women. We need laws to protect women from their own families," she said. She said a mechanism should be available for women besides police stations and FIRs.
Minister for Population Welfare Begum Zakia Shahnawaz said the government took legislation to protect women very seriously. She said several committees had been constituted to draft laws in this regard.
Shahnawaz said the government would consider the recommendations mentioned in the Women Legislative Agenda. She said the chief minister would announce a comprehensive package for women on March 8.
Women Development Department Secretary Irum Bukhari highlighted various initiatives taken by the government to protect women. She said the issue of child marriage would also be addressed in the March 8 package. She said women's rights in property disputes and acid attack cases would be given priority in the legislation.
Strengthening Participatory Organisation (SPO) regional head Salman Abid said that along with legislation, the government should also devise a mechanism for implementation of laws.
Abid criticised the current mechanism system to address women's issues and said, "The monitoring system has loopholes. It is important to devise a new monitoring system taking all stakeholders on board."
Working Women Foundation Executive Director Aima Mahmood said, "We need to train female parliamentarians in a way that they start coming up with bills on women on their own without the assistance of civil society organisations."
The seminar was addressed by Mehnaz Raffi, MPA Faiza Malik, Women Development Department Secretary Irum Bukhari, Aurat Foundation CEO Naeem Mirza and Nasreen Zehra, the resident director of Aurat Foundation.
http://tribune.com.pk/story/672685/legislative-agenda-women-protection-package-set-for-march-8-launch/
-----------
Muslim Women's Rights Document Discussed At Parliamentary Union of the OIC
17 Feb, 2014
Member of the parliamentary delegation to the ninth session of Parliamentary Union of the OIC member states (PUOICM) MP Dr. Sumaya Abdulrahman Al-Jowdar has called on legislative and executive branches in Islamic countries to support Muslim women's issues in order to advance them.
She said that many countries had reservations on some articles of the Convention on the Elimination of All Forms of Discrimination Against Women (CEDAW), which requires coming up with an Islamic convention to cover the areas on which they reservations.
She pointed out that adopting an Islamic Document for the Rights of Muslim Women as an alternative to CEDAW is currently being prepared, in line with the recommendations of the eighth PUOICM meeting in Sudan.
Speaking during the ninth PUOICM secession, held here, Al-Jowdar commended the efforts of eth Supreme Council for Women (SCW), led by Her Royal Highness Princess Sabeeka bint Ibrahim Al Khalifa, Wife of His Majesty the King and SCW President, to adopt a comprehensive national strategy for advancing Bahraini women and empowering them in all the economic, political and social fields.
She underscored the milestone achievements of Bahraini women, including election to parliament and the creation of equal opportunities units in all ministries and government departments, which will ensure gender equality.
http://www.bna.bh/portal/en/news/603058
-----------
Karzai Orders Changes to Draft Law Following Claims It Would Hurt Women's Rights
The Associated Press
17 Feb, 2014
KABUL – Afghan President Hamid Karzai has ordered changes to a draft of new criminal legislation in response to an international outcry warning it would severely limit justice for victims of domestic abuse, his spokesman said Monday.
Afghanistan's parliament had passed a new criminal procedure code that would ban relatives from testifying against alleged abusers. While the legislation awaited signature from Karzai, human rights organizations and several of Afghanistan's Western allies — including the U.S. and European Union — voiced strong concerns it would effectively curb prosecutions involving violence against women, where relatives are often the only witnesses.
Karzai's spokesman, Aimal Faizi, said the president was "well aware" of the critiques and reports and decided at a Cabinet meeting Monday that the legislation must be changed.
"We are not going to allow any such law to come into force unless the necessary amendments are made," Faizi said, suggesting that there may have been issues with how the area in question — Article 26 — was translated into English.
While the Ministry of Justice will decide on how to amend the text, Faizi stressed the resulting legislation will be clear.
"This law will not bar any relative or any family member to testify against each other or another member of family," he told the Associated Press. "It will be up to them. They will have the freedom."
Women in Afghanistan have won back many of the rights they lost during Taliban rule from 1996 to 2001, when the Islamic movement was ousted by an American invasion following the Sept. 11 attacks against the United States.
Under the Taliban, girls were barred from attending school, women were forced to stay indoors and cover their heads and faces with burqas.
There are fears that many of those freedoms may shrink as foreign forces depart by the end of this year and much of the international aid and assistance they brought to Afghanistan goes with them.
http://www.news1130.com/2014/02/16/afghan-president-orders-changes-to-draft-law-following-claims-it-would-hurt-womens-rights/
-----------
A Father Accuses King Fahad Hospital of Mutilating Newborn
17 Feb, 2014
AL-BAHA — Abdullah Mansour Al-Sheikhi, a Saudi national from Qalwah in Al-Baha region, demanded an investigation into a number of doctors at King Fahd Hospital in Al-Baha whose alleged negligence resulted in his son's fingers being amputated.
Al-Sheikhi alleged that doctors neglected his newborn son during his hospitalization, Al-Watan newspaper reported.
Al-Sheikhi said: "They neglected my son's case and left him without care. The result was that they had to amputate fingers on one of his hands."
Al-Baha Health Affairs spokesman Ahmed Mueedh Al-Zahrani said Al-Sheikhi's son was born premature 28 weeks into pregnancy. When he was born, he weighed only 1 kilogram and was suffering from Neonatal Respiratory Distress Syndrome. He was given necessary treatment and cured. The baby, however, suffered from a chronic lung disease, aside from several other health problems. He also had kidney problems and subsequent infections led to the amputation of his right hand fingers.
Al-Zahrani said the baby had a Caesarean delivery due to his light weight and other complications and was kept on ventilator for a long time.
A vascular surgery consultant and cosmetic surgeon were consulted when it was noticed that the color of the infant's fingers was changing. The infant was kept under close watch. Unfortunately, this did not prevent further complications, including developing gangrene. He was discharged after three months.
His condition is stable and is being given vitamin D and iron supplement. The complications were controlled and treating this neonate is considered an accomplishment, Al-Zahrani added.
http://www.saudigazette.com.sa/index.cfm?method=home.regcon&contentid=20140217195955
-----------
URL: https://www.newageislam.com/islam,-women-and-feminism/new-age-islam-news-bureau/british-women-flocking-to-syria-with-marriage-in-mind/d/35792