New Age Islam News Bureau
5 Nov 2014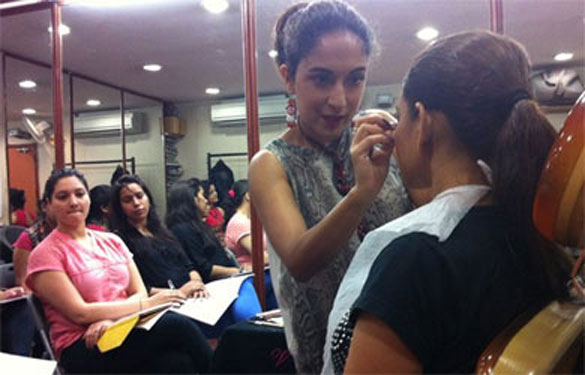 The court said there was no reason a qualified female make-up artists should be banned from film sets
----------
• India Court Says Ban on Female Make-Up Artists Illegal
• Even Muslim Women Don't Like Hubbies with More Wives: Mumbai Family Court
• French Stores Accused Of Imposing 'Woman Tax'
• Arrested Saudi Woman Has No Connection with Al-Qaeda
• Detained Iran Volleyball Woman on Hunger Strike
• Dubai TV pays tribute to Bangladeshi woman for her Bravery
• Another British Muslim Female Who Suffers Anti-Muslim Hate Speaks Out
• Islam and Feminism: Unlikely Relation in France
• 'Stronger Warnings Needed' Over Pregnant Women Drinking
Compiled by New Age Islam News Bureau
URL: https://www.newageislam.com/islam,-women-and-feminism/new-age-islam-news-bureau/british-jihadi-brides-shame-muslim-men-into-joining-isis/d/99881
-----------
British Jihadi Brides Shame Muslim Men into Joining ISIS
November 04, 2014
Women are being used to manipulate Muslim men into joining forces with Islamic State (IS, formerly ISIS, ISIL) as so-called "white feather girls" did during the First World War, an anti-extremism think tank says.
Quilliam, a counter-extremism think tank that works to defend religious freedom, equality, human rights and democracy, has identified over a 100 social media accounts of ISIS sympathizers presumed to be located in Britain.
Erin Marie Saltman, a senior researcher with the organization, told The Times women who journeyed to Syria to wed ISIS militants were deploying online blogs as a "soft tool of recruitment."
She further claimed these women are attempting to shame British men via social media platforms, suggesting they are not "real Muslims" or "real men" unless they joined the conflict.
"It is similar to the First World War, where men were branded cowards if they did not enlist. Jihadist wives are using language to degrade the machismo of British men.
"They use physical comparisons to shame the 'fat and lazy British Muslims' into joining the 'physically fit and strong mujahidin' in Syria and Iraq," she said.
A member loyal to the Islamic State in Iraq and the Levant (ISIL) waves an ISIL flag in Raqqa June 29, 2014. (Reuters/Stringer)A member loyal to the Islamic State in Iraq and the Levant (ISIL) waves an ISIL flag in Raqqa June 29, 2014. (Reuters/Stringer)
One such women, a blogger who has adopted the pseudonym 'Bird of Jannah', reportedly offers a romanticized account in English of being the bride of a jihadist. Her blog site is adorned with Kalashnikovs and roses, The Times reports.
A report published by Quilliam today uncovers two social networking sites it warns are havens for ISIS propaganda. But this tide of propaganda never remains static, the body reveals, and is constantly in flux.
Dr Erin Marie Saltman, a senior researcher at Quilliam, told The Times: "As one front line becomes more censored, then [ISIS] will move to another platform. Currently, we are seeing lots of activity on Ask.fm and VK and yet these companies have not been involved in the Downing Street and EU talks to tackle this."
While Google, Facebook and Twitter are considered to be the most prolific social media sites in operation, it is more difficult to monitor other fringe and recently emerged platforms, Saltman said.
"Social media organizations don't want jihadists using their networks and yet they've created these civil-society platforms to be used without censorship," she added.
The deployment of social media sites to channel and disseminate ISIS propaganda is "unprecedented for a terrorist organization," and has sparked "the first social media war," the think tank's report warns.
Fighters of the Islamic State of Iraq and the Levant (ISIL) celebrate on vehicles taken from Iraqi security forces, at a street in city of Mosul, June 12, 2014. (Reuters/Stringer)Fighters of the Islamic State of Iraq and the Levant (ISIL) celebrate on vehicles taken from Iraqi security forces, at a street in city of Mosul, June 12, 2014. (Reuters/Stringer)
Online jihadists in Britain reportedly provide direct links to ISIS and other extremist militants in Syria.
In a separate report released by the counter-terrorism organization Tuesday, Quilliam said the use of social media cannot be adequately tackled with censorship.
"This can only be done through community-led counter-speech initiatives," the think tank argued.
Quilliam also warned the global intervention against ISIS is creating a reunion between al-Qaeda and Islamic State, who are finding renewed commonality in a "Crusader vs. Muslim" paradigm. The think tank said this binary must be "shattered by stronger intervention from regional, Sunni-majority states."
"IS will never be bombed into obscurity, the long-term problem of jihadist terrorism will not go away unless governments and civil society around the world counter the Islamist ideology as a whole," it added.
It emerged on Tuesday that ISIS has set fixed prices to sell Yazidi and Christian women who have been abducted by members of the militant group. The barbaric tariffs range from around $40 for older women to $170 for children, Iraqi media reported.
http://rt.com/uk/202199-women-shaming-men-isis/
----------
India Court Says Ban On Female Make-Up Artists Illegal
4 November 2014
India's Supreme Court has said that a 59-year-old union ban on female make-up artists in the country's film industry is illegal and must be lifted.
Two judges said the gender discrimination was unconstitutional. A powerful trade union has long argued that men needed the jobs.
Women may work as hair-stylists on film sets but any who have tried to do make-up were threatened or even assaulted.
India has one of the world's biggest movie and TV entertainment industries.
Nine women petitioned the Supreme Court in January 2013. On Monday, judges said the film set ban was "constitutionally impermissible discrimination".
"How can this discrimination continue? We will not permit this. It cannot be allowed under our constitution. Why should only a male artist be allowed to put make-up?" Justices Dipak Misra and UU Lalit were quoted as saying in the Indian Express newspaper.
"We don't see a reason to prohibit a woman from becoming a make-up artist if she is qualified."
--------------
Shilpa Kannan, business reporter, Delhi
Even top directors and actors couldn't break the rule that women couldn't be make-up artists. One actress I spoke to said it wasn't comfortable for women to get their body make-up done by men, but they really had no choice.
Producers who defied this rule had to pay hefty fines and artists were denied credits on the film titles. Women make-up artists were sometimes brought on the sets surreptitiously, hidden in mobile beauty salons known as vanity vans for fear that if the trade unions got wind of it the production would be brought to a halt.
The livelihoods of thousands of women make-up artists have been affected. Instead of doing the work of their choice, they've been restricted mainly to weddings and fashion shows - but Bollywood is the bigger business to be in and the Supreme Court's move should finally end this gender bias.
---------
The court told India's Cine Costume Make-up Artists and Hair Dressers Association to end its ban on female make-up artists immediately - or it would order it to do so.
"We are in 2014, not in 1935. Such things cannot continue even for a day," the judges said.
One of the petitioners, Charu Khurana, said she had learnt make-up from a school in California, but she was barred from working in Bollywood.
"I have worked on a couple of films but it has been tough. The unions are strong and come to the set to stop the film [when they find out that women make-up artists have been employed]. Producers have to pay fines," Ms Khurana told the BBC.
"Lots of women make-up artists want to work in the films. And female actors would also find it convenient and comfortable if their make-up was done by a woman," she said.
Most women who are trained in make-up end up working for fashion shows and commercials and doing bridal make-up for a living.
The court gave the union a week to respond. A final hearing is to take place on 17 November.
http://www.bbc.com/news/world-asia-india-28934239
-------
Even Muslim Women Don't Like Hubbies with More Wives: Mumbai Family Court
Rebecca Samervel
Nov 4, 2014
Mumbai: A family court, while deciding a divorce petition last week, observed, "In today's age, and in a city like Mumbai, even a Muslim woman does not like her husband to have more wives, though the Personal Law permits it."
The observation was made in context to a claim that relations between the couple deteriorated after the man remarried his first wife.
The court granted the divorce petition filed by the woman on grounds of cruelty. The husband was, in fact, convicted and sentenced to four years imprisonment for attacking the petitioner and their two daughters with a scythe in 2010.
The court observed that this was the best evidence of the man's cruelty.
The couple married in 1990 after the woman's first husband died of a heart attack, leaving behind a daughter. In the petition filed in 2009, the woman said that the man was a software engineer but quit his job to stay idle at home. She alleged that he demanded money from her father, and began to beat and abuse her. The woman said that he drove her out of the house, forcing her to move to rented premises with her daughters in August 2002.
The woman also prayed for the house purchased by her father in Juhu.
The man denied the charges and said the house was purchased along with her father. He claimed that he had married the petitioner in a hurry, after objections to him accompanying her for her exams to Hyderabad in 1990. The man said she made him quit his job, as she wanted a rich husband, and her non-cooperation in his business led him to incur heavy losses. He blamed the woman's daughter from her first marriage for driving a wedge in the family.
The court found that he had inflicted physical, mental, economic and social cruelty on the woman. The court directed him to pay Rs40, 000 towards litigation expenses and ordered him not to interfere in her possession of the house.
http://timesofindia.indiatimes.com/city/mumbai/Even-Muslim-women-dont-like-hubbies-with-more-wives-HC/articleshow/45039337.cms
-----------
French Stores Accused Of Imposing 'Woman Tax'
Kim Willsher in Paris
4 November 2014
France's finance ministry has ordered an inquiry into why female shoppers are paying more than male consumers for apparently identical products.
Shampoos, deodorants, razors and other goods marketed as "feminine" are subject to what a French women's rights group says is an "invisible tax" making them pricier.
After launching a petition that has attracted 30,000 signatures, government officials have promised to investigate the discrepancies.
The campaign has the support of Pascale Boistard, the secretary of state for women's rights, who tweeted: "Is pink a luxury colour?"
One photograph used in the campaign and taken in Monoprix supermarket shows a pink packet of five disposable razors priced €1.80 (£1.41), while a blue packet of 10 disposable razors aimed at men costs €1.72.
At another store belonging to the chain Casino, campaigners found a 200ml tube of shaving gel cost €2.87 for women and €2.39 for men.
The Georgette Sand collective has called on Monoprix – whose name means single price – and other shops to stop sexist pricing policies, accusing it of imposing a "woman tax".
"At Monoprix there's no single price! In fact, for similar products, women are paying more than men," the campaigners wrote. "The company takes advantage of the fact that women's and men's hygiene products are in different sections in order to apply different prices on products that are mostly similar, if not identical."
The group found other products, including backpacks, pens and even food, where pricing appeared discriminatory, along with services, including gym membership, dry cleaning and hairdressing charges. It has collected examples on a Tumblr page, saying: "And let's not forget that women earn around 27% less than men and have pensions that are 42% lower than men's."
Monoprix denied any policy of price discrimination, saying the cost differences were linked to elements "intrinsic" to the items and production costs. It argued that because more men's razors were bought than those for women they could be sold at a lower price.
France's economy ministry announced it would carry out an evaluation of price differences raised by the anti-discrimination campaigners.
"We know that there have been investigations in the United States and we knew that we would find differences, but not as many as we did and not as easily," Géraldine Franck of the Georgette Sand collective told Le Parisien.
http://www.theguardian.com/world/2014/nov/04/french-stores-woman-tax-pricing-investigation
-------
Arrested Saudi Woman Has No Connection with Al-Qaeda
5 November 2014
One of two women who had previously attempted to join Al-Qaeda in Yemen expressed her regret for resorting to extremist ideology, and repented for her actions, that could have affected national security.
The two women who had tried to sneak into Yemen with the help of three Yemeni smugglers, along with their six children. The women were stopped by border security before they could reach their destination. The Specialized Criminal Court held a hearing on Tuesday to review the statements of the defendants, though only one of them showed up to court, while the other woman refused to leave her prison cell for the hearing.
During the court session, the first defendant provided her written response to the charges of the Attorney General, saying her participation in the gatherings in Buraidah were not aimed at breaching national security. She also stated that she does not belong to any terrorist groups or organizations.
Both women previously held government jobs and were known for their extremist and anti-state views, as well as for encouraging youths to join terrorist organizations.
They had been previously arrested on charges of breaching national security but were later released.
http://www.arabnews.com/saudi-arabia/news/655246
-----------
Detained Iran volleyball woman on hunger strike
5 November 2014
LONDON: A British-Iranian woman jailed in Iran after trying to watch a volleyball match is on a hunger strike for the second time, the BBC reported on Monday.
Ghoncheh Ghavami, a 25-year-old law graduate from London, is protesting against "what she called her illegal detention," her mother told the BBC.
Ghavami was sentenced to a year in jail after attempting to attend a men's volleyball match between Iran and Italy in Tehran in June, her lawyer told Iranian media.
Woman are banned from attending volleyball and football matches in Iran, which officials say protects them from lewd behavior.
The BBC reported that Ghavami is on hunger strike "against her continued detention without a court order, and the judiciary's decision to keep her case in limbo."
The status of Ghavami's case is uncertain because prosecutors have not confirmed her sentence, according to the broadcaster.
Ghavami previously went on hunger strike for two weeks before her sentencing, when she was detained for months before going on trial behind closed doors.
No reason was given for her sentencing, but Ghavami was accused of spreading anti-regime propaganda, a broad charge often used by the Iranian judiciary.
http://www.arabnews.com/middle-east/news/655151
-----------
Dubai TV pays tribute to Bangladeshi woman for her Bravery
November 5, 2014
Dubai TV has paid tributes to a heroic Bangladeshi housemaid who saved the life of four children before drowning in Abu Dhabi's waters last week.
Emirates247.com, an online news portal, reported this on Tuesday.
According to the report, the TV announcer started the programme by saying the maid "sacrificed her life to save the lives of her employers' children".
"This incident totally contravenes accusations against housemaids in the UAE…it could be a result of good treatment of the maid by her employers," he said.
"She was so brave and sacrificed her life for our children without hesitation. She paid with her life for this noble and courage act," he said.
He said he was in touch with Safiya's family in Bangladesh to arrange for the repatriation of her body and to raise funds from the families whose kids were rescued to send money to her family.
The TV also hosted the maid's employers and their saved children who spoke about how the maid rushed after them and plucked them one after another.
"She got us out of the water but the waves took her," one child said.
The four boys were playing on the sand before venturing towards the water in Dabiya beach, prompting the maid, Safiya, to scream and chase them into deep water.
She plucked and pushed them one after another until their relatives were able to take them out of the water, but the maid was stuck in strong currents.
"She did a heroic act by saving my son and his three friends. We all owe this woman and we are all saddened by her death," Abu Abdullah said last week.
He said the rescued boys are aged between six and 10 years, and that Safiya had been with his family for nearly four years, adding that she had planned to get her daughter married in the next two months.
http://www.dhakatribune.com/bangladesh/2014/nov/04/dubai-tv-pays-tribute-maid-who-saved-4-kids
-----------
Another British Muslim Female Who Suffers Anti-Muslim Hate Speaks Out
November 4, 2014
This was received from a Muslim woman who has agreed for her case to be listed publicly. This is the second set of experiences today which show the impact of anti-Muslim hatred on Muslim women and the vile and abhorrent nature of this hate.
Sadly, what is depressing is that no-one stepped in to assist the woman and once again, anti-Muslim abuse on the buses comes up and public transport seems to be an arena in which such bigotry is promoted, mainly to visible Muslim females.
"I've been meaning to send this for a while and I don't even know why but I felt quite ashamed that the incident happened to me, however with much thought I should speak up and I should bring light to such incidents.
This happened around the first week of September.
I was on the bus and I actually didn't even notice the man nor what he was saying as I was just minding my own business. He was speaking for about 5 mins until it heard he was having a conversation about God and what he believe in, which is totally fine…however he quickly moved on to how Muslims believe in THAT God and how crazy we are… Again if he wants to think that, that's fine, but it moved onto much deeper issues about terrorism, wars and over taking the country.
He was obviously targeting me due to the fact I was the only Muslim on the bus and I was clearly wearing a headscarf signifying I am Muslim.
He continued taking about how we must go back to our country (I'm actually half British) and how we come to this country and make wars, how all we do is make wars and how Muslims are terrorists. He got louder and louder talking about how we are a threat and how we are terrorists etc
Obviously I remained silent, the entire bus was also silent and everyone obviously knew he was talking about me.
I honestly felt threatened, uncomfortable and also the fact I was coming off the bus, he was behind me and came off the bus with me. At this point I was honestly scared for my life as I just didn't know what he was capable of. He then proceeded to follow me off the bus and down the street still saying things about how we come to the country and start wars and how we come and just build mosques everywhere and how we need to get out. Of course I remained silent and walked down the street I lived on, he then walked away.
Hope this helps with your journey in highlighting Islamophobia and issues that are happening. And what scared me the most is I am a vocal person but this was the first time such a thing had happened to me, I was just in shock and I can't believe I even felt ashamed after almost like it was my fault this happened, and I think many other women out there will probably feel the same when such a horrible verbal attack happens.
Good luck with all the research and I hope one day we can all live without fear."
http://tellmamauk.org/tag/muslim-woman/
-----------
Islam and Feminism: Unlikely Relation in France
04 November 2014
PARIS – With a deep-rooted place in the French community, Muslim women rights activists have been complaining from being shut out from national feminist groups which see Muslim women's Hijab as a wall separating them from French values.
"They have always viewed the veil as a symbol of enslavement, submission, alienation," Marie Laure Bousquet, a retired English teacher, told Women's eNews during a recent interview at her home on the outskirts of Paris.
Bousquet added that Islam and feminism are often viewed as an impossible combination in Western countries, such as France.
This position was apparent in 2004 when feminist groups sided with the government decision to ban Hijab.
"Muslim feminists are denied existence here….It is an odd feeling when you find yourself in a gathering of feminists and for them you are non-existent," the French Muslim activist added.
Bousquet currently serves as secretary for the Paris-based French Collective of Feminists for Equality, which has been demanding the cancellation of the 2004 ban.
The group members say the ban is discriminatory because the main group it singles out is Muslim women who wear the hijab.
Ismahane Chouder and Louisa Belhamci are co-presidents of the French Collective, whose members include Muslims and non-Muslims.
With Chouder donning Hijab and Belhamci not, both activists reflected the group's mission to promote diversity and tolerance.
"We do not promote the wearing of the veil yet we defend the right for each woman to choose," Chouder told WeNews in an interview at the group's office.
"That is the root of feminism. Things are locked in France because we don't discuss rights but we look at issues in a binary way, you are either for or against."
Feminist Muslims
Defending the rights of women in France, Muslim activists chafed the image given to them as defending Muslim women rights only.
"I am a feminist! We have to stop using the term Muslim feminist because somehow it restricts the possibility that I could show solidarity to women and people who are not necessarily Muslim," Chouder said.
Chouder criticized the opinion shared by activists who base gender equality arguments on France's 1905 law of "laicite" or secularism, separating church and state.
"It is nonsense to think secularism gave French women their rights when in the '40s we were still fighting to get the rights to vote," says Chouder.
French women attained voting rights in 1945, 25 years after suffrage for US women.
French "feminism has been redefined by the State and is selling this image of a woman freed from spirituality and religion," Chouder said.
"They are convinced that they are on an emancipatory mission to civilize women born in France but from various ethnic backgrounds," she added.
Denying French Muslim women their right to don hijab, French politicians ignored the reality in France, focusing on abuses perpetrated against women in foreign countries.
"Should I be held accountable for all the violations committed towards women in these countries?" wonders Chouder.
"Every time, we try to engage in a discussion in France, we are being told about abuses and practices happening somewhere else."
"They sell us this idea of gender equality and how much they want women to take a bigger place in the society, yet they have excluded Muslim women from the French society."
http://onislam.net/english/news/europe/479335-islam-a-feminism-unlikely-relation-in-france.html
-----------
'Stronger Warnings Needed' Over Pregnant Women Drinking
4 November 2014
By Luke Walton
Campaigners and doctors are calling for stronger warnings about drinking during pregnancy, ahead of a legal test case on foetal alcohol syndrome.
The case will decide if a child born with serious disabilities caused by her mother's alcohol consumption should be compensated as a victim of crime.
Some estimates suggest thousands are born every year in the UK with serious health defects caused by alcohol.
Senior health officials have said there are mixed messages on the issue.
NHS guidance states "women who are pregnant or trying to conceive should avoid alcohol altogether".
But it continues: "If they do choose to drink, to minimise the risk to the baby, we recommend they should not drink more than one or two units once or twice a week, and should not get drunk."
'Safest option'
According to the Foetal Alcohol Spectrum Disorder (FASD) Network, which supports families affected by the problem, health defects caused by alcohol include learning difficulties as well as behavioural and emotional problems.
Pregnant mothers need to be educated to steer clear of alcohol, said Maria Catterick, FASD Network's founder. "We are told that alcohol is a poison on the one hand, but on the other hand we are told that maybe it's OK to drink one or two units."
Dr Shonag MacKenzie, lead obstetrician at Northumbria Healthcare NHS Trust, believes the advice can be confusing: "A small amount can lead to more drinks," she said, "we do know that actually the only absolutely safe policy is no alcohol at all in pregnancy."
In September, 12 directors of public health in the North East of England wrote an open letter complaining that there were "a lot of mixed messages about how much alcohol is 'safe' during pregnancy".
"We want to send a clear message to parents-to-be that alcohol and pregnancy don't mix - the safest option is an alcohol free pregnancy," they said in the letter.
"This needs to be the advice given during all stages of pregnancy from conception to birth by all healthcare professionals," they added.
A Department of Health spokesman said the chief medical officer for England was reviewing alcohol guidelines, with new draft guidelines expected next year.
One woman who lives in the North East and asked not to be identified adopted baby girls who were later diagnosed with Foetal Alcohol Syndrome (FAS).
"Due to the brain damage both my children have problems with ADHD, bits of autism, sensory dysfunction, memory problems," she said.
She said there was a shortage of support services for children with FAS, and her girls would need help into adulthood. "When they are both around 18 to 20 years old chronologically, they are only going to be like a 10-year-old socially."
Criminalising women?
The Court of Appeal will decide later this month whether a seven-year-old with FAS and now in local authority care is entitled to a payout from the government-funded Criminal Injuries Compensation Scheme.
Neither the council, which is in the North West of England, nor the child can be named for legal reasons.
Solicitor Neil Sugarman, who represents the council that is taking the claim on behalf of the child, said the mother "had been warned on a number of occasions that if she continued to drink excessively the child would be harmed".
"It's for the court of appeal now to decide whether recklessly taking alcohol was tantamount to poisoning the foetus," Mr Sugarman said.
He said his firm, Bury-based GLP Solicitors, represented about 80 other children damaged by foetal alcohol.
But campaigners fear the compensation claim could end up labelling mothers as criminals.
"I don't believe at all it is worth going down this route to criminalise women," said FASD Network's Maria Catterick.
"Most women would never drink alcohol, knowingly harming their baby. The messages have been totally unclear," she added.
Mr Sugarman denies the compensation claim will criminalise women.
He said the case was "simply about proving that if there was recklessness and it has resulted in damage, the child is then entitled to an award which will improve their lives".
http://www.bbc.com/news/health-29614413
-------
URL: https://www.newageislam.com/islam,-women-and-feminism/new-age-islam-news-bureau/british-jihadi-brides-shame-muslim-men-into-joining-isis/d/99881