New Age Islam News Bureau
3 Jun 2014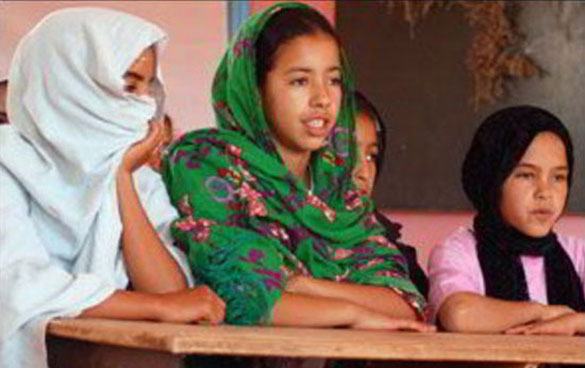 Photo: Underage Marriage Increases in Morocco
-----------
• Underage Marriage Increases in Morocco: Minister of Justice
• Iranian State-run TV's Disinformation Encourages Violence against Women
• Stark Images of Bangladesh Dowry Death Reveal Severe Injustice
• Up In Arms: Protesters Lament Society's Apathy in Farzana's Murder
• 8 Moroccans among 2014′S 50 Most Influential Arab Women
• I Never Expected To Suffer Like This in My Life Says Chibok Girl
• Pakistan's Slow but Steady Progress on Ending Child Marriage
• GCC Best Place for Mothers in Arab World
• Plight of Refugee Women Stuck In Conflict Zones
• Sudan Apostasy: Meriam Ibrahim's Lawyers Take Case to International Commission
Compiled by New Age Islam News Bureau
URL: https://newageislam.com/islam-women-feminism/bring-back-our-girls-protests/d/87338
------------
Bring Back Our Girls Protests Banned in Nigeria's Capital
June 3, 2014
Abuja: Nigerian police have banned protests in the capital Abuja by supporters of the more than 200 schoolgirls kidnapped by Boko Haram militants as the activists vowed to challenge the "illegal" move.
Noisy street demonstrations in Abuja have become a regular feature of the campaign to put pressure on the government and keep the issue in the public eye seven weeks after the girls were abducted from a school in northern Nigeria on April 14.
Federal Capital Territory (FCT) police spokeswoman Altine Daniel confirmed the ban in a text message to AFP, saying the decision was taken "because of security reasons".
Protest organisers questioned the legitimacy of the move and eyed a possible political motive, but police Chief Joseph Mbu said the ban was imposed because of the threat of infiltration from "dangerous elements".
"There is no basis for and no power of FCT Commissioner of Police to ban peaceful assembly of any group of persons in... the city, said protest leader Oby Ezekwesili on Twitter.
"The decision to ban the protest is insane. We are going to court as soon as possible to challenge the ban," said the group's lawyer, Femi Falana, adding that permits were not required for peaceful protests.
Bring Back Our Girls spokesman Rotimi Olawale said that the protesters were "unperturbed" and would meet again in the capital on Tuesday.
"We have been peaceful in our protest. We don't obstruct traffic or constitute ourselves to a public menace," he added.
The demonstrations grew out of social media campaign #BringBackOurGirls, which attracted worldwide support from ordinary people to US First Lady Michelle Obama and Pope Francis.
Copycat demonstrations have also been held around the globe.
Families and supporters of the missing girls were critical of Nigerian President Goodluck Jonathan's response to the abduction, accusing him of being slow to react and indifferent to their plight.
The head of the world's top Islamic body Iyad Ameen Madani branded the violence carried out by Boko Haram "criminal acts that have nothing to do with Islam, Islamic teachings, the religion and history of Islam, the culture and civilisation of Islam".
Speaking to reporters after talks with Jonathan he added, "we should identify them for what they are, a terrorist group".
"We offered anything that the OIC could do in terms of expressing its support and willingness to be actively involved in facing up to this terrorist group," the secretary general of the Organisation of Islamic Cooperation added.
In the weeks after the April 14 abduction, Nigeria has been forced to accept foreign help, including from the United States, to try to find the girls.
The protests meanwhile have grown to involve activists and campaign groups, who have sought meetings with senior figures in Jonathan's administration, including the president himself.
But on Wednesday last week, the high-profile marches descended into violence after scores of young men attacked women protesters, throwing chairs, bottles and stones.
Some of the men were carrying posters in support of Jonathan, protest leaders said, although there was no immediate evidence connecting the gang to the head of state or his ruling People's Democratic Party (PDP).
Mbu said in a statement that the emergence of a second group of protesters - Release Our Girls - was "posing a serious security threat" to nearby residents.
"As the FCT Police boss I cannot fold my hands and watch this lawlessness," he said.
"Information reaching us is that too soon dangerous elements will join the groups under the guise of protest and detonate explosive(s) aimed at embarrassing the government.
"Accordingly, protests on the Chibok girls are hereby banned with immediate effect."
Information Minister Labaran Maku claimed after last Wednesday's violence that the majority of the protesters were members of the main opposition All Progressives Congress (APC), which is looking to unseat the PDP in next year's general election.
Banners of the smaller opposition Labour Party have been seen on previous marches, according to AFP reporters.
Ezekwesili, however, is a former education minister under ex-president Olusegun Obasanjo - Jonathan's mentor - and a regular presence at the demonstrations.
The former World Bank executive claimed that the FCT police chief did nothing to prevent last week's violence and said the ban indicated that
http://gulfnews.com/news/world/other-world/bring-back-our-girls-protests-banned-in-nigeria-s-capital-police-1.1342481
------------
Underage Marriage Increases in Morocco: Minister of Justice
June 3, 2014
The Moroccan Minister of Justice and Liberty, Mustapha Ramid, said Monday that the rate of marriage of women under the age of legal consent in Morocco has significantly increased over the last decade from 18,341 cases in 2004 to 35,152 last year.
In a speech at the opening of a seminar organized by the Ministry of Justice and Liberty in partnership with the Ministry of Solidarity, Women, Family and Social Development under the theme "Ten Years after Implementation of the Family Code: Progress and Prospects," Minister Ramid said that underage marriage has increased.
According to Maghreb Arab Press (MAP), the minister said that underage marriages increased from 7.75 % in 2004 to 11.47% in 2013, noting that the 2011 saw the largest proportion of this type of marriage with a rate of 11.99% of all acts of marriage during that year.
The minister said that the implementation of the Family Code imposed several constraints on certain issues related to the issue of child marriage, which currently constitutes about 10% of all marriages in Morocco, including setting the minimum marriage age at 18. Yet, the figures show that the number of underage marriages has more than doubled in a decade.
On the eve of National Child Day on May 25, UNICEF reported significant advances in improving the situation of children in Morocco in different areas, namely education and health; however, the issue of child marriage remains a persisting problem.
"In the light of data on the situation of children in Morocco, we can say that Morocco has made significant progress in various fields. Yet, disparities still remain," the UNICEF Representative in Morocco, Ms. Regina De Dominicis, told MAP.
Following the shocking suicide of 16-year-old Amina Filali in 2012 after being forced to marry her rapist, the kingdom saw a growing social anger and intensive lobbying by activists to abolish Article 475 of the penal code, which allowed a rapist to escape prosecution if he married his underage victim.
In January 2014, the Moroccan parliament unanimously repealed article 475 in the wake of public criticism.
Notwithstanding the provisions of the Family Code, more commonly known as the Moudawana, family court judges have authority and discretion to approve the marriage of a minor if the judge finds it in the best interest of the minor.
Edited by Elisabeth Myers
© Morocco World News. All Rights Reserved. This material may not be published, rewritten or redistributed.
http://www.moroccoworldnews.com/2014/05/131594/underage-marriage-increases-in-morocco-minister-of-justice/
------------
Iranian State-run TV's Disinformation Encourages Violence against Women
June 3, 2014
The International Campaign for Human Rights in Iran calls on President Rouhani to immediately institute supervision of Iran's state TV and end the broadcast of programs that falsely defame dissidents and implicitly justify violence against women who do not wear the Hijab, the compulsory dress that covers a woman's head and body.
Iran's state-run broadcast agency, the Islamic Republic of Iran Broadcasting (IRIB), broadcast a program on its IRINN news network channel during prime time on May 31, 2014, which lashed out at the exiled female journalist Masih Alinejad who launched the "My Stealthy Freedom" Facebook campaign in early May 2014, encouraging Iranian women to shed the Hijab. The campaign has amassed nearly half a million Facebook followers.
The IRIB program stated that Alinejad was "trying to deceive Iranian girls and women" and falsely claimed that she had been found "naked under the influence of heavy drugs on a street in London" and was then "raped by three men in front of her child," implicitly drawing a connection between the lack of Hijab and sexual assault.
"Blatantly encouraging attacks on women, for any reason, is criminal behaviour," said Hadi Ghaemi, Executive Director of the Campaign. "This only confirms the flagrant lawlessness of hardliners who desperately fear any challenge to their repressive grip on society."
"This is another example of IRIB's routine practice of using its broadcast monopoly in Iran to defame, discredit, and intimidate critical voices," continued Ghaemi.
Hard-line websites such as Tasnim, which is connected to the Islamic Revolutionary Guards Corps (IRGC), have spouted a barrage of articles claiming that women who do not wear Hijab encourage and invite sexual assaults.
IRIB's broadcast of these claims on its prime time program is consistent with its longstanding practice of acting as an arm of the security and intelligence services to repress and defame dissidents and to broadcast disinformation that impugns the character and reputation of those it perceives as challengers.
The My Stealthy Freedom campaign has clearly touched a raw nerve: its use of social media to express dissent taps into the authorities' fear of the Internet and its potential for uncensored communication, and its rejection of the required female dress code challenges hardliners' continued control over the social and cultural environment in Iran.
President Hassan Rouhani, elected by a large majority last year, has spoken out in favor of the citizenry's right to the Internet, as well as women's rights and greater social and cultural freedoms. Yet hardliners still control the Intelligence, security, and Judicial services, as well as IRIB, and have fought back ferociously to retain their power over the domestic environment in Iran. The My Stealthy Freedom campaign is yet another example of the increasingly strident culture war between moderates and hardliners in Iran.
The Campaign urges the international community to hold IRIB accountable for its continued rights violations, and to forcefully speak out against its routine practice of defamation and the blatant incitement to violence against women implicit in its broadcasts.
ttp://www.iranhumanrights.org/2014/06/violence-against-women-encouraged/
------------
Stark Images Of Bangladesh Dowry Death Reveal Severe Injustice
June 3, 2014
BANGLADESH, SOUTHERN ASIA: The custom of paying a dowry to a groom in Bangladesh is not a new one. But increasing deaths connected to rising financial pressure from a groom's dowry on a new bride, and her family, can place a women in danger of abuse, misfortune and even death.
When 19-year-old teenager and wife Bibi Zohora was admitted to Dhaka Medical College Hospital (DMCH) her condition was critical. On admittance to the hospital it was determined she had a broken neck, but she was still alive.
But Bibi's life had deteriorated.
Psychologically tortured by her in-laws to pay money for a marriage dowry, the story of Bibi's life was a troubled one. Under increasing pressure Bibi and her family were unable to pay the dowry fees that seemed more like extortion.
On the day Bibi had come to the hospital emergency room with her parents she faced what too many women in Bangladesh, and India, face when they are unable to pay their dowry fee. Fear and abuse from her husband and his family. Bibi tried to commit suicide by hanging herself from a mango tree.
Did psychological pressure, indignity and harassment lead to her death? Some experts say yes.
"…the effects of harassment have driven some young girls and women in Bangladesh to commit suicide," says UNICEF – United Nations Children's Fund.
While this is not the case for Bibi, not all dowry suicides are what they seem.
In the 1994 Hem Chand v. State of Haryana dowry death case in India's High Court of Punjab & Haryana, murder charges and sentencing against a husband after his wife committed suicide found that her hanging suicide was staged. It was determined under the law that "if the deceased had been subjected, by such person [the husband], to cruelty or harassment for or in connection with demand for dowry…then the court shall presume that such a person has caused the dowry death."
At the time it was found in court that Hem Chand had in fact strangled his wife and simulated what appeared to be her suicide. For this he was initially charged with a life sentence. But on appeal Chand's sentence was changed to 10 years in prison.
Perhaps the Mango tree where Bibi attempted to end her own life was the only option Bibi felt she had left after facing intimidation and threats to pay money to her husband and his family. There is no answer available to know the first-hand details of her suffering. No formal case ever reached the court following her death.
Under the 1993 United Nations Declaration on the Elimination of Violence against Women violence against women is defined as: "…any act of gender-based violence that results in, or is likely to result in, physical, sexual or psychological harm or suffering to women, including threats of such acts, coercion or arbitrary deprivation of liberty, whether occurring in public or in private life."
Tied to her bed in the Intensive Care Unit (ICU) in the Dhaka hospital, among 21 other critical-needs patients, Bibi was left marginalized even in death. Instead of attending to her medical needs a group of doctors largely ignored her as they seemed engrossed in their own personal group conversation in another part of the room, conveyed photojournalist Turjoy Chowdhury who was present as he documented Bibi's death in the hospital.
Her parents were the only attendants in the room trying to look after their gasping daughter at the time, Chowdhury said. It was only when Bibi's mother realized her daughter had stopped breathing that she began to grieve publicly and loudly. This was when the previously 'occupied' medical team moved closer to Bibi's bed.
"The doctors hurried to Bibi Zohora and pretended to do everything possible-thumping, pumping and what not," outlined Chowdhury.
"Sensing the presence of [a] camera, one of the doctors gaped at the ECG monitor reading [outloud] LOSS OF SIGNAL. He posed as if doing a grave [serious] job, though the ECG monitor was not connected with the patient," the photojournalist added.
Today there is no doubt that Bibi Zohora was a clear victim of dowry death.
Suicide is not the only form these deaths can take. Poisoning, burning, beating, acid attack and other forms of violence inflicted on a woman can be used. Cases have also revealed that some dowry deaths have been disguised to 'appear' to be suicide, or an accidental death when, in fact, they are not. This type of deception is made when an attacker, or attackers, work to escape legal prosecution. But how can the law in Bangladesh move to protect women?
"[Law] Drafters should take into account that dowry-related murders may be disguised as suicides," outlines UN super-agency UN Women covering the issue of 'aiding and abetting suicide' in their End Violence Against Women and Girls Now campaign.
The culture of dowry worldwide is now being used in too many circumstances to raise monies by abusing, harming and killing women, say advocates. The lack of a legal court case for Bibi Zohora is only one of many unreported cases that are too often happening under the radar of the courts.
"While I was shooting my very first photo-story of dowry victim Zohora…she passed away in front of me," added photojournalist Turjoy Chowdhury. "At that moment, the experience made me mentally unstable and I wasn't able to sleep for at least a week," he continued.
Amendment and enforcement of the law in Bangladesh is the only way women like Bibi Zohora can remain safe, say advocates who are working to stop violence against women inside Bangladesh.
"Husbands consider their wives' income as a source of wealth accumulation. This must be acknowledged as reality and the Dowry Prohibition Act amended," outlines Bangladesh-born author, political science professor and Canada post-doctoral fellow Farah Deeba Chowdhury, in her report for the International Journal of Law, Policy and the Family at Oxford Journals.
In the first six months of 2013, 255 women in Bangladesh suffered severely under dowry-related violence, outlined journalist Udisa Islam with the Dhaka Tribune. Out of those 255 women the number of those who died from their suffering reveals a critical epidemic in dowry-based violence in the region.
"Of them, 163 women were harassed and tortured, 86 were murdered for failing to meet demands for dowry and six women committed suicide," the Dhaka Tribune reporter added.
Attitudes about dowry in Bangladesh may be swayed by a traditional interpretation of religion, especially for those who are Muslim or Hindu. The practice spans centuries to pre-Greek asia, Endo Japan and China, as well as Rome. Later it moved from exclusive money meant for the bride alone, to money that is given to the bride's husband and his family.
"While Bangladesh recognizes Islam as its official religion, dowry continuously contradicts both religion and the law. According to the Qu'ran, receiving dowry from the bride's family is haram, forbidden by the Islamic law; it is the husband's family that should provide mohorana, money for the bride's family," shares Sri Lankan reporter Kaushalya Ruwanthika Ariyathilaka in a story for Dispatches International.
"Statistics show that 88% of the recently married Muslim wives in Dhaka, the capital of Bangladesh, did not receive their mohorana, but were forced to give a dowry," Ariyathilaka added.
Regardless of the origin of dowry culture and the fact that dowry is outlawed in both India and the Bangla region, a large number of women in Bangladesh and India are showing a steep rise in violence connected to dowry. As a fatal victim of dowry violence, Bibi Zohora has been joined by women in India who, according to the India's National Crime Bureau, who die from dowry-related violence everyday once each hour.
"Women in Bangladesh are still in a vulnerable situation in the society," outlined photojournalist Chowdhury. "To reduce violence against women, society should ensure gender equality, no economic gap between genders, social consciousness and proper implementation of law and order," he added.
As a photographer who wants deeply to expose injustice in Bangladesh society, Turjoy Chowdhury visually captured this dowry death up-close when he stood before Bibi's hospital bed to document this photo essay:
Full report at:
http://womennewsnetwork.net/2014/06/02/dowry-death-severe-injustice/
------------
Up in arms: Protesters lament society's apathy in Farzana's murder
June 3, 2014
LAHORE: More than 10,000 women in the country face violence of various kinds each year and more than 1,000 are killed in the name of honour…that doesn't even include the cases that go unreported," Women in Struggle for Empowerment Executive Director Bushra Khaliq said at a protest demonstration on Monday to condemn the murder of Farzana Iqbal who was stoned to death by her family outside the Lahore High Court premises.
The demonstration was organised by the Mumkin Alliance of Civil Society Organisations at Charing Cross. The protesters chanted slogans and held placards stating There is no Honour in Honour Killings; Men can change; Women rights are Human rights; No more honour killings and What Kind of an Islamic Republic is this in which women aren't protected.
Khaliq said, "Our society is riddled with a feudal mindset that wants to control women. Unfortunately women are very vulnerable in our society…the entire society, including religious and education institutions, is responsible for honour killings."
Khaliq criticised the Council of Islamic Ideology which she said had allowed for escalation of violence against women.
International Association of Human Rights Chair Rubab Mehdi H Rizvi said inaction by the police, in this case, indicated that an extremist version of Islam was being accepted as mainstream.
"According to the University of Al Azhar, honour killings are not just un-Islamic but anti-Islamic. The basis of honour crimes lie in greed, power, money and a tribal version of Islam," Rubab said.
She said Prophet Muhammad (peace be upon him) had spent his entire life challenging oppressive tribal norms in which the rich had an advantage over the poor, the white people on black and men over women.
Rubab said that extremists all over the world targeted women, arts and education.
"This so-called honour killing has embarrassed Pakistan at the international level. It is obligatory upon us women, to ensure that these victims live through us…I hope the brutal murder of Farzana will ignite the conscience of all Pakistanis in taking steps towards a better Pakistan," Rubab said.
Mumkin Alliance Coordinator Shazia Shaheen said, "At least six incidents of honour killings have taken place in the last six days…where are our law enforcement agencies…These killings depict the failure of the state." HomeNet Pakistan Executive Director Ume Laila Azhar strongly condemned the heinous stoning to death of Farzana Iqbal who she recalled was three months pregnant. Azhar said the incident was gruesome, appalling and deplorable.
"The failure of the police at the scene to rescue her shows the level of apathy among law and justice enforcing agencies," she said.
"This is because of double standards of law enforcement agencies who, instead of implementing the law, find ways to save the culprits," protesters said.
Mumkin Alliance urged the Punjab Commission on the Status of Women, and the Women Parliamentarian Caucus to pressure the government to take strict action against the murderers.
The Strengthening Participatory Organization (SPO), the Aurat Foundation, the South Asia Partnership, the HomeNet Pakistan, the Working Women Organisation, the SIMORGH, the Bedari, the ASR, the WISE, the War Against Rape, the AGHS, the CHRE and the Action Aid, took part in the demonstration.
http://tribune.com.pk/story/716656/up-in-arms-protesters-lament-societys-apathy-in-farzanas-murder/
------------
8 Moroccans Among 2014′s 50 Most Influential Arab Women
June 3, 2014
Arab magazine Sayidaty recently paid tribute to Arab women by publishing a list of the 50 most influential Arab women in 2014. 8 exceptional Moroccan women have made it to the list.
From the realm of politics, Morocco's representative on Sayidaty's list is Mbarka Bouaida, Minister Delegate to the Minister of Foreign Affairs and Cooperation. Ms. Bouaida holds an MBA from Hull University (England), a Master of Communication from the University of Toulouse, and a diploma from the Higher School of Management Casablanca. She was named Young Global Leader by the World Economic Forum in 2012. Last year she was chosen by the Tarik Ibn Ziyad Initiative (TIZI Initiative) among 20 young Moroccan leaders for 2013.
Former Moroccan champion Nawal El Moutawakel, one of Morocco's ambassadors of accomplishment in sports at the international level, also made to Sayidaty's list. El Moutawakel is the first female Muslim born on the African continent to become an Olympic champion. El Moutawakel was also recently listed by the magazine Jeune Afrique as one of the most influential personalities in the world.
Moroccan human rights activist Khadija Riyadi is among the 50 most influential Arab women listed. Former President of the Morocco Association for Human Rights, Khadija Riyadi has been a human rights activist since 1983. She was awarded the prestigious United Nations Human Rights Prize in 2013. She is also the coordinator of a network of 22 human rights NGOs in Morocco.
Another prominent Moroccan woman on Sayidaty's list is 27-year-old Moroccan researcher Asmaa Boujbar. Daughter of a Moroccan architect, and a Tunisian mother, Asmaa Boujibar studied at Université Blaise Pascal Clermont-Ferrand II in France. She received her master's degree in 2010, after presenting her thesis entitled "Study of chemical equilibrium between mantle and core in the context of the formation of terrestrial planets." She is originally from Northern Morocco.
Moroccan distinguished journalist Fatima Ifriqui is another such influential Arab woman. Fatima has worked for the Moroccan public channel Al Aoula for several years, hosting a multitude of cultural and artistic TV shows. She is also known for her controversial critical writings, which are published on a plethora of platforms.
Moroccan journalist, poet and writer Nihad Ben Aguida is also featured among the 50 influential Arab women. She is most known for hosting the Moroccan TV Show "Kissat A'naas," (Story of the people) Broadcast on Morocco's Medi1 which is known to raise eyebrows by virtue of the guests' breathtaking, shocking experiences shared with Moroccan viewers.
Moroccan engineer Bouchra Bibano is also among the most influential Arab women. In addition to being an successful ICT engineer, Bouchra Bibano came to the spotlight after climbing some of the highest summits in the world. After reaching the summit of Kilimanjaro, last January Bouchra climbed the Aconcagua summit in Argentina, the highest mountain in the Western and Southern Hemispheres. Her goal is to be the first Moroccan women to climb the world's seven highest summits.
Last but not least, brilliant Moroccan researcher Dr. Ismahane Elouafi is our eighth influential Moroccan woman. She was also listed among the 20 most influential women in the Muslim world by the British magazine Muslim Science. Dr. Elouafi is also the director of the International Center for Biosaline Agriculture in Dubai.
Sayidaty's list of influential Arab women also featured 8 women from the United Arab Emirates and 8 Egyptian women, 6 Tunisian women, 6 Saudi women, 4 Kuwaiti women, 2 Algerian women, as well as 8 other women from Lebanon and Jordan.
http://www.moroccoworldnews.com/2014/05/131562/8-moroccans-among-2014s-50-most-influential-arab-women/
------------
I Never Expected to Suffer Like This in My Life Says Chibok Girl
June 3, 2014
A heartbreaking new video of the Nigerian schoolgirls kidnapped by Islamic extremists shows them bravely speaking out about their ordeal for the first time. The footage, not released publicly but seen by The Mail on Sunday, was taken in a jungle clearing a month after their abduction.
More than 250 girls were taken in a raid on their school in Chibok, in Nigeria's north-east, on April 14 by Boko Haram terrorists, who want to impose Sharia law on the country.
The girls in the video look healthy, but it is understood that fraught negotiations are under way to broker the release several pupils who have fallen ill, including one with a broken wrist.
In the video, eight girls, dressed in their home-made school uniforms of pale blue gingham, plead for release as they stand courageously in front of the camera. They are clearly scared, upset and trying to be brave.
Each of them walks in turn to a spot in front of a white sheet fixed to a crude frame between the trees.
Four of them can be heard clearly, in their Hausa language, stating that they were taken by force and that they are hungry. A tall girl, aged about 18, says tearfully: 'My family will be so worried.'
Another, speaking softly, says: 'I never expected to suffer like this in my life.' A third says: 'They have taken us away by force.' The fourth girl complains: 'We are not getting enough food.'
The video, taken by an intermediary on May 19, has been shown to President Goodluck Jonathan. It was intended to serve as 'proof of life' for the girls and to encourage the President to accede to the terrorists' demands.
Two earlier videos showed the girls seated on the ground, dressed in Hijabs, reciting the Koran, and Boko Haram leader Abubakar Shekau declaring he would sell them into slavery, or marry them off to their kidnappers, if members of his sect were not released from prison.
Pressure from the international community and criticism of the President's slow response to the kidnapping have led to a series of contradictory pronouncements from his government. Ministers have declared they will not negotiate with Boko Haram, or consider the release of prisoners, while official spokesmen have said 'the window is always open for dialogue'.
Scathing condemnations of Nigeria's failure to address the menace of Boko Haram, ever since a proposed peace deal failed last August - leading to the extension of a state of emergency in three northern states - continued worldwide last week.
US Senator Robert Menendez, chairman of the Senate Foreign Relations Committee, said Nigeria had been 'tragically and unacceptably slow' to begin a search.
Others say the clock really being watched by Nigerian politicians is not the six weeks and counting since the kidnap but the 11 months to the country's elections.
Opposition politician Nuhu Ribadu has accused the government of 'total failure'.
He described how fraught the negotiation process has been.
'One of that small group of girls is ill and we had hoped we might convince the commander of the group holding her that she should be released so we could give her medical treatment,' Dr Davis said.
'There are other girls who are not well and we have come close to having them released but their captors fear a trap in which they will be captured in the handover process.
'One girl has what I assume is a broken wrist as they demonstrate to me how she holds her hand. I have been told that others are sick and in need of medical attention.'
A military source said: 'This has been a race against time from the minute they were captured. As soon as the girls left Nigerian soil it was always going to be more difficult.
'The government made no attempt at a rescue until a month after they were taken. Now the situation gets more serious by the day.
'Any sort of attempt to get to them would have to be cleared by the governments of the other nations.'
Sources said Mr Badeh's announcement may have been the result of government officials seeing the new, unpublished video. They may have been able to persuade Boko Haram's intermediary to provide details of the location.
It is believed the hostages have been split into at least four groups.
Dr Stephen Davis, an Australian who has advised three Nigerian presidents on how to negotiate with the country's militant groups, has spent the past month trying to help free the girls.
'The vast majority of the Chibok girls are not being held in Nigeria,' he said.
'They are in camps across the Nigerian border in Cameroon, Chad and Niger. I say the "vast majority" as I know a small group was confirmed to me to be in Nigeria last week when we sought to have them released.'
http://allafrica.com/stories/201406020278.html?viewall=1
------------
Pakistan's slow but steady progress on ending child marriage
June 3, 2014
The Council of Islamic Ideology (CII), one of Pakistan 's most influential religious and constitutional bodies, has announced that girls are ready for marriage the moment they reach puberty.
This is not the first time the CII has condoned child marriage . In April, it ruled that banning such unions was anti-Islamic. While the ruling does not have any bearing on policymaking, it could have a major influence on local religious leaders nationwide.
http://www.breakingnewspak.com/2014/06/02/pakistans-slow-but-steady-progress-on-ending-child-marriage/
------------
GCC best place for mothers in Arab world
June 3, 2014
Manama: Saudi Arabia is the best country to be a mother in the Arab world, the Save the Children's 2014 State of the World's Mothers report shows.
Bahrain came in at the second place in the Arab world, followed by Qatar, United Arab Emirates and Kuwait.
Saudi Arabia ranked 38th globally in the Mothers' Index released this month, while Bahrain was 50th, Qatar 51st, the UAE 52nd and Kuwait 57th. Oman, the sixth member of the Gulf Cooperation Council (GCC), was eighth in the Arab world and 67th internationally.
While the GCC overwhelmingly dominated in the Arab world, Scandinavian countries topped the annual list internationally.
Finland was first, followed by Norway, Sweden and Iceland. Denmark was sixth right after The Netherlands.
The top eight positions in the report were held by European countries, mainly from the north, and the first non-European state was Australia.
The United States, which 15 years ago ranked in the top five, has fallen to number 31 out of 178 countries, the report said.
The Mothers' Index scores countries on mothers' and children's health, educational, economic and political status.
The worst ten countries on the list are in Africa.
Somalia, affected by both armed conflict and natural disasters, is at the bottom of the ranking.
In Somalia, one woman in 16 is likely to die of a maternal causes, while one child in seven does not reach his fifth birthday.
This contrasts sharply with Finland, where maternal deaths affect less than one in 12,000 women, and the probability of a child dying before the age of five is one in 345.
The report concluded that countries faring the worst were those affected by humanitarian crises — this year and throughout the report's history.
Worldwide, more than half of all maternal and child deaths occur in areas made more fragile by conflict and disasters.
"Nothing will stop a mother from trying to keep her children safe and protected," Carolyn Miles, president and CEO of Save the Children, said. "But when disaster strikes, whether it is a war in Syria, a tornado in Oklahoma or a typhoon in the Philippines, women and children are often at the greatest risk — up to 14 times more likely to die than men. Fortunately, our evidence also shows we can save and dramatically improve the lives of mothers and children, even in the most challenging places to live, if we invest in the services they need."
According to the report, war-torn Afghanistan, which ranked as the worst place to be a mother in both 2010 and 2011, moved up 32 places in the ranking this year.
"This improvement is related to the country's investment in midwife training, so mothers do not have to give birth alone; changing policies in education, which allowed more girls to attend school, and immunisation programmes and other health measures for young children," the report said.
http://gulfnews.com/news/gulf/saudi-arabia/gcc-best-place-for-mothers-in-arab-world-1.1340504
------------
Plight of refugee women stuck in conflict zones
June 3, 2014
Palestinian refugee Umm Ahmed has lost her home more times than many people move house.
Forced out of her country due to war with Israel, since the conflict in her adopted Syria began three years ago she has been turfed out of her overcrowded refugee camp, and had two tents burn down in her new camp in Jerrah.
She has been left with nothing — no belongings, ID papers, or husband, another casualty of war. Now she lives with her four children in a tent measuring one metre by three, with the scant possessions they have managed to cobble together since the last tragedy.
Somewhere in another refugee camp, Noura sits in sorrow. The Syrian woman successfully escaped the violence of her home country into Egypt, before seeking greater sanctuary in Sweden. She survived when the boat ferrying her family and other illegal immigrants capsized, but her three daughters didn't.
Umm Ahmed and Noura's stories represent so many women, left to fend for themselves and rear families by husbands drawn into ongoing wars — the maintainers of order in the chaotic theatre of war.
Despite their quiet strength, women are often thought of as the traditional victims of war; in many ways they are.
"Women are not vulnerable by definition," says Maria Garrido, an International Committee of the Red Cross Advisor on Women and War.
"Circumstances make women vulnerable, as circumstances make men vulnerable."
It is strange, the equating of women to children, the elderly, and the infirm, she says.
"Are women more vulnerable than men in situations of armed conflict? The answer is both yes and no — we would ask the same question of men and the answer would be the same."
This sounds paradoxical, but what Garrido is driving at is the different vulnerabilities; men are more vulnerable to war-borne violence, and make up 90 per cent of those killed or missing, and 96 per cent of those detained during conflicts. Conversely, women make up the majority of refugees and internally displaced, and are far more likely to be sexually abused — a common phenomenon of war.
"In terms of vulnerability men are very much vulnerable during war…because of this, women remain on their own with the whole responsibility of the household, assuming responsibility they haven't been prepared to assume."
As is the well-worn story, women without a proper education and little independence or money are more susceptible than others.
"If you can't go outside the house because you have to go outside with a male member, but it happens they are no longer there…you can't even access a healthcare centre, you can't access markets, food distributions etc."
Left to carry on
It is a fairly grim philosophical question whether it is more enviable to be the person taken too soon, or a loved one who must carry on in grief. Undoubtedly, many war widows must feel theirs is the greater plight.
Garrido says scores of women spend the remainder of their lives searching for answers over the death or disappearance of husbands, fathers, brothers or sons, treading a "very painful path".
Short of the emotional pain, many in developing world conflicts, where imperfect laws reign, face a different trauma.
"In many cases women who are…wives of missing men are in a kind of limbo, legally…they can't, for example, inherit, they can't…seek custody of children, they can't have access to property, they have to wait a long time until there is a declaration of death and then they get access to some rights."
In the meantime, all of their energy and money go into the quest for information about their loved ones.
Dr Fathima Gailani, the President of the Afghanistan Red Crescent Society, knows the struggle of women in wartime intimately. The 60-year-old (who looks remarkably youthful for her age, quite apart from her turbulent past) has spent 36 years amid war, 35 of them working for war victims.
"Unfortunately war is not in the hands of women at all, very little is in the hands of women, but when some sort of peace or stability (comes to pass)…women play a fantastic role in this. They are much more active than men are, they (find it) much easier to talk to each other, they can go beyond the bounds of culture, sectarian, tribal (divisions)."
In Afghanistan, she says, the issue for women in war is often cultural rather than religious.
"The problem that we have is a little more complicated, it is acquisition of education. (Let me) tell you in Afghanistan…95 per cent of women in villages will not get their inheritance, which is totally against Islamic principles."
There has been a frustrating regression in society which has allowed this to happen, contrary to the 1960s when women were common in Parliament, as senators and ministers.
"It is extremely important that women in Afghanistan should know and learn about their Islamic rights."
Full report at:
http://www.khaleejtimes.com/kt-article-display-1.asp?xfile=data/middleeast/2014/June/middleeast_June19.xml&section=middleeast
------------
Sudan apostasy: Meriam Ibrahim's lawyers take case to international commission
June 3, 2014
Meriam Ibrahim's lawyers submit appeal to the African Commission on Human Rights after Sudan government backtracks on plans to release her
Lawyers for Meriam Ibrahim, the Sudanese woman sentenced to death for apostasy, are appealing to the African Commission on Human Rights in a bid to secure her freedom – after the pledge that she would be released "within days" was denied by the government.
Ms Ibrahim, 27, has been in prison in Khartoum, the Sudanese capital, since January on charges of apostasy – abandoning the Muslim faith – and adultery – because the court did not recognise her Christian marriage. On May 15 a judge ruled that she should be hanged, even though the mother-of-two testified that she had been raised as a Christian, and therefore had not "left" Islam.
"Sudan has ratified the African charter on human and people's rights," said Elshareef Ali Mohammed, a lawyer representing Ms Ibrahim and her husband Daniel Wani. "The charter states that apostasy is not a crime – and so Sudan should never have brought this case in the first place."
Mr Elshareef and his colleagues told The Telegraph that they have also submitted an appeal to the court in Khartoum – although, to their bemusement, the court on Monday was claiming that they had not received the paperwork.
The renewed attempts to secure her freedom followed a weekend of bizarre and conflicting reports about her case.
On Saturday night an official from the foreign ministry, during a visit to London, told the BBC that Ms Ibrahim would be released "within days".
Mr Elshareef immediately pointed out that only the appeal court could free her – not the foreign ministry – and the next day Abu Bakr al-Sideeg, spokesman for the foreign ministry confirmed that the reports were false.
"I am not aware that any release is imminent," he said.
Now the legal team are hoping that the Commission, which is based in Gambia, will pressure President Omar al-Bashir to intervene and overturn the sentence.
The Commission states that it has been set up to "ensure protection of human and peoples' rights" through what it terms the "friendly settlement of disputes."
Mr Elshareef said: "We have told the Commission that this ruling has violated a series of rights that Sudan has agreed to uphold – including the rights of the two children who are in prison with Meriam.
"She was also not given a fair trial."
Ms Ibrahim called three witnesses from her hometown, in the east of the country, to testify to her lifelong Christianity. But the witnesses were prevented from appearing.
And while the international pressure on Mr Bashir's government continues to grow, some state-owned newspapers in Sudan have started calling on the authorities to resist.
Last week The Telegraph reported how a group of journalists working for government-run media went into the Omduram women's prison to photograph and film Ms Ibrahim, and back up the court's decision – claiming that she was in fact a devout Muslim who read the Koran and prayed five times a day.
http://www.telegraph.co.uk/news/worldnews/africaandindianocean/sudan/10869421/Sudan-apostasy-Meriam-Ibrahims-lawyers-take-case-to-international-commission.html
------------
URL: https://newageislam.com/islam-women-feminism/bring-back-our-girls-protests/d/87338