New Age Islam News Bureau
18 Jan 2014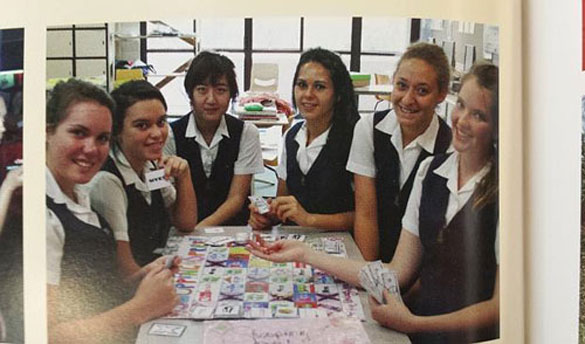 Amira Karroum with school friends. Picture: Supplied Source
---------------
• 86 Wives and 170 Kids to One Man? It's Not Islamic and Fair
• Rohina's Solo Performance to Unveil Muslim Women's Lives
• Amira Karroum Was One of Many Australians Being Recruited To Fight in Syria
• We, Saudis, Need Stringent Laws to Stop Sexual Harassment
• Buddhist Mob 'Hacks Muslim Women and Children to Death'
• Lawyer Becomes Britain's First Female Muslim Football Agent
• Muslim 'Free School' For Girls Will Open In Coventry This Year
Compiled by New Age Islam News Bureau
URL: https://newageislam.com/islam-women-feminism/breaking-stereotypes,-muslim-women-discuss/d/35337
-----------
Breaking Stereotypes, Muslim Women Discuss Sexuality at Jaipur Literary Festival
Jan 18, 2014
Jaipur: When women writers from Islamic countries discuss sexuality and erotic poems, taboos and male dominance, and mull over breaking free from conservative norms, the audience is bound to be large.
At the Jaipur Literary Festival (JLF) Saturday, the hall of the "Baithak" venue was flooded with people eager to hear discussions at the session "Behind the Veil: Women Writers of the Islamic World".
Even Urvashi Bhutalia, feminist and publisher, who moderated the session, was surprised see so many people in attendance, eager to hear how stifled voices from conservative countries are breaking stereotypical norms and getting away from veils, to tell their own unique tales.
Bhutalia was in conversation with four authors: Shereen Feki, author of "Sex and the Citadel: Intimate Life in a Changing Arab World", author of "The Exiled" Fariba Hachtroudi, Somalia-born Nadifa Mohamed, and Turkish author Bejan Matur.
"I have spent five years in the Arab world talking about sex. Many of you might think this is the best job in the world," Feki told the audience here, in a lighter vein.
Feki's parents moved to Canada and as she was born there, so she never felt any connection with the Arab world till the September 2001 terrorist attack on the World Trade Centre in the US.
"I had never thought much about the Arab world till 9/11. It was then that I decided to know more about it," said Feki, who was a journalist and has covered HIV-related stories from the Arab world.
"There were so many taboos around sex that it was hard to tackle," she said.
Her book throws light on the sexual preferences of women from conservative Arab countries, where women opened up to her and talked about their sex lives. Though she did speak to men about it too, they have not featured in the book.
And she strongly believes that the behaviour of society is strongly related also to what happens behind the closed doors of bedrooms.
"Sexuality is a rich way of looking at society. What happens inside bedrooms is related to outside life. If we don't allow freedom in private lives, it won't be achieved in the public sphere," she said.
Elaborating how a free body is an essential ingredient of a free mind was Hachtroudi, who left Iran when she was 12. After writing extensively on Iran for three years, this journalist felt it was necessary for her to be inside the country to feel what it was like, back home.
"I was lucky, my friends say. Some say I was a fool, because I chose to take the Afghanistan border to enter Iran. But once I was there, it changed my life," she told the audience.
"The power men want to have over women is the biggest obstacle in our society. Prostitution in Iran began around 1985-86 when the economy was crippled by war (Iran-Iraq)," she added, saying she has written erotic poetry.
Another thing that left women powerless was the decision taken during the Iranian Revolution, when Ayatollah Ruhollah Khomeini took away women's right to participate in politics.
"During (Mohammad Reza Shah Pahlavi )Shah's regime, women had power to vote and they were in the sphere of politics," she said.
She said she is now spearheading a programme to encourage people to express themselves, creatively.
While it is believed that a country becomes modern by adapting to western ways, Feki emphasised the need to "change thinking" to be modern.
"Modernity is not an economic weapon, but a system of changing thinking and growing," she said.
http://zeenews.india.com/news/rajasthan/breaking-stereotypes-muslim-women-discuss-sexuality-at-jlf_905102.html
--------------
86 Wives and 170 Kids to One Man? It's Not Islamic and Fair
Jan 18, 2014
In this day and age, many are those who would be stunned at the news that an 84-year-old man with unreliable source of income is married to 86 women. This story is true as authenticated by media agencies like BBC and Associated Press (AP).
The man is a Nigerian known as Mohammed Bello Abubakar. Ironically he is advising other men not to follow his example. Mr. Bello Abubakar says he does not go chasing women, they rather come to him.
The former teacher and Muslim preacher, who lives in Niger State with his wives and at least 170 children, says he is able to cope only with the help of God.
"A man with 10 wives would collapse and die, but my own power is given by Allah. That is why I have been able to control 86 of them," he told the BBC.
He says his wives have sought him out because of his reputation as a healer. "I don't go looking for them, they come to me. I will consider the fact that God has asked me to do it and I will just marry them."
But such claims have alienated the Islamic authorities in Nigeria, who have branded his family a cult.
Most Muslim scholars agree that a man is allowed to have four wives, as long as he can treat them fairly and equally.
But Mr. Bello Abubakar says there is no punishment stated in the Quran for having more than four wives.
"To my understanding, the Quran does not place a limit and it is up to what your own power, your own endowment and ability allows," he says.
However, many Islamic scholars in Ghana and the world over such as Sheikh Seebaway Zakariah of the Kwame Nkrumah University of Science and Technology says the marriage of more than four women is not Islamic.
He says Muslims are allowed to marry a maximum of four wives with a condition that he would be just to the women otherwise he should settle for one woman.
The wives the BBC spoke to say they met Mr. Bello Abubakar when they went to him to seek help for various illnesses, which they say he cured.
"As soon as I met him, the headache was gone," says Sharifat Bello Abubakar, who was 25 at the time, and Mr. Bello Abubakar 74. "God told me it was time to be his wife. Praise be to God, I am his wife now."
Ganiat Mohammed Bello has been married to the man everyone calls "Baba" for 20 years. When she was in secondary school her mother took her for a consultation with Mr. Bello Abubakar and he proposed afterwards.
"I said I couldn't marry an older man, but he said it was directly an order from God," she says. She married another man but they divorced and she returned to Mr Bello Abubakar.
"I am now the happiest woman on earth. When you marry a man with 86 wives you know he knows how to look after them," she said.
No work
Mr. Bello Abubakar and his wives do not work and he has no visible means of supporting such a large family.
He refuses to say how he makes enough money to pay for the huge cost of feeding and clothing so many people.
Every mealtime they cook three 12kg bags of rice which all adds up to $915 (£457) every day. "It's all from God," he says. Other residents of Bida, the village where he lives in the northern Nigerian state, say they do not know how he supports the family.
According to one of his wives, Mr. Bello Abubakar sometimes asks his children to go and beg for 200 naira ($1.69, £0.87), which if they all did would bring in about $290 (£149).
Most of his wives live in a squalid, unfinished house in Bida; others live in his house in Lagos, Nigeria's commercial capital.
He refuses to allow any of his family or other devotees to take medicine and says he does not believe that malaria exists.
Marriage from multiple women in Islam might not be allowed for those who might result in damaging the society with their marriage by bringing more illiterate, poor, and in many cases starving children to the society. The prophet introduced polygamy during the war with non believers when he lost many of his followers in the battle. In order for the few soldiers to be able to take care of the orphans and the widows he asked the remaining soldiers to take on additional women.
Let us look at Noble Verse 4:3 of the Holy Quran "If ye fear that ye shall not be able to deal justly with the orphans, marry women of your choice, Two or three or four; but if ye fear that ye shall not be able to deal justly (with them), then only one, or (a captive) that your right hands possess, that will be more suitable, to prevent you from doing injustice."
Notice how Allah Almighty allowed polygamy only for helping the orphans (more women are needed to take care of the Muslims' and infidels' orphans after every battle.) Notice also how Allah Almighty ordered the men to be either fair to their wives or else to never marry more than one wife.
Mr. Bello Mohammed has the right to marry up to four wives. To go beyond it to marry up to 86 women is not Islamic. Where are the human right activists working for the welfare of women and children in Nigeria? Where are the Islamic leaders in Nigeria who are concerned with the violation of rules by Islamic leaders? Where are government's Ministers of Education and Social Welfare?
All these authorities must combine their efforts to do something about this satiation. Otherwise many more men in Nigeria would go ahead to marry more women produce more children. These children might not be able to gain access to education good parental care and end up becoming liabilities and not assets to their nation and Africa.
The writer is the Executive Director of eanfoworld for sustainable development
http://allafrica.com/stories/201401171234.html?viewall=1
-----------
Rohina's Solo Performance to Unveil Muslim Women's Lives
Jan 18, 2014
Bates College presents playwright-actress Rohina Malik performing her critically acclaimed one-woman show Unveiled, portraying five Muslim women living in a post 9/11 world, at 7 p.m. Monday, Jan. 27, in Schaeffer Theatre, 305 College St.
The show is open to the public at no cost. For more information, please contact 207-786-8272 or lknight@bates.edu.
Unveiled, written by Malik, uses women's stories of racism, hate crimes, love, Islam, culture, language and life to reveal what it means to wear the veil. Directed by Ann Filmer, the play premiered in May 2009 at the 16th Street Theatre in Illinois, where it sold out the entire run.
Since then, Malik has brought Unveiled to such theatres across the country as the Victory Gardens Theatre in Chicago, the Next Theatre in Evanston, Ill., and the Brava Theater in San Francisco.
"[This] hugely talented writer-actress is a remarkable new theatrical voice in Chicago," wrote Chris Jones of the Chicago Tribune. "In her rich, upbeat and very enjoyable 70-minute collection of five character studies of Muslim women in modern-day America, Malik gives voice to characters from whom we hear far too little in the theatre."
Malik is a Chicago-based playwright, actress and performance artist. She was born of South Asian heritage and raised in London. She is a resident playwright at Chicago Dramatists, an artistic associate at the 16th Street Theatre and was one of four writers in the inaugural group of the Playwrights Unit at the renowned Goodman Theatre.
Her other plays include Yasmina's Necklace and The Mecca Tales, both developed and presented in staged readings at Goodman Theatre.
The Bates performance is sponsored by the Multi-faith Chaplaincy; the Office of Intercultural Education; the departments of theatre, religious studies, women and gender studies, English, politics, anthropology and sociology; the Harward Centre for Community Partnerships; and the social sciences division.
http://www.bates.edu/news/2014/01/17/solo-performance-to-unveil-muslim-womens-lives/
-----------
Amira Karroum was one of many Australians being recruited to fight in Syria
Jan 18, 2014
AMIRA Karroum's friends from school remember her beautiful smile and her bubbly personality.
She was a girl who would throw her arms around mates and greet them with a hug and a kiss as she grew up a "sweet and caring" daughter on the Gold Coast beaches, where her dad ran a kebab shop along the Glitter Strip.
To the people who knew her from those days, she would have seemed the unlikeliest terrorist - they would never have thought of her as a religious martyr.
But in the months and weeks leading up to her death last week in a bullet-ridden house in war-torn Syria alongside her husband Yusuf Ali, her Facebook posts reveal a young woman heading for a dangerous future - and fully prepared for what she would meet.
"Everything is temporary," she wrote. And: "Islam is my identity. The burqa is my shield. Jannah (the Islamic garden of paradise) is my destination.''
The husband she called her "lion", and the "man of my dreams" wrote in one of his last posts: "Preparing for the grave".
The couple are not the only Australians to go to their graves as part of the rebel cause bringing down the ruthless regime of President Bashar al-Assad, but as the first Australian woman to die Karroum's story has shocked a public unable to conceive of anyone dying for a foreign country, for a foreign cause, let alone a highly educated and intelligent young woman from a good family.
Young Australian Muslims like Karroum, 22, and Ali are being exploited by radicals and political zealots to go to Syria, says Dr Stepan Kerkyasharian, outgoing chairman of the NSW Community Relations Commission.
"People are being duped into being cannon fodder between the two warring Sunni factions. People are killing each other within their own faith," he says.
"They are being misled and lured into an evil situation that was about freedom but now it is about the abuse of their religion. In many places, recruitment is so subtle that those being recruited may not even know it.''
It is believed as many as 205 Australians have travelled to the battlefield that is Syria since the conflict began in 2011 - part of a contingent of about 11,000 foreign fighters answering what they see as Allah's call to battle.
At least five Jihadist death notices have been posted online for Australians in the complex civil war that has so far claimed more than 100,000 lives.
Some Islamic leaders say Australians may be motivated to join the Syrian conflict out of frustration at a perceived lack of international action against the Assad regime. National security agencies fear what the radicalised fighters will bring home with them.
"The best-case scenario is that someone has witnessed the conflict and comes back with enormous psychological baggage," Kerkyasharian says.
"The worst-case scenario is someone who has gone there, who's been involved in the fighting, who's seen fellow combatants killed and they've come back with revenge in his or her heart."
Andrew Zammit from the Monash University Global Terrorism Research Centre said most fighters who returned to Australia would not become a threat, but others "could be very dangerous".
"They can get skills, connections, and may decide to carry out violence," Zammit says.
"Authorities are very worried. They are aware that this is the greatest mobilisation of Australians to fight with jihadist groups that we've ever had.
"They could be travelling there with all sorts of motives, often after having watched footage of people they identify with being killed by the Assad regime. The big issue is what groups they get involved with once over there."
In 2012 Karroum, who had studied graphic design at Queensland's University of Technology, moved to Sydney and met US-born Yusuf Ali, a Muslim convert.
They married in April last year and settled at Granville in Sydney's west - in the heart of the Muslim community.
Despite her education at one of the country's top Anglican schools, St Hilda's in Brisbane, Karroum was always a Muslim - but it was not until a couple of years ago that she started to wear a burqa. On her Facebook page, she described her work as a "Slave of Allah" and her posts became increasingly extreme, condemning America, the war on terror and even democracy.
"Today I witnessed hijabi girls promoting democracy with their T-shirts and their stupid voting papers. Kuffars! May Allah guide these strangers!'' she posted on federal election day last September.
After wild Muslim riots in Sydney's Hyde Park in 2012 she called for more violence, urging Facebook followers to: "F... the police! Smash the cop cars."
On the 10th anniversary of the 9/11 terror attacks, she posted: "Worst effing night. I'm proud of being a Muslim!!!!! 10 years of war in Afghanistan for two towers."
She talked of going to a shooting range and, on Facebook, regularly checked in at a Sydney address she called "Bin Laden's Cave". In Granville, Ali is alleged to have been recruited by Hamdi Alqudsi, 39, and sent with another four men to Syria. A sixth, aged 23, was arrested at Brisbane airport.
Alqudsi, a disability pensioner, was arrested in December and accused of being the mastermind behind a network sending Australians to Syria to fight alongside Jabhat al-Nusra and other al-Qaeda-linked groups. Alqudsi, charged with recruiting, organising and funding the men, is the husband of controversial Muslim Carnita Matthews - the woman who, in 2010, claimed police tried to rip off her burqa to see her face during a roadside breath test.
Yesterday Alqudsi, asked to comment on the current situation in the Middle East said: "No thank you. I don't speak English, I don't speak English."
Ali left Australia for Syria soon after his marriage, saying he was going to do humanitarian work. Karroum followed him just days before Christmas, telling her family she was heading to Denmark to holiday with friends and then do some humanitarian work.
They were killed inside a house near the city of Aleppo, which is near the border with Turkey and ground zero of the war, possibly by members of the Free Syrian Army.
The rebels are fighting government troops and other factions trying to oust Assad.
On Facebook, Karroum's sister Rose, who also embraced Islam and calls herself the "Mujahidah Lioness", asked for prayers for the couple, who she said had been "martyred". She described her sister as a "soldier" who had been parted from her husband by "something bigger than them".
An al-Qaeda fan page posted a photo of Yusuf Ali on Monday, labelling him and his wife martyrs: "May Allah SWT unite them both in the Highest of Heavens ...Ameen."
Amira Karroum's half-brother Karl Karroum said the family had no idea she was going to Syria.
"They are peaceful people," he said of Amira and her husband.
Gold Coast Islamic Society president Hussin Goss says the couple worshipped at his mosque when they were visiting the Gold Coast. He does not believe they were radicals.
"People say they must have been radicalised in Sydney or on the Gold Coast but the last time I saw Yusuf about six months ago, he was a normal person - smiling, having fun, and praying of course,'' Goss says.
"Amira was a good girl who did a lot of volunteer work in the community. She was more of a giver than a taker - she had an open heart. I can only say good things about her.''
Goss says he understood Karroum and Ali had gone to Syria to do "humanitarian work" - not to fight the Syrian government.
"They were over there trying to help because the governments of the world aren't,'' he says.
On the Gold Coast, Karroum's father Mohamad suffered a mild heart attack when he heard the news of her death. Her mother Honor Deane said she was "distraught with grief".
Just weeks ago Karroum had posted a Facebook photo of her mother with love hearts and emoticons and the words: "My Life, My Mum".
THERE ARE TIMES YOU NEED TO FIGHT
Hala Trad is a 23-year-old philosophy student from Yagoona. She was born in Australia to Lebanese parents. Her father Keysar fled his homeland in 1976 as a refugee and her mother arrived here in 1986. Here she tells TAYLOR AUERBACH why she sympathises with Australian Muslims who feel compelled to join the war in Syria.
"IS Islam against fighting? I don't know how to answer that question.
It's not completely against war because war happens. Suicide is completely Haram (against Islam) but war isn't.
Sometimes you're in a position where you need to fight. I definitely sympathise with the frustrations of Muslims in Australia who feel like they have to go over to Syria.
I know some people who I believe went over there to fight. People say things. By the way they talk, it seems like they went over for the cause.
The situation in Syria is very hard to hear about, especially from Australia where we can't do anything. I get goosebumps just thinking about it. So many people are being oppressed by this regime and being displaced.
I'm not qualified to go over, I don't have the resources. But I can understand how people would do anything to help the people the government regime is oppressing.
It's hard to tell people not to go over and fight because Islamic people get very heated up by the situation.
They feel helpless.
It's not close geographically, but it's so close to home. One thing that Islam teaches is that we have to help our Muslim brothers and sisters.
This tyrannical regime is oppressing their brothers and sisters and it's incredibly frustrating.
They feel helpless from here. Could they die as martyrs? It really depends on their motivations for going over there and the situation they were in when they got harmed.
Personally, I'm a philosopher. I think there are other ways to help. Any sort of humanitarian aid that I can do, I do."
http://www.theaustralian.com.au/news/amira-karroum-was-one-of-many-australians-being-recruited-to-fight-in-syria/story-e6frg6n6-1226804489058
-----------
We, Saudis, Need Stringent Laws to Stop Sexual Harassment
Jan 18, 2014
There are two major hurdles facing women in the workplace: The absence of a law that criminalizes harassment and a lack of suitable transportation facilities. The latter forces a large number of female teachers to commute hundreds of kilometers every day with an unrelated male driver in order to reach their workplace.
There is no specific law that deals with sexual harassment in the Kingdom. Such a law, when passed, should be stricter than the newly-enacted law to prevent domestic violence. Women teachers need safety and security while travelling to work; they are constantly worried about being involved in an accident at the hands of the Kingdom's accident-prone, male-only cadre of drivers or of being subjected to the lustful gaze of the men driving them to their place of work.
Earlier, local newspapers published a survey which was conducted by the Division for Public Opinion Polls of the King Abdul Aziz Centre for National Dialogue. The survey revealed that the main factors that contribute to sexual harassment in Saudi society are a lack of religious awareness and the slow pace in taking penal action against harassers.
The Centre recently published the results of a survey which showed that 91 percent of respondents considered the lack of religious awareness to be the main reason behind the rise in sexual harassment cases in the Kingdom. At the same time, 76 percent of respondents felt that the lack of stringent laws to punish offenders leads to an increase in such cases.
There is no doubt that the religious element is extremely significant but it is not the only factor involved in this issue. The religious element is something pertaining to a human being's relationship with God. But the legal deterrent, in the form of a law, is significant as it governs the relations between man and man.
While there are people who describe themselves as atheists in countries, such as Sweden, France, and Norway, these countries have the lowest number of sexual harassment cases. Therefore, the main issue is not religion, it is the absence of stringent laws to punish those guilty of sexual harassment.
http://www.saudigazette.com.sa/index.cfm?method=home.regcon&contentid=20140118192855
-----------
Buddhist Mob 'Hacks Muslim Women and Children to Death'
Jan 18, 2014
A Buddhist mob has rampaged through a town in an isolated corner of Burma, hacking Muslim women and children with knives and killing more than a dozen, reports say.
A government official said the situation was tense, but denied any deaths.
Burma, a predominantly Buddhist nation of 60 million people, has been grappling with sectarian violence for nearly two years. More than 240 people have been killed and another 140,000, mostly Muslims, forced to flee their homes.
Chris Lewa of the Arakan Project, an advocacy group that has been documenting abuses against members of the Rohingya Muslim minority for more than a decade, said the violence occurred on Tuesday in northern Rakhine state.
She said tensions have been building in the region since last month, when monks from a Buddhist extremist movement known as 969 toured the area and gave sermons by loudspeaker advocating the expulsion of all Rohinygya.
A resident said an initial flare-up followed the discovery of three bodies in a ditch near Du Char Yar Tan village by several firewood collectors.
Later when police came to the village, a crowd turned on the officers, beating and chasing them off. Police returned saying one of their men had gone missing.
That triggered a security crackdown. Soldiers and police surrounded the village, breaking down doors and looting livestock and other valuables, the English teacher resident said. Almost all the men fled, leaving the women, children and elderly behind.
Ms Lewa said her sources reported that Rohingya women and children had been hacked to death, but the numbers varied widely. Some put the toll as low as 10, others in the dozens.
That some of the victims appeared to have been stabbed with knives, not shot or beaten, "would clearly indicate the massacre was committed by (Buddhist) Rakhine villagers, rather than the police or army," the Arakan Project wrote in a briefing.
Rakhine state spokesman Win Myaing said police had surrounded the village because they were looking for the policeman who went missing, but that he was not aware that anyone had been killed.
http://www.asianimage.co.uk/news/world/10943385.Mob__hacks_Muslim_women_and_children_to_death_/?ref=var_0
-----------
Lawyer becomes Britain's first female Muslim football agent
Jan 18, 2014
Lawyer Shehneela Ahmed is the first Muslim female to become a registered football agent with The FA and is hoping that her appointment will encourage more women from ethnic backgrounds to follow in her footsteps
A lawyer has become Britain's first female Muslim football agent.
Shehneela Ahmed, 42, who also works as a duty solicitor criminal advocate, is now a registered football agent with the Football Association and is hoping that her appointment will encourage more women from ethnic backgrounds to follow in her footsteps.
Ms Ahmed said: "This will have a big impact on my career as I intend to promote more people from the Asian background to encourage their children to take part in the sports industry.
"To me personally this is a big thing. It's a golden opportunity for me to promote females from other ethnic backgrounds to do the same.
"The sports world is no longer just a man's sport and more females are now involved in the sport industry. Especially with the Football, I grew up watching the game. I have good male friends around me who are already involved in the football industry who also have encouraged me."
Miss Ahmed, who supports Manchester United and graduated from Staffordshire University, admitted that she didn't know she would become the first female Muslim football agent until her application was successful.
She said: "At the time when I applied to become a Football Agent I wasn't aware there weren't any Asian female football agents. It's only after that I became aware.
"It's a challenge for me. I want to prove to ethnic minorities and females that if you put your mind to it, you can achieve anything."
Miss Ahmed, who received her license in September added: "I've had clients approach me, from players, managers and clubs and I've had some really good feedback so far."
http://www.telegraph.co.uk/women/10580483/Lawyer-becomes-Britains-first-female-Muslim-football-agent.html
-----------
Muslim 'free school' for girls will open in Coventry this year
Jan 18, 2014
A muslim school for girls will open in Coventry next year.
The 700-pupil ''free school'' would be built on land next to an old social club in Foleshill.
Work could start later this year on the single sex school if all goes to plan.
The Coventry Leadership Academy for Girls will be built on land beside the former Courtaulds social club in Lockhurst Lane - if planning permission is granted.
The building is expected to be finished by September 2015. Its first intake of 100 11-year-olds, to start in September 2014, will be housed in the former social club buildings until the new school is ready.
The school is part of the government's free schools programme. That means there will be no fees and it means a government cash grant will pay for the new building.
The school would be open to non-Muslims.
The plan is for 100 places for 11-year-olds each year. The first 50 will be given to pupils who define themselves as Muslims.
The next 50 will be given to those living nearest the school. The colour and style of the uniform has not yet been decided but will include optional headscarves.
The school will be part of the Lancashire-based Tauheedul Free Schools Trust overseeing a number of free schools around the country.
Chief executive of Tauheedul Education Hamid Patel says there is a need for the new school."The girls school in Coventry is oversubscribed and for people in Foleshill it is quite a trek to get there.
"There is a need for a school which has a Muslim ethos but will reach out to the communities and all faiths.
"The school will contribute to social and economic prosperity through the leadership specialism. There is no other secondary school in Coventry offering that type of specialism.
"We will focus on the English Baccalaureate and we aim to get women into Russell Group universities and on to the boards of businesses.
''Boys and girls from other schools will be invited to visit for leadership training."
Demand for secondary school places is set to soar in Coventry in the next few years. The government has banned councils from opening new community schools so the places must be provided by free schools, academies and expanding existing schools.
The Coventry Leadership Academy for Girls would be the second Muslim school in Coventry. The other is the mixed fee paying Coventry Muslim School based partly in Paynes Lane, Stoke, and partly in Foleshill Road, Foleshill.
http://www.coventrytelegraph.net/news/coventry-news/coventry-muslim-school-could-open-6522989
-----------
URL: https://newageislam.com/islam-women-feminism/breaking-stereotypes,-muslim-women-discuss/d/35337