New Age Islam News Bureau
10 May 2014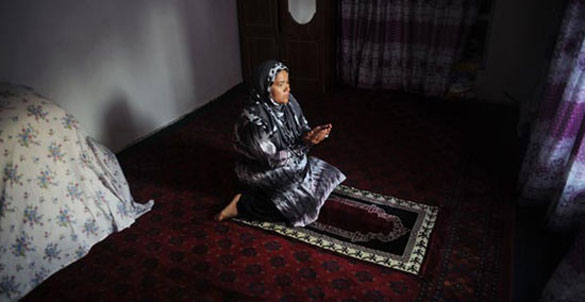 Photo: Afghan Schoolgirls Condemn Boko Haram's Kidnappings in Nigeria
----------
• Michelle Obama demands justice for kidnap girls in White House's weekly radio address
• Saudi Women Breach other Male Bastion - Become Liaison Officers
• Saudi Women Employees Suffer In Prevailing Gender Pay Gap
• Saudi Women Take To Martial Arts for Self-Defence
• Afghan Schoolgirls Condemn Boko Haram's Kidnappings in Nigeria
• Not Just Nigeria: Girls' Education Threatened Across the Globe
• Children Displaced in Kenya's 2007 Elections Sell Sex and Live in Tents – U.N.
• The Pakistani Refugee Woman in Sri Lanka 'With a Price on Her Head'
• Over 50,000 Beta Thalassaemia Kids In Pakistan
• New Primary Schools in KP to Have Six Rooms, Six Teachers
Compiled by New Age Islam News Bureau
URL: https://newageislam.com/islam-women-feminism/brave-schoolgirls-escaped-muslim-terrorist/d/76962
-------------
Brave Schoolgirls Who Escaped Muslim Terrorist Captors Revealed
10 May, 2014
BAUCHI, Nigeria — The government of a Nigerian state identified 53 girls who escaped a mass kidnapping by Islamic militants, potentially subjecting the girls to stigma in this conservative society.
Some 276 girls remain missing, and U.S. officials and agents are arriving in Nigeria to help the Nigerian government, which has been widely criticized for not doing enough to find the girls.
Reuben Abati, a spokesman for Nigerian President Goodluck Jonathan, said in a statement late Thursday that the president had met with the US ambassador to discuss "the modalities for the actualization" of the US offer of help.
Boko Haram, which wants to impose Islamic law on Nigeria, abducted more than 300 girls from a boarding school in the northeast town of Chibok on April 15.
The government of Borno state, where Chibok is located, said in a statement received Friday that the 53 girls it identified by name include those who fled the day they were kidnapped and those who escaped from Boko Haram camps days later.
Chibok residents are staging a street protest Friday to press Borno's government to do more to find the missing girls.
Boko Haram has killed more than 1,500 people this year.
http://nypost.com/2014/05/09/brave-schoolgirls-who-escaped-muslim-terrorist-captors-revealed/
-------------
Michelle Obama demands justice for kidnap girls in White House's weekly radio address
10 May, 2014
Michelle Obama on Saturday criticized the kidnapping of scores of Nigerian schoolgirls as an 'unconscionable act' carried out by a terrorist group she said is determined to keep them from getting an education - 'or grown men attempting to snuff out the aspirations of young girls.'
Taking over the president's weekly radio and Internet address on the eve of the American holiday for honoring mothers, the first lady said that, like millions of people around the world, she and President Barack Obama are 'outraged and heartbroken' over the April 15 abduction of the girls from their dormitory.
'In these girls, Barack and I see our own daughters,' Mrs. Obama said, referring to Malia, 15, and Sasha, 12. 'We see their hopes, their dreams and we can only imagine the anguish their parents are feeling right now.'
What happened in Nigeria is not an isolated incident, the first lady said, but is 'a story we see every day as girls around the world risk their lives to pursue their ambitions.'
Mrs. Obama mentioned the case of Malala Yousafzai, the Pakistani teenager who survived being shot in the head as she traveled to school in 2012. Malala has become an outspoken advocate for the rights of all girls to get an education, the same message Mrs. Obama delivered in her first solo address to the nation.
Mrs. Obama noted that more than 65 million girls worldwide do not attend school even though educated women earn more money and have healthier families.
'When more girls attend secondary school, that boosts their country's entire economy,' she said. 'So education is truly a girl's best chance for a bright future, not just for herself, but for her family and her nation.'
Mrs. Obama recently launched a domestic initiative called "Reach Higher" to encourage young people to pursue education beyond high school, whether they enroll in a professional training program or attend a community college or a four-year institution.
In Saturday's address, the first lady asked the nation to pray for the Nigerian girls' safe return.
'This unconscionable act was committed by a terrorist group determined to keep these girls from getting an education - grown men attempting to snuff out the aspirations of young girls,' she said. 'Let us hold their families in our hearts during this very difficult time, and let us show just a fraction of their courage in fighting to give every girl on this planet the education that is her birthright.'
The Nigerian government's inability to rescue the girls nearly a month after they were abducted by the Boko Haram organization has sparked worldwide outrage, including protests and a social media campaign. The U.S. and other countries have sent teams of technical experts to assist the Nigerian government's search effort.
Authorities have said more than 300 girls were abducted from their school in the country's remote northeast. Fifty-three escaped and 276 remain captive.
President Obama said this week that the U.S. will do everything to help Nigeria find them.
Boko Haram means 'Western education is sinful.' The group's leader, Abubakar Shekau, has claimed responsibility for the abduction and has threatened to sell the girls.
President Barack Obama made the rare move of giving his wife the responsibility of delivering the White House's weekly radio address on Saturday.
The move is an unusual one but not unprecedented: Laura Bush gave a similar address in 2001 when she was first lady, denouncing the treatment of women in Afghanistan.
Mrs. Obama has also joined the president in a few radio addresses, but Saturday marked her first solo appearance.
In a photo seen around the world, the first lady posed Thursday with a hand-written sign reading #BringBackOurGirls.
'Our prayers are with the missing Nigerian girls and their families,' she wrote in a message that accompanied the picture.
The president said Wednesday night at a Los Angeles fundraiser for Democratic candidates that he was anguished over 'the murders and kidnappings in Nigeria.'
'Every day when I wake up, and I think about young girls in Nigeria or children caught up in the conflict in Syria . . . there are times in which I want to reach out and save those kids,' he told an audience of donors who paid tens of thousands of dollars to her him and late-night comic Conan O'Brien speak.
The leader of Boko Haram has threatened to sell the kidnapped girls into slavery, and is reportedly holding them prisoner in a giant Nigerian forest the size of West Virginia.
Nigerian military forces have refused to enter what locals call the 'evil forest' because of the high levels of terrorist activity there.
Not everyone has heaped praise on the first lady's push on Twitter to raise awareness about the girls.
'I would love to see the girls freed. I would love to see Boko Haram wiped out,' Fox News Radio's John Gibson said Friday.
'But for the life of me I cannot figure out how hashtagging helps,' he added.'
Except. To. Make. The. Hashtagger. Feel. Good. About. Himself.'
And conservative radio flamethrower Rush Limbaugh said Thursday that a Twitter campaign shows that the U.S. is too impotent to intervene.
'It's unbelievable ... what message does this send?' he asked on his daily broadcast.
'Is the United States really this powerless? And then if you answer yes, we are really this powerless, then isn't Obama to blame?'
http://www.dailymail.co.uk/news/article-2624714/Michelle-Obama-White-Houses-weekly-radio-address-demand-justice-Boko-Haram-kidnap-victims.html
---------------
Saudi Women Breach other Male Bastion - Become Liaison Officers
10 May, 2014
Several Saudi women have ventured into a new profession that has hitherto been exclusively male-dominated.
Many women have reportedly become paperwork agents, known in Arabic as "muaqqibeen."
These agents are tasked with pushing paperwork and applications through at bureaucratic government departments.
This is a relatively new field for women, thanks to a new economy and the rapid developments taking place within the Kingdom.
"The Ministry of Labor will not be able to bring down female unemployment rates unless new venues are opened up for women," said Reem Assad, an economist. "It is only a matter of time before Saudi women can prove themselves in any domain, and this profession is no exception," she explained.
"I call upon the media to support women and project their roles within society without making unseemly and provocative comments that denigrate women and disparage their capability at undertaking work in multiple fields," she said.
She added: "Saudi women are capable of working in tourism, translation, restaurants and other commercial services. In fact, women are no strangers to these occupations. They work in the contracting and real estate sectors without much ado."
Naimah Bougari, a teacher at King Abdulaziz University in Jeddah, said that working as liaison officers can be challenging since many government agencies do not have dedicated sections for women, meaning that women wouldn't even be able to enter these buildings.
Madawi Hassoun, a member of the Council for Arab Businesswomen, said it is high time women worked in this profession.
"There are three such offices in Jeddah for females," said Hassoun. "These offices have been met with resistance from some employees, but perseverance is the only way forward. There are no constraints for women undertaking this line of work from the Labor Ministry."
http://www.arabnews.com/news/568621
-------------
Saudi Women employees suffer in prevailing gender pay gap
10 May, 2014
Saudi women are more ambitious and career-oriented than their male counterparts, yet continue to lag behind in monetary benefits.
In recent years, the labor market has seen an increasing presence of women in various sectors. Studies show, that women in the 18-30 age group are more interested in finding high-paying jobs than men of the same age.
Over 70 percent of women are university graduates with a bachelor's degree and according to the Central department of Statistics and Information, 15-20 percent of employed women aspire to have a more successful career than their male peers.
Huda Farooqi, school director said "After Saudization stepped-in, Saudi women were found to be highly interested in joining the workforce. Moreover, one cannot overlook the fact that women are feeling more powerful and consequently more positive about the career possibilities they can pursue. However, we believe there is a huge gap in reparation."
The survey indicated that most full-time or salaried female employees earn monthly incomes ranging between SR5,000-SR9,000, which is about 20 percent less than their male counterparts.
A Saudi engineer, Saara Rahman, requested her company for a pay rise twice. But a few months later they denied her request giving a very weak official reason for their refusal. "The traditional conception is that a man is responsible for all outside expenses and a woman's responsibility is greater inside the house still persists in Saudi society which creates a negative impact on our personal and professional lives," she said. She added that they are trying their best to prove themselves in the labor market and are willing to work the same hours as the men, but they lack wage negotiation skills which is one of the reasons for the pay divide.
Several women claimed that the problem they face is to get recognized and be respected in the work place, which deters career advancement at senior levels. Women now want to learn and grow professionally and seek greater responsibility along with the capability to take risks.
Sadia Al-Wafee, a Saudi activist said that women in the public and private sector face greater complications sometimes in meeting their professional responsibilities due to the very reason the payment gap exists. "It is important for human resource managers to balance the professional and personal requirements of women through career counseling and assistance," she said.
Moreover, she added that among the major reasons for pay discrimination are social and cultural, where people do not see the input of women in the labor workforce on the same level as that of men.
http://www.arabnews.com/news/567491
-------------
Saudi Women Take To Martial Arts for Self-Defence
10 May, 2014
RIYADH — More than 140 Saudi women are taking Taekwondo lessons at a sports club in the capital so they can learn self-defense techniques and defend themselves against sexual harassers. The club's supervisor said women taking the lessons fall in the 16 to 35 age bracket. Hundreds of women have already taken the lessons and obtained certificates in the past three years, she said, adding that the certificates are attested by the Filipino Taekwondo Organization, which is an approved international organization in self-defense.
http://www.saudigazette.com.sa/index.cfm?method=home.regcon&contentid=20140510204633
-------------
Afghan Schoolgirls Condemn Boko Haram's Kidnappings in Nigeria
10 May, 2014
Afghan schoolgirls and activists rallied to demand the release of more than 270 kidnapped Nigerian girls, calling the militant group behind the abductions un-Islamic.
About 80 demonstrators, some carrying hand-written signs saying "No Extremism" and "No Conservatism," gathered in the capital of the mountainous province of Bamiyan, Pajhwok Afghan News reported.
Activist Ismail Zaki told Pajhwok that Boko Haram, the militant group behind the abductions, was un-Islamic and masquerading as a Muslim organization.
Islam gives girls the right to an education just like boys, so there was no justification for Boko Haram imposing any restrictions on them, protester Tayyeba Khawari told the news service.
The attack on Gamboru, in remote northeastern Nigeria near the border with Cameroon, is part of BoKo Haram's campaign of terror. The students are believed to be held by Boko Haram in the Sambisa Forest in northeastern Nigeria.
People around the world have been showing their support for the kidnapped girls by taking part in protests and joining online campaigns calling for their rescue.
First lady Michelle Obama and Pakistani schoolgirl, human rights activist Malala Yousafzai and actress Angelina Jolie are among those backing the campaign and have posted photos of themselves holding a sign reading "#BringBackOurGirls."
http://www.nbcnews.com/storyline/missing-nigeria-schoolgirls/afghan-schoolgirls-condemn-boko-harams-kidnappings-nigeria-n101106
-------------
Not Just Nigeria: Girls' Education Threatened Across the Globe
10 May, 2014
The simple act of educating girls has been under attack for years. And not just in Nigeria.
The kidnapping of nearly 300 Nigerian schoolgirls last month by Islamist militants has highlighted the troubling reality for young females daring to learn.
And as Western nations pledge to help find Nigeria's "lost girls," their plight is raising awareness that in several countries, young girls' education is in peril, according to a 2014 report from the Global Coalition to Protect Education from Attack.
"In my travels, I've found that many families want to send their daughters to the classroom," said Lisa Bender, an education specialist at UNICEF. "But they want to feel safe doing that."
Countries where girls' education is threatened share similar threads of violence, poverty and cultural oppression. Here are five countries where girls are fighting to overcome that:
Pakistan
Now 16, Malala Yousafzai was nearly killed when a Taliban gunman shot her after she boarded a school bus in 2009.
Despite the worldwide outcry — and Pakistani leaders pledging to support the right to an education — girls and their female teachers in the country continue to be targets of violence.
he Taliban still opposes any modern form of education for girls, said Mustafa Qadri, a Pakistan researcher for Amnesty International.
Girls are at a disadvantage, he said, because the country already spends so little on education, while females face cultural pressure to marry, have children and stay at home.
"Countless polls conducted across Pakistan from the lawless tribal areas to the urban heartlands in cities like Lahore indicate that the vast majority of parents want their girls and women to get an education and have full opportunities in the work place and public life," Qadri told NBC News. "It is up to the state to enforce the right to an education, protect students and educators from attacks, and bring those responsible for these attacks to justice."
But that won't be easy, Qadri added: "No government of Pakistan at the federal or provincial level has tackled this problem front on."
Afghanistan
Schools are not immune to the war-fueled violence that has gripped Afghanistan over the past decade. There were at least 1,110 documented attacks at schools — including arson, explosions and suicide bombings — from 2009 to 2012, according to the United Nations.
Motives for the school attacks have included opposition to "Western teachings," perceived affiliations with Western groups — and the education of girls.
In October 2010, at least eight children were killed when a girls' school bus exploded in the Nimruz province in southwestern Afghanistan.
Just 19 percent of schools in the country are girls only, but they have suffered 40 percent of all school attacks, UNICEF figures show. Acid and gas have also been used or threatened against girls and their teachers, and there are reports of well water being poisoned.
Although Afghanistan lags the most in the world in terms of gender education parity, significant strides have been made since the Taliban was ousted in December 2001. Some 3 million more girls are now going to school, UNICEF reported.
Educators "are bringing schools to communities so that girls don't have to travel quite so far and parents are comfortable with sending them to school," Bender said.
Somalia
Somalia's schoolchildren have been victims of suicide bombings on school grounds in recent years. Al-Shabaab, the al Qaeda affiliate that masterminded the attack on a Kenyan mall last September, has reportedly targeted schools that don't comply with a strict Islamic ideology.
"This violence and harassment has caused teachers to flee, hundreds of schools to close for varying lengths of time, and students, particularly girls, to drop out in large numbers," according to the Global Coalition report.
Human Rights Watch in 2012 reported evidence of girls being taken from schools and forced to become wives to al-Shabaab fighters.
At one school in 2011, "all the girls over age 15 ran away or dropped out," a teacher told the organization. "One-hundred fifty girls dropped out of school."
Mali
Poverty has been a major hindrance to education in this West African nation, where only about 56 percent of girls are enrolled in primary school — compared to 70 percent of boys.
Girls are under intense pressure to stay home to help with housework, according to UNICEF. Some are also expected to work as child laborers in the country's gold mines.
Conflict in northern Mali two years ago, however, has only worsened the education gap as hundreds of thousands of children have become refugees with limited access to schooling.
Syria
The civil war that broke out three years ago has disproportionately affected girls. Whereas before the strife, most girls were receiving an education, they've since dropped out in larger numbers, Bender said.
"As people's economic situations become more dire, the idea of marrying off children becomes more attractive," she added.
There are fewer physical places to learn since the fighting erupted. The United Nations found in April 2013 that an estimated 2,445 of the country's 22,000 schools were damaged or destroyed — and nearly 2,000 of the structures were converted from classrooms into shelters.
Violence has also frightened families to keep their children, particularly their daughters, at home.
"It's gotten much worse," Bender said.
http://www.nbcnews.com/storyline/missing-nigeria-schoolgirls/not-just-nigeria-girls-education-threatened-across-globe-n100646
-------------
Children displaced in Kenya's 2007 elections sell sex and live in tents – U.N.
10 May, 2014
NAIROBI (Thomson Reuters Foundation) – Children displaced in the violence that followed Kenya's 2007 elections are too poor to attend school and are turning to sex work to survive, a senior United Nations expert said this week.
Some children are living on the streets while others remain in battered tents issued to their families six years ago, United Nations Special Rapporteur on the human rights of internally displaced persons (IDPs), Chaloka Beyani said at a press conference at the end of a nine-day visit to Kenya.
More than 660,000 people were chased from their homes and 1,200 died in violence that erupted after Kenya's disputed 2007 elections, fuelled by historical grievances between ethnic communities.
Kenya's government has bought land to resettle some IDPs and given others cash. But the programme has been plagued by corruption and inefficiency.
"Many IDP [internally displaced] girls, for example … were being exploited sexually because they have no basic livelihood," Beyani told Thomson Reuters Foundation after the press conference.
"There is no space for them to farm at all. So they find their own livelihoods in terms of going into the town and doing what they have to do."
LOST GENERATION
Beyani visited three IDP sites around Gilgil, 120 km (80 miles) northwest of the capital, Nairobi, to see whether conditions had improved since his last visit in 2011.
"Basically, no improvement has been made," he said. "The IDPs still live in tattered camps without access to adequate food and services. They are cramped in the tents in which they live."
Children living in the camps and on the street are not going to school. While primary education is nominally free in Kenya, parents have to contribute to equipment, like desks and books, as well as paying for uniforms.
"Most IDP families can't afford that and that effectively bars their children from going to school," he said. "A whole generation is just lost in terms of their future and in terms of their education."
In addition, the schools were too far away for young children to walk to and the journey was impossible when it rained.
"It is important in the course of resettling IDPs to make sure that the land on which they are resettled is in close proximity to a school," said Nina Schrepfer, a legal adviser with the U.N.'s refugee agency who travelled with Beyani.
CORRUPTION
Beyani said the government's resettlement plan was flawed from the outset. It assumed that all of the displaced were farmers who needed land, while some were businesspeople or town dwellers.
In addition, land is expensive and scarce in Kenya and transactions are often tainted by corruption. There have been reports of corruption around the process of buying land for IDPs and of payments being made to 'fake' IDPs.
"The methodology that was adopted throughout missed the point," Beyani said. "What should have been done would have been to profile to the specific needs of IDPs… consult with them, let them participate in the decisions."
Beyani met around 150 IDPs who had returned to Mawingu, one of the main camps in the area, because they could not farm or find work at the resettlement site that the government had taken them to.
In another site, around 200 elderly IDPs had clubbed together to buy land but there is a legal dispute over its ownership.
"They live in tents," said Beyani. "There was an attempt by some civil society organisations to build houses for them but that project was stopped because the owner of the land went to court to issue a restraining order."
He said the government should carry out a verification exercise to know how many IDPs there are in Kenya. Compensation was paid to many of the IDPs living in camps, but those who sought refuge elsewhere, such as with relatives, were not registered and missed out.
Displacement is a recurrent problem in Kenya, caused by political violence, inter-ethnic clashes, evictions and natural disasters.
http://www.trust.org/item/20140509132107-ixjl8/?source=jtOtherNews2
------------
The Pakistani Refugee Woman in Sri Lanka 'With a Price on Her Head'
10 May, 2014
As the recent abduction of nearly 300 Nigerian girls by terror group Boko Haram sheds light on the dramatic situation of women's rights in many countries, IBTimes UK has decided to tell the story of Sadia Khan, a Pakistani refugee in Sri Lanka, who fears she might be killed by Pakistani authorities.
"People think that in Pakistan crimes are committed only by the Taliban," the young activist told IBTimesUK.
Khan, 29, comes from a Christian Pashtun family in Baluchistan, Pakistan.
She has always been interested in human rights and, at a very early age, she started writing about abuses occurring in her country – carried out by fundamentalists and members of the government – with the hope that her words could pave the way to social justice.
Her blog, however, was soon noticed by the ISI (Inter-Services Intelligence in Pakistan), who she claims tried to quell her voice.
"I was writing a book about the Pakistani ISI.
"There was an army operation going on in the country: The army would kill those who were against Taliban.
"Somebody started following me, as soon as they knew I was writing the book."
Fearing for her life due to her investigative work, Khan, along with her 10-year-old sister Amala and their mother, say they fled to Sri Lanka in January 2012.
Khan kept publishing blog posts under the fake name of Khizra Khan Yousafzai.
The three women applied with the UN High Commissioner for Refugees UNHCR to be recognised as asylum seekers in Sri Lanka, but their request was rejected.
Khan was accused of being a spy for India by the Sri Lankan government, who confiscated the three women's documents and took them to a detention camp, where they stayed for one month.
During the detention, Khan suffered a minor heart attack.The three women fled the detention centre on 8 April 2013.
Khan started contacting journalists, asking them to write about her situation.
The Colombo Gazzette and the Cristian Post were the only publications that reported her story.
The Sri Lankan UNHCR eventually approved Khan and her family's asylum requests in November 2013, thanks to newly arrived senior RSD officer (Refugee Status Determination) Ilija Todorovic. Later, another "very helpful" resettlement officer Joseph Carroll joined UNHCR Colombo.
"If those two guys were not here, I would be dead," Khan said. "They are the decision makers, but none from the other staff helped me. UNHCR local staff is working for their own government.
"For one long year they refused to talk to me. They literally ruined my life."
Khan says the Sri Lankan government is still in possession of the three women's passports, stopping them from leaving the country.
"Sri lanka is playing games, they are not holding any meeting with them [Todorovic and Carroll], they are holding our passports because they want to take me to the detention centre," Khan said.
Carroll confirmed to IBTimesUK that Khan's family has been granted refugee status in Sri Lanka.
Living as refugees
"We now live separate from our mother," Khan said.
The two sisters keep moving from house to house as soon as the landlords ask for their documents.
Amala, Sadia's sister, celebrating as UNHCR grants them refugee status in Sri Lanka. Sadia Khan's blog
"We come up with an excuse that we are going to my aunt, for example, and we leave.
"We live in fear. When we go out, I wear a burqa with a fully covered face and my sister is disguised as a boy."
The two sisters have written about their precarious situation on blogs and social media. They also have aGoogle+ page and a YouTube channel and a petition on change.org
In one video posted on YouTube, Khan is shown cutting herself in protest at her situation. Although her face is visible, she does not fear she will be recognised.
"Even at home I show very little part of my face, there is no way someone can recognise me from the video."
After more than two years living in hiding, and constantly fearing for her life, Khan's anger towards the Sri Lankan government is growing. But she is very determined to have her rights recognised.
"Please write my story," she said. "This will bring shame to the Sri Lanka government and will help me to leave this country, that's all I want." (Courtesy ibtimes.co.uk)
http://colombogazette.com/2014/05/10/the-pakistani-woman-with-a-price-on-her-head/
-------------
Over 50,000 beta thalassaemia kids in Pakistan
10 May, 2014
LAHORE: Thalassaemia Federation of Pakistan (TFP) secretary-general Prof Dr Yasmin Rashid has said the Beta Thalassaemia is the most common inherited disorders in Pakistan with a prevalence rate of six per cent.
"This translates that six out of every 100 Pakistanis carry this mutant gene", Dr Yasmin said while talking to reporters at the Lahore Press Club on Thursday.
Like other parts of the country, the International Thalassaemia Day was observed in the provincial capital on Thursday.
The teaching institutions, NGOs and medical experts organized programmes, ceremonies, walks and other activities to sensitize public that preventive measures were the only solution to avoid the fatal disease.
Prof Yasmin said: "May 8 is a reminder that we owe a responsibility to look after the children suffering from this genetic disorder and to prevent the disease from occurring in our future generation."
With a population of 180 million, around 11 million people are healthy carriers of this gene and when two carriers marry each other there is 25pc chance of giving birth to a child having affected with thalassaemia in each pregnancy.
She said that there were over 50,000 beta thalassaemia children in Pakistan, who required regular monthly blood transfusions and chelation therapy to withdraw the excess iron from their bodies.
"At least 44 thalassaemia associations of Pakistan have joined hands and formed the Thalassaemia Federation of Pakistan (TFP)", Prof Yasmin said.
The purpose of establishing the TFP is to support various associations nationwide which work for the cause of treatment and prevention of thalassaemia. The TFP provides a platform that unites associations to work for free exchange of information and share experiences which helps in forming a collective forum against thalassaemia. The TFP achievements include the development of treatment and prevention protocols of thalassaemia in Pakistan.
She said the treatment of thalassaemia was expensive and the government did not give due importance to the disease.
Many thalassaemia patients often die without diagnosis while those diagnosed find it hard to get adequate treatment. One of the ways to reduce the massive socio-economic burden is to prevent the birth of affected children. So far the burden of treatment and prevention of thalassameia has mainly been borne by NGOs.
Recently, the Punjab government has initiated the Punjab Thalassaemia Prevention Programme which is an important first step towards the prevention of disease in the province, she said.
Prof Yasim said the TFP urged provincial governments to provide free treatment and prevention services to thalassaemia patients.
The prevention programmes should constitute a number of initiatives starting from creating mass awareness about thalassaemia.
Secondly, there should be a target screening of carriers -- the relatives of any family having a thalassaemia affected child should be screened extensively to identify carriers particularly in those of reproductive age.
At least 30pc of carriers can be identified through this procedure which is cost-effective as well. Once these families have been screened, they should be given genetic counseling about the condition, how it is transmitted from one generation to another and what are prevention options available to risk couples.
Finally, the risk couples should be provided with the facility of prenatal diagnosis so as to prevent the birth of affected children.
Such prevention programmes are actively being followed by countries like Cyprus and Iran which have resulted either in complete control of thalassaemia or significant reduction in the disease, Prof Yasmin said.
Meanwhile, an awareness walk was held on the campus of the Government College University, Lahore, under the auspices of its Blood Donation Society (BDS) to mark the International Thalassaemia Day.
Vice-Chancellor Prof Dr Muhammad Khaleequr Rahman led the walk while eminent columnist Munir Ahmed Qureshi (Munno Bhai), chief proctor Saqib Iqbal, Director Facility Yousuf Bashir, BDS Adviser Dr Babar Naseem Aasi, a large number of faculty members and students also participated in it.
The students carried banners and placards inscribed with slogans regarding thalassaemia awareness.
Prof Rahman called upon students to go door-to-door and make aware every member of society about thalassaemia.
Munno Bhai said in his address: "Prevention is better than cure, so every member of society must be screened by a simple blood test before marriage."
"Our neighbour country, Iran, has defeated this disease through legislation and Pakistani lawmakers should also keep Iranian model in mind to weed out thalassaemia," he said.
Prof Yasmin said the only way to reduce this massive socio-economic burden was to prevent the birth of affected children by diagnosing an affected fetus genetically as early as in 11 weeks of pregnancy. She said the prenatal diagnosis for Beta Thalassaemia was introduced in Pakistan with a first test on May 1, 1994. In the last 20 years, according to the available statistics, she said, only 10,000 couples had availed this facility. "Ideally, if we really want to prevent Beta Thalassaemia in Pakistan, this facility should be offered to 20,000 couples a year," she stressed.
http://www.dawn.com/news/1105147/over-50000-beta-thalassaemia-kids-in-pakistan
-------------
New primary schools in KP to have six rooms, six teachers
10 May, 2014
PESHAWAR: The Pakistan Tehreek-i-Insaf-led Khyber Pakhtunkhwa government has decided to triple the budget for construction of each new government primary school in the province from the next financial year, according to officials in the education department.
They said that under the previous government Rs4 million was allocated for the construction of each new government primary school while the current provincial government had decided to increase the amount to Rs12 million. They said that the decision would be implemented from fiscal 2014-15.
The officials said that with the three-time increase in the budget, the Khyber Pakhtunkhwa government would construct new primary schools having six rooms. They said that it was a major policy change as earlier two-room primary schools were constructed by the successive governments and those schools had been provided only two teachers for six classes.
Under the old policy, the construction of two rooms and appointment of two teachers for six classes from grade-1 to 6 was illogical, the officials said, adding that it was not possible to accommodate six classes in two rooms and students would face multiple problems, affecting the academic environment.
The officials said that in the two-room schools the students of different classes had been sharing a single room while a single teacher was bound to teach to two or three classes.
"After the coming budget every new primary school will have six rooms and as many teachers," additional secretary Elementary and Secondary Education Qaiser Alam Khan said, when contacted. He said that the education department had also planned to construct required rooms in the primary schools in different phases.
He said that with the provision of shelter to the students in government schools the enrolment would definitely increase. The additional secretary hoped that the dropout rate would decrease and retention rate of students would increase with provision of a separate room for each class.
He said that the chief minister had already approved the PC-1 for the construction of 100 primary schools for boys and girls with six rooms and six teachers.
A planner in the education department told Dawn that the whole process from approval to completion of construction work on each primary school with six rooms and making it functional would also be accelerated and it would now take two years. He said that the same process for making the two-room schools functional would take three years till now.
The remaining required rooms were constructed gradually in the old two-room primary schools. However, sources said that the follow-up work was usually slow and done in most of the cases even decades later. They said that due to the slow work and meagre financial resources, half of the primary schools still had two rooms.
Of total 23,073 primary schools in Khyber Pakhtunkhwa only 1,175 including 413 for girls, have six rooms, according to official data of the education department, while 10,318 schools, including 4,440 for girls, are functioning in two-room setup.
Similarly, there are 255 single-room primary schools, including 155 for boys and 100 for girls. The data reveal that 3,030 primary schools have three rooms.
According to the data, there are 2,446 four-room primary schools in the province, including 1,526 for boys and 920 for girls, while 1,259 primary schools, including 474 for girls, have five rooms.
http://www.dawn.com/news/1105408/new-primary-schools-in-kp-to-have-six-rooms-six-teachers
-------------
URL:
https://newageislam.com/islam-women-feminism/brave-schoolgirls-escaped-muslim-terrorist/d/76962