New Age Islam News Bureau
4 Jun 2020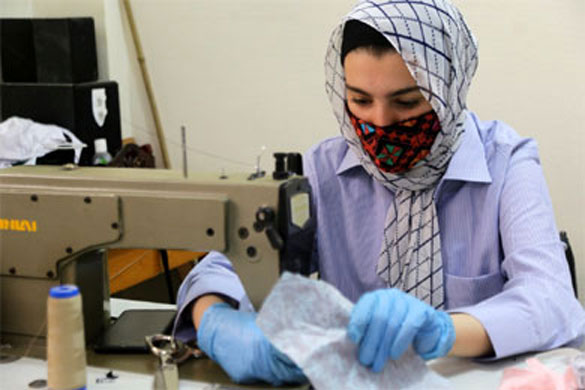 Egypt's Bedouin textile tradition of tatriz -- weaving and beading rich geometric and abstract designs on garments, cushions and purses -- has been passed down from generation to generation - El Fayrouz For Environmental & Social & Economic Services Association/AFP
-----
• Boosting Females' Rights: In First, Kuwait To Get Women Judges Soon
• Women in Egypt's Restive Sinai Makes Bedouin Face Masks
• Northeast Syrian Women to Participate in Meetings on Tribal Matters
• Nigerian Muslim Women Told to Stay Home as Govt Reopens Mosques
• Standing with Pacific women during COVID-19
• Women at Lower Risk for Cardiovascular Disease Than Men
• Sudanese Women Seek Justice One Year After Pro-Democracy Crackdown
• Women Leaders in The Energy Sector Increased In 2019 But More Work Must Be Done
• Islamic Group Asks Police to Fish Out Killers of Young Lady Raped and Stabbed to Death in Ibadan
Compiled by New Age Islam News Bureau
URL: https://www.newageislam.com/islam-women-feminism/boosting-females-rights-first-kuwait/d/122033
-------
Boosting Females' Rights: In First, Kuwait To Get Women Judges Soon
June 03, 2020
Ramadan Al Sherbini
Cairo: Kuwait will have its first women judges in a few months, boosting females' rights in a country where women have already established themselves in other fields once preserved for males including the parliament.
Three women will be among a total of 40 prosecutors to be appointed as judges, Kuwaiti newspaper Al Qabas has reported, quoting a well-informed source.
"The appointment decision will be officially endorsed in August. The women judges will start their work in the justice system and issue verdicts early next year," the source added.
"They have participated in investigating all types of criminal cases and attended international conferences. They have played a prominent role," the unidentified source added.
https://gulfnews.com/world/gulf/kuwait/in-first-kuwait-to-get-women-judges-soon-1.1591184302206
-----
Women in Egypt's restive Sinai makes Bedouin face masks
June 04, 2020
CAIRO: In El-Arish, the provincial capital of Egypt's North Sinai, a group of women sew colourful Bedouin designs on masks to combat coronavirus, as an insurgency simmers in their restive region.
Egypt's toll from the COVID-19 pandemic has reached over 28,600 cases, including more than 1,000 deaths, while North Sinai itself remains the bloody scene of a long-running Islamist insurgency.
"I learnt how to embroider when I was a young girl watching my mother," homemaker Naglaa Mohammed, 36, told AFP on a landline from El-Arish, as mobile phone links are often disrupted.
Bedouins are nomadic tribes who traditionally inhabit desert areas throughout the Arab world, from North Africa to Iraq. Many have now integrated into a more urban lifestyle.
Egypt's Bedouin textile tradition of tatriz – weaving and beading rich geometric and abstract designs on garments, cushions and purses – has been passed down from generation to generation for centuries.
It has survived in the Sinai Peninsula, whose north has been plagued by years of militant activity and terror attacks spearheaded by a local affiliate of the Islamic State (IS) group.
Security forces have been locked in a battle to quell an insurgency in the Sinai that intensified after the military's 2013 ouster of Islamist president Mohamed Morsi.
Around 970 suspected militants have since been killed in the region along with dozens of security personnel, according to official figures.
But for Amany Gharib, who founded the El-Fayrouz Association in El-Arish in 2010, the violence has not dissuaded her from keeping Bedouin heritage alive while at the same time empowering local women.
"The masks are composed of two layers – one inner layer directly on the face which is disinfected, and the colourful, beaded one outside," Gharib explained to AFP.
The finished products are washed, packed and shipped off to distribution centres in Cairo, where they are sold online in partnership with Jumia – Africa's e-commerce giant – for about 40 pounds ($2.50) each.
"We work and are given our dues depending on the orders we get... with the masks it has been a new challenge we've tackled," she said.
The region witnessed the deadliest terror attack in Egypt's modern history when militants killed more than 300 worshippers in a mosque in November 2017.
Gharib said that in North Sinai's tight-knit community, each family knew someone who had been killed in an attack.
https://www.arabnews.com/node/1684691/lifestyle
-------
Northeast Syrian women to participate in meetings on tribal matters
Jun 3, 2020
Women in northeast Syria are now allowed to participate in social meetings pertaining to political and tribal matters.
One female Syriac Christian official in the Autonomous Administration of North and East Syria that governs the area welcomed the new move, saying it counters centuries of women being sidelined in the region.
"In the Middle East, women are only at home and men have bigger roles," Elizabeth Gawryie, a deputy of the administration's Executive Council, told Al-Monitor. "But women must have equality and rights."
Last week, Syrian Kurdish leader Ilham Ahmed tweeted that women would be allowed to participate in the meetings known as "al-madhafah." Ahmed is the president of the Executive Committee in the Syrian Democratic Council. The council is the political wing of the Syrian Democratic Forces (SDF), a US-backed group that controls the statelet in northeast Syria. The forces are led by Kurds, but include an array of Christian and Arab groups as well.
The gatherings Ahmed spoke about are of local male leaders who discuss political matters. Parts of northeast Syria have prominent tribes who wield significant influence over the community. Their role is important in northeast Syria because the SDF often negotiates with the tribes, which are politically divided.
Some women in northeast Syria feel empowered by the news. Gawryie said she is optimistic women will have a greater say in political matters now. "Our goal is for women to be participants, especially in politics," she added.
Women already have relative freedom in northeast Syria, according to Gawryie. She pointed to the role of women in Syriac military groups, for example. (The Syrian government only requires men to serve in the military and Syrian rebel groups consist solely of male fighters.)
Northeast Syria has a degree of equality in general already, she said, also noting the availability of education in Kurdish, Arabic and Syriac — a form of Aramaic spoken by Christians.
"We — along with Kurds and Arabs — have built an administration with general rights for society," Gawryie said. "There are equal rights and duties. There are rights for Arabic, Kurdish and Syriac languages."
Women Defend Rojava is a campaign that supports women in northeast Syria, which the Kurds refer to as Rojava. Stera Abdo, spokeswoman for the movement, agreed with Gawryie that women already have a say in politics in northeast Syria. Many institutions in northeast Syria have dual leaders allowing for a man and a woman to lead them. There is also a 40% gender quota for all institutions and organizations in the autonomous administration, she told Al-Monitor.
Women were already discussing politics with tribes, making their formal participation in al-madhafah meetings a logical development, according to Abdo. "We can imagine that the thinking of the tribes is slowly changing. The tribal leaders are already sitting around a table with female politicians and discussing, so it is just another step that women from the tribes get involved."
There are some issues facing women in northeast Syria inside and out of SDF territory. Last year, Human Rights Watch reported that Islamic State-affiliated women cannot leave the SDF-controlled al-Hol camp except for emergencies. The SDF fears residents could rebel in the camp, and many are still loyal to IS. The SDF has repeatedly called on countries to take back their citizens there.
Recently, there have been several kidnappings of women in Afrin, which Turkish-backed Syrian rebel groups took from the SDF in 2018. In a discussion with reporters last week, Ahmed also said that the Syrian Democratic Council is aware of the issue of abuse of women during the coronavirus lockdown in northeast Syria. "In the context of the coronavirus, we are trying to engage in a research effort on the implications for women during the pandemic regarding violence against women," she noted.
The council is working to help people speak out on the topic, according to Ahmed. "In Middle Eastern society in general, people are less likely to talk," she added. "I can say people have opened up who wouldn't have previously."
https://www.al-monitor.com/pulse/originals/2020/06/women-participate-meetings-tribal-politics-northeast-syria.html
-------
Nigerian Muslim Women Told to Stay Home as Govt Reopens Mosques
June 4, 2020
By Abdulrazaq Adebayo
Kwara State government has given conditions to reopen worship centres from Friday, June 5.
Mr Kayode Alabi, the Deputy Governor and Chairman of the Technical Committee on COVID-19, while briefing newsmen in Ilorin on Wednesday, said worship centers will reopen if they satisfy certain criteria already agreed with various religious bodies in the State.
The decision was made after the Kwara State Technical Committee on COVID-19 meeting with the leadership of the Muslim and Christian communities, including the Jama'atu Nasrul Islam (JNI) and the Christian Association of Nigeria (CAN).
"We are definitely not out of the woods as COVID-19 cases continue to rise, especially because of violation of travel restrictions.
"The meeting with religious leaders centered around whether or not to reopen the worship centres across the state, as suggested by the Federal Government.
"However, in line with the presidential advisory and the positions of our religious umbrella bodies in the state, worship centres may reopen from June 5, provided they satisfy the following conditions:
"Worship centres shall be organised by the respective head of the congregation in such a way that one attendant is at least one metre away from the next.
The government said if worship centers reopen, children and people above 65 or persons with underlying health conditions should stay away.
"Muslims should perform ablution from their own houses. Ablution spots are not allowed for now to avoid the spread of the virus.
"Each worship centre must dedicate a few minutes before service or prayers to educate attendants about COVID-19 and its dangers," the deputy governor added.
He added that the government's Rapid Response Team (RRT) shall conduct random visits to worship centres to take samples and do temperature checks.
According to the deputy governor, the religious leaders shall be held responsible for non compliance with all COVID-19-related safety measures in their worship centres.
He stressed that all the conditions were agreed to by the religious bodies, adding that any worship centre which violated the conditions would be shut down.
https://dailypost.ng/2020/06/04/covid-19-muslim-women-told-to-stay-home-as-govt-reopens-mosques/
------
Standing with Pacific women during COVID-19
4 Jun 2020
Together with Samoan Deputy Prime Minister, the Hon Fiame Naomi Mata'afa, we convened a region-wide meeting of Pacific Women Leaders to discuss the impact of COVID-19 on women's health, economic security and personal safety.
The Pacific Women Leaders agreed to continue to work together to explore new ways to enhance the well-being of women and girls, including through social and development measures.
The inaugural virtual gathering considered the needs of women and girls in government and community responses to the pandemic. The meeting of 30 Pacific women ministers, parliamentarians and senior civil servants from 18 countries affirmed our commitment to:
Address critical needs for women health care workers' to access necessary resources, such as childcare, in order to carry out vital work safely
Encourage measures and policies to promote gender equality, which have become more critical as the pandemic heightens the risk of violence against women and children
Ensure recognition of the vital role women must play in the economic recovery of the region
Pacific women must lead in the region's response to COVID-19 to ensure the interests of women and girls are at the forefront of government responses.
Australia's COVID-19 Response and Recovery package includes a focus on the most vulnerable, particularly women and girls, with an additional $16 million to address the differential impact of COVID-19 in the community. This builds on the Australian Government's existing programs to support gender equality and empower women and girls in the Indo-Pacific region.
https://reliefweb.int/report/world/standing-pacific-women-during-covid-19
-----
Women at lower risk for cardiovascular disease than men
3-JUN-2020
Women's risk of falling ill with cardiovascular disease, and dying from it, is lower than that of men of the same age, irrespective of where in the world they live. This is shown by a study of, in total, more than 160,000 men and women in 27 countries. Scientists at the University of Gothenburg, Sweden, are among those presenting the results.
Now published in The Lancet, the Prospective Urban Rural Epidemiological (PURE) study is the first worldwide to have documented differences between women and men in risk factors, treatment, proportions affected by heart attack (recurrent myocardial infarction, MI) and stroke, and the outcomes for those affected. The participants were monitored for more than 10 years.
One co-author of the study is Annika Rosengren, Professor of Medicine at Sahlgrenska Academy, University of Gothenburg. Sweden is the only country im Northern or Western Europe to be included Just over 4,000 of the participants come from Gothenburg and Skaraborg.
The results show that women had a more favorable risk pattern. Above all, fewer smoked; but the women also had lower blood pressure and healthier blood fat levels. Compared with men, women in good health with no history of cardiovascular disease, CVD, had a higher propensity to take preventive medication, have well-controlled blood pressure, and avoid smoking.
Concern is often expressed that women with CVD are given less intensive treatment than men. If this is true, it might have a negative influence. However, the researchers behind the present study think it is not a matter of discrimination.
"Our interpretation is that there doesn't seem to be discrimination against women. Rather, women have less marked changes in the coronary arteries, which means they don't need such intensive treatment," Rosengren says.
The study shows that men with, for example, myocardial infarction, MI, received invasive treatment, such as balloon dilation (coronary angioplasty) or coronary bypass surgery, more often than women. Despite this, women had less risk of a new MI.
The main difference in prognosis after MI is, instead, between poor and rich nations. In low-income countries like Bangladesh, India and Pakistan, roughly 40 percent of men and women alike die within 30 days after MI or stroke, while the corresponding proportion for high-income countries like Sweden and Canada is below 10 percent.
The PURE study comprises participants from Argentina, Bangladesh, Brazil, Canada, Chile, Colombia, Ecuador, Philippines, United Arab Emirates, India, Iran, Kazakhstan, China, Kyrgyzstan, Malaysia, Pakistan, Palestine, Peru, Poland, Russia, Saudi Arabia, South Africa, Sweden, Tanzania, Turkey, Uruguay and Zimbabwe. The study is led from Canada.
https://www.eurekalert.org/pub_releases/2020-06/uog-wal060320.php
-----
Sudanese women seek justice one year after pro-democracy crackdown
June 03, 2020
Sudan's women were at the center of their country's pro-democracy movement last year that resulted in the ouster of longtime leader Omar al-Bashir. They were also the target on June 3, 2019, when Sudanese security forces raided a protest camp of pro-democracy activists who were pushing to move their country away from military rule.
Now, a year on, many are concerned that those responsible for the attack are not being held accountable. Sudan's Prime Minister Abdalla Hamdok pledged justice on Wednesday. Hamdok, an economist and former senior United Nations official, leads a transitional government and named a commission in October to investigate the raid.
"I assure you all that achieving comprehensive justice and retribution for the souls of our hero martyrs ... and for the wounded and missing is an inevitable and irreversible step," Hamdok said in a televised speech. "We are awaiting the completion of the independent investigation committee's work, which will be followed by referring all those found guilty of participating in the massacre that dispersed the sit-in to fair and public trials."
Sulima Ishaq Sharif is a psychologist in Khartoum and has been part of the protest movement in Sudan. She's also a psychologist specializing in trauma and has been working with rape victims. She spoke to The World's host Marco Werman about the concerns a year later.
Sulima Ishaq Sharif: It means a lot, actually. It's reliving the trauma, but actually reminding us how we beat the people who want to traumatize this revolution and they want to traumatize the victory we got.
Yes. They were there since the night before. So, on that day, we were preparing for Eid. And it was raining. And we were just preparing for Eid. People are doing the cookies for the aid baking because they're celebrating the end of Ramadan. At dawn, they started the attack. And we saw the military vehicles, and we saw the people who were dressed in different costumes and uniforms. You cannot even identify if it is police or just [Raid Support Forces, a government-operated paramilitary group] or just military or other soldiers.
And they sat down, did the whole sit-in area and afterward, people start running because bullets are everywhere and they are beating everybody brutally at the exit area. When you tried to exit a place, they will beat you up. And sometimes, they run after you even if you went to the hospital.
Suffice it to say, it was a nightmarish day a year ago. And since then, you've been working with many of the women who were assaulted. What has been the impact of that day on them and on others?
It's very hard for them. They were not able to testify. They don't want to talk because of the stigma, because of other things. And because most of the girls and the women have been raped, their families have no idea what happened to them.
I think actually because of the new position I got, because now I'm heading the combating violence against women initiative at the ministry, I know what the system lacks. I know what protection meant to us and for women because we don't even have a law to protect women and girls.
We have a very complicated case now. And what happened in the dispersal of the sit-in, it happened in a lot of villages in Darfur. We have also to understand that people's pain to look for a comprehensive way of providing justice.
Well, your movement managed to get the ouster of longtime ruler Omar al-Bashir. You and tens of thousands of others were protesting for months. Then you had this transitional military council and then this attack on the camp happened. So, the transitional government is still there, some civilians on, but members of the military are heavily represented. How confident are you that Sudan will actually get to full civilian rule?
I think we have to secure this partnership in a more mature way because they know they will lose even if they use brutality or weapons. Nobody will listen to them anymore. And nobody would want the military government. The power of the streets is very strong. I don't think they want to do that again.
Every morning, the editorial team at public radio's international news show The World meets to plan what they'll cover that day. Want to see what's on deck?
Sign up for our daily newsletter TOP OF THE WORLD and get the big stories we're tracking delivered to your inbox every weekday morning.
https://www.pri.org/stories/2020-06-03/sudanese-women-seek-justice-one-year-after-pro-democracy-crackdown
-----
Women leaders in the energy sector increased in 2019 but more work must be done
6.3.20
Advocacy group POWERful Women, in partnership with PwC, this week published the latest 'state of the nation' report on gender balance in the UK energy industry.
The 2020 annual board statistics show progress in the number of women occupying board and executive board seats – now 21% and 13% – representing a noticeable shift from last year and progress towards POWERful Women's target of 30% women occupying executive board roles by 2030.
However, the numbers show that faster progress is needed and that the number of all-male boards in the UK energy sector remains disappointing.
This year's analysis by PwC for POWERful Women looked at the top 80 companies in the UK energy sector, focusing on the most significant employers.
In response to the lack of women at the top of the UK energy sector, in 2018, POWERful Women launched the Energy Leaders Coalition (ELC), a group of CEOs committed to increasing gender diversity and inclusion within organizations globally.
Additionally, an International Renewable Energy Agency (IRENA) January 2020 brief showed that opportunities exist to improve gender balance, make greater use of women's skills and make renewables inclusive. The IRENA brief entitled, Wind Energy: A Gender Perspective, focused on the presence of women across the wind energy value chain.
In 2019, POWERGEN International awarded five women with Excellence in Character Awards. The nominees, Linette Casey, Sue Kelly, Jennifer Fernandez, Ann Robertson-Tait and Andrea Lucan, were nominated due to their traits of initiative, integrity and collaboration.
Ruth Cairnie, Chair of POWERful Women, said, "This year we have seen the most progress since we started compiling board statistics five years ago. The increase in the number of women in executive director positions is particularly noteworthy.
"Special attention is needed with all the COVID-19 disruption to ensure that we don't fall back on old habits and lose the progress that has been made – especially in building a strong pipeline of female talent for senior leaders who will tackle the energy challenges that lie ahead."
Steve Jennings, Energy and Utilities Lead, PwC, commented, "The progress being made by energy companies to improve gender balance on their boards is to be welcomed, but the pace of improvement makes it clear that there is a long journey ahead of us if 2030 targets are to be met.
"As the sector moves through the energy transition and adapts plans for a world disrupted by COVID-19, Boards will want to act on the advice of POWERful Women, who have been tirelessly campaigning for improvements to the balance of diversity."
Also, Andrea Lucan, Akin Gump Strauss Hauer & Feld LLP, global project development and finance, and winner of Excellence in Character Awards states, "I consciously work to support and develop the women associates at my firm, particularly ensuring they get the same business development opportunities as their male counterparts."
https://www.power-eng.com/2020/06/03/women-leaders-in-the-energy-sector-increased-in-2019-but-more-work-must-be-done/#gref
------
Islamic Group Asks Police To Fish Out Killers Of Young Lady Raped And Stabbed To Death In Ibadan
JUN 03, 2020
Director of Muslim Rights Concern, Prof Ishaq Akintola, has called on security agencies in Nigeria to fish out the killers of Miss Bello Barakat, a student of Institute of Agriculture, Research and Training, Ibadan, Oyo State.
Akintola, who spoke with SaharaReporters on Wednesday while reacting to the rape and killing of the young lady, called on the police and other security agencies to bring the perpetrators to justice.
He said, "We condemn violence against women because they are our mothers, sisters and daughters. We call on the security agencies to take necessary steps and leave no stone unturned in finding the killers of Barakat.
"Islam condemns taking of human lives. Human lives in Islam is very sacred, let alone when you now attack a woman for sexual purpose and you rape her and then kill her violently."
He said the group would be monitoring the situation closely until the perpetrators are brought to book, adding that the killers deserve no mercy.
When SaharaReporters reached out to spokesperson for the Oyo State Police Command, Mr Gbenga Fadeyi, for reaction, he said the command would issue a statement regarding the incident.
He said the matter was formally brought to the notice of the police and they needed to investigate how it happened.
http://saharareporters.com/2020/06/03/islamic-group-asks-police-fish-out-killers-young-lady-raped-and-stabbed-death-ibadan
-----
URL: https://www.newageislam.com/islam-women-feminism/boosting-females-rights-first-kuwait/d/122033
New Age Islam, Islam Online, Islamic Website, African Muslim News, Arab World News, South Asia News, Indian Muslim News, World Muslim News, Women in Islam, Islamic Feminism, Arab Women, Women In Arab, Islamophobia in America, Muslim Women in West, Islam Women and Feminism