New Age Islam News Bureau
4 Aug 2018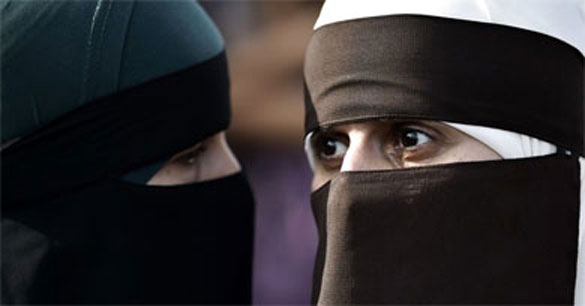 Wearing a niqab in public in Denmark carries a fine of €134
A 28-year-old woman has become the first person in Denmark to be fined for wearing a Niqab.
------
• First Woman Fined In Denmark for Wearing Full-Face Veil
• Women Turnout in Elections Was an Achievement, But More Needs Doing
• Youngest Woman Jailed In UK for Terrorism
• Saudi Women's Team Sweeps First Prize Of $266,000 in Hajj Hackathon
• Hundreds of Pregnant Women Risk Death in Yemen: U.N
• Bibi Maryam Bakhtiari, the First Iranian Female Military Commander
Compiled by New Age Islam News Bureau
URL: https://www.newageislam.com/islam-women-feminism/bombay-high-court-reunites-hindu/d/116039
--------
Bombay High Court Reunites Hindu Girl with Muslim Family That Brought Her Up
Aug 04, 2018
The Bombay high court recently reunited a 14-year-old Hindu girl with the four-member Muslim family that brought her up ever since her biological mother abandoned her.
Justice Gautam Patel ignored the biological mother's plea for her custody primarily on the ground that the woman was involved in some immoral activity. The girl was handed over the foster family on July 24.
The Muslim family approached the high court, seeking guardianship of the girl. They contended that she had been living with them and has been taken care of as a family member since her biological mother abandoned her and moved to Kanpur.
They complained that the biological mother returned to Mumbai and demanded the girl's custody. They said the biological mother and one of her male friends had forcibly taken away the girl. The girl was brought back only after the petitioners approached the Child Welfare Committee. She was sent to a children's home at Umarkhadi in south Mumbai.
Noticing that the girl had to unnecessarily spend two months at the children's home, Justice Patel on July 4 sent her to the residence of an advocate, who was willing to accommodate her and provide for her daily requirements for the time being.
On July 24, the judge again interviewed the teenager and reunited her with her foster family after noticing that she desperately wanted to go back to "the only family that she has known almost since birth".
"She emphatically said she did not want to go anywhere except to the Petitioners' family and home," said Justice Patel.
"She is a young but articulate and intelligent. She is determined and knows where her own interests lie. Her own wishes, given her age, cannot be ignored," the judge said.
The court also directed the in-charge of the Tardeo police station "to periodically monitor the situation and ensure that there is no untoward incident". The guardianship petition filed by the Muslim family is now posted for further hearing on August 13.
https://www.hindustantimes.com/mumbai-news/bombay-high-court-reunites-hindu-girl-with-muslim-family-that-brought-her-up/story-a5z1QswfQWNY04cCVsPDGP.html
--------
First Woman Fined In Denmark for Wearing Full-Face Veil
AUGUST 4, 2018
A 28-year-old woman wearing a niqab on Friday became the first person in Denmark to be fined for violating a new controversial law banning full-face Islamic veils in public places, media reported.
Police were called to a shopping centre in Horsholm, in the northeastern region of Nordsjaelland, where the woman had become involved in a scuffle with another woman who had tried to tear her niqab off, police duty officer David Borchersen told the Ritzau news agency.
"During the fight her niqab came off, but by the time we arrived she had put it back on again," Borchersen said.
Police took a photograph of the woman wearing the niqab, and obtained security camera footage from the shopping centre of the incident.
The woman was informed she would receive a fine of 1,000 kroner ($156, 134 euros) in the post, and was told to either remove her veil or leave the public space.
"She chose the latter," Borchersen said.
As of August 1, wearing a burqa, which covers a person's entire face, or the niqab, which only shows the eyes, in public carries a fine of 1,000 kroner.
Repeated violations are fined up to 10,000 kroner.
The ban also targets other accessories that hide the face such as balaclavas, masks and false beards.
Human rights campaigners have slammed the ban as a violation of women's rights, while supporters argue it enables better integration of Muslim immigrants into Danish society.
The full-face veil is a hot-button issue across Europe.
Belgium, France, Germany and Austria have already imposed bans or partial bans.
https://dailytimes.com.pk/277958/first-woman-fined-in-denmark-for-wearing-full-face-veil/
--------
Women Turnout in Elections Was an Achievement, But More Needs Doing
August 04, 2018
WHILE there were several flaws in the July 25 polls, modest, yet consequential, achievements were nonetheless made.
One is that, in Dir, Kohistan and Waziristan, women made clear what they thought of having had their suffrage denied to them for generations by leaving the confines of their homes to vote for the first time.
While women voter registration and turnout levels are still nowhere close to what they ought to be, the ECP's efforts to shore up these figures, bolstered by mandatory benchmarks established in the Elections Act, 2017, are paying off.
Yet, while the minimum requirement for women's participation was set at 10pc of total votes in a constituency, there were still areas where female turnout fell short. In NA-10 Shangla, of the 128,302 total votes (including rejected votes, for which there are no gender disaggregated figures in Form 47 to subtract from), 12,663 or 9.87pc were cast by women.
In NA-48 North Waziristan, of the 63,954 votes cast, 6,354 or 9.94pc were women's. In a report published in this paper yesterday, a source in the ECP stated that a summary had been moved to declare the results of both constituencies null and void for this reason.
Granted, women's participation in both constituencies undershot the 10pc minimum by a hair's breadth, yet the ECP is well within its rights to annul the results. Indeed, the bar is set low enough as it is.
However, before by-elections are held, and for their results to be valid, the ECP must establish an inquiry to determine the reasons turnout was low, and investigate allegations made by some candidates (including the winning candidate for NA-48) prior to polling day, that potential women voters were being threatened, and that polling stations were often too far for women to access them.
The ECP must take these claims seriously, including acknowledging its own possible shortcomings, in order to mitigate the likelihood of a similar experience.
Meanwhile, legislators should consider setting the bar higher by introducing an amendment to increase the minimum percentage of women's turnout in urban constituencies. Institutionalising such provisions can help ensure that there is further progress in the drive to equalise women's franchise.
Given the pushback witnessed every time there is an attempt to legislate on women's rights, and efforts that are still made to roll them back, it is not hyperbolic to suggest codifying safeguards against a regression.
https://www.dawn.com/news/1424847/women-turnout
--------
Youngest Woman Jailed In UK for Terrorism
August 04, 2018
LONDON - A London teenager was jailed for life on Friday for plotting a terror attack, becoming the youngest woman to be sentenced for terrorism offences in Britain.
Safaa Boular, 18, who together with her mother and elder sister formed the country's first all-female cell linked to the Islamic State group, will spend a minimum of 13 years in prison.
She had planned violent attacks in the British capital, using coded language themed around a tea party, after UK authorities stopped her travelling to Syria to marry an IS fighter she had met online.
"However much she may have been influenced and drawn into her extremism, it appeared she knew what she was doing and acted with open eyes," said Judge Mark Dennis in sentencing her at London's Old Bailey.
"Her views were deeply entrenched," he added, rejecting claims she had renounced extremism.
In June sibling Rizlaine Boular, 22, was also jailed for life, with a minimum term of 16 years, while their Morocco-born mother Mina Dich was handed a minimum sentence of six years and nine months for aiding the plots.
Safaa Boular was only 16 when she made contact with British-born IS fighter Naweed Hussain, 32, discussing marriage and how they would don his-and-hers suicide belts.
But her hopes of joining him were dashed when she was stopped at the airport in August 2016 following a family trip to Morocco, and her passport was confiscated.
'Family with murderous intent'
Instead Boular decided to plan an attack in Britain, detailing it in coded language - such as using "pineapples" for grenades - to online contacts, who were in fact undercover agents.
Hussain was later killed in a drone strike.
When Boular was charged with preparing terrorist acts in April 2017, she handed responsibility to her sister Rizlaine, 22, and their mother Mina Dich, 44, who hatched their own plan.
The trio were taped talking about an Alice in Wonderland-themed tea party, which the prosecution argued was code for an attack.
Rizlaine Boular and Dich were arrested after being tracked by police visiting potential sites around Westminster and buying knives.
They pleaded guilty to terror offences, but Safaa Boular denied involvement in the plot.
She remained expressionless as she was jailed Friday for two counts of preparing terrorist acts after being found guilty at trial in June.
Dean Haydon, Britain's top counter-terror police officer, said then the plot "involved a family with murderous intent, the first all-female terrorist plot in the UK connected to Daesh (IS)".
He added: "All three women were filled with hate and toxic ideology and were determined to carry out a terrorist attack.
"Had they been successful, it could well have resulted in people being killed or seriously injured."
https://nation.com.pk/04-Aug-2018/youngest-woman-jailed-in-uk-for-terrorism
--------
Saudi Women's Team Sweeps First Prize Of $266,000 in Hajj Hackathon
3 August 2018
The Saudi Federation for Cybersecurity, Programming and Drones, announced on Friday evening the winner of the first prize of the final competition in the Hajj Hackathon which went to the Saudi women's team of "Turjaman" which means Translator, taking the prize of $266,000.
The team developed an application which translates road direction signs in different languages for the pilgrims from around the world, without the need to connect to the Internet through QR code scanning.
The second prize of $133,000 went to the team which developed an application dedicated for "Hajj Wallet."
The three-day Hajj Hackathon event was held at the Jeddah Exhibition and Event Center f from August 1 to 3, recording significant presence of Saudi women as well as software developers and information-technology enthusiasts from more than 100 countries.
The Saudi Federation for Cybersecurity, Programming and Drones allocated $533,000 in prizes divided into mainly three categories, where the first prize is worth $266,000, second prize $133,000, the third prize $93,000 while a prize of $39,000 goes for distinction.
The competition in the event included sectors surrounding the Hajj season, its services and challenges, including food and beverages, public health, financial solutions, transportation, crowd management, traffic control, travel and accommodation arrangements, waste and waste management, housing and communication solutions. READ MORE
One of the participating groups in the "Technical challenge", is a Japanese team of youths who attracted a lot of attention, not only for their known enthusiasm for tech, but also for their inclusive spirit by adapting to the Saudi culture and dressing in the Saudi national outfit.
https://english.alarabiya.net/en/features/2018/08/03/Saudi-female-team-sweeps-first-prize-of-Hajj-Hackathon-of-233-000.html
--------
Hundreds of Pregnant Women Risk Death in Yemen: U.N
AUGUST 3, 2018
BEIRUT (Thomson Reuters Foundation) - Hundreds of pregnant women in the Yemeni city of Hodeidah risk dying as the escalating confict puts medical care out of reach in a country with one of the world's highest maternal mortality rates, the United Nations said.
The U.N. Population Fund (UNFPA) said pregnant women were at "extreme risk" as it became harder to access care, with the maternal death rate likely to have doubled from its 2015 tally of 385 deaths per 100,000 live births.
The violence limits the agency's access to Hodeidah, but it estimated 90,000 women were due to give birth there in the next nine months.
The escalation in the conflict has destroyed health facilities and placed those who suffered complications like haemorrhaging or infections at heightened risk, it said.
Nadia - not her real name - fled Hodeidah nearly three weeks ago, fearing for her five children and unborn baby.
"I thought me, my baby and kids would die and get sick if I stayed," Nadia who is five months pregnant, told the Thomson Reuters Foundation by phone from the capital Sanaa.
"I was afraid of losing the baby and delivering early."
The offensive on Hodeidah launched in June by a coalition led by Saudi Arabia and the United Arab Emirates is the largest battle yet in a conflict that has killed more than 10,000 people.
"It is becoming increasingly difficult to reach pregnant women or those who want to avoid getting pregnant with the reproductive health services and medicines they require," said Luay Shabaneh, UNFPA director for the Arab Region, this week.
Hodeidah is the main port of the impoverished Arab country, where around 8.4 million people are believed to be on the verge of starvation, and a lifeline for millions.
"I was suffering, tired and filled with fear. There was malnourishment, there was no basic needs like electricity and medical treatment," said Nadia of her life in Hodeidah.
https://www.reuters.com/article/us-yemen-women-pregnant/hundreds-of-pregnant-women-risk-death-in-yemen-u-n-idUSKBN1KO2AH
--------
Bibi Maryam Bakhtiari, the First Iranian Female Military Commander
August 4, 2018
Bibi Maryam Bakhtiari, (b. 1847, d. 1937) was a revolutionary and active member of the Iranian Constitutional Revolution of 1909. Her father was Hossein Gholi Khan and his brother was Sardar (Commander) As'ad Bakhtiari.
Bibi Maryam was a strong supporter of her brother Sardar As'ad in capturing Tehran and the triumph of the Constitutional Revolution on July 16, 1909.
Bibi Maryam was an educated and enlightened Iranian woman, a pioneer in demanding equal rights for women, and one of the very early activists for freedom. She was also a campaigner for the Iranian national interests against the occupation forces from Russia and Britain during WWI.
Bibi Maryam learned military warfare and shooting skills at a young age (like other Lor tribal and nomadic forces) and became a military commander.
Bibi Maryam was opposed to the despotism of Mohammad Ali Shah, and in various letters, telegrams and lectures, she educated and mentored the leaders of the Bakhtiari tribes to fight the Qajar tyrants.
Before the conquer of Tehran, Bibi Maryam secretly entered Tehran with a few fighters and settled in Hossein Saghafi's house. They used the roofs facing the Baharestan parliamentary building to position themselves against the government forces. When Sardar As'ad entered Tehran and fought with the government forces, Bibi Maryam and her forces attacked the government army from the roof tops.
Because of her brave fight and her technical military skills in disarming the government troops, her popularity among the Bakhtiari tribes increased and she was given the honorary rank of a Sardar (a high commander).
Bibi Maryam opposed the British and Russian meddling in Iran during WWI. During that difficult era, she used her house in Isfahan to provide refuge and safe house for the combatants against the British and Russian forces in Iran. Although some of the Bakhtiari leaders supported the British, she opposed them. She collaborated and cooperated with other Bakhtiari leaders in constant raids against the British forces. The popularity of Maryam in the region was so much that when the Russians conquered Isfahan, they stormed her house in Isfahan and confiscated all of her properties.
Some of the political activists and freedom fighters, such as Allameh Dehkhoda, Malek os-Shaara Bahar, and Vahid Dastgerdi who were persecuted during the WWI by the Allied forces, especially the British, took refuge in Bibi Maryam's house in the Bakhtiari tribes.
Commander Maryam Bakhtiari's fight with the British continued until the August 1919 agreement and the March 1921 coup.
Dr. Mohammad Mossadegh, the Governor of Fars Province, opposed the British coup of 1921 and after being dismissed from the Fars Province government, he went to the Bakhtiari area, and for some time was the guest of Sardar Maryam. Dr. Mossadegh always mentioned and commemorated the greatness and courage of Bibi Maryam Bakhtiari.
Bibi Maryam Bakhtiari is one of the few Iranian women fighting for Iran and is one of the first Iranian women to write a memoir of her life, in which she documented the suffering and struggles of the Iranian women and the political conditions in Iran at that time.
Bibi Maryam's son Ali-Mardan Bakhtiari was executed by Reza Pahlavi in 1934. Three years later in 1937, a very sad Bibi died and was buried in the famous Isfahan cemetery, Takht-e Foulad.
https://women.ncr-iran.org/famous-women/5392-bibi-maryam-bakhtiari-the-first-iranian-female-military-commander
--------
URL: https://www.newageislam.com/islam-women-feminism/bombay-high-court-reunites-hindu/d/116039
New Age Islam, Islam Online, Islamic Website, African Muslim News, Arab World News, South Asia News, Indian Muslim News, World Muslim News, Women in Islam, Islamic Feminism, Arab Women, Women In Arab, Islamophobia in America, Muslim Women in West, Islam Women and Feminism