New Age Islam News Bureau
23 Nov 2015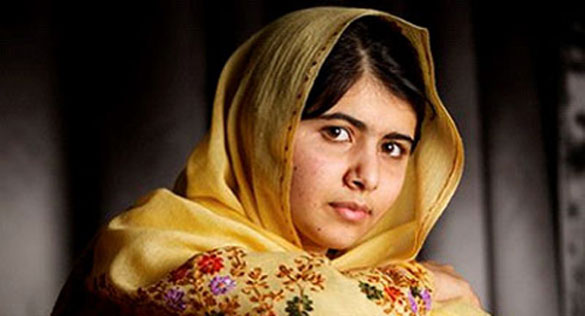 Malala is a fan of SRK, Honey Singh and Sachin Tendulkar. – Reuters
----------
• Alarm At Rising Number of Runaway Saudi Women
• Woman sans Guardian Denied Room in Furnished Apartment in Jeddah
• Saudi Ministry Opens All Job Opportunities for Women
• Did You Know? Malala's a Shah Rukh Khan Fan and Loved Recent Flick Bajrangi Bhaijaan
• Pakistani Christian Woman Aspires For Bigger Political Role
• Shukria Barakzai Appointed As Afghan Ambassador to Norway
• Indonesia: Motorbike Taxis Launched For Muslim Women
• Study Highlights Barriers before Women Leadership in Kingdom
Compiled by New Age Islam News Bureau
URL: https://www.newageislam.com/islam,-women-and-feminism/new-age-islam-news-bureau/bombay-high-court-relief-for-hindu-youth-whose-muslim-wife-was-confined,-remarried-by-family/d/105390
--------
Bombay High Court Relief for Hindu Youth Whose Muslim Wife Was Confined, Remarried By Family
Nov 23, 2015
The Bombay High Court directed Rajasthan police to produce a Muslim woman following her Hindu husband's plea to contact her. The woman is presently in the custody of Rajasthan police. She was reportedly kept captive in Gujarat by her relatives since July following opposition to her marriage with the petitioner in June. She was also forcefully remarried later.
When the petitioner found out about her whereabouts, he filed an FIR against his wife's brother and brother-in-law in Ambernath where he currently lives. The complaint was then transferred to the Rajasthan Superintendent of Police. Thereafter, the SP directed Rani Police Station in Rajasthan to look into the matter. The girl was rescued with the help of Gujarat police and handed over to Rajasthan police.
The petitioner filed a habeas corpus petition in HC alleging that his wife was being forcibly and wrongly detained by her relatives. Justice Ranjit More has now summoned the Rajasthan SP and directed that the woman be produced before the court on the next date of hearing on Monday.
According to the petitioner's plea, he works as a technician in Ambernath and had eloped with the Muslim woman from their village in Rajasthan to Ujjain in Madhya Pradesh in June. Once in Ujjain, she converted to Hinduism, and the couple got married in a temple as per Hindu rites.
The petition alleged that the two were picked up by Rani Police at the behest of the wife's brother. She was then forcibly taken away by her family members. The couple tried to elope to Mumbai again, but the woman's family got to know of this and assured that they would get them married in two months. The petitioner then went back to Mumbai. He, however, failed to establish any contact with her thereafter.
In October, his wife managed to call him from an unknown number informing him that she was kept at some unknown location in Gujarat. She also informed him that she was pregnant with his child and her parents had forcibly married her to a Muslim man. In his plea, the petitioner urged the HC to intervene in the matter saying that since both he and his wife were majors, they must be allowed to live together.
mumbai.newsline@expressindia.com
http://indianexpress.com/article/cities/mumbai/hc-relief-for-hindu-youth-whose-muslim-wife-was-confined-remarried-by-family/
---------
Alarm At Rising Number of Runaway Saudi Women
23 November 2015
DAMMAM: There are numerous reasons for women running away from home. They include domestic violence, lack of control and supervision, family disintegration, alcohol abuse and drug addiction, wrong association, direct expulsion by the family and poverty.
In the Kingdom, about 15.80 percent of runaway women are between 13 and 19 years old; 44.30 percent between 19 and 30 years old while 30.30 percent are between 30 and 40 years, with 9.60 percent between 40 and 55 years. By far the greatest numbers are those who are young, a study by the Naif University for Security Sciences found.
The study, prepared by Khaled Al-Dailej, on the criminal responsibility in inciting women to escape, warned against the weakness of specialized studies in this issue with the lack hindering the exact reasons for the problem.
"The issue of runaway women raised controversies among specialists because it has various causes and dangerous results. It was necessary to look carefully at the causes before looking at criminalization and punishment," he said.
"These statistics indicate that most runaway Saudi women are young, at a time when they are supposed to be more flexible. The most common motivation is the influence of others who have committed the crime before."
The researcher defined in the study the types of escape, including for moral reasons which is the most common due to the conservative nature of society. The girl feels herself isolated psychologically, and stays in her room for a long time out of fear of her family, refusing any discussions because of her desire to assert herself.
Another type is an actual physical escape in which the girl throws away all principles and virtues in an attempt to fulfill her wishes. He said that there were hundreds of cases of runaway girls who have not been acknowledged because of the nature of Saudi society which prefers silence to admitting problems arising from domestic violence.
Lawyer Bayan Zahran said: "The most important reason for women running away is ill-treatment. Civil society should admit the existence of such problems, and avail itself of the sound and legal means guaranteed by the state in cases of abuse."
She said any girl subjected to violence, whether psychologically, physically, or verbally, has the right to recourse to seek protection from abuse in the region in which she lives.
She said that when girls flee from their families, they may be exposed to displacement, penalties including imprisonment, as well as the refusal of some families to allow the runaways to return home.
http://www.arabnews.com/saudi-arabia/news/839666
---------
Woman sans Guardian Denied Room in Furnished Apartment in Jeddah
Nov 23, 2015
JEDDAH – A Saudi woman was refused accommodation at a furnished apartment complex in Jeddah because a male guardian was not residing with her.
The woman, in her 40s, said she was in Jeddah on holiday and was trying to rent a room at a furnished apartment but her request was initially denied because she did not have a male guardian with her, Al-Watan daily reported.
"I came to Jeddah with my two children, elderly mother, sister-in-law and her two children and my sister and her two children. I contacted a service for renting a furnished apartment and I had my ID with me to complete the necessary procedures. But I was shocked when the receptionist told me that I am not allowed to rent a room without a male guardian," said the woman.
She showed the receptionist her family ID but he refused to let her rent at the property. When she called her nephew, who lives in Jeddah, to appear as her guardian, the receptionist told her a male guardian must be residing with her in the apartment.
"I called my nephew who was in Jeddah and asked him to come to where we were with his family ID to prove that we have a guardian with us. He came and signed as our guardian and then left. The receptionist still refused to rent us a room saying there must be a guardian residing with us in the apartment," said the woman.
When she told the receptionist that there is no law stating that women need a guardian to rent a room, he still insisted saying he was merely following the orders of the institution's owner.
"We were left stranded at the reception well into the night without any accommodation. I explained to the receptionists that there are laws in place to protect women and leaving women stranded is a bigger risk than letting them rent a place without a guardian but they refused to listen," said the woman.
A source from the Saudi Commission for Tourism and National Heritage said the Tourism Charter does not state that women must have a male guardian present in order to rent a room at a tourist residence facility. Tourist facilities include hotels, rental apartments and other registered and licensed residences.
"Preventing a woman from booking a room at any of these establishments due to the fact that she will not be residing with a guardian is a violation of the charter. The only requirement for men and women is that they have to present documents to prove their identities. The law applies to both Saudis and non-Saudis," said the source.
The source also outlined what procedures are to be followed in the event a woman does not have an ID.
"Women without IDs such as the elderly or a maid who is not residing with her legal sponsor, may also book rooms by having another person with an ID fill in the information required on their behalf. They must indicate that they are booking a room on behalf of the client in question. National IDs, residence permits and passports are the documents accepted as IDs," said the source.
The source also said members of the public are welcome to lodge a complaint if they feel that their rights have been violated by a tourist establishment.
"The commission takes customers' complaints seriously and will respond by sending an investigation team to verify the complaint. If the commission recorded a violation, the establishment will face fines of over SR50,000 depending on the previous history of the establishment," said the source.
http://saudigazette.com.sa/saudi-arabia/woman-sans-guardian-denied-room-in-furnished-apartment/
---------
Saudi Ministry Opens All Job Opportunities for Women
Nov 23, 2015
RIYADH — Under pressure from the International Labor Organization (ILO), the Saudi Ministry of Labor has dropped a clause which protected women workers from hazardous and dangerous jobs, Makkah Arabic daily quoted a source as saying on Sunday.
The source said the ministry had adopted Article 149 of the ILO Labor Law by adding a clause which assured women equal job opportunities as men as long as the occupation is not dangerous or risky for them.
But the ILO was not pleased with the amendment claiming that it diluted the Article by limiting work opportunities for women.
"The minister disagreed with ILO's comments. He did not find the Saudi Labor Law treating women unequally to men in any way. Rather it protects women's femininity," said the source.
But despite the disagreement the minister had to delete the clause, the ministry's source told the newspaper.
"Saudi women are highly empowered in the Kingdom. They are free to occupy managerial positions and start their own businesses. Women can occupy leading positions in all sectors and fields," said the source.
He also said that women are leaders in the public sector and in political affairs. "Women have the right to run for municipal elections and vote. They are also members of the Shoura Council and other important bodies in the Kingdom," said the source.
The government has even announced plans to form a "woman friendly" city in the Eastern Province of Hofuf to bolster employment opportunities for women without transgressing religious boundaries.
The Labor Ministry has also pushed through a "feminization" program that has included replacing the men who work in sales at lingerie stores with women.
Of Saudi Arabia's population of 28 million, 45 percent are women. About 57 percent of Saudi women have university degrees, according to a study by Oxford Strategic Consulting.
http://saudigazette.com.sa/saudi-arabia/ministry-opens-all-job-opportunities-for-women/
---------
Did you know? Malala's a Shah Rukh Khan fan and loved recent flick Bajrangi Bhaijaan
Nov 23, 2015
We know Malala Yusafzai's philanthropic side well — but do we know her Bollywood preferences?
We do now!
And it turns out the young activist has a soft spot for Shah Rukh Khan.
"I think Shah Rukh Khan possesses some kind of a Midas touch. Whatever he does is absolutely perfect. I love all the films that I have seen of him, Dilwale Dulhania Le Jayenge being an all-time favourite," shared Malala in an interview with Times of India.
Malala candidly answered questions that revealed a different side to the girl we know well: that she too loves Indian soaps just live an average Desi girl. "I used to watch all serials and loved them when I was in the SWAT region," she said. "But in the UK, there's no time to follow serials. I feast on movies whenever I can. Back then, I used to enjoy dramas and cried along with the actors."
What about more recent flicks?
Malala enjoyed watching Deepika Padukone-Irrfan Khan starrer Piku: "When I watched Piku. The toilet humour was just too much. I'm laughing even thinking about it."
But Piku wasn't the last film she watched: "The last movie I loved was Bajrangi Bhaijaan. I clapped non-stop when the film was over," she said.
She explained that the reason she watches Bollywood films is the relatable content: "I relate to Indian culture the most — from food to clothes — everything is quite similar but more stylish and grand."
Filling us in about her sartorial choices, Malala said that she was a fan of shawls and whilst she likes pink, she chooses to wear red because her parents believe it suits her: "I have a few Indian suits that I wear on occasions. I love draping shawls. The way I put it on my head is the way girls in the SWAT region wear their shawls. I have about 12 shades that I like to mix and match."
A lover of spicy food, Malala is also conscious about her health and knows when she has to cut down on rice: "In the UK, I crave spicy Indian and Pakistani curries. I love rice too though I have to cut down on my rice consumption. My best dish of all time is Pakistani Biryani with Indian curry."
Although she doesn't know how to cook yet, she says her mother wants her to learn the basics so she can look after herself when she heads away for university.
Although her favourite cricket player is Shahid Afridi she says she's a fan of Sachin Tendulkar too. She also spilled the beans on what it's like to deal with her two younger brothers at home: "My younger brother, 10, told me I may have won the Nobel Peace Prize, but at home I dare not behave like the boss."
http://images.dawn.com/news/1174293/did-you-know-malalas-a-shah-rukh-khan-fan-and-loved-recent-flick-bajrangi-bhaijaan
---------
Pakistani Christian Woman Aspires For Bigger Political Role
November 22, 2015
Islamabad - Shabana Robin, a Christian woman, is dreaming to bring about a change in the male dominated local government elections as she has challenged strong candidates from different political parties and backgrounds in her constituency.
Robin hopes for a combination of luck and public support when the residents of Islamabad go to polls to elect local representatives on November 30. She is contesting for a chairperson's slot in union council number 28 which includes posh sectors of F-7, E-7, F-8, F-9 and Blue Area.
The daring lady has three children to care for but she is now sacrificing her family's time to concentrate on vigorous campaigning to do what has not been done before. All odds are against her – she is a woman, a Christian and belongs to a communist party — Awami Workers Party.
But this has not discouraged her and her supporters who are campaigning in France Colony with a slogan to elect a member who knows their difficulties and can feel their deprivation.
Being an inhabitant of France Colony, she believes no one can better understand their issues of shelter, water, gas, electricity and sanitation except a person elected from themselves.
In the first ever local government election of the federal capital, as many as 351 women have been contesting for 100 reserved seats in 50 union councils but there are only a few who have ventured into the contest of chairman and vice-chairman. Robin is one of those five women contesting for the office of chairman/vice chairman among 255 candidates.
The big guns contesting for the slot are Waqar Bakhtawari, an independent candidate from a family that owns the chain of D Watson pharmacies in Rawalpindi and Islamabad, Khalid Bhatti, a joint candidate of Pakistan Muslim League (Nawaz) and Jamaat-i-Islami, Syed Ali Shah of Pakistan People's Party, Fauzia Irshad of Pakistan Tehreek-e-Insaf etc.
Outside the France Colony situated along a market of F-7, the candidates have set up their camps displaying banners spattered with the names and faces of the candidates contesting for various slots. But Robin and her party neither do believe in camp politics nor have they resources for this. She has been busy in door-to-door campaigns since last week along with her husband, Robin Masih, vice chairperson Amina Mawaz and other party workers.
Being a housewife, initially she was reluctant to step into politics but the support of her husband and party members encouraged her to stand for the seat. "As I am neither well qualified and holds only secondary school certificate nor have I much public exposure so I was a bit hesitant but now I want to work for the people of my area," she said.
She finishes her household chores by noon, serves lunch to her three children when they return from schools and then spares time for evening campaign. "While busy at home I keep thinking what I will say to the people and how I will respond to their queries about various issues during campaign," she said.
People of this area deserve the same facilities and rights as those living in the posh sectors, she asserted. "The civic agency has given no water connection to this area. The residents use water boring machines. Likewise, no garbage truck comes here for trash collection," she added.
The people of this colony live in constant fear, she goes on. "The fear that their houses will be inundated with nullah water flowing through the colony when it rains, the fear that authorities can start operation any time to evict those who have not acquired legal possessions."
Though she has not delivered a proper speech yet in front of a gathering yet she is preparing for it. "But I cannot make false promises," she said. "I will not make pledges that I know I can't fulfil later on. I say to them that I will try my best to help resolve their issues using all powers that the office of chairman gives."
She says that the other candidates are just here till the votes are cast but she is going to stay here because she is amongst them. "People can come to my home anytime as I live with them. But they will need to wait or take appointment to meet other candidates if they get selected," she added.
In the face of campaign spending by other candidates, she says, "she will continue to work for the people of France Colony even if they reject her in the polls."
http://nation.com.pk/islamabad/22-Nov-2015/christian-woman-aspires-for-bigger-political-role
---------
Shukria Barakzai appointed as Afghan ambassador to Norway
Nov 23 2015
Shukria Barakzai who is currently a member of the Lower House of Parliament or Wolesi Jirga and women's rights activist has been appointed as Afghanistan's ambassador to Norway.
Reports suggest that Barakzai's appointment procedures have been completed inside the country and her documents have been forwarded to Norwegian government for remaining processing.
Well known in media as an outspoken female member of the house backing women's rights, Barakzai supported the incumbent President of Afghanistan Mohammad Ashraf Ghani in the election 2014.
Born in Kabul in 1972, Barakzai completed preliminary education in Kabul and went to Kabul University in 1990 but left her degree incomplete due to war in the country.
She resumed studies after the fall of the Taliban and received a bachelor degree in Archaeology and Geology from Kabul University in 2003.
She speaks both official languages of Afghanistan Pashto and Dari. She is also fluent in English.
http://www.khaama.com/shukria-barakzai-appointed-as-afghan-ambassador-to-norway-4352
---------
Indonesia: Motorbike taxis launched for Muslim women
22.11.2015
A new motorcycle-taxi service has been launched in Indonesia to cater to Muslim women who have reservations about riding with men they are not married to, while also helping those fed up with sexual harassment on public transport.
With major cities suffering chronic traffic congestion, the service aims to help female passengers who need to find a fast way to get from A to B while also adhering to Islamic customs.
Evilita Adriani told Anadolu Agency that she was employed to deliver food, and occasionally taxi lady passengers afraid of utilizing the services of males in Surabaya, the port city of East Java, when she came up with the idea.
"It is convenient because you needn't be troubled by the need to hold the waist or shoulders [of the driver], and you're more secure because you are protected from sexual harassment," the 19-year-old said Saturday.
She said she invited another courier, Reza Zamir, to set up Ojek Syar'i -- "Islamic taxi" or Ojesy for short -- to deal with the problem.
A report last year in the Jakarta Post said that many women had given up reporting sexual harassment on buses, knowing that such cases rarely make it to court.
Uli Pangaribuan, a lawyer with the Legal Aid Foundation of the Indonesian Women's Association for Justice, told the paper that lawyers representing victims often ended up arguing with police investigators over the charges to be pressed as neither party can agree on the difference between sexual harassment and offensive behavior.
"The police say groping is just offensive behavior because there is no struggling and the victim is still dressed. While for us, the [struggling and opening clothes] constitutes attempted rape," Uli told the Post.
Adriani told Anadolu Agency that the new company requires its drivers -- all female - to wear hijabs and loose clothing, and to own a motorcycle and an Android-based phone to respond to bookings made online.
Ojek Syar'i began operating in March and although originally solely reserved for Muslim women, over time, Adriani says that the service has garnered interest among non-Muslims as well.
She says it now covers 12 cities in Java Island, and employs around 350 drivers, ranging from students to housewives.
Although enthusiasm is high, she says there has been some negative feedback about their drivers.
"But I stress to motorists that our 'friends' -- as we call our drivers -- that this is not just regular work, but an effort to help other women," she underlines.
She adds that the drivers also form another valuable service, providing passengers with an ear for their problems.
"Some of our passengers have even been reduced to tears," she says, underlining how customers find the service to be an opportunity to let their guard down.
http://www.aa.com.tr/en/world/indonesia-motorbike-taxis-launched-for-muslim-women/477497
---------
Study highlights barriers before women leadership in Kingdom
Nov 23, 2015
JEDDAH — A Saudi female researcher has pointed out various obstacles that hinder women in the Kingdom reaching leadership positions. Manal Khattan, a PhD student at the Universidad Rey Juan Carlos in Spain, conducted a study titled "Factors of Successful Women Leadership in Saudi Arabia."
Khattan's study noted at least five factors affecting women leadership in the Kingdom. First is culture since organizations are part of society and its culture where women tend to face many obstacles that deprive them of the opportunity to land leadership positions.
The second factor is education, which is essential to help women get the needed knowledge to become leaders. Society itself plays a crucial role if it provides a positive view of women, which if applied will speed women participation in leadership positions, the study pointed out. Further, to become leaders women need to undergo training to develop effective leadership skills.
The study noted that the obstacles and the segregation that Saudi women face in society affect their efforts to get experience or knowledge as they have only a limited number of opportunities, which makes it hard for them to gain long experience or advanced knowledge.
The study was the outcome of interviews with 12 Saudi women who are in leadership positions, followed by survey conducted among 50 individuals, 13 of whom men.
Of the women leaders who were interviewed for the study, 17 percent had less than 10 years experience and 42 percent less than 20 years experience. The majority of them worked in the education sector.
Results showed that women with high qualifications received more training and have increased knowledge and experience. The results also indicated a lack of experience in leading organizations.
The study suggested that cultural barriers that stand against women's access to leadership positions could greatly be reduced by knowledge attainment. It also recommended that women should benefit from the opportunities available to enhance their presence in the job market.
The study also demanded further research into obstacles facing Saudi women in this regard and ways to overcome them. It also demanded focusing on training and increasing women participation in the private sector.
http://saudigazette.com.sa/saudi-arabia/study-highlights-barriers-before-women-leadership-in-kingdom/
---------
URL: https://www.newageislam.com/islam,-women-and-feminism/new-age-islam-news-bureau/bombay-high-court-relief-for-hindu-youth-whose-muslim-wife-was-confined,-remarried-by-family/d/105390