New Age Islam News Bureau
16 Sept 2014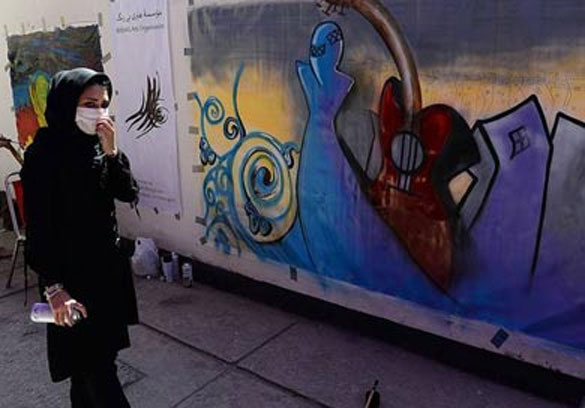 Hassani has been shortlisted for the prize, which is announced in London this week
----------
• Austrian Teenage 'Poster girl' Jihadist Believed To Have Been Killed
• Aligarh's NGO Promotes Communal Harmony, Trains Women of Diverse Communities
• Row erupts over wearing of Hijabs in UK schools
• Afghan Graffiti Artist Shamsia Hassani Shortlisted For Artraker
• Philadelphia Woman Who Posed In Muslim Garb Guilty Of Child Assault
• Bangladesh Sets 2-Year Jail Term for Child Marriage
• Now, a Formula to Uncover the 'Love Jihadist 'in India
Compiled by New Age Islam News Bureau
URL: https://newageislam.com/islam,-women-and-feminism/new-age-islam-news-bureau/boko-haram-extremists-kidnap-50-women,-several-children/d/99103
-----------
Boko Haram Extremists Kidnap 50 Women, Several Children
Sep 16, 2014
Over 50 women and an undisclosed number of children have been abducted by Boko Haram extremists in Nigeria, media reports said.
Locals of Michika and Gulak communities in Adamawa State, North-eastern of Nigeria, Monday raised the alarm over the abduction of over 50 women and an undisclosed number of children by Boko Haram extremists, this day live reported.
The news of the latest abduction coincided with the revelation by the Minister of Education Ibrahim Shekarau that the West African Examination Council (WAEC) results of the more than 200 schoolgirls kidnapped by members of the sect in April has been released.
The girls were taking their school certificate exams when they were kidnapped from Government Secondary School, Chibok in Borno State.
On the abduction of the women and children, a resident in Husra village in Michika, Adamawa State, who identified himself as Mallam Musa Yaro-Uba Musa, revealed that hundreds of people including women and children in the Northern part of Adamawa State were languishing in the custody of the insurgents.
"Members of the extermist group had called women last Saturday to collect food items from them at Gulak, the secretariat of Madagali Local Government Area, following which they selected some of them and took them away," a security source confirmed this.
Last month, the extremists slew Nigeria's highest Mulsim cleric and killed scores of residents in a Nigerian town on the border with Cameroon that they captured in recent raids.
http://english.farsnews.com/newstext.aspx?nn=13930625000812
----------
Austrian Teenage 'Poster girl' Jihadist Believed To Have Been Killed
September 16, 2014
One of two Austrian teenage 'poster girls' who flew to Syria in April to join Islamic State ranks is believed to have been killed.
Samra Kesinovic, 16, and her friend Sabina Selimovic, 15, vanished from their Vienna homes earlier this year.
Soon afterwards they posted images of themselves branding Kalashnikov rifles, surrounded by armed men - photos which Austrian police feared were acting as militant recruitment posters for young girls.
It is not yet known which one of the teenagers has been killed as the death is yet to be officially confirmed by the Austrian government.
Alexander Marakovits, spokesperson for the Interior Ministry, told The Salzburger News: 'We also have this information and have checked it, but cannot say with absolute certainty that it is true.
'But the parents have been informed their daughter could be dead.'
Konrad Kogler, Director General for Public Security, also confirmed there were unverified rumours of the death on Sunday evening's ORF program 'In the Centre', The Local reports.
The motivations of the two Bosnian girls are unclear but before leaving, they had contact with Chechen youths, and visited a mosque in Vienna's second district.
And last week, police expressed concerns that the pair were inspiring their contemporaries after two other teenage girls were caught attempting to flee the country to join IS ranks
Austrian media warned several weeks ago that the girls had become the public face for the call to jihad.
The fears appeared to be validated with the Austrian Interior Ministry confirming two other girls from Vienna had attempted to flee to take up the call for holy war.
Little information was given about the latest pair hoping to join Islamic State apart from the fact that one was 16 and the other was 14 and their parents were apparently from Iraq.
Police now want to find out how they became radicalised, and whether anybody had helped them plan their trip to Syria which was apparently set to take place via Turkey - following the same route as the other two girls.
The pair were caught when the mother of a third friend who was supposed to be travelling with them became suspicious about the amount of luggage her daughter was packing.
It's not known if they group were in contact with Samra and Selimovic, who - despite the fact they are being hunted by Interpol - have remained missing.
However, social media updates posted by the two show them dressed in traditional Muslim clothing and in some instances, standing beside men holding guns.
As many as 130 people from Austria are now believed to be fighting as jihadists abroad.
More than half of Austrian's jihadists originally come from the Caucasus region and have a valid residence permit in Austria.
Meanwhile, two Salafists were intercepted in a German border town on the way to Syria via Austria.
Austrian Interior Ministry spokesman Alexander Marakovits said they were noticing an increasing problem with youngsters wanting to leave the country for the same reason.
He said: 'If we can catch them before they leave we have the chance to work with their parents and other institutions to bring the youngsters out of the sphere of influence that prompted them to act in this way the first place.
'Once they have left the country, even if they then changed their minds, it is then almost impossible to get them back.'
http://www.dailymail.co.uk/news/article-2756352/Austrian-teenage-postergirl-jihadist-ran-away-Syria-join-Islamists-believed-killed.html#ixzz3DTJcMl5d
----------
Aligarh's NGO Promotes Communal Harmony, Trains Women of Diverse Communities
Sep 16, 2014
Aligarh, Sep 16 (ANI): Aligarh, located in the northern state of Uttar Pradesh is a famous educational and commercial hub of India. The city houses people from different religious beliefs in its ambit of religious acceptance and tolerance. People who live in peace and harmony here work together for the common good of their region. One such example is the establishment of non-governmental organization, Gaurav social and development society which works to impart vocational training to girls. The organization imparts training to girls in various skilled courses including stitching, beautician and Mehdi designing. The society aims to train girls for various vocational courses to earn a better living for themselves and family. Girls who come from Hindu, Muslim and Christian families learn these courses together amicably.
http://www.newstrackindia.com/videos/Aligarh-039-s-NGO-promotes-communal-harmony-trains-women-of-diverse-communities-together.html
----------
Row Erupts Over Wearing Of Hijabs in UK Schools
September 16, 2014
A leading academic has called on all Catholic schools to allow their Muslim pupils to wear the Hijab and tailor their uniforms to respect their religious identity.
Trinity College lecturer Dr Ali Selim said: "The Hijab for Muslims is an essential aspect of character. Depriving Muslims of the right to wear Hijabs is very threatening to their identity."
Although there is no legal ban on the Hijab in Irish schools, Dr Selim said wearing the headscarf is a "divine obligation" for Muslim girls and urged schools to be more flexible about incorporating it as part of their uniform.
"In today's society we need to apply a more pluralistic approach when it comes to the school uniform," said Dr Selim, who has lived in Ireland since 1999 and formerly served as Secretary General of the Irish Council of Imams.
"It is not dangerous to wear a Hijab in class, some may argue that they are dangerous in PE, but there is a special sports Hijab that Muslim women wear in the Olympics."
Dr Selim, whose five children attend Catholic schools, also wants religious crests on school uniforms to be removed.
"Sometimes our school uniform might have a religious identity. If I don't believe in this religious identity does this put me in a difficult situation with regard to my faith values. In order to provide children with an inclusive educational environment these obstacles need to be removed."
Dr Selim, who is also the author of a new book called Islam and Education in Ireland, also accused some Catholic schools of having discriminatory admission policies.
"Admission policy . . . is a practice of discrimination in my understanding," he said in reference to the 1998 Education Act.
Dr Selim made the controversial comment at the launch of his new book in Trinity last week.
However, Iona Institute director David Quinn, who attended the launch, said he had "issues" with Dr Selim's views.
He said that while Muslim parents have the right to send their children to Catholic schools, the ethos and identity of the school should not be compromised.
Mr Quinn told the Sunday Independent: "A faith school is by definition set up to mainly cater for children of the faith of the school."
However, Mr Quinn said Muslim students should be allowed to wear their traditional headscarves, as long they do not cover their faces.
He added: "Covering the whole face acts as a barrier between the person, the rest of the class and the teacher . . . it is going too far in the other direction".
When contacted by the Sunday Independent, the Department of Education and Skills said uniform guidelines are specifically set by individual schools.
"School uniform policy is a matter for each individual school, preferably in consultation with its own stakeholders . . . parents, students, and any other relevant parties," it said in a statement.
There are now more than 60,000 Muslims living in Ireland, making it the fastest growing community in the country.
There are currently a total of 3,165 primary schools in Ireland, of which 91pc are under Catholic patronage. There are just two Muslim primary schools in the entire country, with both based in Dublin.
Although Dr Selim has been involved in Ireland's inter-faith dialogue for more than a decade, the Islamic Foundation of Ireland (IFI) and the Islamic Cultural Centre of Ireland (ICCI) - the official body for Islamic education in Ireland - rejected his views.
In a statement to the Sunday Independent, the IFI said: "As patron of the Muslim National schools in Ireland since 1990, we can confidently assert that such opinions are neither shared by the IFI, the ICCI nor the majority of participating members in the Islamic community here."
The IFI praised schools and management bodies such as Educate Together and the Catholic Primary Schools Management Association (CPSMA) and said many Muslim children have passed through primary, secondary and third-level education without losing their cultural or religious identity.
"We have found that Catholic school managements have made wonderful efforts to make their schools as inclusive as possible without losing their own ethos."
With regard to schools' admission policies, the IFI said: "We acknowledge that there is always pressure on schools and on parents of all denominations and no faith seeking places, which sometimes results with many parents not receiving their first choice."
However, Church of Ireland Archbishop of Dublin Michael Jackson agreed with Dr Selim that all schools in the Republic need to be more tolerant of students from other religions.
He told the Sunday Independent: "Those who are not of a tradition can actually learn and share their childhood together and will be able to stand for respect, integrity and tolerance if situations become aggressive . . . if you learn about that at an early stage it will continue to inform your reactions as an adult."
Archbishop Jackson also said there should be "scope for negotiation" around the wearing of uniforms that display religious crests
Atheist Ireland said Dr Selim's version of inclusivity is "not practical".
"If he wants schools to promote specific beliefs of other groups then he should recognise that the Islamic schools should also openly respect atheism and other religious views," said Chairperson Michael Nugent.
"The only realistic way you can have proper inclusivity in education is to have a system that is neutral rather than one than manifests all beliefs."
The National Parents Council Primary and the CPSMA both failed to return calls to the Sunday Independent seeking comment.
http://www.independent.ie/irish-news/news/row-erupts-over-wearing-of-Hijabs-in-our-schools-30585072.html
----------
Afghan graffiti artist Shamsia Hassani shortlisted for Artraker
September 16, 2014
Kabul's only female graffiti artist not only has to avoid bombings and landmines to bring her pioneering work to the city's walls, but she regularly receives abuse from passers-by.
Yet Shamsia Hassani's determination to continue developing the art form across a city in turmoil, as well as campaign for women's rights, has resulted in her being nominated for a prize in London this week.
"It is difficult-to-impossible to continue with street art in Kabul, but I'm not put off by the risk," she said. "As a woman it's difficult to be out on the street by myself. Women often get harassed and it's not very comfortable."
Hassani, 26, is in the running for the Artraker Award, which seeks to support artists working in conflict zones or whose works deals with issues of conflict. She hopes the nomination will widen her audience. "I can share my ideas and explain about the situation my country's in."
While graffiti artists work under the cover of darkness in the UK, Hassani cannot go out at night, and bombings rule out the early mornings. Some of the deserted locations perfect for street art are believed to be riddled with mines. "It is scary," she said.
Street art is not illegal and Hassani has never had a run-in with the police. But the abuse from members of the public who condemn the art as "un-Islamic" or because she is a woman, means she only has 15 minutes to complete a work before moving on.
"People surround me and shout at me to stop or say bad words. Many don't agree with this form of art," she said. "Modern art is a new concept here. Afghans are against it. They say it's what a Westerner does. I don't see that, if the artist is Afghan and the concept is Afghan."
Hassani graduated from the Faculty of Fine Arts in Kabul University, the institution at which she now lectures, in 2009. A workshop four years ago introduced her to urban art and changed her life. "I'd never seen such a thing before. The word 'graffiti' is a new one in Afghanistan.
"I want to bring this art to my country and I want people to be more educated and open-minded about it."
Hassani's project being considered for the award is called The Magic of Art is the Magic of Life. She uses street art to highlight the situation facing women in Afghanistan. She talks of wanting to paint the women "to take them out from their old clichéd form".
"Women's issues are always on my mind so I try and reflect their problems," she said. "I think art can change society. I can't do it on my own, but I want to bring change even I just changed people's thoughts one per cent on something."
The issue, she said, is not the burqa. "In Afghanistan women have much bigger problems: no equality, no education. We should focus on the big problems. The burqa is just a symbol."
The artist also seeks to help the healing process of a city torn apart by conflict. "Literally, my graffiti paintings cover the destructive effects of war, derelict surfaces and bullet holes. People look at those buildings differently," she said.
Hassani has vowed to continue her street paintings and she is also setting up street art workshops to encourage others to get involved.
"I'm hopeful, although at times I see the state of the country and think maybe I shouldn't be," she said. "I see Afghanistan like a person who died during the war – yet now, after the war, it's been reborn and is like a child that needs everyone's help. After a year I am hopeful – you have to be."
The Artraker Awards were set up last year, and this year's will be held at the London gallery a/political. Hassani will not be present as she was unable to secure a visa.
The 12 finalists for the 2014 award come from across the globe and were selected from 250 submissions from 75 countries and on Wednesday three awards will be handed out. An exhibition of the artists' work will travel to Paris, Colombo and Kabul before returning to London.
A spokeswoman for the prize said: "It recognises new ways to raise awareness, communicate, stimulate debate and transform our understanding of war, violent conflict and social upheaval".
Among the other artists shortlisted are San Zaw Htway, who created collages from material taken from his time imprisoned in Burma, and Tania El Khoury, who used sound installation to tell the story of dead activists in Syria.
http://www.independent.co.uk/news/world/asia/afghan-graffiti-artist-shamsia-hassani-shortlisted-for-artraker-award--but-she-still-has-to-dodge-landmines-to-create-her-work-9732248.html
----------
Philadelphia woman who posed in Muslim garb guilty of child assault
September 16, 2014
PHILADELPHIA (Reuters) - A former childcare worker accused of dressing in traditional Muslim garb to abduct a kindergartner from her Philadelphia school was found guilty of sexually assaulting the child after holding her overnight.
After a shocking four-week trial, Christina Regusters, 21, was found guilty of aggravated assault, kidnapping, involuntary deviate sexual intercourse and a slew of related offenses after a jury deliberated for two days.
"She is a danger," Erin O'Brien, an assistant Philadelphia district attorney told KYW-1060 radio. "She really is the monster under the bed."
Regusters posed as the victim's mother, who wears Muslim clothing, by dressing in a black headscarf that covered her face before signing the child out for early dismissal in January 2013.
The victim was found in a playground early the next morning wearing a T-shirt on which police later found the Regusters' DNA.
During the trial, prosecutors detailed Regusters' Internet searches for violent pornography and displayed a broomstick allegedly used to sexually assault the child. A relative also testified that Regusters had also molested her daughter.
The women's lawyer, W. Frederick Harrison Jr., argued that she had rescued the child from a unnamed male in her home, and that was how her DNA came to be found on the T-shirt.
"The DNA was a tremendous obstacle to overcome as well as the Internet searches," Harrison said. "Those things were her undoing."
The girl's family has sued the city's school district, alleging that it was negligent in failing to ask for identification at the school.
Regusters had previously turned down a plea deal offering 40 to 80 years in prison. She now faces life in prison. Sentencing is set for Dec. 15.
http://wkzo.com/news/articles/2014/sep/12/philadelphia-woman-who-posed-in-muslim-garb-guilty-of-child-assault/
----------
Bangladesh sets 2-year jail term for child marriage
September 16, 2014
DHAKA — Bangladesh on Monday approved a law setting a two-year jail term for anyone involved in marrying a girl aged under 18, in a bid to cut the country's notoriously high child marriage rate.
The new law comes days after new UN figures showed two-thirds of Bangladeshi girls marry before they reach adulthood. It targets the parents or guardians and the marriage registrar as well as the groom.
"Anyone found responsible for child marriage, including the groom, the marriage registrar or the guardians, would be jailed for up to two years," said Cabinet secretary Musharraf Hossain Bhuiyan.
The current legal age for marriage in Bangladesh is 18 for women and 21 for men. Child marriage is punishable by up to three months in jail but the law is poorly enforced.
The bill is expected to be passed during the current session of the Parliament, Bhuiyan said. Girls and women will not be punished for marrying an underage man.
"We do not want to jail people but the goal is to prevent people from this bad practice," he said.
A report published last week by the UN children's agency said Bangladesh's high rate of child marriage was putting girls at risk of sexual exploitation and domestic violence.
http://www.saudigazette.com.sa/index.cfm?method=home.regcon&contentid=20140916218317
----------
Now, A Formula To Uncover The 'Love Jihadist 'in India
Eram Agha,TNN | Sep 16, 2014
ALIGARH: Rajeshwar Singh of the Dharam Jagran Vibhag, who was recently in the news for welcoming 72 Christians of Asroi village back into the Hindu fold, now claims he can tell who a 'love jihadist' is: He bears a name like Choudhary, Chouhan or Tyagi, he says. And he attempts to don the religious symbols of Hindus, often wearing the kalawa, the red religious threads tied around his wrist.
Rajeshwar Singh says there is need to keep an eye on Muslims indulging in 'love jihad'.
Vinay Soni, a member of the BJP's Bharatiya Janata Yuva Manch, said that he was recently in Kanpur, where he met an educated lawyer, a young Muslim, who wore a kalawa. "These educated boys wear a thick layer of kalawa like we Hindus on their wrists to trap Hindu girls. When I questioned him, he went away," Soni said.
Speaking to TOI over the phone, he said, "You can come to Delhi and see for yourself the way Muslim boys dupe Hindu girls. He usually has the kalawa, and he will invite the Hindu girl to tea. 'Love jihad' implies concealing identity to trap Hindu girls, and this is happening here!"
Manoj Sharma, Aligarh representative of the BJP's Bharatiya Janata Yuva Manch, said, "Muslim boys change their names, taking on names like Tyagi Bhatt, Chouhan or Chaudhary. For 'love jihad', good looking boys are hired, and offered training in trapping Hindu girls."
Asked if there might at all be any truth to these claims, Zulfiqar Sheth of the Economics department of the Aligarh Muslim University is amused: "People who speak like this have no idea at all about India's syncretism. This is just hate propaganda. I am a Sheth, because that is a title for traders. In Gujarat, there are Muslims who go by the name of Patel, because they are big farmers. I have Muslim friends whose names are Bhat or Pandit. These were titles awarded in pre-independent India to mark social status or traditional work. These people, who claim to represent India, they should know at least this much."
Zahid Ali Khan of the theology department of AMU said, "There are many Muslim sects that go to Mazars. They wear the kalawa as part of their faith. The sacred thread is not just for practitioners of any particular religion. These people forget that there is common ground, common traditions, across communities.
Asked if there were indeed cases of 'love jihad', Khan, who is also the mufti of the Anjuman-e-Islah ul-Muslimeen, said, "I would like to help in this matter. If there are indeed young men who do this, they should be punished. But first, please prove this indeed happens."
http://timesofindia.indiatimes.com/City/Agra/Now-a-formula-to-uncover-the-love-jihadist/articleshow/42535711.cms
----------
URL: https://newageislam.com/islam,-women-and-feminism/new-age-islam-news-bureau/boko-haram-extremists-kidnap-50-women,-several-children/d/99103