New Age Islam News Bureau
30 March 2014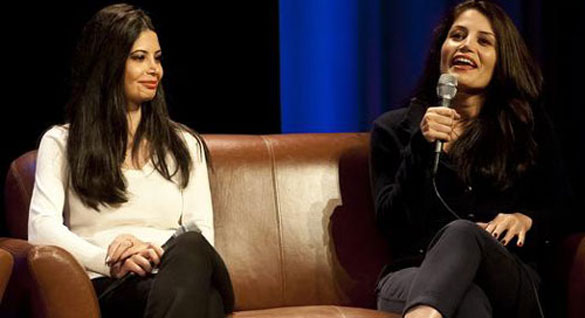 Maryam Rostampour, left, and Marziyeh Amirizadeh speak about their being arrested and imprisoned for practicing their Christian faith in Iran.(Adam Vogler) [Order this photo]
-----------
• Female Circumcision on the Rise in U.S
• Islamic Cleric Caught Slitting Girl's Throat in Ibadan to exorcise
• Kuwait Judiciary Has "No Plans to Hire Women", Chief Says
• Pakistan Women Activists, Religious Parties Differ On Domestic Violence
• Afghan Women Leaders Fight for Rights In Terror-Hit Land
• Indonesian Women Candidates Get Help from Government
• Iranian Women Tell Of Being Imprisoned For Faith
• Sharia Law Just Means Less Human Rights Especially For Women
Compiled by New Age Islam News Bureau
URL: https://newageislam.com/islam-women-feminism/blonde-iraqi-candidate-with-pink/d/66337
------------
Blonde Iraqi Candidate with Pink Lipstick Gets Lambasted
30 March, 2014
Iraqis have long been used to seeing female parliamentarians belonging to conservative Islamist parties cover up, either by donning the Islamic head cover or the traditional black Abaya.
But for the upcoming parliamentary elections in April, one of the hopeful candidates, Ashwaq Talib Al-Zughaibi from the Shiite bloc National Iraqi Alliance (NIA), took a decidedly different approach.
In her poster, which says "you own the decision, so make a better choice," Zughaibi doesn't cover her blonde locks and wears bright pink lipstick.
Her lip gloss, which matched the pink top underneath her dark suit, led some social media users to berate the candidate.
"I bet her shoes [are] also pink, matching with her lipstick and top," one Facebook user said, while another said: "she will take Iraq's entire budget to spend on makeup."
Others responded in even harsher tones.
"She looks stupid" said one user, while another said: "what qualifications does she have besides her looks?"
Others derided her look as overly unprofessional: "Is she a political candidate or a singer?" said one user.
There are others who defended her against the tirade of punitive comments. "How can you judge her? Have you seen her drink Arak [traditional alcoholic beverage] in Abu Nuwas [street in Baghdad known for its bars]?"
While another female user said: "I do not understand, in one instance you criticize those covered up and compare them to female parliamentarians from Russia and Ukraine, but when we have a groomed one, you also complain."
Her poster had 821 views on Facebook as of Thursday afternoon.
http://www.saudigazette.com.sa/index.cfm?method=home.regcon&contentid=20140329200119
------------
Female Circumcision on the Rise in U.S
30 March, 2014
When Marie was two years old, a woman in her village in Africa cut off her clitoris and labia. Now 34 and living thousands of miles away in New York, she is still suffering.
"I have so many problems, with my husband, with sex, with childbirth," she told NBC News, withholding her real name to protect her identity. "The consequences on my life are all negative, both physically and psychologically."
The practice of Female Genital Mutilation is common across much of Africa, where it is believed to ensure sexual purity before marriage. But Marie says FGM is also "very common" in some communities in America.
"The pressure to get daughters cut is great," she said.
According to the Centers for Disease Control and Prevention, at least 150,000 to 200,000 girls in the U.S. are at risk of being forced to undergo cutting. The CDC says "at risk" because there are no actual records of the practice, only estimates – and old estimates at that. Its latest data date to 1997, the year after it was banned in the U.S.
But experts who work with victims and their communities say FGM is on the rise.
"It is hard to believe this is the real number because of how much [FGM-practicing] communities are growing, especially in the last two or three years," said Mariama Diallo, African community specialist at Sanctuary for Families, a New York-based non-profit dedicated to helping domestic violence and trafficking victims. Her organization could only extrapolate using census data when it issued a report on the growing problem last year.
Immigration to the U.S. from countries in Africa quadrupled between 1990 and 2011 from 360,000 to 1.6 million according to a recent report released by New York City's planning department.
"The numbers need to be updated – but this needs funding and no one is interested," said Dr. Nawal Nour, founder of the African Women's Health Practice at Boston's Brigham and Women's Hospital.
Lack of Prosecutions
There are different degrees of FGM, the most severe form being the narrowing of the vaginal opening by repositioning the labia and stitching up the opening, sometimes leaving a hole the size of a matchstick for the passing of urine and menstrual flow.
The cutting is often carried out without anesthetic on girls between infancy and the age of eight. Victims can suffer numerous physical and mental health problems: severe abdominal pain, vaginal and pelvic infections, pain during sex, complications during childbirth.
In Phoenix, Arizona, a staggering 98 percent of Somali women being treated at the Refugee Women's Health Clinic have been circumcised, founder Dr. Crista Johnson said. She estimates the Somali community is at least 12,000-strong.
Johnson has supported such victims all over the country – from Washington,D.C., to Michigan to California – and says the spike in immigration from such communities has been astonishing in recent years.
"The number has easily quadrupled because of migration patterns," she added.
So with such numbers, why has there only been one successful prosecution in the U.S.?
"People won't report against their families," Marie said. Since the mutilation is usually organized by the child's mother or grandmother and supported by the father, many cases go unreported, case workers say.
"Even if there is protection from the government, it is difficult for a victim to disclose it through fear of retaliation from their family, and fear of losing their family," she said.
Still, experts believe the law is a useful deterrent. Johnson says there is a sense of resignation among the families that they must abide by U.S. laws. Nour agreed, saying: "Parents are afraid to do anything that will get them deported."
Taboo Topic
For Americans on the outside of communities where it is practiced, FGM is such an unknown that many medical workers, law enforcement and child protection officers are not informed on how to proceed when confronted with it.
"This has been such a taboo topic, we [haven't been able to] take it out from under the table. We need to make it something that can be discussed," said Shelby Quast, senior policy adviser of Equality Now, an international women's rights NGO.
"There has to be a huge shift so that we identify this as a form of violence against girls – and not something that's protected as a cultural and religious tradition," she said.
Support for victims is also comparatively poor in the U.S., health workers say. Nour in Boston and Johnson in Arizona run the only two clinics dedicated to supporting FGM victims in the U.S.
Comparatively the U.K. – with only a fifth of the population of the U.S. – has 15 specialist clinics. British midwife Comfort Momoh, who runs one such operation, recently visited the U.S. to research American facilities.
Coming from Europe, where campaigners are making strides in turning FGM into a mainstream issue, Momoh was shocked to see "no proper coordination and hardly anywhere for girls to go for support," she said. "The situation is well, well behind the U.K."
Campaigners say reaching out to practicing communities and educating them about the risks and consequences is critical to ending FGM.
"If the police are called and told a child is at risk, what will the policeman do if he does not know what FGM is? We need to tell them about it, tell them it's a violation," Diallo said. "Every single professional needs to know they have an obligation: doctors, nurses, school teachers.... Everyone has to see it as their responsibility to protect children."
'Shame and a Prison Term'
In France, which is also home to significant communities which traditionally practice FGM, experts say enforcing the law and outreach to practicing communities must go together.
In stark comparison to the single American case, there have been over 100 successful prosecutions in France, with prison sentences for those found guilty of cutting or of allowing their daughters to be cut.
"I don't want my kids to undergo the same fate as me."
There, FGM is prosecuted using existing child protection laws – there is no specific anti-FGM legislation.
"There was no need for a special law that would amount to pointing the finger towards immigrants," said French lawyer Linda Weil-Curiel, who has spent years bringing cases against suspected perpetrators to court.
"We had enough legal provisions in the penal code to prosecute and punish the 'mutilation of minors,' and the penal code is applicable to everyone on French soil, without discrimination."
She believes these prosecutions helped reduce the practice. "The large publicity in the media of the trials sent a clear message to the families: This is what you are going to get – shame and a prison term – if you do not respect the law."
There are no further prosecutions on the horizon in America – although there has been some progress.
Legislation was strengthened in January 2013 with a federal law making "vacation cutting" illegal – when girls are taken during their school vacations to countries where FGM is widely practiced to be cut there.
"They have passed the law. Now they need to enforce it," Diallo said.
But for Marie it's too late. "My organs were removed for my whole life, I can't change it; psychologically that is very difficult," she said. "But I don't want my kids to undergo the same fate as me."
http://www.nbcnews.com/news/world/horrific-taboo-female-circumcision-rise-u-s-n66226
------------
Islamic Cleric Caught Slitting Girl's Throat In Ibadan to exorcised
30 March, 2014
Ibadan must be a scary place to live in right now.
Barely days after the discovery of the House of Horror in Soka, an Islamic cleric has been arrested trying to slit a girl's throat.
According to the Tribune, The suspect, Isah Salaudeen, 37, is currently being held at the Iyaganku Division of Oyo State Police Command for attempted murder of one Chiwendu Nkwocha (also known as Divine).
Salaudeen had started using knife to slit the throat of the girl after which he then used a cutlass to hack her. This made the lady to scream, jumped up from where she was lying and ran out for help.
The incident was said to have been reported by one Aafa Taiye Agulofi and Ademola Agoro, residents of Ori Eru, along Agbaje road, Agbeni area of Ibadan, where the suspect also resided.
Saturday Tribune gathered that Nkwocha, who resides at 11, Ogundimu Street, Iju-Ishaga, Lagos State, was brought to Salaudeen by her boyfriend, Bola, in January this year so that he would help in using prayers and other means to exorcise some spirits troubling her.
Since then, Nkwocha had been undergoing 'spiritual cleansing' by being given herbs, concoctions and 'holy water' to cure her.
On the fateful day, Salaudeen reportedly asked Nkwocha to lie down while he covered her face with a cloth. Suddenly, the lady felt a sharp pain on her throat. Before she could fathom what was happening, the cleric reportedly attempted to hack her with a cutlass to make his work faster when it seemed the knife was not achieving the aim intended.
Residents of the area who were shocked at the occurrence were said to have suspected that he might have wanted to use the lady for ritual purposes.
Nkwocha is said to be receiving treatment at the University College Hospital (UCH), Ibadan.
But Salaudeen denied trying to deliberately kill the lady, saying he did not know what came over him. He said he believed he was manipulated by the spirits troubling Nkwocha to commit the criminal act.
In an interview with Saturday Tribune, Salaudeen, an indigene of Ibadan and a divorcee with two children, said he knew Nkwocha through one Bola who was her boyfriend.
"I knew Bola and the lady in January. It was one Nike from Lagos State who brought Bola to me and I knew Nike through one Baba Ibeji, a taxi driver who was my client. Bola was Nike's boyfriend but Bola later came to me and said he was no longer going out with Nike.
"I know Bola and Nkwocha use laptop to get money from people and I used to pray for them so that their venture would yield fruits. About one month after, the lady came back to me for help, saying that Bola called her a prostitute and said that he could not marry her because she was not a 'wife material'.
"She said I should help her with prayers so that she would meet rich men who would give her money. She used to come and go as she liked. She would stay with me and go out at will to go out with men. Because she used to play with me, I became excited and had slept with her about two times.
"On Thursday morning, after my children left for school, I laid on a couch while she was on the floor. Suddenly, I looked at a cutlass in my room behind a cupboard. I didn't know what happened; I just knew I took the cutlass and used it to cut her throat. She ran outside and I was wondering what happened when people came in to apprehend me."
When asked if he intended to use Nkwocha for ritual or someone asked her for human body parts, Salaudeen replied in the negative, saying that he had never had a client demanding for such and had never thought of such a thing.
"I am a Muslim cleric and will never do rituals. Even I have self-discipline so much that I don't have girlfriend or go to prostitutes since my wife and I divorced. If I feel like having sex, I just self-service until I (Erupt). Divine (Nkwocha) used to play hard and was also staying with me; that was why I had sex with her," Salaudeen said.
He said he came to his senses after the attempted murder and denied using knife on the lady. "I only used cutlass on her throat. I don't know how blood got to the knife. I also don't know how the injury on her hand and cheek came about. I pray that she survives so that she could defend me.
"It must have been her members in the spiritual world who lifted my hands to (slit) her throat. She told me that they had been troubling her, saying she had dreadlocks which were cut. She further told me that it was the cutting of the dreadlocks that had been giving her spiritual problems," Salaudeen further disclosed.
The spokesperson for the Oyo State police command, Olabisi Okuwobi-Ilobanafor, a Superintendent of Police, confirmed the incident, saying that the suspect would be transferred to the State Criminal Investigation Department, Iyaganku, Ibadan, for further investigations.
http://www.360nobs.com/2014/03/islamic-cleric-caught-slitting-girls-throat-in-ibadan/
----------
Kuwait judiciary has "no plans to hire women", chief says
30 March, 2014
Kuwait's judiciary chief has cast doubt on the role of women in the sector, saying it had no plans to hire female prosecutors "this year and for a limited period of time", it was reported.
Last week the Justice Ministry drew the ire of some Kuwaiti MPs after it published advertisements in newspapers seeking only men to apply for prosecutors' jobs.
This was despite last year ruling that women be allowed to serve as judges.
Supreme Judiciary Council chairman Faisal Al Mershed said the decision had been made pending an assessment in the public prosecution department, Kuwait Times reported.
In a statement, he said the council had taken into consideration the profession's conditions, transitions and customs.
He said its decision "did not imply belittling" the potential and talents of women but was based strictly on "considerations and convenience", it was reported.
Al Mershed said the Kuwaiti constitution stipulated that Islamic sharia law was the main source of legislation but conceded that judicial laws did not include a clear text that prohibited women's employment in the sector.
He said Islamic jurisprudence schools differed on assigning women to such "leading and key posts".
http://www.arabianbusiness.com/kuwait-judiciary-has-no-plans-hire-women-chief-says-544452.html
------------
Pakistan Women Activists, Religious Parties Differ On Domestic Violence
30 March, 2014
PESHAWAR: Women rights activists and female members of the provincial assembly from a religio-political party seemed to be at odds over the definition of domestic violence during a consultation in the capital city on Friday on lacunae in a bill tabled in the last House on the subject.
"Isn't it breaking up a family if husband goes to jail for beating up wife," said veiled woman legislator from Jamiat Ulema-i-Islam-Fazl Fauzia Bibi justifying domestic violence by giving different cultural and religious perspectives.
She ended up saying the passage of the bill would westernise the society.
It seems nothing has 'changed' as just like the legislature of the previous PPP-ANP coalition provincial government, some members of the current provincial assembly still seem opposed to the Domestic Violence Bill calling it a western agenda and interference in privacy of homes. PPP woman legislator Noor Sehar had an anti-domestic violence bill in the previous assembly but it remained pending during the five-year term of the last government.
The current draft, circulated among the participant, seems an improved version of the previous bills. "It defines domestic violence as all acts of gender based or other physical or psychological abuse committed by an accused against women, children or any other vulnerable person with whom the accused is or has been in a domestic relationship…," Uzma Mehboob, a legal consultant and rights' activist, told the participants at a gathering of MPAs, women rights activists and journalists.
The event was organised jointly by Shirkat Gah and Provincial Commission on the Status of Women to discuss how loopholes could be removed and more members of the provincial assembly Women activists, religious parties differ on domestic violence could be consulted on it.
"Some oppose the bill in the previous assembly saying it would westernise the society and promote divorce, while others called it intrusion in privacy of home," said Uzma Mehboob.
"This bill is not just for women. It would protect all sharing a household against domestic violence," said Provincial Commission on the Status of Women chairwoman Neelam Toru dispelling the impression that this bill was just for women who faced violence at the hands of husbands.
Neelam Toru also seemed quite agitated that sometimes in the name of Islam and at others in the name of culture, women were denied rights.
Yet, she seemed hopeful as she said the ongoing consultations with the legislators would help remove lacunae and pave the way for tabling the bill in the provincial assembly to become a law.
The struggle to make law to prevent domestic violence in the province has been going on since 2005. Khyber Pakhtunkhwa lags behind as Sindh has passed the law and Punjab and Islamabad Capital Territory are preparing such laws.
The attendance of MPAs at the consultation was thin but one woman member of the JUI-F Fauzia Bibi conveyed a mindset, which is still present in the provincial assembly that could be a hurdle to the passage of the bill if it's ever tabled in the House.
Two legislators of the ruling Pakistan Tehreek-i-Insaf however, seemed very positive and suggested that male members of the assembly be taken into confidence.
"The draft should be polished and if it has nothing in conflict with Islam, then lobbying with the 99 members to pass it is needed. I hope it will become a law," said Zarin Zia, an MPA from PTI.
A number of women rights activists said domestic violence existed in every household. There was a need to make a law to deter such behaviours as defined in the bill.
"Many feel domestic violence is not our issue but it is very much happening in Khyber Pakhtunkhwa," said Sherin Javed, programme officer working with Aurat Foundation, who compiled data of violence against women under a project.
Roohi, another young woman rights activist, who works with a shelter for women victims of violence, said she had dealt with many cases of domestic abuse.
"There may be concerns regarding implementation of laws in our country, but it doesn't mean we don't need such special laws," she said.
Treating women with love and care and giving them due share in inheritance are rights of women in Islam, which doesn't say confining them to the four walls as is projected by religious bigots, said a woman rights activist, who seemed to be bent on going with lobbying for the legislation on the issue of domestic violence.
https://www.dawn.com/news/1096299/women-activists-religious-parties-differ-on-domestic-violence
------------
Afghan women leaders fight for rights in terror-hit land
30 March, 2014
KABUL: When the Taleban ruled Afghanistan, women rarely left their home.
When they did venture beyond their four walls, they wafted through crowded markets covered from head to toe in the all-encompassing burqa. While most women in conservative Afghanistan may still wear the burqa, today's Afghan woman has choices she didn't have during the Taleban rule that lasted from the mid-1990s to 2001 — like running for Parliament.
In the last elections in 2010, 69 women won seats in Afghanistan's 249-seat Parliament. The next parliamentary vote will be held in 2015, but first are the April 5 presidential and provincial council elections.
Under Afghan law, 20 percent of council member seats are reserved for women, who are also figuring prominently in presidential campaigns. Three presidential hopefuls have taken the bold step of choosing a woman as a running mate, including one of the front-runners.
Habiba Danish, a legislator from northern Takhar province, said she was the top vote getter in her province in the last parliamentary polls. Throughout the country, including in the south and the east where the hard-line Taleban are waging a stubborn insurgency, women have been elected to Parliament.
"In our Parliament we have 69 women, that is a large number, bigger even than European parliaments," said Hamida Ahmadzai, who represents Afghanistan's nomadic Kuchi tribes. Saima Khogyani, a lawmaker from eastern Nangarhar province, where Taliban routinely stage violent attacks to warn voters away from the polls, says she is not afraid.
"We have our rights and we have our free speech now," she said. "The men in Parliament might not always listen to us, but we can say whatever we want."
http://www.arabnews.com/news/547481
------------
Indonesian Women Candidates Get Help from Government
30 March, 2014
Camellia Lubis, a 28-year-old dangdut singer popularly known as Camel Petir (Thunder), is one of 2,467 women legislative candidates vying for a seat in the House of Representatives.
The legislative candidate from the Indonesian Justice and Unity Party (PKPI), who will be standing for the second Jakarta electoral district, says she has been greatly underestimated due to her background as a singer with no political experience.
"I do not have a political background and I perceive myself as unintelligent," Camel told The Jakarta Post on Thursday.
Realizing, however, that she lacked political knowledge and experience, she said she had attended training sessions organized by the PKPI.
"I have received some political education from the PKPI but it is still lacking as it is only been one or two sessions [so far]. Ideally, I would get more training, but that is impossible," she said.
Women legislative candidates like Camel have prompted the government to step up its game. According to Women's Empowerment and Child Protection Minister Linda Amalia Sari, the ministry had so far trained 4,500 women candidates for the House and Regional Legislative Councils (DPRDs) as well as the Regional Representatives Council (DPD).
Linda said the training was necessary as many women candidates still lacked the requisite political education from their parties, plus many parties had hastily recruited women to fulfill the minimum 30 percent quota of women on the list of legislative candidates, as required by law.
"Some parties have been recruiting [women candidates] from the very beginning, but there are also those that only began recruiting them after the law was enacted," she said on Thursday at the ministry's office in Central Jakarta.
The United Nations Development Program (UNDP) Indonesia, which is helping the ministry to provide training for women candidates through a project called Strengthening Women's Participation in Governance in Indonesia (Swarga), found that 50 percent of the candidates who they trained still lacked the necessary knowledge to become a lawmaker.
"In some cases, their knowledge is so limited that they don't even know which House commission they would want to enter," Swarga's project manager, Pheni Chalid, said on Thursday.
He added, however, that this was normally only the case with women candidates who had been recruited by certain parties at the last minute to fulfill the quota.
"Many of them are ordinary housewives. It is hard to train them because they are not really interested [in running for a seat] and they have no clear goals," Pheni said.
Nurina Widagdo, the head of the UNDP Indonesia's Democratic Governance and Poverty Reduction Unit (DGPRU), meanwhile, said that most of the training participants were over-confident about their abilities.
"Before they began the training, their confidence was high. But afterward, they realized they had no substantial knowledge," she said.
Thankfully, the Swarga project, in which women candidates are trained how to garner votes, how to count for the votes needed to win a seat, as well as other issues plaguing the country, had helped to increase the women's political abilities by 17 percent, according to Nurina.
Commenting on the project, Camel said it was a positive gesture on the government's part and that she was interested in attending the training.
"I am like a blank piece of paper," she said. "I am very interested in the program so that I can gain some experience."
In a bid to increase the number of women in the country's political system, the women's empowerment ministry has also launched a public service announcement, which will be broadcast on several
TV stations.
Linda said that the advertisement was aimed at encouraging the public to vote for women candidates on the April 9
Election Day.
According to her, the government's support was needed since women were still underrepresented in the House, where women lawmakers make up only 18.57 percent of the national legislature.
The TV ad stars former president BJ Habibie, who says in the ad that men are not capable of solving every problem.
"The representation of women in the House is very important to solve the country's problems," Habibie says in the 30-second ad.
http://www.thejakartapost.com/news/2014/03/29/women-candidates-get-help-government.html
------------
Iranian Women Tell Of Being Imprisoned For Faith
Southeast Missourian
30 March, 2014
Worshipping among the hundreds of Christians gathered Saturday evening at La Croix United Methodist Church were two young Iranian convicts.
Maryam Rostampour and Marziyeh Amirizadeh listened to hymns and joined in prayers they would never have been able to speak in their native country. Midway through the service the women joined the pastor onstage to share the story of their struggle.
Having served nine months in Iranian prison for the crime of being a Christian, their firsthand account of religious persecution made clear the harsh realities many religious minorities face daily in other parts of the world.
Both women were born Muslim and converted to Christianity 15 years ago. The two met in 2005 while studying theology in Turkey and quickly recognized in each other a shared passion for evangelization. Amirizadeh and Rostampour were convinced God was calling them to spread the gospel. They returned to Iran as smugglers -- sneaking thousands of copies of New Testament Bibles into the country over a three-year span to be distributed in neighborhood mailboxes.
Rostampour explained how the clandestine operation was thought by the Iranian government to have been the work of a sizable Christian underground.
"They didn't know it was just two girls with backpacks," she said.
Amirizadeh said she remembers the suspicious phone call that said Rostampour needed to come to the police station to "resolve an issue of court paperwork." When she returned from the dentist, Rostampour was gone.
When she heard the inevitable door-pounding, she knew exactly what had happened to her best friend and roommate.
"I could have done many things at that point," she said, but like Jesus in the garden of Gethsemane, she calmly handed herself over for arrest while the police ransacked her apartment.
They found hundreds of New Testament Bibles -- damning evidence the two were Christian subversives.
Amirizadeh and Rostampour were subjected to long interrogations and physical violence by Iranian law enforcement officials demanding information regarding the Christian network that had been filling their mailboxes with Bibles.
"'We will beat you till you vomit blood,' they told us."
Imprisoned alongside "addicts, homeless, [and] political prisoners" who considered them infidels in "a place notorious for rape and torture," the rebel evangelicals served month after month of their indefinite sentence.
Rostampour explained they could have earned their freedom at any time; all they had to do was renounce Jesus. But they stayed -- for nine months.
"We could not deny him," explained Amirizadeh. "You cannot deny someone you're in love with."
International pressure, including a letter of appeal from the pope, eventually convinced Iranian officials to grant the pair's release. They moved to Atlanta, became full-time students and published "Captive in Iran," the story of their ordeal. La Croix is one of more than 70 churches the two have visited to share their struggle.
They hope to motivate people to help suffering Christians around the world, but also to illustrate to Christians in America how important a personal relationship with God can be.
That message resonated with congregation member Kim Steska, who said: "It helps give us a focus about the religious freedom we do have and gives us a more intense purpose to pray for those who want to live for Christ but can't."
The two are studying international law and working on a new book about the subjugation of women in Islamic societies. Having seen the power of prayer and activism firsthand, they are planning a speaking tour of Europe to continue helping those who are "persecuted for the sake of righteousness."
© Copyright 2014 Southeast Missourian. All rights reserved. This material may not be published, broadcast, rewritten or redistributed.
http://www.semissourian.com/story/2065319.html
------------
Sharia Law just means less human rights especially for women
30 March, 2014
Some aspects of Sharia Law are being adopted by British Courts which makes a mockery of the equality that women have fought for for centuries
If I were found cheating on my husband, I'd expect screaming matches, icy silences and the threat of being booted out the house.
What I wouldn't expect is to be stoned to death outside the front door.
Fairly reasonable in 21st-century Britain, where women aren't regarded as mere possessions of their husbands.
Except now some aspects of Sharia law, which can permit women to be stoned to death, are to be used in British courts.
Not the stoning bit (yet), but the Sharia succession rules, which state male heirs can inherit double the amount of female heirs.
Non-Muslim women may not be able to inherit at all.
The Law Society has written a guide on Sharia succession laws which it claims will enable lawyers to "help clients from all backgrounds".
Except it won't be helping Islamic women, will it? It'll just be helping
their brothers to double their money on the inheritance.
And it certainly won't be helping any non-Muslim women who marry into a Muslim family.
I'm very relaxed about people retaining their culture in Britain – but the law is just a different matter. It's what safeguards all of us. Equally. Or it should do.
Women have fought – and died – in this country for laws that would give
us equality.
The idea that these will be eroded by some muddled sop to diversity is all completely wrong.
http://www.mirror.co.uk/news/uk-news/sharia-law-just-means-less-3284948#ixzz2xV3Wrucj
------------
URL: https://newageislam.com/islam-women-feminism/blonde-iraqi-candidate-with-pink/d/66337