New Age Islam News Bureau
20 Nov 2013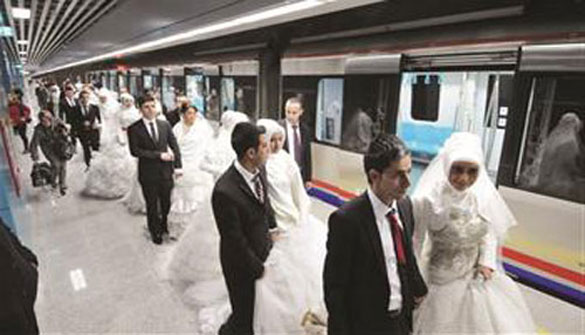 A group of couples take a ride at Marmaray before getting married at an organization held by Istanbul's Bağcılar Municipality in this file photo. CİHAN photo
----------
• Indonesian Policewomen Allowed To Wear Hijab on Duty
• Turkish Gendarmerie to Be Trained Against Domestic Violence
• Turkey's Family Ministry Aims To Prevent Divorces
• US Top Court Won't Block Restrictive Texas Abortion Law
• Malala Yousafzai Gets EU's Sakharov Human Rights Prize
• 'Hamas PM's granddaughter returns to Gaza 'clinically dead'
• Saudi Shoura Proposes Female Paramedics
• 'There Will Be a Middle East Fashion Industry'
• A First for Broward: Black Woman Named County Mayor
• Gambia: Network against Gender-Based Violence Trains Law Enforcers
• Ordeal Ends for an Expatriate Indian Woman
Compiled by New Age Islam News Bureau
URL: https://newageislam.com/islam-women-feminism/birth-rates-falling-dramatically-muslim/d/34509
------------
Birth Rates Falling Dramatically in Muslim Middle East
Los Angeles Times
November 20, 2013
Rising expectations of newlyweds living in their own homes and broader use of family planning in certain parts of the Arab world have drastically changed population dynamics in the region, with women marrying later and having few children, the statistics firm Gapminder reported Friday.
In a series of graphics compiled and posted on the company website, the sharp demographic trends in Tunisia and Libya are offered as examples of the shift away from early marriage and frequent childbirth in Arab nations.
"In 1973, the average Libyan woman had 7.6 children and married at the age of 19," Gapminder says, explaining the sweeping regressive lines of its chart on Arab women's fertility. By 2005, the chart shows, Libyan women were marrying at 29 on average and giving birth to 2.9 children.
The trend has been similar in Tunisia, the firm said, with the average age for first marriage rising over the same three-decade period from 22 to 29, and childbearing dropping from nearly seven per married woman to two.
Declining fertility has been the pattern across the Arab world, but at a slower pace in some countries, like Yemen and the Palestinian territories, Gapminder reports. The average age of marriage has remained constant at about 22 for Yemeni and Palestinian women, but the average number of children has dropped from 7.3 to 5.9 in Yemen and from 8 to 4.8 for Palestinians, the company said.
The number-crunchers at Gapminder attribute the shifting family dynamics to social change, even in what is often viewed as the tradition-bound Muslim world.
"Today a couple is expected to have their own place to live as married. Many families have to save for a long time before their children are able to marry," the analysts said. "This social norm is a relative new phenomenon and a major explanation for the increased age at marriage."
Gapminder also posted a geographically color-coded map showing the average age when women first marry in each country, indicating Arab women are on a path toward the Western European tradition of delaying marriage.
Perhaps because of falling birthrates in the region, official pressure continues to be exerted on young couples to reproduce for a more populous and powerful country.
On Thursday, Iran's supreme leader, Ayatollah Ali Khamenei, aired an appeal to Iranian couples to produce more babies and grow the current 80 million population to 150 million at "minimum," the Al Arabiya website reported.
"Young image is an essential and important issue for the country," Khamenei said, according to an account by the Islamic Republic News Agency of his address to a national population conference. He warned that countries with aging populations face tremendous difficulties in growing their economies and improving living standards.
Iranian women rank 146th in the world in fertility rate, with women giving birth to an average of 1.86 children in their lifetimes, the CIA World Factbook reports.
Early childbirth has been on the decline worldwide in recent decades, the U.N. Population Fund reported earlier this week. But in its annual statistical portrait of the world population for 2013, the agency warned that the 7.3 million children born to teenage mothers each year continue to take a toll on the health and economies of the developing world.
http://www.aina.org/news/20131119101705.htm
------------
Indonesian Policewomen Allowed to Wear Hijab on Duty
November 20, 2013
The National Police has given the green light for policewomen to wear the Islamic headdress while working amid requests by female officers.
"It is a right. I have conveyed this to my subordinates. If a policewoman wants to cover her head, she can do so, but we do not have a special budget for the garment. If they want to wear headscarves they have to buy them themselves," National Police chief Cmr. Gen. Sutarman said.
Sutarman said some policewomen in Aceh province have started using headscarves while on duty.
The National Police issued regulations regarding the police dress code in 2005, which prohibited policewomen from wearing headscarves while on duty.
However, Sr. Cmr. Agus Rianto, a spokesman for the National Police, denied there was a specific article in the regulation that expressly prohibited the garment.
Agus said the National Police's dress code regulations applied only to orderly conduct and that policewomen in Aceh province were exempt because the province operates partially under Sharia law.
The prohibition prompted protests from several Islamic organizations. Previously 12 Islamic organizations united under the Foundation of Islamic Organization Brotherhood demanded the national police immediately issue a new regulation permitting policewomen to cover their heads while on duty.
Indonesia Ulema Council (MUI) also protested the regulation with the vice secretary general, Tengku Zulkarnain, saying policewomen should be given the right to wear a headscarf.
"The prohibition has no merit," he said, adding that traffic police officers should also be allowed to wear the headscarf.
Tengku said the National Police should allocate a special budget and make a special design for the hijab uniform.
"There are many policewomen who would prefer wearing the hijab regularly, even when working," he said.
Tengku noted that despite the National Police chief's new policies, MUI continued to receive reports from policewomen who were not allowed to enter a training class because they were wearing the hijab.
Tengku said such restrictions constituted a violation of the constitution. He said permitting the officers to wear headscarves would help the National Police fix its tainted image after being rocked by several scandals, including sex scandals and indecent pictures of its officers which have spread widely.
In Malang, East Java, female officers have been allowed to wear headscarves on Fridays after the police received a number of requests.
Malang Police chief Adj. Snr. Cmr. Adi Deriyan Jayamarta said aside from Aceh, there are no clear rules regulating the wearing of head scarves by policewomen while on duty.
He said that he permitted the women to wear scarves on Fridays as many policewomen wore them after hours on a regular basis.
http://www.thejakartaglobe.com/news/policewomen-allowed-to-wear-hijab-on-duty/
---------
Turkish gendarmerie to be trained against domestic violence
November 20, 2013
The Turkish Gendarmerie has launched a project about combating domestic violence against women, which is jointly financed by the European Union and Turkey.
The two-year long project aims at training some 10,000 conscripts and non-commissioned officers on topics such as social gender, combating domestic violence against women and types of violence.
The Family and Social Policies Minister Fatma Şahin, EU Minister Egemen Bağış, Interior Minister Muammer Güler, Commander of the Gendarmerie Forces Servet Yörük and Deputy Head of the EU Delegation to Turkey Bela Szombati attended a meeting on the project yesterday.
Under the framework of new legislation, gendarmerie officers would be trained for their responsibilities in order to prevent violence against women and the application process for women exposed to violence, Güler said.
The Gendarmerie has already started an "awareness raising" pilot scheme in 30 provinces in order to combat violence against women, project leader Gendarmerie Staff Colonel Veli Turan, said yesterday speaking at the opening ceremony. The aim is for battered women to apply to the Gendarmerie, Turan said, adding they established units in 33 provinces in a bid to intervene in incidents of violence.
The gendarmerie attaches importance to "zero tolerance for violence," Commander Yörük said.
"I tell them not to act as if violence is natural in life and I have urged them to apply to prosecutors, to the Ministry of Women and to the police," Gendarmerie Major Songül Yakut told Hürriyet Daily News.
Turkey's first ever woman gendarmerie station commander, Noncommissioned officer Şenay Haydar also participated at the gathering.
They particularly need this project for mental transformation in society, Şahin stated.
Szombati from the EU, for his part, stressed the significance of implementing legislation which aims to prevent violence against women. He underlined the need to train prosecutors and other judiciary officials.
The total budget for the project, which is jointly financed by the EU and Turkey, is 2.915 million euros.
The gendarmerie has issued 4,145 injunctions for the protection of battered women.
http://www.hurriyetdailynews.com/turkish-gendarmerie-to-be-trained-against-domestic-violence.aspx?pageID=238&nID=58189&NewsCatID=341
---------
Turkey's Family Ministry aims to prevent divorces
November 20, 2013
The Family and Social Policies Ministry is working on a project in which the family ombudsman will offer psychological support to married couples who are seeking to get a divorce.
The families who applied to court for a divorce will be offered support and they will be able to receive four-session consultations to address their problems if they prefer to do so, Family and Social Policies Minister Fatma Şahin told reporters after attending a conference about violence against women held in Ankara yesterday.
"The family will decide [whether to continue the support] after four sessions. If deeper support and consultancy service is needed, then we will manage this with different methods. We will monitor the process closely. If the couples decide to continue [their marriage] with a happy and peaceful process, this would benefit us all," said Şahin.
The legal ground is being prepared for the project, which is to be conducted jointly by the Family and Social Policies Ministry, the Justice Ministry, and family court judges.
"We have a law in the budget talks now. We will firstly prepare the legal ground by inserting this project into the current law," said Şahin. She also emphasized that there wouldn't be any pressure on families to attend the support sessions.
'Couples want support'
"This is completely based upon the people's demand and free will. There is no compulsory practice in this. We are providing a support mechanism based upon voluntary participation," said Şahin. The family ombudsman will provide the support upon the needs and demands of the family. They will decide whether the couple needed psychological, economic, legal or other support.
Şahin said they had launched the system in five pilot cities and 75 out of a total of 450 couples decided to continue their marriage after support. According to a recent survey, 62 percent of people said they did not consult anyone but they needed consultancy in times of divorce, Şahin recalled.
http://www.hurriyetdailynews.com/turkeys-family-ministry-aims-to-prevent-divorces.aspx?pageID=238&nID=58188&NewsCatID=341
---------
US top court won't block restrictive Texas abortion law
November 20, 2013
WASHINGTON: The US Supreme Court Tuesday refused to block a law that restricts women's access to abortions in the southern state of Texas.
The measure requires that doctors performing abortions have admitting privileges at a hospital within 30 miles of the site of the abortion, in case complications arise.
As a result, opponents say, more than a third of Texas facilities performing abortions are being shuttered.
A group of women and doctors from the state asked the US Supreme Court to at least temporarily block the law's application.
But the court rejected the appeal along ideological lines, with its five conservative justices siding against its four progressives.
Explaining the court's decision, Justice Antonin Scalia wrote that "it would flout core principles of federalism by mandating postponement of a state law without asserting that the law is even probably unconstitutional."
Justice Stephen Breyer writing on behalf of the dissenting justices, said that "under the status quo that existed in Texas prior to the enactment of the admitting privileges requirement, women across the state of Texas who needed abortions had a certain level of access to clinics that would provide them."
"I would maintain the status quo while the lower courts consider this difficult, sensitive and controversial legal matter," he wrote.
Despite the Supreme Court's landmark "Roe V Wade" decision in January 1973 legalizing abortion in the United States, the practice has remained a perennial source of political controversy. In recent years, a number of states have passed laws limiting it.
http://tribune.com.pk/story/634312/us-top-court-wont-block-restrictive-texas-abortion-law/
---------
Malala Yousafzai gets EU's Sakharov human rights prize
November 20, 2013
Pakistani schoolgirl and campaigner Malala Yousafzai, who was shot in the head by the Taliban, will shortly receive the EU's Sakharov human rights prize at a ceremony in Strasbourg.
The European Parliament President, Martin Schulz, will present the award.
More than 20 former laureates are attending the ceremony, the parliament's press service says.
The 16-year-old activist was shot a year ago for campaigning for better rights for girls in Pakistan.
The Sakharov Prize for free speech is awarded by the European Parliament annually in memory of Soviet physicist and dissident Andrei Sakharov.
The 50,000 euro ($65,000) prize is considered Europe's top human rights award.
Malala rose to prominence in 2009 after writing a blog anonymously for the BBC Urdu service about her life under Taliban rule and the lack of education for girls.
She lived in Pakistan's mountainous Swat Valley and her name became internationally known after the Pakistan army pushed the Taliban out of the area in 2009.
The Taliban's Islamist doctrine puts harsh restrictions on women's rights and one of the militants shot her as she was riding in a bus with school friends.
She joins a distinguished list of winners of the Sakharov Prize which includes South Africa's Nelson Mandela and Aung San Suu Kyi in Burma, also known as Myanmar.
http://www.bbc.co.uk/news/world-europe-25014916
------------
'Hamas PM's granddaughter returns to Gaza 'clinically dead' after Israeli doctors unable to save her'
November 20, 2013
The granddaughter of Hamas Prime Minister Ismail Haniyeh was returned from an Israeli hospital to the Gaza Strip on Tuesday reportedly in a state of "clinical death" after Israeli doctors were unable to save her, AFP cited Palestinian sources as saying Monday.
The one-year-old Amal Haniyeh was admitted in serious condition to Schneider Children's Medical Center for Israel in Petah Tikva on Sunday after being diagnosed with an acute digestive tract infection, source in Gaza said.
Israeli doctors reportedly deemed her chances of survival as slim and returned her to a hospital in Gaza City.
"I call on God to grant good health to my daughter Amal, who entered in a state of clinical death," AFP quoted the premier's eldest son Abdel Salam as saying.
On Sunday, he confirmed that his daughter had been transferred to Israel for medical treatment. "Dear brothers, Amal has been transferred inside the Green Line," the father wrote. "I pray to Allah for her recovery."
He later posted another message saying his daughter was expected back in a Gaza hospital after undergoing medical check-ups in Israel.
Palestinians published on Facebook a photo of the Hamas leader during a visit to his granddaughter in Al-Nasr Hospital in the Gaza Strip just before she was taken to Israel.
http://www.jpost.com/Middle-East/Report-Hamas-PMs-granddaughter-returns-from-Israeli-hospital-to-Gaza-clinically-dead-332266
---------
Saudi Shoura Proposes Female Paramedics
November 20, 2013
The Shoura Council on Monday proposed the recruitment of women in ambulance services and called for the creation of ambulance centers and helipads for medical evacuations on government lands. Grounds would also include new residential plots.
The Health and Environment Committee's proposal included increasing training and foreign scholarships for female ambulance paramedics and creating a training center with branches for emergency medical services in the Kingdom. The proposal also includes the creation of an independently run ambulance service that would be supported by the government and private health sectors. The council required the Saudi Red Crescent Authority to prepare a strategic plan for domestic and foreign relief work and to carry out constant awareness and education campaigns that are centered on first aid.
It also proposed increasing the number of paramedic jobs, improving readiness, forming more ambulance teams, meeting international criteria, increasing ambulance vehicles and providing insurance for paramedics.
http://www.arabnews.com/news/480306
------------
'There will be a Middle East fashion industry'
November 20, 2013
PARIS — Three decades after escaping Lebanon's civil war to fulfil her dream of making it in New York fashion, Reem Acra's client list reads like a who's who of Hollywood's A-list.
Catherine Zeta-Jones, Angelina Jolie, Madonna, Halle Berry, Kate Hudson, Eva Longoria are just a few of the famous names who favour her luxuriously embellished evening wear.
From the world of music, country singer LeAnn Rimes got married in one her creations -- a low-cut chiffon robe slashed to the thigh and embroidered with pearls -- while singer-songwriter Taylor Swift chose a strapless Reem Acra wedding gown for one of her videos.
Acra is proud of her achievements, explaining that is she is the only Middle Eastern woman to establish her own fashion house from scratch in New York.
Now, with success firmly under her belt, she is turning her attention back to the Middle East where she wants to help kickstart a home-grown fashion industy.
The designer is working on a plan for the region although she stresses it is in its early stages.
"There is no (fashion) industry there today. But is there an eagerness for it? Absolutely," she told AFP in an interview in Paris.
"I am getting involved.... There is an eagerness in these countries; they want to expand, they want to be part of the fashion scene.
"I will help it to develop. I think there will be opportunities to help designers develop and grow the industry," she added.
With 30 years' fashion experience in the US and Asia, Acra has plenty of insights to share.
The designer, who has four homes, two in New York, one in Lebanon and another in Nashville, got her first break while studying at the American University in Beirut.
There, she impressed a visiting fashion editor with an embroidered silk organza gown she made from her mother's dining room tablecloth and wore to a party.
The editor immediately offered to host a fashion show for Acra and in 1983 she found herself in New York studying at the Fashion Institute of Technology.
"It was 100 percent difficult," she said, adding that there had been no question in her mind that she would have to leave Lebanon, then in the grip of civil war, to make a career for herself.
"(But) I knew from the beginning that something would happen for me in New York in a good way."
After stints in Hong Kong, Taiwan and China, she said she eventually felt she knew the US fashion industry inside out and was ready to branch out on her own.
In 1997 she launched her own label, beginning with bridal wear. She later moved into evening dresses followed by ready-to-wear.
Acra's clothes are now shown at New York Fashion Week and sold in over 150 stores worldwide.
In today's global market, she says, her main challenge is now to design for all women, not just those from one or two countries.
"When I am designing I have to think about the woman in Saint Tropez; I have to think of the Chinese woman and I have to think of the Middle East all in one dress." Nor is her fashion targeted at women of any specific age, said the designer whose personal favorite for evening wear is vintage ivory and pale platinum.
http://www.saudigazette.com.sa/index.cfm?method=home.regcon&contentid=20131120187180
------------
A first for Broward: Black woman named county mayor
November 19, 2013|By Brittany Wallman, Sun Sentinel
In a testament to Broward County's diversity, commissioners on Tuesday selected as the new county mayor a black woman raised in the Muslim faith.
Barbara Muhammad Sharief, 42, will lead the county for a year in what is largely a ceremonial role.
A mother of five and self-made businesswoman, Sharief has worked mostly on health care and aggressive-dog issues since her 2010 election to the County Commission. The Republican-turned-Democrat said she'll use the mayor's podium to turn attention to small businesses and nonprofits — under the slogan "Broward means business'' — and to recognize exemplary county employees.
Unlike in Palm Beach County, which also selected a black woman as mayor on Tuesday, in Broward it was a first. One that Commissioner Stacy Ritter said was "past time.''
Sharief said her intended focus on small business is an outgrowth of her personal story, a "tough road'' to success that she rarely discusses in public.
She grew up in Miami, the daughter of a self-employed clothing salesman and a retired schoolteacher.
Her father, James Mohammed Sharief, started a food program, she said, and she grew up packing food and taking it to the needy.
One day when Sharief's father was selling clothing with Sharief's then-19-year-old sister, he was shot and killed by a 15-year-old robber.
Her father was 47 at the time. Her mother was 43. And Sharief, then 14, was one of eight children left fatherless.
She said she got a job to help her mother pay the bills.
"When my father was killed, he was the breadwinner,'' she said. "We were foreclosed on, our cars were repossessed. There were times I didn't have money to eat and I went to the church and the mosque and they gave me food. ... That's kind of why I feel if someone is struggling, there's always hope, and they should never give up.''
Sharief's father had been well-known in the Muslim community, an active member of the Masjid Al-Ansar mosque in Miami.
Though Sharief said she hasn't been in a mosque since she was 14, the county's Muslim community has embraced her achievements.
Nezar Hamze, executive director of the Council on American Islamic Relations in South Florida and a spokesman for Broward's 43,000 Muslims, called her appointment as mayor "absolutely fantastic.''
"I think it's just testimony to what Broward County is right now,'' Hamze said. "We're a majority minority community. And just looking at the elections in the last couple years, we have a Jewish sheriff and now we have a Muslim mayor. So Broward County is really starting to reflect its diversity at the top.''
Sharief said she believes her selection as mayor will inspire school girls, and others.
"In America, we are a culture of tolerance and diversity, and I think that for those people who see me and know my background, I think they'll appreciate that,'' she said.
The job and visibility have come at an opportune time for Sharief. She just drew opposition in her next County Commission race, with Miramar Commissioner Alexandra Davis filing to run against her in the 2014 election. Sharief is also in a dispute with the state's Agency for Health Care Administration, which audited her business, South Florida Pediatric Homecare in Pembroke Pines, and accused her of overbilling Medicaid $485,615.
In June she settled with the state, admitting no wrongdoing and agreeing to pay the disputed amount, plus costs and a fine of $48,561.
The state has a second, open case against her business, accusing her of $221,819 in inappropriate Medicaid billings. That case is still in litigation, a spokeswoman with the state agency said Tuesday.
Sharief said her 12-year-old business has "an excellent reputation'' and said Medicaid's rules are "complex'' and frequently changing.
"Many times these overpayment determinations are for simple reasons such as a change in interpretation of rules,'' she told the Sun Sentinel in a written statement. "There is simply no suggestion in the audit or in the Settlement Agreement that there was any wrongdoing, let alone 'fraud.'"
When Sharief formed the business, she said, "it was just me and my mom and about 30 nurses.'' The company now employs 600 people and has $6 million in revenues a year, she said.
Sharief, who lives in Miramar and formerly served on the City Commission there, reported $4 million in net worth in her latest financial disclosures.
That was a plunge from her previously reported $8 million, the highest net worth on the County Commission.
"Like every other person in America,'' she said, "my assets have taken a hit.''
bwallman@tribune.com or 954-356-4541
http://articles.sun-sentinel.com/2013-11-19/news/fl-broward-mayor-muslim-20131119_1_county-mayor-muslim-mayor-commissioner-stacy-ritter
------------
Gambia: Network Against Gender-Based Violence Trains Law Enforcers
November 20, 2013
The Network Against Gender-Based Violence recently organised a one-day training on gender-based violence for law enforcers of various disciplines in the country.
Held at the NaNA conference hall along Bertil Harding highway, the training was meant to create awareness among law enforcers in dealing with cases of gender-based violence.
Speaking on behalf of the IGP, Commissioner Ebrima Bah said gender-based violence or violence against women (VAW) is a major public health and human right problem throughout the world.
Violence against women, he said, has so many profound implications for health but is often ignored.
He said according to the WHO's world report on violence and health, one of the most common forms of violence against women (VAW) is that performed by a husband or male partner, saying this type of violence is frequently invisible since it happens behind closed doors, and the legal systems and cultural norms often do not treat it as a crime but rather as a private family matter or normal and part of life.
He said a growing body of research has confirmed that gender-based violence has significant consequences, especially on girls' and women's physical, sexual and mental health, as well as implications on the health and well being of families and communities.
Violence against women drains a country's existing resources and handicaps women's ability to contribute to social and economic progress, he says.
According to various informants, more than likely patients do not report that their injuries resulted from violence they experience from their husbands or partners and in most cases women are ashamed and do not admit they are being abused.
Mr Bah stated that the requirement by health centres or hospitals that all gender-based violence cases must be reported first to the police is likely to make victims to cover up the cause of their injuries or even prevent them from seeking relevant care and attention.
He said the rationale behind sensitizing and building the capacity of law enforcers in the GBV domain lies in the fact that girls and women continue to fall victims of rape, sexual assault, trafficking and kidnapping but in most cases perpetrators disappear from the scene and escape justice or are not prosecuted at all.
He further stated that the Government of The Gambia ratified the AU solemn declaration on gender equality in Africa in expression of its commitment to the empowerment, welfare and development of women and girls in the country.
The Gambia Police Force is in full support of the work of the network against gender-based violence, he said, adding that this applies to all other security institutions in the country.
He said they are also a signatory to the one-stop centre, which is a home to the victims and survivors of gender-based violence.
For her part, madam Tabu Sarr, vice chairperson of Network Against Gender-Based Violence, said the network is formed by different actors and activists against gender-based violence.
The training will enable the participants to exchange ideas as well as to share experiences on tackling gender-based violence.
Gender-based violence is becoming more complex, she noted, saying it is vital experiences are shared in addressing it.
Addressing GBV through dialogue and consultation however requires holistic contribution from everyone, she emphasised.
http://allafrica.com/stories/201311200845.html?viewall=1
------------
Ordeal Ends for an Expatriate Indian Woman
IRFAN MOHAMMED
November 20, 2013
Saudi authorities facilitated the repatriation of an Indian mother of six with her children.
There are several cases of expatriate women who entered the Kingdom on legal dependent visas to join their husbands, but became illegal residents when they could not renew their iqamas.
One such person is Kanees Zainab from the southern Indian city of Hyderabad in India.
Zainab struggled hard for a year to obtain travel documents and exit processes for her children to return home. She finally succeeded and left the Kingdom on Sunday evening with the hope that she would be able to start a new life in her home town.
Zainab joined her husband Ahmed Ali Khan in the port city of Dammam 11 years ago with her two-month-old son, Shabbir Ali Khan, who is now 11 years old. Her daughter was born a year later. Both these children had passports and iqamas, which later expired.
Her husband, Ahmed Ali Khan, used to work independently and didn't stay anywhere for long periods. He lost his job and the sponsor didn't renew his iqama. Khan continued living with his family with the support of his father who was working in Dhahran at the time.
Zainab later gave birth to a baby girl, Farwa Begum, who is now nine years old, but she has no birth certificate from the hospital because of nonpayment of bills, according to the family.
She then gave birth to two more children, now seven and eight, at a hospital in Qatif in Eastern Province.
These two children were born after the expiry of their father's iqama, making the entire family illegal residents in the Kingdom.
Over some family dispute, Ahmed Ali Khan deserted his family, including his parents, children and his pregnant wife, about two years ago, his mother Sajida Begum said.
During the grace period, Zainab gave birth to her sixth baby. None of the children received any formal education due to lack of legal status.
They could not leave for India either.
Zainab, along with her mother-in-law, Sajida Begum, tried tirelessly to obtain travel documents for the children over the past few months. She met social worker Naaz Shoukat Vakka at the deportation center in Dammam, who helped the family.
She said that circumstances had forced her and children to become illegal residents. She thanked Indian diplomat Sibi George and Naaz Shoukat Vakkam, who supported the family in their hour of need.
http://www.arabnews.com/news/479286
------------
URL: https://newageislam.com/islam-women-feminism/birth-rates-falling-dramatically-muslim/d/34509