New Age Islam News Bureau
14 Jun 2015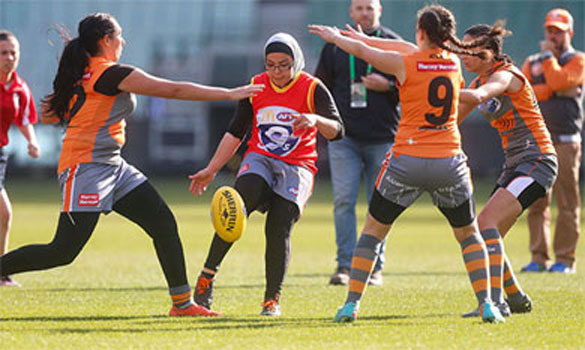 Muslim Women Break Down Cultural Barriers at MCG, Australia
--------------
• Bahrain Tells Women to Stay Away From Mosques
• Malala Invited To Speak During and Indian University Celebrations
• Muslim Women Break Down Cultural Barriers at MCG, Australia
• Women in Iran Are Rebelling Against Compulsory Hijab by Exposing Their Hair in Beautiful and Brave Pictures
• Awesome Group of Muslim Girls Make B-Ball Uniforms That Match Their Faith
• Queen Honours Two Egyptians, Muslim Woman in Birthday List
• After Gymnast Furore, Islamist Group Moots Jakim Guidelines for Sports
• Bang and Bling for Kurdish Pop Diva, Helly Luvs' Anti-ISIL Anthem
• Marriage Is More Beneficial For Men than Women, Study Shows
Compiled by New Age Islam News Bureau
URL: https://newageislam.com/islam-women-feminism/bindi-sporting-muslim-domestic-workers/d/103483
-----------
Bindi-Sporting Muslim Domestic Workers Lay Bare a Divided City, Mumbai
Sharmila Ganesan,TNN | Jun 14, 2015
One fine day in March 2009, Sabra Begum Khan donned a bindi for the first time. It was cheap, dark and circular, just like her life then. A single mother, Khan had been robbed of her Colaba shanty soon after one of her sons was accused of stealing. Hungry and homeless, the domestic worker eyed a Cuffe Parade high-rise that paid a princely Rs 4,000 a month. But word had it that the building didn't employ Muslims. So, 28-year-old Khan decided to stick a dot on her forehead to see if it could change the writing on it.
"Geeta," lied a bindi-sporting Khan when the Punjabi homemaker asked her name. That was enough to land her a roof, a loving new family and a raise of Rs 1,000 in two months. Soon guilt would gnaw at her. "I didn't want to live a lie," says Badlapur-based Khan who took off for her village in Jhansi five months later. "But I'm not sure I would've landed the job if I had told the truth."
Khan's story is over six years old but her dilemma is one many Muslim domestic helpers are grappling with even today. For fear of being rejected on the basis of religion, 45-year-old Farida masquerades as Seema and the 22-year-old, English-speaking Sultana calls herself Pooja, to land jobs in high-paying Hindu households. Of late, given that both clients and placement agencies insist on thorough paperwork, a Hindu alias is becoming a weak survival tactic. For instance, Khan is now married to a Hindu and is known as Geeta in her neighbourhood but hasn't got a job in over a year now. This is because in her documents, she is still Sabra Khan. "The agency say the client doesn't want a Muslim," says the 34-year-old. "A few have spoiled the name of our community," she adds.
This was why, a couple of weeks ago, at an agency's office in Dadar, one interview seemed to be over even before it began. Two women from Kalyan had walked in with all the documents but when they introduced themselves as Rajjo Qureshi and Aasma Shaikh, a heavy silence followed. Peculiarly, even Muslim clients sometimes refuse Muslim maids, say agencies. Hemant Kumar Shah of Goregaon's Sadguru Manpower Consultancy, was taken aback recently when two Muslim clients, a film producer and a model, specifically told him that they did not want Muslim maids. Sylvia D'souza, who runs Alleluia Enterprises from her gaothan-style home in Vidyavihar has on occasion resorted to white lies to get "sincere" Muslim girls from Govandi slums employed. "We have asked some to change names, avoid burqas and to perform namaaz only in solitude," says D'souza, who recalls a Gujarati client being happy with one such maid till she discovered the latter's religion and fired her.
This bias shows up online, too. Referamaid, a Facebook community which helps members find domestic help, has seen posts such as 'Please do not refer Muslim maids'. "They will say values don't match," says Delhi-based Asawari Salwan, who runs the forum. Interestingly though, selfish reasons can turn the maids' religious background into an asset. "Hindus even seek out Muslim maids so that their holidays don't clash," says Salwan.
To be sure, though, prejudice sometimes works both ways. Maids themselves prefer working for clients from their own religious community and this manifests itself in the form of casual questions. Salwan, who is married to a Bengali but does not wear a mangalsutra or sindoor, recalls her Hindu maid asking: "Are you a Muslim?"
http://timesofindia.indiatimes.com/city/mumbai/Bindi-sporting-Muslim-domestic-workers-lay-bare-a-divided-city/articleshow/47660999.cms
--------
Bahrain Tells Women to Stay Away From Mosques
14 June, 2015
Women in Bahrain have been banned from attending prayer at their mosques after the second Islamic State (IS) attack in Saudi Arabia within a month. But wait, you might be wondering, why would women in Bahrain be penalized for something a terrorist organization did in another country? Well, apparently one of the suicide bombers disguised himself as a woman before detonating his explosives. Because Bahrain also feels vulnerable, they have now commanded women to stay away from their place of worship.
The Bahraini government has stated this measure is meant to protect all citizens of the country, including women. They also say that because women's clothing makes them hard to "check" that it's just easier for them to avoid prayers. This new rule, which is being enforced by Chairman Shaikh Mohsen Al Asfoor, is curious for a number of reasons.
First, only one suicide bomber in Saudi Arabia dressed as a woman. The other bomber, who was far more successful with his mission (killing 21 rather than 3) dressed in normal male clothes. So why not ban both men and women? In addition, the Islamic State is well known for their attacks on anyone who deviates from their severe interpretation of Islam. Yet Christian women have not been stopped from worshiping in the nation's churches. This rule only extends to Muslim women.
The nation's religious scholars have given the green light to the ban, saying, "The problem is that these radical men disguise themselves as women by wearing abayas as no one will check them and blow themselves up in the mosques. I will speak to other Sunni clerics to encourage women to pray at home and not in mosques until the situation improves."
Blaming or punishing women for culturally mandated clothing being a 'danger' is at best an ineffective deterrent. Not only does the danger of a terrorist attack never fully go away, but banning women violates major religious and human rights tenets.
In Islam, a woman is absolutely allowed to visit a mosque, and to deny someone their right to visit a place of worship is unlawful within Islam. "Who is more unjust than the one who prevents (people) from the Mosques of Allah" is clearly written in 2:114 of the Qur'an. Further phraseology both in the Qur'an and the Hadith (sayings of the Prophet) are extremely clear about a woman's right to visit the mosque, all concluding that it is unlawful for a man to prevent a woman from attending her house of worship.
There is one Hadith, commonly cited by sexists within the Muslim world, which tells of the Prophet saying that, "It is more excellent for a woman to pray in her house than in her courtyard, and more excellent for her to pray in her private chamber than in her house." However, this "saying" was made directly in response to a woman with a newborn asking if she'd get the same amount of "blessings" from praying at home as she would when going to the mosque. Within context, it seems more of an extension for stay at home mothers, rather than a condemnation of women going out to pray.
Depriving women of their right to worship is also contradictory to the Universal Declaration of Human Rights. It also flies in the face of the UN Convention on the Elimination of all Forms of Discrimination Against Women.
The banning of women from the mosque in Bahrain likely won't last long. Yet for many Muslim women, who often see the government infringe on their personal and religious rights under the guise of 'protection,' it's little consolation that their freedoms will only be interrupted for a 'while.'
http://www.care2.com/causes/bahrain-tells-women-to-stay-away-from-mosques.html#ixzz3d2YhZXql
--------
Malala Invited To Speak During and Indian University Celebrations
14 June, 2015
MYSURU: Nobel laureates Amartya Sen and Malala Yousafzai have been invited to speak during the centenary celebration lecture series of the University of Mysore (UoM).
Eleven other Nobel Prize winners from around the world have been invited too.
It will be Malala's first visit to India. UoM registrar C Basavaraju said the varsity is working out with police security detail for the Pakistani campaigner, who stood up to terrorists for the cause of girls' education in her country.
The 17-year-old was grievously wounded when a gunman fired shots at her when she was going to school on October 9, 2012.
University officials said all the invitees except VS Naipaul have "responded positively".
UoM has earmarked Rs 20 crore for the VVIPs' visit - Rs 2 crore for their travel to Bengaluru; Rs 4 crore for accommodation; Rs 4 crore for transportation; Rs 4 crore for food; Rs 6 crore for arrangements during their stay in Mysuru.
The centenary celebrations, to be inaugurated by President Pranab Mukherjee in July, will continue through the year.
Vice-chancellor K S Rangappa has set up a high-level centenary committee that includes former Prime Minister HD Deve Gowda, former vice-chancellors, litterateurs and scientists. The university has opened an office to handle the preparations.
Centenary Celebrations Committee secretary H Rajashekar said efforts are being made to invite the Nobel laureates. "We are making efforts to provide proper security for VVIPs who will attend the celebrations."
As part of the celebrations, UoM will host the 103rd Indian Science Congress from January 3 to 7. It will spend Rs 20 crore on the five-day event.
The university will present awards named after three eminent persons: Bharat Ratna Sir M Visvesvaraya Centenary Award for Innovation in Technology; Bharat Ratna Dr S Radhakrishnan Centenary Award for Social Sciences; and Bharat Ratna Prof CNR Rao Centenary Award for Sciences. The awards carry a cash award of Rs 1 lakh and a citation.
http://timesofindia.indiatimes.com/india/Malala-invited-to-speak-during-University-of-Mysore-celebrations/articleshow/47655010.cms
--------
Muslim Women Break Down Cultural Barriers at MCG, Australia
14 June, 2015
AUSTRALIA'S first predominantly Muslim women's AFL team broke down cultural barriers when they ran onto the hallowed turf at the MCG for a historic curtain-raiser on Sunday.
The 20 women, who all form part of the Auburn Giants, were split into two teams of 10 players and took part in a competitive match ahead of the Collingwood-Greater Western Sydney round 11 clash.
Twenty women took to the MCG for a curtain raiser ahead of the Pies-Giants clash. All pictures: AFL Media
AUSTRALIA'S first predominantly Muslim women's AFL team broke down cultural barriers when they ran onto the hallowed turf at the MCG for a historic curtain-raiser on Sunday.
The 20 women, who all form part of the Auburn Giants, were split into two teams of 10 players and took part in a competitive match ahead of the Collingwood-Greater Western Sydney round 11 clash.
Twenty women took to the MCG for a curtain raiser ahead of the Pies-Giants clash. All pictures: AFL Media
Full report at:
http://www.afl.com.au/news/2015-06-14/muslim-women-play-historic-mcg-curtain-raiser
--------
Women in Iran Are Rebelling Against Compulsory Hijab by Exposing Their Hair in Beautiful and Brave Pictures
14 June, 2015
Iranian ladies have been legally required to cover their hair while out in public since 1979.
The law is enforced pretty heavily and many women are arrested or fined by police if they fail to cover up with the attire considered appropriate.
But brave ladies have begun rebelling against the law which they feel is outdated and unfair.
Launching a subtle yet powerful protest, Iranian females are empowering and inspiring one another with pictures of themselves without their head scarves on the Facebook group My Stealthy Freedom.
Alongside their courageous photos, the women are revealing how freedom from their hijabs makes them feel.
--------
Awesome Group of Muslim Girls Make B-Ball Uniforms That Match Their Faith
14 June, 2015
Say what you will, but middle-school basketball is no joke. Out at the Cedar Riverside Community Center in Minneapolis, Minnesota, a group of Muslim girls on a basketball team took their game very seriously—as well as their faith. But a lot of items they wanted to wear, including a hijab, weren't part of their traditional basketball uniform. So they took a time out and came up with a strategy: since the uniforms didn't work for them, they would design their own.
The girls partnered up with students at the University of Minnesota College of Design, as well as the Tucker Center for Research on Girls & Women in Sport. Over a series of months, the two groups worked alongside rows of sewing machines. The girls would come up with big visions for their design, and the students would help them execute it.
The final product was powerful, and best of all, useful: including a flexible skirt, breathable leggings, and a tighter hijab. Only four years ago, FIFA banned the Iranian women's basketball team from playing at The Olympics, simply because of their hijabs. For some Muslim women, it can be a challenge to celebrate their faith on the field. But it's not impossible. While FIFA hosts a slightly bigger game than the Cedar Riverside Community Center, the center clearly has better ethics, a better vending machine, and a killer middle-school team.
http://magazine.good.is/articles/awesome-group-of-muslim-girls-make-uniforms-that-match-their-faith
--------
Queen honours two Egyptians, Muslim woman in birthday list
14 June, 2015
Two Egyptians have been honored by Queen Elizabeth, making it to the monarch's birthday honors list announced on Saturday.
Deputy governor of the Bank of England, Dr. Nemat Talaat Shafik, and General Bishop of the Coptic Orthodox Church in the UK, Bishop Angaelos, were acknowledged for their outstanding service to British society.
In a statement, Britain's ambassador to Cairo John Casson described the inclusion of Egyptians as a celebration.
"Today is a day to celebrate how Britain and Egypt working together gets amazing results. Dr. Shafik and Bishop Angaelos have led dedicated lives in service of others and it is right that their achievements and contributions to Britain, Egypt, and indeed the whole world are recognized. They, along with many other outstanding individuals honored for their public service today, are inspirations to young Britons and young Egyptians alike."
Dr. Shafik, who is originally from Egypt's second city of Alexandria, was made a Dame Commander of the Most Excellent Order of the British Empire (DBE) for her services to public administration and the global economy.
She has previously worked as deputy managing director of the IMF and permanent secretary of the UK's Department for International Development.
Meanwhile, Bishop Angaelos was made Officer of the Most Excellent Order of the British Empire (OBE) for his services to international religious freedom, according to a press release.
Also on the honors list was Rimla Akhtar, chair of Muslim Women's Sport Foundation, who received an MBE for her work in promoting equality and diversity.
Akhtar leads the organization's work in raising awareness and providing sporting opportunities for women, in particular those from ethnic minority communities
Speaking to getwestlondon news website this week, she said: "Honestly I was shocked when I found out, I wasn't expecting it at all.
"I feel like I'm at the beginning of my journey - to receive this honor is such an amazing feeling.
"It's nice to see what myself and my colleagues are doing is appreciated and important."
Akhtar also co-founded The Listening Service, an organization that provides mental health awareness and support for all women, with a particular focus on women from minority communities, according to the getwestlondon report.
The honors list, awarded to people from all different backgrounds, recognizes those who have made achievements in public life and committed themselves to serving and helping Britain. The Queen celebrates two birthdays each year; her actual birthday is on April 21 and her official birthday is celebrated on a Saturday in June.
http://english.alarabiya.net/en/News/middle-east/2015/06/14/Queen-Elizabeth-honors-two-Egyptians-in-birthday-list-.html
--------
After Gymnast Furore, Islamist Group Moots Jakim Guidelines for Sports
14 June, 2015
KUALA LUMPUR, June 14 — The federal Islamic authorities should come out with a guideline for sports so Muslim women can stay Shariah-compliant, the female wing of National Muslim Youth Association (Pembina) said today.
Amid attacks against SEA Games gold medallist Farah Ann Abdul Hadi's gymnastic attire, the student arm of Islamist group Ikatan Muslimin Malaysia (Isma) said Muslim women should stay away for activities or careers which are not Shariah-compliant.
"If Jakim had recently been able to provide a guideline for concerts in Malaysia, I am optimistic Jakim will be able to provide a guideline for sports next," Pembina female wing chief Roszida Kamaruddin said on its website, using the acronym of the Malaysian Islamic Development Department.
Jakim recently introduced updated guidelines to entertainment which, among others, urges gender segregation among the audience, and prohibits humour that will provoke "excessive laughter".
According to Jakim, the new list is meant to assist the authorities in ensuring that entertainment programmes are based on the Islamic faith and codes, and moral values.
Roszida accused many sports of trying to discard an athlete's shame using nearly-naked attires, claiming that "gymnastics" originated from a Greek word which means "to exercise naked".
"Gymnastics" comes from the Greek word "gymnastikos", meaning "skilled in bodily exercise". This, in turn, originated from the archaic Greek word "gymnos" which means "naked", as athletes in ancient Greek competed without clothes.
"Women should not be stopped from sports, but they must priorities the Islamic codes in sports attire. Furthermore, there are many Muslim female athletes who succeed even by covering their aurat," said Roszida, referring to the "intimate body parts" that Muslims must cover with clothing.
On Friday, Malay Mail Online reported of Muslims who attacked Farah for showing her "aurat" and the "shape of her vagina" in a leotard despite winning a gold medal at the SEA Games.
Several Facebook users slammed the 21-year-old Malay woman on Buletin TV3's Facebook page that had uploaded Wednesday a photograph of her in the gymnastics outfit, along with a caption that announced her winning gold in floor exercise in artistic gymnastics.
Youth and Sports Minister Khairy Jamaluddin had since defended Farah Ann, telling detractors that they have no right to judge her attire.
The double gold medallist had also fired back at her critics on Twitter: "Empty cans make the most noise."
http://www.themalaymailonline.com/malaysia/article/after-gymnast-furore-islamist-group-moots-jakim-guidelines-for-sports#sthash.Jahn3UfB.dpuf
--------
Bang and Bling for Kurdish Pop Diva, Helly Luvs' Anti-ISIL Anthem
14 June, 2015
High heels, fatigues and gold rifle-shaped rings -- singer Helly Luv's blend of bang and bling has made her the most popular cheerleader for the Iraqi Kurds' war against jihadists.
She visits Peshmerga forces fighting the Islamic State of Iraq and the Levant (ISIL) group, which overran a third of Iraq last year, and says she filmed her latest music video in Al-Khazr, not far from the jihadists' lines.
"I want to give something to the Peshmerga because I consider myself one of them," the 26-year-old singer told AFP in the Kurdish regional capital Arbil.
"I wore Peshmerga clothes in the song to support them."
Her latest music video, for a song titled "Revolution," opens with a Peshmerga fighter looking at a picture of himself with a young boy, presumably his son, as shelling and gunfire are heard in the background.
He tucks the photo inside his helmet and goes to fight.
The video then moves to a quiet village where children play and people sit drinking tea, but it soon comes under fire from black-clad militants driving armoured vehicles like those captured from Iraqi security forces, including a tank.
A child screams and residents flee, but Helly Luv -- wearing golden high heels with a white and red scarf covering her face -- strides the other way to dramatic music, unfurling a banner before the tank that reads "STOP THE VIOLENCE."
She sings and dances next to a car with "END WAR" spray painted on its side, but footage that includes peshmerga forces counterattacking and lyrics such as "We gon' keep on fighting" make clear she means the violence will stop once IS is defeated.
The music video hits on many themes that the peshmerga have sought to emphasise since the anti-ISIL conflict began last June, showing them as the brave, secular defenders of the innocent threatened by jihadist brutality.
To hammer home the coexistence message, people march in the video carrying banners with peace messages in various languages and an array of religious symbols, including the Jewish star of David and the Buddhist wheel.
YouTube success
The video and English lyrics are over the top and sometimes cringe-worthy, but also apparently popular, garnering 700,000 views on YouTube barely two weeks after its release.
"The song is called 'Revolution' and I call in it for Kurdistan and the countries of the world to unite to fight terrorism and injustice," Helly Luv said.
"I want to show the world who the peshmerga forces are, and who Daesh [ISIL] is," she said, using an Arabic acronym that the jihadist group deems derogatory.
Peshmerga officer Nawzad Saleh, said that in the days when the peshmerga were mountain-based rebel fighters, singers sang songs encouraging them to fight.
"Now the Kurdish singers have begun singing for the peshmerga in other languages, and this is a beautiful step and will result in the world knowing more about who the peshmerga are," he said.
Peshmerga fighter Abdulrahman Ahmed agreed, saying such songs will encourage "the international community to sympathise and cooperate with us more, and support us with weapons to continue fighting these terrorists and eliminate them once and for all."
According to her online biography, Helly Luv was born Helan Abdulla in Iran in 1988 and her grandfather fought for the peshmerga.
Her family had fled Saddam Hussein's rule and she grew up mainly in Finland before flying to Los Angeles when she turned 18 to pursue a career in music.
With plenty of hip-swinging and hair-swishing, the rock-chick style of the "Kurdish Shakira" is in stark contrast with the sombre and pious "nasheeds" -- both for and against ISIL -- that have blossomed on social media over the past year.
When the jihadist group took over swathes of Iraq in June 2014 and subsequently attacked the peshmerga, many in the West held up the Kurds as the moral and military flagship of the world's fightback against IS.
Of filming in Al-Khazr, Helly Luv said: "There were some who warned me against going there, but I insisted that filming be in real places affected by Daesh [ISIL] terrorism."
http://www.hurriyetdailynews.com/bang-and-bling-for-kurdish-pop-divas-anti-isil-anthem.aspx?pageID=238&nID=83928&NewsCatID=352
--------
Marriage is more beneficial for men than women, study shows
14 June, 2015
Marriage has long been cited as a health booster, with couples living in wedded bliss more likely to live longer and have fewer emotional problems.
Yet a new study suggests that women hardly benefit from tying the knot.
Landmark research by University College London, the London School of Economics and The London School of Hygiene and Tropical Medicine found that single women do not suffer the same negative health effects as unmarried men.
In fact, middle aged women who had never married had virtually the same chance of developing metabolic syndrome – a combination of diabetes, high blood pressure and obesity - as married women.
And although they showed slightly higher levels of a biomarker which signifies an increased risk of breathing problems, it was far lower than the risk of illness for unmarried men. The same was true of a biomarker for heart problems which was raised 14 per cent in men but was barely noticeable in women.
"Not marrying or cohabiting is less detrimental among woman than men," said Dr George Ploubidis, a population health scientist at the UCL Institute of Education.
"Being married appears to be more beneficial for men."
The research also showed that getting divorced did not have a harmful impact on future health for either men or women as long as they found a new long-term partner. And women who divorced in mid to late 20s had 31 per cent lower odds of metabolic syndrome, compared to those who stayed married.
"Numerous studies have found that married people have better health than unmarried people," added Dr George Ploubidis.
"However, our research shows that people who experience separation, divorce and remarriage, have very similar levels of health in middle age to those who are married.
"Previous research has also shown that men experience an initial decline after divorce, but we found that in the long term they tend to revert back to their pre-divorce health status.
"Surprisingly, those men who divorced in their late 30s and did not subsequently remarry, were less likely to suffer from conditions related to diabetes in early middle age compared to those who were married."
The team analysed information on more than 10,000 people born in England, Scotland and Wales in the same week of spring 1958.
The study is the first to investigate the links between partnership status and health in middle age in a large sample of the population that had undergone medical examinations.
Marriage was thought to benefit people because of a myriad of physical and psychological reasons. It was thought that wives encouraged married me to keep physically fit, eat properly and visit their doctor.
Women in contrast were thought to benefit emotionally because they value being in a relationship.
But the new study showed that while there was a small health impact for men who never married, it appeared that a long-term relationship was enough to keep people happy and healthy.
However Harry Benson, of the Marriage Foundation said there was more to marriage than health benefits.
"The whole point of marriage is to affirm commitment that couples make for their own stability and for the benefit of their children," he said.
"The bottom line is that married parents are far more likely to stay together, independent of age or education. Whether marriage makes couples healthier is neither here nor there.
"The only thing that matters is that having married parents means that children are far more likely to grow up with both of them under the same roof."
A major study in 2011 found that being married lowered the risk of premature death by 15 per cent. The previous year research by the World Health Organisation found marriage could reduce the risk of anxiety and depression and those who tied the knot were much less likely to suffer the blues than those who stayed single.
In 2014, there were more than 3 million cohabiting partnerships, and 12.5 million married couples in the UK. According to research by the Office for National Statistics, there were 118,000 divorces in England and Wales in 2012.
The research was published in The American Journal of Public Health.
http://www.dhakatribune.com/europe/2015/jun/13/marriage-more-beneficial-men-women-study-shows#sthash.05bDFdMO.dpuf
--------
URL: https://newageislam.com/islam-women-feminism/bindi-sporting-muslim-domestic-workers/d/103483