New Age Islam News Bureau
23 November 2020
• Bilqis Abdul-Qaadir Basketball Player Refused To Take Off Her Hijab, Opening New Doors For Athletes Of Other Faiths
• Ertugrul's Blue-Eyed Warrior Woman, Aykiz
• Kamala Harris Pays Tribute To Black Women In 1st Speech As VP-Elect
• Digital Economy By Women
Compiled By New Age Islam News Bureau
URL: https://www.newageislam.com/islam-women-feminism/bilqis-abdul-qaadir-basketball-player/d/123410
-------
Bilqis Abdul-Qaadir Basketball Player Refused To Take Off Her Hijab, Opening New Doors For Athletes Of Other Faiths
By Alaa Elassar
November 7, 2020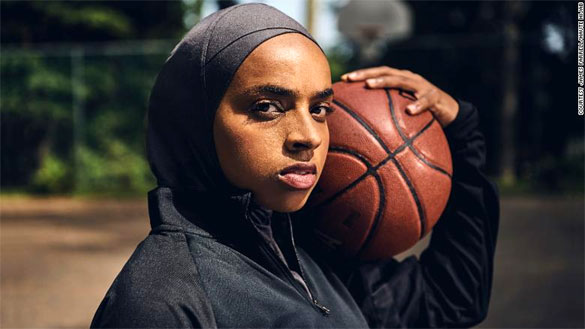 Bilqis Abdul-Qaadir.
-----
Bilqis Abdul-Qaadir dreamed of playing professional basketball ever since she was a child shooting hoops in Massachusetts.
She came to life on the court, bringing with her fiery passion and an undefeatable spirit that made her a worthy opponent.
She practiced hard, studied the game and won title after title for the New Leadership Charter School in Springfield. To this day, Abdul-Qaadir, 29, holds the high school career scoring record in the state among both boys and girls, according to the Massachusetts Interscholastic Athletic Association.
At the University of Memphis and later Indiana State University, she also became the first woman to wear a hijab while playing NCAA Division I basketball.
But just as Abdul-Qaadir's professional career was about to take off, her dream was cut short by a rule that forced her to choose between the game and her religious choice to wear the Islamic headscarf.
"For the first time in my life, I was really tested," Abdul-Qaadir told CNN. "I couldn't play professionally, so I had to make a decision. I considered taking the hijab off to play. It was a dream since I was a kid, and it was my faith keeping me from reaching my dream. I was so torn."
Refusing to choose, Abdul-Qaadir challenged the rule prohibiting headgear larger than five inches -- a decision that would end her dream but make the game more accessible to players of different faiths.
Wearing a hijab on the basketball court had never been a problem for Abdul-Qaadir. It wasn't until her senior year at Indiana State in 2013, when she was preparing to play professionally in Europe, that it became an issue.
Her agent informed her that the International Basketball Federation, or FIBA, stipulated that no player could wear a head covering -- including the hijab -- during games.
"They told me the league wanted to keep the game of basketball religiously neutral," Abdul-Qaadir said. "When we asked them why athletes who have religious tattoos, like crosses or biblical scriptures, were allowed to play, they then turned it into how hijab weren't allowed because it was a safety hazard."
Not satisfied with FIBA's answers, Abdul-Qaadir petitioned the federation for a rule change. In 2014, FIBA began a lengthy review of its policy. And Abdul-Qaadir continued to practice as she advocated for change within the federation.
"There were moments where I was like 'forget this, why am I doing this? FIBA isn't budging, why am I still pushing forward?' It was getting difficult," Abdul-Qaadir said.
Finally, in October 2017, FIBA approved a new rule that allows players to wear ratified headgear that minimizes the risk of injury and is the same color as a team's uniform.
In a statement on its website, FIBA said: "The new rule comes as a result of the fact that traditional dress codes in some countries -- which called for the head and/or entire body being covered -- were incompatible with FIBA's previous headgear rule."
"There is zero conflict between my faith and my ability to play basketball," Darsh Preet Singh, the first turbaned Sikh basketball player in the NCAA, said in 2017 while praising the rule change. "I am thrilled about FIBA's decision, which will allow athletes across the world to pursue their dreams without compromising their faith."
For Abdul-Qaadir, the victory was bitter sweet. While she helped change the rule, working alongside other athletes to raise awareness, most teams now considered her too old to play professionally.
She was distraught but found solace in her accomplishment. She also found hope in what it meant for the next generation of Muslim basketball players.
In 2014, while advocating for the rule change, Abdul-Qaadir launched "Muslim Girls Hoop Too," an initiative aimed at instilling "confidence, self-worth, strength, and most importantly, a sense of faith" through basketball.
"After I chose not to play, my ultimate goal was teaching as many young Muslim girls basketball as possible so that they could see that sports could lead them to not only a career, but through life with strength and self confidence," said Abdul-Qaadir, who had earned a master's degree in coaching from the University of Memphis.
"I also just love seeing the smile and glow on a young girl's face when she makes her first shot and looks back at me and says, 'man, did I just do that?' I live for that moment," she said.
Maryam Al-Sabawi, a player who's been training with Abdul-Qaadir for two years at the London Islamic School in Ontario, Canada, said all the girls in her program look up to their coach and athletic director.
"Ever since I met her I was starstruck. She inspired us to be change makers. Every single time I hear her story it inspires me," Al-Sabawi, 14, told CNN. "You rarely see people who look like you, who wears hijab and are in such a position of power and success, and she was robbed of her right to play."
Before she met Abdul-Qaadir, Al-Sabawi wanted to wear the hijab but was afraid doing so would mean sacrificing the sport. Now a freshman at Oakridge Secondary School in Ontario, she has made the decision to wear the headscarf and says she is "no longer afraid of what that means."
"From Bilqis, I learned that I'm enough, that I don't need external validation. If we don't fit into the rules, we don't give up. We change the rules," Maryam said.
"There's Batouly Camara playing now overseas in the country I wanted to play in, Spain, and she's wearing hijab playing under FIBA leagues. I'm halal jealous, in a way," she joked. "But I love the fact that door has been opened. I'm proud to say that if it wasn't for me sacrificing my career and staying strong, she maybe wouldn't have that opportunity to play."
https://edition.cnn.com/2020/11/07/us/bilqis-abdul-qaadir-basketball-hijab-trnd/index.html?utm
---------
Ertugrul's Blue-Eyed Warrior Woman, Aykiz
Maliha Rehman
08 Nov 2020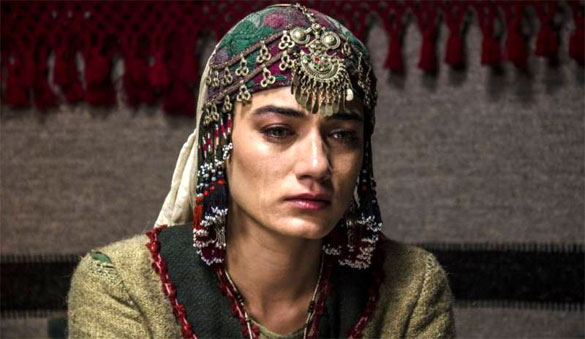 Aykiz stood up for what was right, fought bravely and endured abuse
------
There wasn't a single dry eye when Aykiz Hatun breathed her last. Ertugrul fans loved the warrior Kayi tribeswoman with the steely blue eyes, married to one of their favourite heroes, Turgut Alp. All through the top-rated first season of Dirilis: Ertugrul, Aykiz stood up for what was right, fought bravely and endured abuse. In the beginning of the second season, she died a befittingly heroic — but excruciating — death, burnt by the Mongols. It was one of the saddest scenes from the show.
Dirilis: Ertugrul went on for four more seasons with other characters playing pivotal roles, but Aykiz remained memorable. Hande Subasi, the Turkish actress who played Aykiz, enjoyed the acclaim back when the show aired in her country and now, some years later, with Dirilis: Ertugrul becoming a major hit in Pakistan, she has recently acquired an all new, colossal fan-base.
Talking exclusively to Icon, she says, "Thanks to my Pakistani fans, after several years I have remembered once again how much I loved working on the show, and playing Aykiz. It was through Instagram that I realised that I now have so many fans in Pakistan. I feel honoured."
More than five years since Aykiz's curtain call, Hande's career has moved on from the never-ending grasslands inhabited by the Kayi tribe. She is now starring in a musical play, Sevmekten Oldu Desinler, which translates into 'They Died Because of Love', and chalks the story of a poor woman who pursues her dream to become a singer.
There is a lot more to Hande Subasi than the fiery tribeswoman, in traditional headgear, fighting the Mongols in Drilis: Ertugrul. At the end of the day, she says she's still Hande, not Aykiz Hatun
"It's the sort of role that I always wanted to enact," shares Hande, who acts as well as sings in the play. She has also just worked on a music single which will be releasing soon. It's all a far cry from Aykiz — but while die-hard Ertugrul fans may find this difficult to fathom, there is a lot more to Hande Subasi than the fiery tribeswoman, in traditional headgear, fighting the Mongols. She won the Miss Turkey pageant back in 2005 and, ever since then, started building her acting career. "I feel very lucky that my dreams have come true."
Right now, though, in Pakistan, Hande embodies Aykiz and my interview with her starts off by spiraling back in time to her days on the massive Ertugrul set. "Turkey and the Ottoman empire have a rich history with heroes whose stories are worth telling," she observes. "People are curious to know more about these heroes and Dirilis: Ertugrul tells the story of the events that laid the groundwork of the Ottoman Empire's foundation. This is one of the main reasons why the series became so popular. And while I hadn't expected the show to gain international recognition, it didn't surprise me when it did. Especially in the case of Pakistan, we may have different cultures but we are connected through the same religion. I can understand that, just like the Turkish audience, Pakistani viewers must also have been able to empathise with the characters."
Aykiz's death was heartbreaking for Ertugrul's many fans. Was saying goodbye to the character also sad for Hande? "Of course. I was upset to say goodbye to Aykiz. I loved her just like everyone else. I think people enjoyed watching her relationship with her father, and especially her love for Turgut. It made it even sadder to say goodbye to her," she reminisces. "Even personally, what I loved most about Aykiz was her love for Turgut, and how she was willing to do anything she could to protect it. She was brave, determined and spoke the truth. I think that I am similar to her in these ways."
How did she prepare for her role as the fierce warrior woman? "The role definitely required some preparation as Aykiz was very skilled. I took horseback riding, archery and swordfighting lessons. I personally enjoy active sports, so I enjoyed learning these new skills. Even my favourite scenes from the show are the ones that include action, fighting and horseback riding."
Hande muses, "However, if I had to pick out a specific scene as my favourite, I would say that it was the one where Ertugrul forgave Turgut because it was very significant for Aykiz and Turgut's future together."
We move on to discussing her interactions with other members of the cast. Evidently, Hande and the other four women playing pivotal roles in the series all shared a trailer. "I was especially close to them. Esra Bilgic, Didem Balcin, Hulya Darcan, Burcu Kiratli and I would share food and hang out together in between scenes. Hulya Darcan, or Hayme Ana from Ertugrul, was like a mother to us, just like in the show.
"The set itself was extremely big. The team had created places and conditions dating back to a different time period, as well as costumes and décor. It was all very impressive."
We drift back to present day and a slightly more sensitive issue. Ertugrul's cast may have enjoyed their sudden extreme popularity in Pakistan but they have also had to endure some good old-fashioned Pakistani social media trolling. Fans have frequently gotten offended when their favourite characters have posted a personal picture that they find too risqué, or completely in contrast to their Ertugrul avatars. They have proceeded to make snide comments at worst ('Are you Muslim?') or offer kindly advice, expressing their disappointment. Does Hande feel offended by this?
"This is actually a very sensitive issue and it could be discussed for hours," she says. "To sum it up, however, I know that, everywhere in the world, people tend to associate the characters they love with the actors or actresses who play that role. My job, though, was only to do my professional best, and to give life to Aykiz. This does not make me Aykiz. I'm Hande. I really appreciate the admiration of my fans but I'm not happy about being criticised and getting negative comments about things that I do in my personal life."
Notwithstanding the trolling, would Hande like to visit Pakistan in the near future? "Of course I would," she says. "I have never been to Pakistan but I'm very curious about your culture. I now feel even closer to your country because of all the positive feedback that I have received. It's made me very happy, that I'm known in a country because of my work. It would be a pleasure to visit Pakistan!"
https://www.dawn.com/news/1589256/spotlight-ertugruls-blue-eyed-warrior-woman
-----------
Kamala Harris Pays Tribute To Black Women In 1st Speech As VP-Elect
AP
Nov 8, 2020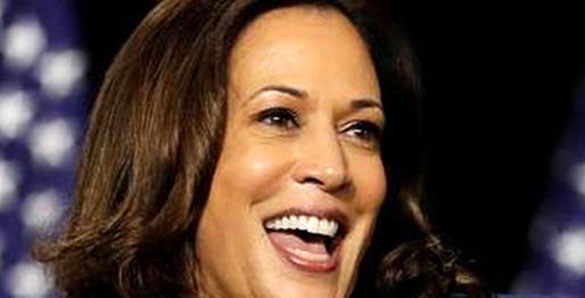 Vice president-elect Kamala Harris on Saturday paid tribute to the women, particularly Black women, whose shoulders she stands on as she shatters barriers that have kept mostly white men entrenched at the highest levels of American politics for more than two centuries.
"Tonight I reflect on their struggle, their determination and the strength of their vision to see what can be unburdened by what has been," Harris said, wearing a white suit in tribute to women's suffrage. President-elect Joe Biden had the character and audacity "to break one of the most substantial barriers that exists in our country, and select a woman and his vice president," she added.
"While I may be the first woman in this office, I will not be the last,'' Harris said in her first post-election address to the nation.
The 56-year-old California senator, also the first person of South Asian descent elected to the vice presidency, represents the multiculturalism that defines America but is largely absent from Washington's power centers. Her Black identity has allowed her to speak in personal terms in a year of reckoning over police brutality and systemic racism. As the highest-ranking woman ever elected in American government, her victory gives hope to women who were devastated by Hillary Clinton's defeat four years ago.
Harris told little children to "dream with ambition, lead with conviction, and see yourselves in a way that others may not simply because they're never seen it before." After Biden's speech, she was joined on stage by her family, including her two grandnieces who wore white dresses.
A rising star in Democratic politics for much of the last two decades, Harris served as San Francisco's district attorney and California's attorney general before becoming a US senator. After she ended her own 2020 Democratic presidential campaign, Joe Biden tapped her as his running mate. They will be sworn in as president and vice president on Jan. 20.
Biden's running mate selection carried added significance because he will be the oldest president ever inaugurated, at 78, and hasn't committed to seeking a second term in 2024.
Harris often framed her candidacy as part of the legacy of pioneering Black women who came before her, including educator Mary McLeod Bethune, civil rights activist Fannie Lou Hamer and Rep. Shirley Chisholm, the first Black candidate to seek a major party's presidential nomination, in 1972.
Despite the excitement surrounding Harris, she and Biden face steep challenges, including a pandemic that has taken a disproportionate toll on people of color, and a series of police killings of Black Americans that have deepened racial tensions. Harris' past work as a prosecutor has prompted skepticism among progressives and young voters who are looking to her to back sweeping institutional change over incremental reforms in policing, drug policy and more.
Jessica Byrd, who leads the Movement for Black Lives' Electoral Justice Project and The Frontline, a multiracial coalition effort to galvanize voters, said she plans to engage in the rigorous organizing work needed to push Harris and Biden toward more progressive policies.
"I deeply believe in the power of Black women's leadership, even when all of our politics don't align,'' Byrd said. "I want us to be committed to the idea that representation is exciting and it's worthy of celebration and also that we have millions of Black women who deserve a fair shot.''
Harris is the second Black woman elected to the Senate. Her colleague, Sen. Cory Booker, who is also Black, said her very presence makes the institution ``more accessible to more people'' and suggested she would accomplish the same with the vice presidency.
Harris was born in 1964 to two parents active in the civil rights movement. Shyamala Gopalan, from India, and Donald Harris, from Jamaica, met at the University of California, Berkeley, then a hotbed of 1960s activism. They divorced when Harris and her sister were girls, and Harris was raised by her late mother, whom she considers the most important influence in her life.
"When she came here from India at the age of 19, she maybe didn't quite imagine this moment. But she believed so deeply in an America where a moment like this is possible," Harris said Saturday night.
Kamala is Sanskrit for "lotus flower," and Harris gave nods to her Indian heritage throughout the campaign, including with a callout to her "chitthis,'' a Tamil word for a maternal aunt, in her first speech as Biden's running mate. When Georgia Sen. David Perdue mocked her name in an October rally, the hashtag (hash) MyNameIs took off on Twitter, with South Asians sharing the meanings behind their names.
The mocking of her name by Republicans, including Trump, was just one of the attacks Harris faced. Trump and his allies sought to brand her as radical and a socialist despite her more centrist record, an effort aimed at making people uncomfortable about the prospect of a Black woman in leadership. She was the target of online disinformation laced with racism and sexism about her qualifications to serve as president.
Congresswoman Pramila Jayapal of Washington said Harris' power comes not just from her life experience but also from the people she already represents. California is the nation's most populous and one of its most diverse states; nearly 40% of people are Latino and 15% are Asian. In Congress, Harris and Jayapal have teamed up on bills to ensure legal representation for Muslims targeted by Trump's 2017 travel ban and to extend rights to domestic workers.
"That's the kind of policy that also happens when you have voices like ours at the table,'' said Jayapal, who in 2016 was the first South Asian woman elected to the U.S. House.
Harris' mother raised her daughters with the understanding the world would see them as Black women, Harris has said, and that is how she describes herself today.
She attended Howard University, one of the nation's historically Black colleges and universities, and pledged Alpha Kappa Alpha, the nation's first sorority created by and for Black women. She campaigned regularly at HBCUs and tried to address the concerns of young Black men and women eager for strong efforts to dismantle systemic racism.
San Francisco Mayor London Breed, who considers Harris a mentor, views Harris' success through the lens of her own identity as the granddaughter of a sharecropper.
"African Americans are not far removed from slavery and the horrors of racism in this country, and we're still feeling the impacts of that with how we're treated and what's happening around this racial uprising,'' she said. Harris' candidacy ``instills a lot of pride and a lot of hope and a lot of excitement in what is possible.``
Harris is married to a Jewish man, Doug Emhoff, whose children from a previous marriage call her "Momala.'' The excitement about her candidacy extends to women across races.
Friends Sarah Lane and Kelli Hodge, each with three daughters, brought all six girls to a Harris rally in Phoenix in the race's closing days. ``This car is full of little girls who dream big. Go Kamala!'' read a sign taped on the car's trunk.
Lane, a 41-year-old attorney who is of Hispanic and Asian heritage, volunteered for Biden and Harris, her first time ever working for a political campaign. Asked why she brought her daughters, ages 6, 9, and 11, to see Harris, she answered, "I want my girls to see what women can do."
timesofindia.indiatimes.com/world/us/us-presidential-elections/kamala-harris-pays-tribute-to-black-women-in-1st-speech-as-vp-elect/articleshowprint/79107834.cms
---------
Digital economy by women
8 NOVEMBER 2020
Africa's digital transformation would be nothing without the tens of thousands of people who have invested, and continue to invest finances, time and energy into propelling it forward.
They are the leading lights driving change in infrastructure, mobile connectivity, online activism, e-commerce and financial services.
Some are opening up digital cultural spaces or working to bring in investment for tech start-ups. Women in particular are doing amazing things in tech right here in Africa.
The digital gap is being closed by women participation pioneering new way of doing business in the digital space. Unleashing the potential of women in the modern digital economy is key for the attainment of economic prosperity.
According to the World Bank, a 10% increase in digital penetration could result in over 1% increase in GDP, while closing the gender digital divide could add up to 140 million USD per year to the mobile industry for the next 5 years.
https://northglennews.co.za/255567/digital-economy-pioneered-by-women/
---------
URL: https://www.newageislam.com/islam-women-feminism/bilqis-abdul-qaadir-basketball-player/d/123410
New Age Islam, Islam Online, Islamic Website, African Muslim News, Arab World News, South Asia News, Indian Muslim News, World Muslim News, Women in Islam, Islamic Feminism, Arab Women, Women In Arab, Islamophobia in America, Muslim Women in West, Islam Women and Feminism