New Age Islam News Bureau
23 Nov 2017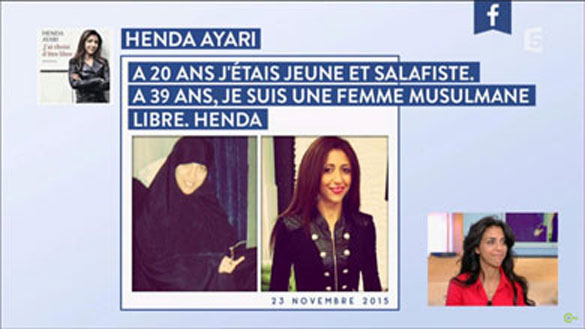 In her complaint, Ayari mentions the fact that she was called a "whore, paid by the Jews and the Zionists". (File photo)
----
• Bill to Scrap Minimum Age for Marriage of Muslim Girls Stirs Outrage in Iraq
• French Woman Accusing Tariq Ramadan of Rape Placed Under Police Protection
• Interior Ministry Stresses Women's Right to Drive without Obstacles
• Sexual Attacks against Rohingya Muslim Women, Girls May Be War Crimes, Says UN Envoy
• Iran: Young Women Actively Partake In Protest at Kharazmi University
• 'Slow, Painful Death' Of Yazidi Woman's Body and Soul While Enslaved by the Islamic State
Compiled by New Age Islam News Bureau
URL: https://www.newageislam.com/islam-women-feminism/bill-scrap-minimum-age-marriage/d/113325
--------
Bill to scrap minimum age for marriage of Muslim girls stirs outrage in Iraq
Nov 23, 2017
A proposal in Iraq's Parliament to scrap the minimum age for Muslim girls to marry has stirred outrage among critics who view it as a licence "to rape children".
Conservative Shiite deputies on October 31 proposed an amendment to a 1959 law that set the minimum age for marriage at 18.
The initial legislation, passed shortly after the fall of the Iraqi monarchy, transferred the right to decide on family affairs from religious authorities to the state and its judiciary.
But now the new bill looks to go back on that -- and would authorise the marriage of any girl if it had the consent of the religious leaders from the Shiite or Sunni Muslim community to which her parents belong.
In effect, it makes "the opinion of the Shiite and Sunni ulema (scholars) obligatory for judges", said a liberal independent MP, Faiq al-Sheikh, a member of Iraq's legal commission.
Historically, he recalled, Islam has allowed the marriage of pubescent girls from the age of nine, the same as Aisha when she is believed to have been married to the Prophet Mohammed.
Social media has been flooded with criticism of the parliamentary bill, ranging from outright indignation to black humour, with anger also rife on the streets.
"It's a law worthy of the Islamic State (jihadist group) that provides legal cover to the rape of children," Hadi Abbas, an army retiree in the southern city of Kut said.
Ali Lefta, a 40-year-old teacher in the port city of Basra, said it amounted to "the murder of the innocence of children" and that the bill was "the latest in a string of stupid laws based on tribal and confessional modes of thinking".
In defence of the bill sponsored by his party, Ammar Toama, who heads the Shiite parliamentary group Fadila, said it "makes no mention of age and stipulates only that she (bride) must be pubescent, capable of deciding, and have the accord of her tutor and a judge".
Under the Iraqi constitution, citizens have to declare their religious affiliation on certain issues. Marriage and inheritance terms for Shiites differ from those for Sunnis.
Toama said the bill's aim was to bring the law "in line with the beliefs" of practising Muslims.
But foreign missions in Baghdad and the United Nations have been up in arms, warning against institutionalised discrimination against women and girls.
Many Iraqis like Safia Mohssen, a mother of three girls, also remain opposed and have taken to mocking the priorities of parliamentarians.
"We have war, crises, unemployment, and yet our parliament is busy with laws that violate children's rights!" she fumed. "The Islamists want to take us back to the Middle Ages."
Majeda al-Tamimi, a woman legislator, said she was confident that many of her colleagues in parliament would oppose the bill.
But whether it passes or not, women like Umm Mohammed in the conservative rural province of Zi Qar, who wed at the age of 14, said marriage was a family affair.
"Only families know when their daughter has reached puberty and at what age she can marry," said the 65-year-old Iraqi.
http://zeenews.india.com/world/bill-to-scrap-minimum-age-for-marriage-of-muslim-girls-stirs-outrage-in-iraq-2059359.html
--------
French woman accusing Tariq Ramadan of rape placed under police protection
23 November 2017
Henda Ayari, the first woman who came forward against Swiss Islamist thinker Tariq Ramadan on rape allegations, has been was placed under police protection after receiving death threats and insults, her lawyer said on Wednesday.
According to the lawyer, the former Salafist-turned-secular feminist has been harassed for nearly a month via messages on Facebook and Twitter, her answering machine, and by people who come ringing at her home.
"This is not trivial, these facts are punishable by three years of imprisonment, it must stop," Jonas Haddad, Ayari's lawyer, said.
Rouen prosecutor Pascal Prache confirmed the complaint and presence of death threats and said that the investigations are ongoing.
In her complaint, Ayari mentions the fact that she was called a "whore, paid by the Jews and the Zionists".
Ramadan is currently under investigation in Paris for "rape, sexual assault, violence and death threats" against two women, including Ayari.
https://english.alarabiya.net/en/News/world/2017/11/23/French-woman-accusing-Tariq-Ramadan-of-rape-placed-under-police-protection.html
--------
Interior Ministry Stresses Women's Right to Drive without Obstacles
23 November 2017
JEDDAH: Women have the right to drive without facing any obstacles, and traffic regulations will be applied to both genders, said Interior Ministry spokesman Maj. Gen. Mansour Al-Turki.
Female residents and citizens who want to familiarize themselves with traffic regulations can do so by reading the Traffic Law, he added.
The speed limit might increase on some roads to 140 km per hour, so "it is crucial to follow speed signs," he said.
The director general of the traffic department, Brig. Gen. Mohammed Abdullah Al-Bassami, said the amount that people are fined for violations is being reconsidered.
A new strategy will be ready in a few months that will include developing the performance of traffic personnel and relying on technology, he added.
The traffic department is also developing a list of driving schools and monitoring them, as well as new regulations promoting public safety, Al-Bassami said.
Mobile radar will be used to monitor violating cars, drivers using their phones and those not wearing seatbelts, he added.
A traffic-violation points system will be applied in the Kingdom, as will a system of withdrawing driving licenses.
According to a royal decree, women will be allowed to drive as of June 24, 2018, Al-Bassami said.
"We are holding meetings to organize and prepare driving schools to receive female trainees," he added.
Maj. Gen. Bassam Al-Attiyah of the Interior Ministry said there is an accident every minute, a death every 20 minutes and four injuries per hour, and 70 percent of accidents occur outside cities.
A royal decree was issued in September allowing women to drive in the Kingdom. It ordered the formation of a ministerial body to give advice on the practicalities of the edict within 30 days and to ensure the full implementation of the order by June 2018. The prohibition of driving is considered a social issue in the Kingdom, as there is no actual law or religious edict that prohibits it.
http://www.arabnews.com/node/1197831/saudi-arabia
--------
Sexual Attacks against Rohingya Muslim Women, Girls May Be War Crimes, Says UN Envoy
November 23, 2017
Widespread atrocities against Rohingya Muslim women and girls have been orchestrated and perpetrated by Myanmar's military and may amount to war crimes, crimes against humanity and genocide, the UN envoy on sexual violence in conflict said on Wednesday.
Pramila Patten, who met many Rohingya victims of sexual violence in Bangladesh camps during a visit this month, said she fully endorses the assessment by UN human rights chief Zeid Ra'ad Al Hussein that Rohingya have been victims of "ethnic cleansing."
Patten said at a news conference that the widespread use of sexual violence "was clearly a driver and push factor" for more than 620,000 Rohingya to flee Myanmar. It was "also a calculated tool of terror aimed at the extermination and removal of the Rohingya as a group," she added.
Myanmar's government has denied committing any atrocities as has its military. The government refused a request from Patten to visit northern Rakhine state where many Rohingya lived.
Buddhist-majority Myanmar doesn't recognise the Rohingya as an ethnic group, insisting they are Bengali migrants from Bangladesh living illegally in the country. It has denied them citizenship, leaving them stateless.
The recent spasm of violence began when Rohingya insurgents launched a series of attacks August 25. Myanmar security forces then began a scorched-earth campaign against Rohingya villages that the UN and human rights groups have called a campaign of ethnic cleansing.
Patten said that during her visit to camps for the displaced, she heard "the most heartbreaking, most shocking, and horrific accounts of abuses committed cold bloodedly with unparalleled hatred against the Rohingya community."
Patten, a former member of the UN Committee on the Elimination of all Forms of Discrimination Against Women, said sexual violence including gang rape by soldiers, forced public nudity and sexual slavery and it was clearly being used "as a tool of dehumanization and as a form of punishment."
She said a number of eyewitnesses "reported rapes of the most extreme and brutal nature, which included the tying of women and girls to a rock or tree before being gang raped by multiple soldiers - and many were literally gang-raped to death."
Some girls who were raped in their houses were left to die when their houses were torched, she added.
Witnesses also said that even before August 25, Myanmar troops would throw Rohingya babies into fires or into village wells to contaminate the water and deprive residents of drinking water, Patten said.
"My observations point to a pattern of widespread atrocities, including sexual violence against Rohingya women and girls who have been systematically targeted on account of their religion and ethnicity," said Patten, a lawyer from Mauritius.
"And a clear picture has emerged about the alleged perpetrators of these atrocities and their modus operandi," she said. "The sexual violence has been commanded, orchestrated, and condoned and perpetrated by the armed forces of Myanmar, the Tatmadaw. And other actors involved include the Myanamar border guard police and militia composed of Rakhine Buddhists and other ethnic groups."
Patten said the U.N. population agency has provided services to 1,644 survivors of various forms of sexual and gender-based violence. "My guess is that this is the tip of the iceberg," she said.
Patten said she believes "there is a prima facie case for pursuing these atrocities in an international court, especially given that the sexual violence was targeted against the women on the basis of their religion and ethnicity as a form of collective punishment and persecution against the group as a whole."
"I can also see a basis for characterizing these violations as war crimes, crimes against humanity and acts of genocide, but it is not my role to make that determination," she said.
Patten said she plans to participate in a Human Rights Council meeting on Myanmar in Geneva on Dec. 5 and hopes to be able to brief the Security Council in New York on sexual violence against Rohingya on Dec. 12.
The council would have to refer Myanmar to the International Criminal Court for the violence against Rohingya to be considered as possible war crimes. That appears highly unlikely as China, an ally of Myanmar, is one of the council's five powers that can veto any action.
Nonetheless, Patten said she plans to meet with the court's prosecutor, Fatou Bensouda, next month at UN headquarters in.
http://www.indiatvnews.com/news/india-sexual-attacks-rohingya-muslim-women-girls-may-be-war-crimes-un-envoy-myanmar-413414
--------
Iran: Young women actively partake in protest at Kharazmi University
22 November 2017
Some 600 students of Tehran's Kharazmi University, including large numbers of women, staged a protest on November 21, 2017, on the university's campus in Karaj, demanding officials to deliver on their promise to build a metro station for the campus in Karaj, west of Tehran.
The protest started at 9.30 a.m. in front of the university's central building with chants denouncing continued theft and embezzlements. The students marched towards the entrance with chants of "unite, unite", calling on other students to join them.
The Kharazmi University entrusted its lands to the municipality and the Ministry of Roads and Urban Development in return for building a metro station for the university's campus. None of the two government organs, however, fulfilled their promise. Furthermore, it has been announced that the construction and passage of a metro rail will close the university's entrance from the expressway and cause further problems for the students' transportation.
http://www.women.ncr-iran.org/iran-women-news/4519-iran-young-women-actively-partake-in-protest-at-kharazmi-university
--------
'Slow, Painful Death' Of Yazidi Woman's Body and Soul While Enslaved by the Islamic State
By Alia Malek
November 22, 2017
The Islamic State's attempt to exterminate the Yazidi people of Iraq did not involve only murder. When the militants swept through the north of the country after taking Mosul in the summer of 2014, they executed the religious minority group's men and elderly women. The children and the other women they took captive. They brainwashed and conscripted the young boys and turned the women and girls into sexual slaves. This enslavement was justified by edicts based on religious interpretations rejected by nearly all Muslims.
In "The Last Girl," Nadia Murad tells the story of her captivity along with other members of her Yazidi village of Kocho. It is an intimate account of what she calls "a slow, painful death — of the body and the soul." As an insider, she is able to present a full portrait of her people as more than just victims. She writes with understandable anger but also with love, flashes of humor and dignity. In telling her story, Murad also offers glimpses of what has been wrought over recent decades in Iraq.
The Kurdish-speaking Yazidis live in northern Iraq, largely in underprivileged villages around Mount Sinjar. Most of their Kurdish and Arab neighbors view them with disdain, and they have long been persecuted for their religious beliefs. (Their monotheistic religion has elements in common with many other Middle Eastern faiths, including Zoroastrianism, Islam, Christianity and Judaism.)
The Yazidis inhabit disputed lands that Arabs and Kurds battle over, and they have often been caught between those competing nationalist ambitions. Murad writes that Saddam Hussein's Baath Party and Masoud Barzani's Kurdish Democratic Party pressured Yazidis to embrace identities as Arabs and Kurds, respectively, in their bids to assert claims to the land. (Both Arab and Kurdish nationalism imagine a basis for belonging in a most limited sense; their insistence on ethnic homogeneity, in a land where there is none, is doomed to leave out many.)
Internationally and in the region, very little attention was paid to the Yazidis — until the Islamic State came for them. Then they quickly became the subject of much reporting. The interest in the Yazidis, like stories about Middle Eastern Christians, perplexed many who had watched for decades as Iraqis experienced unrelenting horrors that traumatized much larger populations, with little global outcry. Resentment even arose over what seemed like an outsize focus on the suffering of minorities when, in absolute numbers, Muslims make up by far the most victims of the Islamic State, al-Qaeda, Shiite militias and others committing violence in the name of Islam.
Of course, it's important to pay close attention to what happens to minorities in all nations: They are the canaries in the coal mine, a gauge of tolerance, inclusiveness and equality in any society. But many observers close to the region are wary of giving a platform to stories of minority persecution in the Middle East, out of fear that such tales can demonize Islam by pinning any shortcomings of majority-Muslim societies on the religion itself. Regrettably, these stories are frequently shared for just such purposes, and those who disseminate them lack a sincere concern for the victims. This is true of both Western Islamophobes and Middle Eastern sectarians.
Murad, herself, fell victim to the politicization of her plight. Iraqi Kurdish peshmerga fighters tricked her into telling her story on video and then released it to the news media without her consent; their goal was to embarrass their political rivals, who are fellow Kurds. "I was quickly learning that my story, which I still thought of as a personal tragedy, could be someone else's political tool, particularly in a place like Iraq," Murad writes. "I would have to be careful what I said, because words mean different things to different people, and your story can easily become a weapon to be turned on you."
No doubt controlling her story was part of her motivation to tell it in this book. She takes the time to introduce Kocho and its people before the arrival of the Islamic State. We meet her resilient mother, who greets each new adversity with a joke, and her brother, who is in love with a girl above his station. Before the Islamic State's crimes turned Murad into a human rights activist, she dreamed of opening a beauty salon where she'd style village brides on their wedding days.
So when the Islamic State strikes, we know that these are real people — and we know that the stakes are high and the devastation is visceral. During her three months in captivity, Murad was sold and bought, repeatedly raped and beaten. Her depiction of these horrors is unflinching. After her escape, she emigrated to Germany and sought justice for Yazidi victims, aided by human rights lawyer Amal Clooney, who has written a foreword for the book.
As part of her mission, Murad seeks to de-weaponize the shame that keeps many victims silent. Her anger at those who destroyed her people's lives permeates the book — and targets not only the Islamic State. She fumes at the peshmerga fighters who had promised to protect the Yazidis but withdrew from their posts (just as the Iraqi army did in Mosul), abandoning the Yazidis to their fate.
Much of her ire is aimed at Arab Sunnis in northern Iraq, whom she deems either explicit or implicit supporters of the Islamic State. She offers evidence of specific men who committed specific acts and who should be held accountable, if they haven't already been killed in the airstrikes against the militants. But she also implicates the vast majority of Arab Sunnis who lived under the Islamic State for doing nothing. She believes that even if they couldn't have stopped the fighters, they could have protested their actions.
Murad does not, however, credit the many people who did protest and were killed for raising their voices. She notes that some dissented but indicts the rest because they didn't flee the Islamic State. For her, remaining in their homes meant they had no problem with the militants or their crimes. She repeatedly asks: Why else would they stay? What she doesn't ask, however, is: Where could they go? Fleeing to Kurdistan was dangerous for Arab Sunnis because their ethnicity and sect meant they were viewed as potential threats, since Islamic State fighters claim to be Sunni and many are Arab. (As Murad notes, Kurds and Turkmen are also in their ranks.)
Murad's presumptions are challenged when a poor Arab Sunni family in Mosul who did not flee takes her in, hides her and devises a plan to get her out of Islamic State territory — at great risk to themselves. What does it mean, then, if both the targets of her wrath and her saviors are Arab Sunnis? Murad's answer is that such people were merely the exception to a rule that she isn't ready to reject, even if it means she too easily gives in to scapegoating and collective guilt.
Murad's anger raises the question (one we confront in other atrocities in the Middle East and elsewhere): How should we judge the bystanders to evil? The question becomes all the more difficult in the case of people who are living under a brutal regime like the Islamic State and are themselves under the constant threat of violence. How fair is it to attribute their failure to act to their religion or ethnicity?
The pursuit of justice and the equally important goal of peace must include vigilance against the temptation to assign collective guilt. Sectarian scapegoating has long been the reason many Iraqis suffered unspeakable ordeals at the hands of their compatriots.
Nonetheless, Murad gives us a window on the atrocities that destroyed her family and nearly wiped out her vulnerable community. This is a courageous memoir that serves as an important step toward holding to account those who committed horrific crimes.
https://www.washingtonpost.com/outlook/slow-painful-death-of-yazidi-womans-body-and-soul-while-enslaved-by-the-islamic-state/2017/11/22/44ffe4a8-bf35-11e7-959c-fe2b598d8c00_story.html?utm_term=.4448dc248ca2
--------
URL: https://www.newageislam.com/islam-women-feminism/bill-scrap-minimum-age-marriage/d/113325
New Age Islam, Islam Online, Islamic Website, African Muslim News, Arab World News, South Asia News, Indian Muslim News, World Muslim News, Women in Islam, Islamic Feminism, Arab Women, Women In Arab, Islamophobia in America, Muslim Women in West, Islam Women and Feminism