New Age Islam News Bureau
7 Nov 2016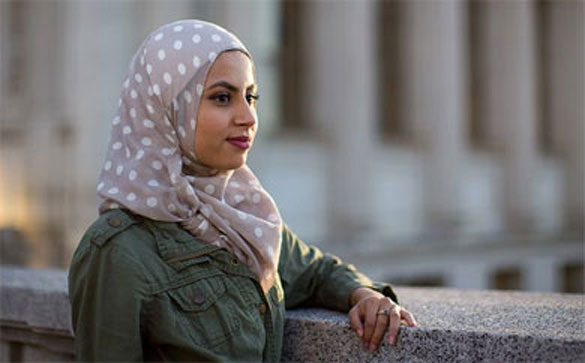 The generalized and misinformed perceptions of Muslim women speak volumes to the way they are viewed on campus
-------
• Beyond The Hijab: Narratives of Muslim Women on American Campus
• Kurdish Woman Leads 30K-Strong Offensive to Conquer ISIS in Their Capital
• Female Terrorist's Entry Triggers Alert in Quetta
• Coach Unveils New Fragrance for Women in Saudi Arabia
• Twice-Divorced Saudi Mother of 6 Reinterprets Islamic Law
• BMMA Survey Contradicts Census Data on Muslim Divorces
• Muslim Women Taking Notice of Minneapolis Apparel Company
Compiled by New Age Islam News Bureau
URL: https://www.newageislam.com/islam,-women-and-feminism/new-age-islam-news-bureau/beyond-the-hijab--narratives-of-muslim-women-on-american-campus/d/109036
-------
Beyond The Hijab: Narratives of Muslim Women on American Campus
NOVEMBER 6, 2016
Injustice doesn't always take the form of hate crimes on a national or international level. It surfaces daily as illiteracy, insensitivity and indifference to narratives on a campus that champions its diverse and politically engaged student body. The generalized and misinformed perceptions of Muslim women speak volumes to the way they are viewed on campus. Although my father was born into Islam, I am not personally engaged in the faith. I can't speak to the women's realities from personal experience, but as a student at UC Berkeley, I feel a proximity to their concerns. The issue is fundamentally about a lack of understanding and engagement. It's about a disconnect between ourselves and our peers, between students and administration, and between our campus and the rest of the world.
What the campus lacks is an informed perception of Islam and those who follow it. For many Muslim women on campus, such as sophomore Shahana Farooqi, sometimes the extent of those perceptions are the way they choose to dress and the headscarf, or hijab, they choose to wear. Muslim women often become reduced to their appearance and subject to the misinformed judgments of those outside the faith. Islam is not a rulebook and did not force Farooqi to act in any way. "It's not just about how you dress," she said, "it's about how you conduct yourself and how you interact with others. The impression of Islam as an oppressive faith in which women are forced to dress modestly and silenced by men is so distorted it has become dangerous. The true Muslim narrative has to do with the ways in which Muslim men and women choose to live their lives, choices that are internal and self-driven.
For Farooqi, deciding to start wearing the Hijab was part of an extended process of becoming closer to her religion. While it is the most visible step she took, rediscovering Islam and what it meant to her personally was much more than just that. She said it was about turning to prayer to improve mental health, finding fulfilment and direction, and achieving independence and internal happiness. While she was born into Islam, her discovery of it was entirely personal. "If I turned to it the way it was meant to be followed, I could thrive within it," she said. "Not just exist within it."
The identities and experiences of 1.6 billion Muslims worldwide are too often homogenized in western rhetoric. This is reproduced in the lack of understanding of veiled women on campus and their decision to wear the Hijab, a decision that has little to do with external influences and everything to do with a personal decision to live life according to certain religious values. Farooqi described the Hijab as not just piece of cloth but a representation of character. "It has something to do with the cloth because you're covering your physical attributes," she said. "But it's also about being modest in what you do and who you are." She explained that it is related to the very definition of Islam — the voluntary submission to god. Part of wearing the Hijab means recognizing "there's something larger than yourself out there."
The Hijab may be integrated into identity for some Muslim women, but many choose not to wear it at all. And when I asked about how the way that the Hijab represents her identity, Farooqi suggested that, while it reflects something about her, preoccupation with it hides nuance in who she is. "Sure it can reflect something about you, but most of us have some internal conflict. The things you see on the outside probably only reflect one side of the conflict," said Farooqi. "If we put so much significance on outside things, we are trivializing our own religion and the way to best follow it."
"The Muslim woman narrative is so powerful," said ASUC senator and UC Berkeley junior Alaa Aissi, "whether shown to the world or felt internally." There are so many Muslim women at UC Berkeley who are outspoken and engaged in the issues close to them.
As long as these perceptions remain superficial, the strength of Muslim women remains overlooked. "The Muslim woman narrative is so powerful," said ASUC senator and UC Berkeley junior Alaa Aissi, "whether shown to the world or felt internally." There are so many Muslim women at UC Berkeley who are outspoken and engaged in the issues close to them. Wearing the Hijab in itself puts Muslim women in a position conducive to activism because the religion they're engaging in is so visible. But the conversation is so much deeper than what they wear or even the intolerance they face because of it. "The societal skills you need to experience social upward mobility don't happen when only talking about the hijab," said Aissi. The conversation should not be restricted to the negative attention they face from outside the Muslim community. Aissi said she would prefer to see the focus placed on the successes and accomplishments of Muslim women on campus and their contributions to a more informed university and a more tolerant nation.
Muslim men and women are an integral part of rebuilding a multicultural, multiethnic and religiously tolerant America. Their narratives are a necessary contribution to the inclusive and progressive objectives of our generation. Farooqi described her experiences being racialized by people who assume she speaks Arabic because they see her wearing the hijab. Similarly, Aissi described her frustration at a time when a professor asked her where she was "really" from when he didn't get the original response he was expecting. Second-generation Muslim Americans and first-generation immigrants live on the intersection between western values and Muslim ideals. The two can and do exist in unison. "I grew up in this space," Aissi said. "This is what I know."
The issue with conversations surrounding Muslim women is that they are trivialized to conversations about religious dress. "In reducing that conversation," Aissi said, "we forget all the things we're trying to move toward." In an environment like UC Berkeley where so many people have the platform to discuss and challenge social injustices, we have the opportunity to broaden the scope of that discussion. "Space could be allocated to more fruitful conversations about where we should be in society instead of what we should look like while we're there," Aissi said. Injustices toward Muslim women worldwide have recently become more prominent in the media, and, naturally, this has become a popular issue to discuss. Aissi said she would like the emphasis to be less on Muslim women's wardrobe and more on "what they're doing, the places they are and the successes they're experiencing." She also emphasized that Muslim values do not contradict feminist ideology. "Feminists that claim they're feminists and claim that what I'm doing is wrong — undermine my experience as a female," she said.
Her story, Farooqi's story and the stories of the Muslim women on this campus are so much louder than the hatred that silences them or the ignorance that minimize them or any assumption that those stories are contained in the scarves on their heads.
"The narrative I want to tell my children is not that I wear this scarf," said Aissi, "but that I did this."
Contact Jasmine Tatah at jtatah@dailycal.org
http://www.dailycal.org/2016/11/06/beyond-hijab-narratives-muslim-women-campus/
-------
Kurdish Woman Leads 30K-Strong Offensive to Conquer ISIS in Their Capital
NOVEMBER 6, 2016
The operation has begun to retake Raqqa, the capital of the Islamic State -- and it's a Kurdish woman commanding the Syrian Democratic Forces who could take the city that brings down the caliphate.
The operation called Wrath of Euphrates launched Saturday night and was announced by the SDF alliance today at a press conference in the Syrian town of Ain Issa. The SDF includes nine armed groups including Kurds, Arabs, Assyrians and Armenians, and the force pressing down on Raqqa is reportedly 30,000 strong with 80 percent of the fighters originally from the city.
Defense Secretary Ashton Carter said in a statement that he welcomed the SDF's announcement "that the operation to free Raqqa from ISIL's barbaric grip has begun."
"The effort to isolate, and ultimately liberate, Raqqa marks the next step in our coalition campaign plan. As in Mosul, the fight will not be easy and there is hard work ahead, but it is necessary to end the fiction of ISIL's caliphate and disrupt the group's ability to carry out terror attacks against the United States, our allies and our partners," Carter said.
"The international coalition will continue to do what we can to enable local forces in both Iraq and Syria to deliver ISIL the lasting defeat it deserves."
Multiple Kurdish news accounts reported U.S. Special Forces soldiers on the ground assisting the SDF.
https://pjmedia.com/news-and-politics/2016/11/06/kurdish-woman-leads-30k-strong-offensive-to-conquer-isis-in-their-capital/
-------
Female Terrorist's Entry Triggers Alert in Quetta
November 07, 2016
QUETTA - Three suspected terrorists have entered Balochistan from Afghanistan to carry out attacks, says an alert issued by the Balochistan Home and Tribal Affairs Department.
According to the Balochistan Home and Tribal Affairs Department, "It has been learnt reliably that a female suicide bomber aged 17/18 has reached Quetta for terrorist activity.
It is also learnt that two terrorists and a girl came from Afghanistan by a private car via Killa Abdullah last night.
The alert issued by the department says, "It is believed that an educational institution or a women's institution might be targeted in a couple of days.
No details are available about exact date and time of the terrorist act.
However, they may carry out the attack in near future.
The notification urged the Balochistan Police inspector general, Headquarters of the Frontier Corps Balochistan, commissioner of Quetta Division, deputy inspector general of (Special Branch) Balochistan and deputy inspector general of Quetta police to remain vigilant and intensify security in and around the educational institutions, public places and important offices and buildings to thwart any untoward incident.
It alerted the law enforcement agencies to be vigilant at check posts and check every suspicious person, including women.
ZEHRI LAUDS SECURITY FORCES ON SUCCESSFUL OPERATIONS
Expressing satisfaction with successful counterterrorism operations being carried out by the Frontier Corps and police in Quetta and other areas of Balochistan, Chief Minister Nawab Sanaullah Khan Zehri reiterated that no stone would be left unturned to bring terrorists and their facilitators to book.
He said that security forces had been working around the clock to rid Balochistan of terrorists.
"Protection to people and their properties and peaceful Balochistan are the foremost priorities of the incumbent provincial government," the chief minister said.
He said the government had an unflinching determination to deal with the menace of terrorism.
Balochistan will be made a peaceful place soon, Zehri said in a press statement.
The chief minister directed the police and other law enforcement agencies to boost security in the entire province, especially in Quetta city.
He told the security forces to increase monitoring and vigilance at all entrances and exit points in Quetta and other parts of Balochistan.
He directed the security agencies to intensify patrol, activate control rooms and share intelligence with each other.
He said that people's cooperation was vital to maintaining law and order in Balochistan.
He expressed the hope that people would fully cooperate with law enforcement agencies in this regard.
http://nation.com.pk/national/07-Nov-2016/female-terrorist-s-entry-triggers-alert-in-quetta
-------
Coach Unveils New Fragrance for Women in Saudi Arabia
Nov 7, 2016
COACH launched its signature fragrance in the Kingdom, which is inspired by the spontaneous energy and downtown style of New York City. The perfume, which was launched at the Coach store at Jeddah Boulevard, is spirited and sparkling, yet sensual and feminine. It's full of contrasts, which is a blend of bright, sparkling raspberry and creamy Turkish roses, with a dash of sensual suede of musk base. The signature scent was created by perfumers Anne Flipo and Juliette Karagueuzoglou.
It's not just the fragrance that embodies the luxury brand but also the bottle. A tribute to the heritage of the original American house of leather, the feminine oval bottle references many of Coach's iconic codes. Its spray cap is shaped like a gold turn lock, imitating the signature clasp on Coach bags. A hangtag in ebony leather and polished metal adds a distinctive finishing touch. A horse and carriage logo, an enduring symbol of coach craftsmanship, is subtly engraved into the glass. Adding a nod to femininity, the soft pink packaging features Coach's iconic horse and carriage logo.
Coach's Executive Creative Director Stuart Vevers cast Chloë Grace Moretz as the face of the fragrance campaign. Moretz has worked closely with the brand for the past two years and embodies the Coach values – an all-American girl who is youthful, modern, and authentic with her natural beauty and free spirit.
"It's an honor to be the face of this fragrance," said Moretz. "To me, it's everything I love about Coach. It's modern, happy and perfectly captures the spirit, energy and excitement that Stuart has brought to Coach."
Moretz, 18, started acting at the tender age of seven, and has worked in over 30 highly acclaimed movies.
Coach today, is a New York design house of modern luxury accessories and lifestyle brands, pairing exceptional leathers and materials with innovative design. Stuart Vevers' collections for women and men are effortless and personal, with a downtown attitude. As fragrance is a very important part of Coach's story, Stuart has been involved in every step of the creative process, ensuring an authentic representation of the Coach brand.
"What I wanted to create was something different, an alternative to what's already out there. For me, it was about finding what makes Coach unique. It's that lightness of American spirit with the known and familiar – and now new proportions," said Vevers. — SG
http://saudigazette.com.sa/business/coach-unveils-new-fragrance-women-saudi-arabia/
-------
Twice-Divorced Saudi Mother of 6 Reinterprets Islamic Law
November 7, 2016
JIDDAH, Saudi Arabia (AP) — When Souad al-Shammary posted a series of tweets about the thick beards worn by Saudi clerics, she never imagined she would land in jail.
She put up images of several men with beards: An Orthodox Jew, a hipster, a communist, an Ottoman Caliph, a Sikh, and a Muslim. She wrote that having a beard was not what made a man holy or a Muslim. And she pointed out that one of Islam's staunchest critics during the time of Prophet Muhammad had an even longer beard than him.
The frank comments are typical of this twice-divorced mother of six and graduate of Islamic law. Raised a devout girl in a large tribe where she tended sheep, al-Shammary is now a 42-year-old liberal feminist who roots her arguments in Islam, taking on Saudi Arabia's powerful religious establishment.
She has paid a price for her opinions. She spent three months in prison without charge for "agitating public opinion." She has been barred by the government from traveling abroad. Her co-founder of the online forum Free Saudi Liberals Network, blogger Raif Badawi, is serving a 10-year prison sentence and was publicly lashed 50 times. Her father disowned her in public.
None of it was enough to keep her quiet.
"I have rights that I don't view as against my religion," says al-Shammary. "I want to ask for these rights, and I want those who make decisions to hear me and act."
Across the Arab world, female Islamic scholars and activists have long been pushing for interpretations of Sharia law that consider men and women as equals before God. Al-Shammary is one of the most vocal and high-profile religious and women's rights activists within Saudi Arabia.
"She's very sure of what she's saying — she doesn't hesitate," says Sahar Nassief, a friend and fellow Saudi activist. "She literally comes from a Bedouin environment, a desert environment. She's very proud of her background, but this makes her a bit blunt with everyone and very blunt in what she says."
Al-Shammary grew up the daughter of a peasant farmer in Ha'il, a landlocked province. As the eldest of 12 children, she was in charge of the sheep. She was not just religious but a practicing Salafi, a Muslim who adheres to a literalist interpretation of Islamic law.
She graduated from the University of Ha'il with a degree in Islamic studies and became a public school teacher. At 17, she married a man twice her age from the same tribe. She had a girl, Yara, was divorced at 20 and then re-married, this time to the chief judge in Ha'il who'd overseen her divorce proceedings.
Al-Shammary's journey to activism began on the day her daughter was taken from her.
Almost as soon as Yara turned seven, her ex-husband gained custody. Since al-Shammary had remarried, the court ruled that the girl should live with her father rather than in a house with another man.
"When they took her and said, 'this is Allah's will' and 'this is Islam', this is when my internal rebellion was sparked," says al-Shammary. "There is no way that there is a God in this universe that would accept this injustice and this pain on the basis that I am a woman."
For eight years, she fought her parents, her community and anyone who stood between her and Yara, whom she wasn't able to see.
"I became crazy, but in front of my parents and my husband the judge, and the tribal community around him, and because of my position in the community and my name, I was expected to just sit like this and be a hero," she says, making an expressionless face and clasping her hands.
She had five children from her second marriage, but it wasn't long before she was divorced again.
When Yara's father fell ill and the grandmother passed away, he finally allowed her, then 16, to live with her mother again. Al-Shammary relocated to the more liberal city of Jiddah with all her children finally under one roof.
She used her knowledge of Shariah as a legal adviser for women in need. Sometimes her advice was more Machiavellian than pious. Once she told a friend to wear some make-up, find out which judge was slated to oversee her case, and then cry in front of him and plead for her court date to be moved up. It worked.
She shared her thoughts online on how Islam sees people, including women, as born free and equal, ideas she found in line with liberalism. So began a war of words — and of images.
After she posted the pictures of men with beards, top clerics and other conservatives in the kingdom called her a hypocrite, a disbeliever, wicked and evil. Her outspokenness and her appearances on television talk shows without a face veil were not easy on her family in Ha'il. Her younger brother, Fayez, recalls being told by a community elder: "You aren't a man. How can you allow your sister to behave like this?"
Fayez says he left Ha'il for about seven years because the comments became unbearable. His marriage proposal to a girl from another tribe was rejected because of his sister's reputation. He also came to blows with one of his younger brothers who cursed her flagrant disregard for social norms, with the two ending up in the hospital.
Even Yara opposed her at first. And kids at school would taunt her sons. In turn, they sometimes lashed out against their mother, Fayez says.
Al-Shammary was detained at the women's section of Jiddah's Briman prison on October 28, 2014. She was accused of agitating public opinion. She was never tried or convicted.
In prison, al-Shammary continued her advocacy behind bars, telling women that music is permissible and explaining their legal rights. She says female Muslim missionaries began appearing in prison more often, telling women their time there was the will of God. The television was always turned onto the religious Majd channel.
She was released from detention on January 29, 2015. She had to sign a pledge to reduce her activism. And a male relative, Fayez, had to sign for her release. She continues to tweet to her more than 207,000 followers, though she says she weighs her words more carefully than before.
Yara supports her mother's activism, although she still wishes al-Shammary would not argue against the hijab or with influential religious figures.
"She is so encouraging to me," Yara says. "She survived stuff that you can't survive."
http://www.timesofisrael.com/twice-divorced-saudi-mother-of-6-reinterprets-islamic-law/
-------
BMMA Survey Contradicts Census Data On Muslim Divorces
Nov 7, 2016
HYDERABAD: The Mumbai-based Bharatiya Muslim Mahila Andolan is among the organizations pitching for reform in the Muslim Personal Law, including a ban on Triple Talaq. Incidentally, the BMMA rejects the uniform civil code and, in the same breath, urges the government to initiate urgent measures towards reforms in Muslim Personal Law. It has written to the Prime Minister voicing the demand for codification of Muslim family law. It has also come up with a draft of Muslim Marriage and Divorce Bill (renamed as Muslim Family Law Bill) for enactment by the Government.
The BMMA released a 100 case studies of triple talaq in a study titled 'No More Talaq Talaq Talaq'—and calls for a ban on this "unIslamic" practice. The BMMA has also conducted a National Study on Muslim Women's views on Reforms in Muslim Personal Law and published the findings in a 212-page compendium titled "Seeking Justice Within Family." As part of the Survey, 4,710 Muslim women were interviewed. The study was aimed at ascertaining the status of Muslim women in matters relating to marriage, divorce, maintenance, custody of children etc. The survey also obtained their views on legal provisions concerning these aspects.
The Study report, authored by BMMA co-founders Dr Noorjehan Safia Niaz and Zakia Soman, was published in March 2015. The study covered Muslim women across 10 States (Bihar, Gujarat, Jharkhand, Karnataka, Maharashtra, Madhya Pradesh, Odisha, Rajasthan, Tamil Nadu and West Bengal). Out of the 4,710 respondents, 55 percent were below 35 years of age, 79% were home makers and 73% had annual incomes below Rs 50,000. Almost 92% were Sunnis, 4% Shias and 4% belonging to other sects. Over 46% respondents hailed from upper castes (Syeds, Pathans, Mughals, Ashrafs etc), 26% from OBCs, 5% from Dalits and 23% from unclassified groups. Nearly 55% followed Sunni Jamaat jurisprudence while 25% owed allegiance to Barelvi, Deobandi, Wahhabi and Ahle Hadees schools of jurisprudence.
Of the total 4,710 respondents, 77% were currently married, 9% were widowed, 11% were divorced, 2% were deserted and one percent were unmarried. Almost 47% of the married women had one or two children, 46% had 3 or more children and 7% had no children. At the time of marriage, 15% were below 15 years of age, 40% were in 15-18 age-group, 33% in 18-21 age-group and 11% above 21 years of age. Over 63% said they had Mehr amount fixed at below Rs 5,000.
Almost 91% were married only once, 6% married twice, and one percent each were married thrice and more than three times. One percent respondents were not married. Of the divorcees, 64% were divorced within 5 years of marriage and 36% were divorced after 5 years of marriage. About 28% divorced women had sought divorce (Khula), 60% were divorced by their husbands and 12% got divorced due to pressure from in-laws or parents.
Coming to the mode of divorce, it was pronounced orally in 346 cases, conveyed by letter in 40 cases, communicated over phone in 18 cases, conveyed by SMS in one case and sent by e-mail in 3 cases. It was done through other methods in 117 cases. Of the total 525 divorced women, 110 were divorced in the court, 46 in Darul Qazaat, 68 in Jamaat, 38 in panchayats, 19 women in voluntary organisations' offices, 220 in their families and 24 in other places. Significantly,only 76 divorced women said they were victims of Halala while the remaining 448 divorced women said they did not suffer this ignominy.
However, the BMMA Survey presents an alarming picture of divorces among Muslim women which contradicts the 2011 Census data released by the Registrar-General & Census Commissioner of India. For instance, almost 11 percent of the 4,710 respondents were divorcees as per BMMA study whereas the Census data shows that only 0.49 percent (just half-a-percent) of the Muslim married women were divorcees. Projecting the BMMA survey findings to the population of ever married Muslim women in India would mean that the number of divorcees should be almost 47 lakhs but it is only 2.12 lakhs in reality.
As per Census 2011, the number of ever-married Muslim women was 4.29 crores. The currently married Muslim women were 3.76 crores, or 87.77% of the ever married Muslim women. Similarly, there were 47.44 lakh widowed Muslim women, accounting for 11.07% of the ever married Muslim women. There were 2.88 lakh separated Muslim women, or a mere 0.67 percent of the ever married Muslim women. The number of divorcees was 2.12 lakhs, or less than half-a- percent (0.49 percent) of the ever married Muslim women. The separated and divorced Muslim women together numbered 5 lakhs, that is, 1.16 percent of the ever married Muslim women.
The percentages for different indices among Muslim women do not vary in any way among Hindu women as well. This is apparent from the Census data. There were 27.61 crore ever married Hindu women at the time of 2011 Census. The currently married Hindu women totaled 23.79 crores or 86.16% of the ever married Hindu women. There were 3.57 crore widows, accounting for 12.92% of the ever married Hindu women. Similarly, there were 19.04 lakhs separated women or 0.69 % of the ever married Hindu women. There were 6.18 lakh divorcees or a mere 0.22 percent of the ever married Hindu women. If we take separated and divorced Hindu women together, the number comes to 25.22 lakhs or 0.91 percent of the ever married Hindu women.
(The author is an MLC and also a journalist)
** Out of the 4,710 respondents, 55 percent were below 35 years of age, 79% were home makers and 73% had annual incomes below Rs 50,000.
** Almost 91% were married only once, 6% married twice, and one percent each were married thrice and more than three times
** Of the total 525 divorced women, 110 were divorced in the court, 46 in Darul Qazaat, 68 in Jamaat, 38 in panchayats, 19 women in voluntary organisations' offices, 220 in their families and 24 in other places.
http://timesofindia.indiatimes.com/city/hyderabad/BMMA-survey-contradicts-census-data-on-Muslim-divorces/articleshow/55280449.cms
-------
Muslim Women Taking Notice of Minneapolis Apparel Company
November 06, 2016
Muslim women are taking notice of Asiya.
It's a tiny, brand new Minneapolis company founded by two women, Fatima Hussein and Jamie Glover.
Their product is culturally modest active wear — moisture wicking sport hijabs to team uniforms to workout clothes.
Their mission is to give Muslim girls the freedom to move, to play, to compete in sports.
"I started an all-girls hour of play at the Brian Coyle Community Center in Minneapolis," said Fatima Hussein. "I noticed that the Muslim girls needed clothing that was suitable for them."
Researchers from the University of Minnesota Extension discovered the participation rate of Muslim females in sports is half that of their peers.
Asiya believes that sports can set girls up for success in life, from establishing healthy lifestyles to academic performance. Researchers say competing in sport could help develop self-confidence and leadership skills.
"What we saw in the Muslim community is a group of girls for a variety of reasons were not participating," said Jamie Glover. "We were super excited to remove one of those barriers which is clothing and help Muslim women feel the freedom they should feel while being active."
"We want our girls to have leadership skills that can come from participating with their peers," said Hussein. "Many of the girls tell me they feel more comfortable and part of the team while wearing the sport hijab."
Last month, Asiya kick started online raising more than $26,000 dollars. The co-founders say that money is for either hijab pre-orders or to sponsor an athlete.
http://kstp.com/news/asiya-minneapolis-apparel-company-musim-women-hijabs-sports/4311670/
-------
URL: https://www.newageislam.com/islam,-women-and-feminism/new-age-islam-news-bureau/beyond-the-hijab--narratives-of-muslim-women-on-american-campus/d/109036
New Age Islam, Islam Online, Islamic Website, African Muslim News, Arab World News, South Asia News, Indian Muslim News, World Muslim News, Womens in Islam, Islamic Feminism, Arab Women, Womens In Arab, Islamphobia in America, Muslim Women in West, Islam Women and Feminism, Moderate Islam, Moderate Muslims, Progressive Islam, Progressive Muslims, Liberal Islam, Liberal Muslims,Islamic World News, Attack in Munich, Munich Attack, Terror in Munich