New Age Islam News Bureau
1 Dec 2017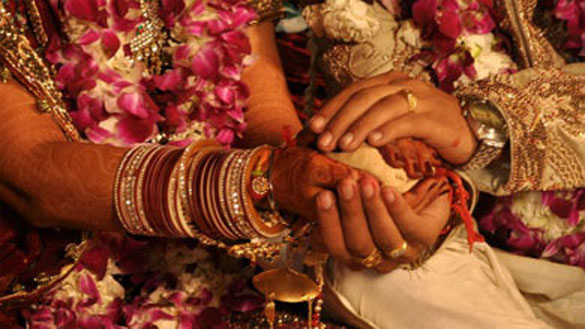 Image for representation only: 'Beti Bachao, Bahu Lao'
------
• Pakistan World's Fourth Worst Country for Women, Says Report
• Somalia: Commanding Attention - a Female Al-Shabaab Ex-Commander Speaks Out
• Saudi Women Scholars Call Out Prince's Reform Agenda
• Balqees Fathi Shines at Saudi Arabia's First Female-Only Concert
• When It Comes To Women, Trump Is Turning Back The Clock
Compiled by New Age Islam News Bureau
URL: https://www.newageislam.com/islam-women-feminism/beti-bachao-bahu-lao-rss/d/113421
--------
'Beti Bachao, Bahu Lao': RSS Group to Help Muslim Women Marry Hindu Men
by Lalmani Verma
December 1, 2017
An RSS-affiliated group has said that next week it will begin marrying off Muslim women who wished to get married to Hindu men. The group also said it will provide security, financial and social support to them.
The Hindu Jagran Manch (HJM) said it will facilitate the wedding of around 2,100 such couples in the next six months under a campaign called "beti bachao, bahu lao". It said such weddings would be as per Hindu rituals and the Muslim women would not be required to convert.
Admitting that the campaign was a response to "love jihad", HJM's state chief Ajju Chauhan said, "Only Hindu girls are being targeted by Muslim youths in love jihad. They hide their Muslim identity, wear sacred threat on wrists, tilak on forehead and even recite Hanuman Chalisa to trap Hindu girls… jo jis bhasha me samjhega usko waise samjhayenge (We will teach them in their own language)."
Chauhan added that the campaign will serve as a "population control" measure too.
"If a Muslim girl is married into a Muslim family, she will have to deliver 10 children and when these children grow up they will speak against Hindus. But if that girl is married to a Hindu family, she will not have to deliver that many children and she will be an addition to the Hindu population," he said.
http://indianexpress.com/article/india/beti-bachao-bahu-lao-rss-group-to-help-muslim-women-marry-hindu-men-uttar-pradesh-4962516/
--------
Pakistan world's fourth worst country for women, says report
December 1, 2017
Pakistan has been ranked the fourth worst country for women in the world, says recently released rankings of the Women, Peace and Security Index.
The Dawn quoted the report, published by the Georgetown Institute for Women, Peace and Security in partnership with the Peace Research Institute of Oslo, as saying, out of the 153 countries surveyed, Pakistan is amongst the lowest- standing at 150 in terms of women's inclusion, justice and security.
In other words, the country has high discrimination against women in the world and is amongst the lowest in the financial inclusion of women.
As per the report, the average schooling for females in Pakistan is only five years.
While Iceland, Norway and Switzerland have been deemed the best countries, Syria, Afghanistan and Yemen figured amongst the worst.
"Women's average years of schooling in the country stands at only five years, while only 33 percent of Pakistani women have been found to use cellphones. Only 24 percent of Pakistani women are employed, while their share of seats in parliament stands at only 20 percent," The Dawn quoted an excerpt from the report.
The facts published in the research also reflect a skewed sex ratio in Pakistan, mainly because the country has a son-biased society.
The report further states that 73 percent of men in Pakistan don't want their women to work and around 27 percent of women have faced violence from their intimate partners.
http://www.business-standard.com/article/news-ani/pakistan-world-s-fourth-worst-country-for-women-says-report-117120100348_1.html
--------
Somalia: Commanding Attention - a Female Al-Shabaab Ex-Commander Speaks Out
28 NOVEMBER 2017
By Cassidy Parker
'I have to go,' she says. And is gone. A few moments later, he calls her back, as he has several times, and she talks some more - anxiously and assertively all at once. He translates her Somali into English as she negotiates her mistrust for the people to whom she is telling her story on the one hand, and her desire for her story to be heard on the other.
This is Khadija (not her real name), a Somali Kenyan woman who, four years ago, was kidnapped leaving Kenya in pursuit of work and taken to an al-Shabaab camp in Somalia. Although there are no experiences of women recruited by al-Shabaab that can be said to be typical, hers stands out starkly. Khadija, brought to the camp a prisoner, escaped a commander.
In their research for the recent monograph, Violent extremism in Kenya: why women are a priority, researchers from the Institute for Security Studies (ISS) attempted to interview 15 returnees. Of this number, only three interviews were successful. Although known female returnees exist, almost none were willing to be interviewed, fearing exposure and retribution by al-Shabaab, Kenya's security forces and their communities.
Of the three interviews secured, the one with Khadija - conducted through an intermediary, a man who spoke Somali - proved to be the most fraught with tension and the most logistically problematic. Her fear and suspicion of Kenya's security forces informed her refusal to meet in person and her persistent disconnecting of the phone line. She rushed the interview, mentioning scant details about her background and childhood: a broken home, the bully she was as an adolescent, little more. Instead, she cut to the chase.
Becoming an al-Shabaab commander
When she was 20, Khadija travelled from her hometown of Garissa to Mombasa, unemployed and desperate for work. From there, she boarded a bus under the assumption that that she was being taken to a new job in Somalia. Instead, she was drugged and taken to a Somali al-Shabaab camp.
'When I got to the camp, I received religious and weapons training, which involved combat and suicide bombing training,' she says. 'I was a virgin when I arrived. Soon after, I refused to have sex with one of the fighters. When he tried to force himself on me, I fought him off and stabbed him. He died.'
Khadija lost a few teeth in the attack. (At one point during the interview, she sends a photograph of her mouth to the intermediary as evidence.) The incident, however, caught the attention of the al-Shabaab fighters and she was appointed a commander. 'I was brave,' she says. 'That's why they made me a commander. They could see my bravery.' For the rest of her time in the camp, Khadija was in charge of its approximately 40 women, most of whom were Kenyan.
Khadija claims never to have been sexually abused or raped during the time she spent with al-Shabaab. In a context that sees repeated and ongoing sexual violence against women, her case is the exception.
She speaks openly about the abuse the other women in the camp endured, though, explaining that some were forcibly married to fighters and estimating that almost three quarters contracted HIV as the fighters refused to use condoms. She mentions, too, that the fighters would rape the women while they were menstruating. Since sex with a woman during menstruation is forbidden under Islam, this added traumatic insult to heinous injury.
'There were also a lot of children and babies in the camp,' she adds. 'But no one was really taking care of them.'
Government's heavy-handedness breeds fear
Khadija escaped when she was sent to the market to buy food one day. She took the opportunity to sell her gun and used the money to flee to Kenya. Her return, however, hasn't been smooth. 'I chose to came back to Garissa because of the amnesty programme,' she says, 'but I haven't enrolled in it. I'm afraid of how the government will treat me and what they will do to me.'
The Kenyan government has a number of initiatives in place to support returnees who wish to disassociate themselves from al-Shabaab, including an amnesty programme. In principle, the programme seeks to rehabilitate returnees and reintegrate them into society. In practice, however, communication about the programme is poor and safe houses have not been established for returnees and women whose husbands have been recruited.
More than anything, returnee support for the programme has been limited by their fear and mistrust of the government and its security agencies. Assuming they know about the programme at all, returnees simply steer clear.
The hard security approach adopted by the Kenyan government has alienated returnees, Somalis and Muslims in Kenya due to both the perceived and lived reality of ethnic and religious profiling. Government security agencies have been accused of disrespect, harassment, brutality, invasive body searches, interrogations, mass arrests and disappearances. Donors operating in the region describe mistrust between the government and its citizens as 'one of the biggest challenges' in dealing with violent extremism.
The government's reputation fuels Khadija's fear. Her anxiety is also exacerbated by the senior position she held in al-Shabaab, which makes her valuable not only to the Kenyan government but also, of course, to al-Shabaab itself. As a result, like many returnees, Khadija remains in hiding. She is currently living with friends, she says, and is still unemployed.
Khadija's experiences notwithstanding, her leadership streak persists and she has expressed an interest in becoming involved in educational activities as a peer counsellor. All too aware of the extent to which efforts are falling short, Khadija wants to see better programmes for returnees put in place. 'Current initiatives in our community need to be strengthened,' she says, 'including leadership programmes'. Given her experiences - and given the opportunity - Khadija may well be an ideal candidate for this work.
Khadija was one of three returnees interviewed in late 2016 by ISS researchers for the monograph Violent extremism in Kenya: why women are a priority. The research was commissioned by UN Women Kenya.
http://allafrica.com/stories/201711300568.html
--------
Saudi women scholars call out prince's reform agenda
by Gavin O'Toole
14 hours ago
Leading female scholars from Saudi Arabia have described moves to ease restrictions on women as government spin aimed at an international audience to bolster support for efforts to liberalise its ailing economy.
Saudi Crown Prince Mohammed bin Salman is seeking to appeal to western governments as a reformist while cracking down on the very women inside the country who have been campaigning for an end to systematic discrimination, they say.
Rights groups welcomed a decision to end a ban on women driving in Saudi Arabia, but have called for more comprehensive changes to the kingdom's "guardianship" system", which Human Rights Watch describes as the main obstacle to realising women's rights.
Hala Aldosari, a prominent Saudi woman academic in the United States, told Al Jazeera: "The government is trying to portray itself as reformist by tackling certain things that are visible to their outside patrons.
"They need international businesses to recognise the leadership of Saudi Arabia as a reformer in order to show that they are not discriminating against women and are reforming their competitiveness.
"But they are trying to pick and choose those kinds of reforms that they know will make a high impact on the international media and their allies, while at the same time silencing anyone within Saudi Arabia for demanding those reforms."
A number of policy changes by Crown Prince Mohammed bin Salman included an announcement in September that women will gain the right to drive in 2018.
Saudi women activists have been campaigning for this since 1990 - it is the only country in the world that prohibits women from getting behind the wheel - and some have been jailed for defying the ban or are in self-exile.
External observers attribute recent policy changes to an ambitious economic masterplan unveiled by the crown prince, Vision 2030, aimed at ending the country's dependence on oil by kick-starting its private sector.
Aldosari, a fellow at Harvard University's Radcliffe Institute, praised Saudi women for their activism but said the country's rulers are now trying to "hijack" their efforts in order to promote their credentials as reformists.
"Saudi Arabia needs to reform its economy, and that is why they have to remove barriers to women's employment - and one of the main barriers mentioned over and over again is the lack of public transport and hence the ability of women to commute in an affordable, convenient way."
She added: "What worries me is that, with every reform, the government tries to silence the activists who have called for it so that it can be controlled. They want to manage what reforms are enacted and how."
Aldosari's views chime with those of Professor Madawi Al-Rasheed, another prominent Saudi academic at the London School of Economics, who told a recent conference in London that it was no coincidence the driving announcement came on the eve of a UN Human Rights Council decision on sending observers to Yemen to investigate war crimes allegations.
"All the respectable journalists in the west were hailing the decision to give women the right to drive in the 21st century as if it were the ultimate reform that we Saudi women could aspire to," said Al-Rasheed.
The academic warned liberals outside Saudi Arabia not to be "taken in" by the driving reform.
"These are media and PR exercises that want us to believe that the regime has actually changed," she said. "We need to be aware, as women, how our gender issues are used by these autocrats as unelected, unrepresentative people, in order to show the world their soft face - that velvet glove."
Jane Kinninmont, senior research fellow at the Chatham House think-tank in London, said lifting the driving ban will have important repercussions on the lives of many women, and the fact that men will not be able to dictate whether they can get a driving licence points to this being a "significant change".
"It fits with Mohammed bin Salman's focus on the economy as well, because you have seen a growing number of Saudi women in the workplace yet there is basically no public transport if you need a way to get to work."
Kinninmont said the growing role of women in work and the shift towards utilising more female talent after significant investments in women's education has become "one of the huge underlying stories in the Saudi economy".
She said: "Women are now the majority of students at Saudi universities, they are getting the best degrees, and they are increasingly interested in having a career."
Human rights organisations have welcomed the decision on driving as a step in the right direction, but have called for comprehensive action to dismantle the "guardianship" system, under which women are in effect legal minors who must defer to men to make key decisions about their lives.
Rothna Begum, women's rights researcher covering the Middle East for Human Rights Watch, told Al Jazeera: "The lifting of the driving ban is an achievement for Saudi women activists who have faced imprisonment, harassment, and intimidation for more than two decades.
"However, these reforms are limited unless the authorities dismantle the male guardianship system, which is the most serious impediment to women realising their rights in the kingdom."
Samah Hadid, director of campaigns for Amnesty International in the Middle East, said: "We still need to see a whole range of discriminatory laws and practices swept away, including the repressive guardianship system where every woman has a male guardian to make decisions on her behalf.
"Saudi Arabia urgently needs to reform laws that treat women as second-class citizens in comparison to men."
Hadid noted the announcement came at a time when Saudi Arabia continues an "unabated crackdown" against activists. A new counterterrorism law has been denounced by rights groups for giving the authorities in the kingdom a powerful tool to silence critics. "Ironically, following the announcement Amnesty International received reports that women's rights activists who campaigned for the ban being lifted received phone calls warning them against publicly commenting on the development - or else they will face interrogations," Hadid said.
http://www.aljazeera.com/news/2017/11/saudi-women-scholars-call-prince-reform-agenda-171130153233355.html
--------
Balqees Fathi shines at Saudi Arabia's first female-only concert
1 December 2017
JEDDAH: The Yemeni-Emirati singer Balqees Fathi captivated the audience during the first female-only concert in Saudi Arabia on Wednesday.
"Good evening, in the good land where my husband was born and my son will be from," she told the crowd at the Jeddah waterfront.
The concert began with the Saudi national anthem followed by the Emirati anthem. Balqees then sang national songs of Saudi Arabia, including traditional numbers, as well as her own songs.
The General Entertainment Authority (GEA) had announced in advance of the concert at the Hilton Hotel in Jeddah that it was part of the celebrations of the 46th National Day of the UAE, under the slogan "Together Forever."
Ghada Ghazzawi, owner of GAG, the concert organizing company, told Arab News that 3,000 tickets had been sold, with ticket prices varying between SR2,500, SR600, SR400 and SR300.
"Ten days before the concert, we started selling tickets, and during the first six hours a very large number of them were sold," Ghazzawi said.
"As for the organizing, we had some reservations as it was the first-ever female-only concert in Saudi Arabia. We prevented mobile phones from being brought to the concert hall to create a comfortable environment for the women to have a good time," she said.
Ghazzawi said that the turnout was huge. "We hope to have more upcoming parties," she said.
Randa Al-Sheikh, a broadcaster at Radio Jeddah, described the event as historic. "It's a radical change. I feel that we have broken a barrier that existed in Saudi Arabia."
"The ladies were very happy and we wish for more concerts in the future. The start with Balqees was a great success. The organization was good and we want more such events," Al-Sheikh said.
Khairiyya Abu Laban, a social media influencer, said: "I felt cold at the beginning of the concert but I could not stay still when the second song started. I got so excited. The atmosphere was pleasant and the songs were beautiful."
Samar Mohammed, a 24-year-old media graduate, said that she did not feel that this was strange or new experience. "The atmosphere was like any traditional Saudi wedding party, but the new thing was the presence of a famous singer, the purchase of tickets and thousands of fans who were shouting enthusiastically."
Captain Rima, a broadcaster and presenter of radio and television programs, said: "I feel that it's a dream to see this concert in Saudi Arabia."
"We had so much fun. The audience did not want to leave because they enjoyed it so much. What proves the success of the entertainment body (GEA) is that today is Wednesday and tomorrow is a working day. However, the hall is crowded, and the time is very late. The audience is ready to go to work the next day without sleep because they are attending an event they had hoped for in Saudi Arabia for a long time," Rima said. "I hope to attend a concert by Nawal Al-Kuwaitia in the future," she said.
Randa Turkistani, a presenter at MixFM Radio, said that she had expected many women would attend the concert, "but to be so enjoyable that the audience sings half of the songs with Balqees is not what I ever expected," she said.
http://www.arabnews.com/node/1201721/saudi-arabia
--------
When It Comes To Women, Trump Is Turning Back The Clock
By Kate Brannen
11/30/17
The wave of sexual assault, harassment and misconduct allegations that is roiling the media and entertainment industries, and is threatening to disrupt a number of political careers, is also stirring up debate in the field of national security.
Just yesterday, more than 200 women who are working in national security signed a letter stating that this is a problem they also face. They've worked as ambassadors, civilians at the Pentagon, military officers, staffers on Capitol Hill, professors, and in the non-profit and think tank worlds.
"This is not just a problem in Hollywood, Silicon Valley, newsrooms or Congress," the women said in their letter. "It is everywhere."
They note that in all of the places they've worked, there were, and are, sexual harassment policies in place, and yet, they are "weak, under-enforced, and can favor perpetrators."
More must be done, they argue. The actions they recommend include:
Clear leadership from the very top that these behaviors are unacceptable;
Creating multiple, clear, private channels to report abuse without fear of retribution;
External, independent mechanisms to collect data on claims and publish them anonymously;
Mandatory, regular training for all employees;
Mandatory exit interviews for all women leaving Federal service.
But progress cannot stop there, the letter says. The national security community also needs to look at its own "serious gender imbalances," and create a workplace culture where women are viewed as "equal peers and colleagues."
As a female journalist who worked in Washington for years covering the Pentagon, I've existed in two worlds: media and national security. As this watershed moment continues to unfold, I've found myself reflecting on my own experiences.
On the one hand, I feel a sense of relief because I've reached my mid-30s, relatively unscathed. I've certainly avoided my share of potentially skeevy situations, but I am not a victim of sexual assault or harassment.
On the other hand, navigating the media and defense world as a woman is such an ever-present part of my career, I am barely consciously aware of it. The steps I take to joke with the boys, or dress inconspicuously or use being underestimated to my advantage now come second nature to me.
In the last few weeks, experiences that I've long forgotten have come back to me. I remember the time I was talking to an Army general about a weapons program, and to explain to me the cost efficiencies of buying more missiles (or whatever it was), he compared it to buying dresses.
"You know, when you go to the mall and buy dresses. The more dresses you buy, the less they cost," he told me. I remember nodding and smiling politely, and then later, laughing, because 1) dresses, really?! and 2) this is not how dress-buying works.
I also came to learn that sometimes it was a disadvantage being a female journalist, because male sources, particularly in the military, were not always comfortable sharing a drink or meal alone with me, something my male colleagues did all of the time to build relationships and trust.
I also noticed that women in uniform were less likely to provide me information or talk on background than their equally ranked male counterparts. I always guessed they had a much smaller margin for risk in their careers.
But other times, being a woman, and being underestimated because of it, has helped. One of my favorite nicknames given to me was by an Army general who called me the "smiling piranha." I took that as an enormous compliment.
That said, walking into a situation where people assume you're dumber or less qualified than you really are is hardly ideal. Even if you can make the best of it, it would be far better if you were estimated correctly and given opportunities based on merit.
Then, there are all of the challenges that come with trying to maintain a career while being the mom you want to be to your children. The media appearances and opportunities to speak on panels you turn down because either A) you have to pick up your kids or B) after working all day, you just want to be with your kids.
Asking your male boss where you can pump. Losing a competitive beat to a colleague because you're home on maternity leave. The time your male colleague made fun of your "big diaper bag," which was actually a computer bag. The list goes on.
I heard similar stories earlier this month, when I listened to Politico's Susan Glasser speak with a number of women from the national security world about their experiences. The women talked about what it was like when they entered their national security jobs — whether at the State Department, the Defense Department or on Capitol Hill — in their 20s, and then how their experiences have changed as they've advanced in their careers.
When you're trying to prove yourself as a young woman, and build your career in a male-dominated environment, it is very daunting to bring forward any complaints, said Kathleen Hicks who worked at the Pentagon for almost 20 years, finally as principal deputy undersecretary for policy.
"I think we talk much too little on the civilian side about how our fates as women in national security are ultimately tied to the women in uniform and their ability to advance," Hicks said. "Because when they are at the top, when they are respected for their warrior capabilities, I think that's when we can really be respected as civilian women. I think we're always going to be hampered until we reach that point."
Over the last several years, there has been improvement on that front. The Obama administration opened up combat roles to women, creating huge opportunities for professional advancement while also recognizing the front-line roles women were already playing.
As for the military's battle with sexual assault (against men and women), it has been brought more into the open and Congress has attempted to help fix it through legislation. Still, there is a long way to go, and if anything, the latest revelations about Harvey Weinstein and others show that the military is far from alone when it comes this problem.
Plus, with President Donald Trump as commander-in-chief, it becomes more difficult to foster a climate of respect and tolerance for differences, whether that's gender, race or religion. He's been caught bragging about sexually assaulting women, and laughed it off as "locker room banter." He has also been accused of unwanted sexual advances by multiple women.
The president is also going out of his way to make his government male. So far, 95 percent of his nominations for U.S. attorney posts around the country are men. And as of September, among the 407 nominees that Trump sent to the Senate for confirmation, 327 were men and 80 were women.
This isn't just giving men an advantage now, but will have ramifications for years to come, as the men selected can use their government posts to boost themselves throughout their careers.
Whether it's in law, national security or public policy, few women are in positions of power in the Trump administration, and therefore are not accruing any of the experience or knowledge that their male counterparts are.
This is not a simple moment of progress, but it does hold enormous opportunity. We are all increasingly aware that whether you're a senior official at the Pentagon, or an actress on a casting couch, or a staffer on Capitol Hill, you're navigating the same set of problems.
As the letter from the women in national security made clear, "These abuses are born of imbalances of power and environments that permit such practices while silencing and shaming their survivors."
http://www.newsweek.com/when-it-comes-women-trump-turning-back-clock-726934
--------
URL: https://www.newageislam.com/islam-women-feminism/beti-bachao-bahu-lao-rss/d/113421
New Age Islam, Islam Online, Islamic Website, African Muslim News, Arab World News, South Asia News, Indian Muslim News, World Muslim News, Women in Islam, Islamic Feminism, Arab Women, Women In Arab, Islamophobia in America, Muslim Women in West, Islam Women and Feminism