New Age Islam News Bureau
10 May 2018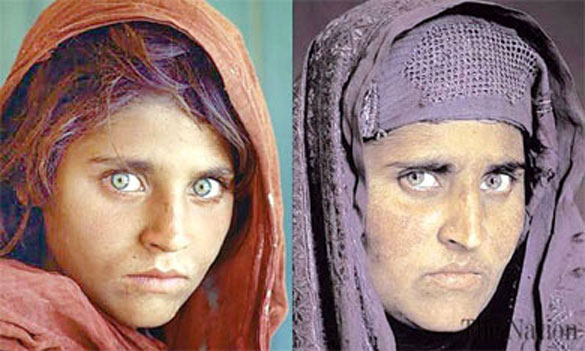 Former Afghan refugee Sharbat Gula who obtained world fame as the "Afghan Mona Lisa" after appearing on the cover of the National Geographic magazine in 1985
-----
• 'Afghan Mona Lisa' Worries About Spiralling Security Threats after Repatriation
• Lebanon's Winning Women: Six Females Voted Into Parliament
• Iran: 37,000 Marriages Of Girl Children Under 15 Years In One Year
• New Bylaws for Female Chauffeur Service in Saudi
• Two Girls' Schools Hit By Bomb Explosions in North Waziristan
• Women Harasses a Man in Sindh via Facebook and WhatsApp
• WOW Club 'Super Women' Fair a Ground-Breaking Event
• Women Health Care Professionals Honoured By DHCA
Compiled by New Age Islam News Bureau
URL: https://www.newageislam.com/islam-women-feminism/berlin-court-bars-woman-with/d/115203
--------
Berlin Court Bars Woman with Muslim Headscarf from Teaching Primary School
May 9, 2018
Berlin, May 9 (AFP) A Berlin labour court today found the city was right to bar a teacher who wears a Muslim headscarf from teaching primary school classes, rejecting her discrimination complaint.
Justice Arne Boyer ruled that the city state's so-called neutrality law, which bars the wearing of overt religious symbols and clothing for state employees on duty, weighed stronger than the right to free religious expression.
Football: Italy fail to qualify for a World Cup for the first time in 60 years
Sponsored By ZINC
It found however that the young woman, who was not publicly named and did not appear at the court hearing, is allowed to continue teaching older vocational students in a Berlin public secondary school.
The ruling, which was still subject to a possible appeal, was expected to impact a wider debate on the issue on Germany, where rules on the hijab headwear differ between the 16 federal states.
German national law bans all civil servants from covering their faces, including with Muslim niqabs and burkas — except for health and safety reasons, such as fire-fighters wearing breathing masks.
But there is no nationwide ban on civil servants wearing the Muslim hijab headscarves, and many states weigh the tension between freedom of religion and civil servants' neutrality rules on a case-by-case basis.
The predominantly Catholic state of Bavaria recently ordered Christian crosses, which already hang on walls in schools and courtrooms, to also be fixed in the entrances halls of state administration buildings. (AFP) KIS KIS
http://www.india.com/news/agencies/berlin-court-bars-woman-with-muslim-headscarf-from-teaching-primary-school-3044340/
--------
'Afghan Mona Lisa' Worries About Spiralling Security Threats after Repatriation
May 10, 2018
Kabul - Former Afghan refugee Sharbat Gula who obtained world fame as the "Afghan Mona Lisa" after appearing on the cover of the National Geographic magazine in 1985 was repatriated to her homeland about one and half years ago.
She is happy in Afghanistan, she said, but feels sorrow over the prevalent security incidents in her motherland.
"No doubt, I am happy here, I am glad to live in my homeland," Gula said in an interview with Xinhua at her residence here.
Nevertheless, she said she remained concerned over the increasing security threats and endemic conflict in her country, stating softly that any hostile act could happen at any time.
Attired in a traditional old-fashioned dress and speaking in soft tone, Gula said she has four children, who all go to a school near her residence.
Seemingly older than her actual age of 43, the "Afghan Mona Lisa," lamented that living as a refugee outside her homeland and experiencing the ups and downs in refugee camps has dulled her life.
"I spent my childhood in a refugee camp in Nasir Bagh, Pakistan, and grew up there. I married and my children grew up there. I like it as my second home, although I have experienced both ups and downs and have sweet and sour memories of my stay there," recalled the famous Afghan widow.
She added that she dearly missed her husband and her daughter who died in Pakistan a couple of years ago.
Sitting cross-legged in the middle of her villa-like residence in the Arzan Qimat neighborhood located in the 12th Police District on the eastern edge of Kabul, the media-shy "Afghan Mona Lisa" rarely agrees to interviews or to look into the lens of a camera.
"Being famous is dangerous in Afghanistan," Gula's cousin, Niamat Gul, told Xinhua.
Living in the same house with Gula and accompanying her in running her daily life, Gul said Gula seldom leaves home since her repatriation from Pakistan.
"Sharbat Gula, who lived for more than three decades as a refugee in Peshawar, was put in jail for 14 days on a fake charge and expelled to Afghanistan on Nov. 9, 2016 and since then has been suffering from depression," said Gul.
The mother of three daughters and a son, although illiterate and unable to read nor write, is regarded as symbol of "firmness, resilience and morality" among Afghan women in the insurgency-plagued country.
The only word that she can write and read is her name, said her cousin Gul.
Gul, who was born in Peshawar and studied there, is fluent in English and often serves as an interpreter for Gula when she faces foreign journalists.
Gula's hometown is in the restive Kot district in the eastern Nangarhar province where both the Taliban and the Islamic State (IS) are active.
"She wants to visit her hometown in Kot district and of course she feels homesick, but cannot go because of the security threats posed by militants," said Gul. Gula was little known to her fellow Afghan nationals before her return to Afghanistan. But she became popular overnight when local media, including state-owned and private television channels, broadcast her image and her meetings with government officials including the president and revealed her ordeals and demands.
Since her return to Afghanistan, her residence is often frequented by journalists, businesspeople, government officials and philanthropists, Gul said, expressing concerns that being famous for a simple woman who has no guard is extremely unsafe in a country where militancy is rampant.
Nevertheless, the former impoverished refugee child is hopeful that one day lasting peace will return to Afghanistan.
2 civilians killed, 19 injured
in Taliban mortar attack
Two civilians were killed and 19 others injured in Taliban militants' mortar attack in Afghanistan's eastern province of Nangarhar on Tuesday, the provincial government said Wednesday.
"The incident occurred in Hafiz Goddi area in Bati Kot district at round 05:30 p.m. local time Tuesday. All the injured were shifted to a main hospital in provincial capital Jalalabad city," it said in a statement.
Most of the wounded suffered from minor wounds.
The Taliban militants intensified attacks against security forces across the country after they launched a yearly rebel offensive on late April.
The Afghan civilians continue to bear the brunt of armed conflicts as more than 3,430 civilians were killed and over 7,000 others injured in conflict-related incidents in 2017, according to figures released by the United Nations mission in the country.
The mission has attributed 65 percent of the civilian casualties to the Taliban and other insurgent groups, 20 percent to security forces over the period while 11 percent were attributed to both sides during clashes and the rest 4 percent were caused by other reasons.
6 militants including shadow district governor killed
At least six militants, including a Taliban shadow district governor, were killed in an operation in Afghanistan's northern province of Faryab overnight, an army source said Wednesday.
"Acting on a tip off units of Afghan National Army Special Operations Corps (ANASOC) raided a Taliban hideout in Yaka Toot village, Pashtun Kot district overnight. The militants physically engaged with the security force and the gunfight caused six militants killed," Hanif Rezai, spokesman of army Corps 209 Shaheen based in the region, told Xinhua.
The killed included Mullah Hizbullah who served as Taliban shadow district governor for Pushtun Kot, he said, adding no member of security forces was hurt during the raid in the district south of provincial capital of Maimana.
Fighting has escalated in Afghanistan as the Taliban insurgency spreads from its traditional strongholds in the south and east to the once peaceful region in the north, where Taliban have been recruiting from among the youth.
The Taliban militant group has yet to make comments on the report.
https://nation.com.pk/10-May-2018/-afghan-mona-lisa-worries-about-spiralling-security-threats-after-repatriation
--------
Lebanon's Winning Women: Six Females Voted Into Parliament
May 9, 2018
The landmark May 6 election saw a record 86 women run, with virtually every party.
Lebanon's new parliament will include six female lawmakers across the country, up from just four in the 2009-era parliament with several fresh faces.
The landmark May 6 election saw a record 86 women run, with virtually every party - except Hezbollah - putting forth female candidates.
Here is an overview of the women who scored a spot in Lebanon's 128-member legislative body.
The high-profile television journalist landed a seat in the capital Beirut after running on a list of outsiders known as Kulluna Watani.
"This is the real change, the real opposition," she told AFP during her campaign.
The 42-year-old daughter of an Armenian genocide survivor long hosted a show on the channel owned by Prime Minister Saad Hariri, but she stepped down to run for office.
Yacoubian is the only candidate from outside the traditional political class to have won a seat.
Lawyer Roula Tabsh is also a first-time victor in the capital, but she ran on Hariri's Future Movement list which was otherwise dealt a blow at the polls.
Tabsh pledged to advocate for women's rights in parliament, including making sure children with Lebanese mothers and foreign fathers can get Lebanese nationality.
The wins by Tabsh and Yacoubian will usher in the highest female representation in parliament ever for Beirut.
The sister of slain ex-premier Rafiq Hariri and aunt of current prime minister Saad Hariri kept the seat she has held in Lebanon's southern district of Sidon.
At 65, she has served as a member of parliament four times and as education minister, and was awarded a Legion d'Honneur by former French president Jacques Chirac in 2003.
She is a member of the prime minister's inner circle.
Her life was turned upside down by her brother's assassination in 2005. She stopped wearing skirt-suits and make-up and began covering her hair with a traditional white headscarf.
The 50-year-old politician from Lebanon's northern district of Bcharreh will return for another term in parliament.
She is married to Lebanese Forces chief Samir Geagea, and is credited with steering the party for 11 years while he was detained during Syria's military occupation of Lebanon, until his release in 2005.
The tall, slender woman is seen as a hardliner within the movement and is often accused of being anti-Muslim.
A pathologist by training, 57-year-old Ezzedine has served as minister for administrative reform - but her rise to parliament is unprecedented.
It will be her first term as a legislator, but also the first time Lebanon's port city of Tyre has a female representative. Ezzedine hails from the Amal Movement, a strong Shiite Muslim party that is allied to Hezbollah and has never put forward a female candidate.
Ezzedine is divorced and is a mother of two daughters.
Jamali is a professor of business management and freshman parliamentarian, who will serve in Lebanon's second city Tripoli after running on the Future Movement's list.
Her father was the mayor of the coastal metropolis in the north, but it has never before been represented by a woman.
"We have a historic opportunity to bring new faces to Tripoli," she said in a campaign video before the vote.
Among those that did not win seats are Joumana Haddad, a writer and activist who ran in Beirut, and an all-women's list from the conservative northern area of Akkar.
But Lebanese women flooded the polling stations on Sunday, both as voters and party delegates. Females made up 50.8 per cent of registered voters in 2018, according to the United Nations.
https://www.khaleejtimes.com/region/mena//lebanons-winning-women-six-females-voted-into-parliament
--------
Iran: 37,000 Marriages Of Girl Children Under 15 Years In One Year
09 May 2018
Some 37,000 girl children got married while under 15 years of age last year.
This was announced by Parvaneh Salahshouri, head of the so-called women's faction, in the mullahs' parliament on May 8, 2018. She said another 2,000 women under 15 years of age also got divorced or were widowed during the same period.
Marriage and divorce of girl children under 15 years of age causes numerous problems for them. The statistics indicate that two-thirds of marriages that take place in young age cause various diseases in adulthood. The girls who abruptly enter adult life are also deprived of education and necessary life skills.
175,000 divorces were registered last year in Iran which was an unprecedented high in its history.
According to Salahshouri, there are between 2.5 and 5 million women heads of household in Iran. Lack of jobs and services they need causes many problems for them. (The state-run IRNA news agency - May 8, 2018)
https://women.ncr-iran.org/iran-women-news/5052-iran-37-000-marriage-of-girl-children-under-15-years-in-one-year
--------
New Bylaws for Female Chauffeur Service in Saudi
May 8, 2018
All family transportation service providers must ensure that the driver must be a Saudi woman with a proper driving license.
Family transportation service offered by female drivers in Saudi will have to follow set bylaws issued by Public Transport Authority (PTA) on Sunday. The bylaws chalked out refer to Saudi woman drivers, passengers travelling along, and the vehicle used for family transportation. A fine of SR5,000 will be imposed if the driver is a non-Saudi woman.
According to Al-Madina reports in Saudi Gazette, all family transportation service providers must ensure that the driver must be a Saudi woman with a proper driving license, be free of any contagious disease, and have no criminal records.
Here are other bylaws issues by PTA:
> Saudi women drivers of family transport service are eligible to drive only in the city where the licence was issued. Violating this bylaw will incur a fine of SR500.
> They should refrain from providing transportation service if there are only male passengers in the vehicle. Also, no male passenger or a child is allowed to sit in the front seat and if caught doing so then a fine of SR2,000 will be imposed.
> A fine of SR5,000 will be imposed if a Saudi female driver provides family transportation service without the presence of an adult female passenger.
Bylaws stipulated for vehicle:
> The vehicle to be used in family transportation service should be at least 7-seater.
> Should have efficient air-conditioning and color and appearance of the vehicle should be in accordance with the requirements.
> The vehicle should not be more than 5 years old.
> Each vehicle must have a tracking device and there should be an identification screen.
> It should have electronic point-of-sale machine for accepting payment electronically.
https://www.khaleejtimes.com/region/saudi-arabia/new-bylaws-for-female-chauffeur-service-in-saudi
--------
Two Girls' Schools Hit By Bomb Explosions in North Waziristan
Pazir Gul
May 10, 2018
MIRAMSHAH: Militancy has again reared its ugly head in North Waziristan Agency as two schools for girls there have been hit by bomb explosions and pamphlets warning locals not to send grown-up girls to educational institutions have been distributed widely.
Residents said the boundary wall of a middle school for girls, situated in the Hasokhel area of Mirali tehsil, was blown up on Wednesday night. Another middle school for girls was bombed in the same tehsil on Monday night, they said. The blast partially damaged the school's main building.
When contacted, however, local administration officials expressed ignorance about the bombing of two schools.
Meanwhile, a pamphlet distributed purportedly by a militant group called Ittehadul Mujahideen North Waziristan warned residents against sending grown-up girls to schools. "We will not tolerate to see grown-up girls going to schools in various areas," it said. Middle schools in different parts of the tribal agency received copies of the pamphlet on Tuesday. The tribal elders who have been supporting the authorities also received pamphlets, which asked them not to support government policies.
The bombing of schools and distribution of controversial pamphlets have put a question mark over the government's claims that the Federally Administered Tribal Areas (Fata), particularly the North Waziristan Agency, has been cleared of militants.
Incidents of targeted killing and bomb blasts have been reported frequently from the area. Tensions have spiked at a time when most of the internally displaced persons have returned to their homes and the government has started rebuilding schools there.
Also, the directorate of education for Fata and the army have opened a network of cadet colleges and army public schools in different parts of North Waziristan.
Militants used to frequently bomb educational institutions in Khyber Pakhtunkhwa and Fata before the launch of military operation Zarb-i-Azb in North Waziristan Agency in June 2014. Militancy badly affected enrolment in schools and colleges, particularly those of girls, in Fata.
About 1,500 schools have been destroyed in the tribal belt during the last 10 years. Before Zarb-i-Azb only one girls' school was operational in Miramshah, which was situated inside a high-security zone.
https://www.dawn.com/news/1406747/two-girls-schools-hit-by-bomb-explosions-in-north-waziristan
--------
Women Harasses a Man in Sindh via Facebook and WhatsApp
MAY 10, 2018
KARACHI: A month ago, the Federal Investigation Agency (FIA) registered a case against a women for harassing and blackmailing a man in interior Sindh. This case is said to be a rare example of cybercrime in the state's history.
FIA Sindh Director Muneer Sheikh said that a man filed a complaint in April against a woman for harassing and blackmailing him through social networking websites Facebook and WhatsApp.
The women used to offend the man by sending obscene pictures and also asked money by blackmailing him.
The victim complained to the FIA Cybercrime Wing, which took action and arrested the woman after the registration of a FIR (First Information Report).
The officials seized her computer and mobile phone.
The woman, during investigations, confessed to harassing the man and said that she did so because he (the victim) refused to marry her.
However, the FIA closed the case after the matter was settled between the two.
https://dailytimes.com.pk/238219/women-harasses-a-man-in-sindh-via-facebook-and-whatsapp/
--------
WOW Club 'Super Women' Fair a Ground-Breaking Event
May 10, 2018
JEDDAH — Women of Wisdom (WOW) Ladies Club recently conducted their first ever event titled 'Super Women' fair at Kenanah Hotel in Jeddah. The ground-breaking event was acclaimed as a giant and pioneering step by a group of enterprising women, who initiated a platform for emerging artists and talented women in Jeddah irrespective of their nationalities.
International Indian School Jeddah Girls Section Vice Principal Farah Masood inaugurated the function. Around 700 women from different walks of life visited the fair. A wide variety of stalls were set up by the thriving young artists and emerging household entrepreneurs at the event. The superb creative works of four gifted artists that were showcased at the event captivated hundreds of women visitors. Sameea Rahat, Asha Mathew, Fouzia and Sanaa Anwar were selected by the panel of WOW art critiques and invited them to exhibit their works at the event.
Twenty-two stalls have been set up to showcase diverse art works of talented women from India, Pakistan and Sri Lanka. These stalls ranged from geometrical art works, calligraphy, crochet works, amazing egg arts, waste crafts, jewelry designing, abaya designing, cloths designing, bottled benefits of aloe plant, and delicious varieties of food and confectioners.
Apart from the stalls and exhibitions, the WOW group also arranged an array of interesting games and interactive sessions to break the ice and let the women from different cultures blend in smoothly under one roof. On the whole, the women exclusive event has provided an amazing evening to the art and food lovers of Jeddah with interesting entertainment sessions.
WOW is a group of around 30-young and vibrant Indian women who are academically qualified and work in different fields. Most of the team members are alumni of IISJ. The group was formed a year ago through the social media platform to nurture the talents and creativity of women. There are doctors, engineers, teachers, graphic and multimedia experts and entrepreneurs among them. WOW gives a platform to all these creative and expertise group and channelize their positive vibes to bring changes in the society by empowering women.
The coordinators who made this event a great success were Fasna Zubair, Zumina Kuttyali, Rasha Noufal, Nahana Barjis, Rejina Nabeel, Shihana Shabeer, Safa Safeer, Farsana Afsal, Shamna Sanooj, Febi Shamil, Farmi Sharsad, Fathy Qadu and Shaheeba VK.
Rejina Nabeel, one of the coordinators, unveiled the team's plans to conduct similar events in future so as to promote the talent and empower more women artists in the city. The team is now planning to hold workshops and classes across schools in Jeddah with the objective of inculcating social values and providing personality training and thus ensuring building up of a socially committed and empathetic generation.
http://www.saudigazette.com.sa/article/534571/SAUDI-ARABIA/WOW-Club-Super-Women-fair-a-ground-breaking-event
--------
Women Health Care Professionals Honoured By DHCA
May 9, 2018
Dubai: The Dubai Healthcare City Authority (DHCA) Excellence Awards recognised women's contribution in health care and volunteerism on Wednesday.
In its second edition, 15 awards were presented under 'Excellence' and 'Recognition' to showcase the remarkable contributions by individuals and organisations.
"We are celebrating the achievements of our partners in Dubai Healthcare City (DHCC), who have worked tirelessly, harnessing innovations to better serve patients and the community. It takes exceptional expertise, focus and vision to successfully implement and sustain innovative clinical systems and improve lives," said Dr Ramadan Al Beloushi, CEO of Dubai Healthcare City Authority – Regulatory (DHCR).
The 2018 awards introduced four awards — Inspiring Woman in Healthcare Award, Year of Zayed Volunteerism Award, Distinguished Healthcare Professional Award, and Young Healthcare Professional Award.
Dr Hiba Shata, managing director and co-founder, Child Early Intervention Medical Centre in DHCC, received the Inspiring Woman in Healthcare Award for her work in the field of autism and her volunteer efforts through conferences, charity walks and inclusion programs.
Meanwhile, the 'Year of Zayed Volunteerism Award', was presented to Wendelin Lauxen, managing director and medical director, German Limbtech Orthopedic Technology.
Lauxen, who won in an individual category, has supported individuals with amputations through the annual 7EmiratesRun. The volunteerism award in an organization category was presented to the American Academy of Cosmetic Surgery Hospital for its pro bono work to help war victims and patients with congenital anomalies.
The other two new awards were 'Distinguished Healthcare Professional Award', dedicated to notable health care professionals for outstanding improvements in health care, and the 'Young Healthcare Professional Award', for an individual between 20-30 years for his or her outstanding achievements. Dr Vinod Gauba, consultant ophthalmologist and oculoplastic surgeon and medical director, Imperial Healthcare Institute, and Dr. Anas Ali Salami, lecturer and specialist – Paediatric Dentistry, Mohammad Bin Rashid University of Medicine and Health Sciences, received the awards respectively.
Under the 'Healthcare Innovation Award', the first place was awarded to Mediclinic City Hospital for the first robotic assisted orthopedics surgery in the Middle East; second, Bioscience Clinic Middle East for the work as the only stem cell factory in the UAE that facilitates research; and third, D. Sulaiman Al Habib Hospital for its Smart and Digital Hospital initiative.
The winners of the 'Outpatient Clinics Award' in recognition of the continuous high compliance with the quality standards of DHCR were also announced. First place in the Single Specialty Clinics category went to Dr Najat Hazimeh Clinic, while second place went to Serenity Clinic Foetal Maternal Care, and third place to Clinic for Cosmetic Dentistry.
In the Multi-Specialty Clinics category, first place went to, Sakura Medical and Dental Clinic, second place to Dr Helena Taylor Clinic, and third place to American Medical and Dental Centre. In the Outpatient Surgical Clinics category, the winner was the London Centre for Aesthetic Surgery Gulf.
The ceremony also paid tribute to the late Dr Yun Son 'Denise', a dentist in Dubai Healthcare City who, for 13 years, went on missions to Africa and other regions, treating and caring for more than 3,000 patients. Dr Yun's family received an appreciation certificate in posthumous recognition.
The winners were selected by an independent judging panel whose members are not residing in the UAE.
https://gulfnews.com/news/uae/health/women-health-care-professionals-honoured-by-dhca-1.2219114
--------
URL: https://www.newageislam.com/islam-women-feminism/berlin-court-bars-woman-with/d/115203
New Age Islam, Islam Online, Islamic Website, African Muslim News, Arab World News, South Asia News, Indian Muslim News, World Muslim News, Women in Islam, Islamic Feminism, Arab Women, Women In Arab, Islamophobia in America, Muslim Women in West, Islam Women and Feminism