New Age Islam News Bureau
19 May 2015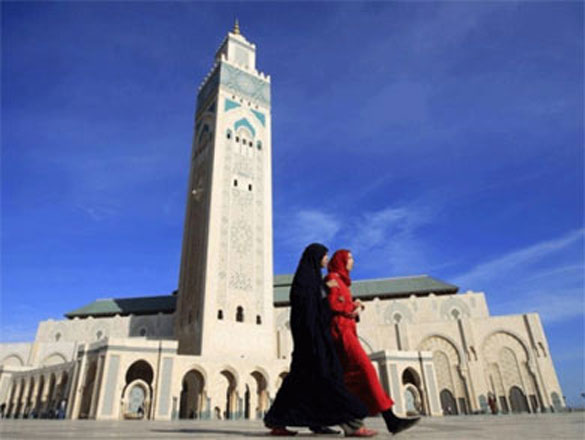 A woman has the right to choose for herself and should stand up to her father using Sharia law to support her rights. PHOTO: REUTERS
------------
• Women-Only Mosques Filling Need For Muslim Women in Western World
• Yazidi Society Changes to Try and Rescue a Generation of Traumatized Women
• Study: Muslim, Catholic Girls Top In Early Pregnancies
• Bradley Cooper's Girlfriend Irina Shayk Had Visa Problems over Her Muslim Roots
• Looking Out From Behind the Niqab, Worn Worldwide By Conservative Muslim Women
• Has Morocco's 'Family Code' Shown How Gender Equality Can Coexist With Islam In The Courts?
• Ahmadiyya Muslim Women's Group in Hayes Hosts Peace Symposium
• Morocco's Islamic Women Preachers Lead Social Revolution
• Female Characters Are Taking Off As the Stars of Their Own Comic Book Stories
• Kadra Mohamed is The First Hijab-Wearing Police Woman in Minnesota
• Pope Francis Canonizes Two Palestinian Women
Compiled by New Age Islam News Bureau
URL: https://www.newageislam.com/islam,-women-and-feminism/new-age-islam-news-bureau/belgium-convicts-7-women-for-supporting-islamic-state/d/103041
---------
Belgium Convicts 7 Women for Supporting Islamic State
19 May, 2015
BRUSSELS: A Belgian court on Monday handed out prison sentences to seven women for supporting Islamic State and radicalising young women to go to Syria to join its ranks and marry fighters of the militant organisation.
Four of the seven women - five Belgians, one Dutch and one Moroccan - were not in court to hear their convictions and were believed to be in Syria with female battalions of Islamic State, the Antwerp-based court said.
In their absence, they were given five-year prison sentences for their activities with those battalions, including patrolling and guarding entrances to towns and cities in Syria.
The women present in court were guilty of facilitating the departure of Islamic State recruits and collecting money for organisations aiming to radicalise young girls. They received prison sentences of between 20 and 30 months.
In February, 45 men belonging to radical Islamist group Sharia4Belgium stood trial, accused of being part of a terrorist organisation. The head of the group received a 12-year prison sentence.
© Thomson Reuters 2015
http://www.ndtv.com/world-news/belgium-convicts-7-women-for-supporting-islamic-state-764191
------------
Women-Only Mosques Filling Need For Muslim Women in Western World
19 May, 2015
During a typical Friday prayer at mosques around the world, men and women file into their place of worship together. But once inside, they separate: The men go into the main room with the imam, and women are either placed behind the men with a divider between the two genders, or in separate rooms with speakers.
Now, some Muslim women are taking that separation a step further with the establishment of women-only mosques. Earlier this month, the Muslim Women's Council of Bradford, U.K., announced the opening of the country's first women-only mosque.
In its press release, the MWC said Muslim places of worship are in need of reform and revitalization.
"Muslim women have been marginalized for many decades by mosques in the U.K. which are male-dominated, patriarchal spaces," according to the release. "It is for this reason that (MWC) aims to ensure that Muslim women have the space to discuss issues … in an environment that is open to everyone."
The need to create a space for Muslim women has not only been felt in Bradford. Earlier this year, the U.S. saw its first women-only mosque open in Los Angeles.
The Women's Mosque of America was founded by Hasna Maznavi and Sana Muttalib, who told Al Jazeera America they were inspired by their egalitarian values of their faith.
"The stories my mother taught me from the Qur'an were all about equality," Muttalib said. "When I grew up and realized that isn't always the reality that plays out in society, I was shocked."
A 2011 study done by the Hartford Institute for Religion Research found that two-thirds of mosques in America use dividers to separate women and men during prayer. In addition, 63 percent of mosques scored "fair" or "poor" in ranking a women-friendly atmosphere.
Abdullah Hasan, imam at the Holborn Mosque in London, told The Washington Post that the creation of women-only mosques is "a wake-up call to men."
"Some (males) have no idea about what's going on in the outside world," he said. "They're completely out of touch, politically and culturally. And let's face it. This is not just a Muslim problem. It has taken such a long time for the Church of England to accept women as priests and bishops. So women have had a tough time of it. I completely understand why women in Bradford want their own mosque."
As much as the women-unfriendly mosques in the U.S. may have triggered the inspiration to create a women-only mosque in L.A., the founders were determined to create it from a blank slate, envisioning their ideal mosque, said Edina Lekovic of the Muslim Public Affairs Council.
"The intent of the mosque was to compliment other spaces," Lekovic said. "That if the women's mosque is doing things right, then we are empowering women to know the Qur'an, to have the leadership skills and the confidence to be able to serve the women's mosque (and) their co-ed mosque."
As male-dominated as some mosques may be, Lekovic said she sees light at the end of the tunnel.
"That's part of what's exciting about living now — as crazy as it is, there's a transfer taking place and it's generational," she said. "What's happening in (the millennial) generation has taken away power from traditional gatekeepers. Those traditional structures and barriers are not the same."
http://www.deseretnews.com/article/865628896/Women-only-mosques-filling-need-for-Muslim-women-in-Western-world.html
------------
Yazidi Society Changes to Try and Rescue a Generation of Traumatized Women
19 May, 2015
Once no more than an isolated collection of shrines, the Yazidi holy place of Lalish has grown into a small but busy town.
Lalish absorbed hundreds of refugees after ISIS fighters captured Mosul a year ago and advanced across northern Iraq. And now, hundreds of women and girls once imprisoned by ISIS are also visiting this site to be baptized back into their faith — a faith with roots stretch back to the religions of ancient Mesopotamia.
The Yazidi faith is insular: The religion accepts no converts and, before ISIS arrived in Iraq's Yazidi heartland in August 2014; anyone who converted to another religion — even under duress — was cast out of the community.
But ISIS fighters kidnapped thousands of women and girls during their takeover of much of northern Iraq. Humanitarian organizations describe "systematic" rape and abuse of women and girls in ISIS captivity. Those who escaped or have been released say they were often forced to convert to Islam before being "married" to an ISIS fighter.
So the Yazidi community is changing things with a new tradition: adult baptism. It's an attempt to reintegrate the woman back into the community in the face of an unprecedented disaster.
"All these women have gone through a lot," says Baba Chawish, a spiritual leader in Lalish who says he meets with almost every woman and girl who comes here. "They are psychologically broken, they are coming here to worship and ask forgiveness from God and be baptized again."
A group of young women who have come to visit the holy site first sit for tea in Baba Chawish's small office beside the main Lalish temple. Two were held by ISIS and recently escaped; each brought along friends for support. Out of respect for their privacy, the women asked not to be identified by their names or home villages.
"This is like a paradise," one of the women says when Baba Chawish asks her about her fist impressions.
The former captives shy away from questions, but a chatty friend explains why they're here. "They are here to become Yazidis again," she says with a smile.
Baba Chawish says religious leaders were essentially forced to change doctrine. In pragmatic terms, he explains, Iraqi's Yazidis are already an extreme minority in the country. Losing thousands of Yazidi women and their children would be unsustainable.
"These people had no option, they were forced to convert," he says, referring to the young women seated before him. "Now we've said that the door is open for everyone who has been raped, they can still be purified and baptized in this place as if nothing happened to them."
The baptism itself is quick. In almost assembly-line fashion, Baba Chawish's aunt, Hanan, blesses the girls one after another in a small, dark room built around a freshwater spring.
Then the women are whisked away to another temple, and the mood relaxes. The women giggle and pose for pictures in front of the main temple's gates. Swallows swoop in and out of doorways overhead. The girls smile between striking serious poses for each others' cell phones.
But despite the new rituals, being held by Islamic militants still carries a powerful taboo. The women in Lalish asked not to be interviewed or photographed, but a pair of women at a camp for Iraqi refugees just a half-hour drive from Lalish agreed to speak, but only in private. They asked for all men to leave the room and requested their names be changed and tape recorders turned off.
"Absolutely, I felt changed when I went through the baptism," says one woman, who asked to be called Nour. "But I'm still always sad. [Captivity] has changed so much in my life. Even my personality, I feel like it's changed."
She says her family is still being held by ISIS; until they are released, she says, she can't imagine continuing with daily life.
Some Yazidi community leaders echo Nour's concerns for the future. They say what these women really need is intensive counseling, otherwise Iraq's Yazidis will be left with a generation of traumatized women and girls.
But outside the Lalish temple, Baba Chawish dismisses those concerns.
"These women come to here to be baptized and purified in terms of religion, but also to be purified for the society," Chawish says, "We are showing to the whole world that these people had no choice and have been baptized, so no one should look at them differently."
http://www.pri.org/stories/2015-05-18/yazidi-society-changes-try-and-rescue-generation-traumatized-women
--------------
Study: Muslim, Catholic Girls Top In Early Pregnancies
19 May, 2015
Non-religious girls lead in early pregnancies while Protestants top in delaying first births, well ahead of Catholics and Muslims.
A detailed analysis of Kenya, Uganda and Tanzania shows that early pregnancies are disproportionately affecting the non-religious, poorest, illiterate, rural girls and particular regions. Apart from poverty and illiteracy, the University of Southampton, UK, has now added religion as a cause for determining which girls are most likely to fall pregnant early in life. "In Kenya, those who state they are Muslim or Catholic have higher percentages of adolescent first births than Protestants and those who state they are of no religion have markedly higher percentage of adolescent births," says the study published in the journal Reproductive Health. The researchers analysed the most recent Demographic and Health Surveys from the three countries. The study found that Western Uganda has the highest concentration of young mothers in the region. The region with highest child mothers in Kenya is Nyanza, while in Tanzania it is Tabora.
On the other hand, was the PEs which included Full Gospel, Assemblies of God, the Baptist as well as inter-denominational churches? These groups, the researchers say, make high demands on members' lifestyles including the persuasion to be "born again". Ngula argues that it has been shown in other studies in Africa that PE church members are less likely than followers of mainstream religions to be involved in premarital sex or "Mipango ya Kando". "Catholics, Muslims, and members of indigenous religions were more likely to have had an extramarital affair than were Protestants, especially Pentecostals," wrote the Ngula team which was led by Prof Ann Neville Miller of the University of Central Florida. The team concluded that PE church-going youths in Nairobi were less likely, than those attending mainline churches, to have sex. In comparison, with the mainline church youths, the group of Pentecostal youths reported more frequent church service attendance, a higher number of religious activities and more frequent talk about spiritual issues with church confidants. They were also more likely to be born-again Christians, say the authors. "Our findings suggest that specific teaching about sexual abstinence may be less important than talking about a range of life issues within a community of like-minded believers," say the African Nazarene University study. It recommends a higher dose of the same to reduce adolescent sex in Kenya.
The three-country study advocates more condoms, more sex education and more freedom to access abortion services. The study published in a reputable scientific journal is likely to give credibility to the push in the Senate to have more sex education and condoms for schoolchildren. It blames restrictive abortion laws, high rates of premarital sex and restrictions in accessing contraception for the high rates of early pregnancies in the three countries. They call for specific intervention especially for children with single parents and those who are orphaned.
http://www.standardmedia.co.ke/article/2000162675/study-muslim-catholic-girls-top-in-early-pregnancies?articleID=2000162675&story_title=study-muslim-catholic-girls-top-in-early-pregnancies&pageNo=2
------------
Bradley Cooper's Girlfriend Irina Shayk had visa problems over her Muslim roots
19 May, 2015
She was raised eating potatoes, boys teased her that she had 'stick legs', and when she first applied for a US visa she was rejected - amid fears over her Muslim roots.
Today 29-year-old Irina Shayk, once seen as a 'spotty village girl', is the talk of America as she steals passionate kisses with Hollywood heartthrob Bradley Cooper.
But her road from a bleak Russian industrial backwater to fame as a swimwear and lingerie model was fraught with setbacks, just as it was aided by astonishingly lucky breaks, one of them at a bus stop.
Daily Mail Online has explored her roots in the grim industrial Urals region nudging Siberia to hear from those who knew her, and her extraordinary life story.
She once said of her polluted birthplace Yemanzhelinsk, where she lived in grinding poverty as Russia's casino economy collapsed under Boris Yeltsin in the 1990s: 'It's a beautiful place - if you wear a mask.
'It's a mining town, but all the collieries have shut already.'
Among the extraordinary aspects of her journey to fame as a model is how she overcame - as a vulnerable and gawky 14-year-old - the sudden and traumatic death of her beloved father Valeriy Shaykhlislamov, her real family name.
A coal miner, his death in his 40s from an acute lung disease plunged the family into near penury, but he bequeathed her one invaluable asset: her distinctive Tatar looks.
'My father was dark skinned, because he was Tatar,' she explained. 'Sometimes Tatars can look Brazilian. I get my light eyes from my mother.'
Another is her formidable paternal grandmother - now also sadly dead, a bomb-dodging teenage military spy under Stalin who was among the 'liberators' of Nazi Berlin 70 years ago at the climax of the Second World War.
She was a role model who Irina called 'my angel', allowing her to dream her dreams of escaping from the ruins of Communism, a goal she always knew she would achieve.
Then there is the way her ethnic Russian mother by chance saw a notice for a local 'beauty school' on a bus stop wall. She took Irina's sister Tatyana, now 31, but next door was a model agency.
The eagle-eyed staff spotted not Tatyana but her younger sister Irina hanging around, and knew at once someone special had fallen into their laps.
Now she is a name known around the world but this glamorous model has admitted in Russia to her hand-to-mouth background when she lived in a cramped ground floor flat in a typical apartment block in Yemanzhelinsk, decorated Soviet-style.
'We were very poor,' she said.
'After school my sister and I helped our mom in the garden. We grew potatoes, cucumbers, tomatoes, not for fun - but to eat.'
She also acknowledged: 'Actually I wanted to become a journalist, but no matter who I imagined myself to be in the future, somehow I was sure: I would leave my hometown. I felt it was my destiny.'
Those who remained in this dour south Urals backwater - population 30,216 - confirm her account, and remember her mother Olga, working hard as a music teacher, and taking on a second job, to make ends meet.
Irina had extra classes at a music school - she played the piano getting excellent grades - in addition to her normal education.
Childhood friend Denis Salomatov affirmed: 'These were the tough 1990s. We ate bread, potatoes, and drank juice from 3-liter jugs.'
A classmate who wanted to remain anonymous remembered: 'It was a world apart from what she knows now - and her glamorous life with Bradley Cooper by her side.
'Back then, we didn't have enough money for essentials, let alone luxuries. But we all lived like this, eating only basics.
TATARS: RUSSIA'S MUSLIMS
The Tatars form Russia's largest minority group, a total of some five million people who follow Islam and speak a language related to Turkish.
Originally part of Genghis Khan's army, they settled and formed Tatarstan, a patchwork of kingdoms - or khanates - from Siberia as far west as the Crimea.
The Tatar territories were conquered by the Russian Empire from the 16th into the late 18th century and after that the Tatars became more integrated into Russian society.
The Tsarist empire used them to fight wars and expand into Central Asia, and 1.5m now live in modern Kazakhstan. They kept their distinctive social structure, were allowed to practice polygamy, were successful merchants and agents of the state, and their nobles were formally recognized as being the same rank as Russian - Christian -nobles.
But their status has never been certain. Ivan the Terrible forcibly converted many to Christianity and in 1921 and 1922 an estimated two million died in famine in the Volga-Ural region - the same area as Irina Shayk's root.
Tatar nationalists regard it as an act of genocide. Ethnic Russians were relocated to the area after it, reinforcing that view.
There was further persecution under Stalin, particularly in the Crimea.
And more recently the Crimean Tatars have expressed fear that they face anti-Muslim persecution over the Russian annexation of the territory.
'I remember Irina's mother working like a slave for her family. And Irina - she was determined to use every chance she had to get to Moscow, and then to the world.'
A friend from her Soviet-style summer camp, Marina Malkova, of Chelyabinsk, remembers: 'I can't say she was a beauty.
'To me, she seemed too tall, her legs were too skinny and gangly, and her skin was dark. But she was always friendly and smiled all the time.
'After that I heard nothing of her, but in 2007 there was a story about a Russian model Irina Shayk conquering the West. And I recognized my old friend Shaykhlislamova.'
But classmate Ekaterina Bereshenova offered a different view, recalling her striking looks as they grew up.
'Not only boys, but men as well, feasted their eyes on her slim legs,' she said.
'To those who called her thin - or a "stick" - she replied proudly and prophetically: "You'll see how this slim body will feed me in the future - and make me famous."'
At 14, already the center of attention, she was desperate to buy a pair of fashionable high heels - but the family couldn't afford them.
Irina worked for 20 days in a local hospital, painting walls, to earn enough for the shoes, which she wore to her studies though by this age she was taller than her contemporaries, say her old friends.
Salomatov recalls a girl who hypnotized him and his male friends.
'She'd say: 'Yesterday you had fun. Today you'll be cleaning.' So we had to vacuum, clean all the rugs. It was impossible to refuse such a girl.'
Female friends were naturally jealous of her, and one who today admires her career from afar said: 'Irina has nothing which is not completely natural. I know for sure that it's all true,
'I saw with my own eyes. There is nothing...boosted.'
Her old teacher Nina Bulygina, who taught her chemistry at school number 4 Emangelinsk, said: 'She stood out because of her interesting appearance.
'And her beauty: she was tall, slim. But she was also responsible and a good student.'
History teacher Vera Prokudina echoes this, saying she did not initially realize how attractive she was.
'Irina did well at school, but was always very modest. She stood out because of her looks.'
School head Viktor Gusev said that she 'wouldn't let boys close to her' and friend Ekaterina Bereshenova remembers her saying as she grew up: 'I don't want to be friends with only one guy, so as not to offend the others.'
Full report at:
http://www.dailymail.co.uk/news/article-3082620/From-filthy-Russian-mining-town-love-Bradley-Cooper-Irina-Shayk-poor-high-heels-affair-sugar-daddy-beat-visa-problems-Muslim-roots-lost-Red-Army-heroine-grandmother.html
------------
Looking Out From Behind the Niqab, Worn Worldwide By Conservative Muslim Women
By HASSAN AMMAR | ASSOCIATED PRESS
19 May, 2015
CAIRO (AP) — Across the Middle East and elsewhere, some conservative Muslim women only look out at the world around them from behind the Niqab.
For most, the Niqab is a choice. They do so out of their own interpretation of the Quran and the Hadith, a collection of traditions and anecdotes about the Prophet Muhammad, believing that a woman's body should be covered out of modesty.
As a photographer for The Associated Press, I travel across the Middle East and often see women wearing the Niqab. Back home in Lebanon, how a woman dresses remains a personal choice, as some wear bikinis out to the beach, while other Muslims wear head scarves or the Niqab.
But with the rise of the extremist Islamic State group in neighboring Syria and Iraq, the militants have forced women in areas under their control to wear the niqab. Penalties for disobeying them can be incredibly harsh — even death.
That means those women now see the world differently than they did before. A niqab is a veil that entirely covers the face or only has a small, slit-like opening for the eyes, changing the way a woman wearing one views life around her. Women also have to lift them up slightly to be able to eat or drink anything.
In my travels, I decided to begin shooting images through a full niqab to offer a glimpse of what it must be like to look through them. In my hometown of Beirut, I shot pictures of its famous corniche that way, the bright colors of the Mediterranean dimmed through it. The same happened at the Giza pyramids in Egypt, where a sunny blue sky grew dark.
Despite that, some women say they welcome the anonymity and protection from harassment the niqab offers.
Here are a series of AP photographs I shot of life viewed through the niqab across the Middle East.
http://www.newser.com/article/70cc106b403141e7ad64cafdd76d164b/ap-photos-looking-out-from-behind-the-niqab-worn-worldwide-by-conservative-muslim-women.html
------------
Has Morocco's 'Family Code' shown how gender equality can coexist with Islam in the courts?
19 May, 2015
The courthouse in Azrou in Morocco's Atlas Mountains is where locals come to present their issues to a judge. These include family issues — like divorce, inheritance and child custody cases. The courthouse is as grand and plain as any government building in the world. Outside, men and women patiently wait their turn to see a judge.
But one woman is not so patient. She stands by the courthouse, upset. "I don't have any rights, and I need the law to be on my side so that he can't hit me anymore," she says. She's at the courthouse today seeking a divorce. A decade ago, her husband would have had to give his permission. But today, under the Moudawana family code, she can ask the judge for a divorce herself.
According to Nadia Sonneveld, a legal anthropologist studying Morocco's implementation of Moudawana in rural populations, the new family code is quite revolutionary compared to the old one.
"Morocco has one of the most progressive family law codes, except for Tunisia," she says. In Egypt, for example, the wife has a legal obligation to be obedient to her husband.
"And that means she must ask for his permission to leave the house. For work or to buy groceries, she should, legally speaking, ask for his permission," Sonneveld says.
Women in many Muslim-majority countries, including Morocco, run the home and drive many of the family decisions. So it's only natural they should have some say in their and their family's legal status. That's the goal of many Islamic feminists — to find a way to improve women's rights within existing Islamic law.
Judge Mohammed Zerda is president of the family court division in Tangier. There are ten judges in his court — three male, and seven female. When asked if that makes a difference, he says, "This is simple, there's absolutely no difference between female judges and male judges. We all went through the same schooling and same education and every judge must be neutral."
There are a few sources a judge in Morocco can reference when making a decision: First is the Moudawana. Then there's the Maliki school of jurisprudence, which relies on the Quran and the hadiths, or the reported sayings of the Prophet Muhammad. The Quran is seen as the direct word from God — it's divine and cannot be changed or questioned. The hadiths, on the other hand, were collected by men, so they're open to debate. Judge Zerda looks at both sources when deciding a case. But he sometimes has to go to the last source — that gray area between what's written and local customs.
He remembers one divorce ruling in which he awarded the woman a portion of the family property.
"I gave her a quarter of the property," he says. "Mind you in the Islamic Sharia the law gives her one-eighth."
In another example, legal anthropologist Nadia Sonneveld tells the story of a 12-year-old girl who asked a judge for permission to marry. The female judge refused, based on her age. A year later, the girl came back pregnant and again asked for permission. Because in Moroccan culture it's very important that a child carry the family name of the father, the judge had to reconsider.
"This judge told me, 'What should I do? If I refuse her request she will give birth to a bastard and the child will have no future in Moroccan society. And if I allow it, I'm actually encouraging this phenomenon.'"
In the end, the judge decided to legalize the marriage.
Critics of the 2004 family code say it doesn't do enough to protect the rights of women and girls when it comes to minimum age of marriage, polygamy, and distribution of property. But more important, says Judge Zerda, is educating the population — especially in rural areas — about the rights they do have under Moudawana.
"For us in the city of Tangier, we know that not all the people that come to the courts do know about their rights and the laws," he says.
Ten years since its implementation, the family law code in Morocco is firmly established in the courts. But it's still working its way down to the people.
http://www.pri.org/stories/2015-05-18/has-moroccos-family-code-shown-how-gender-equality-can-coexist-islam-courts
------------
Ahmadiyya Muslim Women's Group in Hayes Hosts Peace Symposium
19 May, 2015
THE Ahmadiyya Muslim Women's Association of Hayes held an interfaith Peace Symposium, titled Peace – The Role Women Can Play, at the Baitul Amn Mosque in Hillingdon on Saturday.
There were 50 people presnt from different faith, races and walks of life.
Guests were given a welcome bag, which included a book by the Founder of the Ahmadiyya Muslim Association, Hadhrat Mirza Ghulam Ahmad. They were also able to visit an exhibition on Islam and the Holy Qur'an .
Speakers included the president of the Ahmadiyya Muslim Women's Association of Hayes, Tahira Uppal, PC Shabina Ahmad on how police are trying to bring communities together and the Rev Helen Watson of the Methodist Church.
Keynote speaker was Dr Sadia Ayaz, who highlighted how the word Islam means peace and submission and went on to discuss the rights Islam brought for women (such as the right to inheritance and divorce).
The final address was from Marion Ingerson Heart, who shared her thoughts on women's role in achieving peace and her poem, Are You a Woman?
The event concluded with silent prayer and refreshments
http://www.hillingdontimes.co.uk/news/12956876.Muslim_women_s_group_in_Hayes_hosts_peace_symposium/
------------
Morocco's Islamic Women Preachers Lead Social Revolution
19 May, 2015
CASABLANCA (Thomson Reuters Foundation) - Girls are "like a time bomb ready to explode and ruin the family's reputation", the Moroccan jewellery trader tells his customer as she admires a display of necklaces.
The solution is to "get rid of this bomb" by marrying your daughters off as soon as you can, he explains.
His customer, Hannane, replies firmly that Islam does not advocate child marriage and that women can also play an important role outside the home.
Hannane is one of a new generation of female religious leaders, known as morchidat -- part of a quiet social revolution in the North African country.
Their groundbreaking work is the subject of a British film, "Casablanca Calling", which will be showcased on Tuesday night at an international conference on child marriage in Morocco's famous port city.
The morchidat were introduced in 2006, partly in an attempt to counter Islamist radicalism following suicide bombings that rocked Casablanca in 2003.
The hope is that these female spiritual leaders can both encourage a more tolerant Islam and improve the position of girls and women in Moroccan society.
"The morchidat are a rare experiment in the Muslim world," the film's Moroccan associate producer Merieme Addou told the Thomson Reuters Foundation.
"It's the first time in a Muslim country that a religious role has been given to a woman."
The morchidat give guidance to women and young people in mosques, schools, orphanages, hospitals, prisons and rural villages.
But Addou says they have their work cut out as they try to overcome the many problems facing Moroccan society.
"So many cultural traditions -- from early marriage to women's education -- have become confused with religious teaching and it is challenge to separate them in people's minds," she adds.
IGNORANCE
The scene in the jewellery shop reflects some of the views the morchidat are trying to tackle.
"Morocco and other Muslim countries have been living in a long period of ignorance and stagnation," says Hannane. "Many people knowingly or unknowingly have blocked the most basic rights Islam gives women."
At a mosque, Hannane listens to a woman talk about her granddaughter's problems finding a husband. Her granddaughter is 14.
Although Morocco has outlawed marriage under 18, early marriage is a common problem encountered by the morchidat.
In a classroom, a teenager tells Hannane she has been promised to a boy since she was four years old and that it is becoming difficult to continue at school. "My family say now I'm getting married I shouldn't leave the house," she says.
The morchidat tells her that when it comes to marriage "God has given a woman the right to choose for herself" and that the girl should stand up to her father using Sharia law to support her rights.
There are now more than 400 morchidat working across Morocco. Addou says it is the first time women have had someone to talk to about spiritual, moral, social and personal issues.
Although the morchidat are outspoken on women's rights, she says they are not seen as a threat because what they say is rooted in religion which gives their message legitimacy.
In the rural northern area of Larache, we meet Bouchra, a morchidat who is championing girl's education.
Women toiling in the fields describe lives of servitude in a region where few girls go to school, illiteracy rates are sky high, misogyny entrenched and domestic abuse not uncommon.
"Women are doomed and then they die," comments one fieldworker.
In the evenings Bouchra mentors girls at rural boarding schools for the poor. One evening she is called to a dormitory after a student commits suicide. She is told the girl's father had seen her with a boy and beaten her in front of her friends.
HIDDEN WORLD
The morchidat initiative is part of wider reforms in Morocco aimed at giving women more rights.
Addou says other Muslim countries are taking an interest in the work of Morocco's female religious leaders, some of whom have been invited to speak abroad.
One of these is a bright, cheerful woman called Karima, who works in Rabat where she is concerned about the numbers of young people wanting to migrate to the West.
She believes that until young Moroccans feel proud of their Muslim identity and culture, mass emigration and violent extremism will continue.
Addou says "Casablanca Calling", which is set to air on Al Jazeera this year, provides a glimpse of a world rarely seen in the West.
"My vision of Islam is very different from what many people in the West think," says Addou.
"Many think Islam oppresses woman and restricts their freedoms, but this is because of traditions that have nothing to do with Islam.
"Men and women are equal in our religion. There is no difference."
https://uk.news.yahoo.com/moroccos-islamic-women-preachers-lead-social-revolution-071136540.html#mFcpc0z
--------------
Female Characters Are Taking Off As The Stars Of Their Own Comic Book Stories
19 May, 2015
Female characters are taking off as the stars of their own comic book stories, and writers and readers are thrilled
They punch bad guys, solve crimes and fly around with fantastic heroes.
They are superheroes, and more and more are women.
Ms. Marvel, Spider-Woman, Angela, Batgirl, Harley Quinn, Catwoman and many others are the lead characters in comic books from major publishers. And being a female character no longer means they're eye candy or helpless characters that need to be saved.
Observers and creators say that's a great thing.
"They're moving from characters that existed just to propel the adventures of the male heroes into being fully fleshed-out, living, breathing, deep, rich characters of their own," said Joe Patrick, manager of Legend Comics & Coffee and co-host of the Two-Headed Nerd comic book podcast. "There is a driving force to increase female representation in comics and change the representation they had."
Characters such as Ms. Marvel aren't oversexed, spandex-wearing damsels in distress. Ms. Marvel is a Muslim teenager who wears a more realistic costume, and she has her own adventures that don't revolve around men.
When she did team up with a major male hero — Wolverine from the X-Men — she didn't take a back seat. Instead, she shouldered the brunt of the responsibility battling the bad guys.
"I think that the audience for this sort of thing has grown," Patrick said. "Society has evolved to the point where we recognize that, 'Hey, some of the ways we used women in stories is not OK.' "
In the past it was a common trope for women to lose their power or be injured or killed, but for men to be spared such fates. Green Lantern's girlfriend was infamously killed and stuffed into a refrigerator as a plot device to anger her boyfriend.
"Across the industry we have been systematically un-fridging ... female characters who may have gotten short shrift in the past, looking at their back stories and discovering, as a community, what has been left unsaid," said Ms. Marvel writer G. Willow Wilson.
Women and men in the comics industry have fought for costumes that fully cover characters' bodies and story lines that aren't always about a damsel in distress, Wilson wrote on themarysue.com.
"I think it's a really great thing," said Omahan Alyse Wisdom, a comic book fan who works for Berkshire Hathaway Homestate Companies.
More female leads in comics is great, she said. She hopes that it gets more young female readers into comics.
A push toward more practical superhero costumes has been helpful, she said.
Wisdom has especially enjoyed recent stories with She Hulk. The character has all the powers of her green, super-strong cousin, the Hulk, but she's also a lawyer.
"She's very smart. She tries to do things that route, rather than smashing things," Wisdom said. "It shows not only can you be a superhero, but you can be a superhero by having a career."
Female-centric comics have been receiving lots of praise. Nominations for this year's Eisner Awards — like the Oscars, for comics — lean heavily toward such female-focused comics as "Ms. Marvel," "Saga," "Lumberjanes" and "The Wicked + the Divine."
The biggest comics companies are also adding more female-led books to their lineups. DC Comics is updating its comic book line next month with four new female-led series: "Black Canary," "Harley Quinn/Power Girl," "Prez" and "Starfire." The company is also launching DC Super Hero Girls, a new initiative to make comics, cartoons and merchandise aimed at girls ages 6 to 12.
Through next month, Marvel Comics is introducing "A Force," "Night Nurse," "Inferno," "Captain Marvel & the Carol Corps" and "Star-Lord & Kitty Pryde" to add to recent female leads "Spider-Gwen," "Silk" and "Princess Leia."
More female-geared comics means more female readers, too. At Legend Comics & Coffee, Patrick said his customers are 15 to 20 percent female. It's a small number, he said, but it's up considerably from five years ago.
http://www.omaha.com/go/female-characters-are-taking-off-as-the-stars-of-their/article_e90b38c8-046b-5404-ba9b-f9049d2c7934.html
------------
Kadra Mohamed is The First Hijab-Wearing Police Woman in Minnesota
19 May, 2015
Her name is Kadra Mohamed and she's the definition of dope. As Minnesota's first Somali, Hijab-wearing (traditional head scarf worn by Muslim women) police woman, she's bringing the conversation of Muslim women as law enforcement to the forefront. Oh and if her making history is not impressive enough, Kadra is also 23-years-old! What?!
Kadra first came into our lives in 2014, as she was hired to improve the sometimes tense relations with 80,000 Somali Americans in the Twin Cities—more than half of them in St. Paul—the nation's largest Somali community. Since last year, she's proved her worth and has created a relationship between law enforcement and the Somali community.
According to reports, women make up 46 percent of the entire workforce; however only 13 percent of the law enforcement workforce. And there's even a smaller number for the amount of women of color who are represented in law enforcement.
Kadra defies all odds. "The reason I'm even here today is because I had an idea firmly set in my head, and I worked really hard to try to get to this dream of mine," Kadra told local St. Paul news.
The department Kadra works for is in St. Paul, Minnesota, which is one of very few United States police departments that not only allow Muslim women on the squad, but allows them to wear their traditional hijabs as well.
Religious beliefs nor traditional cultural clothing should keep anyone from being able to get a job as a police officer. In fact, law enforcement should be one occupational field where diversity is king. The communities need to feel like they have someone supportive as an authority and sometimes, or most times, that means someone who reflects them.
We're all the way here for Kadra and her ground-breaking ways! Who run the world!?
http://chicagodefender.com/2015/05/18/beautiful-news-shes-the-first-hijab-wearing-police-woman-in-minnesota-literally-the-definition-of-dope/
------------
Pope Francis Canonizes Two Palestinian Women
19 May, 2015
Pope Francis canonized two nuns from what was 19th-century Palestine on Sunday in hope of encouraging Christians across the Middle East who are facing a wave of persecution from terrorists.
Sisters Mariam Bawardy and Marie Alphonsine Ghattas were among four nuns who were made saints Sunday at a Mass in a sun-soaked St. Peter's Square. Palestinian President Mahmoud Abbas and an estimated 2,000 pilgrims from the region, some waving Palestinian flags, were on hand for the canonization of the first saints from Palestine since the early years of Christianity.
Church officials are holding up Bawardy and Ghattas as a sign of hope and encouragement for Christians across the Mideast at a time when violent persecution and discrimination have driven many Christians from the region of Christ's birth.
They were canonized alongside two other nuns, Saints Jeanne Emilie de Villeneuve from France and Maria Cristina of the Immaculate Conception from Italy.
"Inspired by their example of mercy, charity and reconciliation, may the Christians of these lands look with hope to the future, following the path of solidarity and fraternal coexistence," Francis said of the women at the end of the Mass.
Bawardy was a mystic born in 1843 in the village of Ibilin in what is now the Galilee region of northern Israel. She is said to have received the "stigmata" - bleeding wounds like those that Jesus Christ suffered on the cross - and died at the age of 33 in the West Bank town of Bethlehem, where she founded a Carmelite order monastery that still exists.
Ghattas, born in Jerusalem in 1847, opened girls' schools, fought female illiteracy, and co-founded the Congregation of the Sisters of the Rosary. The order today boasts dozens of centers all over the Middle East, from Egypt to Syria, that operate kindergartens, homes for the elderly, medical clinics and guest houses.
In his homily, Francis praised Bawardy as having been "a means of encounter and fellowship with the Muslim world," while Ghattas "shows us the importance of becoming responsible for one another, of living lives of service to one another."
"Their luminous example challenges us in our lives as Christians," he said.
The canonization was celebrated in the Holy Land as well as by Palestinians in Rome. Bassam Abbas, a Palestinian-born doctor who has lived in Italy for 35 years, traveled from Civitavecchia, northwest of Rome, for the event with his wife and three children.
"We are proud of this event," Abbas said outside St. Peter's Square as he waved a giant Palestinian flag. "We want peace for Palestine, peace which transcends religion."
In addition to the Palestinian delegation on hand for the Mass, Israel sent a delegation headed by its ambassador to the Holy See, while France, Italy and Jordan also sent official delegations.
http://www.dailysabah.com/mideast/2015/05/17/pope-francis-canonizes-two-palestinian-women
------------
URL: https://www.newageislam.com/islam,-women-and-feminism/new-age-islam-news-bureau/belgium-convicts-7-women-for-supporting-islamic-state/d/103041