New Age Islam News Bureau
29 May 2013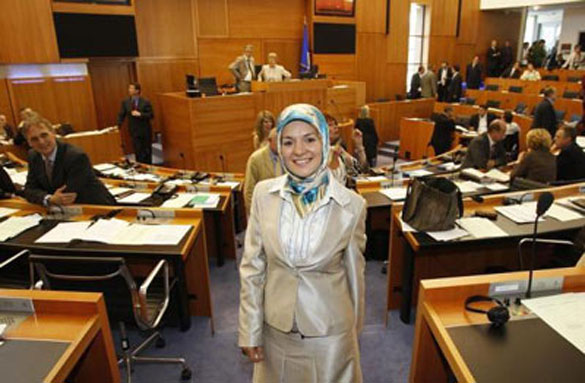 Belgian City Scraps Headscarf Ban Imposed By Centre-Right In 2007, REUTERS/Thierry Roge )
----------
• Women who wear Hijab face discrimination during job search: Research
• Female Israeli Soldiers Storm Al-Aqusa Mosque Grounds
• Woman Flees From Abha Social Shelter, Alleges Physical Abuse by Her Father
• Women Blamed for Islamic Politicians' Foolish Decisions
• Mixed-Marriage Couples Demand Right to Own Property
• Hotlines Provide Safe Space for Yemeni Women
• 14 International Schools Approved To Admit Saudi Girls
• Three Femen women held in Tunis after topless protest
• Khap panchayat helpless as court lets girl live with same 'gotra' husband
• Saudi Woman among World's Most Influential Figures
• Washing the Dead Does Not Scare Saudi Women
• Man Disowns 'Daughter' He Found Abandoned 37 Yrs Ago
• PML-N Secures Most Reserved Seats for Women in NA
Compiled by New Age Islam News Bureau
URL: https://newageislam.com/islam,-women-and-feminism/new-age-islam-news-bureau/belgian-city-scraps-headscarf-ban-imposed-by-centre-right-in-2007/d/11793
-----------
Belgian City Scraps Headscarf Ban Imposed By Centre-Right In 2007
Reuters
May 28, 2013
BRUSSELS (Reuters) - The Belgian city of Ghent has scrapped its ban on civil servants wearing headscarves after its Socialist and Green majority overturned a measure imposed in 2007 when center-right parties dominated the city council.
More than 10,000 adult citizens, or about five times the number required to call the vote, had signed a petition calling for the prohibition to be lifted.
After a four-hour debate lasting almost until midnight on Monday, 29 of the city council's 51 members voted to rescind the ban on the wearing of religious or political symbols for city officials dealing with the public.
In practice the ban prevented Muslim women in headscarves from sitting at public counters in city offices.
"This is a historic turning point for ethnic and cultural minorities," said Naima Charkaoui, director of Forum of Minorities, an umbrella group that coordinated the citizen action. "Migrant populations are gaining political voice."
Several Belgian cities have similar bans. Two years ago, Belgium banned wearing face-covering veils for anyone in public.
Neighboring France, with the largest Muslim population in western Europe, has outlawed wearing religious symbols such as Islamic headscarves in schools.
http://news.yahoo.com/belgian-city-scraps-headscarf-ban-imposed-centre-2007-080908748.html
-----------
Women who wear Hijab face discrimination during job search: Research
May 29 2013
Women who wear hijabs experience discrimination when applying for jobs, according to researchers from the University of Hawaii at Manoa.
Wearing a hijab had a negative impact on each aspect of the application and hiring process including job availability, call backs, interaction time with potential employers and interest by employers, the research found.
The study found Muslim women who did not wear the religious head scarves did not face the same discrimination.
http://theconversation.com/women-who-wear-hijabs-face-discrimination-during-job-search-14748
------------
Female Israeli Soldiers Storm Al-Aqusa Mosque Grounds
27 May 2013
Around 70 Israeli female soldiers raided the courtyard of Al-Aqusa Mosque in Jerusalem on Monday morning, in addition to around ten military intelligence personnel and about 25 Israeli settlers, according to a press release by the Al-Aqusa Foundation for Religious Endowments and Islamic Heritage.
According to the statement, there have been numerous incidents of Israeli security forces and settlers storming the Islamic site in recent days, coinciding with requests submitted to the Israeli government by Jewish organisations to perform religious rituals at the site.
On Sunday afternoon, Tzipi Hotovely, Knesset member for Israel's right-wing Likud Party, entered the grounds of Al-Aqusa Mosque accompanied by her cousins and a handful of Jewish rabbis.
Hotovely had said she wanted to visit ­ he Temple Mount – considered a holy site for Jews – on the eve of her wedding.
She went on to say it was imperative that Jews enjoy easy access to the site, levelling criticism at Israeli police for preventing high-profile Israeli figures from entering the mosque compound.
The Jerusalem-located Al-Aqusa Mosque is considered the third holiest site in Islam.
http://english.ahram.org.eg/NewsContent/2/8/72426/World/Region/Female-Israeli-soldiers-storm-AlAqsa-Mosque-ground.aspx
-----------
Woman Flees From Abha Social Shelter, Alleges Physical Abuse by Her Father
May 29, 2013
ABHA — A 35-year-old woman who was a resident at Abha Social Protection Centre ran away last Monday because she was about to be committed to a mental hospital for the third time.
The woman was inquiring about her case at the Emir's office in Abha when she made the decision to run away.
When she learned that the authorities would refer her to the mental health hospital, she decided to run away while the female guards accompanying her were distracted.
The woman told Al-Hayat she had been admitted twice to the mental health hospital and the doctors found her to be mentally sound and without any psychological disorders.
She added that she was not ready to be admitted for a third time to the same hospital, which is why she escaped.
"Why should I be committed to a hospital when I'm mentally sound and I don't have any problem?"
The woman said she wanted to lead an honourable and normal life and wanted to see her son, who was taken away by her ex-husband after they divorced. She also wanted to go back to her job.
She pointed out that her misery began when her father started to conspire against her and tried to get her admitted to a mental health hospital with the help of the social protection centre's director.
She ran away the first time when her father abused her physically and she escaped from the centre the second time when she was referred to the mental health hospital.
She said she was appointed as a teacher in 2004 but her father's violence caused her to lose the job.
She got a job at Princess Nora University but lost it again because of her father, she said.
She also got a job at King Khalid University but the social protection centre prevented her from leaving the centre's premises.
Sheikha Al-Huzam, director of the women's social supervision office in Asir, said the woman's father, one of her brothers and her ex-husband brought three lawsuits against her.
Al-Huzam told Al-Hayat the social protection centre does not prevent inmates from attending court sessions and hearings in connection with cases raised against them.
Ayedh Al-Saeed, spokesman for the Asir Emir's office, said the runaway woman does not have any cases hanging over her head except one registered against her when she ran away last week. He noted that the centre's management filed a complaint with the Emir's office, saying the woman mistreated and abused the centre's staff and even cursed at them several times.
"After this complaint, we wanted to make sure the woman didn't have any psychological disorders. That's why we referred her to the mental health hospital."
The woman managed to sneak out unnoticed from the building when she learned about the referral. Police are still searching for her.
Al-Saeed said the woman had escaped before and gone to Riyadh where she stayed for a month.
Then she came back and refused to let police call her father to come and pick her up at the station.
She said she preferred to stay in prison than go to her father's home. Her case was referred to an Abha court and the judge ordered that a committee be formed to study the case. "We have received similar complaints from inmates of the social protection centre. When we went there, we found the centre did not have enough services," said a court official.
http://www.saudigazette.com.sa/index.cfm?method=home.regcon&contentid=20130529167736
-----------
Women Blamed for Islamic Politicians' Foolish Decisions
By Yeremia Sukoyo
May 29, 2013
A former Islamic student leader says that senior figures in religious political parties have been lured into foolish decisions by attractive women seeking to tarnish the politicians' reputations.
"Women are being used as a way of degrading the image of Islamic figures," Erlangga Muhammad, former secretary general of the Islamic Students Alumni Association (Kahmi), said on Tuesday.
He cited the beef quota graft case in which Prosperous Justice Party (PKS) figures have been named suspects by the Corruption Eradication Commission (KPK).
"Unfortunately, the Islamic figures involved are not as cunning in their politics. As such, when faced with efforts to weaken them, they [PKS politicians] are unable to do anything," Erlangga told a dialogue on Islam and politics at the Islamic Youth Movement (Gerakan Pemuda Islam) headquarters in Jakarta.
In January, Ahmad Fathanah, an adviser to the then-PKS chairman and a suspect in the beef quota case, was caught in a hotel room with a female university student to whom he gave cash. Fatahanah was later accused of giving gifts to up to 45 women.
Meanwhile, Islamic candidates are out of favor among young voters in next year's presidential election, a National Survey Institute poll has found.
The survey of people aged 16 to 20 from across the country found that senior figures in religious parties each attracted support from less than 3 percent of respondents, while candidates from nationalist parties fared better.
PKS chairman Anis Matta was attracted support from 2.1 percent of respondents; while National Awakening Party (PKB) official Muhaimin Iskandar was backed by 1.9 percent and United Development Party (PPP) figure Suryadharma Ali by 1.2 percent.
Dipa Pradipta, a senior researcher at the institute, said Islamic parties were considered too conservative by first-time voters.
http://www.thejakartaglobe.com/news/women-blamed-for-islamic-politicians-foolish-decisions-2/
-----------
Mixed-Marriage Couples Demand Right to Own Property
Ni Komang Erviani
2013-05-29
Scores of mixed-marriage couples grouped under the Indonesian Mixed-Marriage Society (PerCa) are demanding the government fulfill their right to own property after marrying foreigners. They protested that the implementation of the Marriage and Agrarian Laws had disadvantaged them.
The supervisory board chairwoman of PerCa, Rulita Anggraini, told Bali Daily over the weekend that Indonesians who married foreigners lost their right to own land outright (hak milik) and could only hold a leasehold title, or hak pakai.
"Even if we bought the property when we were single, the government forces us to change the land status from full ownership to leasehold. This is weird," Rulita said.
"We don't understand why. Yes, we married foreigners. But we are still Indonesian citizens. Why have we lost our rights as citizens?" she asked.
The problem of land ownership for Indonesians married to foreigners has been ongoing for many years. Article 21 of the 1960 Agrarian Law is the biggest problem for mixed marriages. The article stipulates that any foreigner who comes into land ownership through inheritance or marriage, loses their ownership status on the property after a period of one year.
The problem was compounded by Law No. 1/1974 on marriage, which stipulated that all property purchased after an Indonesian woman's marriage to a foreigner would be joint wealth. Another complication was the 1958 citizenship law that stipulated an Indonesian woman would follow her husband's citizenship.
However, Rulita said, the 1958 citizenship law had been amended with the 2006 citizenship law. The amendment firmly stipulated that an Indonesian married to a foreigner could decide to keep their Indonesian citizenship. "It means that, based on the 2006 law, we have rights as an Indonesian. We should have the right to own property, as other Indonesians" Rulita added.
Rulita deplored that the impact of the 2006 citizenship law had yet to affect the fate of Indonesians married to foreigners. "All the public notaries, lawyers and bank staff we meet always say that Indonesians married to foreigners have no right to own property outright, unless there is a prenuptial agreement. It make it difficult to buy property without cash, as the banks usually refuse to offer a mortgage," she said.
"However, it is not about the prenuptial agreement. It is about our rights as citizens," she added.
PerCa is demanding the government issue a regulation to clarify the definition of joint wealth as stipulated in the marriage law. "Until now, no regulations have been issued to implement the articles in the marriage law, specifically there is no clear definition of joint wealth."
"The regulation to clarify this is the most important thing to avoid the misperception held by law practitioners and bankers that we cannot own property," Rulita said.
The deputy chairwoman of PerCa, Juliani Luthan, added that PerCa was eager to fight against injustice. "Article 28 of the 1945 Constitution clearly states that all citizens have the same rights. We only want our rights," she said.
Juliani said PerCa has held discussions with their members in several cities, including in Batam and Bali, as a legal basis to demand their rights from the central government.
http://www.thejakartapost.com/bali-daily/2013-05-29/mixed-marriage-couples-demand-right-own-property.html
-----------
Hotlines Provide Safe Space for Yemeni Women
27 May 2013
Samar Qaed
Mental health remains a stigma in the most liberal of countries—in conservative Yemen, where the conflicts are many and the solutions seem slow-coming, discussing one's personal issues comes at a risk. Hotlines are giving Yemenis, women in particular, a new outlet without risking their reputations.
When Um Ihab has conflicts with her husband, she calls a hotline and speaks to a woman she has never met and never will.
Fearing gossip, she kept her troubles to herself, declining to confide in female relatives or neighbours. Holding it all in caused her a lot of anguish, she said.
One day, she came across a brochure advertising a hotline service in Yemen. The service is provided by several partnering government and NGO organizations. Callers receive social, legal or psychological consultations, walking away with possible solutions to their problems. Full report at:
http://www.yementimes.com/en/1680/report/2392/Need-help-Hotlines-provide-safe-space-for-Yemeni-women.htm
-----------
14 International Schools Approved To Admit Saudi Girls
29 May 2013
Fourteen international schools have been given top-class evaluation, allowing Saudi female students to enrol, in their systems. According to a report by Al-Eqtisadiyah newspaper, Al-Jawhara Al- Arifi, director of National and Foreign education for girls, said that the international schools underwent an assessment process for quality rating.
"There are more than 14 international schools that have been approved to admit Saudi students," says Maha Bawazir, education consultant and former member of the Ministry of Education. "I cannot give an exact number but I think there are around 21 schools that have already been given this approval."
Full report at:
http://www.arabnews.com/news/453204
-----------
Three Femen women held in Tunis after topless protest
29 May 2013
Three young European women with topless protest group Femen were arrested on Wednesday after baring their breasts in central Tunis, a first in the Arab world, an AFP journalist reported.
Standing outside the main courthouse, the women, two French and the other German, shouted: "Free Amina," in support of a young Tunisian woman detained while protesting against hardline Islamists and awaiting trial on Thursday.
Full report at:
http://english.alarabiya.net/en/News/2013/05/29/Three-Femen-women-held-in-Tunis-after-topless-protest.html
------------
Khap panchayat helpless as court lets girl live with same 'gotra' husband
May 29 2013
Muzaffarnagar : A local court has directed a girl, who drew the ire of her family and khap panchayat for marrying a man of the same gotra, to stay with her husband, saying that she is a major.
Chief Judicial Magistrate Suresh Chand also directed that the couple, currently staying in New Delhi, be provided adequate security.
Full report at:
http://www.indianexpress.com/news/khap-panchayat-helpless-as-court-lets-girl-live-with-same-gotra-husband/1122195/
------------
Saudi Woman among World's Most Influential Figures
29 May 2013
Saudi women's rights activist, Sohaila Zain Al-Abedeen Hammad has been nominated for the medal of excellence for the most influential figure in the world in 2013 presented by Waldenburg International College and the International Council for Human Rights, Arbitration, Political and Strategic Studies (ICHAPS).
Speaking to Radio Netherlands Worldwide (RNW), Hammad said Saudi women have achieved a remarkable progress over the past few years, as they take on many leadership positions in the Saudi community. She became a member of the Shoura Council, and ran for office during municipal elections.
Full report at:
http://www.arabnews.com/news/453241
-----------
Washing the Dead Does Not Scare Saudi Women
May 29, 2013
QATIF — Saudi women employed in washing (ghusl) the bodies of dead women have no fears undertaking this job. They said they were able to overcome their fears through practice. They also said they consider what they are doing to be a social and a humanitarian work for which they are paid money and gain reward from Allah.
Talking to the Dammam-based Alsharq newspaper, Sakinah Al-Grain, a 23-year-old Saudi woman from Al-Qatif region, said she trained on ghusl to serve the residents of her village and to gain Allah's reward.
She described her first experience with ghusl as terrifying. "I was 19 years old when I washed a dead woman the first time. I could not sleep for three days because the picture of the dead woman kept coming to my mind," she said.
Full report at:
http://www.saudigazette.com.sa/index.cfm?method=home.regcon&contentid=20130529167706
-----------
Man Disowns 'Daughter' He Found Abandoned 37 Yrs Ago
May 29, 2013
JEDDAH — A 37-year-old woman was stunned when her father asked her to leave the house and told her that she had been found abandoned, Al-Watan newspaper reported.
She said she could not believe she had lived with someone whom she called "father" for 37 years and that he now disowned her.
She claimed that her father was given large amounts of compensation for some property he owned and his wife had convinced him to reveal the truth to her and ask her to leave to avoid any inheritance claims.
She said that her "father" had adopted her when he was residing in Hail, and registered her on his national identity card as his daughter.
She said her husband divorced her when he learned the news and left her with six children.
She said her father had also stopped her from going to school and was constantly hoping that she would get married.
Full report at:
http://www.saudigazette.com.sa/index.cfm?method=home.regcon&contentid=20130529167737
-----------
PML-N secures most reserved seats for women in NA
May 28, 2013
ISLAMABAD: Pakistan Muslim League-Nawaz (PML-N) emerged as the major shareholder in seats reserved for women in the National Assembly, leaving its rivals Pakistan Tehreek-e-Insaf (PTI) and Pakistan Peoples Party Parliamentarians (PPPP) far behind.
According to calculations by the Election Commission of Pakistan (ECP), PML-N will get a major share in the National Assembly by securing 34 out of 58 seats decided so far, followed by PPPP with seven seats, PTI with six, Jamiat Ulema-e-Islam-Fazl (JUI-F) with three, Muttahida Qaumi Movement (MQM) with four and one seat each by the Pakistan Muslim League-Functional (PML-F), National People's Party (NPP), Jamaat-e-Islami (JI) and Pakhtunkhwa Milli Awami Party (PKMAP).
Full report at:
http://tribune.com.pk/story/555511/pml-n-secures-most-reserved-seats-for-women-in-na/
-----------
URL: https://newageislam.com/islam,-women-and-feminism/new-age-islam-news-bureau/belgian-city-scraps-headscarf-ban-imposed-by-centre-right-in-2007/d/11793