New Age Islam News Bureau
4 Jun 2018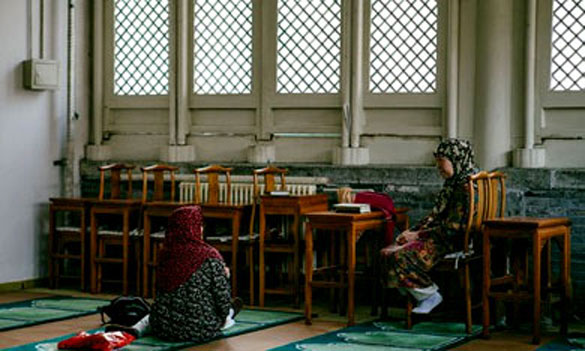 Two elderly Chinese women sit in the Niujie Street prayer hall. Photo: Li Hao/GT
-----
• Denmark's Burqa Ban Will Send Muslim Women Further Underground
• Malegaon Muslims Replace Iftar Party with Iftar Basket to Involve Women, Eliminate Waste
• Women from US, Canada, Wales To Train Female Driving Instructors in Saudi Arabia
• Sri Lankan Bid to Stop Muslim 12-Year-Olds Marrying
• Iran: Women Take Part In Protests In Orumiyeh, Kermanshah
• Lebanese Woman Faces Entry Ban to Cairo for 'Insulting Egypt'
Compiled by New Age Islam News Bureau
URL: https://www.newageislam.com/islam-women-feminism/beijings-women-only-mosque-blends/d/115444
--------
Beijing's Women-Only Mosque Blends Islam with Chinese Tradition
2018/6/3
Sitting in a spacious hall in a building on Beijing's Niujie Street, dozens of women wearing colorful embroidered headscarves earnestly pray as a loudspeaker above their heads broadcast the male imam who is leading the prayers in the nearby Niujie Mosque, the oldest mosque in the capital.
During Ramadan, which runs from May 17 to June 15 this year, hundreds of women, including foreigners living in Beijing, gather here to attend daily religious services.
As the Niujie Women's Mosque is under renovation, this hall has been chosen to serve as a temporary women-only mosque for Muslims in Beijing.
"China's women-only mosques are the best representative of religion with Chinese characteristics. It's a signature building that shows our respect for women," Liu Jun, director of the Niujie Mosque, told the Global Times in a previous interview.
Despite the fact that many Muslim women around the world face restrictions concerning entering mosques, Chinese women have a long tradition of praying at female-only mosques.
Liu said that the emergence of such mosques came about due to the intermixture of Chinese and Islamic traditions. He pointed out that Islam in China was influenced by the country's dominant culture which didn't prevent women from participating in public life.
Beijing built the first women-only mosque back in 1921 in Xicheng district, but the mosque was later demolished as it had become dilapidated with age. The local government rebuilt the new Niujie Women's Mosque in 2005.
There is no official figure regarding the total number of women-only mosques in China.
Shui Jingjun, a research fellow at the Henan Academy of Social Sciences, wrote in her book, The History of Women's Mosques In Chinese Islam, that such mosques first emerged in the central plains, which covers parts of the Anhui, Shandong, Hebei, Henan and Shanxi provinces.
http://www.globaltimes.cn/content/1105312.shtml
--------
Denmark's Burqa Ban Will Send Muslim Women Further Underground
June 4, 2018
Denmark has become the latest European country to dictate what a woman can and can't wear. Its parliament passed a new law imposing a penalty of 1,000 Kroner on anyone who wears a garment that hides the face in public.
Although couched in anodyne terms, the law is really aimed at the Burqa and niqab as revealed by its legislative history and parliamentary intent.
Given the trivial number of women who wear the Burqa in Denmark (in the low hundreds), what is really animating this costly exercise in lawmaking?
The Justice Minister, Søren Pape Poulsen, claimed that covering one's face in public is "incompatible with the values in Danish society", and "disrespectful" to others.
What exactly are these Danish values? What about the laws being disrespectful of the basic individual liberty of a person's right to wear clothes of their choice?
The Justice Minister claimed he did "not want police officers pulling items of clothing off people — Burqas or otherwise," and that, "if they live nearby, they will be asked to go home".
He said policemen will have to use their "common sense" when they see people wearing the Burqa.
A woman's right to wear garments of her choice is to be subjected to a policeman's "common sense?"
To be clear, this law is not about clothing but about what is implied by "Danish values".
Denmark's Burqa ban is just another step in a creeping shroud of prejudice slowly spreading over Europe.
Burqa ban about sending a message to Muslims
Recall that France struck the first blow against the Burqa in 2011 — a bizarrely retrograde move for a country that gave us liberty, equality, and fraternity.
Again, the number of women wearing the Burqa in France was trivial, as I noted in an article in The New York Times then.
So, the law was more about sending a message to Muslims and underlining the broader prejudice against minorities in France.
Since then, Germany and Austria have also adopted laws against Burqas or hijabs.
Last month, a Berlin court upheld a government decision to stop a Muslim woman wearing a hijab from teaching primary school students.
The justification was that "primary school children should be free of the influence that can be exerted by religious symbols".
The bankruptcy of the state's argument is also evident when viewed against other German attempts targeting the headscarf and promoting Christian religious symbols.
The state of Bavaria decreed on April 24 that all government buildings should display crosses at their entrance.
The display is mandated as "a visible commitment to the basic values of the legal and social order in Bavaria and Germany" and its "cultural identity and Christian-western influence".
How does this square with the previously asserted need to be free from the influence exerted by religious symbols?
In addition, recently, an Algerian-origin woman was denied French citizenship because she declined to shake hands with male public servants due to her religious beliefs.
According to the French Civil Code's article 21-4, that government may "on grounds of indignity or lack of assimilation other than linguistic, oppose the acquisition of the French nationality by the foreign spouse within a period of two years …"
The court supported the government's decision and said the woman's refusal to shake hands "in a place and at a moment that are symbolic, reveals a lack of assimilation".
To be sure, religious expression has to yield when there is a compelling state interest that warrants it.
Burqa-wearing women not a security problem
Public safety is often used as a justification to intrude on religious expression — hence the bans on veils during airport screening procedures, in courtrooms, public offices, while driving, etc.
Properly limited based on necessity, such intrusions on liberty may serve important public interests in safety, administration of justice, customer service, and efficiency.
Equally, religious beliefs or practices that are contrary to a country's constitutional values can be rendered illegal — polygamy, honour killings, forced marriage, child marriage, female genital mutilation, are examples.
Similarly, paternalistic legislation to advance gender equality in communities where inequality is ingrained due to cultural or religious practices cannot be stopped in the name of religious freedom.
However, the Burqa bans in Denmark and other European countries do not fall under these permissible justifications.
The trivial number of women wearing Burqas on Denmark's public streets has not manifested in a security problem.
And there are other less intrusive ways of promoting Danish values.
In Germany, a hijab ought not to interfere with the ability of a teacher to instruct her students any more than it would in other countries.
Group-think produces suboptimal outcomes
Stigmatising Muslim women — who are likely already burdened by discrimination — will only be counterproductive.
It is likely to push Muslim women out of vocations they are most likely to pursue — stymieing their career choices and reinforcing disempowerment.
A woman who has to choose between going to work or wearing her Burqa might choose the latter. Or worse, have that choice made for her by others.
The ban also deprives women of financial independence and confidence — both are essential for empowerment.
Research shows that group-think and homogeneity produce suboptimal outcomes compared to decisions that incorporate diversity.
Why not seek to promote Danish values through education and other means rather than through criminalisation?
If women are incentivised to voluntarily shed the Burqa and engage actively in the public domain, European societies will benefit from their talents.
That's surely better than pushing them underground.
http://www.abc.net.au/news/2018-06-04/denmark-Burqa-ban-niqab-muslim-europe-security-threats/9830848
--------
Malegaon Muslims Replace Iftar Party with Iftar Basket to Involve Women, Eliminate Waste
June 4, 2018
Malegaon: Iftar parties organized in India during the holy month of Ramadan are normally meant only for men. However, to give this tradition a more accommodative and meaningful twist, a group of Muslims in Malegaon on Sunday replaced them with "Iftar Baskets".
"The idea behind replacing Iftar Parties with Iftar Baskets was to ensure that women and children are also involved and take the benefits of the annual feasts", Shahid Faizee, one of the volunteer of Jama Masjid Ahle Hadees Motipura and who led the initiative, said while talking to ummid.com.
"The move also helped us in eliminating wastage of food – a norm with any public event", he added.
"Moreover, we were able to utilize every rupee donated for the cause", he said.
Shahid with his team members, prominent among them Noorul Ameen, Abdul Muqtadir, Naved Mirza, Razee Anwer, Abdullah and others, distributed Iftar Baskets containing apples, dates, chikoo, bhaji, samosas, ras malai, sharbat and other food items consumed at the time of Iftar.
"We distributed a total of 125 Iftar Baskets covering as many number of households and benefiting about 600 family members", Noorul Ameen said.
The idea came into being a week ago when the same group was part of a team managing an "Iftar Party" where it saw more than half the food items going waste despite their best effort to control the menace.
"Still worse, about 25% of the donated amount was used for pandal, lighting, furniture and for decorating the ground to give the Iftar Party a five-star look", Razee Anwer said.
"Moreover, we also failed to understand why women and children, who also observe fast along with men during the month of Ramadan, should be left behind. It is then that we explored various options and finally zeroed down on Iftar Basket", he said.
The initiative is being hailed and praised by all and sundry. "It was surprising but pleasant to receive the Iftar Basket right at our doorstep. My family members too were overwhelmed by this gesture", Habibur Rahman, a beneficiary, said.
Incidentally, the same group had in 2009 made distribution of Zakatul Fitr – the Eid charity, more effective, easier and meaningful for the needy, and also closer to its spirit.
Earlier, food grains normally wheat was individually delivered to the poor to pay the Zakatul Fitr, also called as Sadaqatul Fitr – the mandatory charity given on the eve of Eid al Fitr, the Muslim festival marking the end of Ramadan. However, deviating from this tradition, Jama Masjid Ahle Hadees Motipura started distributing 2009 onwards packets containing food grains, flour, rice and edible oil directly to the poor and needy through its volunteers.
Jama Masjid Ahle Hadees Motipura in Malegaon has always been conscious about the involvement of women in religious and social activities. This is why when entry of women in mosques is considered as sinful for many Muslims in India, it is among only few mosques in Malegaon which has special provision for women worshippers.
"Prophet Mohammad (peace be upon him) never banned women from worshipping in mosques. So, who are we to do so? At Jama Masjid Motipura, we have special arrangements for women. You can see hundreds of women coming here to pray, especially for Traweeh prayers during Ramadan and for Friday afternoon prayers", Abdul Muqtadir, said.
http://www.ummid.com/news/2018/June/03.06.2018/malegaon-muslims-replace-iftar-party-with-iftar-basket-to-involve-women-eliminate-waste.html
--------
Women from US, Canada, Wales To Train Female Driving Instructors in Saudi Arabia
3 June 2018
Women from Wales, Canada and America have been chosen as part of a global team training the first female driving instructors in Saudi Arabia.
"Susan Newbon, Canadian Deborah Sherwood and American Norma Adrianzen will be able to train women from June 24," when a decades-old ban on women driving is lifted in the kingdom, the BBC has reported.
The women will work as "senior assessors" for up to two years, training new examiners and instructors, the report added.
Nearly 8,000 female applicants have obtained driving licenses in the kingdom so far. Driving schools for women have been set up across five cities in the country, and teachers will include Saudi women who obtained their licenses abroad.
In September 2017, a royal decree announced the end of a decades-long ban on women driving. Women 18 years of age and older will be allowed to apply for a driver's license
https://english.alarabiya.net/en/features/2018/06/03/Women-from-US-Canada-Wales-to-train-female-driving-instructors-in-Saudi-Arabia.html
--------
Sri Lankan Bid to Stop Muslim 12-Year-Olds Marrying
June 4, 2018
Zeenath's parents believed it was best for girls to marry early in the event of a proposal. The 16-year-old had studied hard and obtained a government job with plans to save for a dowry, a traditional payment to the groom and/or his family.
But her hopes were thwarted when her father and mother, themselves trapped in a cycle of poverty, decided not to wait.
Instead, they influenced Zeenath to quickly marry a man of similar age to her own father who was not seeking a dowry.
She complied with her parents' wishes with the aim of pleasing them, but paid a high personal price
Zeenath, who uses this name to protect her identity, was assaulted regularly; a victim of spite and distorted Islamic practices, whose rights to healthcare and further educational opportunities were denied.
Now she has filed for a divorce against her husband and lives with her own child at her parents' house.
In another shocking Sri Lankan case last year involving early marriage, pregnant Thameem Fatheema Sharmila, 16, was tied to a chair and then had hot oil poured over her body before she was set on fire by her 22-year-old husband.
Sharmila had been unaware that her husband had already married twice beforehand and she suffered mental and physical abuse on a daily basis.
Subsequently, Sharmila died from the burns she received.
Such cases are all too common and women rights' activists have urged the government to officially make public a report on proposed reforms to Sri Lanka's Muslim Marriage and Divorce Act (MMDA) amid plans to table legislative amendments in parliament.
However, a copy of the report, compiled by a 17-member committee established in 2009 and chaired by Justice Saleem Marsoof, was leaked and is already available on the internet.
The Marsoof report was officially submitted to Justice Minister Thalatha Athukorale on Jan. 22.
"This committee has been conscious of the urgent need to reform the law to eradicate the menace of child marriages and considered the question of fixing a minimum age of marriage for Muslims," the report states.
It contains a recommendation for a minimum marriage age of 18 for both males and females to apply to Muslims, however this position was not adopted unanimously by the committee.
The majority committee recommendation is for the introduction of uniform marriage and divorce laws applying to all Sri Lankans, irrespective of their religious beliefs.
At present, the nation's common law doesn't allow underage marriages, but the law applying to adherents of the Islamic faith allows for the marriage of girls as young as 12.
The United Nations and the European Union have urged the government to end such double standards.
The Sri Lankan government has signed the Convention on the Elimination of all forms of Discrimination, which stipulates that women be afforded the right to freely choose a spouse.
Other Marsoof committee recommendations include references to the issue of greater representation of woman in bodies with decision-making powers in relation to marriage, divorce and maintenance payments.
The Marsoof report notes that Muslims have been visiting Buddhist-majority Sri Lanka since at least the 8th century and that many had settled. Muslims now comprise about 9.7 percent of the population of 21 million people on the island nation.
The report also makes the point that there is a "myth of homogeneity" of Muslim laws that constitutes a stumbling block to Sharia reform.
Some Muslim women's groups also advocate reform and there have been various committees of inquiry on the issue since the 1970s.
Juwairiya Mohideen, chairperson of Women's Action Network, said the law covering Muslim marriages and the country's Islamic Sharia 'Qauzi' courts continue to oppress women and girls.
Mohideen, who is also the director of Muslim Women's Development Trust, said reform delays constitute a denial of dignity, justice and equality.
Her organization conducted a survey in 2016 of early Muslim marriages carried out between 2005 and 2015 in three districts.
In a sample group of 350 married Muslim girls, 254 girls married when they were aged 16 or 17.
And 189 early marriages occurred as a result of financial factors, notably the payment of dowries.
Seven marriages had taken place only one year after girls reached puberty and there were a total of 51 marriages, in the survey group, of girls aged between 12 and 16, Mohideen said.
Father Noel Dias, a lecturer at the Sri Lanka Law College, said that the Muslim Marriage and Divorce Act violates both international law and basic standards of human decency.
He accused the government of dragging its feet on the issue because of lobbying by powerful male Muslim leaders opposed to change.
"This proposal to raise the age of marriage is absolutely essential," said Father Dias, referring to the Marsoof report.
The Sri Lanka Tawheed Jamaath, a Muslim organization, in 2016 held a protest rally against amending the MMDA to raise the minimum marriage age, but some women's groups have demonstrated in support of reform.
https://www.ucanews.com/news/sri-lankan-bid-to-stop-muslim-12-year-olds-marrying/82462
--------
Iran: Women Take Part In Protests In Orumiyeh, Kermanshah
02 June 2018
Women participated in the protests of health caretakers and employees of Medical Sciences universities in Kermanshah and Orumiyeh, western Iran.
Hundreds of health caretakers, including women, held a protest gathering on Saturday, June 2, 2018, outside Building No. 1 of the University of Medical Sciences in Kermanshah. Their protest was against salary cuts, failure to pay their salaries on time, unfair working hours and lack of job security.
On the same day, employees of the Medical Sciences University of Orumiyeh also held a protest and chanted slogans in protest to non-payment of their salaries and lack of job security. Women's participation was considerable.
Orumiyeh is the capital of West Azerbaijan Province, northwest of Iran.
https://women.ncr-iran.org/iran-women-news/5226-iran-women-take-part-in-protests-in-orumiyeh-kermanshah
--------
Lebanese Woman Faces Entry Ban to Cairo for 'Insulting Egypt'
Jun. 3, 2018
CAIRO – 3 June 2018: Egyptian Attorney General Nabil Sadek ordered on Sunday to hold a Lebanese citizen, Mona al-Mazbouh, in detention for four days pending investigations over accusation of "insulting Egyptian people and the president", amid calls from the Egyptian parliamentarians to bar her from entering Egypt.
Her arrest came before her departure from Cairo International Airport, as per a decision issued by the Egyptian General Prosecution after a number of Egyptian lawyers filed lawsuits against her, Egypt's state-owned news agency MENA reported on Sunday.
On May 29, Egyptian authorities arrested Mazbouh over posting a video on her Facebook account talking about several situations that triggered her anger while spending her vacation in Cairo.
In her video, Mazbouh described Egyptians as the "dirtiest people" on earth, and used other disrespectful and insulting phrases. She also insulted Egyptian Uber drivers as "SOB" and described Egypt as "the state of pimps…and the state of beggars" after speaking about being harassed by two Egyptian men in the upscale district of Zamalek, Cairo.
Mazbouh added in the video that she visited Egypt four times and every time she felt more resentment toward the country, adding that she was robbed two years ago when she was in Alexandria.
The Lebanese citizen also described President Abdel Fatah al-Sisi as "unjust", spitting on the Egyptians and insulting Egyptian women.
Before being arrested, Mazbouh posted a second video on her Facebook account apologizing to some people, saying that the first video was not public on her account and one of her friends took the video and spread it on social media.
"I definitely didn't mean to offend all Egyptians, and never meant to say anything about the country's political affairs," Mazbouh stated in her second video. She added that most of her first video was in the Lebanese accent, and that is why most Egyptians didn't get what she was saying correctly. She also denied all the claims about being paid for recording the video.
"I love all Egyptians and I love this country, that's why I visited it more than once and I keep coming back," Mazbouh concluded.
A number of Egyptian lawmakers of the House of Representatives called for barring Mazbouh from entering Egypt.
"It is inappropriate to keep Mazbouh in Egypt after insulting Egyptian women," said Galila Othman, a member of the Media and Culture Committee of the Parliament. Othman asked for imposing entry ban on Mazbhouh.
"Mazbouh is a very bad example of Lebanese women and does not represent the respect and good taste of Lebanese people," said parliamentarian Nousela Abul Amr, calling for barring her from entering Egypt.
Egypt Today contacted the Lebanese Embassy in Cairo on Sunday regarding Mazbouh's case and is waiting for a response.
On May 11, security forces arrested a woman called Amal Fathy Abdel-Tawab who was reported to be a member of April 6 Youth Movement and was detained for six days pending investigations over accusations of defamation, insulting the Egyptian state and assaulting Banque Misr employees.
Abdel-Tawab started a live video on her Facebook page, while angrily-telling a situation that happened to her as she was finishing a routine procedure for reactivating her bank account; she started to mention several bureaucratic situations that delayed the procedures for a long time.
She added that she faced verbal sexual harassment and finally started to assault everyone in the bank. Abdel-Tawab's video was full of inappropriate words and insults against the state, police, Egyptians and even herself.
https://www.egypttoday.com/Article/1/51442/Lebanese-woman-faces-entry-ban-to-Cairo-for-insulting-Egypt
--------
URL: https://www.newageislam.com/islam-women-feminism/beijings-women-only-mosque-blends/d/115444
New Age Islam, Islam Online, Islamic Website, African Muslim News, Arab World News, South Asia News, Indian Muslim News, World Muslim News, Women in Islam, Islamic Feminism, Arab Women, Women In Arab, Islamophobia in America, Muslim Women in West, Islam Women and Feminism