New Age Islam News Bureau
17 Jun 2014
• Intelligence Offered by Australia in Hunt for Nigerian Girls
• Saudi Traditions that strip women of their identity
• Muslim woman aspires to become New Zealand lawmaker
• Republicans in US taunt headscarved Muslim reporter
• Female Mutilation a Means of Male Power over Women: UN Rights Chief
• British Forced Marriage Law Sends 'Powerful Message'
• Indian Women's group drafts recommendations to codify Muslim Personal laws
• 550 Christian girls kidnapped and forced to convert in Egypt since 2011
• Shoura Seeks Review of Draft Pact on Hiring Indonesian Domestic Workers
Compiled by New Age Islam News Bureau
URL: https://newageislam.com/islam-women-feminism/beauty-parlour-license-only-saudi/d/87595
------------
Beauty Parlour License Only For Saudi Women
June 17, 2014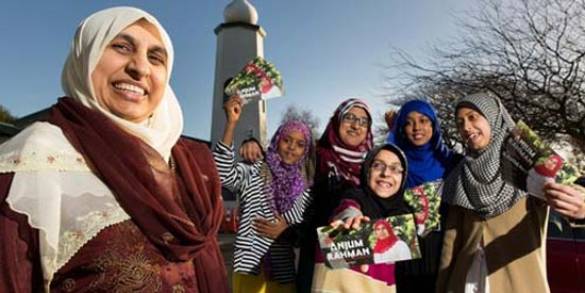 New Zealander Muslim Anjum Rahman performed well at a recent Labour Party conference expecting to be ranked inside the party's top 30 candidates for the September 20 general election
-----------
JEDDAH – The Council of Ministers on Monday approved the regulations to run women's beauty parlours in the Kingdom.
According to the new regulations, only Saudi women will be granted licenses to run such businesses. The license can be obtained from the municipality after coordination with the Commission for the Promotion of Virtue and Prevention of Vice (Haia) and the Civil Defense.
Following the Cabinet session, Minister of Culture and Information Dr. Abdulaziz Khoja told the Saudi Press Agency that the activities of beauty parlours will be restricted to those pertaining to women's beautification and the practices will be strictly in conformity with the Islamic Shariah and legal rules and regulations. Only women above the age of 25 years will be eligible to apply for the license. However, those holding diploma in beauty treatment from girls' technical colleges will be exempted from the age criterion.
The licensed woman will have to manage the shop by herself or appoint a full-time Saudi director for the same.
The Cabinet also approved the procedures for the Makkah public transport project, endorsed by a royal order in 2012.
According to the procedures, Makkah Mass Rail Transit Company (MMRT) will manage the implementation of the public transport project in the holy city.
The company will present its annual budget to the project's supervisory committee for approval in accordance with the statutory procedures. The project's executive committee will oversee the implementation of the items in the budget.
Dr. Khoja said the project will be exempted from the conditions of advertising and public tender.
Competition will be limited to the companies which will be invited and qualified initially.
Models of FIDIC (International Federation of Consulting Engineers) contracts will be adopted in the project implementation.
http://www.saudigazette.com.sa/index.cfm?method=home.regcon&contentid=20140617208728
------------
Intelligence Offered by Australia in Hunt for Nigerian Girls
June 17, 2014
AUSTRALIA has offered to share with Nigeria any satellite intelligence it gathers to help find more than 200 schoolgirls kidnapped by radical Islamic militants who are ideologically opposed to the education of women.
Foreign Minister Julie Bishop told The Australian the offer was made after the girls were taken from their school by the heavily armed Muslim group, Boko Haram, in the village of Chibok, near the Cameroon border, more than two months ago.
The group wants to set up an Islamist caliphate in Nigeria and has killed thousands in attacks on civilians and on troops across ­Africa's most populous nation.
Boko Haram has carried out attacks in the capital, Abuja, and members of the Nigerian security forces have complained that the militants are better armed.
The student kidnapping in April prompted worldwide condemnation and military or intelligence assistance from key Western nations, including Britain, France and the US.
"We made an offer to assist," Ms Bishop said.
"We didn't specify what we would do."
The US and Britain had made specific offers to help and to share intelligence.
"Australia has offered to share whatever geospatial intelligence we have to locate the girls," she said. "There's fear that they've been broken up into groups and a rescue of them would be deeply problematic."
Ms Bishop did not say if Australian intelligence would include information gathered by satellite ground stations such as Pine Gap. "We have made an offer to ­assist in whatever way we can," she said. "There's information available from commercial satellites. There's information available."
As part of the "five eyes" intelligence gathering network of the US, Britain, Canada, and New Zealdn, Australia collects and processes information across a large part of the globe.
Boko Haram was founded 12 years ago and means, "Western education is forbidden".
Its push to create an Islamic state in the country's north started five years ago. This year has been the deadliest since the insurgency started.
http://www.theaustralian.com.au/news/intelligence-offered-in-hunt-for-nigerian-girls/story-e6frg6n6-1226955193228#
------------
Saudi Traditions that strip women of their identity
June 17, 2014
AL-RASS — The Kingdom's regions are rich with customs and traditions that have been passed down through the generations. Such traditions seek to preserve family values, tribal ties and pass on the experiences of past generations.
However, in rural communities, there are many patriarchal and sexist traditions that deny women an identity and basic rights that are otherwise guaranteed to them in Islam.
Many women have lived as captives of the culture of shame and have become so used to their situations that they accept social conformity and their husbands' hegemony as rules that must be followed.
Seetah Muhammad lives in a tribal society in a cluster of villages that fall under the jurisdiction of Al-Hinakiah.
Believed to be over 60, Seetah does not recall a single day during which her late husband sat with her at the same table to have a meal, as he considered eating with his wife to be shameful.
"I had to take my meals in the kitchen with my young daughter. A wife's freedom in some tribal societies is something that is denied and she has absolutely no rights. Her husband looks down on her and considers her less than a housemaid. This is the experience that I had living in a tribal society. The concept of freedom is a poisoned subject for such men," she said.
Helayyil (Umm Salim) lives in a tribal society in Al-Kharj. Even though she is not convinced they are right, tribal laws control every aspect of her life, including when she can leave the house, who she can meet and how she should talk to her husband.
"My marital life has very limited freedom. Tribal norms control my life and everything is fine so long as I follow these customs and traditions. I am now over 56 years of age and I know my limits very well. I never exceed them and safeguard these customs and traditions for the sake of my children. Arguing with my husband, discussing political matters and reading magazines are shameful matters that a woman in tribal society must never do," she said.
As for possessing a mobile phone that has a camera, "This is absolutely forbidden. I live in a tribe of unjust norms and traditions. Regrettably, they are still existent despite the progress all over the country," she added.
Sociologist Salim Al-Omar said some traditions being observed by members of tribal societies make women feel like they are in prison.
"There are women who are always veiled even before their husbands. A wife does not dare argue with her husband. All she has to do is say 'yes'. Husbands who follow such backward practices and treat their wives cruelly are sick. They have any form of compassion for others and do not realize that freedom has been guaranteed for all by Allah Almighty. A wife has been granted the freedom to think, work and practice her life according to the Shariah. If she loses this freedom or she is divested of it, her life turns into an unbearable hell," he said.
"Women and their families have the right to fight traditions that are not part of Islam. Such traditions are considered to be backward, regressive and cruel.
"A wife who is subject to such traditions and maltreatment is likely to suffer from chronic psychological disorders," he added.
http://www.saudigazette.com.sa/index.cfm?method=home.regcon&contentid=20140617208706
-----------
Muslim woman aspires to become New Zealand lawmaker
World Bulletin / News Desk
June 17, 2014
Anjum Rahman, mother of four, is a candidate for the New Zealand aLabour Party in the upcoming September general elections.
She unsuccessfully stood for the Hamilton City Council last year. If chosen this year, she will be the first veiled Muslim lawmaker in New Zealand history.
"For me, running for public office is an extension of the community work I'm already doing," Anjum Rahman told The New Zealand Herald on Sunday, June 15.
The New Zealander Muslim, who comes from an Indian origin, had performed well at a recent Labour Party conference. Therefore, she is expected to be ranked inside the party's top 30 candidates for the September 20 general election.
Living in Hamilton for 41 years, after arriving from India in 1972, the Muslim activist went to Australia for her education. Currently, she has a Bachelor and Masters in Management Studies from the University of Waikato and works as Chartered Accountant with 20 years of experience.
"I'd be really pleased to be the first [female Muslim] MP, but that's not the only thing about me, I want it to be that no one even bats an eyelid, when people realize New Zealanders come in all hues, shapes and sizes. But for that to happen, someone has to be first." she said.
The aspirant politician has a number of top priorities, including supporting small businesses and creating a society where everyone felt included.
"I bring the governance, financial and management skills from my educational background and my professional career to these roles," she is quoted on her website.
http://www.worldbulletin.net/muslim-world/139087/muslim-woman-aspires-to-become-new-zealand-lawmaker
-----------
Republicans in US taunt headscarved Muslim reporter
World Bulletin / News Desk
June 17, 2014
Muslim Student soon to graduate with a degree in political science was faced with sour faces and racisim when she attened the Republican Party's Annual convention as a reporter.
Young 22-year-old American Muslim reporter Heba Said was ridiculed and called "Islamist" by the delegates at the Republican Party's annual convention because she was wearing the headscarf.
"I attended the convention as a reporter hoping to tell readers about the panel discussions I attended, but I discovered a cult-like hatred that is simply disgusting," Heba Said, a senior at the University of Texas at Arlington and the opinion editor of the school paper, The Shorthorn, wrote in her column.
The Muslim reporter aimed to tell her readers about the experience of sitting during panel discussions with delegates. Yet, the senior student's dream was shattered, turning into a nightmare of racial abuse.
"As I walked through the halls, people stopped in their tracks and frowned and shook their heads at me," Heba wrote. "I was referred to as "you people" and "y'all Muslims" more times than I can count. And the worst part was the way delegates looked at me, as if I were something to fear when I approached them," she added.
Asking about Republican's prospects to draw Muslim voters, Heba wrote that she faced discrimination, stirring up speculations about her American identity.
"After discussing with one candidate whether there were Muslim outreach plans, I almost didn't feel like I was allowed to be American, as if what he said stripped me from my American identity," the Muslim reporter wrote.
An earlier Gallup poll found that the majority of Americans Muslims are loyal to their country and optimistic about their future in the United States.
Texas GOP chairman denied the statements that Said made.
"I did not observe any of this," Steve Munisteri, Texas GOP chairman, told Yahoo News on Saturday, June 14. "I never heard a single anti-Muslim statement, and I never saw any anti-Muslim activity."
A recent report by the umbrella Council on American-Islamic Relations (CAIR) has found that Islamophobia in the US is on the rise.
http://www.worldbulletin.net/muslim-world/139084/republicans-in-us-taunt-headscarved-muslim-reporter
-----------
Female Mutilation a Means of Male Power over Women: UN Rights Chief
June 17, 2014
(Reuters) - Female genital mutilation, the excision of the clitoris practised widely in African and many Muslim countries, is a means for men to maintain control of women and must be eradicated, U.N. human rights Chief Navi Pillay said on Monday.
Even if a current global campaign against the practice, dubbed FGM continued at its current level of success, it would be 60 years until the total of well over 125 million women and girls now affected was reduced by half, she said.
"FGM is a form of gender-based discrimination and violence. It is a violation of the right (of women and girls) to physical and mental integrity," Pillay told a gathering on the issue at the world body's Human Rights Council.
"As many as 30 million girls are at risk of undergoing it over the next decade, if current trends persist."
The traditional practice, often justified as a means of suppressing a woman's sexual desire and so preventing "immoral" behaviour, "represents a way to exercise control over women," said the former South African High Court judge.
She was backed at the session by Chantal Campaore, wife of President Blaise Campaore of the West African republic of Burkina Fasso, who has been pushing efforts on the continent to persuade communities to abandon it.
TRADITION AND RELIGION
The driving factors behind FGM, Mme Campaore said, were "tradition, customs and religion". Families - in which under-age children are the prime victims - went along with it because they feared exclusion if they did not.
The U.N. children's agency UNICEF says the 125 million plus figure of girls and women applies to the 29 countries with the highest prevalence rates. Many are in precarious health as a result of the operation.
As of last year, according to UNICEF, 98 percent of women and girls in Somalia were victims of FGM - often carried out by other female family members with no medical training. In Guinea the figure was 96 percent and in Egypt 91 percent.
It is also believed to be practised fairly widely in some immigrant communities in Europe, where many governments have moved to make it a criminal offence.
Campaigners say that the practice is often promoted by local Islamic preachers, although senior Muslim clerics in many countries, including Egypt, have denounced it as against the ethos of the religion.
An Egyptian delegate, speaking for member states of the Arab League, told the U.N. session Arab states were all committed to ending FGM through health drives and by making it a crime. "It has nothing to do with religion," he declared.
http://in.reuters.com/article/2014/06/16/us-health-fgm-idINKBN0ER1XF20140616
------------
British Forced Marriage Law Sends 'Powerful Message'
June 17, 2014
A new law in England and Wales making it a criminal offence to force people into marriage sends "a powerful message", campaigners have said.
From today, parents who force their children to marry can be punished by up to seven years in prison.
Previously, courts have only been able to issue civil orders to prevent victims being forced into marriage.
Ministers say the law will give victims the confidence to come forward and protect thousands of people each year.
It will apply if people are forced into marriage in England and Wales, as well as to UK nationals at risk of being forced into marriage abroad.
Last year, the government's Forced Marriage Unit dealt with 1,302 cases.
Some 82% of victims were female and 18% male while 15% were under the age of 15.
The cases involved 74 different countries with 43% relating to Pakistan, 11% to India and 10% to Bangladesh.
'Psychological pressure'
Home Secretary Theresa May said the practice was "a tragedy for each and every victim".
She said the criminalisation - under the Anti-social Behaviour, Crime and Policing Act 2014 - was "a further move by the government to ensure victims are protected by the law and that they have the confidence, safety and the freedom to choose".
Aneeta Prem, founder of Freedom Charity, which educates young people about forced marriage, said the law sent out a "powerful message that this indefensible abuse of human rights will not be tolerated".
Jasvinder Sanghera of the Karma Nirvana charity said it was a "historical day and the right move" and that it was important for victims to report any abuse.
"Nobody is going to be forcing you to prosecute or criminalise your parents. Reporting is the first thing you have to do and it will be your choice to pursue a criminal justice process."
Under the new law, breaching a forced marriage protection order - which can be issued by courts to prevent people being married against their will - has also been criminalised.
It now carries a maximum penalty of five years in prison.
Mak Chishty, from the Association of Chief Police Officers, said the new law would make the police's job easier.
"It's a very important step because for the first time it gives us a definition of what forced marriage is and gives us the ability to take people to court and get a criminal conviction and that is a very powerful message to deter people in the future," he said.
The Home Office says a forced marriage "is one in which one or both spouses do not consent to the marriage but are coerced into it" by means including "physical, psychological, financial, sexual and emotional pressure".
It says that "in the cases of vulnerable adults who lack the capacity to consent to marriage, coercion is not required for a marriage to be forced".
Case studies
One woman, who wishes to remain anonymous, told the BBC she was duped into travelling to Pakistan to marry her first cousin. She escaped and her family have now disowned her.
"I was 17 years old. I was told we were going on a family holiday abroad. Two weeks into the holiday my family informed me that I wasn't going back to London and I was going to remain away to be forced into a marriage.
"I hadn't met him before. Didn't know him, didn't know his name or anything about him. I demanded that I come back and finish off my studies.
"I begged them and I begged them but they said no, I had to stay and be married off. Their view of it all was that they felt I was going to become far too Westernised and bring shame onto the family and therefore they felt, in their eyes, it was the best thing to do.
"The marriage was absolutely horrendous. All the types of abuse you can think of - sexual, verbal, physical. I wouldn't wish it on my worst enemy; it was quite vile.
"I wasn't allowed out at all, I was more or less a prisoner in their house. I was treated like a slave. I wasn't allowed to do anything, my ex-husband's mum used to say to me the only reason I was there was to cook and clean and be a slave for her son at night."
In another case, Alexander Khan said he was sent to get married by his step family who had received several thousand pounds and some land.
"When I was 13 they sent me to north-west Pakistan and what they told me to do was sit beside this girl who was nine years old. Unbeknown to me, that was an arranged marriage and I didn't know what was happening.
"A lot of it is cultural and - in my case - money. It was definitely to do with greed and money."
Law 'challenges'
The new law will be introduced in Scotland at a later date after MSPs voted for legislation in January.
Forced Marriage Protection Orders, which can be issued to prevent people being married against their will, were brought into Scottish law three years ago.
However, there have been no prosecutions over forced marriage since then, the BBC has learned.
Aisha Gill of the University of Roehampton, who helped draft the new legislation, said there would be "challenges" implementing it.
"As with any law introduced, it may have unintended consequences. What we have to do is make sure victims are supported from the moment they report such an abuse, right the way through the court process, and post-court process, in terms of the outcome of a criminal prosecution," she said.
"The challenges are in terms of giving evidence, particularly where the perpetrators may be those who are close to them i.e. family members, and the coercion and pressure that they may be subjected to in terms of withdrawing [the complaint]."
The new law will not apply to Northern Ireland but ministers there will be able to introduce their own legislation, the Home Office said.
http://www.bbc.co.uk/news/uk-27830815
------------
Indian Women's group drafts recommendations to codify Muslim Personal laws
Mohammed Wajihuddin | Jun 17, 2014
MUMBAI: After months of brainstorming sessions and consultations, the Bhartiya Muslim Mahila Andolan (BMMA), a women's advocacy group, has drafted a set of recommendations to codify Muslim Personal laws on marriage, divorce, maintenance and children's custody.
To be released on Wednesday, the draft may not find favour with the All-India Muslim Personal Law Board (AIMPLB). "This may be called the Muslim Marriage and Divorce Act and only the Centre can enforce it through notification in the official gazette. It will debar unilateral triple talaq, discourage polygamy and establish women as natural guardian of kids. Marriage, maintenance and divorce will take place on principles laid down by the Quran," saidNoorjahan Safia Niaz, BMMA founder.
Senior advocate and head of legal cell of AIMPLB Yusuf Muchchalla said the draft is ill-timed. "Security, arrest of youth on false terror charges, unemployment and lack of education are the issues that Muslims must focus on. Codification will create more problems as there are several schools of thought in Islam and one kind of family law can't be applicable to all."
http://timesofindia.indiatimes.com/City/Mumbai/Womens-group-drafts-recommendations-to-codify-Muslim-Personal-laws/articleshow/36675226.cms
------------
550 Christian girls kidnapped and forced to convert in Egypt since 2011
June 17, 2014
Hundreds of Coptic Christian schoolgirls in Egypt have been kidnapped and forced to convert to the Muslim faith of their abductors in recent years.
According to GodReports, the Association of Victims of Abduction and Forced Disappearance (AVAFD) reports that stince the start of 2011, over 550 Christian girls have been kidnapped by Muslim men before being forced to convert and marry them.
The AVAFD reports that the women rage in age from 14 to 40 and around 40 per cent of them are raped. Others are coerced by young Muslim men who first gain their trust.
There has been a surge in numbers of Christian girls being kidnapped in Egypt since the fall of Hosni Mubarak.
AVAFD founder, Ebram Louis said: "Before the revolution five or six girls would disappear each month. Now the average is 15."
The organisation reports that in the case of one 14-year-old girl, Nadia Makram, the police refused to get involved even though the parents gave them the name of their daughter's kidnapper.
AVAFD says the police often refuse to search for the missing girls, claiming that they left their parents' home by choice.
Even if the girls are located and brought to the station, they are coerced by their new Muslim family to say they voluntarily left their own home.
http://www.christiantoday.com/article/550.christian.girls.kidnapped.and.forced.to.convert.in.egypt.since.2011/38177.htm
------------
Shoura Seeks Review of Draft Pact on Hiring Indonesian Domestic Workers
June 17, 2014
RIYADH — Several members of the Shoura Council on Monday demanded a review of the draft agreement signed with Indonesia for hiring domestic workers. They claimed that the pact was tilting toward the Indonesian side at the expense of the rights of Saudi employers. As such, the Council decided to return the draft to the administration and human resources committee to carry out further studies, Saudi Press Agency (SPA) said.
Taking part in the debate, a member said the agreement was defective in the sense that it favours the Indonesian side and does not protect the rights of Saudi employers. Another member said the Saudi side seems to be the weakest when provisions of the agreement are taken into account. "There has been generalization of even a few violations on the rights of Indonesian workers by their Saudi employers, and this is not desirable," she said.
Fahaad Al-Hamad, assistant president of the Council, said the member criticized even the very title of the agreement namely 'Agreement on hiring and protecting rights of Indonesian domestic workers.'
"This apparently shows that the Saudi negotiator ignored the rights of heads of Saudi household who are facing problems such as running away of maids and high cost for hiring domestic help," she said. Another member noted that there was no provision in the agreement to address the problem of high recruitment cost.
The Council demanded the Saudi Arabian General Investment Authority sets up a center to make it a reliable source for comprehensive and updated information on investment opportunities as well as features and details of the industrial and commercial activities in the Kingdom.
http://www.saudigazette.com.sa/index.cfm?method=home.regcon&contentid=20140617208709
------------
URL: https://newageislam.com/islam-women-feminism/beauty-parlour-license-only-saudi/d/87595