New Age Islam News Bureau
24 Nov 2016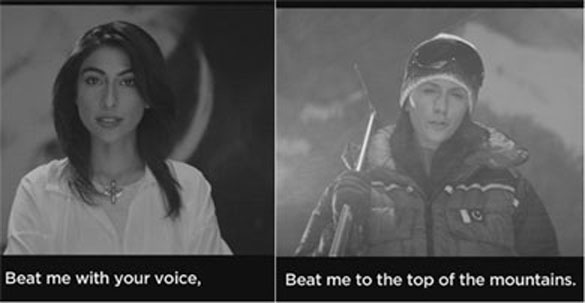 The powerful video features many female icon of Pakistan who have made a mark in respective fields crossing all hurdles. (Source: UN Women Pakistan/ Facebook)
------
• Hunters Rescue 8 Women, Children from Boko Haram
• Pakistan's Punjab Govt to Hold Awareness Campaign about Pro-Women Initiatives
• Dutch Politicians Debate Ban on Muslim Headwear
• Muslim Woman Teaches Self-Defence to Hijab-Wearing Women as Attacks Increase
• Can Muslim Women Expect Reform From Within?
Compiled by New Age Islam News Bureau
URL: https://www.newageislam.com/islam,-women-and-feminism/new-age-islam-news-bureau/beatme-a-campaign-by-un-women-pakistan/d/109187
-------
BeatMe a Campaign by UN Women Pakistan
November 22, 2016
United Nations (UN) Women Pakistan's new '#BeatMe' campaign brings an unconventional twist to advocacy on women's rights. The campaign, aims to inspire women to reaffirm that they are stronger than they are made to believe, and aims to shatter the perception that a woman is weak, taking her from someone who is 'beatable' to being 'unbeatable'. Violence against women and girls is an infringement of human rights taking place with alarming frequency and severity not only in Pakistan but around the world.
#BeatMe - The campaign mobilizes women and men to demand an end to violence against women, that affects at least 1 in 3 women and girls globally. It is a pandemic that must be stopped. It was launched through social media with a video that features Pakistani women of strength from multiple walks of life, the campaign challenges their counterparts to beat them at their respective expertise, and at the amazing things women have achieved, globally. The '#BeatMe' campaign juxtaposes every means of abuse against a strength of each woman. The campaign puts an emphasis on stories of women who have reached their goals despite the patriarchal mind-set they face every day.

Amara Khan: "Such a powerful campaign! We are women, and THAT is our power. Now is the time for women in Pakistan to free themselves from societal pressures of being, acting, thinking or feeling a certain way. We are all valid! #beatme"

Malik Rohaina: "If raising our voice against domestic violence on women and if raising our voice again those men who rape women instead of protecting her make you feminist than I am feminist.. This video is a clear message to those who do not respect women, beat them, consider them a machine to reproduce or sexually abuse them, please learn something! And to all mothers out there, please teach your sons to respect women."

Komi Iqbal: "Honestly, I don't think that 15-20 years ago I could have seen this add run in Pakistan. Its been slow man but the progress is starting to build up. It all has to do with social media. Internet should be made a local human right. Are you really a citizen of a country if they control who you can and cannot talk to? Sounds more like slave and master to me. This is what happens when you let business men become politicians. No logic, only profit."

Naveed Anjum: "Wow, it gives me chills when she says, beat me at life!! God, we cant beat the greatness of a woman! May God bless all women with respect and success in their life! And help us to learn to respect woman and see the real value and potential in them."

Aamnah Yousuf: "Excellent thought and very powerful message sent across!"
However, a few people who disagreed with the video: 

Mian Usama Zaheer: "Stop making one gender look like a victim and another a perpetrator. All men are not the same. Secondly women are not better then men and men are not better then women. Learn some equality for both the genders. The video is filled with fake feminists."
The campaign coincides with 16 Days of Activism Against Gender Based Violence, a global initiative led by UN Women on behalf of the UN Secretary-General's global campaign UNiTE to End Violence against Women, from 25 November (International Day to End Violence against Women) until 10 December (International Human Rights Day).
http://gulfnews.com/your-say/your-view/beatme-a-campaign-by-un-women-pakistan-1.1933709
-------
Hunters rescue 8 women, children from Boko Haram
November 23, 2016
A group of local hunters helped five women and three children escape from Boko Haram camps in Sambisa forest of Borno State.
The chief security officer of the local hunters in Adamawa State, Garba Tarfa, told PREMIUM TIMES on Tuesday that the hostages were rescued last week.
Local hunters who rely on their deep knowledge of the environment and use of traditional charms believed to confer immunity from bullets and machete cuts had earlier sought permission to confront Boko Haram in Sambisa forest to rescue the Chibok schoolgirls.
The rescue of the eight hostages came barely a week after another group of 14, made up of women and girls, were rescued by local vigilantes during a fierce battle between the insurgents and Nigerian troops.
Locals resident in Madagali, an Adamawa Local Government close to Borno State, confirmed to PREMIUM TIMES that the latest escapees were helped by hunters to flee the insurgents' camps.
The sources said the escapees and the hunters are currently in Yola, Adamawa State capital, to report to security operatives.
"Our men rescued them last week as they were fleeing the fierce battle between soldiers and Boko Haram insurgents in Sambisa", Mr. Tarfa said.
"So we are now taking the five women and three children to concerned authorities for proper rehabilitation", he said, adding "they told horrible stories of Sambisa."
Mr. Tarfa recalled that hunters had rescued another group of 20 made up of women and children a few months ago.
He said the local hunters had also rescued about 287 hostages from the insurgents last year.
Efforts to speak with the spokesman of the 23rd Armoured Brigade on the latest development were not successful.
But the police spokesman in Adamawa, Othman Abubakar, confirmed the rescue.
"Yes we heard about the rescue by the hunters, but I am yet to get the details", he said.
Sources however stated that the rescued women were asking to be reunited with their families.
One of the escapees whose name was given as Aisha Bello, a 23-year-old mother, was said to have revealed that she was abducted about two years ago.
http://www.premiumtimesng.com/regional/nnorth-east/216094-hunters-rescue-8-women-children-boko-haram.html
-------
Pakistan's Punjab Govt to Hold Awareness Campaign about Pro-Women Initiatives
Nov 24, 2016
Punjab Women Development Department has planned a number of activities as part of a 16-day international awareness campaign for curbing violence against women.
Punjab Women Development Department Secretary Bushra Aman while giving details, said that during the campaign to be launched by Provincial Women Development Department titled 'hertalk 2016', public awareness will be promoted about the initiatives taken by provincial government for socio-economic empowerment of women and protection of their legal rights.
The activities planned from November 25 to December 8, include inspirational talks by eminent human rights activists, distinguished entrepreneurs, esteemed academicians and champions of women rights as well as screening of Oscar-winning documentary of Sharmeen Obaid Chinoy at leading education institutes of Lahore.
The programme also includes art competition, short film competition and installation of streamers at prominent roads, places in the city. Moreover, the programme comprises walks, dissemination of information through banners and streamers at divisional headquarters under the supervision of respective commissioners.
The inaugural event will take place at PILAC auditorium on November 25 and will be hosted by Provincial Minister for Women Development Hameeda Waheedud Din.
Apart from other guest speakers, UN Women Pakistan Deputy Country Representative Sangeeta Thapa, member UN Panel on Women Economic Empowerment Fiza Farhan, writer, actor and human rights activist Feryal Ali Gauhar, Saleema Hashmi, Mussarat Misbah and others who will share their views with the audience.
http://www.pakistantoday.com.pk/2016/11/23/city/lahore/punjab-govt-to-hold-awareness-campaign-about-pro-women-initiatives/
-------
Dutch politicians debate ban on Muslim headwear
24 November 2016
Dutch politicians on Wednesday debated a limited ban on face-covering headwear worn by some Muslim women that would outlaw veils in places such as schools, hospitals and on public transportation.
Only a few hundred Muslim women in the Netherlands wear concealing full-face coverings, but successive governments have still sought to ban the garments, following the example of other European countries such as France and Belgium.
Interior Minister Ronald Plasterk said the Dutch proposal did not go as far as the complete bans in those countries. He called the legislation "religion-neutral", but conceded the debate about people wearing veils on Dutch streets had played a major role in the proposal.
Plasterk said in a free country such as the Netherlands people should be allowed to appear in public with their faces covered, if they want to, but in government buildings and in health and education settings - such as hospitals and schools - people need to be able to look each other in the face.
It was not immediately clear when politicians would vote on the issue. If the legislation passes parliament's lower house as expected, it must also be approved by the Senate before becoming law.
A small group of people wearing full-face veils watched the debate from the public gallery.
Independent politician Jacques Monasch called the veil "a symbol of oppression of women" and objected to the presence of face-covered spectators in the gallery.
One opponent of the legislation, Fatma Koser Kaya of the centrist D66 party, said the law was unnecessary because many institutions in the Netherlands already have independent authority to stop women wearing veils and headscarves in certain situations.
"What are we banning today?" she asked. "This is symbolic lawmaking ... because, in practice, it already happens."
http://www.aljazeera.com/news/2016/11/dutch-lawmakers-debate-ban-muslim-headwear-161123194112854.html
-------
Muslim woman teaches self-defence to hijab-wearing women as attacks increase
23 Nov 2016
This is why one Muslim woman is teaching self-defence classes on social media to women who wear hijabs.
Zaineb 'Zee' Abdulla, 24, is the vice president of Deaf Planet Soul (DPS) – a not-for-profit organisation based in Chicago which seeks to empower the deaf and hard of hearing.
Part of her role there is to teach self-defence to women who have hearing and/or physical disabilities but is open to all women.
And now she's teaching those skills to headscarf-wearing Muslim women to protect themselves after being approached by a number of them after the election result.
'Immediately following the election, I began getting calls from women who knew that I did this sort of thing and wanted to know if I had any defenses against attacks against Muslim women – what we later dubbed "hijab grabs",' Zee tells Metro.co.uk.
Zee herself was first attacked when she was spat at, aged eight.
'I've experienced hate crimes in the past,' she says.
'And like many Muslim women, I've been at the receiving end of a lot of anger.
'I have been yelled at, spat at and insulted many, many times.'
That experience and the rise in hate crimes in post election America prompted her to start looking around for self-defense classes.
'I searched around online and found nothing so I began texting my fighter friends, who I knew from years of martial arts training,' she says.
Eventually, she managed to recruit trainer Misho Ceko from Chicago Mixed Martial Arts and, the Saturday following the election, they met up at his gym and started recording the videos.
The next day, the DPS hosted their first Hate Crime Survival seminar.
'Since posting the videos, we've gotten millions of views and thousands of comments and messages,' Zee says.
http://metro.co.uk/2016/11/23/muslim-woman-teaches-self-defence-to-hijab-wearing-women-as-attacks-increase-6274546/
-------
Can Muslim women expect reform from within?
November 24, 2016
The call to amend the Muslim Marriages and Divorces Act of 1951 has been one of the most controversial acts of reform in recent times and while the government passed on responsibility for reform to the 'community', Attorney-at-Law, Ameer Faaiz in an interview with Daily News explained that it is the responsibility of the state to ensure equality to all, "So we have proved to the world that we are incapable of reforming this law on our own. In that backdrop there is no harm in right thinking men and women from all sections of Sri Lankan society to look up and say 'you are discriminating against your own women'. No harm in people telling the truth as Islam stands for truth. We have to be magnanimous to take a look and acknowledge where we have gone wrong or that we have ignored the cries of our own women," he said.
Excerpts follow:
Q: The government has been continuously saying that the Muslim community has to come up with reforms and that they would implement them but what are the challenges within the community itself for reform?
A. The Sri Lankan legal regime consists of three personal laws where Muslims are concerned. The main is the Muslim Marriage and Divorce Act, second the Interstate and Succession law and third is the Wakfs Act. The cry with regard to reform has only been with regard to MMDA, because this governs all Muslims when they want to marry amongst themselves and their post marriage is governed by this. In its implementation, it has been found that the system discriminates against women.
The reform cry, is coming from the Muslim women in the community themselves. All these years it has been not acted upon for a couple of reasons. Firstly some Muslim men take up a populist position to say that reform should come from only us and that no one else should talk. By saying that, they have managed to keep everybody else who is interested in progressive law reforms and the government that is supposed to be legislating laws as well as institutions who have been looking into legal reform, all kept away. Further this has also been projected to be a sensitive issue and that the community should resolve it themselves.
The government in turn by going with that has set up committees to look into it, but the community has stonewalled all these committees and somehow managed to keep the status quo as it is for the last 60 odd years. At times there have been amendments but they have been mostly with regard to procedure. One of the more progressive ones was to bring the Quazi court system under the purview of the Judicial Services Commission (JSC). Having said that, the JSC has done very little to oversee the competency of the Quazis. Apart from that, the substantive part of the Act remains as it is, since its enactment in 1951.
So we will not be sounding sincere when we say reform must come from within the community as we have successfully managed to stall any reform despite the lobby from our women and attempts to make recommendations. So we have proved to the world that we are incapable of reforming this law on our own. In that backdrop there is no harm in right thinking men and women from all sections of Sri Lankan society to look up and say "you are discriminating against your own women".
No harm in people telling the truth as Islam stands for truth. We have to be magnanimous to take a look and acknowledge where we have gone wrong or that we have ignored the cries of our own women.
Many have struggled for this over the years. But in the last 2-3 years there have been a serious lobbying even amongst the Quazis in the periphery by activists and women's groups.
The women's groups' struggle has taken it one level further and made it tangible. For example Muslim women went before the Public Representations Committee (PRC) and made representations with regard to the discrimination meted out to them due to the existing laws and they have highlighted how despite the constitution guaranteeing equality and fundamental rights, these laws are allowed to still rule.
Most men who shout against these reforms probably have never been to a Quazi court or would be beneficiaries of this discriminatory system.
This is not an East or North issue, it is everywhere. It took years of lobbying to bring the Quazi courts system under the Ministry of Justice and JSC- it is time for more reform.
Q: When you look at the agents of reform, we have the religious authorities or politicians who need to eventually take it to Parliament. Though the activists are doing their research, they seem to be reaching a bottle neck here. How do you resolve that?
A. We have a lack of understanding of the Quran as Arabic is not our native language and we don't study it well. There are fundamental issues in reading and interpreting the Quran. So we have become dependent on some of these so called religious people who are said to have studied it. Initially more of them got opportunities through Saudi scholarships who later returned from there and engaged in interpreting the Quran to us.
Unfortunately, we are told that only what is interpreted locally is the right way and that we are not permitted to follow more progressive reforms followed by other Muslim countries. We don't have a system to objectively assess these religious scholars.
The importance of the religious authorities over time has also grown and whether they are using it to look within and seek progress of the community is a question. Therefore we cannot totally rely on these religious scholars, or academics on religious studies or politicians to bring about change. It has to involve all, there are many stakeholders in this and they have important contributions to make to the well-being of the community.
Q: In that sense, it seems that though the government insists that a solution should come from within the community, the community itself is not equipped sufficiently to come up with a solution that is beneficial to all?
A. As a first step, the government can say we must go with what the community wants. But the government's responsibility, while ensuring there is freedom of expression, religion and the right to practice one's culture, must also be to ensure that all citizens are treated equally.
When you take the Quazi court system, the problem is endemic. Discrimination against women is the norm, not the exception. Hence the government is funding a structure which discriminates within a community. That is not right. Thus it is the responsibility of the government to reform it.
In the current Constitutional reform process there is a push for electoral reform. Many smaller parties however would like the existing system to remain but the major parties are wanting it changed and hence they are making every effort possible to try and persuade the smaller parties to compromise. In that they do not say that they, the major parties, will accept whatever the demands of the smaller parties. There are constant negotiations in an attempt to make the smaller parties to compromise.
Similarly the government has to go that extra mile to create awareness that it is duty bound to ensure equal protection and equal right to all citizens in terms of fundamental rights chapters in our Constitution, and if we say that as a country we protect that, it is their duty to ensure that across the board.
Q: One of the major road blocks in the reform process is Article 16 of the present Constitution which leaves no space for judicial review of personal laws. There are many fears as to what would happen if this is repealed, could you clarify?
A. The fact that it is not all well within the MMDA is not something new. It hasn't been told by people outside of the community either.
There have been activists and people who have researched and looked at the system. High profile men who have studied the system and said there needs to be reform. But, as I said earlier, we have successfully managed to stonewall any reform and keep the system as it is.
But there has been a storm created now because the women on the ground, have created awareness on the issue and the women and victims who have been unable to stomach it anymore, have been speaking out.
What actually set the cat amongst the pigeons, is the recent submission made by some affected women to the PRC. They pointed out how within the framework of the Constitution, the injustices within the MMDA are perpetuated.
That was followed by some activists who have been involved in protecting and supporting abused and/or victimised women going before the Sub committee on fundamental rights at the Parliament. and complained that their fundamental rights were not being upheld. That they were not being treated equally like their counterparts in other religions. That was covered widely in the media, and then the fact that Muslim women are being treated unfairly came out. That alerted the guardians of this law who want to maintain this law and thus discriminate against their own women.
These activists and affected women say, 'we want reform but we have been unable to do it because of the provisions in Article 16 (1) and if that is repealed, at some point of time, we would be able to reform it'.
Since then we have seen certain men in very un-Islamic ways threaten these activists and their families. But, they don't acknowledge the social malice we have.
In a bid to block reform there is a populist propaganda campaign that is being carried out to say that if Article 16 is repealed, all personal laws would be struck down. That is completely false. What could happen is that if Article 16 is repealed and if we don't reform the MPL and the discriminatory provisions are not brought in line with the fundamental rights chapter of the Constitution, one will be entitled to go to court and say look, the Constitution guarantees equality but this law does not treat me equally.
That would set in motion a judicial review process. Even in South Africa this happened and usually some means are evolved to resolve the issue over a period of time. No one law has been struck down in its entirety or in one case.
Those who cannot defend their position are the ones who are propagating this falsehood and disseminating wrong information. These women activists are only calling for reform. But they are maligned with falsity and malicious intent to say that these women want the entire MMDA struck down which is not the case and it is far from the truth and their position.
Article 16 (1) protects discriminatory laws that were practiced prior to 1978, the maximum that can happen is that someone who is affected by the law asks that the courts treat them equally and the courts would look at that to that extent.
Fundamental rights, human rights are not western orientations. One has to be proud if you are truly learned in Islamic Jurisprudence that it was Islam that paved the way for human rights standards internationally. When slavery was in full force, it was Islam that brought in rules to regulate it and empowered the freeing of slaves. At that time rights given to women were more progressive than now comparatively. One must keep that in mind and interpret Islamic Jurisprudence in a progressive way.
There are about nine professional men and further three or four women professionals who are not bound by political compulsions in Justice Saleem Marsoof's Committee appointed in 2009 to look into it. They need not worry about a vote bank as would a politician. Hence they should be alive to the needs of the community both current and future and do justice by all women and children and ensure that the committee's report addresses all concerns and proposes meaningful reforms that would do justice to all sections of the community and totally eliminate discrimination and set the bar to equal treatment between men and women.
Q: Why is it that we do not see many young Muslim men coming forward to change things?
A. There is both a lack of interest and understanding. Lawyers too are not interested because they are not called to practice it, there are no lawyers in Quazi courts. They only get interested when they are affected or someone they know is. Right thinking people need to come out and take it as part of their social responsibility. And also when they say a solution should come from within the community, then everyone needs to read the law, interact with the administrators and grassroots to get to know what's happening and then probably there will be more people who will come out in support of reform.
It was good to read ACJU saying that reform was needed but I hope that they sincerely look into the system and reform it in full.
It would be difficult to reconcile with a stand where they say reform is needed, get into the process and then sabotage any serious reforms that are to take place insisting this is what the religion is and reform should only be what they say. Everyone should know his or her limits.
No one should claim monopolistic knowledge or know how. All interested stakeholders must act with caution and magnanimity.
There should be sufficient flexibility ensure social justice and accommodate pluralism. We should not end up in situations that could attract any litigation or create divisions within the community. There should be no room for emergence of vigilante religious police.
http://dailynews.lk/2016/11/24/features/100015
-------
URL: https://www.newageislam.com/islam,-women-and-feminism/new-age-islam-news-bureau/beatme-a-campaign-by-un-women-pakistan/d/109187
New Age Islam, Islam Online, Islamic Website, African Muslim News, Arab World News, South Asia News, Indian Muslim News, World Muslim News, Womens in Islam, Islamic Feminism, Arab Women, Womens In Arab, Islamphobia in America, Muslim Women in West, Islam Women and Feminism, Moderate Islam, Moderate Muslims, Progressive Islam, Progressive Muslims, Liberal Islam