New Age Islam News Bureau
5 March 2013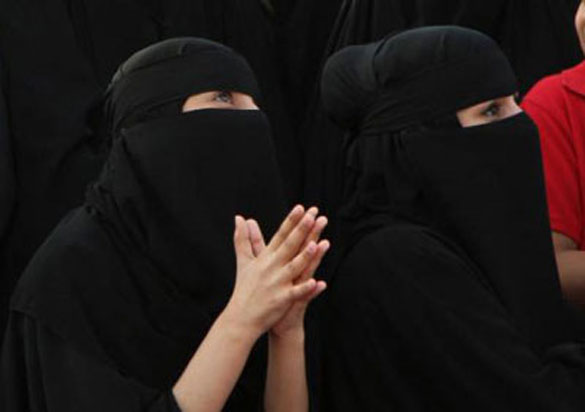 • Indonesia Ulema Council Urges To Resist Pressure to Ban Female Circumcision
• Tough Guidelines for Minor Marriage in Saudi Arabia Hailed
• Iran and the Vatican Resist U.N. Effort on Fighting Violence against Women
• Expert Calls On Saudi Women to Invest Frozen Funds
• Indian Girl Neha Ramu Has Higher IQ than Albert Einstein
• Women Not Merely Housewives: Behavioural Scientist
• UNRWA Cancels Gaza Marathon after Hamas Ban on Women Participation
• Christian Aid Applauds Justine Greening's Speech on Girls and Women
• Abida Parveen Casts A Spell as Sufi Fest, Jahan e- Khusro, in New Delhi Ends
• 60% of Civil Servants in Kazakhstan Are Women: Chairman, Religious Affairs
• Family Awarded Dh300, 000 after Daughter Drowns In Abu Dhabi Hotel Pool
• Rape Accused of Ten-Year-Old Confesses To More Assaults with the Help of His Girl Friend
• Pakistani Women Police Officials Seek Equal Opportunity at Workplace
• Tajikistan Fights Domestic Violence
• More Saudi Girls than Boys Born In 2011
Compiled by New Age Islam News Bureau
Photo: Tough Guidelines for Minor Marriage in Saudi Arabia Hailed
URL: https://www.newageislam.com/islam,-women-and-feminism/new-age-islam-news-bureau/basketball-girls-back-on--sharia-square--in-mali/d/10651
-----------
Basketball girls back on 'Sharia Square' in Mali
Mar 05 2013
As night falls on "Sharia Square" in Gao in northern Mali, a score of youths are practising on a basketball court, closely watched by their coach. Now that armed extremists have left, several girls in shiny tracksuit bottoms and low-necked tops have joined the boys.
Oumar Tonko Cisse, a retired coach in his 60s, is the founder of the Centre for Training and Promoting Sports (CFPS) in Gao. He is also president of the centre and its trainer, he says with a laugh.
This tall man, wearing a jacket and a woollen hat, welcomes his "kids" with a broad smile and a cigarette in hand on the porch that opens on to the central pitch. The sign reading "Sharia Square" has still not been removed since it was put up by an armed movement that applied strict Islamic law.
Nevertheless, since the departure of the Islamists who occupied the town for nine months in 2012 before the arrival of French and Malian troops, Gao's central square has been given back its old name, "Independence Square".
During the months of Islamist occupation, the CFPS, set up in 2004, was able to pursue its activities, "even competitions", Cisse says.
But there were no cigarettes for him, on pain of being whipped, and play above all took place "without the girls".
"As soon as they were gone, we resumed activities as before," Cisse says. "Of course, there are a lot fewer young people. Many girls fled the region."
His face suddenly hardening, Cisse tells how "one day, a group of girls was taken by members of MUJAO (the Movement for Oneness and Jihad in West Africa). They were beaten. Some gave up and hid at home, others urged their parents to leave for the south and never came back here."
-- 'Traumatised' --
"It was everyone for themselves... It's tough, the girls here suffered a lot," he added.
"They are still traumatised. You see?" He points out groups of young girls on the edges of the square. "They are still wearing veils. Before, some women were veiled, but not all of them. It's become traumatic."
Awa, a tall and pretty 15-year-old from the Peul ethnic group, discovered basketball two years ago. Like many women and girls, she has difficulty speaking in French.
"She says that she came to basketball because she admired some girl players," Cisse translates, "and her height gives her an advantage."
"Under MUJAO, we couldn't play any more, we couldn't go to school any more, so I stayed at home, I did housework and prepared food for the family," Awa says.
"Before, we signed people up (for the centre) by the book. Now, we don't ask for anything. All that we want is to succeed in reaching out to young people and bringing them back."
The football group used to include 26 players, all boys. But basketball drew in 20 girls for 30 boys. "In some categories, the little ones and juniors, the girls were more numerous than the boys," Cisse said.
For the past month, Awa has turned up in the square every day. "I hurry after school closes," she laughs. The young girl says she is happy to be able to play again, even though she does "not have (her) friends any more".
"Unfortunately, those who played the best have gone to the south. They have found clubs which have taken them in," Cisse sighs. "We did all the work here, we sowed the seeds, and it's them, down in the south, who reap the harvest."
http://www.globalpost.com/dispatch/news/afp/130304/basketball-girls-back-sharia-square-malis-gao
-----------
Indonesia Ulema Council Urges To Resist Pressure to Ban Female Circumcision
In Indonesia, continuing debate over "female circumcision"
The OIC says Islam does not support the practice and the UN has condemned it. What stance will Indonesia take?
By Elisabeth Oktofani for Khabar Southeast Asia in Jakarta
March 05, 2013
Despite growing international condemnation of female genital mutilation, the Indonesia Ulema Council (MUI) is urging the government to resist any international or domestic pressure to ban the practice it calls female circumcision.
"On the issue of female circumcision, we do not consider it compulsory, but we forbid any action to ban it," MUI Chairman Ma'ruf Amin told a January 21st press conference on the subject at MUI's Central Jakarta office, according to multiple media reports.
He said that in recent times more medical practitioners have refused to perform female circumcisions, and he urged the government to act decisively against such individuals, based on its 2010 Health Ministry regulation on the practice, which effectively legitimises female circumcision and authorise medical professionals to perform it, the Jawa Pos National Network reported.
"Because we support that regulation, we ask the government not to heed any effort by any party that wants circumcision banned in Indonesia," he said, according to Detik News.
"Circumcision is a part of Islamic teaching that is highly recommended for Muslims, whether male or female," he said, adding that the law on the matter calls for specific procedures which, he claimed, do not damage the clitoris.
"The procedure for female circumcision according to Islamic teaching is removal of only the membrane, or in medical terms preputium [the clitoral hood] that covers the clitoris," he said.
"It needs to be understood that Islamic teaching prohibits the female circumcision practice which is done by cutting or injuring the clitoris, as it is dangerous."
Mixed messages
The government has issued mixed messages on female circumcision. In 2006, the Ministry of Health banned it as potentially harmful. But in 2010, it issued guidelines on how the procedure should be done, raising the ire of some women's rights activists.
Gusti Kanjeng Ratu Hemas, the queen of Yogyakarta, believes the government must revoke the 2010 regulation effectively legitimising female circumcision and authorizing medical professionals to perform it.
"I am very certain that the 2010 regulation on female circumcision was issued because there was a big pressure from religious organisations to the Ministry of Health. Even recently, the MUI has demanded the government lift the ban on female circumcision," she told Khabar Southeast Asia.
"I think that all the parties, which are involved, should have a wider point of view on female circumcision, particularly from the health point of view," she said.
It is not known how many Indonesian girls undergo female circumcision, which is believed to reduce sexual desire and prevent promiscuity, and encompasses a wide range of practices in Indonesia, from cutting a small part of the clitoris to scratching it to pressing spices on the genitals.
Suratningtyas, a 46-year-old midwife at a private hospital in Depok, West Java, told Khabar that some parents do ask the hospital for female circumcision.
"I cannot reject their request because we are allowed to do it. But we make sure to do it properly so it will not harm the baby girl," she said.
Condemned by the OIC
At odds with developments in Indonesia, there is growing international consensus against the practice of female genital mutilation.
On December 20th, 2012, the United Nations General Assembly adopted its first-ever resolution on the female genital mutilation, urging states to "take all measures — including legislation — to protect women and girls from this form of violence".
Earlier the same month, speaking in Jakarta at the opening of a conference on women in development, Organisation of Islamic Co-operation (OIC) Secretary General Ekmeleddin Ihsanoglu called on OIC member states to prohibit the practice.
"This practice is a ritual that has survived over centuries and must be stopped, as Islam does not support it," he said, according to reports in OnIslam.net and Tempo. "Female genital mutilation is a violation of human rights of girls and women."
A weak theological basis
The theological basis for female circumcision is a weak hadith, according to Maria Ulfah Anshor, secretary general of Alimat (the Movement for Indonesia Family Justice) and former chairwoman of the woman's wing of Nahdlatul Ulama, Indonesia's biggest Muslim organisation.
"The hadith said that circumcision is sunnah for men [highly recommended] and makrumah for women [voluntary but meritorious]. Hence it cannot be used as a theological basis to conduct female circumcision, because it is optional," she told Khabar.
The government does not need to regulate it, nor should it ban medical professionals from giving the service to a Muslim family that requests it, she said. But she said it is unfortunate that female circumcision is often conducted on infants, meaning that girls have no say in whether they want to undergo an optional practice.
"It is against human rights," she said.
A Javanese tradition
Javanese tradition includes a ceremonial form of circumcision conducted without removing or harming the female body in any way, G.K.R Hemas told Khabar in an exclusive interview.
"Female circumcision in Javanese tradition is very different with what happened in other places. It is done by holding on to a piece of fresh turmeric on female genitals," she said. Later the turmeric and other offerings are thrown to the rivers, she added.
The ceremony is conducted twice, at the age of five and when a girl begins to menstruate. These days, such ceremonies are rarely carried out in Javanese society, except for royal family members at the Yogyakarta sultanate.
"Once again, there is no woman's body part which is being removed or harmed from those two traditions," she added.
http://khabarsoutheastasia.com/en_GB/articles/apwi/articles/features/2013/03/05/feature-03
-----------
Tough Guidelines for Minor Marriage in Saudi Arabia Hailed
5 March 2013
Proposed guidelines from the Ministry of Interior could make it tougher for girls below 16 to get married.
Fahd Al-Bakran, a spokesman for the ministry, said the strict recommendations were submitted to the Council of Senior Islamic Scholars.
The ministry recommends that guardians of girls under 16 must apply to a judge in a special court to obtain a waiver to marry them off.
In addition, a female obstetrician/gynaecologist, a psychiatrist and social worker must submit a signed medical report.
The Interior Ministry also recommends that evidence be given that the girl is mentally and physically mature. The girl also must consent to the marriage and have permission from her mother. Only the judge can grant the waiver to marry.
"There are no more than six cases (of teenage girls marriage requests)," Al-Bakran said. "The Ministry of Justice, however, believes that even with the limited number of the cases, the current situation is disturbing."
Mona Al-Munajjed, a sociologist and an adviser on women and gender issues, supports the Ministry of Justice's efforts to limit child marriages because it's a healthy step that will positively affect Saudi society.
"Experts refer to these girls as child brides precisely because they are still children and they have not developed fully in their physical, emotional and psychological capacities," Al-Munajjed said. "Marriage is a serious endeavour that entails many responsibilities that these children still do not fully comprehend, including relations with an older husband, giving birth and raising children."
Wafal Al-Shammari, a social worker at the Ministry of Social Affairs, said young girls are not ready for marriage.
"The marriage of girls under 16 is an injustice to girls and has severe and far-reaching negative consequences to society," Al-Shammari said.
"Girls below 19 have still not reached maturity in terms of completing their mental and emotional growth. Underage girls are not prepared to assume the burdens and huge responsibilities of marriage and this can lead to divorce, illiteracy, premature pregnancy and the disruption of the family unit, among many other problems."
http://www.arabnews.com/saudi-arabia/tough-guidelines-minor-marriage-hailed
-----------
Iran and the Vatican resist U.N. effort on fighting violence against women
04 March 2013
The Vatican, Iran and other religious states are resisting efforts by a U.N. conference, which started Monday, to demand tougher global standards to prevent violence against women and children.
More than 6,000 non-government groups are registered at the annual U.N. Commission on the Status of Women, one of the biggest events held at the U.N. headquarters which regularly turns into a diplomatic battle.
This year's meeting has been made more emotive after an attack several months ago by the Taliban on 15-year-old Malala Yousafzai for her attempts to promote girls' education in Pakistan and because of widely publicized gang rapes in India and South Africa.
Diplomats said the Holy See, Iran and Russia are leading attempts wipe out language in a draft final statement that says religion, custom or tradition must not be used as an excuse to avoid a government's obligation to eliminate violence.
They also have opposed references to rape by a woman's husband or partner, diplomats said.
"Violence against women must be seen as a human rights issue and that has nothing to do with culture or religion," Norway's Gender Equality Minister Inga Marte Thorkildsen told AFP.
"The Vatican, conservative religious forces within the United States and Europe, Catholic and Muslim countries are joining forces to stop women from gaining sexual rights," the minister said, predicting tough negotiations during the two week conference.
"It has to do with power and equality and the lack of will to see women as valuable as men," Thorkildsen added.
"We have to see good prosecutions, prevention and protection for these women and children."
"I am optimistic, but it will be hard," said Thorkildsen.
"When they speak about moral issues, those who are trying to hinder a conclusion, they have to ask themselves about the real moral hazard of our time -- which is depriving millions of women and children of the right to a life."
Much has been made at the conference of a World Bank report which estimates that more women aged 15-44 are killed violently than die of malaria, HIV, cancer, accidents and war combined.
"We have to commit to concrete means to prevent this," said the Norwegian minister who estimated that gender-based violence costs her country one billion dollars a year.
Lynne Featherstone, Britain's international development minister, said: "We must do everything in our power to defend the hard-gained progress on women's rights.
"We must ensure that the international community agrees a set of global standards to help protect women and girls everywhere from violence."
Michele Bachelet, the head of the U.N. Women agency and former president of Chile, said the two week meeting would be "critical"
"We need to strengthen implementation of laws, policies and programs for preventing and responding to violence against women and girls," she said.
"Implementation must be accelerated and governments should be held accountable for their commitments and obligations," Bachelet added.
The U.N. missions for the Vatican, Iran and Russia declined to comment immediately on the conference.
http://english.alarabiya.net/articles/2013/03/04/269641.html
-----------
Expert Calls On Saudi Women to Invest Frozen Funds
5 March 2013
An international expert on Shariah-compliant capital markets and treasury has called on Saudi businesswomen to invest funds that are kept frozen in banks.
According to the Council of Saudi Chambers (CSC) data, assets of Saudi women in the banks have been estimated at SR 375 billion whereas their volume of spending stands at SR 75 billion yearly.
Full report at:
http://www.arabnews.com/saudi-arabia/expert-calls-women-invest-frozen-funds
-----------
Indian Girl Neha Ramu Has Higher IQ than Albert Einstein
Mar 05 2013
London: A 12-year-old Indian-origin girl in UK has stunned everyone after she scored an incredible 162 on her IQ test - even higher than Einstein and Stephen Hawking.
Neha Ramu, daughter of an Indian doctor couple, achieved a score of 162 on a Mensa IQ test - the highest score possible for her age.
The score puts the tween in the top one per cent of brightest people in the UK and means she is more intelligent than physicist Hawking, Microsoft founder Bill Gates and scientist Albert Einstein, who are all thought to have an IQ of 160.
Full report at:
http://www.indianexpress.com/news/indian-girl-neha-ramu-has-higher-iq-than-albert-ei.../1083401/
---------------
Women Not Merely Housewives: Behavioural Scientist
Nighat Leghari
March 5, 2013
Tuesday, March 05, 2013 - Dr Shally Shaywitz, a behavioural scientist at Yale University School of Medicine one of the author of the study says, "As far as I know this is the first time that anyone has been able to demonstrate anything functionally different between men and women."There has been substantial research of gender difference in the brain but these studies could not explain the difference. Men use a small area in the left side of the brain while women use area in both sides. Psychologists have found that women do better on certain tests like those measuring verbal speed and that men do better on other task like imagining what an object would like if it were rotated. Neurologist has also found that women seem to recover better from strokes in the left hemisphere of the brain where language abilities are thought to be situated.
Full report at:
http://pakobserver.net/detailnews.asp?id=198720
-----------
UNRWA cancels Gaza marathon after Hamas ban on women participation
05 March 2013
The United Nations Relief and Works Agency for Palestine Refugees in the Near East (UNRWA) announced Monday it cancelled its third marathon following a disagreement with authorities in Gaza on women's participation.
"This disappointing decision follows discussions with the authorities in Gaza who have insisted that no women should participate," UNRWA said in a statement published on its website.
Full report at:
http://english.alarabiya.net/articles/2013/03/05/269728.html
-----------
Christian Aid Applauds Justine Greening's Speech on Girls and Women
4 MARCH 2013
Commenting on a speech about female empowerment made today by Secretary of State for International Development, Justine Greening, at an event co-hosted by Christian Aid, Christian Aid's Director Loretta Minghella said:
'Christian Aid warmly welcomes Justine Greening's focus to help women and girls have greater choice, voice and control in their lives. This Friday the world marks International Women's Day and today activists, academics, officials and ministers gather in New York for the Commission on the Status of Women (CSW).
Full report at:
http://allafrica.com/stories/201303050488.html?viewall=1
---------------
Abida Parveen Casts A Spell as Sufi Fest, Jahan e- Khusro, in New Delhi Ends
By Tanya Banon in New Delhi
Mar 05 2013
THE ruins of Arab ki Sarai, Humayun Tomb Monuments, came alive with the spiritual and mystic sounds of Sufi music as the 11th edition of the annual world Sufi music festival, Jahane- Khusrau, concluded in the Capital on Sunday night.
Saving the best for last, the grand finale featured a scintillating performance by the extraordinary Abida Parveen.
Full report at: Mail Today
-------------
60% of Civil Servants in Kazakhstan Are Women: Chairman, Religious Affairs
Mar 04 2013
ALMATY, March 4. KAZINFORM At least 60% of civil servants in Kazakhstan are women. That was announced at the international forum Woman and religion in Almaty on Monday.
"Woman and religion forum assumes paramount symbolical and historical significance," noted Kairat Lama Sharif, the Chairman of the Agency for Religious Affairs.
The aim of the forum is to provide a dialogue platform for discussion of various aspects of relations between religion and women from the perspective of social and political sciences.
The event brought together parliamentarians, theologists, scientists, professors, eminent public figures, heads of charity organizations and public associations.
http://www.inform.kz/eng/article/2539776
---------
Family awarded Dh300, 000 after daughter drowns in Abu Dhabi hotel pool
Haneen Dajani
Mar 4, 2013
ABU DHABI // The parents of a girl who drowned in a hotel swimming pool will receive Dh300,000 in compensation.
The child was staying with her family at Le Meridien hotel when her mother left her alone by the pool for a few minutes to fetch snacks.
When she returned she could not see her daughter and assumed she had gone to play at the children's club. But her father noticed her lying motionless at the bottom of the pool.
After pulling her from the water, he tried to revive her with the help of another guest. The hotel's staff said they had not received any first-aid training. She died in hospital three days later.
Full report at:
http://www.thenational.ae/news/uae-news/courts/family-awarded-dh300-000-after-daughter-drowns-in-abu-dhabi-hotel-pool#ixzz2Meqc4aEy
-----------
Rape Accused of Ten-Year-Old Confesses To More Assaults with the Help of His Girl Friend
March 5, 2013
ISLAMABAD: Disposing of the rape and murder case of a ten-year-old girl whose charred body was found from Sector I9 on February 19, the Supreme Court has directed the Islamabad (East) district and sessions judge to conclude the matter within a month.
Full report at:
http://www.dailytimes.com.pk/default.asp?page=2013\03\05\story_5-3-2013_pg7_3
-----------
Pakistani Women Police Officials Seek Equal Opportunity at Workplace
March 5, 2013
ISLAMABAD: Ahead of the International Women's Day, women police officials gathered to discuss the issues they face at work and ways to fully integrate them into all policing organisations at a seminar on Monday.
Full report at:
http://tribune.com.pk/story/515699/seminar-women-police-officials-seek-equal-opportunity-at-workplace/
-----------
Tajikistan fights domestic violence
With the country's first-ever law against domestic abuse, advocates hope to mitigate tragic conflict in the home.
By Dilafruz Nabiyeva
2013-03-04
DUSHANBE – After Ranokhon had given birth to her fourth child, her husband brought home another woman as a "second wife."
When Ranokhon tried to drive away her new rival, her husband beat her.
"Unable to stand humiliation anymore, I filed a report with the police and decided to leave him," Ranokhon explained. "My husband begged me to withdraw my complaint … and promised never to hurt me again; ... His mother even talked to me on his behalf. … I agreed, … but just a few days later he started beating me again."
Full report at:
http://centralasiaonline.com/en_GB/articles/caii/features/main/2013/03/04/feature-01
-----------
More Saudi girls than boys born in 2011
5 March 2013
Twelve thousand more Saudi girls than boys were born in 2011, the latest statistics of the Civil Status department showed.
"Out of a total of 510,000 registered Saudi births, 261,000 were girls, accounting for 51.18 percent. The remaining 249,000 boys accounted for 48.82 percent of the total births in 2011," the report said.
Full report at:
http://www.arabnews.com/saudi-arabia/more-saudi-girls-boys-born-2011
-----------
URL: https://www.newageislam.com/islam,-women-and-feminism/new-age-islam-news-bureau/basketball-girls-back-on--sharia-square--in-mali/d/10651