New Age Islam News Bureau
6 Dec 2019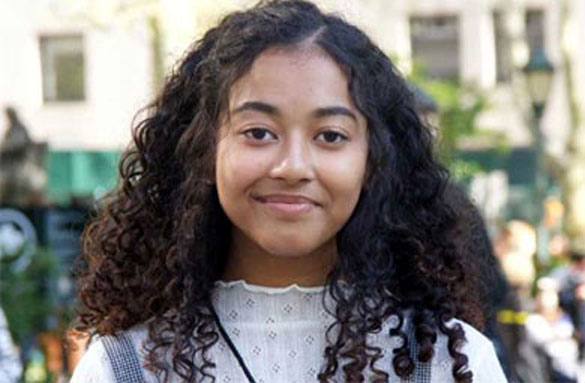 Rebeca Sabnam, Bangladeshi-American teen, fighting for climate action
------
• Bangladeshi-American Teen Activist, Sixteen-Year-Old Rebeca Sabnam, Fighting For Climate Action
• The Women of Islamic State Are Not Demons and Must Be Brought Home
• 'Craziest Persecution': Feminist Activist In Russia Faces Six Years In Prison On Pornography Charge
• Feminist Exhibition in Kyrgyzstan Forced To Confront Naked Truth About Societal Attitudes
• British Journalist Says Muslim Wife Was Told Southwest Air Treated Her 'Like A Venomous Snake' On A Plane
• Investigation Uncovers Israel-Based Group behind Bigoted Facebook Smear Campaign Aimed at US Muslim Congresswomen
Compiled By New Age Islam News Bureau
URL: https://www.newageislam.com/islam-women-feminism/bangladeshi-ameri-teen-activist-sixteen/d/120456
------
Bangladeshi-American Teen Activist, Sixteen-Year-Old Rebeca Sabnam, Fighting For Climate Action
by Samira Sadeque
3 Dec 2019
World leaders have come together in Madrid, Spain, for the UN Climate Change Conference, COP25, where they will deliberate on the environmental crisis facing humanity.
The issue of climate change, a key global conversation, has been brought to the fore by youth activists, mainly students such as Greta Thunberg, whose call for urgent climate action culminated in thousands gathering in New York City for a climate strike during the UN General Assembly in September.
At the gathering, in which more than 200,000 people marched across Manhattan, one teenager highlighted stories of a community that remains some of the most vulnerable to climate change - and yet remains under-reported: The women, children, and Rohingya refugees in Bangladesh.
Sixteen-year-old Rebeca Sabnam stood in front of a crowd of thousands, recalling the times her uncle had to carry her to school on his back during floods in her hometown Dhaka, the capital of Bangladesh.
"I am from Bangladesh, a country that exemplifies how interconnected the climate emergency is to racial justice and poverty," she said, referencing the discourse on how people of colour are often disproportionately affected by climate change.
Sabnam later told Al Jazeera she thought that when she mentioned Bangladesh, she would hear nothing but silence. Instead, she was overwhelmed by the crowd's roaring response.
"The climate crisis is not just an environmental issue, it's an urgent human rights issue," said Sabnam to the cheers of the crowd in New York.
"Bangladeshi women are extremely vulnerable to post displacement trafficking, magnified by the climate crisis," she said. "We want Bengali women as well as the Rohingya people living in Bangladeshi refugee camps to know that youth around the world are striking for their lives and security."
Sabnam, a Bangladeshi American high school student, lives in New York with her family, who migrated to the country when she was six years old.
COP25 is expected to focus on a range of issues such as the global tourism industry's work to implement climate-friendly initiatives, tracking progress on the Paris Climate Agreement 2016, and an "Intergenerational Inquiry" where global leaders will meet youth activists leading the climate change conversation.
Sabnam says she hopes there will be more "urgency" than was expressed at COP24 last year.
"We want COP25 to not simply take note of [the] alarming data [on the rise in temperature], but to advocate for the end of the funding, expansion, and use of fossil fuel," she told Al Jazeera ahead of the two-week summit.
Swedish environmental activist Greta Thunberg, center, speaks to guests next to U.N. Secretary-General Antonio Guterres
Swedish environmental activist Greta Thunberg, centre, speaks to guests next to UN Secretary-General Antonio Guterres, left, during the Youth Climate Summit at the United Nations headquarters in September [Eduardo Munoz Alvarez/AP]
"I hope they address not only a transition to renewable resources but a just transition for front-line communities."
Bangladesh remains one of the most vulnerable countries to the climate crisis with its flat topography making it more prone to significant floods. In 2016, it was ranked sixth on the Climate Risk Index.
Meanwhile, experts worry that a large surge of climate migrants is forming as a result of increasing climate risk, especially in the coastal areas of the South Asian nation of 160 million people.
This migration, causing overpopulation in inner cities, is further leading to the human trafficking of children and young women, experts say. A July UN report shows that climate change is one of the reasons that women flee home, making them more vulnerable to human trafficking.
"The issue of climate change is a silent disaster, a disaster that's happening on a daily basis but we do not see it immediately," says Sakil Faizullah, communication manager of UNICEF Bangladesh.
"It can't be immediately seen or measured but the impact is felt throughout the country. For instance, if anyone travels in rural areas, the villages are not necessarily even educated, but they have an understanding that the weather pattern has changed."
According to an April UNICEF report, 19 million Bangladeshi children are at risk owing to climate change disasters such as floods and cyclones.
Faizullah told Al Jazeera this means the education of these children - who are forced to move - is hampered, along with other facilities.
"Whenever there's flood[ing] it actually destroys health facilities, especially the tube well, it submerges them; schools are closed down during floods. If a child is deprived of health, education, and basic drinking water - what else can you offer? These are the basic needs," he said.
Climate migration
Sabnam highlighted in her September speech in New York the need for an understanding of how the effects of climate change intersect with some of the most vulnerable communities around the world.
Experts agree, saying that women and the Rohingya community remain particularly vulnerable to similar risks.
Flood-affected people wade through flooded water in Jamalpur, Bangladesh, July 21, 2019. REUTERS/Mohammad Ponir HossainAccording to a UNICEF report, 19 million Bangladeshi children are at risk owing to climate change disasters such as floods and cyclones [Mohammad Ponir Hossain/Reuters]
Beyond women being impacted merely due to cultural norms, the climate-induced migration in Bangladesh disproportionately affects women, says Moyen Uddin Ahmed, programme manager at the Emergency Response and Preparedness at Humanitarian Program of BRAC.
Owing to climate migration, the male figure of a household is often moving or internally displaced, which places the burden of household management solely on the women, he said.
A task as simple as securing water for the household becomes more arduous as water scarcity forces the women to travel further for collection, something that can impact their menstrual and reproductive health.
"Women are usually collecting this water from the source. The source is becoming scarce so they're having to spend more time on this," he said. "Menstrual and/or pregnant women carrying the water during this time is more trying."
When it comes to the Rohingya, the location of the community's refugee camps in Bangladesh exposes them to risks.
After the initial influx of Rohingya refugees, Ahmed from BRAC said trees were cut en masse to accommodate more people, leading to deforestation.
"The Bangladeshi mountains are not rocky, they're small mountains," he said. "During monsoon when there's heavy rain, the landslide possibility increases."
Indigenous communities, many of whom also live in coastal areas, are at a similar risk.
An Asia Pacific Forum on Women, Leadership and Development report documented how the women of the Munda Indigenous group are coping with climate challenges.
"As Indigenous peoples, they have had less political voice and as women have to contend with patriarchal social norms," the report said.
This intersectionality remains at the heart of the solutions and needs to be brought into focus when thinking of ways to address climate risks in these countries.
"When designing climate change interventions, a proper gendered lens is often not applied and hence women's differentiated vulnerabilities are not always addressed," said Sohara Mehroze Shachi, a development professional focusing on climate change in Bangladesh.
Farah Kabir, country director of Action Aid, said the "lack of a holistic approach" remains a crucial challenge in addressing this intersectional layer of climate change.
As experts on the ground in Bangladesh have pointed out, at the core of climate resilience is the understanding of how it affects various communities - who do not often get a seat at the discussion table - differently.
For Sabnam, who is yet to finish school, this remains the focus of the journey ahead - how to figure out a way in which to use the current momentum to put Bangladeshi women, children, and Rohingya refugees at the forefront of the global climate change debate.
She said she is trying to make sure Bangladesh is not "forgotten along the way after the Climate Strike, and to make sure we keep consistently pushing for our demands and making sure it's not lost along the way."
https://www.aljazeera.com/news/2019/12/bangladeshi-american-teen-activist-fighting-climate-action-191203041518638.html
------
The Women Of Islamic State Are Not Demons And Must Be Brought Home
By Kerrie O'Brien
December 6, 2019
When three 15-year-old English girls from London's Bethnal Green ran away to join Islamic State, it was front-page news. The British tabloid press had a field day, as did the more moderate papers. "It became a kind of national trauma I think because it was so shocking. They were good students and they were popular," says Azadeh Moaveni, author of a new book about the women of IS.
Called Guest House for Young Widows, the book is a ripping yarn and has been named one of The New York Times' top 100 books of 2019. It provides a fascinating insight into the complex realities at play for those drawn to the fight.
Bewildered by the contempt for the Bethnal Green girls – referred to as whores for the Caliphate and concubines for IS – she was inspired to cover the story when one columnist argued British police should stop looking for the girls. "Because these weren't our girls."
In her quest to find them, the London-based journalist headed to southern Turkey, where she met three Syrian women. "They were incredible to me, because I thought they were the last kind of women that could be drawn into this. I thought wow, these are ordinary young women who live approximate lives to me ... they're not unknowables."
Moaveni interviewed many women about their experiences. Some wanted to support fellow Muslims, others dreamt of travel, freedom and adventure. Many living in the region had little choice but to join, to guarantee their safety, protect their families or ensure an income. Many were actively lured.
Men in IS (referred to as ISIS in the book) were promoted and paid to recruit women; Moaveni argues the organisation's gender strategy was crucial to its success. "It recruited young women and it used those recruitment circles to get more and more young women who weren't married and could come over and marry the fighters, and slightly older women, saying 'Come and you can have a role in the Caliphate, whatever you're good at, come and do it'.
"It tapped in to all of this female energy that was not being addressed. All of these female anxieties country to country," she says. In Saudi Arabia and Iraq, women are not allowed any involvement in politics.
When their husbands were killed, the women were forced to marry another fighter, housed in the guesthouse of the book's title until ''matched''.
In the west, Moaveni says, we tend to view everything through the lens of terrorism, which "obscures what we're really dealing with". "It's great to tackle English language as a pathway to assimilation, really good to look at institutional racism as it targets Muslims, but [looking] through an extremist lens is not helpful."
The Syrian revolution and the invasion of Iraq, which gave rise to IS, reflect a broken architecture in the Middle East that will lead to generation after generation of chaos that groups like IS can exploit. She argues western countries are invested in long-term political instability in the Middle East. "They're unstable, no one gets the upper hand, every 10 years the state implodes, you have to send all of your contractors and aid workers in to help rebuild.
"Exclusion from politics, country to country … was a big part of the draw for IS. All these terrible states that are dictatorial and terrible and they don't govern well and whole swathes of people are excluded from politics and it impacts women in particular because if you're a woman you really suffer doubly under a bad government because it's a bad government and it's patriarchal.
"This broken political map, at the level of the citizen – especially the woman citizen – is suffocating people."
Many countries are trying to work out how to deal with the men and women – and their children – coming back from this kind of conflict. The challenges of rehabilitation are stark but there is a strong security argument for countries bringing back their own, she says. "At least you can watch them and have them under strict surveillance and you don't have 1000 floating westerners moving between this unstable crescent … waiting to join the next generation of IS or whatever emerges."
Many politicians around the world are against repatriation. "Who wants to be the government who brought back the jihadi people from Syria?"
For her, it's the only course of action. "People need to know that these people who went have gone through some sort of justice process … Some sort of prosecution and public accounting of what happened would then make their return feel more acceptable."
Moaveni says many of the IS marriages became protection marriages. "In the middle of a war zone you could get out of a guest house that was really horrible, you had someone who could protect you. The women started to see that, too. That's something that we don't recognise about IS – you couldn't get out of IS."
https://www.smh.com.au/culture/books/the-women-of-islamic-state-are-not-demons-and-must-be-brought-home-20191128-p53eyj.html
------
'Craziest Persecution': Feminist Activist In Russia Faces Six Years In Prison On Pornography Charge
December 05, 2019
By Sergei Khazov-Cassia
MOSCOW – Yulia Tsvetkova, a feminist activist in the Far Eastern city of Komsomolsk-on-Amur, has been placed under house arrest for two months, ordered to wear an ankle bracelet, and barred from communicating with anyone except her mother and her lawyer.
But that might not be the worst of her ordeal.
"The craziest persecution is going on now," Tsvetkova's mother, Anna Khodyryeva, told RFE/RL in a telephone interview about her daughter, who has been charged with distributing pornography. "In local online forums and in the comments sections, people are writing that we should be killed or crucified. Yulia is afraid for my life whenever I go out.
"The federal television channels have gotten involved, saying that...we have an LGBT community, although we have not been involved in any LBGT events," Khodyryeva said. "They are broadcasting across the whole country a 2-year-old photograph from a classroom in which a 14-year-old girl is drawing a rainbow. I asked [the girl] what she thinks of it and she just said, 'They are idiots.'"
Tsvetkova, 26, is a fairly prominent figure in the remote city of some 260,000 people. She has had seven individual exhibitions of her artwork, has staged 10 plays as artistic director of the Merak children's theater, runs a feminist forum on the social network VK, and is an environmental activist. She sings and dances professionally and is a certified parkour instructor.
Khodyryeva believes the online assault against Tsvetkova is not really a local phenomenon but was was incited by a St. Petersburg man named Timur Bulatov, a self-proclaimed defender of "traditional values" who has been investigated by the Interior Ministry's anti-extremism unit for his efforts to identify gay teens and outing them to police and schools. In November 2018, the Moscow organizers of an LGBT conference reported that Bulatov had threatened them by telephone. The event was canceled after threats of violence on social media. According to Bulatov's now-shuttered VK page, his group carried out "public activities" in direct coordination with law enforcement agencies.
Bulatov earlier served 2 1/2 years in prison for embezzlement.
Khodyryeva says Bulatov has written to all the parents of the children who attended her local children's group.
"They come in with wild eyes and say that he is completely abnormal," she added. "When they try to defend my studio and me, he tells them that they are sick people and that he will pray for their recovery."
The parents, in turn, have supported Khodyryeva and even bought her a new telephone to replace the one seized by the police during one of the searches they carried out while investigating Tsvetkova.
On November 29, Tsvetkova was officially charged with illegally distributing pornography. If convicted, she faces two to six years in prison. The case files have not been released, so it is unclear exactly what allegedly pornographic material the authorities have in mind. Tsvetkova's art includes many images of male and female genitalia and sexual acts.
In addition, on December 9, she will face an administrative hearing on accusations that she violated Russia's controversial 2013 law against "propagandizing nontraditional lifestyles to minors."
That charge appears to stem from a forum she hosts on the VK social-media site named after the feminist play The Vagina Monologues in which she posted her explicit artwork.
"It had about 100 subscribers," Khodyryeva said. "But after all the hype started, it had 300."
The Khabarovsk Krai branch of the Federal Security Service wrote a letter in May to the regional children's rights ombudswoman, Viktoria Tregubenko, with a request that she examine Tsvetkova's social-media pages. Tregubenko asked Yelena Kradozhyon-Mazurova, an instructor in the department of Russian and foreign languages at the Far Eastern Management Institute, a branch of the presidential Russian Academy of Management and State Service, to provide an expert opinion.
"Imagining herself a victim of Russian legislation banning the propaganda of nontraditional sexual relations to minors...Tsvetkova persistently attracts the attention of minors to the LGBT community, repeatedly mentioning that nontraditional sexual relations are 'a variant of the norm,' which has long been accepted 'by the entire world (except for the most backward countries),'" the expert opinion states. "The author includes Russia among 'the most backward countries' since its legislation doesn't normalize homosexuality and bisexuality, which upsets the author. The author considers herself part of an LGBT community."
Tsvetkova's materials "contain concrete directions and instructions on actions in defense of the interests of the LGBT community and propaganda of the norms of nontraditional sexual relations among young homosexuals, bisexuals, and transgender people," the report concludes.
The authorities turned their attention to Tsvetkova in March, when her Merak theater attempted to put on a production called Pink And Blue, a performance that was collaboratively written by the children themselves and that dealt with gender stereotypes and issues such as bullying.
Although the title, which was the brainchild of an 11-year-old actor in the show, was simply a reference to boys and girls, the terms "pink" and "blue" are used in Russian slang to refer to lesbians and gay men. The Merak production had nothing to do with sexual or LGBT issues.
Nonetheless, officials accused Tsvetkova of illegally trying to hold a gay-pride event under the guise of a youth theater festival. The program was canceled after the owner of the venue pulled the plug -- under pressure from the local administration, Tsvetkova told RFE/RL at the time.
Around the same time, Tsvetkova attracted the attention of law enforcement because of an online campaign she launched under the slogan "A woman is not a doll (#женщина_не_кукла)." She illustrated the campaign with six hand-drawn images with texts like, "Real women have body hair, and that is normal" and, "Real women menstruate, and that is normal."
She was questioned about the campaign on March 21, after police received an anonymous complaint that the images were pornographic and that she was "corrupting children" by posting them online and at the Merak children's theater.
"As I understood it, they are gathering information," Tsvetkova told RFE/RL at the time. "It is a new complaint and a new case. They threatened me with prosecution, but for now they aren't saying any more."
Tatyana Vinnichenko, the director of the Moscow Community Center For LGBT Initiatives, which is providing legal aid to Tsvetkova and her mother, told RFE/RL that the real purpose of Russia's 2013 law banning the propaganda of "nontraditional lifestyles" to minors is to harass activists and prevent public demonstrations.
"It is a discriminatory law that is used as a tool of repression to suppress activity and discredit activists," Vinnichenko said. "It is surgically used to fight against those who irritate the regime. Most likely, [Tsvetkova's] activity was too noticeable and undesirable to someone."
The New York-based Human Rights Watch on December 3 said Tsvetkova's case was "yet another example of Russia using unfounded accusations and vague laws to intimidate certain activists."
Khodyryeva thinks that things would have been different if her daughter had been intimidated by her conversations with police in March.
"I think that if Yulia had sunk into the shadows, stopped talking to journalists, stopped writing on social media about how she was enduring four-hour interrogations, and if she had stopped giving advice to those who were in similar situations, they might have left her alone," Khodyryeva said. "But she persisted.
"I have lived in this city for a long time," she added. "I know a lot of people. I tried to find out [who was behind this situation] and I was just told: 'It is better if you don't know. You have gotten into a serious mess -- get out of this city.'"
https://www.rferl.org/a/get-out-of-this-city-feminist-activist-in-russia-faces-six-years-in-prison-on-pornography-charge-/30309064.html
------
Feminist Exhibition In Kyrgyzstan Forced To Confront Naked Truth About Societal Attitudes
December 06, 2019
By Farangis Najibullah
It was an event meant to highlight the many problems and pressures women in patriarchal Kyrgyzstan and elsewhere face in society.
The Feminnale of contemporary art in Bishkek was able to showcase Kyrgyz society's attitudes toward women, but not in the way the organizers had hoped.
The exhibit -- Breadwinner. Economic Freedom. Women -- infuriated conservatives and nationalists in the Central Asian country who said some exhibits and performances at the event violated Kyrgyz ethical codes.
At the heart of the controversy was the performance art of Danish participant Julie Savery, who appeared in the nude at the show to highlight the lack of rights for sex workers.
A punching bag in the shape of a woman's torso -- emphasizing domestic violence against women -- was another element that angered some Kyrgyz.
Criticism first began on social media as the Feminnale opened at the National Art Museum on November 27 with more than 50 participants from 22 countries.
A group of detractors, most of them men, complained to Culture Minister Azamat Zhamankulov, who readily met the group and reportedly told them that he, too, didn't support the holding of such events.
The exhibition cost one of its main organizers her job.
Mira Zhangaracheva, the head of the art museum, resigned, citing "threats" she had received.
"There were so many threats in the past five days -- threats of retaliation directed at me, my colleagues, organizers of the Feminnale -- that I fear for [the safety] of my colleagues," Zhangaracheva told RFE/RL on December 2.
"I didn't know that the nationalist-patriotic groups, who are against contemporary art, have so much influence on our country's politics," she said, adding that the situation demonstrates that Kyrgyz society "is not open."
Just three days later, the Culture Ministry appointed Zhangaracheva's former deputy, Aigul Mambetkazieva, as the new head of the museum.
The ministry said the exhibition will continue until December 15 as planned, but without its more controversial elements. Nudity and the punching bag had to go.
Detractors 'Never Been To Museum'
The scandal at the art museum also mirrored divided opinion -- about the exhibition, women, and national values -- both among the public and the country's political elite.
Among the critics was female lawmaker Mahabat Mavlyanova, who called the exhibition "alien" and "incompatible with Kyrgyz culture."
At a parliament session on December 5, Mavlyanova said such events have no place in a national museum and should have been held in a private building.
"We must maintain our own culture [and] national ideology," Mavlyanova said.
Meanwhile, former Kyrgyz President Roza Otunbaeva defended the exhibit as a "normal, smart, serious, and deep" event. Those who criticized it "haven't even been there and don't even know what a museum is," Otunbaeva said.
Speaking at a separate event in Bishkek, Otunbaeva told detractors that their actions "are not acceptable" and urged them to "try to learn to be more cultured."
Zhangaracheva said many people -- including many parents with children -- continue to visit the exhibitions and admire the artwork, despite the criticism.
Zhangaracheva fired back at conservatives, including the self-styled nationalist Kyrk Choro (40 Warriors) organization, asking why the angry activists don't protest when Kyrgyz women and children fall victim to rape, violence, and bride kidnappings.
"Where were they when Burulai was killed?" she said, referring to the case of 20-year-old Burulai Turdaaly-kyzy, who was stabbed to death at a Bishkek police station in May 2018 after seeking to get out of a forced marriage.
Turdaaly-kyzy's attacker was a man who had abducted her as part of a long-standing but illegal Kyrgyz practice known as "bride kidnapping."
While Kyrgyz women have a strong presence in the country's workforce and enjoy equal rights to education and other opportunities, domestic violence in the country of 6 million is not uncommon.
In recent years, women have also come under attack by self-styled patriot and nationalist groups like Kyrk Choro, which came into existence in 2010.
Kyrk Choro members raided a Bishkek bar in December 2015 and forced Kyrgyz women at the club to line up before a video camera. The two groups accused the women of selling their bodies as prostitutes to Chinese men.
In 2016, a video was posted on YouTube purportedly showing two Kyrgyz women in Moscow being verbally insulted and physically assaulted by their male compatriots for dating non-Kyrgyz men.
Kyrk Choro and other groups also threatened participants of a gay-pride parade in Bishkek in March 2019 and condemned officials for permitting the march to be held.
https://www.rferl.org/a/feminist-exhibition-in-kyrgyzstan-forced-to-confront-naked-truth-about-societal-attitudes/30310906.html
------
British Journalist Says Muslim Wife Was Told Southwest Air Treated Her 'Like A Venomous Snake' On A Plane
December 05, 2019
A British journalist based in Washington attacked Southwest Airlines this week for allegedly mistreating his Muslim wife for dressing in her traditional ethnic garb and asking a fellow passenger to switch seats.
Mehdi Hasan, a columnist for The Intercept and a presenter for Al Jazeera English TV shows, hash-tagged the episode "#flyingwhileMuslim."
"Hey @SouthwestAir: not a good look for your flight attendant on SW5539 to DC last night to loudly tell a brown woman in a headscarf she'll be 'escorted off the plane' for making people feel 'uncomfortable' — because she wanted to sit with her husband & kids! #flyingwhileMuslim," Hasan, the former political editor for HuffPost UK, tweeted Monday afternoon.
Southwest Airline's pithy ad slogan is: "Low fares. Nothing to hide. That's Transfarency."
Hmmm. Nothing to hide? Sure, nothing to hide except a response to what happened here. So far, the airline has not commented publicly on the matter.
The Mirror sought comment from Hasan and Southwest Airlines.
Hasan had no further comment for The Mirror and said his wife is not speaking to the media at this time.
"For now, we're in private communication with Southwest corporate about how they resolve this situation, and my wife's not really interested in doing any media or going further public at this time," he wrote me in response to questions.
Lots of D.C. political people complain about irritating travel experiences. Back in August, Darla Shine, wife of former White House Deputy COS for Communications Bill Shine, complained about JetBlue when her plane sat on the tarmac during a D.C. hail storm.
Last month, Matt Walsh, a conservative blogger, wrote about being asked to switch to a middle seat when a fellow passenger wanted to sit with his wife. Walsh defiantly and flatly said no with no remorse whatsoever.
Others complain when they see Washington bigwigs like Donald Trump Jr. on a plane. (RELATED: Passenger Gets Angry Upon Discovering Don Jr. Is On Her Plane)
And still others are too disgusted by their experience to complain. (RELATED: Journo Says His Airline Experience Is So Bad He Can't Even Tweet About It)
One of many members of the media who use social media to call travel companies on the carpet when things go awry, Hasan explained on Twitter that the flight attendant complained about his wife when she asked a fellow passenger to switch seats so she could sit with her family.
It is unclear why the airline employee was alarmed and eventually put in a call to to ground staff:
"The flight attendant called ground staff onto the plane, complained about the Muslim woman – my wife! — to them, & escalated rather than de-escalated the situation – simply because my wife politely asked a guy if he'd give up his seat for our family (which he was fine with!)."
Hasan put his reporting skills to work, gathering damning testimonial from other passengers.
"Even her own @SouthwestAir colleague from the ground staff who came onboard to check things wondered why the flight attendant wouldn't shut up & let things go so we could take off," he wrote. "'Why is she escalating this?' a passenger from across the aisle also asked aloud. Why indeed."
'The @SouthwestAir flight attendant 'treated you like a venomous snake,' another passenger told my wife after we landed in DC last night," he wrote.
Dr. Debbie Almontaser, a community activist who founded the Khalil Gibran Academy, a New York Arab-themed public school, sympathized with Hasan, tweeting, "Sorry to hear what happened to your wife and family. Southwest Air is the worst airline experience I've ever had. I flew w/ them to Nashville because the org hosting me made my travel reservations. I swore I'd never fly with them because of their loosey goosey boarding process."
Despite the ugly incident, The Intercept columnist got a glimpse of humanity.
"Just wanted to say a big THANK YOU to all of you leaving comments and well wishes to my wife and my family," Hasan wrote. "It's much appreciated and I wish I could reply to and thank each of you individually. Means a lot to us."
But he couldn't help but punch Southwest in the gut. He thanked Southwest Airlines for destroying the family's Thanksgiving holiday and reducing his wife to tears.
"Thanks @SouthwestAir for ruining the end of our Thanksgiving trip and leaving my wife in tears – because she wanted us all to sit together as a family while your flight attendant wanted to single her out and humiliate her," he wrote. "Thanks a lot."
Hasan then twisted the knife by linking to a 2015 Guardian story about Southwest Airlines and incidents involving Middle Eastern passengers.
https://dailycaller.com/2019/12/05/british-journalist-wife-southwest-air-muslim/
------
Investigation Uncovers Israel-Based Group Behind Bigoted Facebook Smear Campaign Aimed at US Muslim Congresswomen
Thursday, December 05, 2019
Reps. Ilhan Omar and Rashida Tlaib, the first two Muslim-American women elected to Congress, have been the target of a sustained campaign of far right hate and lies originating from a shadowy Israeli group, according to an investigation published Thursday by The Guardian.
"The goal of these anti-Muslim hate campaigns is clear," Omar, a Minnesota Democrat, told The Guardian, "they put Muslim lives here and around the world at risk and undermine our country's commitment to religious pluralism."
The report details how a jewelry salesman and "online operator" from the Tel Aviv area named Ariel Elkaras and others were part of a vast coordinated effort that utilized "21 far-right Facebook pages across the U.S., Australia, the U.K., Canada, Austria, Israel, and Nigeria" to spread malicious lies about the two congresswomen.
According to the Guardian:
Somali-born Omar is the most frequent target. She has been mentioned in more than 1,400 posts since the network began two years ago. Tlaib has been mentioned nearly 1,200 times. Both totals are far higher than any other member of Congress.
Informed of the investigation's findings, Facebook took down many of the identified posts and accounts—but the tech giant told The Guardian that it did so not due to the hateful and false nature of the content but because the company believes the Israeli-based group was using the misinformation and bigoted posts to generate advertising revenue.
Both Omar and Tlaib have been the target of hateful rhetoric from President Donald Trump and have received death threats. Tlaib, a Democrat from Detroit, Michigan, read one of those messages directed at her aloud at a June hearing on white supremacist violence.
Last week, a Republican candidate for Congress in Florida, George Buck, suggested in a fundraising letter to supporters that Omar should be hanged.
"The fact that those who make these violent threats very publicly without hesitation reaffirms just how much white supremacy has spread within the @NRCC," Tlaib tweeted of Buck's threats Wednesday.
In her comments to The Guardian, Omar pointed the finger at Facebook for the company's inaction.
"I've said it before and I'll say it again: Facebook's complacency is a threat to our democracy," said Omar. "It has become clear that they do not take seriously the degree to which they provide a platform for white nationalist hate and dangerous misinformation in this country and around the world."
"And there is a clear reason for this," Omar added, "they profit off it."
https://www.commondreams.org/news/2019/12/05/investigation-uncovers-israel-based-group-behind-bigoted-facebook-smear-campaign
------
URL: https://www.newageislam.com/islam-women-feminism/bangladeshi-ameri-teen-activist-sixteen/d/120456
New Age Islam, Islam Online, Islamic Website, African Muslim News, Arab World News, South Asia News, Indian Muslim News, World Muslim News, Women in Islam, Islamic Feminism, Arab Women, Women In Arab, Islamophobia in America, Muslim Women in West, Islam Women and Feminism