New Age Islam News Bureau
27 Aug 2019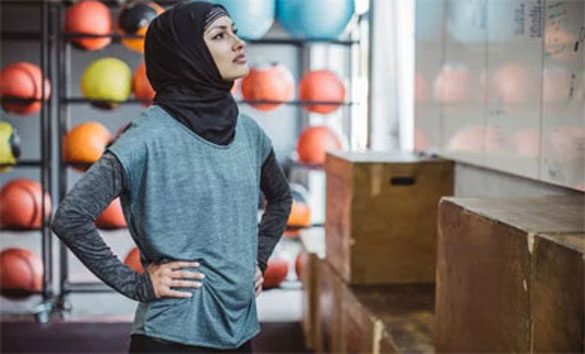 (Picture: Getty) Hafsah Sharif loves working out – but when she first started on her fitness journey she found it challenging because of her hijab.
-----
• First Group of Saudi Women Enrol For Criminal Law Diploma
• Official Says Egypt Resorts Should Not Ban Women in Burkinis
• SIS: Court's Fatwa Challenge Refusal Dark Moment for Malaysia, Women's Rights
• Hafsah Sharif, the Muslim Teen Started Her Own Gym Classes for Women Who Wear Hijabs
• Triple Talaq: Muslim Women Coming Out In Large Numbers to File Firs In UP
• Bhartiya Muslim Mahila Andolan Seeks Family Law
• Women Rights Group Says Defamation Law Being Used As 'Silencing Tool'
• Sri Lankan Islamic Clerics Seek Clarity on Face Veil Ban
• Saudi Women's Bowling Team Get Ready for Trios
Compiled by New Age Islam News Bureau
URL: https://www.newageislam.com/islam-women-feminism/bangladesh-top-court-orders-virgin/d/119579
----------
Bangladesh Top Court Orders 'Virgin' Removed From Marriage Certificate
Aug 26, 2019
DHAKA: The word "virgin" must be removed from Muslim marriage certificates in Bangladesh, the country's top court has said, a landmark verdict after campaginers challenged the "humiliating and discriminatory" term.
Under the South Asian country's Muslim marriage laws, a bride has to select one of three options on the certificate - whether she is a Kumari (virgin), a widow or divorced.
In a brief verdict on Sunday, the court ordered the government to remove the term and replace it with "unmarried", deputy attorney general Amit Talukder told AFP.
The court is expected to publish its full verdict by October, with the changes to the certificate expected to come into effect then.
"It is a landmark verdict," Aynun Nahar Siddiqua, a lawyer for the groups which filed the case challenging the term in 2014, told AFP on Monday.
Rights groups have long criticised the term - used in certificates since they were introduced in 1961 - saying it is "humiliating and discriminatory", and that it breaches the privacy of the woman getting married.
The judgement also ordered authorities to introduce the options "unmarried, widower or divorced" for the groom on the certificate.
Bangladesh is the world's third-largest Muslim majority nation and nearly 90 per cent of its 168 million population are Muslims. (AFP)
https://timesofindia.indiatimes.com/world/south-asia/bangladesh-court-orders-virgin-removed-from-marriage-certificate/articleshow/70847693.cms
--------
First Group of Saudi Women Enrol For Criminal Law Diploma
August 27, 2019
RIYADH: Around 50 Saudi women have been chosen to enroll in a one-year diploma in criminal law.
"They'll be trained in many subjects, visit different branches of public prosecution offices and will be working with them, including with forensic medicine," said Saudi Arabia's Attorney General Sheikh Saud Al-Mujib.
Most of the women have a legal background in Shariah and law. Al-Mujib expressed confidence that they will contribute to the justice system, and said this first batch will be followed by many others in the future.
Alanoud bin Hamad, a 24-year-old law graduate from Princess Nourah University, told Arab News: "My ambition is to achieve justice in our community. I look forward to working with my male counterparts on cases … where they need female investigators."
She said because of the Vision 2030 reform plan, "I think every Saudi female can achieve her dream now. The doors are wide open for females in every field. I'm really lucky to work in the public prosecution to achieve justice."
Bin Hamad added that she is looking forward to the diploma's academic courses. "I'm also excited to go on excursions and be in the field to see how investigators work," she said.
"I think the training will increase my awareness and give me the qualities needed … for this job."
Reham Al-Salom told Arab News that after graduating from law school in 2014 at King Saud University, "I tried to apply and work for the public prosecution, but I faced a huge problem because this position wasn't available for women ... Five years later, I got my chance."
She added: "I'm honored to represent my country to the world, and glad to have this wonderful experience, which I'm sure is a
big responsibility."
Zainab Al-Fifi told Arab News that when Al-Mujib met with the female candidates, he "motivated us and explained the importance of this job, and that the country is confident that we'll serve the Kingdom the best way we can."
Ranad Al-Melisi, a licensed lawyer, told Arab News: "The job (of investigator) is desirable, and has a very special and sensitive status in Saudi Arabia and all other countries because it relates to the security of the people and the country."
https://www.arabnews.com/node/1545716/saudi-arabia
--------
Official Says Egypt Resorts Should Not Ban Women in Burkinis
August 27, 2019
CAIRO: Egypt's Tourism chamberr has reportedly warned resorts and hotels against banning Hijabi women who wear burkinis from swimming at their premises.
An official quoted by local news website Masrawy said women in headscarves who choose to wear the swimwear should be permitted as long as the suit is made of water-friendly material to avoid health problems.
The statement specifically addressed hotels and resorts that prohibit Hijabi women from swimming in the burkini as alleged by complaints by guests.
The complaints were reportedly received through online platforms for the Egyptian Cabinet and its hotlines, Head of Hotels and Hospitality Authority Abdel Fatah El Assy told Masrawy.
Assi affirmed that this statement is known to be released on a regular basis during the summer to secure guests' rights in enjoying their stay.
Although similar official statements have been made since 2017, some hotels and resorts still insist on banning women with headscarves from using swimming pools while wearing the consvertaive swimwear.
The hotels argue that they are private entities that have the right to have their own set of regulations.
https://www.arabnews.com/node/1545891/middle-east
--------
SIS: Court's Fatwa Challenge Refusal Dark Moment for Malaysia, Women's Rights
27 August 2019
BY IDA LIM
KUALA LUMPUR, Aug 27 — The High Court's decision today that it had no power to hear Sisters in Islam's (SIS) challenge against a 2014 Selangor fatwa is "damning" for Muslim women and a dark moment for Malaysia, the women rights advocacy group said.
SIS executive director Rozana Isa said the High Court's ruling is a "very damning decision on women's rights, on women's voices, on Muslim women and on Malaysians in general".
"The fact it has gone a step further to lift the corporate veil, I think it is something that all Malaysians should be aware of. Because what are the standards for this?
"Even lifting the corporate veil for a fraud case has very high standards, and what are the standards that have been applied to SIS?" she told reporters immediately after the High Court's decision.
High Court judge Datuk Nordin Hassan had dismissed SIS' legal challenge solely by ruling that the civil courts had no jurisdiction to decide on the case, and that SIS should instead head to the Shariah courts to challenge the fatwa.
The judge went on to provide his views on other legal points, saying that the Selangor fatwa applies to SIS Forum (Malaysia) even if it was just a company.
Companies and their directors are usually considered separate legal entities, but the judge said justice in this case requires this corporate veil to be lifted.
While acknowledging the company SIS is an "artificial legal person", the judge said its directing minds are Muslims and their activities touch on Islamic law which the fatwa is applicable on.
SIS' lawyers had previously argued that the fatwa cannot be applied on the company, as the company does not fall within the category of "persons professing the religion of Islam".
SIS' lawyers had also argued that state governments' powers under the Federal Constitution to make Islamic laws only cover persons professing the religion of Islam and do not extend to companies.
Today, Rozana said SIS would still continue to advocate for women.
"We are definitely very disappointed with the decision, however I cannot say I'm surprised. But the fight continues, we will forge on with our work.
"Whatever is said about SIS, the raison d'être is, at the end of the day, we are here for Muslim women and women rights," she said.
She thanked those who turned up to support SIS today, adding: "But I think we are really, really looking at very dark hours for Malaysia just before Merdeka after 61 years, it's a very sad moment."
Asked if SIS would appeal today's decision or pursue its legal challenge in the Shariah courts, Rozana said these options will be discussed with SIS lawyers.
SIS has been engaged in a legal tussle over the past five years to challenge the constitutionality and legality of how the fatwa was made.
The fatwa accuses SIS which operates via SIS Forum (Malaysia) of being "deviant".
The Selangor fatwa, which was gazetted on July 31, 2014, singles out SIS Forum (Malaysia) in a sweeping declaration that the organisation and any individuals, organisations or entities holding on to "liberalism" and "religious pluralism" are deviant from Islamic teachings.
The 2014 fatwa also declares that any published materials with elements of liberalism or religious pluralism are haram (forbidden to Muslims) and can be confiscated, and instructs the Malaysian Communications and Multimedia Commission (MCMC) to block social websites that go against Islamic teachings and Islamic law.
The fatwa or religious edict also declares that any individual holding on to liberalism and religious pluralism should repent and return to the path of Islam.
On October 31, 2014, SIS Forum (Malaysia), the group's co-founder Zainah Anwar and Datuk Zaid Ibrahim had filed a judicial review application over the fatwa against the Selangor Fatwa Committee, the Selangor Islamic Religious Council (MAIS) and the Selangor state government.
In SIS' legal challenge, it had asked the civil courts to declare the 2014 fatwa as being unconstitutional and being in breach of federal laws and a state law.
SIS had argued that the fatwa was made in breach of the Printing Presses and Publications Act's Section 7; the Communications and Multimedia Act's Section 3(3); and Section 51 of the Administration of the Religion of Islam (State of Selangor) Enactment 2003 for not following procedures; as well as the Federal Constitution's Articles 10, 11, 74, and List I and List II of the Ninth Schedule.
SIS had also applied for the civil courts to declare that SIS as a company or others not able to profess the religion of Islam should not be subject to the Selangor religious authorities' jurisdiction, as the latter has powers only over "persons" professing the religion of Islam.
https://www.malaymail.com/news/malaysia/2019/08/27/sis-courts-fatwa-challenge-refusal-dark-moment-for-malaysia-womens-rights/1784769
--------
Hafsah Sharif, the Muslim Teen Started Her Own Gym Classes for Women Who Wear Hijabs
BY BALMIYA OSANA
AUGUST 27, 2019
Hafsah Sharif loves working out – but when she first started on her fitness journey she found it challenging because of her hijab.
The 19-year-old wanted to remove her hijab so she could work out, but she chooses to wear the headscarf in front of men who aren't her relatives – so gyms and fitness classes were tricky.
She knew that this problem was affecting other women in her community and she wanted to do something about it, so last year she set up women-only classes to provide a safe space for Muslim women to get fit comfortably.
'My relationship with fitness and exercise began during a stressful period in my life,' Hafsah tells us. 'The pressure of exams was getting the better of me, causing a myriad of health problems.
'It was then that I found the one thing that consistently cleared my mind, balanced my moods, and made me feel stronger, was exercising.
'As clichéd as it sounds, exercising really can become a form of therapy, it's just a matter of finding the class or the sport that you enjoy.'
Last year, Hafsah approached Southampton Council's Youth Forum with a desire to find a space for Muslim women to exercise, but she has since found that female-only spaces in fitness have a much wider appeal.
'It began when I wanted to start taking exercising seriously myself but realised there was not a lot available to me that accommodated my hijab. However, I quickly realised that this problem wasn't exclusive to just Muslim women,' explains Hafsah.
'During puberty, there is a sharp decrease in the number of girls participating in sport, as they feel uncomfortable in their bodies, but these kinds of insecurities can occur at any age and I believe that having a safe, positive environment to work out in, where women can encourage one another, is the most effective way to motivate yourself to exercise.
'We decided to do a "This Girl Can Southampton" campaign during the month of September, to not only provided a whole range of women's-only classes from Pilates to kickboxing, but to also connect women like me throughout the city, so that they could form their own support networks to encourage each other on their fitness journeys.'
Women often report that gyms can be quite hostile spaces, and that they don't always feel safe and confident. So it is no wonder that the women's-only classes were an instant hit.
'The reaction was so positive,' says Hafsah. 'Throughout the month of September, we recorded the responses towards the campaign through questionnaires, and the information we collected confirmed my belief that if women's-only classes were available, the majority would prefer to attend those, regardless of their religion or culture.'
So beyond the practicalities of wearing a hijab, there definitely seems to be a much larger demand for women's-only classes.
According to Sport England, 40% of women say that they are put off from exercise altogether because of a fear of judgement, and black and Asian women are the groups least likely to get enough physical activity every week.
Hafsah wants to change this, and she thinks that creating accessible spaces for women to exercise without these external pressures and the presence of men could be a huge step forwards.
'Exercise is known to have countless health benefits, not only physically but also mentally, which is why I believe that exercise is so important for everyone,' says Hafsah.
'Minorities, like Muslim women, are often overlooked, but having things like women's-only classes or gyms serves as an acknowledgment of their struggle (however small or large it may be to the individual).
'This is something that is so precious to a group of women who so often feel ignored, unless it's in a negative capacity.
'Following the #MeToo movement, we have finally been forced to confront the ugly truth about the everyday harassment women endure, which just reinforces the importance of having safe spaces for women where they can go to exercise without feeling uncomfortable.'
For Hafsah, not having to worry about her hijab allows her to focus solely on her workout and put all of her efforts into getting fit, without any distractions.
'It's not only freeing,' she says, 'but also therapeutic, as it allows me to clear my head and just focus on the exercise.
'Due to the success of our first campaign we're hoping to make it an annual event.
'Apart from just the month of September, I hope that the positive response we have received will serve as an example to different fitness centres and organisations that there is a demand for women's-only classes, and that it becomes the norm for gyms to provide safe spaces for women all the time.'
https://itzagoal365.com/latest-world-soccer-news/this-muslim-teen-started-her-own-gym-classes-for-women-who-wear-hijabs/
--------
Triple Talaq: Muslim Women Coming Out In Large Numbers to File Firs In UP
Aug 27, 2019
LUCKNOW: Uttar Pradesh is witnessing a spurt in triple talaq cases, with 216 FIRs filed by Muslim women since the enactment of a law which makes the practice of instant divorce a punishable offence.
The maximum number of 26 such cases have been registered in Meerut followed by Saharanpur and Shamli where 17 and 10 FIRs have been lodged respectively, a senior police official told PTI on Tuesday.
These three places in western Uttar Pradesh have a sizeable Muslim population.
"In UP, women given triple talaq are coming out in large numbers to register FIRs against their husbands. Within three weeks (till August 21) of implementation of the Muslim Women (Protection of Rights on Marriage) Act, 2019, as many as 216 FIRs have been filed in the state so far," he said.
In eastern Uttar Pradesh, the highest number of 10 FIRs were registered in Prime Minister Narendra Modi's constituency - Varanasi.
The main causes of triple talaq are dowry, property dispute and domestic violence as per the FIRs lodged.
However, except in two-three cases, no arrest has so far been made in the over 200 cases lodged.
In a bid to ensure effective implementation of the Act, the Uttar Pradesh Police is contemplating to arrest the accused.
"To ensure that the Act is followed in letter and spirit and justice is given to Muslim women, we are examining as to why we should not arrest those involved in giving triple talaq. We will be doing that in some districts," Director General of Police OP Singh told PTI.
He said very soon the police will also be going for "impact analysis" to ensure justice to Muslim women.
"Very soon, we will be calling a few sample cases to assess the impact to ensure justice to the victim women," he said.
Some triple talaqs have been given over phone, through SMS or directly to women.
In a case in Lucknow, a man allegedly gave triple talaq to his wife right inside civil court premises in the presence of her advocate after she refused to accept a chewing gum from him, police said.
30-year-old Simmi of Amrai village was divorced by her husband Syed Rashid where she had gone for the hearing of a case of dowry harassment she had lodged earlier against her in-laws.
The woman was talking to her advocate when her husband offered her a chewing gum which she refused, throwing Rashid into a fit of rage so much so that he divorced his wife, uttering talaq three times then and there itself.
In Banda, a woman was given triple talaq by her husband over phone, while in Barabanki a woman was given triple talaq through SMS.
In another case, a man divorced his wife allegedly to escape from the responsibility of providing treatment to their physically challenged daughter.
In a separate case, a woman alleged that her husband had ended their two-year-old marriage by pronouncing triple talaq over phone as she had a dark complexion.
In yet another case, a man allegedly divorced his wife in full public view in her village market in Unnao district using the outlawed custom and mocking at the new law that declares the oral diktat a penal offence.
The triple talaq law came into effect retrospectively from September 19, 2018, after President Ram Nath Kovind gave his assent to the legislation that makes giving instant oral triple talaq or talalq-e-biddat a criminal offence with provisions of jail term up to three years.
The new law makes void and illegal talaq-e-biddat or any other similar form of talaq having the effect of instantaneous and irrevocable divorce pronounced by a Muslim husband.
It also makes it illegal to pronounce talaq three times in spoken, written or through SMS or WhatsApp or any other electronic chat in one sitting.
The law says any Muslim husband who pronounces the illegal form of talaq upon his wife shall be punished with imprisonment for a term which may extend to three years, and shall also be liable to fine.
The aggrieved woman is entitled to demand a maintenance from her husband for herself and her dependent children under the Act.
https://timesofindia.indiatimes.com/india/triple-talaq-muslim-women-coming-out-in-large-numbers-to-file-firs-in-up/articleshow/70853474.cms
--------
Bhartiya Muslim Mahila Andolan Seeks Family Law
AUG 27, 2019
NEW DELHI: A Mumbai-based Muslim women's body has urged the government to bring in a Muslim family law to "uphold gender justice and gender equality" for women in the community and also take measures to effectively implement the law that made triple talaq a criminal offence.
The Bhartiya Muslim Mahila Andolan (BMMA), which made the demand, was one of the co-petitioners with Shayara Bano against triple talaq in the Supreme Court, which in 2017 declared the practice unconstitutional. In a letter sent to Union law and justice minister Ravi Shankar Prasad last week, the women's organisation said even as the campaign against the abolition of triple talaq was successful with the passage of the Muslim Women (Protection of Rights on Marriage) Bill, issues such as polygamy, halala and age of marriage still remained "unsolved".
"We believe that the Parliament of India must pass a Muslim family law to uphold gender justice and gender equality for Muslim women," said the letter, a copy of which ET has seen. As much as 91.7% women who had responded to a BMMA survey had spoken out against polygamy, and 72.9% had said polygamy should not be allowed with or without consent from the first wife, the organisation's founder, Zakia Soman, wrote in the letter.
The survey, she said, covered Maharashtra, Gujarat, West Bengal, Karnataka, Bihar, Tamil Nadu, Madhya Pradesh, Rajasthan, Jharkhand and Odisha. "This law (Muslim family law) should enable legal justice for Muslim women at par with Hindu and Christian women who have got justice through the Hindu Marriage Act and other family laws passed by Parliament," Soman said in the letter.
https://economictimes.indiatimes.com/news/politics-and-nation/muslim-womens-body-seeks-family-law/articleshow/70851540.cms
--------
Women Rights Group Says Defamation Law Being Used As 'Silencing Tool'
Aug 27, 2019
The Women's Action Forum (WAF) on Monday called for the decriminalising of defamation, saying the law is used "as a silencing tool".
Titled "Stop Using Criminal Defamation as a Silencing Tool," the statement issued by WAF detailed the current environment around the cases of sexual violence, including assault and harassment, and how an air of fear has spread for survivors who already have to muster courage to speak up about the abuse they faced.
The statement said the WAF's Karachi chapter has witnessed "an alarming rise in the registration of criminal defamation cases against individuals speaking or reporting on specific incidents of harassment, assault and rape".
According to WAF, the defamation laws are creating panic and making women and allies speaking about sexual violence uneasy over the possibility of being slapped with defamation cases.
"This is resulting in a chilling effect and is adversely silencing victims/survivors, and all those engaging in public discourse on the issue of sexual harassment and violence," the statement added.
The WAF noted that those who were facing legal repercussions through defamation cases — and their own cases being postponed or not given the required attention — included "those speaking about their experiences, anyone expressing support, commenting on a public issue and reporting on this in a professional capacity".
Speaking of the Protection against Harassment of Women at Workplace Act, 2010, the women's group underscored that it was introduced also to also "enable women to step forward and break the culture of silence and stigma attached to this issue".
However, using defamation cases to silence or attempt to censor those who speak or debate publicly and share their views on cases filed under the aforementioned act "prevents aggrieved parties from considering even legal recourse available to them".
The WAF further called out how the Federal Investigation Agency (FIA) and the courts take "instant action" on defamation cases filed by alleged sexual harassers and sexual abusers, which was "in stark contrast to the apathetic response to complaints made by women facing harassment".
In fact, it added, "in some cases, bailable arrest warrants have been issued by sessions courts and in others, summons upon summons by the FIA, launching investigations into these complaints of alleged defamation" whereas actual harassment and abuse cases — that need urgent attention remain "pending before courts and the FIA" and "not given the same priority".
The statement noted: "Several complaints are pending against the FIA and its officers before the National Commission Human Rights, under Section 22-A of the CrPC and Article 199 for non-registration of complaints or negligence in cases where the complainant is a woman.
"Yet strangely enough, in recent complaints of defamation, the FIA has been quick to act," the WAF highlighted, adding that some complaints were getting precedence and victims and survivors were forced to face red-tapeism.
The group also spoke of how it was extremely unjust to see that criminal defamation was "weaponised and used as a silencing tool", which, it said, was counter-productive.
"WAF also observes the unfairness of how one party is gagged by the courts while the other is free to propagate their side of the story whether in the media or on social media," the statement noted.
The WAF divided into two broad categories its remedies to make the environment safer and securer for the victims and survivors to speak up about sexual violence and not have to worry about legal repercussions.
First off, it demanded that the defamation be decriminalised. It asked that Section 20 of PECA and Section 499 and 500 of the PPC be repealed and the Defamation Ordinance 2000 be amended to make sure it was not used to threaten individuals exposing cases of harassment or sexual violence.
The second demand the WAF made was to compel the FIA to handle complaints fairly and "individuals exposing cases of harassment or sexual violence". It also called for public accountability and transparency around processing of complaints and progress of cases, as well as to "restrain FIA from acting unlawfully".
https://www.pakistantoday.com.pk/2019/08/26/women-rights-group-says-defamation-law-being-used-as-silencing-tool/
--------
Sri Lankan Islamic Clerics Seek Clarity on Face Veil Ban
August 27, 2019
COLOMBO, Sri Lanka: Islamic clerics in Sri Lanka asked Muslim women on Tuesday to continue to avoid wearing face veils until the government clarifies whether they are once again allowed now that emergency rule has ended four months after a string of suicide bomb attacks.
Clerics are wary of the Muslim community being targeted again for violence, as it was in the aftermath of April's Easter Sunday attacks that killed more than 260 people, said Fazil Farook, spokesman for All Ceylon Jammiyyathul Ulama, Sri Lanka's largest group of Islamic clerics. Two local radical Muslim groups have been blamed for the attacks.
Farook urged Muslim women not to rush into wearing their veils again.
"They have managed in the past and we are asking them to do it the same way," Farook said adding some women have refused to come in public without covering their faces because they had accustomed to it.
After the Easter attacks on three churches and three tourist hotels, Sri Lanka's government brought the country under emergency rule, giving sweeping search, arrest and detention powers to the military and police. President Maithripala Sirisena also used the emergency law to issue a decree banning covering faces in all manners, including face veils.
Emergency rule had been extended each month until last week, when Sirisena allowed the law to lapse. He issued a separate order allowing the military to maintain peace.
In the wake of the Easter attacks, gangs mostly from majority Sinhalese community attacked mosques and Muslim-owned shops, killing at least one person. Muslims also were subjected to hate speech in public and on social media.
Farook said clerics were asking the Muslim community to remain calm.
"(Think of) what happened in the past and don't allow racial elements to take things to another level," he said.
https://www.arabnews.com/node/1545861/world
--------
Saudi Women's Bowling Team Get Ready for Trios
August 27, 2019
LAS VEGAS: The Saudi women's national bowling team are getting ready for the trios at the World Bowling Women's Championship in Las Vegas, after disappointing performances in the singles and doubles events.
There are six Saudi players competing in the US. Mashael Al-Abdulwahid achieved the best result, ranking 74th out of 84 competitors in the singles, followed by Ghada Nimir who ranked 77th out of 92 in her squad at the South Point Bowling Plaza.
Nahla Adas and Mariam Aldoussari competed in the doubles, placing 41st out of 46. Amani Al-Ghamdi and Hadeel Termein ranked 44th. In the second group, Al-Abdulwahid and Nimir ranked 37th out of 44.
The team's coach, Mario Joseph, said the players had come a long way in a short period of time and that their presence at the event would develop their skills and motivate them further.
"What is required of the players is to present a positive image of the Kingdom's national team, and benefit from being in contact with professional players, enjoy the game and develop their sportsmanship. This is what they did, and I am very happy with them and for them," he said.
The Saudi women's bowling team joined three local tournaments in 2018, four open tournaments in the Kingdom in 2019, and the Arab Bowling Championship in Egypt in February this year.
Razan Baker, a board member of the Saudi Bowling Federation, said last month that international championships had a great psychological impact on athletes.
https://www.arabnews.com/node/1545706/sport
--------
URL: https://www.newageislam.com/islam-women-feminism/bangladesh-top-court-orders-virgin/d/119579
New Age Islam, Islam Online, Islamic Website, African Muslim News, Arab World News, South Asia News, Indian Muslim News, World Muslim News, Women in Islam, Islamic Feminism, Arab Women, Women In Arab, Islamophobia in America, Muslim Women in West, Islam Women and Feminism