New Age Islam News Bureau
1 March 2017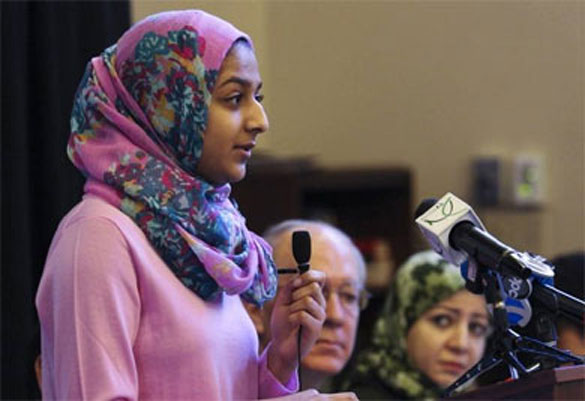 Samia Abdul-Qadir, a junior at Naperville North, recently talked about being harassed at school during a discussion hosted by Congressman Bill Foster at the Islamic Centre of Naperville. Bev Horne | Staff Photographer
---------
• Women, Child Migrants Raped, Beaten and Detained In Libya
• UN Documents Nearly 1,500 Child Soldiers in Yemen
• Teen Attending Trump Speech Sees Herself as Reminder That Muslims Are Americans
• In conversation with Emirati women who have been making the country proud
Compiled by New Age Islam News Bureau
URL: https://newageislam.com/islam-women-feminism/bangladesh-child-marriage-law-sparks/d/110246
---------
Bangladesh child marriage law sparks criticism
01-Mar-17
DHAKA: Rights groups on Tuesday criticised a controversial new child marriage law in Bangladesh which allows children as young as 14 to be married off by their parents.
Parliament passed the Child Marriage Restraint Act on Monday night, replacing a law dating back to the British colonial period.
The new law keeps the minimum marriageable age for males at 21 and for females at 18 but relaxes the age bar for "special circumstances" including for girls who elope, are raped or bear children out of wedlock.
Rights groups have criticised the law, saying it would jeopardise the gains Bangladesh has made in cutting the levels of child marriage and improving the health of women and children.
"The biggest concern is the law has not set any minimum marriage age for special circumstances, meaning children can be married off at the age of 14-15," said Nur Khan Liton who represents the Child Rights Advocacy Coalition in Bangladesh.
The coalition, which includes international charities such as Save the Children, Action Aid, national charities and rights groups, said the law could be abused and poses a "risk" to children.
But a ruling party lawmaker who heads parliament's committee on women's and child affairs, said it reflects the reality in villages where 70 percent of Bangladesh's 160 million people live.
"We have taken into account the opinion of the UNICEF and other experts," said Rebeca Momin, adding the law also toughens penalties for people violating the minimum marriage age.
She said the special circumstances in the law are aimed at protecting the rights and giving dignity to children born out of wedlock.
Despite making impressive gains in many social indicators in recent decades, child marriage remains rampant in the conservative Muslim-majority country. The previous child marriage law was widely ignored as parents in many poor districts were found to have married off their daughters at the age of 14.
Bangladesh has one of the world's highest rates of child marriage and the highest rate in Asia, with 52 percent of girls marrying before 18 years of age and 18 percent married before they turn 15, according to one set of statistics.
"Weakening the law is a setback for the fight against child marriage, and sends a message to parents ... that the government thinks child marriage is acceptable in at least some situations," Heather Barr of Human Rights Watch wrote after the cabinet approved the law last December.
http://dailytimes.com.pk/world/01-Mar-17/bangladesh-child-marriage-law-sparks-criticism
---------
Women, Child Migrants Raped, Beaten and Detained In Libya
March 1st, 2017
LONDON - Women and children making the dangerous journey to Europe to flee poverty and conflicts in Africa are being beaten, raped and starved in "living hellholes" in Libya, the United Nations children's agency (UNICEF) said on Tuesday.
The Mediterranean Sea between Libya and Italy has become the main crossing point for asylum seekers and economic migrants seeking a better life in Europe, after a clampdown on sea crossings from Turkey. There were a quarter of a million migrants in Libya as of last September, most of whom languish in unsanitary, disease-ridden detention centres which UNICEF described in its report as "no more than forced labour camps ... and makeshift prisons".
Armed groups have taken effective control of official detention centres for migrants amid the political chaos that now reigns in Libya and they also run their own centres, competing and cooperating with criminal gangs and smugglers, according to the UN.
"For the thousands of migrant women and children incarcerated, (the centres) were living hellholes where people were held for months," the UNICEF report said on Tuesday. In interviews with more than 100 women and children, nearly half said they had been raped or abused several times during their journey, it said. Most of the children said they were beaten by adults along the way, with girls suffering more abuse than boys.
"Here (in the detention centre) they treat us like chickens. They beat us, they do not give us good water and good food," said Jon, a 14-year-old boy who travelled alone from Nigeria to escape the militant group Boko Haram. "So many people are dying here, dying from disease, freezing to death," he was quoted as saying in the report.
UNICEF said women and unaccompanied child migrants rely on people smugglers to get to Europe, often under a "pay as you go system", leaving them vulnerable to exploitation, trafficking and violence, including prostitution and rape. Smugglers typically demand thousands of dollars from migrants for a risky journey across the desert before cramming them onto ill-equipped boats for a perilous crossing of the Mediterranean.
"The route is mostly controlled by smugglers, traffickers and other people seeking to prey upon desperate children and women who are simply seeking refuge or a better life," said Afshan Khan, head of UNICEF's refugee operations in Europe. Having largely closed off sea crossings between Turkey and Greece last year, the European Union is searching for ways to stem the flow of migrants from Libya. This month European leaders offered Libya money and other assistance to try to reduce the numbers departing across the Mediterranean. Aid groups criticised the move, saying such plans exposed migrants to further risks and abuses within Libya.
Last year, a record 181,000 migrants crossed between Libya and Italy, the UN's migration agency reports. More than 4,500 people drowned, and at least 700 were children, UNICEF said.
"Children should not be forced to put their lives in the hands of smugglers because there are simply no alternatives," said Khan in a statement.
"We need to address globally the drivers of migration and work together toward a robust system of safe and legal passage for children on the move, whether refugees or migrants."
http://nation.com.pk/international/01-Mar-2017/women-child-migrants-raped-beaten-and-detained-in-libya
---------
UN Documents Nearly 1,500 Child Soldiers in Yemen
March 1st, 2017
Nearly 1,500 children have been recruited by Yemen's warring parties, mostly the Shiite Huthi rebels, since March 2015, the United Nations said on Tuesday.
The UN has verified the recruitment of 1,476 children, all boys, between March 26, 2015 and January 31, 2017, said a statement by the spokesperson for the UN High Commissioner for Human Rights, Ravina Shamdasani.
"The numbers are likely to be much higher as most families are not willing to talk about the recruitment of their children, for fear of reprisals," she said.
"Just last week, we received new reports of children who were recruited without the knowledge of their families," she said, adding that children under 18 are either being "misled or attracted by promises of financial rewards or social status".
The Iran-backed Huthis and their allies overran the capital Sanaa in 2014 before sweeping south, forcing the internationally recognised government to flee.
The war escalated in March 2015 when a Saudi-led Arab coalition began a military campaign against the rebels in support of President Abedrabbo Mansour Hadi.
"We remind all parties to the conflict that the recruitment and use of children in armed conflict is strictly forbidden by international human rights law and international humanitarian law," said Shamdasani.
The recruitment of children under 15 "may amount to a war crime," she added.
"We urge them to immediately release such children."
Meanwhile, rights group Amnesty International accused the Huthis of "actively recruiting boys as young as 15".
It cited witnesses speaking of financial incentives to families, including monthly salaries ranging between $80 and $120 for every family of a child "martyr".
"It is appalling that Huthi forces are taking children away from their parents and their homes, stripping them of their childhood to put them in the line of fire where they could die," said Samah Hadid, Deputy Director at Amnesty's Beirut regional office. Amnesty documented the cases of four boys taken in mid-February, saying that their families later received news that their sons were at an unnamed location on the border with Saudi Arabia.
Shamdasani said 4,667 civilians had been killed in the conflict since March 2015, with 8,180 wounded.
In total, the UN says that more than 7,500 people have been killed in the war and 40,000 wounded.
http://nation.com.pk/international/28-Feb-2017/un-documents-nearly-1-500-child-soldiers-in-yemen
---------
Teen attending Trump speech sees herself as reminder that Muslims are Americans
March 01, 2017
Samia Abdul-Qadir, speaking hours before she would watch President Donald Trump give his first address to the joint houses of Congress Tuesday night, said she hoped the new president would speak about the value of religious freedom.
The Naperville teenager will be seated in the gallery above the president during his speech, attending at the invitation of U.S. Rep. Bill Foster, D-Naperville.
"It's definitely an honor," said the junior at Naperville North High School of her trip to Washington, D.C., this week.
Although she's been to the nation's capital on school trips, the opportunity to be part of the process will be a far different experience.
"This is a once-in-a-lifetime opportunity I'll always remember," Samia said.
Foster said he chose Samia because of her eloquence in speaking at his recent community discussion at the Islamic Center of Naperville on the local effects of the president's attempts to ban travel from several Muslim-majority countries. He said he also was impressed by her courage and conviction.
Samia spoke of the challenges she has experienced as teen who is Muslim, including being told she looks like a terrorist because she wears a hijab.
Many Democrats have invited immigrants and foreigners in an effort to put a face on those who could be hurt by the administration's policies.
Foster said when the president looks to the seats above the House floor, he will see Samia.
"Diversity is part of the message. America, in truth, is a diverse nation," he said.
The Democratic Party welcomes people of all colors and religious backgrounds, he said.
"I'm proud to be a part of that group. I think it contributes to our strength," he said.
Samia doesn't necessarily see herself as a political statement.
"I don't represent the entire Muslim community," she said.
The teenager said her presence is more of a reminder.
"We are here, and we're real Americans, and we have a voice," she said.
Samia said she'd like assurances from the president in his speech that her religious freedoms are valued.
Soon after taking office, Trump issued an executive order temporarily banning all entry into the U.S. from seven Muslim-majority nations, which paused the entire U.S. refugee program. The order sparked worldwide confusion about who was covered by the edict, with thousands gathering at airports and in other settings to protest. An appeals court blocked the order.
Trump has said he will issue another order along similar lines. He also has expanded the range of immigrants living in the country illegally who have become a priority for removal. The president has argued the steps are necessary to protect the nation.
Foster said that while he will give Trump the correct respect that should be awarded to any president making an address before Congress, "I will never respect his policies."
Samia said it's important for all high school students to become knowledgeable of the issues even if they aren't old enough to participate in the election process.
"It lays a good foundation for when you are able to vote," she said.
Foster noted that Samia, who will be 17 next year, will be eligible to vote in congressional races.
"It's not too early for people like Samia to get involved," he said.
The Naperville North student is very active in her school community.
Besides serving as a member of the junior class executive board, Samia is an academic tutor and works on the student board that plans the curriculum for Naperville North's first class, the monthly discussions aimed at providing life skills and fostering respect among students.
She's also a member of the school's Science Olympiad team, something close to the congressman's heart. Foster is the only scientist who is a member of Congress.
Samia is also ranked nationally in the U.S. Fencing Association. She dreams of one day competing in world competitions like her hero Ibtihaj Muhammad, the first Muslim-American woman to wear a hijab while competing for the United States in the Olympics.
http://www.chicagotribune.com/suburbs/naperville-sun/news/ct-nvs-naperville-girl-at-congress-st-0301-20170228-story.html
---------
In conversation with Emirati women who have been making the country proud
Farhana Chowdhury
February 28, 2017
The UAE provides a safe and nurturing environment for women to empower and excel
While the world debates about gender equality, the UAE already has a pro-women environment that extends across various spectrums from politics and science to business and economy.
According to the recent World Economic Forum, the UAE tops the list for treating women with respect. Here's a look at some Emirati women who have been making the country proud:
Advocate of leadership
Shamsa Saleh, CEO, Dubai Women Establishment
In a bid to improve the lives of women across the country, Shamsa Saleh climbed the ranks to lead the Dubai Women Establishment as the CEO. She had given rise to a number of projects such as the Women Leadership Exchange Programme, The National Child Care Centre Project, and the Arab Women Leadership Forum, to name a few, which encourage women to take part in decision-making roles and actively contribute towards society.
Quote: "I think government bodies such as Dubai Women Establishment and the UAE Gender Balance Council are playing a big role in creating an environment where women have the opportunities and support their need to pursue building their careers in the business world." - Shamsa Saleh.
Need for speed
Nahla Al Rostamani, Licensed racer
Nahla's interest in Formula One dates back to childhood. While other girls frolicked with dolls, she set her sight on conquering the tracks. Despite the negativity and isolation she faced in a male-dominated sport, she successfully earned her racing licence as the first Emirati woman to do so and was one of the best drivers on the field. Her stints in Dubai Autodrome and Yas Circuit later earned her another first, the timekeeper's licence, and a chief timekeeper and deputy circuit manager, respectively, that allows her to time races officially.
Quote: "At every event I am the only female among who knows how many males. I am very strict and professional. Everyone thinks that it's a man's world and no female should be in such an environment. But if somebody says something to me I just say, 'Well, that's your opinion.' I do get upset, but I take it as a challenge. I think: 'I will prove you wrong'." - Nahla Al Rostamani
Thuraya Hamad Al Zaabi, Paralympics athlete
Anything is possible with the right dose of determination, and that's what Thuraya did to overcome her disabilities. She was left paralysed after a stroke at the age of 29 but retained hopes of leading a normal life, as she actively followed her passion for sports to become the first Emirati Paralympics athlete. She has competed in a number of national and international competitions, including the recent IPC Athletics World Championships in Qatar.
Quote: "Sport is the soul; that is how I call it. My disability never stopped me from being a sportswoman. I found that javelin throwing and shot put are suitable for my case, although they are not easy sports. My wish is to be the ambassador of my country to international events, to present the good image of the Emirati girl: smiling, successful, and loving." - Thuraya Hamad Al Zaabi
Dr Habiba Al Safar, Director of Khalifa, Medical University and Assistant Professor at Biomed Engineering
With an education background in biochemistry and medical engineering, Dr Habiba found her passion for research while doing her PhD, which led her to realise a pressing concern plaguing residents in the country, Type 2 diabetes. In 2011, she set up the first diabetes registry in Khalifa University and embarked on a journey to identify the genetic and environmental risk factors associated with the lifestyle disease. She received the L'Oreal-UNESCO Fellowship Award for Women in Science in 2014 and was included in the Nobel Prize: Ideas Changing the World exhibit in 2015 conducting the first genome-wide association study of the UAE Bedouin population.
Quote: "It is not difficult at all to be a woman scientist in the UAE. Women here are succeeding as doctors, pilots or in the Government. This is because of the Government's support that women can accomplish so many things and overcome the obstacles. A woman can be a mother, a wife and a sister, and achieve many things. The scientific community is supportive." - Dr Habiba Al Safar
Sheikha Lubna bint Khalid Al Qasimi, Minister of State for Tolerance
The first woman to hold position as a government minister in the UAE, Sheikha Lubna continues to lead as the World's Most Powerful Arab Woman for six consecutive years, according to an annual list compiled by Arabian Business.
She was elected the Minister of Economy in 2004, and took on roles as the Minister of Foreign Trade in 2008, and Minister of International Cooperation and Development between 2013 and 2016. Her endeavours extend beyond promoting the role of women in society, as she is also a board member of the Emirates Foundation for Youth Development and Emirates Nuclear Energy Corporation in the UAE, Governing Board of Lee Kuan Yew School of Public Policy at the National University of Singapore, to name a few.
Quote: "The UAE has established itself as a role model for the region in this field, opening the door for women to invest in business and establish their own enterprises. Today, we have thousands of businesswomen running investments worth billions of dirhams. We look forward to sharing our experience and insights with participants at this important global event," - Sheikha Lubna Al Qasimi, at the High-Level Panel on Women's Economic Empowerment held in Dubai, a first of its kind in the MENA region.
Amna Al Haddad, Weightlifter
What started out as a solution to get fit transformed into a lifestyle for Amna. Her journey began at a tender age of 19 when she decided to put an end to an unhealthy way of life and stepped up well-being with jogging and CrossFit. Few sessions later she competed in the CrossFit Games Asia Regionals in South Korea to become the first Emirati to represent the country in the sport. Her love for weightlifting shone through and earned her a spot in the recent Rio Olympics 2016 after four years of training. Currently part of Nike's latest campaign, Inner Strength, she is signed to the Nike Women's Team and aims to inspire young women to take up sport and excel in their goals.
Quote: "When I first started my fitness journey, I was an unhappy person. I wanted to make a change. I was like, Amna you can do much more than this, you can be better than this, and that's when things changed for me."
- Amna Al Haddad
"People will always have an opinion about what you do. don't let that bother you.
It is your life, you can do whatever you want."
- Amna Al Haddad
Honourable mention to Hanifa Taher Al Blooshi, (UAE), Assistant Professor at the Chemical and Environmental Engineering Department at Masdar Institute for her research to design a novel system for enzymatic biodiesel production.
http://www.khaleejtimes.com/uae-khaleej-times-dubai-emirati-women
---------
URL: https://newageislam.com/islam-women-feminism/bangladesh-child-marriage-law-sparks/d/110246
New Age Islam, Islam Online, Islamic Website, African Muslim News, Arab World News, South Asia News, Indian Muslim News, World Muslim News, Women in Islam, Islamic Feminism, Arab Women, Women In Arab, Islamophobia in America, Muslim Women in West, Islam Women and Feminism