New Age Islam News Bureau
4 Aug 2014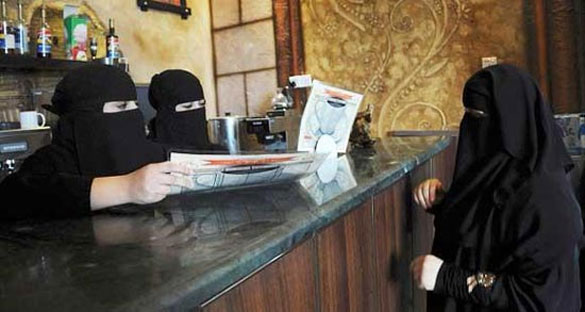 Veiled Saudi women work at a coffee shop in Tabuk, 1500 km from Riyadh, in this November 30, 2013 file photo. (Reuters)
---------
• Nigeria's Kano Bombings Traced to Female Beggars
• 'God Bless Hamas': Woman Seen Demonstrating In New York
• Iran Ready to Help Muslim Women's Economic Empowerment
• Abuse Tolerated By 'Good Wives' In Some Migrant Communities
• Saudi Female Academics Praise the King for His Call to Combat Terrorism
• Saudi Nurses Still Tackling Stereotypes
• Firms to Provide Female Saudi Staff with Transport
Compiled by New Age Islam News Bureau
URL: https://newageislam.com/islam-women-feminism/bangladesh-2nd-among-south-asian/d/98418
------------
Bangladesh 2nd among South Asian countries to ensure breastfeeding
Aug 4, 2014
Bangladesh with a rate of 64%, has emerged second among the South Asian countries in achieving the global target of Exclusive Breastfeeding (EBF) to children up to the age of six months.
World Health Organization (WHO) has set a global target of 50% for EBF.
The rate is 46.8% in India, 37% in Pakistan, 50.5% Maldives, 53% in Nepal, 59.5% in Bhutan and 75.8% in Srilanka.
Promotion of EBF for the first six months of life has been estimated to be the most effective preventive strategy for saving the lives of young children in low-income families, and can contribute towards the Millennium Development Goal 4 of reducing child mortality.
According to Bangladesh Demographic Health Survey 2011, currently, the breastfeeding rate is 47% within the first hour of birth while 92% among the children aged from zero to two.
WHO recommends to start exclusive breastfeeding within one hour of birth and continue until a baby is six months old. The survey also shows that one in every 19 child in the country die before reaching the age of five and
20% of these deaths can be prevented if EBF is ensured.
Dr SK Roy, chairperson of Bangladesh Breastfeeding Foundation (BBF), told the Dhaka Tribune that although Bangladesh has surpassed the global target of EBF, it is still far behind in terms of ensuring Infant and Young Child Feeding (IYCF).
IYCF is the introduction of nutritionally-adequate and safe complementary (solid) foods at six months together with continued breastfeeding up to two years of age or beyond, a right that currently around 80% children of the country are deprived of.
As a result, the number of children withstunted growth in the country was on the rise.
The survey indicates that 41% of the children aged under five were underdeveloped because of malnutrition. Among them 15.3% were found to be severely underdeveloped. The rate stands 18% among the 6 months old while 52% children aged from 18-23 months and 42% children aged between 48-59 months have been found with stunted growth.
Compared to the urban children, the rural children have been found to be more prone to underdevelopment while the rate of children with stunted growth is the lowest in Khulna and Rajshahi divisions.
According to WHO experts, malnutrition is responsible, directly or indirectly for about one third of deaths among children aged under five. Above two thirds of these deaths occur because of inappropriate feeding practices during the first year of life. Breastfeeding is the best way to provide infants with the nutrients they need, suggest the experts.
World Breastfeeding Week
Like rest of the world, Bangladesh is celebrating the current week (first week of August) as the World Breastfeeding Week with this year's slogan "Breastfeeding: A winning goal for life."
Prime Minister Sheikh Hasina is scheduled to inaugurate a special programme on Wednesday at the capital's Osmani Memorial Auditorium.
On the occasion, the Health Ministry, directorate of family planning, community clinics, Institute of Public Health and Nutrition and Bangladesh Breastfeeding Foundation have chalked out elaborate programmes including processions, rallies, training programmes on nutrition, to create awareness regarding breastfeeding and IYCF.
Dr Roy told the Dhaka Tribune that the BBF would place a proposal to establish an International Centre for Infant and Young Child Feeding and Maternal Nutrition to ensure health services of the child and mother.
http://www.dhakatribune.com/bangladesh/2014/aug/04/bangladesh-2nd-among-south-asian-countries-ensure-breastfeeding#sthash.O4JZ8Z3r.dpuf
---------------
Nigeria's Kano Bombings Traced to Female Beggars
04 July, 2014
Current intelligence reports on the emergence of female suicide bombers mostly in Kano and other states in northern Nigeria have been linked to the possible conscription of female beggars by Boko Haram members, investigations by THISDAY have revealed.
THISDAY learnt from reliable security sources in Abuja that the female beggars were banned and relocated outside the Kano metropolis by the state government sometime last year but were quickly recruited by the terrorists to disperse the attacks across Kano, Yobe and Gombe States, while the male recruits and Boko Haram members hold sway in Borno State.
A military source, while dismissing the suggestion that some of the suicide bombers might be the abducted Chibok girls, added that some of the female suicide bombers who had been used by the terrorists might have been unaware that they were being strapped with deadly explosives.
The source said: "They are not the Chibok girls and secondly, some of those girls might not really know they were strapped. Don't forget that the Kano State Government sometime early this year or late last year banned and drove out beggars from the city.
"Now the question you should ask is where are those girls who were begging?. Could they have gone back to their various places or have they been hiding somewhere or they are the ones being recruited by Boko Haram to carry out these attacks?.
"Our findings show that these women are easy to recruit and have fallen prey to Boko Haram members who have lured them with a few naira notes. They may also be ignorant of what they are being asked to do."
In addition to the suspicion that female beggars may have been conscripted into the sect by Boko Haram members, security sources said they were also working on the possibility that the female suicide bombers might be the wives of slain or arrested members of the Islamic sect who have been indoctrinated and brainwashed to take revenge on behalf of their husbands.
Speaking to THISDAY on the issue yesterday, the Director of Defence Information (DDI), Maj-Gen. Chris Olukolade, said while the use of female suicide bombers was consistent with the terrorists' murderous behaviour, the involvement of the abducted Chibok girls in suicide attacks had not been confirmed.
Olukolade said: "We can only subscribe to this claim if ongoing intelligence and surveillance activities in relation to efforts to recover the girls indicated such a development."
He maintained that the involvement of the Chibok girls in suicide bombings remained speculative that needed to be proven.
Following the failed suicide bombing at a military facility in Gombe State by a female bomber in June, the military last month arrested three suspected female terrorists who it alleged had been secretly recruiting ladies into the female wing of the terrorist group.
Speaking on the development, the Deputy Director of Defence Information, Col. Onyema Nwachukwu, had said the suspects, Hafsat Usman Bako, Zainab Idris and Aisha Abubakar, were intercepted while travelling to Madagali from where they were to transit to the forest to reunite with their cohorts.
He revealed that the suspects, led by Bako, had been assigned to recruit members into the female wing as well as conduct espionage for the group.
Nwachukwu said the arrested suspects were luring ladies especially widows and young girls by enticing them with male suitors who are mainly members of their terror group for marriage.
http://www.thisdaylive.com/articles/kano-bombings-traced-to-female-beggars/185326/
------------
'God bless Hamas': Woman seen demonstrating in New York
4 August 2014
In a video that was uploaded on YouTube on Sunday, a woman waving a Palestinian flag in support of militant group Hamas argues with a man over the 27-day conflict with Israel.
"Long live Hamas…God bless Hamas," the woman shouts in a one-person demonstration in New York City's Union Square.
"You're a sick women. So you want to bless terrorists?" the man, who is also shooting the video, asks the woman.
"I'm not blessing Israel. They're the terrorists," the woman replies, before a brief bickering session starts between them.
http://english.alarabiya.net/en/webtv/reports/2014/08/04/-God-bless-Hamas-Woman-seen-demonstrating-in-New-York.html
------------
Iran Ready to Help Muslim Women's Economic Empowerment
04 July, 2014
TEHRAN (Tasnim) – Iranian Vice-President for Women and Family Affairs Shahindokht Molaverdi voiced Tehran's readiness for joint efforts with the group of Developing 8 Countries (D-8) aimed at ensuring the economic empowerment of Muslim women.
In a meeting with Secretary General of D-8 Organization for Economic Cooperation Seyed Ali-Mohammad Mousavi in Tehran on Saturday, Molaverdi emphasized the great potential to promote cooperation between Iran and other member states of the D-8 organization.
She expressed the hope that "the implementation of joint projects" among the D-8 countries would elevate the status of Muslim women in the regional and international arenas.
"The directorate of (Women and Family Affairs) welcomes the empowerment of women in Muslim countries within the framework of D-8 meetings," Molaverdi stated.
Mousavi, for his part, said that D-8 organization welcomes any project or plan related to women's affairs, especially those adopting economic approaches.
D-8, also known as Developing-8, is an organization for development cooperation among the following countries: Bangladesh, Egypt, Indonesia, Iran, Malaysia, Nigeria, Pakistan and Turkey.
The establishment of D-8 was announced officially through the Istanbul Declaration of Summit of Heads of State/Government on June 15, 1997.
http://www.tasnimnews.com/English/Home/Single/449299
------------
Abuse Tolerated By 'Good Wives' In Some Migrant Communities
04 July, 2014
MIGRANT women who stay with violent husbands are regarded as "good wives'' in certain ­ethnic communities, the peak multicultural group has revealed.
The Federation of Ethnic Communities Council of Australia has accused some ethnic and religious leaders of trying to "cover up" family violence.
"Enduring the husband's violent behaviour and staying in an abusive marriage is sometimes seen as a virtue and as a sign of being a good wife whose responsibility is to be submissive,'' the federation has told a Senate inquiry into domestic violence.
"Very often, the victims themselves become the offender in the eyes of the community members for trying to challenge traditional customs and beliefs around gender and family.''
Women felt threatened by their husband's families — or even their own families — if they left an abusive marriage in Australia.
The Thai Information and Welfare Association has told the inquiry that some Thai migrants are "entrapped'' in violent mar­riag­es by husbands who threaten to "send them back to Thailand'' or stop them seeing their children.
"Beliefs such as (that) wives are subservient to their husbands, that they are the lesser half of the relationship, that they should tolerate and excuse abusive behaviour to save their marriage, make it difficult for some Thai women to ­accept their own rights, let alone report the abuse to police,'' it said.
"The stereotyping of Thai women as sexually promiscuous and immoral by their husbands and the wider community contribute to the way Thai women are ­demeaned and disempowered in their own relationships.''
The federal parliamentary secretary for multicultural affairs, senator Concetta Fierravanti-Wells, declared yesterday that Australia would not tolerate "cowardly'' violence against women and children.
"Violence against women is very much an anathema to our values and will never be tolerated in Australia,'' she said.
"We recognise that women from diverse communities may face particular pressures associated with trying to build a new life in a country where the language, culture, laws and customs are all new.
"There are also practices that occur overseas which are forbidden under Australian law, such as forced marriage.''
Senator Fierravanti-Wells said the federal government would spend more than $100 million to tackle domestic violence over the next four years, including $1m to translate domestic-violence advice into 28 languages through the 1800 RESPECT helpline.
The federation's submission does not specify which communities are at risk, but the federation's policy on emerging communities defines them as migrants from the Middle East, Africa, central Asia and Southeast Asia.
United Muslim Women Association chief executive Maha Abdo called yesterday for more refuges catering to Islamic needs, including access to halal meat, prayer facilities and bans on alcohol. She said some older women were being abused by their sons.
The federation's women's advisory committee chairwoman, Pallavi Sinha, called on ethnic community and religious leaders to "speak out against family violence''. "There could be some cultures where the norm is that women are supposed to be submissive, and that's certainly not the Australian way,'' she said.
http://www.theaustralian.com.au/national-affairs/abuse-tolerated-by-good-wives-in-some-migrant-communities/story-fn59niix-1227012147405
------------
Saudi Female Academics Praise the King for His Call to Combat Terrorism
Saudi Press Agency
04 July, 2014
A number of Saudi female academics have praised the Custodian of the Two Holy Mosques King Abdullah bin Abdulaziz Al Saud for his speech addressed to Arab and Islamic nations and the international community in which he called for combating terrorism.
In statements to Saudi Press Agency (SPA), they said that the King put a clear road map foreseeing a bright future for the world, especially Arab and Islamic nations, and calling on the international community with all its institutions and organizations to perform its duties to the fullest, stop the massacres repeated its scenes daily in Palestine, and prevent the growing phenomenon of terrorism in all its kinds at individual and international levels.
The female academics included Member of Majlis Al-Shura Dr. Lubna bint Abdulrahman Al-Ansari; Advisor and General Supervisor of Women's Affairs at Higher Education Ministry Dr. Amal bint Jamil Fatani; Supervisor of Female Students Departments at Saudi Electronic University Dr. Hind bint Abdulaziz Al-Fadda; Dean of Science and Medical Studies Departments at King Saud University Dr. Inas bint Suleiman Al-Issa; Undersecretary of Applied Studies and Community Service College at King Saud University Dr. Hind bint Awwadh Al-Wathnani; and Undersecretary for University Education Development at Muhammad bin Saud Islamic University Dr. Iman bint Mohammed Al-Ruwaithi.
http://www.spa.gov.sa/viewphotonews.php?id=1259600&pic=
------------
Saudi nurses still tackling stereotypes
04 July, 2014
MAKKAH — A number of young Saudi women nurses are facing problems and obstacles in their work environment that hinder them from performing their duties properly.
Nurse Abeer Al-Sa'edi told Makkah Daily that some people reject the idea of women working as it allows for both genders to mingle, going against Saudi traditions.
She said: "There is no doubt that some television dramas give the wrong image of working nurses and instilled incorrect stereotypes in the minds of many who are against women working in this sector."
Iman, another nurse, stressed the need to develop nursing by providing nurses with the necessary knowledge and professional development in addition to improving the image of the profession in the community by highlighting the role of employees.
She said that there is a difference between Saudi and expatriate nurses because the former usually have families to care for while the latter are usually alone in the country and are completely free of any family obligations.
Sawsan, also a nurse, said nursing is neglected profession and many are unaware of the problems employees in the field face when dispensing their duties.
Amaal Nour, who works in the profession, described the Saudi Commission for Health Specialties nursing exams as difficult and said nurses are not given the appropriate opportunities to develop their skills.
Fellow nurse Wafaa said that her family were at first against her working as a nurse, but her persistence finally convinced them and now her other sisters are also working in the field.
Psychology consultant and member of Amnesty International, Dr. Huda Al-Sharif, said the negative image of women nurses is due to the stereotypical claims of long working hours, employees working during Haj and mixing with men, in addition to others.
She explained there are nurses working in women only hospitals and clinics as well as some private hospitals that have dedicated sections for women. "The problem is complicated and caused by the accumulation of numerous negative stereotypes of nurses," she said.
She pointed out that the issue requires an immediate solution and can be a major threat to society if it continues, as women may well become reluctant to specialize in nursing.
Sarah Khayat, a nurse, said any profession including hers has its advantages and disadvantages.
She said: "Some lose their trust in medical care when they see a Saudi nurse, while some view nursing as a simple profession and that nurses are simply assistants to doctors.
"Nursing is a humane profession in the first place and is complementary to the medical profession."
Abeer Al-Subhi, a nurse, said the negative perception of the nursing profession is due to the nature of its work where covering night shifts is sometimes required, conflicting with many family responsibilities.
"Many in society believe that the duties of nursing are marginal compared to the duties of doctors and that nurses cannot be effective mothers," she said.
Nouf Al-Menaif, who works in nursing, said nurses have the right to earn a living like other women working in other jobs.
She suggested reducing working hours for women working in the health sector in consideration of their other family duties.
http://www.saudigazette.com.sa/index.cfm?method=home.regcon&contentid=20140804213498
------------
Firms to provide female Saudi staff with transport
04 July, 2014
The Labor Ministry will soon make it obligatory for companies to provide transport for their Saudi female employees, said sources at the Labor Ministry.
Business owners will have to provide transport to employees, either by using their own vehicles or through contracting taxi companies, or pay them transportation allowances.
This decision was taken to combat high attrition rates and to ensure employees start work on time as part of a wider feminization scheme aimed at enhancing female employment rates.
The decision also comes in the wake of a study highlighting the negative effects of lack of transport on productivity and attendance.
According to the study, conducted by the Khadijah Bint Khuwaylid Center at the Jeddah Chamber of Commerce and Industry (JCCI), around half of Saudi women have their own drivers to get to work, while a quarter get dropped off by their male relatives and 12 percent use taxis.
Only around a tenth use monthly private cars and less than 5 percent avail themselves of company transportation, said the study.
Around 46 percent of women face daily issues with transport, compared with 27 percent among their male counterparts.
The lack of transportation companies and the high costs of using private taxis or hiring a driver has taken its toll on women employees.
A recent report published by the Council of Saudi Chambers also highlighted women's problems in commuting to work due to the absence of public transport.
http://www.arabnews.com/news/saudi-arabia/611391
------------
URL: https://newageislam.com/islam-women-feminism/bangladesh-2nd-among-south-asian/d/98418