New Age Islam News Bureau
2 Jun 2020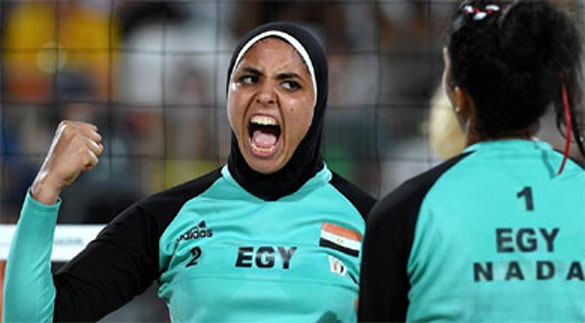 Doaa Elghobashy and Nada Meawad createdhistory that the 2016 Rio Olympics, becoming the first-ever Egyptian duo to compete in beach volleyball at an Olympic Games. Getty
-----
• How Athletes Like Egypt's Doaa Elghobashy And UAE's Zahra Lari Are Breaking Down Barriers
• Dubai-Based Indian Dentist, Dr Nabeena, Gives Up Practice to Volunteer Combating Coronavirus
• Muslim Teen in Hijab Punched Repeatedly During Alleged Hate Crime on Transit in Downtown Vancouver
• 156 Women and Men Appointed to Saudi Arabia's Public Prosecution
• Women's Wealth in The Middle East to Grow an Average 9% Annually By 2023, Says BCG
• Online Quran Contest Underway for Iraqi Women
• Three Women Get Pre-Arrest Bail In Uzma Case
Compiled by New Age Islam News Bureau
URL: https://www.newageislam.com/islam-women-feminism/baloch-womans-alleged-killing-govt/d/122014
--------
Baloch Woman's Alleged Killing by Govt Evokes Widespread Anger
01 JUNE 2020
New Delhi/Islamabad, June 1 (IANS) The killing of a young woman allegedly by the members linked to the ruling party in Balochistan last week has triggered widespread anger among the Baloch people.
The president of the Balochistan National Party (BNP) and former chief minister Akhtar Mengal attacked Pakistan's judiciary saying it has abdicated its responsibility to hold the provincial government accountable for its crimes in Balochistan.
Akhtar was referring to a woman, Maliknaz who was killed and her four-year-old baby girl, Bramsh, shot at in Dannok tehsil of Turbat city in Balochistan last Tuesday.
The entire operation was carried out allegedly by the members of a death squad of the Balochistan Awami Party (BAP), the ruling party of Balochistan.
Founded in 2018 by some members of the Pakistan Muslim League (N) and the Pakistan Muslim League (Q), the BAP emerged as the largest party with 19 seats in Balochistan in the 2018 general elections in Pakistan. The BAP heads a coalition government in the province with Chief Minister Jam Kamal Khan and is also a part of the ruling coalition headed by Prime Minister Imran Khan in the Pakistan National Assembly.
Akhtar is the son of Ataullah Mengal, who was the first democratically elected chief minister of Balochistan in 1972. Ataullah''s government was overthrown just nine months after he took over and was sent to jail on the charges of sedition by Zulfikar Ali Bhutto''s government.
In 1997, the BNP swept the elections and formed a coalition government in Balochistan with Akhtar as the chief minister. However, his government was also dismissed due to his differences with Islamabad.
Ever since, the BNP, which seeks greater autonomy for Balochistan province through peaceful and democratic struggle, hasn''t participated in any elections.
On Sunday Akhtar Mengal tweeted tagging Pakistan''s Prime Minister Imran Khan saying: "It''s not a crime to kill innocent children, young students, elderly, and women in Balochistan. Will there ever be justice for Bramsh and her mother. Or will the Baloch people be left at the mercy of the establishment''s proxies."
The incident has evoked widespread anger among human rights activists abroad, too.
Senge Hasnan Sering, the Washington DC-based Director of the Gilgit-Baltistan National Congress, a diaspora group formed in 2010 to raise awareness of rights violations in the G-B region, tweeted, "My heart goes to 4-year-old Bramsh. Her mom was shot/killed by military-backed terrorists. A bullet also broke her shoulder.
"Asks for mom every time she regains consciousness. Shameless Pakistanis who don''t care about equal rights for Baloch now obsessed with racial equality in the USA."
https://www.outlookindia.com/newsscroll/baloch-womans-alleged-killing-by-govt-evokes-widespread-anger/1852224
--------
How Athletes Like Egypt's Doaa Elghobashy And UAE's Zahra Lari Are Breaking Down Barriers
Reem Abulleil
June 2, 2020
A day after her opening beach volleyball match against Germany at the Rio 2016 Games, Egyptian Doaa Elghobashy was walking around the Olympic Village getting attention like she was Usain Bolt.
An action shot of Elghobashy, wearing a hijab, a long-sleeved shirt and full-length leggings, and coming face-to-face with her bikini-clad German opponent Kira Walkenhorst at the net, went viral and remains one of the most iconic images to come out of Rio de Janeiro that summer.
A single frame symbolised the union of cultures one has come to expect from the Olympic Games, yet the monumental reaction it received made it seem like such differences on display at the international stage were somehow still a novelty.
"So many people came up to me to say hello, just because they saw my photo. I suddenly found myself famous around the Village and I had no idea why; turns out it's just because I compete in beach volleyball while wearing a hijab," Elghobashy told The National.
In her second match, alongside her team-mate Nada Meawad, against Italy, Elghobashy played in front of a sell-out crowd of 10,000 people at the Copacabana beach.
"People came to check out who is this Doaa Elghobashy who is competing with the hijab and has her photos all over the internet," she recalls. "We lost the match and we still got a standing ovation and people were chanting 'Egito, Egito' [Egypt in Portuguese]. People were very happy with what we were able to achieve."
Elghobashy and Meawad made history that week in Rio, as the first-ever Egyptian duo to compete in beach volleyball at an Olympic Games. But it was Elghobashy's outfit that thrust her into the spotlight. She had been wearing the hijab and doing sports for 10 years, but needed to get special approval for her match kit before Rio, in order to make sure they would let her play.
"The whole thing was new to me – to be the first hijabi player competing in beach volleyball, and to be the first Egyptian and Arab woman to make it to the Olympics in this sport. So for me, it was a challenge that was much bigger than just the hijab. I wanted to be the first person to do this. It was special," says the 23-year-old Elghobashy.
"Since then, I've been able to compete in international championships with the hijab without any problems."
Elghobashy explains how the international volleyball federation (FIVB) now has three approved attire options, with varying degrees of covering up, that allow her to compete in conservative wear.
Originally an indoor volleyball player since the age of seven, she only took up beach volleyball in 2014. Elghobashy still competes in both disciplines but says beach volleyball witnessed a huge surge in popularity and participation after her Olympic debut with Meawad. Courts were installed across Egypt, and scores of women switched from indoor volleyball to beach volleyball.
"We used to go for training camps at a public beach in Port Said, now we have more facilities. I also have become a certified level one beach volleyball coach," she added. "Beach volleyball has become a genuine option for our players."
It's amazing what can happen when a sport decides to become more inclusive and gives young women the chance to see people who look like them and dress like them competing at the highest level.
Egypt's two female medallists in Rio 2016, Hedaya Malak (taekwondo) and Sara Ahmed (weightlifting), both wear the hijab. Malak, who won bronze in the -57kg weight class, was overwhelmed by the support she got as a result.
"A lot of people messaged me after the Olympics telling me, 'You're my idol because you're wearing the hijab and are playing your sport'. That I didn't take off the hijab for taekwondo. I felt that a lot of people were inspired," Malak told The National.
"Abroad, people always ask me, 'Wow, how do you train in this heat while wearing this? We're wearing short sleeves and shorts, and you're wearing long sleeves and a scarf and you're not feeling hot or anything'. They would always ask me stuff like that but now they got used to it."
One of the reasons hijabi athletes are still viewed as an uncommon phenomenon internationally is that several sports spent years trying to stop them from competing.
Fifa, football's international governing body, overturned its ban on hijab as recently as 2014, while FIBA, basketball's governing body, lifted its ban on headgear in 2017, thanks to the efforts of Bilqis Abdul-Qaadir, a Muslim-American collegiate basketball player who was forced to make a choice between her faith and her sport, and spent years campaigning against the ban.
Many athletes still require special waivers to compete in the hijab and the language of attire rules in various sports can be vague and misinterpreted by officials.
Elghobashy recalls how several of her basketball-playing friends could not be part of the national team just because they wore the hijab.
"If you want to have a truly competitive sport, you have to open the door to everyone, be it hijabis or non-hijabis," she says. "Let's say we have a very talented hijabi athlete, is it fair that she cannot compete just because she is covering up? I always say, do not let a hijabi athlete hate her own hijab just because she cannot do something she wants to do or play the sport she loves. Give everyone their space to dress the way they want so they can showcase their talents, instead of forcing them to do something they do not believe in and do not accept.
"Why kill someone's dream just because they wear the hijab and the sport doesn't allow that?
"At the end of the day, each one of us comes from a different culture and we all deserve to be accepted."
Emirati Zahra Lari is the first hijabi figure skater to compete internationally and she had to contact the International Skating Union (ISU) to discuss the sport's attire rule after she was deducted points by judges for her conservative outfit in her first event abroad back in 2012.
She still receives special waivers to perform in the hijab since the wording of rule 501 in the ISU's regulations guide does not explicitly address religious headwear.
Noor Ahmed, an American college golfer born in Sacramento to Egyptian parents, describes her experience as a hijabi student-athlete at the University of Nebraska-Lincoln.
"I feel like every time I step onto a golf course I have to prove that a Muslim woman can compete and compete in a hijab and compete well," she told Golfdigest.com.
"On the golf course, the hijab makes me stand out. It's definitely a reminder every time I step on the golf course that I am different. No one will look like me. No one will dress like me. Every time you're stepping onto the course is helping break down stereotypes."
Tennis is a sport that hasn't always been welcoming to hijabis or women who preferred to dress conservatively. The WTA and ITF's rulebook had an attire regulation that stated women could only wear leggings that were mid-calf length (a hijabi woman typically needs to cover the full length of her legs) and could only wear them under a skirt or a dress.
That rule changed last year, and players can now wear leggings without a skirt or dress on top, and any details regarding the length of leggings have been removed from the rulebook. There is no specific mention of the hijab but tennis players generally do not have restrictions on headgear.
It had never occurred to tennis authorities that the old rule dismissed an entire group of women who may have wanted to pursue a professional tennis career while covering up.
The previous versions of the rule gave room for misinterpretation by umpires. Fatma Al Nabhani, an Omani tennis player who chooses to dress conservatively while competing, complained to the ITF more than once about officials who demanded she take off her leggings before her matches, despite them being of the approved length.
She recounts a time when a French umpire at a tournament in Tunisia asked her if she was wearing her leggings because of her religion or because of the cold weather. "If it's because of your religion then you need to take it off," the umpire said, according to Al Nabhani.
I once posted on Twitter a photo of hijabi tennis player Dona Abohabaga playing a Fed Cup match for Egypt in Cairo in 2016 and received a slew of messages online, ranging from shock to sarcasm to disdain. That's how unheard of hijab is in the world of tennis.
Muslim women have come a long way in the world of sport. Athletes like Abdul-Qaadir, Ibtihaj Muhammad, Elghobashy, everyone mentioned above and many more, have played a crucial role in breaking barriers, changing perceptions, and paving the way for others to follow suit.
International governing bodies must continue to make sure they are doing their part in creating an inclusive and welcoming environment for all. They shouldn't wait until a Muslim player rises through the ranks and requires an exception to pursue her dream while respecting her faith.
Who knows, maybe one day a hijabi athlete will be acknowledged for her accomplishments first, before any mention of her faith or what she chooses to put on her head.
https://www.thenational.ae/sport/other-sport/sport-and-hijab-how-athletes-like-egypt-s-doaa-elghobashy-and-uae-s-zahra-lari-are-breaking-down-barriers-1.1027701
--------
Dubai-Based Indian Dentist, Dr Nabeena, Gives Up Practice To Volunteer Combating Coronavirus
June 2, 2020
Parents to two kids, Dr Nabeena volunteers at the Al Warsan Hospitality and Healthcare Centre.
A Dubai - based dentist in a private clinic has given up her practice to work on the frontlines battling the COVID19 coronavirus.
Dr Nabeena Najeeb, an Indian dentist from Kannur district in Kerala, India, along with her husband Najeeb PP Kannur, the co-owner of Royal Pearl Restaurant in Al Barsha, have given up their regular jobs to battle against the pandemic.
Parents to two kids, a 13-year-old boy and seven-year-old girl, Dr Nabeena volunteers at the Al Warsan Hospitality and Healthcare Centre for coronavirus patients while her husband distributes food kits to needy families and individuals across Dubai. Dr Nabeena told Khaleej Times she has been practising at a private dental clinic for nine years.
"I came across posts on WhatsApp groups seeking volunteers when the crisis arose. I began my volunteer work in April in coordination with the Dubai Health Authority and the Kerala Muslim Cultural Centre, and have been here ever since," she said. The couple has been extremely careful not to interact excessively with their kids and undergo several sanitization processes before even touching them.
"I haven't really touched my kids for the last two months. I have the fear they could get sick, but I place my trust in Allah," she said.
She begins work at the Al Warsan quarantine centre at 8 am every morning and gets done by 4 pm to 5 pm. "I work five to six times a week, it really depends on the workload," she explained.
As most patients at the facility come with mild symptoms, Nabeena's main responsibilities are to provide them with medication for symptoms. "Patients come with complaints such as cough, cold, mild stomach pain, and diarrhoea. We calm them and prescribe mild medications," she added. As several patients come with extreme anxiety, the doctor's responsibility also includes keeping them calm.
As she is interacting with COVID19 positive patients, wearing the PPE is mandatory. "Sometimes, I wear PPE kits for three to four hours at a stretch and sometimes two to three hours," explained Dr Nabeena.
When it comes to taking care of her kids, the doctor said, "My children have shown great resilience during this time. My older one is responsible for the younger ones. I cook food for them in the morning before I leave for work and they take care of themselves."
Dr Nabeena's husband, Najeeb PP Kannur, the co-owner of Royal Pearl Restaurant said his restaurant has been closed for two months. "I've been volunteering with the INCAS Volunteers team since then. Now that restrictions have been lifted in the UAE, things are getting better," he added.
Najeeb distributes grocery and food kits to families and shifts COVID19 positive patients to medical facilities in Dubai in collaboration with DHA. "I also get food kits to some of the patients in Warsan, especially the ones desiring Kerala food," he added. The couple intends to inculcate the spirit of serving humanity during a time of need in their kids.
https://www.khaleejtimes.com/coronavirus-pandemic/combating-coronavirus-dubai-based-dentist-gives-up-practice-to-volunteer-?utm
--------
Muslim Teen In Hijab Punched Repeatedly During Alleged Hate Crime On Transit In Downtown Vancouver
June 1, 2020
VANCOUVER -- Police are asking for the public's help identifying a suspect in an alleged hate crime that targeted a Muslim teenager who was wearing a hijab on public transit.
Authorities said the 17-year-old victim and her mother boarded a bus in downtown Vancouver on the afternoon of May 21, and that a fellow passenger began mocking her ethnicity and asking if she was Canadian.
The suspect then told her, "Your smile is making me want to punch you in the face," or something to that effect, before punching the teenager in the head several times and partially knocking off her headscarf, according to a news release from Metro Vancouver Transit Police.
The victim's mother and another passenger intervened, and the suspect got off the bus at Hastings Street and Jackson Avenue. The Good Samaritan followed her and called 911 only to be attacked as well, police said.
Authorities allege the suspect took off her boots and began hitting the Good Samaritan, then brandished a knife and ran away.
The teen victim wasn't physically injured during the attack but was left shaken up, and did not want to speak publicly on Monday. The director of the Muslim Care Centre, a charity in the Downtown Eastside where she volunteers, told CTV News she is an honour student in high school who is attending university next year.
"She's keeping her hopes and spirit high. She is a very strong person," said Adnan Akiel, the director of the centre.
Akiel said that while the teenager was victimized by the incident, they feel pity for the assailant as well.
"The real victim of this incident and incidents like these are people who subject themselves to their own ignorance and their own hate," he said.
"This is the time that we stand up as proud Muslims and we carry on proudly living as Muslims. We take our faith and we do our part in educating everyone else."
On Monday, almost two weeks after the incident, authorities released a pair of suspect images and a surveillance video in the hopes that someone will recognize the suspect and come forward.
She is described as being about 40 years old, 5'8" tall and approximately 140 lbs. She was wearing a black hat, dark sunglasses, a dark top with the word "Pink" written on the back, blue jean shorts, black boots and a distinct silver backpack that changes colour in different lights.
Authorities asked anyone with information on her identity or the incident to call the transit police tip line at 604-516-7419.
"There is no place for hate, racism or biases on the transit system. All passengers using our transit system have the right to travel without fear of harassment or assault," Metro Vancouver Transit Police said.
https://bc.ctvnews.ca/muslim-teen-in-hijab-punched-repeatedly-during-alleged-hate-crime-on-transit-1.4963932
--------
156 Women and Men Appointed to Saudi Arabia's Public Prosecution
June 02, 2020
RIYADH: King Salman on Monday issued a royal decree appointing 156 men and women with the rank of investigative lieutenant to Saudi Arabia's Public Prosecution.
The decree comes within the framework of the king's support to the Public Prosecution and efforts to achieve more stability and prosperity for the public judicial system, Attorney General Sheikh Saud bin Abdullah Al-Mua'jab said.
Al-Mua'jab also said the move highlighted the "great prestige and status of women" in providing them the opportunity to work in the judicial field in a way that enhances their position and presence in serving the country in line with the Kingdom's vision.
https://www.arabnews.com/node/1683361/saudi-arabia
--------
Women's wealth in the Middle East to grow an average 9% annually by 2023, says BCG
Nada El Sawy
June 1, 2020
Women's wealth in the Middle East is set to grow at a 9 per cent compound annual growth rate (CAGR) of 9 per cent up to 2023, according to the Boston Consulting Group.
Females account for 24 per cent of $3.2 trillion (Dh11.7tn) of total assets under management in the Middle East, according to 2019 BCG data, published on Monday. The women's wealth share includes $103bn in the UAE and $224bn in Saudi Arabia.
The segment is expected to grow at a CAGR of 8.3 per cent in the UAE and 5.1 per cent in Saudi Arabia. However, BCG said wealth managers must shift their culture to become more inclusive and adopt a more personalised approach.
"Examining preconceptions about female investors, moving beyond labels to treat the individual, and adopting an objective-based and evidence-backed advisory approach will enable wealth managers to ensure the full potential of women is realised in the decade ahead," said Mustafa Bosca, managing director and partner at BCG in the Middle East.
When women invest, they do a better job than men, according to a 2018 study by Warwick Business School in the UK. Women trading shares and funds made a 1.94 per cent average gain above the market compared to men's 0.14 per cent, it found.
Meanwhile an April BCG report titled Managing the Next Decade of Women's Wealth, found that women across the globe are amassing greater wealth than before, adding $5tn to the pool every year and now accounting for 32 per cent of global wealth.
The consulting firm said it expects women's wealth to outpace global wealth growth over the next several years, despite the economic impact of the coronavirus.
From 2016 to 2019, women accumulated wealth at a CAGR of 6.1 per cent. Over the next four years, that rate will accelerate to 7.2 per cent, BCG said.
"The expected rise in women's wealth in the Middle East is especially noteworthy," the report said. "Greater political and economic stability across the region and improving healthcare and educational access for women are fanning the expected 9 per cent CAGR."
The report cites examples of improvements in educational access, such as: girls' rates of primary and secondary school participation are now similar to boys', and women outnumber men at the university level in 15 of 22 Arab countries. In Bahrain, girls consistently make up the majority of top-ten high school graduates.
In the UAE, women in leadership positions have increased 2.4 per cent, while women in entrepreneurial activities and labour force participation in Saudi Arabia increased 1 per cent and 0.5 per cent, respectively.
"The opening up of the Middle East is further evidence that expanded access to education and health care can have positive implications for women," said Mr Bosca.
"Labour force participation, leadership positions, entrepreneurial activities and economic empowerment all play important roles in economic advancement, which will, in turn, contribute to further growth in women's wealth over the next decade."
Despite their increasing purchasing power, women remain largely underserved by wealth managers, according to BCG.
In BCG's global investor survey of 300 male and female affluent and high-net-worth individuals, 30 per cent of women said their relationship manager spoke to them differently because of their gender, while 64 per cent said their bank or wealth management provider needs to improve its value proposition.
https://www.thenational.ae/business/money/women-s-wealth-in-the-middle-east-to-grow-an-average-9-annually-by-2023-says-bcg-1.1027466
--------
Online Quran Contest Underway for Iraqi Women
May 31, 2020
According to Al-Kafeel website, the Quran Section of Women's Religious Guidance Office affiliated to the Astan (custodianship) of Hazrat Abbas (AS) Holy Shrine in Iraq has organized the competition since the holy month of Ramadan.
Fatemeh Seyyed Abbas Al-Mousawi, head of the section, said that the contenders are required to answer 30 questions on diacritics of Quran's verses, Quranic sciences, interpretation of Quranic verses and Hadiths from the infallibles (AS) about some verses of Quran.
She added that the main objective of the competition is to promote Quranic skills of Muslim women to make use of the verses in raising the new generation and get them familiar with Islamic teachings.
The competition is held for 4 days and the participants should be above 18 years old. Winners will be announced on Al-Kafeel website.
https://iqna.ir/en/news/3471553/online-quran-contest-underway-for-iraqi-women
--------
Three Women Get Pre-Arrest Bail In Uzma Case
June 02, 2020
LAHORE: A sessions court on Monday granted pre-arrest bail to two daughters and one relative of a property tycoon in actor Uzma Khan's house storming and torture case.
Amber Malik and Pashmina Malik, daughters of Malik Riaz, and Amina Usman, wife of Riaz's sister-in-law's son, appeared before the court along with their counsel Tahir Nasrullah Warraich, sitting president of the Lahore High Court Bar Association.
Defence-C police station had on May 27 registered an FIR against the three women and their 15 private security guards on a complaint of the actor on charges of attacking her and her sister after breaking into their house.
Mr Warraich argued that the suspects/petitioners were innocent and the police unlawfully implicated them in the case. He asked the court to grant pre-arrest bail to the petitioners as there were apprehensions of their arrest by the police.
Additional District and Sessions Judge Chaudhry Farrukh Hussain allowed interim pre-arrest bail to the petitioners till June 15 and issued notices to the SHO concerned and the complainant.
The petitioners were directed to furnish bail bonds to the tune of Rs50,000 each and to join the police investigation.
On May 28, a judicial magistrate had issued arrest warrants of the suspect women on an application by the investigating officer.
As per the FIR, Uzma Khan alleged that the suspect women along with 12-15 security guards stormed her residence in the Defence Housing Authority (DHA) by breaking the door at 10:30pm a day before Eid.
She alleged that Amina Malik attacked her sister and injured her with a broken bottle. She said Pashmina, Amber and their guards beat and dragged her (complainant).
On the other side, Amina Malik, in a video clip, alleged the actor had relations with her husband, Usman Malik. She also justified her act of breaking into the actor's residence and claimed that the house was in fact owned by her husband.
https://www.dawn.com/news/1560745/three-women-get-pre-arrest-bail-in-uzma-case
--------
URL: https://www.newageislam.com/islam-women-feminism/baloch-womans-alleged-killing-govt/d/122014
New Age Islam, Islam Online, Islamic Website, African Muslim News, Arab World News, South Asia News, Indian Muslim News, World Muslim News, Women in Islam, Islamic Feminism, Arab Women, Women In Arab, Islamophobia in America, Muslim Women in West, Islam Women and Feminism