New Age Islam News Bureau
20 Jun 2012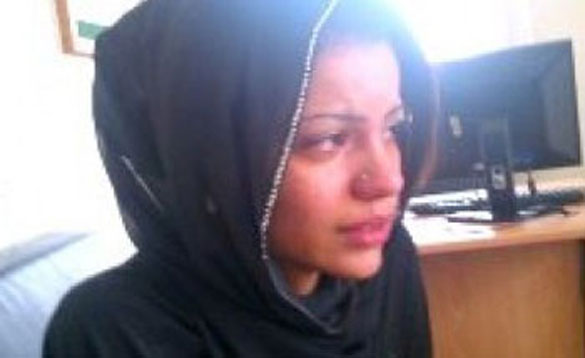 • Saudi Arabia beheads two for kidnap, torture of girl
• NGO Works to Change Interpretations of Islam That Justify Men Superiority At Home
• Temporary Marriage Turning Iran into an "Islamic Thailand"
• Young Woman in Danger of Execution in Iran!
• Number of Younger Women with Breast Cancer on the Rise in Dubai
• Malaysia women fear rise in sexual violence
• Malaysia AIDS Council worried over rise in women infections
• Turkish Prime Minister Assaults Women's Rights
• Women attending concert arrested in Tehran
• Indonesian Photographer Displays Women's Beauty in Every Shot
• New Worries about Women's Rights and Ethnic Tensions Emerge in Afghanistan
Complied by New Age Islam News Bureau
Photo: Bahraini Police Forced A Young Woman to Take Off Clothes, Filmed Her Naked
URL: https://www.newageislam.com/islam,-women-and-feminism/new-age-islam-news-bureau/bahraini-police-forced-a-young-woman-to-take-off-clothes-filmed-her-naked/d/7675
--------
Bahraini Police Forced A Young Woman to Take Off Clothes, Filmed Her Naked
June 19, 2012
The sister of the detained Ms Zahra Al-Sheikh has caused uproar after she had revealed that a policewoman forced Zahra to take off her clothes and filmed her naked by her mobile. She said the officer Isa Al-Majali beat her, took off her head cover, abused her verbally, and forced her to confess of false charges.
Riot police brutally assaulted Zahra (21 years old) before arresting her after she had been caught filming an attack on the protesters on Friday. She was detained in Budaiya Police Station until taken to the Public Prosecution after a charge of assaulting policemen had been fabricated against her.
Her family was denied seeing her before being taken to the Public Prosecution. Her sister said she was transported to hospital after the beatings she had gone through.
Zahra phone her family from the Police Station and told them what she had suffered. Her sister reported that a large group of the regime mercenaries surrounded her and beat her brutally on the head and back. Then Officer Isa Al-Majali interrogated her who beat her and took off her head cover, abused her verbally, and forced her to confess of false charges.
The young woman was put in jail with other women accused of prostitution and other similar crimes. Her sister said that Zahra phoned crying and asked for help.
The Public Prosecution decided to release Zahra on bail of BHD 50, however, her family was kicked out of the Police Station after they arrived to take her. The family was told that the judge revoked his decision claiming it was wrong and Zahra must be detained for a week. Her lawyer contacted the Prosecutor General who claimed that he had revoked Zahra's release decision after a video footage had been circulated that proved she assaulted policemen.
Later, her sister caused uproar, after she revealed that a policewoman forced Zahra to take off her clothes in detention and filmed her by her mobile phone. The policewoman then went to Zahra and said to her that she deleted the video saying she did that jokingly.
Zahra's sister explained that the policewoman took Zahra as well as a Pilipino woman inmate into a room, she instructed them to take off their clothes. Zahra refused, however, the policewoman forced her. The policewoman started to beat the Pilipino woman while she was naked. She stressed that she was not able to recognize that policewomen removed their badges that had their names, to avoid suing them for their ugly acts.
Zahra Al-Sheikh is a student in the College of Media & Communication. Last Sunday 17 June 2012 she was supposed to sit for one of her final exams. She was studying for her exams while she was in jail, nonetheless, she was not allowed to sit for the exam. Zahra complained of mistreatment and bad food. The Police Station refused to take the clothes that her family had sent to her.
Zahra's sister commented: "In the state of law, institutions, and freedom, men and women are arrested, beaten, and their privacy is violated, all of that happens here in Bahrain." She added: "only those who had been in prison would appreciate its ordeal and bitterness."
"What crime Zahra did to be beaten that brutal? Did she steal? Did she have a weapon? Murderers and criminals are free and she's behind bars", she wondered and added: "There is no law in the country; the authorities are playing around with a whole nation fate, what would prevent them from playing with a young woman's future."
The tweeps on twitter wrote much about the young lady's story which is one of a long list of heinous assaults on women by the police since the implementation of the martial law on 15 March 2011. Bassiouni's report listed some of those violations.
Some activists translated the tweets of Zahra's sister to English and French, while others campaigned against the Jordanian torturer Isa Al-Majali. A Jordanian activists tweeted: "Such torturers put us to shame, and all honourable people in Jordan condemn Majali's behaviour."
Wefaq said Zahra's arrest comes "despite all the calls that the International community raised to evacuate prisons of prisoners of opinion, while the authorities continue to arrest women and leave them in prison in cases that are related to freedom of expression and right to protest."
http://abna.ir/data.asp?lang=3&Id=323187
--------
Saudi Arabia beheads two for kidnap, torture of girl
June 19, 2012
They kidnapped a nine-year-old girl and tortured her for years in captivity
Riyadh: Saudi authorities on Tuesday beheaded two Egyptians who kidnapped a nine-year-old girl and tortured her for years, and also executed a national convicted of murder, state news agency SPA reported.
Mohammad Bin Nafe and his sister Jamalat Bint Nafe "kidnapped a nine-year-old girl from the Prophet's [PBUH] Mosque in [the holy city of] Madinah, torturing and locking her up at their residence for three years and six months," the interior ministry said in a statement carried on SPA.
"Mohammad has repeatedly raped her throughout this period and the pair were planning to smuggle her out of the country," it said.
"They had also neglected the health of their children and committed violence against them, leading to the death of two of Mohammad's sons," it added.
The two Egyptians were beheaded in Madinah.
National beheaded
In a separate statement, the ministry announced the beheading of Ali Bin Mohammad Al Qah'tani who shot dead a fellow Saudi, SPA reported. The man was executed in the kingdom's southeastern region of Asir.
Tuesday's beheadings bring to 38 the number of people executed in Saudi Arabia so far this year, according to an AFP tally based on official reports.
Under the AFP count, at least 76 people were beheaded in 2011, while rights group Amnesty International put the number of executions last year at 79.
The death penalty in Saudi Arabia applies to a wide range of offences, including rape, apostasy, armed robbery and drug trafficking, as well as murder, as stipulated by Islamic Sharia law.
http://gulfnews.com/news/gulf/saudi-arabia/saudi-arabia-beheads-two-for-kidnap-torture-of-girl-1.1037839
--------
NGO Works to Change Interpretations of Islam That Justify Men Superiority At Home
Rachmad Hidayat
18 JUNE 2012
Indonesia's high rate of domestic violence against women has led to the establishment of services and networks to provide support for female victims. But very few steps have been taken to resolve the problem from the perspective of abusive husbands. Where efforts have been made, such as those of a team of men working in the Men's Program of Rifka Annisa, an NGO based in Yogyakarta, they have encountered strong resistance in the face of popular beliefs about men's superiority in the family, many of which use Islam as a justification for violence in the home.
Rifka Annisa (which means 'the woman's friend' in Arabic) works mainly with women victims, but has recently opened a program aimed at male clients, Muslim and non-Muslim, who are perpetrators of domestic violence. The program provides them with counselling services intended to lead to behavioural changes. Although clients all bring their own specific histories, the counsellors are nevertheless highly aware that Muslim clients tend to deny, minimise and excuse their violence, frequently blaming the victims, and also defend their superiority over their wives using Islamic doctrines which they believe favour them as men. Although not all Indonesian Islamic authority figures support this interpretation, the team has realised that such claims reflect an ideal of manhood that is accepted by many Muslim men, and which too often leads to incidents of domestic violence.
Manhood among Muslim Javanese
Not many abusive men come to Rifka Annisa for counselling. But in serving those who do, Rifka's male counsellors are confronted with repeated claims about male authority in the family. In spite of the fact that perpetrators show clear signs of a lack of self confidence, insecurity and crisis of identity, they nevertheless believe that Islam gives them the right and authority to lead and educate their wives.
In order to better understand this problem, a researcher affiliated with the Rifka Annisa team carried out a project about ideals of manhood prevalent in Javanese communities located in Pasiran and Lemahduwur. Many of the participants were respected figures, and some were holders of roles in village government. All of them perceive marriage and family as central to their identities as men, as members of society and, above all, as Muslims.
Men in both villages contended that having a family is the main path to personal maturity. They see it as essential for the pursuit of a happy life and extension of the historical lineages of their families. Apart from that, in Islam marriage is considered to be a form of worship (ibadah). At the same time, however, their conception of the family allows them to play a role in which their dominance is socially and religiously acceptable. For these reasons, the men in both communities claim that to be a real man, one must be the leader of one's family. It was hard for them to reflect upon themselves without referring to their positions as heads of families.
According to Kadiman, a 27 year-old father who has been married for two years, 'In Islam, it is men who become the leaders.' Kadiman's position was supported by Waluyo, an older man with more than 20 years' experience of marriage. In Waluyo's opinion, it is right that men play the role of the dominant actors in the family and bear the entire responsibility for family life. Men like Kadiman and Waluyo interpret their leadership roles as a religious obligation that binds them in this world and more importantly in the hereafter. For them this leadership role is a duty for which men themselves will be held directly accountable by God. In other words, these Muslim men believe they have an exclusive relationship with God that places them in an intermediate position between women and God.
Some men see this exclusive position as fundamental to the identity of Muslim men. According to a fifty year-old man named Arief, a highly respected figure in the village of Pasiran, 'Being the men of families, we are the blessed, beloved and chosen ones.' Some men also suggested that men's superior position in marriage corresponds to their privilege as a leader (imam) in ritual practice – a role designated as male in Islamic orthodoxy – particularly in daily prayer. These men also believe in the benefits of mutual understanding, cooperation and mutual respect between couples. But they are firm in their belief that it is necessary for men to remain in charge of the family.
The pious wife
How do the Muslim men in these villages perceive women's position and status? And what forms of womanhood fit their values? For these Muslims, the image of a good wife is summed up in the idea of a 'righteous' (sholehah) wife, a concept with which many Muslims are familiar. It references a woman who is obedient, submissive to men and sexually attractive. The submissive aspect of sholehah wives is important in determining the quality of a marriage. Romsi, a 43 year-old father of two children, asserted, 'A good family requires a sholehah wife. We could say it like this, that with a blink of an eye, she gives herself to you. I mean she knows by herself what to do and how to behave towards her husband, that is, to be completely obedient.'
Other Muslim men support their views with the traditional story of human creation, from which they believe that women were created from the bones of a male. A 56 year-old man named Anggoro, who has been married for more than 20 years, bases his hierarchical view of human value on that story: 'So, if children will enter Heaven following their mother, then wives, if they want to enter Heaven, have to submit to and serve the men. That is how the religion tells it. That is the truth.'
Although disputed by some Islamic feminists, in Javanese village life the doctrine of the sholehah wife functions as a rule that controls women's behaviour. Although Javanese men claim to act as the central figure in the family and take on the responsibility of leading it, it is ironic that they see the key to a family's success as lying not in the quality of men's leadership, but in the level of women's submission. For men in these areas of rural Java, leading a family does not involve implementing Islamic ideals of leadership and family life, but rather making sure that women behave in accordance with their expectations.
A movement takes shape
Many of Indonesia's Islamic leaders do not give any support to the idea that Islamic doctrine allows men to act violently towards women. But conceptions such as the righteous wife are widely supported, and activists at Rifka Annisa believe that these interpretations are important for understanding the formation of a superior and sometime aggressive male identity. Islamic teachings on family and marriage have been understood as a framework for the disciplining of women. It is this way of looking at men's position and identity that emerges in the crises faced by the abused wives who seek assistance with Rifka Annisa. Male counsellors dealing with cases of wife abuse have frequently attempted to challenge men's beliefs about their right to 'discipline' women, but are yet to make significant progress.
For Rifka's counsellors, the lesson is clear. A substantial effort to deal with domestic violence must include consideration of the dominant values of manhood, large parts of which reflect interpretations of Islam that Rifka Annisa considers to be unduly biased towards men's dominance. Since 2007, the 'Men's Program' division in Rifka Annisa has taken steps to promote non-violence as an ideal of manhood, running a series of campaigns addressing a wide range of audiences, men and women alike. Rallies, talk shows and talk programs on local radio and TV have been organised, including contributions from local and national public figures, artists and Islamic leaders. These activities are intended to provide a public space to explore new values encouraging non-violent masculinity, and to introduce new meanings of concepts such as bravery, virility, toughness, superiority and leadership. A research report was published and T-shirts, brochures and banners created, all to display concern about the culture of violence. Promoting interpretations of Islamic doctrine that support equality and disapprove of violence are parts of that agenda.
Although Rifka Annisa is the first organisation in Indonesia to shape this novel perspective into a systematic working program, it shares this concern with other Indonesian NGOs. These NGOs have been involved in women's activism for a long time, but are now turning their attention to men's needs also. In 2009, Rifka Annisa joined with these organisations to initiate a national network named The Alliance of New Men (LLB). The Alliance promotes Rifka Annisa's perspective that men should be substantially involved in addressing the issue of violence against women, and encourages the idea that values of non-violence should be promoted as genuine elements of Indonesian culture.
This initiative has been widely appreciated, and the 'Men's Program' is steadily receiving more and more positive feedback. However, because the program attempts to address long-established values and cultural concepts, great energy and time will need to be expended before satisfactory results appear. In Java, attacking the serious problem of domestic violence against women involves a fundamental reassessment of men's comfortable position as family heads.
Rachmad Hidayat (ridyah@gmail.com) is a PhD candidate at Monash University. He worked with Rifka Annisa in 2009 and 2010. The research from which the data of this article was taken was sponsored by AusAID and Monash University. The author would like to express his gratitude to all Rifka Annisa activists, especially those of the Men's Program Division, and to all his friends in the LLB.
http://www.insideindonesia.org/stories/we-are-the-blessed-ones-17062879
--------
Temporary Marriage Turning Iran into an "Islamic Thailand"
12 June 2012
Shahrzad news: Controversy has arisen over an organisation that has registered with Iran's Ministry of Islamic Guidance as one that will introduce widows and divorcees to men seeking temporary marriage.
Minutes after the centre launched its website, thousands of Iranian bloggers and Facebook users used phrases such as 'running a brothel' or 'pimping with a touch of class' to describe the situation. Others said the centre was trying to find lovers for women who had undergone the menopause, or was turning Iran into an Islamic sex resort.
"Once we were told that the Islamic Revolution would turn Iran into an Islamic Japan. Instead it's turning it into an Islamic Thailand", was one comment.
According to the organisation's website: "The Ministry of Guidance has authorised this site to arrange temporary marriages. Those who wish to use our services can rest assured that their identity and details will remain confidential and will not be shared with any government agency. All ladies offering temporary marriage on this site are divorcees or widows."
In a telephone interview with the Ghanoon website, the organisation's director said that his only intention was to seek the blessing of Allah, and had no regrets.
Meanwhile the ISNA news agency reported that the vice squad's cyber affairs department suspect another temporary marriage organisation of being behind the website, and are condemning the ministry for licensing it.
http://www.iranpressnews.com/english/source/124995.html
--------
Young Woman in Danger of Execution in Iran!
12 June 2012
Siavosh Jalili, Persian2English - For the third time nine days ago, the death sentence for Safieh Ghafouri (a.k.a. Maryam), a 28-year-old woman who has been imprisoned in Adel Abad prison in Shiraz since 2006, was supposed to be carried out. At the age of 22, Ghafouri was arrested and charged with murder. Recently, following the efforts of benevolent people and Ghafouri's lawyers, judicial authorities agreed to postpone the execution order for 10 days to allow Ghafouri the opportunity to secure the consent of the victim's family [to have her life spared]. The 10-day period ends on June 10, and there is a possibility that the execution order may be carried out if consent is not granted by the victim's family or if an order is not obtained from the Head of Judiciary for a stay of execution.
Even though the Iranian Supreme Court has agreed to hear Ghafouri's appeal on the case, the Supreme Court has also stated that it will not proceed with the appeals hearing until Sadegh Larijani, the Head of the Iranian Judiciary, agrees to it. The Supreme Court explained that since Larijani had ordered the execution to be carried out, the stay of execution may only be possible if ordered through him. In the Iranian Judicial system, the highest authority lies with the Supreme Court. This means that if the Supreme Court agrees to hear a case, the execution sentence in that case must be stayed. Despite this, judicial officials have stated that Ghafouri's execution can only be stayed if the order comes from Larijani.
http://www.iranpressnews.com/english/source/125404.html
--------
Number of Younger Women with Breast Cancer on the Rise In Dubai
Janice Ponce De Leon
June 20, 2012
Those with disease in their family history are more prone to developing ailment, official warns
Dubai: While breast cancer affects mostly women aged 40 and above, more and more cases of younger women developing breast cancer have been discovered in Dubai, a senior official at the Dubai Health Authority (DHA) said on Tuesday.
"We have recently discovered that most of the patients are young, or below 40, and some of them are in their 20s, especially those who have cancer in their family history," Dr Moza Al Hattawi, chairperson of the DHA Breast Cancer Campaign, told Gulf News on the sidelines of the launch of the breast cancer awareness campaign at Dubai Hospital.
"I advise them to do the screening, mammogram, or the self-breast examination [regularly] and clinical examination 10 years prior to the age of her mother, her aunt or relative, had the cancer," Al Hattawi added.
Between 2011 and 2012, Al Hattawi said that of the 105 patients who underwent biopsy, 45 were diagnosed with breast cancer — majority in the second stage, the rest in the third stage. Of the 45 breast cancer patients, half were women aged below 40.
Genetic factors increase the likelihood of a woman developing cancer during her lifetime by 80 per cent. But breast cancer risk is higher by five to 10 per cent among women whose close blood relatives had the disease.
Full report at:
http://gulfnews.com/news/gulf/uae/health/number-of-younger-women-with-breast-cancer-on-the-rise-1.1037834
--------
Malaysia women fear rise in sexual violence
Alisha Hassan | 19 June 2012
KUALA LUMPUR: She is dressed in a slick suit and she keeps her head down as she walks, not wanting to draw attention in the late evening hours of the night in Malaysia's capital, Kuala Lumpur. For Rita Darik, Kuala Lumpur is still safe, but she fears the rising reports of sexual violence across the country.
"It is very scary to see it everyday and learn that more women are being attacked," the executive told Bikyamasr.com while walking from her office to her car on Monday evening. "We need some major changes in the perception of women in this country, and the government can do more."
She was referring to the rising number of women being attacked in car parks across the country and the reports that security guards have done little to intervene.
"If this happened to me and the security present did nothing, I might become very violent," she admitted.
Assaults at Malaysian car parks are becoming an all too frequent occurrence against women in the country. While they are demanding more action is taken by the government and security companies, some women are beginning to speak out on the attacks against them.
Facebook has become the choice to deliver information and stories on what happened in the car park.
Full report at:
http://bikyamasr.com/70180/malaysia-women-fear-rise-in-sexual-violence/
--------
Malaysia AIDS Council worried over rise in women infections
Alisha Hassan | 18 June 2012
KUALA LUMPUR: Malaysia is concerned that the country has seen a dramatic rise in the number of reported HIV/AIDS cases among women in the country.
The Malaysian AIDS Council (MAC) said that they are worried over what they said was a 10-fold increase in the percentage of women infected by HIV over the past decade.
MAC President Raj Karim said that the current statistics showed that nearly 10,000 women were HIV positive and accounted for 10 percent of all HIV cases in Malaysia.
He argued that the rise in women being affected "happened due to lack of knowledge and awareness among women on the spread of the virus," she said when opening a business workshop carried out under the Our Family's Safety Our Responsibility Crime Prevention Program (SEKATA).
She said the spread of HIV among women was feared to adversely affect the family institution as they played an important role in uniting the family.
She said there was also a "changing trend in the spread of HIV and AIDS where it was penetrating the domestic environment, instead of drug addicts and those engaged in free sex."
The society, she said, "should help curb the spread of the disease by working with government agencies and non-governmental organizations to carry out activities for the targeted group."
http://bikyamasr.com/70089/malaysia-aids-council-worried-over-rise-in-women-infections/
--------
Turkish Prime Minister Assaults Women's Rights
By Daniel Steinvorth in Istanbul
06/19/2012
Turkish Prime Minister Recep Tayyip Erdogan has never been much of a feminist, but women in Turkey are enraged by his latest comments on abortion. Critics say he is trying to distract attention from a scandal involving a massacre of Kurdish civilians last year.
Six letters, each a few centimeters tall, written onto her naked skin -- that was Madonna's contribution to Turkey's culture wars. Anyone who saw the words "No fear" written on her back during her June 7 concert in Istanbul understood her message, which was to encourage the Turkish people to have no fear of the enemies of freedom, and of patriarchs, philistines and the morality police. The singer also exposed one of her breasts on stage, apparently as a gesture of solidarity.
For weeks, thousands of women have been protesting against the government of Prime Minister Recep Tayyip Erdogan, 58, after he announced his intention to crack down on abortions and Caesarean section births. Since then, a debate on the role of women in Turkey has erupted -- but not for the first time.
Full report at:
http://www.spiegel.de/international/europe/turkish-prime-minister-erdogan-targets-women-s-rights-a-839568.html
--------
Women attending concert arrested in Tehran
12 June 2012
Scores of women who wanted to attend a concert at Milad Tower in Tehran on Monday were arrested by police.
ISNA reports that the arrests are connected with the implementation of a plan to deal severely with women who dress "inappropriately" in public places, adding that a famous actress was also arrested on similar grounds.
The report indicates that an Iranian actress with the initials L.A. was on her way to attend a music concert when the morality police spotted her and arrested her.
Ahmadreza Radan, the deputy police chief, confirmed that the police have stopped women who were not adhering to "hijab" (accepted Islamic attire), saying: "The police will not allow programs and fairs in which hijab and morality are not observed."
The Tehran police force has announced that women who are not sufficiently compliant with the "hijab" regulations in public will face stricter policing in the coming days.
The head of the Iranian police force, Esmail Ahmadi Moghaddam, told ISNA that at many festivals and official ceremonies, women are not following the appropriate regulations for public attire, and the police force is obliged to intervene.
With the start of summer, the Islamic Republic police force always becomes more focused on confronting women on the street for dress code violations.
In May, Ahmad Rouzbehani, the head of the morality police, said 70,000 police officers are being deployed to confront dress code violations on the street and using satellites.
http://www.iranpressnews.com/english/source/125487.html
--------
Indonesian Photographer Displays Women's Beauty in Every Shot
Krissy Dwyer | June 20, 2012
His mentor told him he couldn't have a business card as a professional photographer unless he could take a good shot of a nude woman.
But if you think that's why photographer Apelgede chose nude women as his favorite subject, you would be quite wrong.
Apelgede, whose Betawi nickname means that he can transfer the client's personal vision into photography, is not your ordinary artist. Yes, like many artists, he smokes a lot and has a creative look. But he knows what he does is rare in Indonesia.
"There aren't many photographers [here] willing to take a nude photo," he said, taking a deep puff of his cigarette.
"This is Indonesia. If you aren't different, you're like all the others. If you're different, people will notice."
Full report at:
http://www.thejakartaglobe.com/lifeandtimes/indonesian-photographer-displays-womens-beauty-in-every-shot/525084
--------
New Worries about Women's Rights and Ethnic Tensions Emerge in Afghanistan
By GRAHAM BOWLEY
KABUL, Afghanistan — Events this week that raised questions on women's rights and ethnic tensions have added to long-term concerns about Afghanistan after American-led forces withdraw in 2014 and new elections are held.
Over the past two days, women's rights advocates and others have expressed outrage over comments by the Afghan justice minister in which he claimed that women's shelters encouraged "immorality and prostitution," according to news reports.
Rights workers see the shelters as vital to help protect women who face abuse and exploitation with little recourse under local and traditional law. Amid concerns that conservatives could roll back tentative progress made on women's rights, the United Nations office in Afghanistan stepped in on Tuesday, issuing a statement saying that it "strongly supports the critical role that women's protection shelters play in providing support and safety for vulnerable Afghan women and girls, especially victims of domestic abuse and violence."
Full report at:
http://www.nytimes.com/2012/06/20/world/asia/insurgents-strike-checkpoint-in-southern-
----------
URL: https://www.newageislam.com/islam,-women-and-feminism/new-age-islam-news-bureau/bahraini-police-forced-a-young-woman-to-take-off-clothes-filmed-her-naked/d/7675