New Age Islam News Bureau
29 Apr 2012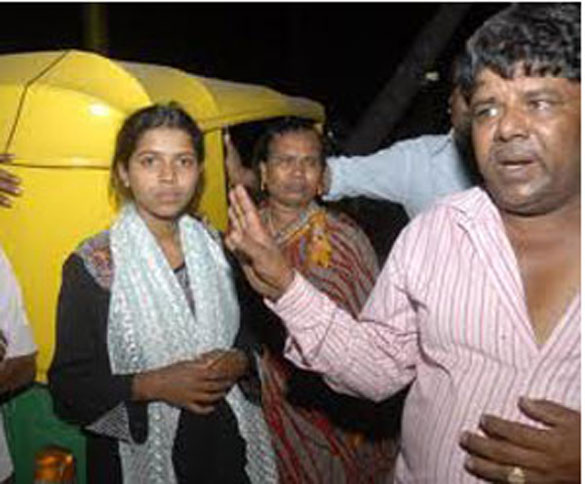 • Ruth Kelly on Muslim women with Hijab
• Anti-Islam activists to rally in Dearborn today to rescue Muslim women
• Social Islam biased against freedom of arts: Filmmaker Shama Zaidi
• Victims' groups help Montreal woman 'Zara' fight deportation to Pakistan
• Arab Spring opens window of opportunity for women in Mideast
Complied by New Age Islam News Bureau
Photo: Afreen's mother Reshma with relatives
URL: https://newageislam.com/islam-women-feminism/baby-girl-blessing-murder-afreen/d/7174
---------
Baby is a Blessing: Murder of Afreen and Falak is Gruesome
BY DR. FAROOQ AHMAD PEER
SRINAGAR, 07,JAMADI-AL-THANI 1433 AH ; 29 APRIL 2012 CEThe Murder of Falakand Afreen is certainly gruesome, shameful and unpardonable. The act is horrible. The so-called Muslim fathers killed their infant children on the ground that they were females. By murdering their daughters they have followed the barbarity of pagan Arabs who would bury alive their female issues.
The Arabs were involved in female infanticide before the advent of Islam and they would welcome the male child but not the female child. They would bury the female child alive which was very barbarous and inhumanely action. Allah detested it and through his Prophet (SAW) taught the Arabs the gravity and terrible consequences of this horrible act. They were taught that children, male or female, are equally important because the balance of humanity lies on both. A male child becomes the father of tomorrow while as the girl child becomes the mother of tomorrow. Prophet Mohammad (SAW) says that, "To kill your children fearing that they will share your sustenance is the greatest sin along with polytheism and disobedience to parents".
When we look at the child from the point view of our religious scriptures we become firm of the opinion that a child comes from the heaven and as such he has all the heavenly qualities in him. The Children are the gifts and blessings from Almighty Allah and hence their birth ought to be welcomed and praises and thanks to be offered to Allah. The modern world has become full of complexities and there is a fast growing tendency nowadays in the world that birth of a child is a burden and manifestation of financial difficulties. Killing a child is callous, barbarous and merciless and imprudent, foolish and reprehensible. Allah says in the Holy Quran:
"Indeed lost are they who kill their children foolishly"
(Al-Quran. 6. 141)
Those people who perform such foolish acts become mentally, spiritually and morally bankrupt and are in a great loss. Moreover, they become killers of the humanity as well as their future progeny who are the foundation of their families in particular and the community in general. They earn the wrath of Allah and are the foes of their own selves.
Allah says in the Holy Quran:
"Kill not your children for fear of want, we shall provide sustenance for them as well as for you. Verily, the killing of them is a great sin (Al- Quran)
Our Prophet (SAW) loved male as well as female child on equal bases. He (SAW) says:
"He who is blessed with the birth of a girl and does not burry her alive in the manner of the pagan days and does not detest her: neither shows preference to the boy over the girl nor considers the boy in any way superior to the girl, such a person will certainly land into the heaven (Jannat)" (Abu –Dawood).
In the murder of Afreen and Falak innocence has been done to death by the cruel fathers who deserve a punishment more than death, if possible. The law may take its course definitely and it is probable that the law may award them with life imprisonment but such sinful and monstrous humans deserve maximum punishment. Therefore, all the Islamic organizations of India should come forward with a fatwa of Death penalty to the father turned criminal so that the image of Muslim society does not get demolished any more in future and everybody understandsthat such heinous crimes against women folk have no place in Islam.
http://www.greaterkashmir.com/news/2012/Apr/29/baby-is-a-blessing-1.asp
----------
Ruth Kelly on Muslim women with Hijab
29th April, 2012
Just a few days back, a survey was made among the ethnic minorities in UK, which states that the Muslim women from Pakistan and Bangladesh are suffering from job discrimination because of their religious attire. A lot of outcry was heard from many outgoing young Muslim women who feel quite differently. However, coming back to the issue on the recent report published by Minister for Women Ruth Kelly, she says that 'Women in Hijab' should get more job opportunities in the front-line media irrespective of their headscarves. Now what pointed Mrs. Kelly to point this thing? Well, as everyone knows, according to survey, employment rate among ethnic minorities from Pakistani and Bangladeshi origin is just about 24% and this precisely had pushed the minister to come up with refreshing idea to help the Muslim women. Via: THE TELEGRAPH
http://www.themuslimwoman.org/entry/ruth-kelly-muslim-women-hijab/
----------
Anti-Islam activists to rally in Dearborn today to rescue Muslim women
April 29, 2012
By Niraj Warikoo
Detroit Free Press Staff Writer
Anti-Islam activists from across the U.S. are in Dearborn today for a conference they say is needed to rescue Muslim women. Called the Jessica Mokdad Human Rights Conference on Honor Killings, it's named after a 20-year-old Muslim woman killed in Warren last year.
But Muslim women in metro Detroit are rejecting the conference's message, saying it promotes hatred of Islam and Arab Americans. And Mokdad's family also strongly objects to the conference, saying they don't want her name being used to promote hate.
On Friday, Macomb County Assistant Prosecutor Bill Cataldo, who is chief of homicide, told the Free Press that Mokdad's death was not related to Islam or culture.
"It's not a case based on honor," Cataldo said. "The family objects to them using her name."
In response to the anti-Islam conference today, Arab-American groups plan to hold a separate conference nearby in Detroit that speaks out against bigotry.
Organized by several Arab-American organizations, it's called Rejecting Islamophobia: A Community Stand Against Hate.
Mokdad was shot dead last April in Warren by her stepfather, Rahim Alfetlawi, who faces first-degree murder charges.
In court, prosecutors have said the motive was rooted in the fact that Alfetlawi had "been sexually abusing her," Cataldo said. He was afraid Mokdad might go public with the assaults, and so he killed her, Cataldo said.
Anti-Islam activists say her death was an example of an Islamic honor killing.
"We're standing for the human rights of girls like Jessica Mokdad," said Pamela Geller of New York City, a conference organizer who blogs against Islam.
But Cataldo said, "The evidence shows the motive really was not a cultural (or religious) issue."
He added, "It's about power, control and rape."
Local Muslims say the conference organizers are abusing Mokdad's name to promote themselves.
"As a Muslim woman, I stand with pride in my faith," said Suehaila Amen, president of the Lebanese-American Heritage Club in Dearborn, who plans to speak at the Arab-American conference.
http://www.freep.com/article/20120429/NEWS05/204290613/Anti-Islam-activists-to-rally-in-Dearborn-today-local-Muslims-reject-conference-s-message?odyssey=mod%7Cnewswell%7Ctext%7CFRONTPAGE%7Cs
---------
Social Islam biased against freedom of arts: Filmmaker Shama Zaidi
New Delhi, April 29, 2012 (IANS) The idea of social Islam - the practised version of the faith - in conservative Muslim countries comes with a bias against the freedom of arts, says Islamic scholar, filmmaker and theatre personality Shama Zaidi.
'The attitude of Islam towards these arts have affected the place of the arts and their practitioners in society,' Zaidi said at a discussion 'Social Islam in South Asia: Current Trends' hosted jointly by the India International Centre and the South Asia Monitor, a resource forum (www.southasiamonitor.org) that provides perspectives on the South Asia region.
Zaidi, also a scriptwriter and art designer, attributes the gradual decline in the state of performing arts, crafts and traditional livelihoods in the community to 'globalisation, Islamisation, urbanisation and a loose caste system' which is tilting the social balance in favour of men and academic orthodoxy.
Citing an instance, she said after the uprising in Egypt, the authority had closed down the opera houses in Cairo.
'Young people were more into making protest music. The sacred zikr (Sufi music chanting the name of god) is forbidden. I was working on a script for (director) Muzaffar Ali on the Sufi seer Jalauddin Rumi and I visited an underground 'shama zikr' (candlelight Sufi assembly),' she recalled, adding the 'zikr' music sung by the followers of Rumi has retreated underground.
The practitioners of Sufism are 'not liked' by the government in Iran, Zaidi said, recounting the ordeal that one of her friends in Iran had been subjected to.
'One of my friends, a Sufi, was told that if she abjures Sufism, she would be given her promotion,' she said.
Zaidi contended that the space for singing and dancing in the name of god was shrinking in Pakistan as well. She said 'the spaces for music at Sufi 'mazars (shrines)' were closing down'.
'You can't do that at the tomb of Sufi mystic and poet Bulle Shah any more,' Zaidi said.
Pointing at the trends in India, Zaidi claimed the traditional musicians at the 'dargah' of Nizamuddin Auliya in the capital were singing more at the India Habitat Centre and at concerts.
'They are looked down upon by other musicians because they are not trained enough...The instrumental music has died and the 'qawaali', music of the shrines, has become crooning,' she said.
She hinted at a 'caste stranglehold in Indian music' which does not often allow fresh talent to become an 'ustad's shagird (disciple)'.
'We have not accepted music as a discipline because of Islamisation. Lot of musicians are giving it up,' Zaidi said.
Girls are not allowed to recite or sing once they grow up and are taken off family trade involving crafts and put behind the 'purdah', she said.
'The crafts are all but dying. This attitude is pretty bad and I don't know what can be done about it,' she said.
Besides the rigidity, politics and conflicts of faith have barred Islam from carving a socio-cultural space for itself, she claims.
Zaidi says she herself is a victim of 'bias'. One of her documentary films, 'Islam in India', a study of its socio-cultural heritage, has been languishing in the cans for almost 20 years.
Commissioned by the ministry of culture, the movie, when made, ruffled the feathers of the 'ruling Congress party which wanted changes made in the movie in favour of the party' and raised opposition hackles which felt 'it was communal to show such overt influence of Islam' in India, Zaidi said.
http://www.newstrackindia.com/newsdetails/2012/04/29/80--Social-Islam-biased-against-freedom-of-arts-Filmmaker-Shama-Zaidi-.html
-------
Victims' groups help Montreal woman 'Zara' fight deportation to Pakistan
By Paul Cherry, Postmedia News
MONTREAL, April 28, 2012 - Groups representing victims of sexual assault in Quebec are supporting a young woman's fight against deportation to Pakistan on the ground she fears repercussions there for having alleged she was attacked by a wealthy businessman.
A Federal Court of Canada hearing has been scheduled for late Saturday afternoon as the woman seeks a stay of the order to have her removed. She is being held at an immigration detention centre in Laval, near Montreal.
Rosalind Wong, of the group Movement Against Rape and Incest, said if the 20-year-old woman were removed, the man who allegedly sexually assaulted her, a year ago in Montreal, would benefit because she wouldn't be able to testify against him in court if he is eventually charged.
"The investigator in the case has said her remaining here is imperative for the case to go through. He is ready to bring it to a prosecutor but it requires her co-operation throughout the case. She is the key witness against this man," Wong said before the hearing.
"It's the norm that when someone has a case before a court that suspends their removal, but it hasn't reached that stage yet. We've asked (Canada Border Services Agency) if her removal could be delayed by a couple of weeks, but they've held a pretty resolute line.
"(The businessman) has a lot of family in the region of Pakistan where she would be deported. She fears him and has already received threats from his family. She is afraid he can easily find someone (in Pakistan) who would harm her and prevent her from ever coming back to Canada to pursue her charges against him."
The 20-year-old woman is referred to as Zara, a fictitious name, in a statement issued by three community groups who support her, including the South Asian Women's Community Centre and the Regroupement Québecois de centres d'aide et de lutte contre les agressions à caractères sexuels.
Wong said the 20-year-old woman also suffers from a neurological condition and has been seeing a neurologist for the past six years. The woman suffered a concussion in February and her neurologist advised her against travelling for up to six months, Wong said. Her condition caused her to postpone two dates in the case, challenging her removal, and she did not show up for her scheduled removal date on April 24. When she did show up, two days later, she was arrested by Immigration Canada and placed in detention. She is scheduled to be removed on Sunday.
On Friday, the woman's lawyer, Mylene Barriere, filed a motion for a stay of removal in Federal Court and the motion will be heard, by telephone, Saturday afternoon.
According to past court decisions made in the woman's case, she came to Canada with her family in 2000, when she was 8. Her parents initially claimed to be refugees from Pakistan. The Refugee Protection Division of the Immigration and Refugee Board later determined they were not conventional refugees and "were not persons otherwise in need of international protection." Her family tried to use other arguments to remain in Canada, including that, by 2006, their children had been educated in Canada and that returning to a rural part of Pakistan would affect their education and health. A federal court judge rejected that argument in 2006.
Since then, the 20-year-old woman has married a Canadian citizen and the couple applied for sponsorship in 2011.
Montreal Gazette
http://www.ottawacitizen.com/news/Victims+groups+help+Montreal+woman+Zara+fight+deportation+Pakistan/6535875/story.html
------------
Arab Spring opens window of opportunity for women in Mideast
YONCA POYRAZ DOĞAN,
İSTANBUL, 29 April 2012 / In many countries of the Middle East, women are wondering what the Arab Spring means for them. Some observers are concerned that the power vacuum will leave the door open for Islamist groups to take power and force changes opposing women's rights.
Zainah Anwar, a leading Malaysian social activist and intellectual, is not one of them. She is even excited about the prospects that the Arab Spring could have for women.
"A window of opportunity has opened up," said Anwar, who is one of the founding members of Sisters in Islam (SIS), an activist group struggling for the rights of Muslim women. "Islamist parties will of course use religion to justify things against women, but women's groups need to raise their voices and challenge extremist voices."
Anwar refers to her Malay experience while explaining what women's rights activists have done in her country to achieve that goal. "In Malaysia, we decided that it is not enough to use universal human rights principles in that regard because we are operating in a society where religion is a source of law, and religion is important to the women that we are trying to help," she told Sunday's Zaman in İstanbul, where she participated in the 12th forum of the Association for Women's Rights in Development (AWID), held on April 19-22.
"There is that window of opportunity in the Arab world to build that culture of public space in Islamic matters," she said.
Anwar indicates that there are so many juristic tools in Islam. For example, the concept of "maslaha" favors the public interest or social benefit and the concept of "istihsan" uses juristic preference to seek ease and convenience, and to adopt tolerance and moderation.
"With those tools, we can build wider public support," she added. Anwar is one of the pioneers of "Musawah," an initiative launched in 2009 to build a global movement for equality and justice in the Muslim family. In her own family, Anwar was brought up with religion. "I believe in a just Islam, a just God. I don't believe God is unjust to women," she said and she has been critical of some women's rights activists who want to stay away from debates related to religion.
"My option was that I could reject my religion, like many feminists do, or I could find out what the religion really says. I decided to find out for myself. Did God say those unjust things about women? I read the Quran to find out."
She started reading the Quran in the 1980s with Amina Wadud, an American scholar of Islam with a progressive focus on the interpretation of the Quran and a woman who led Friday prayers in the US.
Full Report at:
http://www.todayszaman.com/news-278896-activist-zainah-anwar-arab-spring-opens--window-of-opportunity-for-women-in-the-region.html
-------
URL: https://newageislam.com/islam-women-feminism/baby-girl-blessing-murder-afreen/d/7174