New Age Islam News Bureau
3 Jul 2016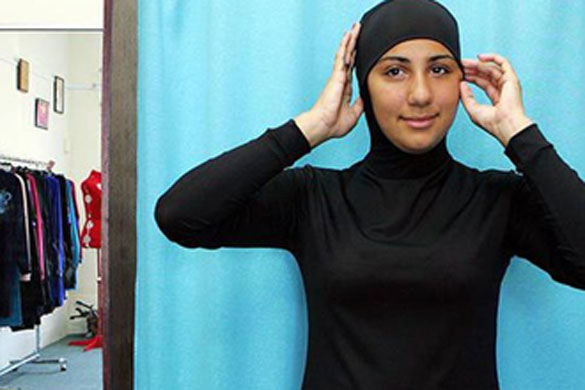 Photo: The burqini has been banned at the Austrian swimming pool
----------
• Uniform Civil Code Will Bring End to Indian Women's Suffering
• Gun-toting Jihadi 'bride-maker' who grooms British girls for ISIS fighters in Syria
• Iranian Women Push for More Open Stadiums
• The Oldest Library on Earth Was Started By a Woman, and Finally Everyone Can Visit It
Compiled by New Age Islam News Bureau
URL: https://newageislam.com/islam-women-feminism/austrian-swimming-pool-bans-muslim/d/107842
-----------
Austrian swimming pool BANS Muslim women from wearing burkini
Jul 2, 2016
The Austrian town of Hainfeld has put a stop to the total-body swimsuit - complete with head covering - triggered by the country's far-right Freedom Party.
Peter Terzer, a local town councillor, said: "It can be ensured, that no person wearing a burkini can enter the pool.
"In respect to the bathing rules, we are completely pleased with the adopted variant.
"Nothing in particular has prompted the ban, however, the bathing rules have been in place for decades already."
He said the ban was based on sanitation grounds, so the pool water could be meet strict hygiene regulations.
It comes after a public swimming pool in Neutraubling near Regensburg, Germany banned Muslim women from wearing the full body swimsuit after complaints from non-Islamic bathers.
Mr Terzer also called for tighter security amid reports of a rise in sexual assaults at swimming baths in Austria.
Most recently, authorities in the Austrian town of Mistelbach issued a temporary ban on refugees after a 13-year-old was allegedly sexually assaulted by a young man, supposedly an asylum seeker from a nearby shelter.
The officials posted a sign saying "today no entry for refugees" in the wake of the incident.
Mr Terzer added:"My main concern continues to be the safety of the female bathers.
"Our lifeguard ensures security and is instructed to report every incident."
Last month the country's anti-EU and anti-Muslim party released a video telling asylum seekers to "keep your fingers off our women".
The Freedom Party, which narrowly missed seeing their candidate become president of Austria in a recent poll, says it was provoked after a string of sex assaults carried out by asylum seekers in neighbouring Germany.
express.co.uk/news/world/685602/Austria-swimming-poll-ban-burkini-Muslim-women-full-body-cover
--
Uniform Civil Code will bring end to women's suffering
Jul 2, 2016
The Shiv Sena on Saturday backed the Centre's move to ask the Law Commission to examine the implications of implementing the Uniform Civil Code across the country, saying it would bring an end to the sufferings of women, particularly those belonging to the Muslim community.
"Uniform Civil Code should have been implemented in our country long time ago. This should be implemented as early as possible because it is the Muslim women who are suffering because of the 'triple talaq' and particularly because of the unreasonable things in the Muslim Personal Law," Shiv Sena leader Manisha Kayande told ANI.
"So, I think there should be a Uniform Civil Code all over the country so that women stop suffering," she added.
The Union Law Ministry has asked the Law Commission to examine in detail all issues pertaining to the Uniform Civil Code and submit a report to the government.
Confirming the news, Union Law Minister Sadananda Gowda said that after repeatedly receiving questions about this in Parliament, he had asked the Law Commission to give him a report.
The code, if implemented, would mean a set of common civil laws for all citizens in place of multitude of personal laws for different religious groups.
Under the Directive Principles of the State Policy in the Constitution, Article 44 says: "The State shall endeavour to secure for citizens a Uniform Civil Code throughout the territory of India." The Uniform Civil Code has been a controversial issue and it was part of the BJP's poll manifesto.
The move by the Centre assumes significance as the Supreme Court had recently said it would prefer to have a wider debate, in public as well as in court, before taking a decision on the constitutional validity of 'triple talaq'.
tribuneindia.com/news/nation/uniform-civil-code-will-bring-end-to-women-s-suffering-shiv-sena/260149.html
--
Gun-toting Jihadi 'bride-maker' who grooms British girls for ISIS fighters in Syria is student from London whose father is a successful businessman
Jul 2, 2016
Her poisonous outpourings on the internet glorify the murderous acts of Islamic State terrorists and are meant to lure young British Muslim women to travel to Syria as 'Jihadi brides'.
And today The Mail on Sunday can unmask the evil 'matchmaker' known by the pseudonym Umm Muthanna Al Britaniyah.
She is a former London student whose real name is Tooba Gondal. She is 22 years old and her father is a successful businessman.
Her transformation, in a few years, from happy schoolgirl about to leave for college to IS cheerleader in a burka toting an AK-47 is stark.
These days, instead of furthering her education, her most cherished desire is to become a 'martyr' in a suicide bombing.
Through her prolific output on social media, she commands a powerful influence on her following of largely young girls as she 'grooms' them, urging them, as she has done, to travel to Syria and marry bloodthirsty IS killers.
In her online rants, she described Britain as 'a filthy country' and praised the Paris massacre last November, which left more than 130 dead, saying: 'EXPLOSIONS AND SHOOTINGS… 80 dead. And all praise is due to Allah Almighty. #ParisUnderAttack.'
She added: 'Wish I could have seen the hostages being slaughtered last night with my own eyes. Would have been just beautiful.'
In May last year, using the name Fatima, she encouraged a British teenager she met on social media to travel to Syria and join IS.
She then asked the teenage recruit to meet one of her own relatives – a 16-year-old girl – and bring her to Syria too.
The plan was to fly to Switzerland then Istanbul, and then travel by land to the Syrian border.
But it all fell apart because the teenager that Gondal thought she was grooming was actually an undercover reporter.
The newspaper alerted police, who arrested Gondal's relative at home. She has since been dealt with by officers from Prevent, Scotland Yard's deradicalisation unit.
Exactly how Gondal, from Walthamstow, East London, ended up promoting the barbarity of IS killers from their stronghold in Raqqa, Syria, is not clear, but this is not a story of a disenfranchised, no-hoper youth looking for a way out of desperate circumstances.
She is the eldest daughter of a successful London businessman and was, according to friends, in the top set for all subjects at her local secondary, Kelmscott School – though also something of a rebel.
A photograph of Gondal in her final-year yearbook in 2010 shows her wearing the hijab, or Islamic headscarf, to school.
But classmates recalled how she would remove her hijab on the way to school, to allow her long brown hair to hang free, then put it back on the way home.
One ex-classmate said: 'She was a rebel. She did come to school with the headscarf, but she would then take it off. She also liked sneaking out of her house.'
The friend, who did not want to be identified, said Gondal even smoked at school and had secret boyfriends. She adored boy bands and their music – a far cry from the jihadi songs she would come to love.
The friend said she stayed in contact with Gondal by social media during their college years, but noticed a change about two years ago.
'She started posting verses of the Koran on Twitter, and talking about religion. I just don't know what brought it on,' she said.
None of the former friends we spoke to had any clue as to why Gondal would go to Syria.
At some point in the five years since the photograph on the far right was taken – on a school mock interview day – Gondal went from being a typical feisty teenage girl with everything to live for to one who yearns for death, presumably taking as many victims as possible with her.
Last summer, soon after telling her Twitter followers that she had acquired a suicide-bomber's vest, she tweeted: 'I came here to die. I will not leave till I get what I came here for: shahadah [martyrdom].'
Her chilling radicalisation almost certainly took place largely online and, as she carries out IS's bidding on social network sites, that is where Gondal, under her nom de guerre, hunts for new recruits.
Her tweets and photographs glamorise jihad in Syria, and encourage others to leave Britain and head for the self-declared caliphate.
She is one of about 60 British women and girls who have fled to Syria to join IS.
After school, Gondal attended Hackney's BSix sixth-form college, then won a place at the prestigious Goldsmiths College, part of the University of London, studying English.
An analysis of Gondal's social media accounts and a blog reveals that in about November 2012 – apparently while she was a student at Goldsmiths College – she says she 'reverted' back to Islam.
There is some evidence that she may have been involved with Goldsmiths' Islamic Society – known as ISOC – which has a reputation as a radical hotbed.
She tweeted in November 2014 about ISOC's part in a college charity fund-raising effort, and described it as 'My Uni!'
Last year, security guards had to intervene when members of Goldsmiths' ISOC disrupted a lecture by outspoken Iranian human rights campaigner Maryam Namazie about blasphemy.
'Brothers' of the Islamic Society started coming in and out of the auditorium, talking over her and repeatedly banging a door. One turned off the projector that she was using.
When The Mail on Sunday asked the student group about Gondal, a spokesman denied any knowledge of her, saying: 'I have never heard the name, nor have any idea who this individual may be.'
Gondal has been living in Raqqa since arriving in the war-torn country in January 2015.
The Mail on Sunday has been tracking her on social media for more than 18 months, as she became one of the most visible British female 'ambassadors' for the terror group, frequently posting messages and pictures from Syria.
She began tweeting using the handle @Umm_muthanna, which literally means Mother of Muthanna.
Although she did not reveal her real identity on Twitter, throughout last year Gondal inadvertently left clues about herself, telling her thousands of followers – including many young British girls – that she was a 21-year-old of Pakistani origin from East London.
By comparing URLs (web addresses) and checking details referred to in her social media posts, Mail on Sunday investigators were able to establish Gondal's name, and discovered that only one woman of that name lived in London.
She dropped one big clue to her identity as she glorified the Paris killings. 'Burn Paris burn. Can't believe that is my birth place,' she cheered, adding: 'LOL HOW SCARED ARE THESE KUFFAR. [non-Muslims].'
Friends we have spoken to in London confirmed that Gondal's family moved to the UK from France when she was young.
As Gondal was making her secret plans to leave for Syria, she and her family were living in a palatial six-bedroom house in Wanstead, a leafy suburb on the outskirts of East London.
Their white-gated house had a large driveway and a swimming pool in the back garden.
Gondal's school friends recalled her being 'rich', as her father owned a number of shops in London, one of which was a halal meat shop.
At the time Gondal left for Syria, her family moved out from their Wanstead house to a more modest detached property in nearby Walthamstow.
The properties are together worth about £1.5million and are owned by Gondal's father, Mohamed, according to Land Registry documents.
It seems that Gondal did not miss her home comforts after arriving in Syria.
A month after getting there she tweeted how she slipped into Syria under the noses of British authorities, writing: 'Hey UK security, how do you feel that your citizen left your filthy country whilst listening to Salil as-Sawarim [a jihadi song] on the plane? Pathetic.'
In March, Gondal tweeted a picture of herself in full burka brandishing an AK-47, tweeting: 'Living the life.' She posted another photo in front of a white car, while holding on to her AK-47.
She wrote later: 'Never got my license in Britain, failed it many times haha but here I drive this. You jealous women of Saudi? [where women are banned from driving].'
Our investigation reveals that Gondal was married to an infamous jihadi of Lebanese origin, called Abu Abbas Al-Lubnani, who himself tried to recruit jihadi brides from the UK.
Just days before Gondal fled to Syria, Al-Lubnani was exposed by a British national newspaper for trying to recruit two teenage girls from London to go to Syria.
He had arranged for a UK-based man and woman, who appeared to be married, to meet the two would-be teenage jihadi brides at a spot in East London, so that the couple could give the two girls cash sent from Syria to pay for their travel to IS territory.
But the two teenagers he was communicating with on social media were journalists, and the couriers were exposed in a newspaper. Neither has been arrested by police.
Al Lubnani may have groomed Gondal online to join him in Syria. For a while, she seemed to adopt the role of homemaker and housewife, saying how much she enjoyed making shami kebabs for her husband.
Gondal tweeted: 'What more could you want than to be able to raise the next generation of lions in Islamic State who will go on to spread Islam.'
Al Lubnani was killed in August while fighting in Hasakah, a formerly IS-controlled town at the Syrian-Iraqi border.
After his death, Gondal tweeted: 'My husband Abu Abbas Al-Lubnani… got shahadah [martyrdom] in #Hasakah.'
Last week, Gondal's father, Mohamed Bashir Gondal, confirmed that his daughter had gone to Syria.
Mr Gondal, 56, a devout Muslim, also confirmed that his daughter was still living in the Syrian-part of IS's self-declared caliphate, despite most British jihadis moving to Mosul, the group's capital in Iraq, for safety.
When asked how his daughter ended up in Syria, Mr Gondal indicated he would have stopped her if he had known her plans.
In broken English, he said: 'I don't know, if I know, she no go. If I know, she's no go.' He refused to answer any more questions, saying his daughter was safe in Syria.
But she now seems ready to welcome death. 'My sins terrify me,' she tweeted, adding later: 'Everyone around me is getting shahadah. Ya rabb [Oh, Lord]! When will it be my turn? When will I unite with my husband.'
Given the fierce fighting raging in Syria, she may not have long to wait. The question is how many more young British women will follow her?
The Metropolitan Police, Kelmscott School and BSix College declined to comment.
A spokesman for Goldsmiths, University of London said: 'We fully comply with our legal obligations under the Government's Prevent Strategy.'
dailymail.co.uk/news/article-3671824/Unmasked-Gun-toting-Jihadi-bride-maker-grooms-British-girls-ISIS-fighters-Syria-student-London-father-successful-businessman.html
--
Iranian Women Push for More Open Stadiums
Jul 2, 2016
Iranian women reported that they were being barred from attending a major volleyball tournament featuring the Olympic-bound men's national team, reigniting a debate about whether Iran should be allowed to host international matches.
After a commitment from volleyball's world governing body that women would be able to attend this weekend's World League tournament at the Azadi Sport Complex in Tehran, Iranian women who have pushed to make sporting events more open say they have not been able to buy tickets online despite repeated efforts.
Female fans are traditionally barred from attending male-only sports events in Iran as a result of efforts by the authorities to enforce strict interpretations of Islamic norms, but many women are pushing to change that practice.
The international volleyball federation, known as the FIVB, an abbreviation for its French name, streamed the Argentina-Italy and Iran-Serbia matches Friday, showing a section of women in the stands. It was unclear whether the women were invited guests or members of the public. A female announcer handled substitutions during Iran's match.
The FIVB released a statement noting that the Iranian federation had said that Friday's matches sold out within five minutes and that 466 of the 5,000 tickets had been allotted for a section set aside for women. The area of seats, shown repeatedly on the live stream, did not appear that large.
From the moment tickets became available, the sales website said that the female allotment had been filled, according to several women who said they had tried to purchase tickets.
"Honestly, when I saw their statement, I said, If FIVB were Pinocchio, their nose was from Lausanne to Tehran," said a 32-year-old Iranian woman who represents a group called Open Stadiums. "Why they lie this much?" She declined to give her name out of fear of retaliation. The Open Stadiums Twitter account identifies itself as "A movement of Iranian Women seeking to end discrimination and let women attend stadiums."
Tara Sepehri Far, a researcher with Human Rights Watch, has tracked the controversy.
"We've been following the case closely and I am disappointed to say that despite FIVB's claims to have assurances from the Iranian Volleyball Federation, the tickets have not been available to women so far," she said in an email to The Associated Press along with an image of the ticket website.
In 2012, the longtime ban on women from soccer matches in Iran was extended to volleyball.
The FIVB has pushed Iranian officials to make concessions for women. The sport's profile is rising in the country, tied to the national team's success.
Eighth-ranked Iran qualified for its first Olympic tournament as one of the 12 teams set to play in Rio de Janeiro this August.
"It is important to emphasize that this is a first step of a long-term campaign to reinstate female spectators at volleyball events in Iran and one which the FIVB is 100 percent committed to," the FIVB said in a statement. "Our policy is one of engagement and diplomacy to secure inclusion through sport not through the threat of isolation. While we understand that volleyball alone can't enforce change, we appreciate that we have a significant platform for creating dialogue and the FIVB will continue to strive for sport's power as an agent for positive change to be fully realized."
For a February beach volleyball event at Iran's Kish Island, women were not allowed to watch the tournament, and the FIVB said that "misunderstandings" were at the root of the issue. Women were later allowed to watch matches from a cafe overlooking the main court.
The issue first drew international attention in June 2014, when a British-Iranian student, Ghoncheh Ghavami, was detained when she tried to attend a men's volleyball match at Azadi. She spent more than 100 days in prison, much of it in solitary confinement.
The case prompted the FIVB president, Ary Graca, to urge Iranian officials to release her. He told the volleyball federations at the end of their world congress: "We never normally seek to interfere with the laws of any country. But in accordance with the Olympic Charter, the FIVB is committed to inclusivity and the right of women to participate in sport on an equal basis."
Also, in November 2014, FIVB said that in light of Ghavami's imprisonment, Iran would not be chosen to host a boys' under-19 world championship. Ghavami was sentenced to a year in prison for spreading propaganda, but the charges were dropped.
The U.S.A. Volleyball board chairwoman Lori Okimura has also been outspoken on the cause.
"This blatant gender discrimination of not allowing women access to purchase tickets to watch their teams play in Tehran, to me, significantly diminishes the accomplishments of the national teams in the world's view," she said Thursday. "Continuing to award Iran international volleyball events, when this condition is in effect, sends the message, loud and clear, that gender discrimination is accepted by the FIVB and its 221 member federations. It is not."
nytimes.com/2016/07/03/sports/iranian-women-push-for-more-open-stadiums.html
--
The oldest library on Earth was started by a woman, and finally everyone can visit it
Jul 2, 2016
Founded by a Muslim woman, the University of Al Qarawiyyin in Fez, Morroco, opened its doors in 859. Its library has been restored during the last three years by another woman, Canadian-Moroccan architect Aziza Chaouni. A wing will be open to the general public later this year.
The library houses a collection of 4,000 rare books and ancient arabic manuscripts written by renowned scholars of the region. According to the AP, the manuscripts include a 9th century version of the Quran and a manuscript on Islamic jurisprudence written by philosopher Averroes.
The University complex was founded as a mosque by Fatima Al-Fihri, who inherited her merchant father's fortunes after the family moved from Al Qayrawan, or modern day Tunisia. In "The golden age of Islam," (French, video) a documentary that aired on France 5 Channel, Al-Fihri was described as a young woman fascinated by knowledge and curious about the world. She oversaw the construction of the mosque, and until her later years, attended lectures by reputed scholars who travelled to teach at the mosque school.
It is still considered a leading religious and education institution in the Muslim world. Today, the University of Al Qarawiyyin has moved away to another part of Fez, but the mosque and the library remain at the ancient complex.
Chaouni, originally from Fez, says she had not heard of the library before she was enlisted by the Moroccan Culture Ministry in 2012 to take charge of its restoration, which suffered from the climate and humidity over the years. "Throughout the years, the library underwent many rehabilitations, but it still suffered from major structural problems, a lack of insulation, and infrastructural deficiencies like a blocked drainage system, broken tiles, cracked wood beams, exposed electric wires, and so on," says Chaouni on TED.com.
The restoration equipped the library with solar panels, a new gutter system, digital locks to the rare books room and air conditioning that will help control humidity and protect books in the library. The library was previously open only to scholars and researchers. It now will have a wing open to the general public, which includes an exhibition room and a small café.
qz.com/722671/one-person-of-integrity-can-make-a-difference-the-powerful-words-of-night-author-elie-wiesel/
URL: https://newageislam.com/islam-women-feminism/austrian-swimming-pool-bans-muslim/d/107842
New Age Islam, Islam Online, Islamic Website, African Muslim News, Arab World News, South Asia News, Indian Muslim News, World Muslim News, Womens in Islam, Islamic Feminism, Arab Women, Womens In Arab, Islamphobia in America, Muslim Women in West, Islam Women and Feminism