New Age Islam News Bureau
12 December 2020
• Sahar Tabar, Iranian Teenager Who Posted Distorted Pictures of Herself Is Jailed For 10 Years
• Iran Security Forces Arrest Two Female Iranian Arab Civil Activists, Fatima Tamimi and Maryam Ameri: Rights Group
• Libyan Women Seek Greater Participation in Peace Talks
• Jordanian Woman Techpreneur Scoops UN Business Award
• Female-Run Police Hotline Aims To Encourage Pakistani Women To Report Abuse
• First Turkish Women's Rally Marked On Its 101st Anniversary
Compiled by New Age Islam News Bureau
URL: https://www.newageislam.com/islam-women-feminism/austrian-constitutional-court-overturns-headscarf/d/123740
--------
Austrian Constitutional Court Overturns Headscarf Ban in Schools, Calls It Discriminatory
11 Dec 2020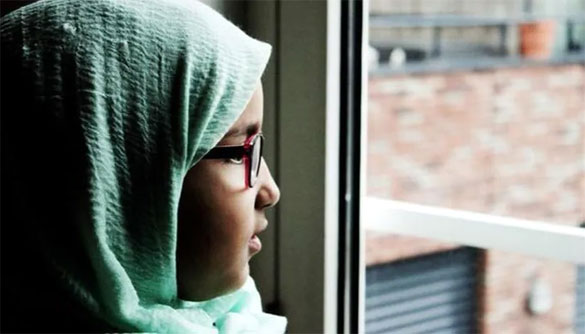 The court ruled that it went against the state's duty to treat all religions equally and the principle that singling any one community requires justification
------
Austria's Constitutional Court has ruled that a law banning girls aged up to 10 from wearing headscarves in schools was discriminatory, overturning the measure introduced by the ruling conservatives while allied with the far right.
The legislation did not specify that the ban referred to headscarves, instead forbidding the wearing of "religious clothing that is associated with a covering of the head".
But the court found on Friday that it was clearly aimed at Muslim headscarves.
That went against the state's duty to treat officially recognised religions equally, and the principle that singling out any one of them requires special justification, it ruled.
"The selective ban … applies exclusively to Muslim schoolgirls and thereby separates them in a discriminatory manner from other pupils," court President Christoph Grabenwarter said.
"There is a risk that [the law] could make it harder for Muslim girls to gain access to education, and it could lead to their social exclusion," he added.
The IGGOe, the body officially recognised as representing the country's Muslim communities, welcomed the judgement and said the court had ended "the populist politics of bans".
IGGOe President Umit Vural said in a statement: "We don't condone disparaging attitudes towards women who decide against the headscarf … and we also cannot agree with the curtailing of the religious freedom of those Muslim women who understand the headscarf to be a integral part of their lived religious practice."
In 2018, it was estimated that about 4.2 percent of people in Austria were Muslims.
Far-right demand
Conservative Chancellor Sebastian Kurz has consistently taken a hard line on immigration, and his stance overlaps significantly with that of the far-right Freedom Party (FPO), which says Islam has no place in the Austrian society.
Kurz formed a coalition with the FPO in 2017 that collapsed last year after the far-right party's then-leader, Heinz-Christian Strache, was caught in a video sting offering to fix state contracts.
Kurz is now in government with the left-wing Greens, but their coalition agreement includes many policies introduced during his alliance with the FPO, including a plan to extend the headscarf ban up to the age of 14.
Education Minister Heinz Fassmann said the ministry would "take note of the judgement and look into its arguments".
"I regret that girls will not have the opportunity to make their way through the education system free from compulsion," he added.
The current government programme says children should grow up "with as little coercion as possible", for which it gives wearing a headscarf as the only example.
https://www.aljazeera.com/news/2020/12/11/austrian-constitutional-court-overturns-headscarf-ban-in-schools
--------
Sahar Tabar, Iranian Teenager Who Posted Distorted Pictures of Herself Is Jailed For 10 Years
Patrick Wintour
11 Dec 2020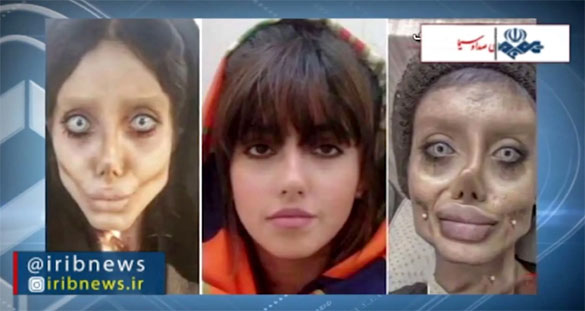 An image grab from footage obtained from Iranian State TV IRIB on October 24, 2019 shows a reproduction of pictures posted by Iranian Intagrammer Sahar Tabar of herself before (C) and after. (AFP/HO/IRIB)
-----
An Iranian woman who posted heavily distorted images of herself online has been sentenced to 10 years in jail, her lawyer has said, a year after she was arrested over her social media activities.
Sahar Tabar, 19, whose real name is Fatemeh Khishvand, came to prominence after posting images of herself with a gaunt, zombie-like face. At one point she had 486,000 followers on Instagram.
She was charged with corruption of young people and disrespect for the Islamic Republic. In spring she pleaded for release from detention, saying she had contracted Covid-19.
At one point Tabar called on the actor Angelina Jolie, whom she resembled in some of her photos, to campaign for her release, saying: "The Islamic Republic has a history of tormenting women. We need to be united against this gender apartheid."
The charges against Tabar first included blasphemy, inciting violence, gaining income through inappropriate means and encouraging youths to corruption. She said she had been cleared of two of the four charges against her, but did not want to comment further because she was still hoping for a pardon.
Iranian state TV broadcast her confession in late October last year. Her expressions of remorse drew a great deal of sympathy. The report described Tabar as "a victim with an abnormal personality and mental state" who sought "vulgarity" on social media.
Medical records also suggested that she had a mental illness, with a history of visits to psychiatric hospitals, making the 10-year sentence even less explicable. Her lawyers had asked for her to be bailed, and pointed to her age at the time she committed the alleged offences.
https://www.theguardian.com/world/2020/dec/11/iranian-teenager-jailed-10-years-distorted-pictures-instagram-sahar-tabar
--------
Iran Security Forces Arrest Two Female Iranian Arab Civil Activists, Fatima Tamimi and Maryam Ameri: Rights Group
Yaghoub Fazeli
11 December 2020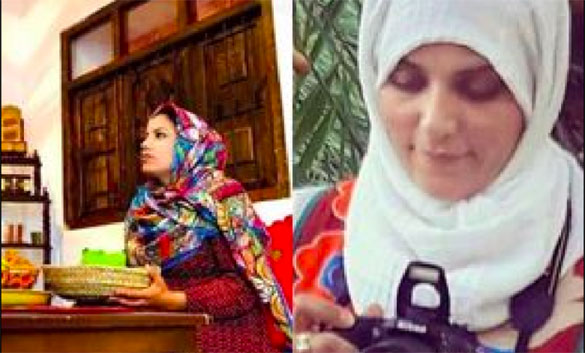 Iranian regime forces arrest three female Ahwazi activists, while regime loyalists online issue death threats
------
Security forces in southwest Iran arrested two Iranian Arab civil activists on Wednesday on unknown charges, a rights group reported.
Security forces arrested Fatima Tamimi and Maryam Ameri in their hometown in Mahshahr, a city in the oil-rich Khuzestan province, the Human Rights Activists News Agency (HRANA), a news site run by a collective of Iranian human rights advocates, reported.
The reasons for the two activists' arrest and their current whereabouts remain unclear, HRANA said.
Tamimi, 39 and mother of two, is also a filmmaker who has produced several short documentaries on poverty, addiction, unemployment, and the social issues of Arabs in Iran.
Tamimi and Ameri reportedly recorded traditional Arabic stories, lullabies and songs from different villages in Khuzestan province as part of an oral history project.
Iranian authorities are intolerant of ethnic cultural activism and often arrest Arab civil and cultural activists on separatism charges.
Arabs in Iran, known as Ahwazi Arabs, are an ethnic minority based in Khuzestan. Despite being Iran's main oil-producing region, Khuzestan is one of the country's least developed regions.
Activists from the region say the indigenous Ahwazi Arab population are deprived of decent living standards and civil rights and face discrimination due to their Arab identity and heritage.
https://english.alarabiya.net/en/News/middle-east/2020/12/11/Iran-security-forces-arrest-two-female-Iranian-Arab-civil-activists-Rights-group-
--------
Libyan Women Seek Greater Participation in Peace Talks
By Nisan Ahmado
December 11, 2020
Libyan women played an influential role in the country's popular protests that led to the downfall of Moammar Gadhafi's regime in October 2011.
Nine years later, as Libya's warring parties discuss a road map to end a civil war and hold elections, female activists say the role of women is being ignored.
Hajer Sharief, a co-founder of Together We Build It, an organization promoting peace and security in Libya, said that Libyan women were expecting the U.N.-led peace talks in November to consider gender balance among negotiators.
"We have a negotiation over a whole country on behalf of a whole nation, and the political process should reflect the demographics and the society. Any group that will negotiate on behalf of the society and will make decisions for it must reflect the components of the society it represents," Sharief told VOA.
She said that women in Libya since the 2011 unrest have been vulnerable to violence, while the political divisions in the country failed to establish a formal mechanism to allow women and young people to partake in the decision-making. Despite the barriers, she said, women have been assuming their positions in the peace-making efforts through advocating and participating in meetings whenever they learn about them.
Since the 2011 unrest, Libya has been divided into the Tripoli administration in the east of the country, known as the U.N.-backed Government of National Accord (GNA), and the Tobruk administration in the west of the country, supported by the Libyan National Army (LNA) under General Khalifa Haftar. Both sides have been fighting since April 2019 when Haftar, backed by the United Arab Emirates and Egypt, launched an offensive to seize the capital, Tripoli, from Turkey-backed GNA.
Representatives of the two sides took a major step toward peace when they met November 9 at the Libyan Political Dialogue Forum (LPDF) in neighboring Tunisia and signed a cease-fire agreement. The 18-month process agreement aims to reunite institutions and hold a general election at the end.
Reshaping power
The LPDF negotiators consisted of 75 Libyans, with 17 women members. After the first in-person session of talks, the female participants called for greater involvement of women in leadership positions and executive authority to eliminate gender-based discrimination.
"The formation of the government must be based on efficiency, merit, a fair representation of political and geographical diversity, the participation of cultural components, and a true representation of youth, which should not be less than 20% in leadership positions," the women said in a statement.
Women activists say a fair inclusion of different groups across society ensures the concerns of everyone are addressed toward a more democratic Libya. More active involvement of women, they say, will help the country take a major step in reshaping its institutions.
"The most important thing is the definition of power in Libya," said Sharief of Together We Build It, adding that Libyans have different visions of how their country should be in the future. Those visions, she said, are further complicated by the involvement of foreign powers that seek to maintain their influence, often at the expense of social reforms such as women's rights.
Attacking vocal women
Before the civil war, Libyan women did not have legal protection, as certain provisions in law regarding marriage, child custody and divorce discriminated against women.
The Arab Spring raised aspirations for change as women activists took a leading role in popular protests. The hope dwindled quickly after the uprising, however, as Libya's new leaders began publicly supporting polygamy, domestic violence against women increased, and a string of assassinations and kidnapping for ransom targeted female activists.
"If the ongoing conflict creates security vacuums in the rest of the country that Salafi jihadist militants can exploit, the impact on women's rights and security in those locales could be devastating," warned a report published by the Atlantic Council in 2019. The Salafi is a movement of Sunni Islam that emphasizes a return to the principles of the founders of Islam as the only correct understanding of the religion, but they usually are associated with extreme practices.
According to the National Commission for Human Rights-Libya (NCHR), women activists are increasingly under pressure because of a series of kidnappings, enforced disappearances and assassination attempts by militants.
NCHR's head of women affairs, Zahia Faraj-Ali, told VOA the level of violence against female activists likely will increase in the coming months as they continue to raise their voices in pursuit of further participation in the executive authority.
"I faced a hate campaign in my work, and got harassing and death threats," Faraj-Ali said, adding that "no woman is safe today. It's a lawless state, and any woman could be gunned down or kidnapped any moment and no one will be held accountable."
Last month, an outspoken female lawyer, Hanan Al-Barassi, was shot dead in Benghazi by masked gunmen after she threatened to expose abuses and corruption by an armed group on a Facebook livestream. Al-Barassi has previously accused Haftar's relatives of abuse of power and corruption.
No one has yet claimed responsibility for the assassination, but some activists blame armed groups in Benghazi.
Al-Barassi's death is one of several high-profile attacks, including the 2019 kidnapping of lawmaker Seham Sergewa and the 2014 assassination of human rights lawyer Salwa Bughaighis.
Faraj-Ali said that the masculine culture, the absence of laws that protect women and the spread of arms are the biggest challenges Libyan women face. She charged that the first step to improving the situation for women is through their engagement in Libya's peace-building process.
"The importance of having women in leadership roles is that women would collaborate to create a safe network and spaces for their peers, especially when we are still struggling to implement U.N. Resolutions 1325 and 2467," she said.
In 2000, the U.N. adopted Resolution 1325, emphasizing the important role of women in conflict resolution, peace building and post-conflict reconstruction. In 2019, the U.N. adopted Resolution 2467 to strengthen justice and accountability, and calling for a survivor-centered approach in the prevention and response to conflict-related sexual violence.
https://www.voanews.com/extremism-watch/libyan-women-seek-greater-participation-peace-talks
--------
Jordanian woman techpreneur scoops UN business award
11 December 2020
Ten finalists in the UNCTAD Empretec Women in Business Awards demonstrate how resilience, sustainability, circularity and inclusiveness are critical success factors in their ventures.
Code is a base language that will help us build our future. Afnan Kamel Ali, a Jordanian tech entrepreneur, recognized this fact early on in her electrical engineering career and more than a decade ago when she has the vision to start the Eureka Tech Academy.
Fast forward 10 years later and the academy is a reality that has trained more than 5,000 Arab youth.
Eureka Tech Academy helps prepare children from six to 16 years step-by-step to be innovators and engineers, and then to commercialize their ideas, with a special focus on Artificial Intelligence, the internet of things, and robotics.
Her long-term vision is to train one million children in the region by 2023.
Her tireless work has won her recognition through the Arab region and, this week, globally as she accepted the 7th UNCTAD Empretec Women in Business Award via an online ceremony held on December 10.
She is one of ten finalists that competed for the coveted entrepreneurship award issues once every two years. They come from UNCTAD's vast Empretec programme network spanning 40 countries.
Empretec is an entrepreneurship capacity-building programme that uses a special behavioral approach to building and facilitating entrepreneurial skills.
Ms. Ali said she was honored and humbled by the award. "Starting a new project does not necessarily need a business plan but having an unshakable belief of the 'why' behind this project is a must," she said.
"I believed that change had to start in our education system, which lacked technology training, and so that's where I started with a dream to help children become inventors because that's what I wanted to be when I was a child," she said. Now her technology training curriculum has been endorsed by the Jordanian government.
Ms. Ali was awarded an executive MBA course on the digital economy at IMD Business School in Lausanne, Switzerland, a scholarship sponsored by the school. She was joined by three other winners in special award categories.
A time for entrepreneurial resilience
UNCTAD's Empretec programme, which has trained thousands of entrepreneurs over the past 30 years, is one of the feathers in the UN trade and development body's cap. Its Women in Business Awards was established in 2008 and awards its prize every two years.
The awards make a significant impact on the lives of past winners who became role models and empower other women to take up the entrepreneurship challenge.
This year, appropriately, the theme for the awards was resilience. Opening the awards, UNCTAD's Deputy Secretary-General, Isabelle Durant, warned that the COVID-19 crisis could reverse the limited gains made on gender equality and exacerbate the feminization of poverty.
She called for concerted efforts to mitigate the negative effects of the crisis on women through mainstreaming women's empowerment in all policies. The awards, in part, do this.
Both Ms. Ali and the other winners embody the philosophy of resilience, said UNCTAD Investment Director, James Zhan.
"The coronavirus pandemic has triggered a recession with a particularly strong negative impact on women entrepreneurs given their overrepresentation in key sectors affected by lockdowns, such as retail trade, hotels and restaurants and education," he said.
Pre-pandemic gender inequalities such as limited access to finance, technology, markets, networks and social protection have been exacerbated during the crisis with women entrepreneurs suffering more with increased care burdens during lockdowns.
"It is more important than ever to recognize women entrepreneurs who are resilient in the face of shocks and committed to their business cause," Mr. Zhan added.
Meet the special award winners
Two of the three special award categories were won by Latin American "Empretecos". Paula Itatí de la Vega Sánchez and her company Bioita from Argentina were selected by award sponsor, the One Creation Cooperative, in the circular economy category.
Ms. Sánchez manufactures cutlery and plates out of sugarcane and employs disadvantaged people in her community. Accepting the award, she called on entrepreneurs to unite in the face of adversities, transform our environment in a positive way, and inspire the next generation.
Ana María Villavicencio Flores from Ecuador, and her company Finca Agroturistica Don Antonio, also farm, was selected by award sponsor Lavazza as the winner in the sustainable agriculture category.
She has implemented an agro-ecological approach free of chemicals at her farm and inspires her guests to take environmental action.
Julian Nyamahunge Omalla or 'Mama Cheers' is chief executive of Uganda's favorite juice maker, Delight Ltd. She employs over 1000 people and exports to the likes of Rwanda, Kenya, Tanzania, and Sudan.
She has mobilized and engaged hundreds of vulnerable female farmers ensuring that each woman would have at least one acre of fruit orchard intercropped with short-term seasonal crops for income and sustainability.
Ms. Omalla was selected by Inclusive Business Action Network in the inclusive business category.
The other finalists include Brazil's Agda Óliver, Colombia's Sandra Milena Sánchez Valenzuela, Malaysia's Sandra Anne Ghouse, India's Kayan Motashaw, Romania's Nicoleta Hrițcu, and Tanzania's Hadija Jabiri.
More than 30 nominations were submitted by Empretec centers from 13 countries in early 2020 covering developing countries and economies in transition.
The top 10 finalists were shortlisted by an experienced executive board and then evaluated to identify the winner for their innovation, leadership, and impact on their communities by a panel of leading experts in the field of business, entrepreneurship, and public policy.
Special awards were sponsored by Lavazza, ONE CREATION Cooperative, IMD Business School and Inclusive Business Action Network.
In addition, other sponsors got behind the Empretec finalists. The members of Entrepreneurs' Organization committed mentorship services to all finalists, while Grenoble Ecole de Management extended consultancy services to three finalists.
Lastly, the event master of ceremony, Bisila Bokoko sponsored several in-kind awards and committed to facilitating mentorship for all finalists. The awards are a satellite event of UNCTAD's flagship World Investment Forum.
https://unctad.org/news/jordanian-woman-techpreneur-scoops-un-business-award
--------
Female-run police hotline aims to encourage Pakistani women to report abuse
December 11, 2020
RAWALPINDI: Police in Pakistan have set up a new female-operated hotline to encourage women to report cases of abuse.
Officers in the city of Rawalpindi are hoping the recently launched service will help to streamline the reporting of abuse and give more women the confidence to come forward with complaints.
Rawalpindi Police have registered 320 reports of abuse filed by women since the beginning of the year, though activists claim the figure is only a fraction of the actual number of cases in the city, which has a population of more than 2.2 million.
"A number of times we have come across situations where women have suffered and they would not report it because of the fact that they have to go to a police station," Rawalpindi Police chief deputy inspector, Gen. Ahsan Younas, told Arab News.
He said an "institutional bias" in harassment cases had discouraged women from reporting abuse, especially to male officers, but the new hotline would eliminate the need to go to a police station to file a report and would also protect victims' identities.
The initiative is the brainchild of Assistant Superintendent of Police Amna Baig who noticed a surge in the reporting of abuse cases when she was posted to the Waris Shah district.
She said: "The reason there was a surge in reports of harassment was that I was on the receiving end of the report as opposed to a male officer.
"Women were saying they had these complaints for a long time but did not feel comfortable speaking to anyone but a fellow woman."
Now stationed in Rawalpindi, Baig decided to establish the hotline and added that one suspect had already been arrested through it.
Callers are directed to a sub-inspector who hears the complaint, offers help from a team of female police officers, and launches criminal proceedings.
"They respond quickly, and within five minutes your sub-inspector has taken all the information, addresses, and numbers, and from there we try our best to make sure that the response time is not more than half-an-hour.
"We want the women of our city to know that from the moment they call to the moment we can close the case, we are with you," Baig said.
Maria Tahir, a lawyer who has worked on harassment cases, said the hotline was likely to encourage more women to report abuse because they would have a "safe environment to go to." However, she added that there was a need to change a "culture" which failed to accept that harassment was a serious problem.
Younas said: "At times we do receive complaints, but they are not followed through, or the reporter is unfortunately forced to compromise.
"But now we will be following through on each complaint to make it clear that in the case of any violation perpetrators should be ready to face the music."
https://www.arabnews.com/node/1775766/world
--------
First Turkish women's rally marked on its 101st anniversary
December 10 2020
The 101st anniversary of the first women's rally in Turkey has been celebrated in the Black Sea province of Kastamonu, marking the event held on Dec. 10, 1919 when women raised their voices against the invasion of Anatolia by foreign occupiers.
The events, which are celebrated with great enthusiasm every year in the city, were held with a limited number of people this year as part of COVID-19 measures.
Ayten Kızıltan, the chairperson of Kastamonu Dec. 10 Women's Platform Association, stated that, within the scope of the rallies in 1919, Turkish women sent a telegram to the first ladies of the world and asked them to stop the occupation and leave their country.
Noting that a telegram was also sent to the Queen of the United Kingdom and the Indian administration, Kızıltan said that they celebrate the struggle for freedom and democracy shown by Turkish women on Dec. 10 every year.
An online painting exhibition was prepared in cooperation with Kastamonu University and subsequently the governor and the mayor of the province were visited with a limited number of people.
Noting that this year's events were partially somber due to the current pandemic conditions, Kızıltan gave the good news that more magnificent celebrations will be held next year.
Latife Ergün, an official from the association of "university women," also stressed that 101 years ago, women residents of Kastamonu used to follow the developments in the world closely and held a huge rally in the city at that time to protest the occupation of the country.
"In a telegram sent by women from Kastamonu to the then French first lady, bilateral relations between France and Turkey from the past to the present were discussed," Ergün noted, adding that Wilson Principles were mentioned in another telegram they sent to the United States.
"It is noteworthy that the women from Kastamonu use an extremely diplomatic language in the telegrams they sent, and how well they know the world culture," Ergün said.
Ferhan Çelen, an NGO official from the province, stated that the events, which started with the participation of approximately 15,000 people in 1994, have continued with the same enthusiasm for 26 years.
https://www.hurriyetdailynews.com/first-turkish-womens-rally-marked-on-its-101st-anniversary-160740
--------
URL: https://www.newageislam.com/islam-women-feminism/austrian-constitutional-court-overturns-headscarf/d/123740
New Age Islam, Islam Online, Islamic Website, African Muslim News, Arab World News, South Asia News, Indian Muslim News, World Muslim News, Women in Islam, Islamic Feminism, Arab Women, Women In Arab, Islamophobia in America, Muslim Women in West, Islam Women and Feminism