New Age Islam News Bureau
22 Nov 2018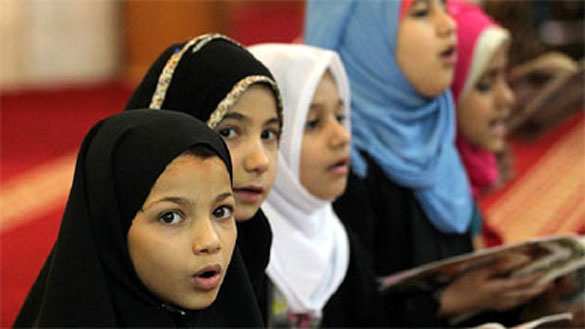 File photo: Austria's far-right government has introduced a draft law to the parliament to ban the headscarf in primary schools
------
• Saudi Women Start Driving Family Taxis
• The Muslim Woman Lifting the Veil on Sex Education in Myanmar
• Why Saudi Women Are Wearing Their Clothes Inside Out
• Dubai's Women Delegation in Senegal to Set up A School for Girls
• Finnish Women Convert to Islam in Search of Spirituality, Logic - Researcher
• Moroccan Women Associated with ISIS Might Face Death Penalty in Iraq
• Dean Resigns after Saying He 'Will Not Vote For Women' In Turkey's Local Elections
Compiled by New Age Islam News Bureau
URL: https://www.newageislam.com/islam-women-feminism/austria-prepares-headscarf-ban-primary/d/116951
--------
Austria Prepares For Headscarf Ban in Primary Schools
21.11.2018
Austria's far-right government has introduced a draft law to the parliament to ban the headscarf in primary schools, planning to implement it without the support of the opposition.
Transport Minister Norber Hofer told a news conference following the Council of Ministers meeting on Wednesday that the government sent the draft law to the opposition parties.
Hofer said that no negotiations would be made with the opposition ahead of the voting of the draft law in the parliament, calling the opposition to vote in favor of it.
The draft prohibits children to wear Muslim headscarves before the age of 10 in all primary schools, including private schools across the country.
If the draft law is approved, parents who violate the ban will be subjected to pay a fine of 440 euros or serve two weeks jail time.
The ban will come into force in 2019 if it passes through the parliament.
The main opposition Social Democratic Party (SPO) and the New Austria and Liberal Forum (NEOS) said that the draft law should be comprehensively evaluated.
The government was planning to implement the draft law as a constitutional decree by taking a two-thirds majority of the parliament, but due to the opposition's approach, the bill is planned to pass only by the votes of coalition partners.
After the elections in the fall of 2017, the Conservative Party (OVP) led by Chancellor Sebastian Kurz, the youngest leader in Europe, and the Extreme Right Party (FPO) formed a coalition government.
A large number of non-governmental organizations, journalists and activists, particularly the Muslim community living in Austria, opposed to the ban.
Austria is home to around 700,000 Muslims, including 300,000 of Turkish origin. Many of them are second or third-generation Austrian citizens from Turkish families who migrated to the country in the 1960s.
Amid widespread fears from the refugee crisis and international terrorism, Austria's right-wing parties proposed several controversial measures -- including strict controls on mosques and Muslim associations, and immediately closing them in the case of a suspicious activity.
In Oct. 2017, Austria already applied a face-covering ban, which prevents people from concealing their face in all public places, including transport facilities.
https://www.aa.com.tr/en/europe/austria-prepares-for-headscarf-ban-in-primary-schools/1317783
--------
Saudi Women Start Driving Family Taxis
2018-11-21
Riyadh — Saudi women are now able to drive family taxis as the rules governing the operation have been activated, the Public Transport Authority (PTA) announced on Wednesday.
Licenses for family taxis are issued to only registered companies not individuals. Only qualified Saudi women are allowed to drive these taxis.
Under the rules and regulations approved by the PTA, women drivers cannot take passengers if there is no adult Saudi woman among them. Under the rules, no men or young male children will be allowed to occupy the front seats.
Licensed transport companies must have an electronic payment system and GPS navigation.
The regulations do not prevent Saudi women from working in any other road transport activities as long as the necessary conditions and controls are met.
The establishments involved in the family transport activity should have a fleet of at least 10 vehicles. Cars should not be more than five years old.
The car should also have a screen displaying all the required data such as the driver's name, the name of the establishment with all its contact numbers and the plate number. — SG
http://saudigazette.com.sa/article/548605/SAUDI-ARABIA/Saudi-women-start-driving-family-taxis
--------
The Muslim Woman Lifting the Veil on Sex Education in Myanmar
By Victoria Milko
November 22 2018
Yangon, Myanmar - Adjusting her hijab and looking around the class, Dr Thet Htwe starts the day's lesson with a simple question.
"Who wants to know about the human sexual response?"
Everyone raises their hand, some sheepishly giggling.
In a country where there's still a debate over the proper word to use for "vagina" and simply talking about sex is considered taboo, Dr Thet Htwe is breaking down barriers.
The 35-year-old Muslim woman is one of the country's leading teachers of sexual education, travelling around the country to provide classes lasting from one day to one week on subjects from arousal to menstruation, and sexual orientation.
A family doctor by training, Thet Htwe has been teaching sexual education under her organisation, Strong Flowers, since 2016.
In Myanmar, like many countries in Southeast Asia, sex education is not something that's taught at school so Dr Thet Htwe teaches people of all ages - from teenagers to people in their 60s - and is often hired by companies to run classes for their staff.
"Many young women learn about these things from their aunties or mothers," said Thet Htwe. "A lot of times these things are not talked about at all. But then even when these topics are discussed, there is a lot of misinformation."
'Silent emergency'
The classes also have another role - discussing consent, women's rights, and tackling sensitive topics including gender-based violence.
According to the United Nations Population Fund, violence against women is a "silent emergency" in Myanmar, characterised by a high level of social acceptance of such abuse and a legal system that fails to create an environment where women are protected.
A common proverb in the country translates to: "If you beat your wife until her bones are broken, she will love you more."
An estimated 17 percent of married women between the ages of 15 and 49 experienced physical and/or sexual violence from their partner, according to 2017 data from the Ministry of Health and Sport, and the International Coaches Federation, a US-based non-profit.
But experts say the actual number is likely to be much higher because women don't understand their rights or are afraid to report abuse for fear of the stigma.
"In our society many women do not know that they can say 'no'," said Suu May, a 22-year-old woman who took Dr Thet Htwe's class in 2016. "Not only in relationships, but also with family or in the workplace. Taking this class taught me about consent, and helped me learn to respect myself."
Dr Thet Htwe said her classes are starting to attract a new type of student as well.
"It used to be almost always just women attending, but there is definitely an increase in the amount of men coming now," she told Al Jazeera.
'Eye opening'
While Thet Htwe admits some of the men attending the classes are required to do so by their employers, she's also noticed an increase in the number of young people who sign up for the class by choice, seeking a safe space in which to discuss sensitive issues.
"For me, it was eye opening and a great learning experience," said Min Joor, 17, who attended a course on sexual harassment. "I was surprised learning about sexual harassment, because what I knew was different from what we were taught elsewhere."
Min Joor said when he finished the class he began treating women differently, thinking about the lessons he had learned from Dr Thet Htwe.
"I was the sort of a boy who teased girls a lot, but after the training I tried to be more cautious about it," he said. "I changed my behaviour, for sure."
In a country as predominantly Buddhist as Myanmar, Dr Thet Hwe has also become something of an ambassador for religious understanding.
The United Nations has said the country's military carried out mass killings and gang rapes of the Rohingya minority with "genocidal intent", and Myanmar's Muslims have often been the target of abuse and discrimination.
'Part of the change'
Dr Thet Htwe acknowledges being a hijab-wearing Muslim woman also ends up playing an educational role in classes.
"There are a lot of challenges in this world - and in Myanmar there are a lot of challenges for women as well," she said. "I would say for Muslim women, the challenges are double.
"When people provide course feedback they often tell me, 'When we saw you we thought you would say something controversial about culture or religion. But the whole training period we noticed you were similar to us. We noticed you have no major differences from us.'"
While Dr Thet Htwe admits long-lasting societal change will take time, she said her classes do help build understanding between people.
"If from 20 people in a class one person changes or feels they've gained something, it's a positive impact for the entire community," she said. "But I will continue to so whatever it is I can to spread knowledge and be the part of the change needed in this society. This is my determination."
https://www.aljazeera.com/news/2018/11/muslim-woman-lifting-veil-sex-education-myanmar-181121083020267.html
--------
Why Saudi Women Are Wearing Their Clothes Inside Out
Nov 21, 2018
Women across Saudi Arabia are striking back against the strict rules that govern their lives by subverting the kingdom's dress codes.
For decades, women have been required to wear the Abayah, a loose, body-covering robe, when in public - a dress code strictly enforced by police.
That appeared to have changed in March, when Saudi Crown Prince Mohammed bin Salman declared that his female citizens only needed to dress modestly and not necessarily to wear abayas. The prince told CBS TV: "The laws are very clear and stipulated in the laws of Sharia, that women wear decent, respectful clothing, like men... The decision is entirely left for women to decide what type of decent and respectful attire she chooses to wear."
"In practice, however, wearing the abaya is all but compulsory - and Saudi women have had enough," reports Quartz.
Thousands have posted images online showing them wearing the traditional robes inside out, under the hashtag "inside-out abaya", in a growing campaign aimed at winning women more freedom.
Describing abayas as "another form of dehumanisation for women", US-based Saudi activist Amani Al-Ahmadi called the protest a "brilliant move" that could create real change.
"To see another woman in flipped abayas - it builds solidarity between women and shows that they are not alone," she told Reuters.
Saudi Arabia has long been a restrictive country for women.
Although women gained the right to drive last year, several female activists have since been arrested "under an apparent crackdown on dissent", the BBC reports.
Saudi women still need the permission of a male guardian - usually a husband, father, brother or son - to apply for a passport, travel abroad, open a bank account, and get married, among other things.
https://www.theweek.co.uk/97946/why-saudi-women-are-wearing-their-clothes-inside-out
--------
Dubai's Women Delegation in Senegal to Set up A School for Girls
November 21, 2018
The educational programme in Senegal is the first of a series of programmes to be implemented in developing countries.
Advocating for girls education, a delegation from the Dubai Women Establishment and Dubai Ladies Club, along with a few high-end Emirati designers are visiting Senegal to lay the foundation stone of an elementary school as part of their 'teacHER' campaign to provide quality education for girls. The delegation will not only lay the school's foundation stone but will also be actively involved in the first practical steps of its set up and will also participate in a number of local educational and cultural activities and events.
The project, in line with the Year of Zayed, will be implemented in collaboration with Dubai Cares, part of the Mohammed bin Rashid Al Maktoum Global Initiatives, and is among the ongoing humanitarian efforts of Al Manal Humanitarian Initiative, which was established in 2013 by Sheikha Manal bint Mohammed bin Rashid Al Maktoum, president of the UAE Gender Balance Council, president of Dubai Women Establishment (DWE), president of Dubai Ladies Club and wife of Sheikh Mansour bin Zayed Al Nahyan, Deputy Prime Minister and UAE Minister of Presidential Affairs.
The educational programme in Senegal is the first of a series of programmes to be implemented in developing countries as part of the 'teacHER' campaign, which was launched by Al Manal Humanitarian Initiative in 2017 to advocate for girls' education.
The programme is primarily supported by 'Designs of Hope', an annual charitable exhibition organised by Dubai Ladies Club in which pre-loved luxury gowns and high-end clothing items by Emirati designers are sold to raise money for charity. All proceeds from the exhibition in 2017 and 2018 were dedicated towards supporting educational programmes in Egypt, Nepal, Senegal, Ethiopia, and Uganda.
Headed by Lamia Abdulaziz Khan, director of the Dubai Ladies Club, the delegation is visiting Senegal from November 18 to 23 for the official inauguration of the school that will be built in the western region, Thiès.
Highlighting the importance of empowering girls across the globe with education, Sheikha Manal stated: "We understand that there are social and economic factors in many developing countries that prevent children - particularly girls - from receiving the education they need, negatively impacting their future. Consequently, this affects their societies as a whole, as it hinders overall development processes and economic growth. This initiative aims to make a difference in the lives of girls and contribute towards their happiness as productive, effective and successful members of society."
Lamia Khan highlighted the importance of education as a valuable tool that equips young girls with the necessary knowledge and skills required to participate as equal partners in the development of the vocational, cultural and economic spheres of society. She said: "In line with the Club's commitment to the values of unconditional generosity and giving, we aim to become a global platform for female empowerment." Lamia Khan highlighted that the Club has been organising the annual exhibition since 2013 to support various humanitarian causes, the latest of which is the 'teacHER' campaign. The educational programme in Senegal will be implemented in collaboration with the philanthropic organization Dubai Cares and its partner, buildOn.
https://www.khaleejtimes.com/nation/dubai/dubais-women-delegation-in-senegal-to-set-up-a-school-for-girls-3
--------
Finnish Women Convert to Islam in Search of Spirituality, Logic - Researcher
21.11.2018
Finnish women converting to Islam don't see the veil as a symbol of oppression, but as a sign of liberation from superficial beauty, a researcher specialising in religious issues has claimed.
Veiled women on Finnish streets have become an increasingly familiar sight. This is partly due to the recent wave of migrants and asylum seekers from Muslim countries starting from 2015 and partly to Finnish women converting to Islam of their own accord, national broadcaster Yle reported.
According to University of Jyväskylä researcher and ethnologist Meri Tuovinen, Turku and other major Finnish cities have seen a rise in conversions to Islam, most often by ethnic Finnish women who previously had no affiliation with and no exposure to Muslim culture. Big cities offer more opportunities in finding like-minded spirits and have more events going on, she explained.
Tuovinen stressed this goes in lockstep with the international trend, as Islam keeps growing across the Western world, while other religion shrink or at best stay at the same level.
Despite the absence of national statistics, Tuovinen is positive that the number of converts is on the rise in Finland. For her extensive research, she interviewed 31 ethnic Finns-turned-Muslims in various parts of the country. Of them, 28 are women and three men.
While the respondents are a mixed group, of different ages, backgrounds and with different positions in society, what all the 31 converts had in common was the perception of Islam as a 'logical' and 'intellectual' religion, which 'better fits with historical events'. Yet another explanation was that Islam allows people to establish a 'direct contact with God'.
The female Finnish converts also claimed to be 'liberated through the Islamic headdress', which allows them to 'escape Western beauty ideals and expectations'.
"The paradox is the women themselves feel that they are freed by their headgear while this outfit in the West is generally regarded as a sign of compulsion and inequality," Tuovinen explained to Yle.
The idea that the number of converts is rising was shared by Pia Jardi, a proud Muslim since 1986, Helsinki Mosque employee and a collaborator with the National Forum for Cooperation of Religions (USKOT). According to Jardi, people are drawn to Islam by its clarity, direct contact with God and rites with transparent meaning.
In 2016, the Pew Research Centre estimated that about 2.7 percent of Finland's 5.5 million population is Muslim, suggesting that it could grow to 15 percent by 2050. Historically, Finnish Muslims almost entirely consisted of Finnish Tatars, but has grown to embrace other population groups, such as Arabs, Somalis, Kurds, Turks and Albanians.
Additionally, a 2018 survey revealed that almost two-thirds of Finns (62 percent) believe Islam is fundamentally incompatible with the culture and values of Finland. Furthermore, over a quarter said they would never accept a Muslim as a family member, whereas 14 percent were opposed to having Muslims as neighbours.
https://sputniknews.com/europe/201811211069994009-finland-islam-women-converts/
--------
Moroccan Women Associated with ISIS Might Face Death Penalty in Iraq
Nov 21, 2018
Rabat – Morocco's North Observatory for Human Rights (ONDH) shared a statement today on its Facebook, saying that a source at a refugee camp in northern Syria told women living in the camp, including Moroccan women, that they might be handed over to Iraqi authorities in a period of no more than six months.
The source added that the ISIS-linked women might be subject to the death penalty.
The statement added that women and children are suffering from dire conditions, including nutrition issues.
ONDH also recalled that it has been calling on the Moroccan government to return Moroccan women and their children back to Morocco and try to reintegrate them in Morocco based on the requirements of the international humanitarian law.
Throughout his recent interviews with national and international news outlets, Head of Morocco's Counter-Terrorism Bureau (BCIJ) Abdelhak Khiame expressed concern over the threat imposed by ISIS returnees.
According to Khiame, Morocco's position regarding returning fighters was established in 2015, allowing police to apprehend them for investigation and place them in custody.
Returnees typically receive sentences ranging from 10 to 15 years in prison.
In July, Moroccan newspaper Akhbar Al Yaoum reported that Iraqi authorities wanted to extradite wives and children of Moroccans with ties to ISIS.
In August, ONDH said that a Spanish-Moroccan security unit arrived in Syria to interview Moroccan women with alleged ties to ISIS to repatriate them.
"The security intelligence team called the women individually and interrogated them beginning from the time they adopted the radical ideology to the moment they joined ISIS and fell in the hands of the Democratic Federation of Northern Syria's forces," ONDH stated.
ISIS Moroccan suspects are spread throughout the MENA region, but are mainly in Iraq, Syria and Libya.
Khiame added that 1,666 Moroccans joined the conflicts in Iraq and Syria, of whom 929 joined ISIS.
Nearly 225 other fighters have criminal records with terrorism-related charges.
BCIJ's chief added that 642 Moroccan fighters died in Syria and Iraq due to suicidal terrorist operations.
https://www.moroccoworldnews.com/2018/11/258393/moroccan-women-associated-with-isis-might-face-death-penalty-in-iraq/
--------
Dean Resigns after Saying He 'Will Not Vote For Women' In Turkey's Local Elections
November 22 2018
The dean of a university in Turkey's Central Anatolian province of Konya has resigned after public outcry following his statement that he "will not be voting for any woman" during the March 2019 local elections.
"I am declaring it here: I oppose some policies regarding family life. Raising a good child, being a good housewife is much more necessary than being a minister, mayor or successful businesswoman. I will not vote for any woman mayoral candidate in the local elections," Necmettin Erbakan University's Aviation and Space Sciences Faculty dean Prof. Dr. Mehmet Karalı had said in a tweet earlier this week.
The tweet was slammed by thousands of social media users as sexist and offensive, which led Karalı to delete it eventually. "I am withdrawing my tweet because I was uncomfortable that it was used to discuss different subjects," the dean had said in a fresh tweet, which also failed to stop reactions.
Finally, Karalı announced in another tweet on Nov. 21 that he resigned from his position as the faculty dean. He claimed that his view should have been respected in the scope of free expression, but it was "taken out of context" and started to "harm the university and the city" of Konya. "The responsibility of my office prevents me to respond to the harsh criticism I face, so I am resigning from my administrative duties," he said.
http://www.hurriyetdailynews.com/dean-resigns-after-saying-he-will-not-vote-for-women-in-turkeys-local-elections-139083
--------
URL: https://www.newageislam.com/islam-women-feminism/austria-prepares-headscarf-ban-primary/d/116951
New Age Islam, Islam Online, Islamic Website, African Muslim News, Arab World News, South Asia News, Indian Muslim News, World Muslim News, Women in Islam, Islamic Feminism, Arab Women, Women In Arab, Islamophobia in America, Muslim Women in West, Islam Women and Feminism