New Age Islam News Bureau
20 Nov 2014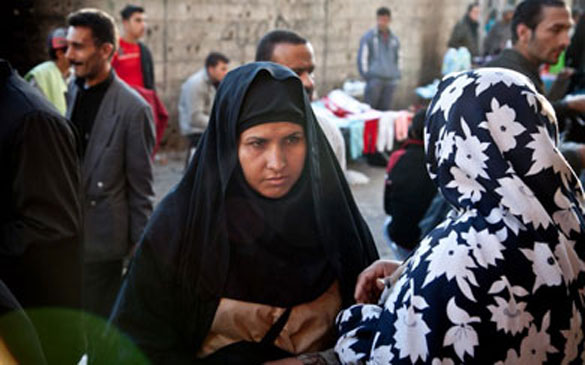 Gender roles in pre-war Syria seemed to be more progressive than under ISIS control but the constitution still included many misogynist clauses. (Photo by Alex Stonehill)
----------
• Dutch Teen Who Married IS Jihadist in Syria Returns Home
• How Girls Are Barred From Nigerian Schools
• Councils Leaving Children at Sex-Abuse Risk, Says Ofsted
• Judge Bans Female Guards from Touching Muslim Men in Gitmo
• Chechen Investigators Probe Suspected Honour Killing In Grozny
• Resolving the Issues Arising From Interfaith, Interracial Marriages in Malaysia
• ISIS Brutality toward Women A Shocking Symptom of A Larger Disease
• U.S. Woman Charged Over ISIS Links Detained
• HRW Urge Indonesia to Stop 'Virginity Tests' For Female Police Recruits
• Crackdown on Single Men Paying Women to Access Malls in Saudi Arabia
• 'Pakistan Has Failed To Protect Its Children'
• FGM in the West: A Creeping Crime against Humanity
• Debate Highlights Women's Role as 'Agents of Change' In Pakistan
• Muslim Women Forced To Pray On Dirty Street of Al-Aqsa Mosque
• Global Summit in Morocco Celebrates Women Entrepreneurs
• Hostility against Women: Stone Adulterous Women to Death
Compiled by New Age Islam News Bureau
URL: https://www.newageislam.com/islam,-women-and-feminism/new-age-islam-news-bureau/austria-is-trying-to-cut-down-its-increasing-number-of--jihadi-brides-/d/100107
-------------
Austria is trying to cut down its increasing number of 'jihadi brides'
20 November 2014
At the start of the school day, hundreds of students file into the capital's higher commercial vocational school. Most wear sneakers and hoodies. Some wear headscarves, which isn't unusual for a student body with a large Muslim minority.
But it was odd when one of them turned out to be Samra Kesinovic, a trendy kid who liked to wear makeup, dyed her hair blond, and danced to pop music at lunch. It was even stranger when, one day, she wrote "I love al-Qaeda" on the bathroom wall.
"She was brainwashed," says Peter Slanar, the principal here in Vienna's 10th district. After the graffiti incident, he had a talk with Samra. She told him she wasn't afraid to die.
"I was shocked when she said 'what will happen with me in the future doesn't matter.' I was shocked. I cannot accept this when a 15-, 16-year-old is saying this," he says.
Samra un-enrolled from school immediately after their meeting in January. In April, she and a friend headed to Syria, where they became poster girls for ISIS.
In Samra's case, it was pretty easy to tell that something was wrong. But that's rare.
So, this month, the school board began training middle school and high school teachers how to spot religious extremism before it gets out of hand.
"They didn't know how to cope with that," says Heinz Ivkovitz, a professor of religion tasked by the Vienna school board to organize the training. "Is it just, you know, showing off? Imitating someone they saw on YouTube? Or is it really the beginning of radicalization?"
Now there's a procedure for trying to figure all that out. First, teachers look for signs of radicalization, such as glorifying the Islamic caliphate, an us-versus-them mentality, or embracing ISIS propaganda. Then they talk with parents and get a school psychologist involved. Eventually, police could be brought in.
But here's where things get tricky.
If schools are too quick to contact authorities, students on the fringe might flee into the arms of a terrorist group, says Mousa Hasan Diaw, an expert on jihadism.
"You take people like a girl who starts to wear the headscarf, or another starts to pray. And you say 'well, this could be a sign of radicalization.' That's really a problem, because if you want to de-radicalize, you can't pick people out from the classroom and bring them to the police because this would radicalize them," he says.
So before they call police, schools are instructed to call on mediators from the Muslim community.
On a Sunday afternoon, Diaw is training 15 Muslim kids on how to intervene when classmates set off alarm bells.
He compares images of ISIS beheading James Foley to executions by the Nazis, as students weigh in and take notes. It's an uphill battle when you're up against slick recruitment videos online.
Abu Hamza Al Austria is among 140 Austrians believed to have joined ISIS. In a YouTube clip, complete with flashy audio effects and Islamic music, he describes not only the glory of fighting for ISIS, but the "luxury" as well. Swimming pools and grand villas await all newcomers, he vows.
"They're using a combination of tricks and treats. ... It looks very similar to the way online predators recruit children," says Mia Bloom, a criminology professor at the University of Massachusetts Lowell's Center for Terrorism and Security Studies. "This is a kind of child abuse. And I'm hoping we treat them as victims and not as suspects."
In Vienna, principal Slanar is still shaken by how ISIS ensnared Samra. He's attended the training sessions, but he's not convinced they're a sure-fire way to prevent radicalism. After all, he says, Samra was your typical teenager.
"I mean Samra was integrated," he says in dismay. "She had good marks. We don't know why she left Austria to go to Syria. I don't know."
"What he does know is some students seem to be impressed by Samra's example. More kids, he worries, might follow in her footsteps.
http://www.pri.org/stories/2014-11-19/austria-trying-cut-down-its-increasing-number-jihadi-brides
----------
Dutch Teen Who Married IS Jihadist in Syria Returns Home
20 November 2014
A 19-year-old Dutch woman who went to Syria to marry an Islamic State fighter has been brought back home to the Netherlands by her mother.
The daughter, Aicha, was arrested after returning to her hometown of Maastricht, her lawyer told the BBC.
Her mother, Monique, made a hazardous journey to the Islamic State stronghold of Raqqa to bring her daughter back.
Aicha is one of a number of European teenage girls and women to travel to Syria and Iraq to join IS jihadists.
She left the Netherlands in February to marry Omar Yilmaz, a Dutch-Turkish jihadist who had once been in the Dutch military.
Monique, whose last name has not been released, first travelled to Turkey in October in a bid to track down her daughter, but failed to cross the border.
Monique told Dutch TV in September that her daughter had changed within a short period of time from an enthusiastic Dutch teenager to a radical Muslim, who was in social media contact with Omar Yilmaz and ultimately fell in love with him.
"She saw him as a sort of Robin Hood," her mother said.
After the police were warned of her plans to travel to Syria, Aicha's passport was seized but she used her identity card instead.
Mr Yilmaz told the BBC's Anna Holligan on Wednesday that he had married the Dutch teenager after another fighter she was due to marry was killed in fighting, but they later broke up. "It didn't work, we split. She went her way, I went my way," he said.
Last week, after a plea for help from her daughter, she went back, against the advice of police, travelling to Raqqa, the seat of Islamic State's so-called caliphate. She found her daughter and brought her back to Turkey. Mr Yilmaz referred to her in a tweet as his ex-wife.
Aicha and her mother were held on the Turkish border before they were allowed to fly back to the Netherlands.
Dutch officials have refused to go into details about the case.
There have been several cases of European girls travelling to Syria, including two Austrian girls, aged 15 and 17, who went there in April. One of them was reported killed.
http://www.bbc.com/news/world-europe-30119866
----------
How Girls Are Barred From Nigerian Schools
20 November 2014
LAGOS— Olawale Abosede stood shoulder to shoulder with four other shy young Nigerians – all of them school girls – to tell the reporters and camera crews how important it was for them to be educated.
Dressed in a red T-shirt, a black skirt and a black pair of peep-toe shoes Olawale stood proudly with her classmates from the government-run Ajuwon High School in far-off Ogun state in southwest Nigeria. The five were brought by the Oando Foundation to Lagos and the air-conditioned multi-purpose room of the U.S. Consulate General to exemplify the value of education in a country with the world's highest proportion of unschooled children.
Those less fortunate were back home helping their mothers and other petty traders of the markets of Ogun state. Those friends back home are some of the 10.5 million Nigerian children who do not attend school.
The five girls were brought to Nigeria's former capital by the Oando Foundation, which gives them student scholarships, to sustain their education pursuits.
"Investing in girl education is a smart thing to do," Olawale said. She spoke softly, stumbling over her words as the audience stared wide-eye at her.
But not everyone embraces the relevance of educating the girl child. More than half of those millions of Nigeria's children not attending school are girls. And the challenge to get girls in school is greatest in Nigeria's northern states where culture, tradition and the economy bar so many girls from getting a good education.
More students start school, but many don't stay to graduate like Olawale and her friends do.
Many Girls Start, but Many Don't Stay
"When we now look at retention and completion, then in those areas you'll see girls are still lagging seriously behind, you know," says Dr. Uwem Esiet. He says more girls are enrolled in primary education, but many don't stay for secondary school.
The challenge is keeping them in the classroom, says Esiet, who is the director of a youth-focused NGO in Lagos, Action Health Incorporated.
A boy or girl who starts primary school at the age of six will most likely drop out at the age of nine, he says. Girls are most affected. And according to a recent report from the Health, Human & Social Development Information Service the states with the highest numbers of uneducated girls are in northern states dominated by Islamic cultural beliefs - Kebbi, Sokoto, Bauchi, Jigawa, Yobe, Zamfara, Katsina, and Gombe – coupled with the male-dominated customs that prevail throughout the nation.
Men make decisions for women, says Esiet. Young girls have no say in whether they will have access to a good education. In Borno and Bauchi states, Esiet says researchers asked community, traditional and religious leaders why they discourage girls from going to school.
The most common reply goes like this, says Esiet.
"If we allow these girls to go to school just like the way you are advocating, they will become sexually active outside of marriage," he said. "And if they become sexually active outside of marriage, all these HIV you people are shouting [about] they are likely going to be infected."
The solution for the fathers is to take them out of school before it's too late.
"So what we will prefer," they say, "is to let them have sex within marriage where we can at least know who is their sexual partner- their husband."
They often do not argue against school, at last not until their daughters reach the age of nine or 10. When they approach puberty, take them out of the classroom and get them married off, the fathers say. After that, then they can have education.
Not just a northern problem
Don't put all of the focus on the northern state, Esiet cautions. Some states in the Southwest, including Lagos - Nigeria's commercial hub - also have cases of girls dropping out of school.
In Iwaya, one of the slum settlements in Lagos, a team of researchers working at Action Health Incorporated found over 500 girls who were not in school even though free education is available in the state. The organization appealed to the state's Agency for Mass Education, which set up a study center in the community.
Community engagement should be constructive, Esiet says.
"If we have information, we bring the information to the government," he said.
The information on education of the girl child gathered by the organization is done through empirical research, literature review or observation. They learned the many factors that work against staying in school: ignorance, parents who cannot afford school uniforms and textbooks, and the failure of government to invest enough money in educational facilities.
Rescuing Youth at Risk
There are an estimated 170 million people in Nigeria. Thirty percent of them are children and adolescents. Of those eligible for primary schools, a third of them don't attend. And about 25 percent of the older children don't go to school either.
To rectify this, Esiet says that the strategy for making a nationwide argument for more and better education start with Muslim clerics and educated women.
Esiet organized a training conference to discuss some of the fears and beliefs about education common in northern Nigeria. The facilitator was a well-educated cleric, a man who several times referred to his well-educated daughters. The trainer's wife, who was also well schooled, joined the session. Esiet realized this type of community engagement would overcome education's critics and compel the people to embrace schooling.
Removing barriers, building communities
During the last International Day of the Girl Child, Nigerian women called for the removal of barriers to the potential of girls in society.
Countries that empower their girls achieve development, says Dr. Oby Ezekwesili. "Education is the fastest tool for social and economic mobility," said Oby, who is a senior economic adviser for the African Economic Development Policy Initiative at the Open Society Foundation. She was speaking at an event promoting more opportunities for Nigeria's girls.
Every human being is a resource, she said. When women are not given adequate opportunities to develop, they cannot contribute to the progress of their communities and their nations.
Esiet says Nigeria has many national and state policies guaranteeing girls access to education, but there is still a lack of implementation at the grassroots.
Will brides become good students?
"I am saying this coming from the backdrop of the work we've done in northern Nigeria, especially trying to get married adolescent girls back into school," he says.
For seven years, Action Health Incorporated has worked in northeastern Nigeria to encourage married adolescent girls to return to school. With funding support from the United Nations Population Fund (UNFPA), AHI colLabourated with community leaders and state government agencies in the state to enroll girls in school. They provided crèches for their babies within the school and also ensured availability of sanitation and clinics.
In a similar effort, UNICEF launched its Girls' Education Project in northern states. The project sponsored by United Kingdom's Department for International Development (DFID) aims to enroll one million girls in school by 2020.
In Sokoto, UNICEF is working with the state government to give monetary incentives of about $31 so girls can buy school uniforms and books and return to school. In some states, the government provides meals for children during school hours in accordance with Nigeria's Basic Education Law. It states that any child in public school from kindergarten to junior secondary school must have access to a meal.
Corporate organizations are also not left out. Oando Foundation works in collaboration with public schools in Nigeria to award scholarship to girls in under-served communities. As a result of their efforts, Olawale Abosede and many others are enrolled to complete their secondary school education.
"That is aside," says Esiet. He argues that they cannot replace the government's responsibilities to address significant lapses in the education sector.
Esiet says the Nigerian government must increase its commitment to educating all of its children.
"This is also a critical challenge because there is under-investment in the catalytic things that will make citizens to be knowledgeable and empowered," he said.
If all boys and girls in Nigeria decide to go to school, there will not be enough classrooms and teachers for them. He says Nigerian leaders must devote more money and political support to education, and begin to see it as a moral obligation the government owes its citizens.
http://www.voanews.com/content/how-girls-are-banned-from-nigerian-schools/2526405.html
----------
Councils leaving children at sex-abuse risk, says Ofsted
20 November 2014
Vulnerable children in England are at risk of sexual exploitation and abuse because of council failures, the children's services watchdog has said.
Child sexual exploitation has not been treated as the priority that events in Rotherham and elsewhere suggested it should have been, Ofsted said.
Councils had been too slow to face up to their responsibilities and plans were "under-developed", Ofsted said.
The Local Government Association said the report was "uncomfortable reading".
The report - called The sexual exploitation of children: it couldn't happen here, could it? - was commissioned by Ofsted's chief inspector, Sir Michael Wilshaw.
It comes against a backdrop of allegations, convictions and resignations over organised child abuse and exploitation over sustained periods in locations including Rotherham, Rochdale, Oxford and Telford.
A separate report published by MPs on Tuesday into the Rotherham cases concluded the local authority had "failed" victims targeted in the town.
The MPs also said Rotherham was not an isolated case, child sexual exploitation was "widespread" and "serious", and questioned the performance of Ofsted itself.
Young people at risk
"Some professionals have simply failed to properly apply child protection processes to young people at risk of being sexually exploited," Ofsted said.
The report also found:
Many local authorities were still failing to provide good support to children in care who went missing, once they had returned
Inconsistencies in planning meant some were exposed to the risk of sexual exploitation
Councils were not making the links between children missing from school and sexual exploitation
Local authorities' efforts to increase community awareness of child sexual exploitation tended to be reactive and ad hoc
It was "inherently dangerous for any child protection agency to assume that they need not worry about this type of child abuse because the stereotypical offender or victim profile does not match their own local demographics".
The report stressed that sexual exploitation can have a devastating impact on the life chances of young children.
Difficulties faced by victims include isolation from family and friends, dropping out of education and teenage parenthood.
It can also lead to mental health problems, suicide attempts, alcohol and drug addiction.
The report noted that 40% of child sexual exploitation victims are caught committing offences and often end up being punished by the criminal justice system for crimes committed in relation to child exploitation instead of being helped.
Ofsted inspectors found, despite statutory guidance being issued more than five years ago, some councils had only begun to address the problem strategically in the past year.
And in too many instances local safeguarding children's boards had shown poor leadership, it added.
There had been poor information sharing between local authorities, police, health services and others, leading to an overall lack of understanding, inspectors said, adding this must change.
Based on inspection evidence and case examinations from eight local authorities and 36 children's homes, it urged local authorities to develop and publish child sexual exploitation action plans as a matter of priority.
The report also includes the views of more than 150 young people and over 200 professionals including councillors, local safeguarding children's board members and local authority and partner agency staff.
'Next scandal'
Debbie Jones, Ofsted's national director for social care, said it "cannot be acceptable" that local authorities and partners are "still failing to grasp and deal with" abuse effectively.
"It is not enough to simply wait for the next scandal to happen. We are calling on all local authorities and their partners to ensure that they have a comprehensive multi-agency strategy and action plan in place to tackle child sexual exploitation," she said.
Ms Jones said Ofsted was no exception when it came to learning lessons from recent cases.
"Child sexual exploitation is something inspectors now focus on much more closely under the arrangements for inspecting local authority child protection and looked-after children's services that came into effect a year ago," she said.
David Simmonds, chairman of the LGA's children and young people board, said protecting children from harm was "one of the most important things that councils do".
"While some local authorities are making positive strides to protect young people, it's clear that others have been too slow to step up to the plate and must do more to stop any cases where children could be at risk."
Former Children's Minister Tim Loughton said Ofsted had been "part of the problem" and had to "prove itself" when it came to monitoring the work of local councils.
He said: "The problem was Ofsted were inspecting the wrong things, it was too much about process in local authorities and protecting children, and it was not about the qualitative outcomes of are children actually safer."
He said the inspection process had been changed to become much more child focused.
Chief executive of children's charity 4Children Anne Longfield said child sexual exploitation shattered lives.
"But perhaps the most shocking fact is that the scale and extent of it across the UK remains unknown. It is clear that the agencies which are supposed to keep children safe are still too often failing to protect them."
http://www.bbc.com/news/education-30096187
----------
Judge Bans Female Guards from Touching Muslim Men in Gitmo
20 November 2014
A US military judge confirms his previous decision to temporarily ban female guards at the Guantanamo Bay prison from touching a male Muslim inmate.
Navy Capt. J.K. Waits announced that he still upholds his previous injunction requiring the prison officials to only employ male guards while transferring Abdul Hadi al-Iraqi, an alleged al-Qaeda commander.
Iraqi is awaiting trial at the Guantanamo Bay prison on charges of committing war crimes, attacking US-led coalition forces and murdering civilians in Afghanistan.
The military judge also stated that the final ruling over the controversial case of female guards at the Guantanamo Bay prison will be issued in January.
The dispute over the case rose after Iraqi refused to cooperate with a female guard who wanted to shackle him after his meeting with attorneys on October 8.
After the incident, the inmate's attorney, Marine Lieutenant Colonel Tom Jasper, filed a lawsuit, demanding restrictive measures over the employment of female guards for escorting Muslim men.
Jasper argued that Islam forbids any direct physical contact between men and women out of wedlock, thus deeming the issue as a violation of Iraqi's creed.
On November 7, Judge Waits ruled over the lawsuit and banned the employment of women for escorting Muslim men in the prison.
Government prosecutors objected to Waits' ruling, saying it "ignores established precedent requiring deference to prison administrators" and thus would cause "unintended and dire consequences," read their lawsuit filed on November 10.
http://www.presstv.ir/detail/2014/11/19/386602/female-guards-cant-touch-gitmo-men/
----------
Chechen Investigators Probe Suspected Honour Killing in Grozny
Nov 20, 2014
Investigators have launched a criminal case against the suspected murderer of a 27-year-old Chechen woman who appears to have fallen victim to an "honour killing," a grisly crime that the republic's strong-man leader Ramzan Kadyrov has openly endorsed in the past.
"A 30-year-old local resident killed his own sister by striking her over the head with a blunt object. Afterward, he took the victim's body to an open pit in his vehicle and then buried it there," a spokesman for the Chechen prosecutors' office was cited as saying by news site Kavkazsky Uzel.
The killing occurred on Oct. 27, and the suspect was reportedly detained several days later.
"Initially he denied his guilt, although with irrefutable evidence [against him] he had to confess: He committed the murder after an argument with his sister while he was in an agitated state," the source said in comments carried by Kavkazsky Uzel, adding that the brutal murder have been an honor killing.
Human rights activists have repeatedly sounded the alarm over honor killings in Chechnya, where women are killed by male family members for supposedly bringing shame or otherwise damaging their family's honor. "Throughout the past four years, Human Rights Watch has been receiving increasingly frequent reports of honor killings or attempted honor killings in Chechnya," Human Rights Watch reported in October 2012.
Often these killings are sparked by incidents of sexual impropriety, such as premarital sex.
Chechen leader Kadyrov openly expressed support for the practice in 2009 when he told reporters that a handful of victims of honor killings had "loose morals" and deserved what they got, The New York Times reported at the time.
"If a woman runs around and if a man runs around with her, both of them are killed," Kadyrov was cited by the paper as telling journalists. His comment was made in response to a question about seven young women who had been found dumped on the roadside after having been shot in the head.
Kadyrov has also openly encouraged polygamy and described women as being the property of their husbands, according to The New York Times.
Several suspected honor killings have been recorded in the republic in recent years. In the summer of 2011, two teenage girls were killed by their father in what was widely believed to have been an honor killing, Kavkazsky Uzel reported. In July, a suspected honor killing case against a man accused of murdering his 19-year-old sister was handed over to a court to begin trial, the website reported.
In late October, in another one of Russia's predominantly Muslim republics, Dagestan, a man was sentenced to seven years in a maximum security prison for killing his 22-year-old niece in 2010 for "bringing shame" to the family, Kavkazsky Uzel reported.
http://www.themoscowtimes.com/news/article/chechen-police-probe-suspected-honor-killing-in-grozny/511465.html
---------
Resolving the issues arising from interfaith, interracial marriages in Malaysia
20 November 2014
Attorney-General Tan Sri Abdul Gani Patail was blunt about the issue of interfaith and interracial marriages that could risk national harmony, particularly the tussle over children in the different court systems in Malaysia.
It is not a new issue, but perhaps Malaysia's top federal lawyer was mistaken over the real problem from such unions. It really is not about two people from different races or religions marrying but more about a breakdown when one spouse converts to Islam and the other does not.
Because, anyone who marries a Muslim in Malaysia has to convert to Islam. No two ways about it.
But the issue of one spouse from a marriage between two non-Muslims, converting to Islam and then converting any children the couple had during their civil union, has become a nightmare for many.
"The increasing number of cases has also raised allegations of racial discrimination by the courts and authorities. The anguish to the families cannot be overstated and that is a fact.
"In this regard, the failure of the converting spouses to resolve the family arrangements prior to conversion and, in fact, attempting to use the different jurisdictions of the civil and Shariah courts to their advantage, jeopardises not only family harmony but potentially national harmony," Gani said at the ILKAP National Law Conference 2014 last week.
He said the problem of enforcing conflicting orders from the civil courts and Shariah courts in such disputes then calls into question the Attorney-General's Chambers (AGC) and police's integrity, adding that this would hamper their ability to effectively carry out their duties.
According to him, proposed amendments to three laws were mooted in 2009 to ensure that matters such as child custody and child maintenance would be decided by the court where the marriage was registered.
The three laws are the Law Reform (Marriage and Divorce) Act 1976, the Islamic Family Law (Federal Territories) Act 1984 and the Administration of Islamic Law (Federal Territories) Act 1993.
But Gani said the amendments remain pending.
That is the pity, because the A-G is right that it risks national harmony and brings the issue of discrimination against one party in any court.
So what must be done? Simple, Putrajaya must ensure that the relevant laws that have loopholes or have too much grey areas must be amended to make them clearer and unambiguous.
After all, there was a Cabinet decision, during the Tun Abdullah Badawi administration, whereby it was stated that in disputes between a wife and husband over the religion of their children, the religion of the couple at the time of marriage should be the guiding principle.
In other words a man/woman cannot convert their children, who were born out of a civil union, to Islam without the consent of the spouse, who is a non-Muslim.
However, the problem is that a Cabinet decision cannot be enforced because it is not law. And the existing laws are too ambiguous or rather have loopholes that some are exploiting.
As is being done now, to the detriment of some spouses and the larger community and country.
At the heart of the matter is not the issue of interfaith or interracial marriages that risk national harmony, but the decisions of those in the Shariah courts that ignore the laws of the land and decide based on faith.
http://www.themalaysianinsider.com/malaysia/article/resolving-the-issues-arising-from-inter-faith-inter-racial-marriages#sthash.tDSyKjsE.dpuf
----------
ISIS brutality toward women a shocking symptom of a larger disease
20 November 2014
Last month, the Syrian Observatory for Human Rights reported that it received a gruesome video showing a woman being stoned to death by her father, along with a group of men who appeared to be militants from the Islamic State of Iraq and Syria (ISIS). The report said the stoning took place in the ISIS-controlled countryside of Hama, Syria.
The video begins with a tall, bearded militant in camouflage passing down the stoning sentence to the woman. "We hope that this will serve as a lesson to other women," he says, with his right hand on the father's shoulder. "This punishment is the result of the actions you did of your own free will," the bearded militant continues, "therefore, you should be satisfied with the ruling decree by Allah."
He then turns to the woman's father, "Is there anything you would like to say to your daughter?"
"No," answers the man wearing a red-and-white checkered ghutra.
Then the woman, covered in a brown dress from head to toe, pleads with her father for forgiveness. He insistently refuses, until he finally grants her final wish after another hooded ISIS fighter approaches him to persuade him of doing so.
The father ties a rope around the woman, drags her into a pit, and the stoning begins.
According to the Syrian Observatory, the terrorist group stoned two other women earlier this year in the province of Al-Raqqa, after accusing them of adultery. Only the stoning case in Hama was caught on video.
The date of the recording was not verified, and it was not clear how the woman was found guilty of adultery.
What the video shows clearly, however, is that those members of the terrorist group were able to convince the woman's father of the legitimacy of their decree, to the extent that he was willing to take part in her execution. Shocking, but not impossible in a harshly misogynistic, perpetually patriarchal environment, where honor killing is condoned by many men and women and has long been protected by the constitution, even under the so-called secular regimes around the region.
Consider the fact that the Syrian constitution, for example, allows a male perpetrator of rape to escape punishment by marrying the victim, and limits punishment of "honor killings" to 2-7 years in prison. Such is the case under the protection of a secular, civil state; now try to envision the matter in the hands of the unrestricted group of terrorists.
It appears that the evils of fundamentalism and the cowardice of social bullies have joined forces in the form of ISIS.
Many Arab and Middle Eastern societies are what anthropologist Edward T. Hall calls a "high-context" culture — meaning that more importance is given to the family over the individual, and a self-governing individualist is viewed as a risk to the family's reputation. Under such circumstances, patriarchy tends to thrive.
But let us not forget that the patriarchy has another equally ugly side to it. Men in such societies are also bound by the same highly masculine social construct, where aspects of misogyny are viewed as a necessity to maintain the order of society; an inescapable harness that men are always expected to tie around women and handle with utmost care. Consequently, a man's failure to fit the restrictive mold of the patriarchal order would be faced with a lot of scorn and lifelong shaming by his community.
Let us, for the sake of argument, think of what other options were available to the stoned woman's father. Let us imagine for a minute that the man, instead of refusing his daughter's plea for forgiveness, had refused to participate in the stoning, took his daughter's hand, then walked her away from the group of armed fundamentalist thugs.
If the man and his daughter, miraculously somehow, were able to survive our imaginary scenario, it would not be possible for either one of them to rejoin their families and go on with their ordinary life: The man would be labeled a "cuckold," and the woman a "whore," for generations to come. This brings us to the concept of a "sacrifice": The family of a fallen woman must offer her to society as a sacrifice in order to publicly clear their responsibility, declaring that they have removed the cause of their social alienation and announcing that they should be welcomed back into their community as respectful individuals.
Does that mean all Arabs or Muslims support stoning women to death as a punishment for adultery? The short answer is, no. This raises another fundamental question: Doesn't Islam prescribe stoning as a punishment for married adulterers?
As an Arab woman who was born into a strict Muslim family who grew up in a Muslim community, I can tell you, the answer depends on who you ask. A moderate Muslim would make a distinction between the misogynistic culture and the religion of Islam, saying that stoning has questionable grounds in the Muslim faith. A fundamentalist or Wahhabi Muslim, on the other hand, would suggest that the cultural values of male-dominance are in the core of Islamic teachings, and would strongly defend the deep-rootedness of the stoning practice in Islam. Ironically, both individuals would provide Qur'anic texts and other religious tracts to support their views.
The level of barbarism illustrated in the terrorist activities carried out by ISIS members in Syria and Iraq has led many Western observers to call for a colLabouration with the Syrian dictator Bashar Al-Assad's regime to fight against terrorism.
As tempting as it is, however, to blame fundamental Islam for the savagery of ISIS — particularly its misogynistic practices, as in the case at hand — one should not turn a blind eye to the dangerously effective role played by bad politics, both foreign and interior, in the perpetuation of internalized sexism.
ISIS is not the malignant tumor that ought to be resected; it is merely one symptom of a serious underlying disease that has been developing over centuries of oppression and cultural segregation on one hand, and the blind idolization of the past, accompanied by fear of the responsibilities that come with change, on the other.
While the eradication of ISIS is both important and necessary, the path to achieving gender equality in the region runs a lot deeper than the caves of terrorists.
Ibtihal Mahmood is a Jordanian journalist, translator, and poet. She has been living in the Northwest since 2007. She is the Chairperson of the Arabic Division at the International Medical Interpreters Association (IMIA).
http://www.seattleglobalist.com/2014/11/18/isis-stoning-video-women-brutality/30674
----------
U.S. woman charged over ISIS links detained
20 November 2014
A woman charged with lying to federal investigators about supporting militants belonging to the Islamic State of Iraq and Syria (ISIS) agreed to remain in jail until her trial after she answered yes-or-no questions from the judge, the Associated Press reported.
Heather Elizabeth Coffman, wearing a charcoal-colored jail jumpsuit and leg shackles, said nothing else during a brief appearance before U.S. Magistrate Judge David Novak. Her next court appearance has not been scheduled, the agency reported.
Lawyers are barred from talking about the case publicly under the federal Classified Information Procedures Act, according to court papers, AP said.
An affidavit filed by an FBI agent says the 29-year-old Coffman "is suspected of conspiring and attempting to provide material support to the Islamic State of Iraq and Syria foreign terrorist organization."
According to the affidavit, Coffman promoted the extremist organization on several Facebook accounts she maintained under various names. Those posts prompted a sting by the agent, who posed as an Islamic State backer.
The agent wrote that Coffman talked about making arrangements for a man she identified as her husband to train and fight with the Islamic State in Syria. Coffman said the man, who is not named in court papers, backed out when the couple split up.
Coffman offered to use her contacts with the group to make similar arrangements for the FBI agent and a fictitious friend, the affidavit said, then denied supporting any terrorist groups when she was questioned later by two other FBI agents.
The undercover agent wrote that Coffman listed her job and education as "jihad for Allah's sake" and posted photos of the Islamic State flag and men holding AK-47s on Facebook. One Facebook friend asked why she posted such pictures and she replied, "I love ISIS!"
John Whitehead, president of the Rutherford Institute civil liberties organization in Charlottesville, questioned whether Coffman did anything other than exercise her free-speech rights on Facebook. Coffman might be one of a growing group of people targeted by federal authorities for just "shooting their mouth off," he said.
Coffman's case surfaced about a month after three teenage girls from Colorado possibly were heading to Syria to try to join Islamic State militants when they were detained at an airport in Germany and sent home. Officials say the girls were victims of an online predator, and that it shows how Islamic extremists have mastered social media to prey on impressionable younger women.
http://english.alarabiya.net/en/News/world/2014/11/20/U-S-woman-charged-with-lying-about-ISIS-links-detained.html
----------
HRW urge Indonesia to stop 'Virginity Tests' for female police recruits
Nov 20, 2014
The Human Rights Watch (HRW) has called on Indonesia to scrap 'virginity tests' given to female recruits hoping to join Indonesia's police force.
Describing the practice as degrading and discriminatory, HRW said such practices harms and humiliates women.
A report by HRW said such tests were a longstanding practice in Indonesia, where patriarchal attitudes and practices in the security forces are common.
The report was released after conducting interviews with female police officers and police applicants in six Indonesian cities who had undergone the so called "two-finger" test to determine whether their hymens are intact.
Nisha Varia, associate women's rights director at Human Rights Watch quoted in the statement said "The Indonesian National Police's use of 'virginity tests' is a discriminatory practice that harms and humiliates women."
Varia further added "Police authorities in Jakarta need to immediately and unequivocally abolish the test, and then make certain that all police recruiting stations nationwide stop administering it."
The requirement is even posted on the jobs website for Indonesia's national police.
In the meantime, a spokesman for the Indonesian police said the tests were aimed at ensuring that recruits didn't have sexually transmitted diseases.
"All of this is done in a professional manner and did not harm the applicants," the spokesman told The Associated Press.
However, the tests are recognized as a violation of human rights by International conventions, including those ratified by Indonesia.
http://www.khaama.com/hrw-urge-indonesia-to-stop-virginity-tests-for-female-police-recruits-9033
---------
Crackdown on single men paying women to access malls in Saudi Arabia
20 November 2014
Manama: Shopping malls in Saudi Arabia's Eastern Province are planning to take legal action against young women who get paid to help single men access the venues.
The decision to sue was taken after the security departments were alarmed by the number of contraventions booked by members of the Commission for the Promotion of Virtue and the Prevention of Vice, the religious police, against men who entered the malls despite the ban on the presence of single men.
"We became familiar with the sight of women selling items in front of the mall gates," Abdul Aziz Al Brahim, the manager of a shopping mall, said. "We have also seen female beggars pleading to be allowed inside the mall. However, we are now noticing a new phenomenon — women who help men go past the security guards tasked with making sure that only families are allowed inside the mall," he said, London-based Al Hayat daily reported.
The women who are paid by the single men to pretend they are wives, sisters or relatives and assist them go inside the mall can make up to 1,000 riyals (Dh978) a day, he added.
'Fed up'
"They are very active during the weekend," he said. "Several malls are fed up with the grouping of single men in front of the gates looking for women to help them get inside and we plan to take legal action."
The malls imposed the ban on single men as a precautionary measure to prevent harassment of families and women.
Abdul Rahman Al Dossary, a security head at a mall, said that the women ask for 50 riyals or 70 riyals per head and move between gates to avoid being spotted by the security guards.
A young woman who made money by posing as a sister or wife to help young men past the security guard said that she was not breaking any rule, insisting there was no legal text that banned men from entering the mall.
"So there is nothing wrong with me receiving money for doing something that is not illegal," she said. "I refuse to joke or exchange pleasantries with the men as I am working. I am always serious about work and I do not feel any shame doing it. The security guard is wrong by not allowing single men into the mall," she said.
Several businessmen have called for the lifting of the ban saying that it was causing huge losses, especially in men's clothing.
Many men said that they wanted to go inside malls to sit in cafes and enjoy their weekend.
"Whoever is in charge should think of other ways to prevent harassing women," Rami, a single man, said.
http://gulfnews.com/news/gulf/saudi-arabia/crackdown-on-single-men-paying-women-to-access-malls-in-saudi-arabia-1.1414867
----------
'Pakistan has failed to protect its children'
20 November 2014
ISLAMABAD: "There is no child protection system in Islamabad Capital Territory and a number of bills related to children's right are pending at the National Assembly (NA) level," Habiba Salman, Child Rights Movement (CRM) National Coordinator, said while speaking to participants of a conference titled '25 years of the UNCRC and the State of Child Rights in Pakistan' at Quaid-i-Azam University.
The conference was jointly organised by CRM and Quaid-i-Azam University. Speakers urged the government to legislate for the protection of children's rights. Pakistan signed and rectified United Nations' Convention on the Rights of the Child in 1990, but is yet to make any progress towards providing protection, health and education to its children.
Ms Salman said the government needs to play a role in ensuring enactment of the national commission on Rights of Children Bill, prohibition of corporal punishment bill and child marriage restraint amendment bill. Malnutrition has become a key concern for the country, she said.
Two and a half decades after signing UN Convention on the Rights of the Child, government performance remains abysmal
"According to Unicef, 352,000 children die every year in this country, and an estimated 35 per cent of these deaths are attributed to malnutrition," she said.
She added that one sees no urgency, or commitment at the federal and provincial levels to respond to this situation by implementing strategies and increasing budgetary allocations.
Speaking on the occasion, Dr Muhammad Zaman, QAU Department of Sociology chairman, said Pakistan's future is linked to its children and Quaid-i-Azam University is going to include the issue of child right in its curriculum.
"At the Department of Sociology, we have designed a course on Sociology of Child Rights, currently awaiting approval, this will sensitise students to children's rights," he said.
QAU Acting Vice Chancellor Dr Eatzaz Ahmad highlighted academia's role in the promotion of child rights in Pakistan. "Pakistan being party to the UN Convention on the Rights of the Child is responsible to formulate strategies for future course for academia, society, national and international institutions and the federal and provincial governments to promote child rights in the country," he said.
"The academicians, scholars, researchers, students and NGO activists must develop theoretical, conceptual and empirical work to analyse and understand the current state of child rights in the country," said Prof. Dr. Aliya H. Khan, QAU Faculty of Social Sciences Dean.
Stefano Gatto, European Union Delegation Deputy Head, said the European Union welcomed Pakistan's ratification of the most core international human rights conventions.
Barrister Zafarullah Khan, Special Assistant to the Prime Minister of Pakistan and the chief guest, apprised participants on the steps taken by the government for the implementation of the UNCRC.
Arshad Mahmood, Save the Children, Director Advocacy and Child Rights Governance also spoke on the occasion.
http://www.dawn.com/news/1145628/pakistan-has-failed-to-protect-its-children
----------
Female Genital Mutilation in the West: A Creeping Crime against Humanity
20 November 2014
Tomorrow, on November 20, 2014, an Egyptian doctor, Raslan Fadl, will for the first time in history be sentenced because his 13-year old patient died during a female genital mutilation (FGM) procedure; he claims she was allergic to penicillin.
This girl died—but she was probably viewed as among the lucky few who have real physicians perform the mutilation in a clinic, as opposed to a midwife or tribal elder who performs the mutilation on a mud floor and with a rusty knife or razor blade.
We know that this horrendous practice is pandemic in the Middle East and Africa. Some claim that FGM is not an Islamic practice per se but is, rather, an African and tribal practice. Thus, FGM is practiced in Muslim Africa (Egypt, Somalia, Sudan) but also in pagan and Christian Africa, as well as nations that are a mix of Christian and Muslim (Nigeria, Sierre Leone, Senegal, Zimbabwe, Kenya). It is also increasingly practiced in Muslim Indonesia.
Recently, a photographer was present at the FGM "ceremonies" of four teenage Kenyan girls of the Potok tribe. They look terrified.
According to UNICEF, 91% of Egyptian women have been genitally mutilated. The practice is supported by both women and men who view women as unclean and unmarriageable if they have not been "cut." A number of brave and poignant memoirs have been written by women who have undergone this procedure. Dr. Nawal el-Sadawii, Ayaan Hirsi Ali, and Soraya Mire all come to mind.
But we also know that this practice flies under the radar in the West as well among immigrant communities, mainly from these regions. And we know that Western authorities have failed to stop it.
Last week, Detective Chief Supt Vanessa Jardine of Manchester stated that the genital mutilation (FGM) of girls in England should be treated as a form of "child abuse and not as a cultural issue."
In other words, it is a crime and perpetrators should be prosecuted. It is not a tribal, ethnic, racial, or cultural issue to which Western law enforcement should continue to turn a politically correct blind eye. Jardine stated that "this is about protecting a child, not (about) being a racist."
Recently, the British National Health Service documented "467 new cases of FGM in England." Half live in London. Estimates suggest that "up to 170,000 women and girls living in the UK may have undergone FGM."
FGM has been viewed as a violation of girls' and women's human rights by international treaties. This has changed nothing. UN Secretary Ban Ki-Moon has announced a global campaign to end this atrocity within a decade.
I doubt this will happen. A number of countries have banned FGM, including Egypt, in 1959 and again in 2008. It did not stop this practice.
In 2008, a 12-year-old Egyptian girl died during a clinic surgery. That alone—her death—is what led Egypt to again ban FGM. In other words, the life-long agony and negative medical consequences which FGM inflicts upon girls and women does not matter. The fact that she will never be able to experience any sexual pleasure whatsoever does not matter. In fact, that is the object of this mutilation: to make sure that a woman will be less likely to have pre-marital or extra-marital sex; to ensure that a father need not worry about his daughter's "promiscuity" and a husband need not worry about whether her pregnancies belong to him, and not to another man.
A woman is meant to suffer—little enough punishment to pay for the crime of being born female.
It does not matter that she will probably be in agony each time she urinates, has sexual intercourse or, given the massive scarring involved, gives birth to a child. It does not matter that she may develop a fistula and become incontinent, that she may also smell "bad" and for this reason, be shunned by her family. It does not seem to matter that she may later die from an infection.
These are crimes against humanity. We may not be able to stop such crimes if they take place in Somalia, Sudan, Kenya, or Egypt. But we can and must stop such crimes if they take place in any Western country—even if the parents send the girl back home to be mutilated.
What might deter this practice? I fear that laws and treaties per se will not be able to do so. Here's what might. If the parents of a mutilated girl are themselves deported and if their entire extended family is also deported, this alone might give pause to the next set of parents who live in the West but whose hearts remain in the Middle East or Africa.
This is a radical suggestion. I would recommend it for honor killings in the West as well. A family can be "shamed" by having a non-mutilated daughter or they can be "shamed" for having mutilated their daughter and thereby being responsible for the deportation of their entire extended family. The choice is theirs to make.
http://www.breitbart.com/Big-Peace/2014/11/19/Female-Genital-Mutilation-in-the-West
----------
Debate highlights women's role as 'agents of change' in Pakistan
20 November 2014
ISLAMABAD: The British High Commission in Islamabad hosted a Chevening debate on Wednesday to recognise the importance of Pakistani women as agents of change in accelerating social, economic and political progress.
The debate follows on from an event held by the British High Commission in July to tackle sexual and other violence against women. It invited young aspiring women from different fields of study to debate with senior Chevening alumni on the important roles women can play in all aspects of society.
The keynote speakers, all Chevening alumni, included former MNA and Improving Parliamentary Performance in Pakistan Strategic Adviser Yasmeen Rehman, Supreme Court Advocate Muhammad Aslam Khaki, Fatima Jinnah Women University, Rawalpindi, former registrar Dr Maryam Rab and Fatima Jinnah Women University Vice Chancellor Prof Dr Samina Amin Qadir of.
"Today, we are highlighting just a few of examples of the important role that women play in Pakistan every day. They are not only victims of social crimes and violence, but are also a source of inspiration and a catalyst for change. In the last two years, Pakistani women have brought home an Oscar, an Emmy, the Nobel Peace Prize and the gold medal in cricket at the Asian Games. Pakistan also had the honour of being the first Muslim nation to have a female prime minister," British High Commissioner to Pakistan Philip Barton said.
"As a long standing partner of Pakistan, the UK is working with the Government of Pakistan and various non-government organisations to invest in the future of women and girls. Over the coming years, the UK will provide support which will benefit over five million girls in school, provide monthly cash transfers to women of 300,000 poorest families and help an additional 900,000 women to access microfinance loans. Our Chevening scholarship programme offers an opportunity for the future female leaders of Pakistan to be the agents of change," he added.
"By investing in women and girls, countries can accelerate their social, economic and political development. I hope Pakistan will continue to encourage the involvement of women in all aspects of society.
We will continue to support the Pakistan government in this regard," the British high commissioner said.
http://www.dailytimes.chttp://www.themoscowtimes.com/news/article/chechen-police-probe-suspected-honor-killing-in-grozny/511465.html
----------
Muslim women forced to pray on dirty street after Israeli forces keep them out of al-Aqsa mosque
International Middle East Media Center
20 November 2014
Israeli forces allegedly 'eased restrictions' on Palestinian worshippers attending the weekly prayer service Friday at the Al Aqsa Mosque, but dozens of women were refused entry, and were forced to perform their midday prayers in the alleyways near the mosque.
Following Friday's prayers, the mosque was closed again by the Israeli soldiers who surround it, and a group of Israeli settlers were allowed to storm the mosque on Saturday.
The women were turned away from the Israeli military checkpoints that surround the mosque because they refused to surrender their Israeli-issued ID cards to the soldiers. According to the women, their past experiences with Israeli soldiers confiscating their ID cards have involved Israeli soldiers refusing to return them, or forcing them to wait days or weeks to get them back.
Since all Palestinians are required to carry their Israeli-issued ID cards at all times, the confiscation of these IDs essentially immobilizes them, and they are unable to travel – even to a nearby village or to the Israeli military base where it is being held – because of multiple Israeli checkpoints along the way.
In addition, Israeli forces frequently subject the women to harsh interrogations at police stations before they will allow them to have the ID cards back.
During the first Palestinian intifada (uprising) in the late 1980s and early 1990s, the Palestinian non-violent resistance organized actions in which they threw their Israeli-issued ID cards into a pile and refused to accept their legitimacy. This action was not widely publicized at the time, and those who participated in the action were punished, and the town (Beit Sahour) was put under 40 days of closure in which all businesses were closed and people were prevented from leaving their homes.
In the most recent Israeli assault on the al-Aqsa mosque, Israeli troops have closed the mosque for the past several weeks, and have allowed only right-wing extremist settlers to enter – many of them with the stated intent of destroying the mosque to construct a Jewish temple in its place.
The al-Aqsa mosque is considered the third-holiest site in Islam, and its repeated closure by Israeli troops has led to numerous protests by Palestinian residents of the city of Jerusalem, where the mosque is located, as well as surrounding towns and villages. These protests have been violently repressed by Israeli forces, including both lethal and semi-lethal weapons – resulting in numerous injuries and the death of 14-year old Palestinian-American Orwa Hammad at one of the protests.
http://www.imemc.org/article/69729
----------
Global summit in Morocco celebrates women entrepreneurs
20 November 2014
The fifth Global Entrepreneurship Summit kicked off in Morocco's resort city of Marrakech on Wednesday with a celebration of "Women Entrepreneurship Day," discussing the role of women in free enterprise, economic growth and job creation.
The three-day summit, held in partnership between Morocco and the United States, brought together more than 3,000 business leaders and politicians from around the world, with a focus on the role of technology in innovation and entrepreneurship.
In opening remarks, U.S. Secretary of Commerce Penny Pritzker noted the economic benefits of women's engagement in free enterprise, the challenges facing female entrepreneurs, and American efforts to support women business leaders globally.
Pritzker said "too often" women lack access to funding, training, information and communication technologies in order to launch start-ups and grow their businesses.
Women in many parts of the world, she said, are hampered by a business culture where it is unacceptable to fail in one venture and start another.
"Such a culture needs to change," Pritzker said, highlighting the U.S. government's role in support such change.
Meriem Bensalah Chaqroun, chairwoman of the General Confederation of Moroccan enterprises, noted the growing role of women in the Moroccan business environment, and the challenges facing them in the wider Middle East.
"The major challenges facing women in this region include education, acceptance in the market, and the need for special training," she told Al Arabiya News.
"Morocco, with its reforms and modern banking system, has the potential to lead the region in women entrepreneurship."
Bassima Hakkaoui - Moroccan minister of solidarity, women's rights and the family - told Al Arabiya News that funding is the biggest challenge facing aspiring women entrepreneurs.
"We have to overcome the masculine mentality that sees the field of entrepreneurship and of obtaining funding as an area exclusive to men," the Islamist minister said.
"Banks are still largely hesitant to fund women's free enterprises. As such, we find many women discouraged to engage in business ventures," she added.
Panel speaker Lamia Boutaleb, CEO of Capital Trust Group (Morocco), said women entrepreneurs need to have the "determination to survive" in a male-dominated business environment.
"Entrepreneurship isn't only about dreams, but more about surviving the challenge for a long time with limited resources," she said.
Shazia Saleem, founder of ieatfoods UK, spoke of the importance of ethics for successful free enterprises.
"If you have the intention of having a big bank account and luxury yachts, you'll never be satisfied. For successful business, you have to be ethical about what you do," she said.
The event invites women entrepreneurs to present pitches for planned businesses. A panel of judges evaluates the proposals, and finalists compete for more than $10,000 in prizes and support opportunities.
http://english.alarabiya.net/en/business/economy/2014/11/19/Global-summit-in-Morocco-celebrates-women-entrepreneurs.html
----------
Hostility against Women: Stone Adulterous Women to Death
20 November 2014
I read this news but didn't take it serious. It occurred to me as one of those jestering attitudes of the Ghanaian parliament. It was until listening to Citi Fm Breakfast show this morning [17. 11. 2014] that I heard Mr. Abudu Baani Nelson, Member of Parliament of Daboya/Makarigu constituency in the Northern Region, justifying the stoning of adulterous women and also claiming that many men in his area support his position. Once again, it is only within an African country like Ghana that such utterances would be taken lightly without jurisdictive actions.
Mr. Abudu Baani, who I must draw attention to the fact that bears the first name of one of the most globally respected icons of human rights and dignity Nelson Mandela; and again who is a Muslim, whom I presuppose without any doubt that he reads his Quran, in which Jesus occupies a significant place as a great prophet, anointed one and given special revelation to declare (REF.: Quran 2: 87; 4: 171; 5:46; 19: 30 Yusif Ali), is so righteous to contradict the prudent dictum of Christ that "He who is without sin among you, let him be the first to throw a stone at her [an adulterous woman]" (REF.: John 8:7) to declare that "Stone adulterous women to death."
Mr. Abudu Baani suggested in parliament that "Day in day out in Afghanistan, if you go behind your husband they hang you. So if they add that, we will get very genuine women in families." His statement has been branded by concern citizens and feminist activists as naïve, irresponsible, offensive, pre-Jurassic, Semitic and barbaric.
It's very unfortunate that we have such radical statement coming from a civil servant of this country and more seriously, a legislator. Such statements must not be taken lightly without subjecting this man to strict scrutiny. His position and Islamic background can incite ignorant hostility against women from weak-minded persons in this country. This is the reason why I am subjecting Mr. Abudu Baani to scrutiny.
Is Afghanistan better than Ghana?
What makes Mr. Abudu Baani to think that the depository country of Al-Qaeda, where the Taliban government engineered with Osama Bin Laden to rip down the twin towers of New York on the September 11, 2001 attack, is morally right than Ghana? That's too naïve a reference. We are Ghanaians and we do Ghana things.
Irrational proposition
His proposition is invalid to jurisprudence. Why shouldn't the man who slept with another's wife be stoned as well? It takes two people to commit adultery. Marriage is a contractual union hence the state allows divorce. You don't own a woman like a pet. Each citizen of Ghana is protected by the civil laws and an act of adultery is not a crime in the constitution. If it is to be, who would be left to stone who?
Islamic laws not civil laws
Sharia law include beheading, stoning, and many other extreme punishments. There is no way sharia would be disassociated from Islam. Mr. Abudu Baani is paranoid with his Islamic background. The state is not a religion and hence religious beliefs are private affairs. However, any contravention to the jurisdiction of the Ghanaian civil laws would be considered as a crime subject to punishment. So he shouldn't even dare to practice his sharia laws in the North.
Threat of Islamic extremity
Terrorism was seen as a clash between Islamic extremists and the West. Not really so today. After the attack on the Kenyan Westgate mall and the insurgence of Boko Haram in Nigeria, terrorism has become an African problem as well. For this reason, any person who exhibits extreme religious moral code must be seen as a potential agent of terrorism. Mr. Abudu Baani, who is Muslim with such extreme religious brain-washed ideas must be monitored by the Ghana Bureau of National Investigation. I don't consider the MP as the Muslims I know. We shouldn't take things light anymore in this country. Prevention is better than cure.
Legislative crisis
The MP, though an individual who is entitled to his own opinion, also represents the larger health of the Ghana parliament. Our parliament is weak and full of many ridiculous MPs. If such men like Mr. Abudu Baani are to make laws for this country, then the legislature is in deep crisis. No wonder we import chairs from China, make unnecessary arguments in parliament and ride in bossy cars. The unfortunate utterances of Mr. Abudu Baani sum up the mentality of some MPs in the legislature.
Hostile persecution on women
Nobody endorses adultery. However adultery isn't a feminine problem. It's anthropological problem. Limiting such dishonest conduct to the feminine gender is a hostile persecution on women. The Northern region of Ghana is a zone notable of many gender bigotry. Girls and old women suffer diverse social discrimination ranging from genital mutilation, accusation of witchcraft, child Labour, child marriage, etc. Mr. Abudu Baani as a government representative within this region must uphold the ideals of the Ghanaian constitution by promoting equality, equity and respect for human rights and dignity. Failure in such fundamental matters is a failure on the part of the Member of Parliament.
For Mr. Abudu Baani to justify himself on radio yesterday on Citi Fm, suggests that he has not been called to book; neither by the Speaker of Parliament nor the Supreme Court. There is one thing left for him, he must issue an official apology and read it in parliament. Even an apology does not make him smart enough to make laws for this nation having exhibited such naiveness.
If we remain completely coward, as the word is derived from cow, by taking certain issues lightly in this country, one day we shall wake up to find ourselves handcuffed by rebels and terrorists. We mustn't be too comfortable with our undisciplined democracy, we must learn to strengthen our institutions as Mr. Obama cautioned us.
Clifford Owusu-Gyamfi, University of Lausanne, Switzerland.
www.twitter.com/owusugyamficlif
http://www.ghanaweb.com/GhanaHomePage/NewsArchive/artikel.php?ID=335420
----------
URL: https://www.newageislam.com/islam,-women-and-feminism/new-age-islam-news-bureau/austria-is-trying-to-cut-down-its-increasing-number-of--jihadi-brides-/d/100107