New Age Islam News Bureau
3 Apr 2015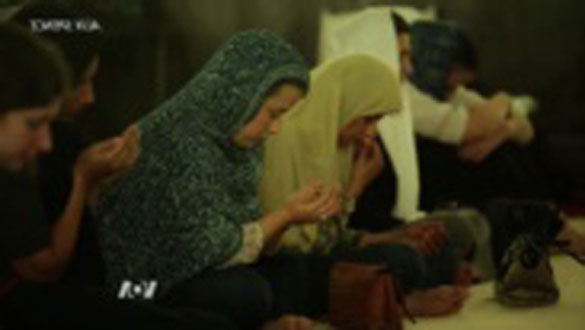 Unconventional All Women's Mosque Opens in Los Angeles
------------------
• Working Has Become an Economic Necessity for Saudi Women
• Muslim Girls Writing WASSCE Not To Take Off Veils – WAEC
• New York Women Charged In Bomb Plot: Reports
• Unconventional All Women's Mosque Opens in Los Angeles
• Spain Sentences Mother to Jail for Helping 16-Year-Old Twin Sons Join Isis
• Arab American Women Event Raises $10,000 for Cancer Fund
• Meet the Women, Cicek Derek, Taking the Battle to ISIS
• Iranian-British Woman Pardoned For Tehran Volleyball Protest
• 'Children Shouldn't Be Married Until They Attain Mental Maturity' Says Sr. Member Pak CII
• Women Hail Joint Arab Action
• The Kids Brainwashed By Boko Haram Were Silent For Good Reason
• Of Marriage and Singlehood: A Look at Gazan Women's Plight
Compiled by New Age Islam News Bureau
URL: https://newageislam.com/islam-women-feminism/australian-isis-widow-tells-girls/d/102262
-------------
Australian Isis Widow Tells Girls 'Lifestyle' In Caliphate Is 'Amazing'
03 April, 2015
Another Islamic State (ISIS/ISIL) woman is using social media and the internet to entice women to join the sadistic jihadist group in Syria and Iraq.
Umm Abdullatif, also known as Zhera Dumann, answers questions for "wannabe jihadi brides" on Twitter or her Ask.fm page, which is now suspended. But Radio Free Europe/Radio Liberty managed to snap photos of a few questions before the site pulled it. She told the girls food in Syria is "yummy," but tap water causes illnesses. She assured females that Internet connections are decent and they can access "all the womanly supplies."
One female asked Umm Abdullatif if she could search for a husband for her. The Australian jihadist said she was "more than happy to ishaAllah [God willing]" and told the female to contact her privately. If a woman should perform a "hijra," Umm Abdullatif said they need to come "with a mahram, an Islamic term meaning a male relative with whom marriage would be considered incestuous, such as her father, brother, or uncle." Any girl that arrives alone is placed in a house "with a group of other women."
Umm Abdullatif arrived in Syria by herself in 2014. She married Australian jihadist Mahmoud Abdullatif in December, but he died in January.
My love.. Fi Dunya wa Akhirah insha'Allah ♡ pic.twitter.com/i0VjZpnXKH
— Umm Abdullatif (@yallahAlJannahh) March 25, 2015
Her Twitter account is also used to lure Westerners, not just females, to the caliphate.
The sunset here in Sham.. it is something you need to see with your very own eyes ♡
— Umm Abdullatif (@yallahAlJannahh) March 25, 2015
O Muslims living in the west.. wallahi you are in great loss if you do not migrate fisabilillah. pic.twitter.com/A9aqSgk7L4
— Umm Abdullatif (@yallahAlJannahh) March 25, 2015
Yes, ur luxuries will be left behind.. but for things – & the miracles -only the eyes can witness. #Sham, the home of the truthful
— Umm Abdullatif (@yallahAlJannahh) March 25, 2015
I watch ppl on Snapchat frm back in the west, makes me cringe even seein the roads.Cnt help but 2 only think that 1 day itll all b under #IS
— Umm Abdullatif (@yallahAlJannahh) March 25, 2015
Its been 4 months since I've been here, & I stil fnd it hard to believe im livin under #Khilafah. It sometimes just takes you by suprise lol
— Umm Abdullatif (@yallahAlJannahh) March 25, 2015
She is not the only woman to use social media to reach the Western world. The majority of the Twitter accounts in this story chronicling various accounts used by jihadists to recruit Westerners have been suspended. Most use the title Umm, which means Mother in Arabic. Mia Bloom from the Center for Terrorism and Security Studies at the University of Massachusetts Lowell said ISIS needs these women "in order to be baby factories" to "populate the state." In Raqqa, Syria, the terrorists created a marriage center where women register to become a wife for a jihadist. However, there are many women in the conquered towns who are forced into these positions against their will. Jihadists force the men to bring out the unmarried and married women in each household, where they are kidnapped and forced into sex slavery.
http://www.breitbart.com/national-security/2015/04/02/australian-isis-widow-tells-girls-lifestyle-in-caliphate-is-amazing/
---------
Working has become an economic necessity for Saudi women
03 April, 2015
Christine Lagarde, the Managing Director of the International Monetary Fund (IMF), once wrote in a blog that "nations should remove laws that prevent women from working in order to boost their economies. In too many countries, too many legal restrictions conspire against women to be economically active."
Lagarde believes women can play a major role in economic growth if "they face a level playing field instead of an insidious conspiracy."
Before the increase in the price of oil in 1973, women in Saudi Arabia used to be more economically active than they are today. At that time, most women used to take care of their sheep. They used to milk them, harvest crops and sell goods in the market. All this was carried out in addition to their household chores. However, women were not abused because they did not work as employees but rather as mothers, sisters and wives.
The situation started to change when the price of oil rose. With the economic boom of the 1970s, a breadwinner earned more than enough to provide for his wife and children and was able to open a bank account and save money. Consequently, women did not have to work. Year after year, female unemployment became widespread and the norm. Habits can, over time, become norms and members of the public can at times treat norms as laws.
For many years, Saudi women did not need to work or make a living because men took care of all of that. This is exactly what happened. Women staying at home became a social norm and the majority of people became accustomed to seeing women at home and not at work. When women decided to go out to work and when they expressed the desire to drive, fatwas were issued prohibiting them from working and driving.
The Kingdom's economic condition today is not dissimilar to the time before the 1973 economic boom. A family is unable to rely solely on one breadwinner to provide for it. Women should be involved and be able to go out to work because doing so has become an economic necessity.
http://www.saudigazette.com.sa/index.cfm?method=home.regcon&contentid=20150403239123
---------
Muslim Girls Writing WASSCE Not To Take Off Veils – WAEC
3 April 2015
The West African Examination Council (WAEC) has reiterated a directive barring Muslim girls taking part in the ongoing West African Senior School Certificate Examination (WASSCE) from taking off their veils.
WAEC's emphasis follows a complaint by a female student of the Galaxy International School that she was asked to take of her veil before she could write the examination.
The student who reported at her examination centre, the St. Peters Mission School in Madina told Joy News' Michaela Anderson that she was asked to remove her veil when she entered the examination hall.
Her supervisor told her that she could put the veil back on after the examination adding that she was not allowed to enter the hall with her veil on.
According to the student, the supervisor explained to her that WAEC officials had ordered students to take their veils off before they sat for the examination.
But authorities of WAEC say they have given no such directive.
Head of the Ghana National Office of WAEC, Rev. Sam Nii Nmai Ollennu told Joy News that supervisors at the various examination centres have been told to allow candidates write their papers once they have been appropriately identified.
The candidate does not necessarily have to remove the veil before they can be identified, he added.
He cautioned supervisors to adhere to the directive and ensure that the examinations are conducted peacefully.
http://www.ghanaweb.com/GhanaHomePage/NewsArchive/artikel.php?ID=352597
---------
New York Women Charged In Bomb Plot: Reports
03 April, 2015
NEW YORK: Two New York women who lived together have been charged with planning to build a bomb that they wanted to detonate in the United States, media reports said Thursday.
US citizens Noelle Velentzas, 28, and Asia Siddiqui, 31, were named in a complaint unsealed in the federal district court in Brooklyn, The New York Times reported.
Siddiqui was "in possession of multiple propane gas tanks, as well as instructions for how to transform propane tanks into explosive devices," the newspaper quoted from the complaint.
The women from Queens had communicated with members of al Qaeda in the Arabian Peninsula, which is based in Yemen, the paper said.
They also reportedly watched videos of beheadings carried out by extremists from the Islamic State (IS) group in Syria, it added.
The case was the latest in a string of alleged plots inspired by Islamic extremists.
Last week, two cousins were arrested in Chicago for allegedly conspiring to wage war on behalf of IS militants.
In March, four men pleaded not guilty in federal courts in Brooklyn over alleged plots to join the IS group in Syria.
Former US Air Force mechanic Tairod Pugh, 47, spent the last 18 months living in the Middle East but was deported home to the United States after being detained at Istanbul airport.
Uzbek citizens Abdurasul Hasanovich Juraboev, 24 and Abror Habibov, 30, together with Kazakh citizen Akhror Saidakhmetov, 19, pleaded not guilty in connection to a separate plot.
http://tribune.com.pk/story/863342/new-york-women-charged-in-bomb-plot-reports/
--------
Unconventional All Women's Mosque Opens in Los Angeles
03 April, 2015
LOS ANGELES— Once a month, Muslim women gather in a bright open space inside a brick building near downtown Los Angeles. They come for jumu'ah or Friday prayer.
Muslims all over the world observe jumu'ah, but this gathering is special because the service is run by a woman, for women. Men are not allowed. While women's mosques are common in other parts of the world, there were none among the more than 2,000 mosques in the United States until this one opened at the end of January.
In traditional mosques, Muslim women are separated from male worshippers by a partition and men lead the Friday prayers.
Tanzila Ahmed - a writer, community organizer and policy researchers in her mid-30s - sees this as second-class treatment. She says she always felt like an outsider at traditional mosques when she was growing up: "We were always shuttled into a back room. We weren't allowed to be in the same space where the sermons were being held."
An Asian American, Ahmed started attending prayer service in this 100-year-old multi-faith center two months ago when it first opened. She found it empowering to be surrounded by women of all ethnicities and races. She also found it liberating.
"I didn't have to think about the patriarchy issues that I usually have to deal with when going to a mosque," she said.
The Women's Mosque does not have a dress code; it does not require head scarves. And the building, a former synagogue, also houses Jewish and Christian events.
Mosque founder M. Hasna Maznavi says it is why she picked this place for the mosque.
"Something that really inspires me are the golden ages in Islam." she said. "This was a time when Muslims, Jews and Christians all worked together." Maznavi, whose parents emigrated from Sri Lanka, is a comedy writer by profession.
Empowering Muslim Women
Director of Policy and Programming at the Muslim Public Affairs Council Edina Lekovic gave the sermon on the opening day of the mosque. Lekovic, who is Montenegrin American, often serves as a national spokesperson for the Muslim community. She says the mosque is about empowering women to serve in the greater Muslim community.
"When I stepped up to the plate I felt that I was connected to the women in the audience and realizing that we were all there for the same reason because we wanted to reconnect to our faith or take the next step in our faith and that we wanted to try something a little different," Lekovic said.
But not everyone believes an all-women's mosque is necessary. Islamic scholars say while it is acceptable for women to lead other women in prayer, they question whether that should include the mid-day Friday prayer or the sermon.
The discussion about women's role in Islam is not a new one says Brie Loskota at the University of Southern California.
"The Women's Mosque itself is not an isolated event. There have been a lot of critiques of women's roles and the limited and narrow nature of many of those roles in Muslim institutions for many decades," she said. "And that has come to a head especially with the Gen X, millennial Muslim women."
Loskota says the Women's Mosque is an outgrowth of these critiques and that it bears the hallmarks of the millennial Muslim women who founded it.
"There's a large focus on inter-religious dialogue," she said. "There's a a great focus on pluralism and how you exist in a plural context. There's a great focus on diversity."
http://www.voanews.com/content/unconventional-women-mosque-opens-in-los-angeles/2705078.html
-------
Spain Sentences Mother to Jail for Helping 16-Year-Old Twin Sons Join Isis
03 April, 2015
A Spanish mother was sentenced to prison Thursday for attempting to send her 16-year-old twin sons to Syria to join the Islamic State. The mother, her husband, and two sons were arrested in Barcelona trying to board the boys on a flight to Morocco.
A judge found the mother, who is not named in multiple reports, guilty of "collaborating with a terrorist organization" by helping her children join the war against President Bashar al-Assad in Syria. Authorities have not yet determined for how long the woman will be behind bars, though they have also brought her husband, initially released, back for further interrogation. The father of the boys has relinquished his passport and is under heavy surveillance. The two sons are expected to testify to a juvenile court in the near future.
Authorities reported that the sons had "already contacted members of networks [dedicated to] delivery to facilitate their trip through Turkey." The boys were to initially fly to Morocco before catching a flight to Turkey and crossing the border into Syria.
Spanish newspaper El País notes that an older brother, identified as Yassin Atanji, had traveled to Syria to fight alongside the Moroccan jihadist group Harakat Sham al Islam (HSI) and was killed in battle. Founded in 2013, HSI's closest native Sunni ally in Syria is the al-Nusra Front, which is allied with ISIS rival organization al-Qaeda. Authorities did not clarify why they believed the teenagers were hoping to join the Islamic State after their brother had fought for an al-Qaeda-affiliated group.
Reports note that the children were no longer attending Spanish public schools and, instead, had been sent to Morocco to study the Quran. A neighbor of the family told El País that the entire family's outlook on Islam appeared to have changed dramatically after a group trip to Morocco, where it is believed they were radicalized, while the younger children were "immersed in a process of radicalization," according to the Spanish Ministry of the Interior.
Spanish authorities note that they have arrested 29 Spanish citizens believed to be preparing to travel to the Islamic State to join the jihad in Syria and Iraq. Among those were a ring of men found using the Internet and telephone applications such as WhatsApp to recruit Western wives for jihadis already deployed to Iraq and Syria. Many of these cases have arisen in Spanish territories on the African continent, particularly Melilla and Ceuta near Morocco. Two teen girls were detained in Melilla in August 2014 attempting to travel to Syria, while four men were arrested in January for conspiring to form a terror cell similar to that which attacked the French satirical magazine Charlie Hebdo.
The Islamic State has released propaganda videos in Spanish vowing to conquer the land they call al-Andalus, the old Arabic name for formerly Muslim southern Spanish territories.
http://www.breitbart.com/national-security/2015/04/02/spain-sentences-mother-to-jail-for-helping-16-year-old-twin-sons-join-isis/
---------
Arab American women event raises $10,000 for cancer fund
03 April, 2015
On March 28, 140 Arab-American women gathered at the Arab American National Museum to fulfill the promise of an event named for them, "100 Arab-American Women Who Care."
Organized by the Center for Arab American Philanthropy, the event raised $10,000 for the Belinda Sue Fund, Inc., an organization that, according to its website, raises awareness of ovarian cancer and supports research for effective early detection.
Guests of the event gathered for a strolling buffet inside the AANM's newly opened Annex room which sits adjacent to the museum.
The Annex is a mostly-blank canvas of a space with grey concrete brick walls and a grey concrete floor (though a deep-red wall does grace the entryway). On a sunny day, like Saturday, natural light streams in through windows that give a view of the soon-to-be home of ArtSpace across Michigan Avenue. In preparation for the day's event, the room was decorated with several white sheers which poured down from ceiling to floor, forming two rows of fabric columns down the center of the space. But, the most stunning feature of the room is the mural "Journeys and Distances" which will be a permanent fixture in the Annex.
Painted by a group of Arab artists known as OTHER, the mural features a woman's facing gently overseeing the movement of people in the painting. The woman also seemed to be overseeing the "100 Arab-American Women Who Care"--as Rasha Demashkieh, CAAP executive board member and the event's creator, triumphantly called the women in the room that day.
Maha Freji, deputy executive director and chief financial officer of ACCESS and founder of CAAP, spoke passionately about the "narrative out there that we (Arab-Americans) are not choosing."
Then, she called the women to action: "We have the responsibility to come up with a different narrative."
Just by their presence, said Freji, these women were announcing to the world that they were "problem solvers and peace promoters."
Freji said CAAP, a national organization launched by ACCESS in 2006, is one vehicle for writing that narrative. According to Freji, at CAAP, Arab-Americans from across the country and from all backgrounds will find the "tools" they need to express their philanthropic passions. Freji said CAAP's goal is to develop a "powerful and cohesive Arab-American community that has a strong voice in American society."
On Saturday, that voice was represented by academics, professionals, and, as guest Edna Zaid noted, "founders of the Palestinian-Detroit community."
Zaid was referring to Jamilah Okab and Hala Ajluni. (Both of their stories can be heard, in their own words, in the 2013 documentary "Voices Across the Divide"). Well-respected in the community in her own right, Zaid was named 2012 Woman of the Year by the Arab-American Women's Business Council. All three women threw their support behind the Arab Heritage Council of Flint.
Guests Soumaya Harb and Mariam Bakri supported Zaman International which, they said, provides clothes and housewares to new refugees and a "moving pantry" which distributes unused restaurant food to those in need. Other charities supported included the Ronald McDonald House Charities of Ann Arbor, the Islamic Cultural Association in Farmington Hills, and Alternatives for Girls in Detroit.
Now in its second year, 100 Arab American Women Who Care is based on a crowdfunding model where each guest contributes $100 and submits the name of her preferred charity. After all of the guests have arrived, the charity names are thrown into a basket and then three charities are chosen randomly. This year's three charities included the American-Arab Anti-Discrimination Committee, Zaman International, and, of course, the Belinda Sue Fund. Then, one supporter of each of the three chosen charities goes on stage to talk about why her charity is the most worthy. After that, each guest writes her choice on a ballot. After all of the ballots have been collected and tallied, the winner is announced.
Karma Adra spoke in support of the Belinda Sue Fund, Inc. Her mother suffered from ovarian cancer which, Adra gratefully reported, is now in remission.
For Adra, supporting the fund was an opportunity to give back to an organization that is working for her mom and for all women: "You draw yourself toward organizations that are going to help the people affected by the illness."
She hopes the $10,000 grant will enhance the fund's capacity to raise awareness of ovarian cancer:
"It is preventable," she said.
The power of this event isn't only in the impact it has on a single charity, like the Belinda Sue Fund. For Freji, the event illustrates CAAP's capacity to bring philanthropic-minded individuals together to make a greater impact than each of them could on their own. The result, says Freji, is that "$100 becomes $10,000."
http://www.pressandguide.com/articles/2015/04/02/news/doc551c56c8489a5867338824.txt?viewmode=fullstory
---------
Meet the Women, Cicek Derek, Taking the Battle to ISIS
03 April, 2015
A colorful scarf is all that is left of Cicek Derek, who was 17 when she died a few months ago in the besieged city of Kobani, Syria, where her compatriots were unable to retrieve her body.
Cicek was one of hundreds of young Kurdish female soldiers who have taken up the fight against ISIS. They're part of the YPJ, or Women's Protection Unit, an offshoot of the Kurdistan Workers' Party (PKK), a Kurdish nationalist movement that has long fought a war of independence against Turkey.
Now the PKK and other Kurdish groups are at the forefront of the battle against the Islamic State of Iraq and Greater Syria, a militant group that would severely curtail the rights of women. It's fitting that ISIS will be facing off against female fighters like 18-year-old Zilan Orkesh, who left her small village on the Turkish-Syrian border to join YPJ in 2011. When she killed an ISIS fighter for the first time, she began cheering loudly, hoping the sound would reach the ears of otherJihadis. "I wanted to let them know that their worst nightmare had come true," she says. "Their friend had been killed by a woman."
But it's not just the battle against ISIS that brings these young women to a spare military camp in Syria, a half hour away from the front lines. Abdullah Ocalan, the leader of the PKK, is unusual in the region in that he has long promoted gender equality. The desire to break free from the macho Middle East was so strong that rural girls volunteered to join the YPJ, where they developed into soldiers ready to put their lives on the line. "In the past, women had various roles in the society, but all those roles were taken from them," says 18-year-old Saria Zilan. "We are here now to take back the role of women in society."
That fight has a cost. Several miles from the all-female camp, there is a fresh graveyard. Men are digging the earth, clearing space for new arrivals as the sun sets, and a YPJ flag dances above a grave. Not far is the house where Cicek once lived. Inside, Cicek's three sisters and her mother sit around a portrait of the fighter.
Cicek's mother, Nasiba, didn't want her daughter to join the YPJ. "She was only 13," Nasiba says. "She met a YPJ member [an armed Kurdish force] at her brother's house and he started influencing her. And before we knew it, she left home and went to Mount Qandil [the PKK's main base in northern Iraq]. She was 17 when she was killed." Nasiba isn't alone in her criticism. There's something uncomfortable about girls barely into their teens leaving home to join a guerrilla army at Ocalan's behest. Especially when—like Cicek—they don't come home at all.
But her older sister Rojin remembers the way that joining the YPJ seemed to transform Cicek. "She came back from Qandil after four years, and she was a different person," says Rojin. "She was tough and confident."
Once the sun sets, the town is dark—power has long been out here. The only lights seen are those of passing cars, among them a truck that drives slowly through the town. Revolutionary Kurdish songs play from megaphones attached to the truck. The music seizes the attention of young boys and girls hanging around the neighborhood. One by one, they join the trail of people following the vehicle.
In a dark corner of the house, with a little bit of light falling on her face, Cicek's sister stands in silence. She is listening to young revolutionaries chant along with the songs that the megaphones blare, songs about Kobani and martyrdom that urge the survivors of battle to rise and continue the fight. Rojin is the last person to leave the mourning caravan behind the truck, lost in thought.
http://time.com/3767133/meet-the-women-taking-the-battle-to-isis/
---------
Iranian-British woman pardoned for Tehran volleyball protest
3 April 2015
An Iranian-British woman, jailed in Tehran last year for taking part in a protest against a ban on women attending some men's sporting events, has been pardoned, Britain's Foreign Office said on Thursday.
Ghoncheh Ghavami was arrested last June outside Tehran's Azadi Stadium where she and others were demanding that women be allowed in to watch a volleyball match between Iran and Italy.
A Tehran court sentenced her to a year in jail last November for spreading anti-state propaganda, according to Iranian media, but she was freed on bail three weeks later pending a decision by the Court of Appeal.
"We welcome the news that Ghoncheh Ghavami has been pardoned by the Court of Appeal in Iran, although we are concerned that she is still subject to a travel ban," a British Foreign Office spokeswoman said. "We are following the case closely and remain in touch with her family."
A Twitter account in the name of Ghavami's brother Iman and a Facebook page named "Free Ghoncheh Ghavami" both reported on Tuesday that the charges against her had been dropped.
"Ghoncheh will not have to spend another day, another hour in prison ... The uncertainty of autumn and the dark winter clouds have gone. And the sun once again is shining for my family," a post by Iman Ghavami on the Facebook site said.
Britain has no permanent diplomatic presence in Iran, although it has said it plans to reopen its embassy soon and has direct contact with Tehran about consular matters.
Ghavami, who was reported to be staying with her parents in the Iranian capital while she awaited the court's decision, had gone on a hunger strike during her incarceration to protest against what she said was her unjust jailing.
In January, Iran said it would allow foreign women to watch men play volleyball when it hosts the 2015 Asian Men's Volleyball Championship in August.
However, the authorities, who bar women from watching men playing sports such as volleyball and football under its Islamic law, said Iranian women would still be banned.
http://english.alarabiya.net/en/sports/2015/04/03/Iranian-British-woman-pardoned-for-Tehran-volleyball-protest.html
---------
'Children Shouldn't Be Married Until They Attain Mental Maturity' Says Sr. Member Pak CII
03 April, 2015
ISLAMABAD: A senior official with the Council of Islamic Ideology (CII) has said that although CII recommends 16 as the appropriate age for marriage, children should not be married until they attain mental maturity.
"It is also not necessary for a child to be married as soon as they attain puberty," he said.
CII Director General Muhammad Ilyas Khan was talking to health reporters on Thursday. While the media interaction had been organised to discuss family planning, the discussion drifted to a number of other issues.
Mr Khan said that while marrying off minors was prohibited by Islam, Nikkah was not. "In case Nikkah is solemnised between minors, upon attaining puberty, both the bride and groom have the right to annulment, unless the Nikkah was solemnised by the father or the grandfather," he explained.
The director general is a government servant, unlike the chairman and other members of the CII, who are politicians and religious scholars. Two months ago, while addressing a conference at a local hotel, Mr Khan talked about birth spacing and surprised many audience members with more tolerant views than other members of the CII.
CII DG says Holy Quran mentions birth spacing of 30 months between children
"However, even a Nikkah solemnised by a father can be annulled if there is a vested interest behind the decision, such as a peace agreement between two families," he said.
The CII director general also said women should refuse sexual intercourse with their husbands if they suspect them to be carrying HIV. He said it is unfortunate that a number of women become infected with HIV because their husbands were carrying the infection. "Often men who return from the Middle East contract HIV and the wives of men returning from abroad should refuse sexual intercourse, until the husband gets tested for HIV," he said.
He said that Islam does not force women to obey their husbands in such situations, because protection of life and faith are the basic tenets of the religion.
Turning the discussion towards family planning, Mr Khan criticised the commonly held belief that God is the provider so people should have as many child as they want.
"Although God provides for His creation, we must prioritise the health of our spouse," he said.
The director general said the Holy Quran clearly mentioned that there should be a space of 30 months between two children. "People have children every year, which adversely impacts the health of a woman," he said.
"Unfortunately, illogical fatwas by some clerics contribute to the confusion," he added.
He also discussed the rights of religious minorities and said that preventing non-Muslims from freely practicing their religion was against the tenants of Islam. "Minorities must be protected," he said.
In response to a question, Mr Khan said that while the state has the right to pardon the execution of a death-row convict, punishment in hudood, qisas and human rights cases cannot be pardoned.
Population Council Deputy Director of Programmes Seemin Ashfaq said that Pakistan was the sixth most populous country in the world and that by 2050, it would become the fifth most populous country with over 340 million people.
Citing the recently released study by Population Council carried out with the Guttmacher Institute, Ms Ashfaq said: "Although a majority of Pakistani women want to have three children, only 20 per cent families have access to contraceptives."
She said that the fact that between 2004 and 2012, the number of abortions conducted in Pakistan rose from one million to 2.25 million, shows that there is a huge number of unwanted pregnancies occurring.
http://www.dawn.com/news/1173640/children-shouldnt-be-married-until-they-attain-mental-maturity
---------
Women hail joint Arab action
03 April, 2015
Several Arab women across the Middle East have come out in support of the Kingdom's action in Yemen.
Nashwa Al-Ruwaini, a well-known Dubai-based television presenter, said that Custodian of the Two Holy Mosques King Salman and other Gulf Cooperation Council leaders managed to form, in a short time, an Arab coalition against a "terrorist and sectarian militia that seized power by force."
Arab women have a major responsibility in this critical situation, especially those working in the media, to correctly reflect what is happening and rally behind the men, she told a Riyadh-based daily.
Suhair Al-Qaisi, an Iraqi journalist, said Arab women have throughout history supported men during critical battles. In Iraq, women protected their homeland side by side with men, she said.
Nadia Abdurazzaq, an Emirati lawyer, said that Decisive Storm was an important battle in the history of the Arab nation because it would restore the legitimacy and dignity of the Yemeni people.
Nagwa Mousa, a Riyadh-based Egyptian quality control consultant, said that the battle has come at a critical time. It has made Arabs proud because they have been unified, and have shown that they would not accept injustice and oppression by a group supported by a foreign country.
Dubai-based Algerian television anchor Lubna Deeb said the operation has demonstrated the skills and capacity of the Saudi Air Force and its allies to cripple the Houthi militia.
The operation would ensure that the Houthis have their supplies cut off from outside forces. An additional positive outcome now has been the plans to form a joint Arab defense force to protect countries in the region, she said.
Zainab Mahdawi, an editor and content producer at Dubai Media Corporation, said the time has come for the Arab world to be decisive in solving political and security issues faced by most Arab countries. Operation Decisive Storm was a "courageous step" to tackle the growth of terrorist groups in the region, which have already indoctrinated some people.
Habiba Talib, an Algerian journalist, said that after the loss of Iraq, Syria and Libya, Arab countries have learned their lesson and collectively hit back at the group that was trying to control Yemen. She said the Kingdom led by King Salman was playing a major role in unifying the Arab and Muslim world.
Sahar Bakr, an Egyptian journalist working in the United Arab Emirates, said she supported the military intervention in Yemen and the formation of a force to protect Arab countries.
Sali Assad, the editor in chief of Laith News Agency, said the military action was welcome and showed that the Arabs have to take decisions to deal promptly with any force trying to destabilize the security and stability of the region.
Hanan Dhahir, a UAE journalist, said she supported the Kingdom's operation, and any other action that would deter groups from spreading terror. She hoped the military operation would ensure the Houthis realize their mistake and decide to live peacefully in Yemen, a country that has been their home for thousands of years.
Awatif Rashid, an Iraqi living in the United Arab Emirates, said the operation would counter the expansionist plans of the Islamic State group and another foreign power. Arabs were now more confident about defending their land and holy shrines, she said.
http://www.arabnews.com/saudi-arabia/news/727176
---------
The Kids Brainwashed By Boko Haram Were Silent For Good Reason
03 April, 2015
It's a story that spread around the world last month: The Cameroonian army had rescued scores of children from Boko Haram. Morning Edition was among the news outlets that covered the story of youngsters said to be so traumatized, they'd forgotten their names.
This was the account of Christopher Fomunyoh, an expert on democracy in Africa and native Cameroonian who had traveled to the center where the children were being held.
Fomunyoh stands by his account. But since its interview with him, NPR has gathered more information.
When the 84 children, all boys ages 4 to 17, were first rescued, they were silent.
"They did not want to say a single word," says Felicite Tchibindat, head of UNICEF in Cameroon. "We thought they were highly traumatized."
But according to Tchibindat, although the boys were exceptionally quiet, it wasn't only because of trauma. They had not forgotten their names.
They just didn't speak French, the language social workers were using to address them. They spoke Fulani and other languages used in their villages along Cameroon's border with Nigeria.
The boys' apparent reluctance to speak is not surprising, says Dr. Theresa Betancourt, of the Harvard T.H. Chan School of Public Health, who researches the reintegration of children affected by conflict. Silence might have helped them survive at the Koranic school from which they were rescued, where the imam was allegedly affiliated with Boko Haram.
"Being demure, not speaking too much, being wary, is a good way to make it through a very frightening circumstance," Betancourt explains.
As for what exactly went on at the school, it's difficult to know even now, more than three months after the rescue on Dec. 19.
One of most urgent questions: Had the boys been trained as child soldiers for Boko Haram?
UNICEF's Tchibindat says no.
There was a Cameroonian government investigation into this question. The children were shown weapons and asked if they'd ever touched a gun. None had, the investigators found.
"If they were trained as child soldiers, I can tell you that the Cameroonian officials would put them in jail, because there is no juvenile justice [system] here," explains Tchibindat.
So what happens to the boys now?
Most of their families have been contacted, says Tchibindat. But that doesn't mean the boys can immediately return home.
Because of a Cameroonian anti-terrorism law that penalizes people associating with Boko Haram or other terrorist organizations, the boys' parents are wary of visiting or claiming their children.
"They are afraid they will be put in jail," says Tchibindat. Still, some parents have visited.
Before the boys can be sent home, UNICEF needs to figure out the exact circumstances under which the boys were sent to this particular Koranic school.
Many boys in rural northern Cameroon, and across Muslim West Africa, attend Koranic schools. So poor families often send a child to live at such a school, where their care is entrusted to the imam. In some instances, militant groups might offer money or schooling to vulnerable parents having trouble feeding their children. And desperate families might abandon or even sell their children. Returning a child to such a home is not a safe option, says Betancourt, because the families might do the same thing again.
Betancourt says that ideally, if their families can safely care for them, the boys will be able to return to their villages, and the sooner the better. Because they were indoctrinated as a group, as long as they're together, undoing that teaching will be more difficult.
"If they're in their home environment, and with their own family, the chances of overcoming that indoctrination would be greater."
Being in what Betancourt calls a "normalizing environment" in their home villages will help. Establishing trust and ties with family members — or adoptive families, when needed — is crucial for their recovery. Psychological and neurobiological research shows that a secure attachment with a caring adult is key for a kid recovering from trauma.
Betancourt also says that for the boys and their families, getting basic needs — food, shelter and water — met now is a priority in situations like this. The more quickly these basic needs are addressed, the less vulnerable the families will be to falling under the influence of Boko Haram in the future.
http://kvpr.org/post/kids-brainwashed-boko-haram-were-silent-good-reason
-------
Of Marriage And Singlehood: A Look At Gazan Women's Plight
3 April 2015
GAZA CITY: In the Middle East, a record number of young women in the Gaza Strip are staying single. Not so much by choice, but because of their circumstances.
When Bessan Khalaf was a little girl, she dreamed of getting an education that would allow her to find a good job followed by marriage and children. The 29-year-old graduated from the Islamic University of Gaza five years ago, but the rest of her aspirations are unfulfilled.
"I fear that my life is passing quickly and here there's no progress," she said. "Like any other woman, I dream of having a family – a husband and kids – and a generation to raise but unfortunately, I don't seem to have this chance in Gaza"
She is part of a growing trend of single women in Gaza, where more than 6 per cent of them are unmarried, according to recent figures from the Chairman of the Supreme Islamic Courts Council.
Little Access, Lowered Chances For Marriage
These women are unmarried, not by choice, but due to growing political and social pressures.
"There's no free access to reach West Bank," said economic analyst Mohsen Abu Ramadan. "And the Palestinians who are living around the region in Egypt, Jordan and Lebanon, when any man from outside thinks to get married to a Gazan woman, he hesitates so much because there's no possibility to get here."
Poverty and unemployment compound the situation in a society where two-thirds of people are jobless and live in poverty. Single women are also judged by their married peers.
Gazan society is deeply conservative and patriarchal - and single women do not enjoy equal rights in political and social life. Gaza-based psychiatrist Riyad al Akraa sees many depressed, young women, who battle feelings of inadequacy because of their single status.
"A lot of unmarried women complain about psychological and physical symptoms," he said. "The unmarried woman comes suffering from sleep disorder, breathing problems and nervousness. We search for the reasons during the diagnosis and the interview and find many reasons, but the biggest reason behind it is the lack of marriage."
SINGLE, AND HAPPY WITH IT
But not all unmarried women in Gaza are bemoaning their single status.
Bessan abu Jayyab is an activist whose mission is to empower Palestinian women. She holds workshops for single women to show them that they have a role beyond marriage.
"The priority of the women should not be limited to building a family and marriage," she said. "This should be to become an active, productive, educated woman, with an economic, political and social life independent of a man."
Ms Bessan still has a way to go to persuade these women that their single status is acceptable.
According to the age-old Arabic Hadith, marriage is half the religion. However, here in Gaza, fulfilling this half is a struggle, not helped by the lack of stability, constant wars and years of siege.
http://www.channelnewsasia.com/news/world/of-marriage-and/1760802.html
---------
URL: https://newageislam.com/islam-women-feminism/australian-isis-widow-tells-girls/d/102262