New Age Islam News Bureau
6 March 2019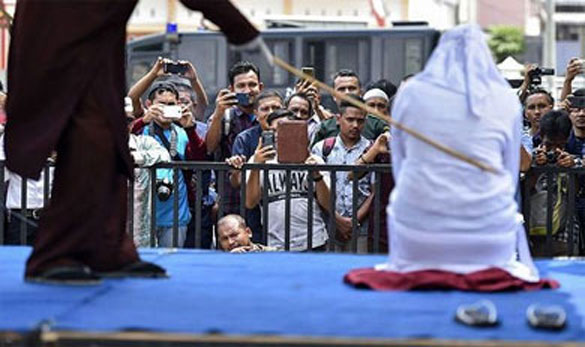 A woman is publicly flogged in Indonesia (Image: AFP)
-----
• American Woman, Divorced From Saudi Husband, Is Trapped In Saudi Arabia Because Of the Kingdom's Restrictions on Women
• US Congresswoman Jackie Speier Confirms To Arab News Google Will Not Remove Absher App from Its Store
• Moroccan Climber Inspires Girls to Conquer Fears
• Henry Ford Entrepreneurship Academy Workshops To Focus On Saudi Women In Business
• Chennai: BJP Uses Triple Talaq Ordinance to Win Over Muslim Women
• Shenwari appointed as New Chief of Electoral Complaints Commission
• Iran Lawyer Convicted After Defending Women Protesters
• Iranian Forum Looks to Address So-Called 'Sexual Crisis'
Compiled by New Age Islam News Bureau
URL: https://www.newageislam.com/islam-women-feminism/at-least-two-women-were/d/117939
--------
At Least Two Women Were Left Unable To Walk After a Brutal Public Whipping in Indonesia as Punishment for Alleged 'Intimate Relations' Outside Marriage
Mar 5, 2019
The beatings were handed out on Monday after the couples were arrested several months ago following a police sweep of a hotel in Bande Aceh in Sumatra, where flogging is a common punishment for a wide range of offences, ranging from gambling, alcohol consumption, and gay sex. The Aceh province, located at the tip of Sumatra, is the only one in Indonesia, the world's most populous Muslim-majority country, where Islamic law is imposed. The 12 people involved were arrested late last year, and all had served several months in prison prior to their punishment.
Four received seven lashes after being simply being found in a room with a member of the opposite sex who was not a relative.
The rest, who were caught in more compromising situations, received between 17 and 25 strokes for having "intimate relations" outside marriage, an Indonesian official said.
Some of the women involved screamed as the masked Sharia law officer beat them.
At least two had to be carried from the scene.
The spectacle was watched by a mixture of onlookers and journalists, with some using smartphones to record the event.
Marwan, head of the local public order agency, who, as is common practice in Indonesia, goes by one name, said: "This law is designed to have a deterrent effect, not only for the offenders but for the spectators who watch the caning.
"The pain of being flogged is not that bad, the embarrassment is worse."
Indonesia's President Joko Widodo has criticised the practise of public flogging and called for it to end.
However, the practice enjoys wide support in Aceh, where about 98 percent of its five million residents are Muslims.
In a separate case in December, two men caught having sex with underage girls were whipped 100 times each.
Writing on the website of US-based international non-governmental organisation Human Rights Watch in October 2017, Indonesia researcher Andreas Harsono said more than 530 people had been publicly flogged in Aceh since the region adopted its new Islamic criminal code two years earlier.
He added: "Under national legislation stemming from a "Special Status" agreement brokered in 1999, Aceh is the only one of Indonesia's 34 provinces that can legally adopt bylaws derived from Sharia, or Islamic law.
"These bylaws apply not only to Aceh's predominantly Muslim population, but to about 90,000 non-Muslims residents, mostly Christians and Buddhists, as well as domestic and foreign visitors to the province.
"In September 2014, the Aceh provincial parliament approved the Principles of the Islamic Bylaw and the Islamic criminal code, which created new discriminatory offences that do not exist in the Indonesian national criminal code."
He said the principles of the Islamic Bylaw violateed the right to freedom of religion enshrined in the Indonesian constitution and international law by effectively requiring all Muslims to practice the Sunni tradition of Islam.
He added: "Aceh's Sharia bylaws also violate commitments to 'universal principles of human rights' embodied in the Helsinki agreement, which officially ended a decades-long pro-independence insurgency in Aceh in August 2015."
https://www.express.co.uk/news/world/1096004/sharia-law-public-whipping-indonesia-flogging-bande-aceh-sumatra-islam
--------
American Woman, Divorced From Saudi Husband, Is Trapped In Saudi Arabia Because Of the Kingdom's Restrictions on Women
March 6, 2019
by Ben Hubbard
At first, Saudi Arabia was an adventure for Bethany Vierra.
An American from Washington state, she taught at a women's university, started a company, married a Saudi businessman and gave birth to a curly-haired daughter, Zaina.
But since the marriage went sour and she sought a divorce, she has been trapped. Because of the kingdom's so-called guardianship laws, which give men great power over women, she is unable to use her bank account, leave the country, travel with her daughter or seek legal help, according to her cousin, Nicole Carroll.
"She is completely stuck," Carroll, 37, said by phone from Dublin, California. "She is out of options."
Vierra, 31, is now divorced, but her ex-husband let her residency expire, meaning she has lost access to her bank account and cannot get authorization to leave the country, Carroll said. Their 4-year-old daughter cannot travel without her father's permission, meaning that even if Vierra finds a way to leave the kingdom, her child may have to stay behind.
Carroll decided to publicize her cousin's case because she believed the family had nowhere else to turn and hoped that speaking out would encourage someone to help her, while also shedding light on what she called "an unfair system."
Saudi Arabia's restrictions on women drew renewed international scrutiny in January, when a Saudi teenager ran away from her vacationing family and barricaded herself in a hotel room in Thailand before being granted asylum in Canada.
Under the so-called guardianship system, Saudi women are given a legal status similar to that of minors. All must have a male "guardian" — usually a father or husband, but sometimes a son or uncle — whose permission they need to obtain passports, pursue certain medical procedures or travel. These rules extend to foreign women who marry Saudis, like Vierra, as well as their children.
Male guardians can grant or deny permission to travel through a government app, even registering to receive text messages when any woman over whom they have oversight passes through an airport.
Crown Prince Mohammed bin Salman, Saudi Arabia's day-to-day ruler, has loosened some restrictions on women, lifting a ban on driving by women and allowing them into sports stadiums. Last month, he named a princess, Reema bint Bandar bin Sultan, as the new Saudi ambassador to Washington.
When asked on "60 Minutes" last year whether men and women were equal, Crown Prince Mohammed said: "Absolutely. We are all human beings, and there is no difference." Asked about guardianship in another interview, he said he wanted to "figure out a way to treat this that doesn't harm families and doesn't harm the culture."
But rights advocates say guardianship makes women and men profoundly unequal and leaves a woman with little recourse if she ends up with a controlling or abusive guardian.
"They are trying to put an image out there that they are giving more rights to women, but if they really want to do that, they need to get rid of guardianship," Carroll said.
Vierra moved to Saudi Arabia in 2011 to teach at a women's university while doing research for a graduate degree, Carroll said. Friends introduced her to a Saudi businessman who had been educated abroad and seemed supportive of her ambitions. They married in 2013, inviting friends to a destination wedding in Portugal.
"At the beginning, it seemed really great," said Carroll, who was the maid of honor. "He was charming and loving and generous and kind. She felt like she had met somebody who was on the same page as her."
The marriage produced the daughter, Zaina, but eventually grew rocky. Vierra's husband often lost his temper, shouting and swearing at her in front of Zaina, Carroll said. Vierra asked for a divorce, which men in Saudi Arabia — but not women — can grant by merely speaking a few words. For more than a year, he took no action on her request.
Under Saudi law, which is based on Islamic Shariah, a woman can request a cancellation of the marriage contract if the man is not living up to his duties. Last year, Vierra filed a request with a Saudi court based on her husband's emotional and verbal abuse. Her husband swore in court that she was lying and that he had divorced her more than six months earlier, an argument that the judge accepted, Carroll said.
Even after the divorce, her ex-husband remained the sponsor of Vierra's residency, as well as the guardian of her and her daughter, Carroll said. In December, he refused to give them permission to travel, meaning that they missed Christmas with Vierra's family.
Last month, he let Vierra's residency expire, making her presence illegal in Saudi Arabia, Carroll said. Without valid residency, she cannot travel, go to the police or get access to her bank account, meaning that she cannot pay her business expenses or employees' salaries.
Under a new Saudi law, women in her position can get residency for being the parent of a Saudi citizen. But only Vierra's ex-husband can get the documents needed for her to obtain such a status, Carroll said, and he has refused to do so.
And while Zaina is a dual Saudi-American citizen, Saudi Arabia recognizes her only as a Saudi. This means that, since the child's father is her guardian, even if Vierra can find a way to leave the kingdom, Zaina cannot go with her unless he grants permission.
Carroll shared Vierra's story on the condition that her ex-husband's name not be published; Carroll said she feared provoking his family and endangering her cousin. When contacted by The New York Times, Vierra confirmed the general outlines of her story but declined to comment further for fear of exacerbating her situation.
Her ex-husband did not respond to phone calls and messages seeking comment.
A State Department official declined to comment on Vierra's case, citing privacy rules. But the consular information page for Saudi Arabia on the State Department's website notes that even non-Saudi women need a male guardian's permission to leave the country and that the U.S. government "cannot obtain exit visas for the departure of minor children without their father/guardian's permission."
It also says that when foreigners divorce Saudis, "Saudi courts rarely grant permission for the foreign parent to leave the country with the children born during the marriage, even if he or she has been granted physical custody."
That leaves no clear exit for Vierra and her daughter, whose American relatives fear that the family will remain split up.
"She has no recourse," Carroll said. "Everyone keeps asking: 'What next? What next?' But there is no what next."
https://indianexpress.com/article/world/american-woman-divorced-from-saudi-husband-is-trapped-in-saudi-arabia-5613010/
--------
US Congresswoman Jackie Speier Confirms To Arab News Google Will Not Remove Absher App from Its Store
March 06, 2019
RIYADH: The office of California Congresswoman Jackie Speier on Tuesday confirmed to Arab News that Google has informed it that Absher, the Saudi government e-services app, does not violate any of its policies and will remain in the Google Play app store, as reported by Business Insider.
The Democratic representative was one of 14 members of Congress who wrote to technology giants Apple and Google asking them to withdraw the app from their stores on the grounds that by hosting it they are "accomplices in the oppression of Saudi Arabian women." The controversy stems from criticisms that the app can be used by men to track women and control where they travel.
Speier's office confirmed that Google told the congresswoman it had reviewed the app but did not find it in violation of its terms or conditions. Apple are still looking into it, the office added.
In a statement on March 2, after learning of Google's decision, Speier expressed disappointment at the responses from both companies.
"The responses received so far from Apple and Google are unsatisfactory," she said. "As of today, the Absher app remains available in both the Apple App store and the Google Play store even though they can easily remove it. Not only do they have the capability to take action, they have done so previously with the removal of the Living Hope Ministries app, which encouraged users to 'convert' LGBTQ individuals, based on its ability to cause harm.
"Facilitating the detention of women seeking asylum and fleeing abuse and control unequivocally causes harm. To say I'm disappointed in their failure to show a sustained commitment to human rights is an understatement. I will be following up on this issue with my colleagues."
Google declined to comment when contacted by Arab News.
Absher, Saudi Arabia's "one-click" e-services app, was launched by the Interior Ministry in 2015. Regarded as the leading government platform for Saudi citizens and expats, it provides easy and quick access to 150 services and features.
"The number of women using Absher increased remarkably in 2018," Absher manager Atiyah Al-Anzy told Arab News. "We found female users have more services now, with driving licenses, account registration, so they have more need."
Brig. Gen. Khaled Alkhesifan, the deputy director of technology at Jawazat, the passport agency, said: "People will now be able to open bank accounts through Absher. We always listen to our customers through social media and if there's a demand for certain services, we do our best to arrange it." The total number of Absher users has reached 11.6 million, he added.
In a recent New York Times article, the app was criticized as a "tool of repression" following claims by Oregon's Democratic Senator Ron Wyden and human-rights groups.
The Saudi Ministry of Interior criticized what it described as attempts to politicize the use of technology that represents the legitimate rights of its users.
http://www.arabnews.com/node/1462146/saudi-arabia
--------
Moroccan Climber Inspires Girls to Conquer Fears
March 06, 2019
SALE, Morocco: The first Moroccan to scale the seven summits of the world's continents, Bouchra Baibanou wants to inspire a new generation of women who "dare to believe in themselves."
"With will power and perseverance, you can get there," said Baibanou, 49, weeks after reaching the summit of Antarctica's Mount Vinson.
Conquering the 4,897 meter (16,066 foot) peak capped an eight-year journey, during which Baibanou traveled the globe to climb each continent's highest mountain.
"I am proud, as a Moroccan and as a woman," she said from her home in Sale, neighboring the capital Rabat, where trophies adorn her living room.
That pride was evident atop Vinson, where Baibanou clutched her country's flag — and a banner with a campaign message — at temperatures of minus 40 degrees Celsius (Fahrenheit).
"From the summit of Vinson, Baibanou continues to support the fight combatting violence against women and girls," UN Women Maghreb wrote on Twitter on January 1, after her ascent.
Wearing a beige headscarf and black shirt, Baibanou described the mountain as "a great school" as she reeled off the attributes needed to scale a peak.
"Courage, optimism, perseverance, determination and humility."
But her passion has required a financial slog.
Baibanou is a government engineer and climbed the seven peaks with a budget of two million dirhams (185,000 euros, $210,000).
Sponsorship raised 60,000 euros for the Vinson expedition and 80,000 for Everest.
"It's not very rewarding to be a mountaineering adventurer in Morocco," she said.
As well as doing community work, Baibanou gives talks in schools and universities around the country.
She is also campaigning to develop mountain tourism in Morocco, especially improving the Toubkal National Park and "reinforcing security."
In December, Morocco was shaken by the murder of two Scandinavian women hiking in the mountains.
"This terrorism act does not represent my country — one of peace and tolerance," said Baibanou, who was outraged by the killings.
Despite her mountaineering success, Baibanou only discovered hiking aged 15 during a summer camp.
Her father, a mechanic, and her stay-at-home mother were not very interested in nature or sport.
It was not until she was 26 that Baibanou climbed her first peak in Morocco — Toubkal.
It was an exhilarating experience, spurring her on to take up mountaineering in France's Chamonix region and climb Mont Blanc.
She still hikes close to home and last year took a group of around 30 teenagers up Toubkal, the country's highest peak at 4,167 meters.
"I hope to be a role model, above all for young women — for those who dare to believe in themselves," said Baibanou.
While she traveled the world mountaineering, her 14-year-old daughter was looked after by family, including her husband, who supported her ambitions.
For Baibanou, there's nothing better than an extreme sport to "overcome ones' fears" and learn to "not give up at the first hurdle."
She has seen young women who were hesitant at the start of their first climb transformed by the experience.
They face "a lot of discrimination" in Morocco, said Baibanou.
"A lot of girls don't continue their studies but, if we give them the power, they will achieve."
http://www.arabnews.com/node/1462196/offbeat
--------
Henry Ford Entrepreneurship Academy Workshops To Focus On Saudi Women In Business
March 05, 2019
Marking its third consecutive year in Saudi Arabia, the Henry Ford Entrepreneurship Academy (HFEA) makes a return to the Kingdom this month, with Riyadh's Princess Nourah bint Abdulrahman University (PNU) hosting the first workshop of the year, followed by Effat University in Jeddah a week later.
As a result of expanding its partnerships in the Kingdom to include PNU last year, HFEA saw an approximate 30 percent increase over 2017 in the number of female students trained, with 32 percent more of Ford funds spent to make the additional workshops possible.
During The Entrepreneurship Journey program, Ford brought together several educational institutions, such as the US' Virginia Commonwealth University (VCU) and Ireland's Dublin City University (DCU) Business School, both of which played a major part in shaping the first HFEA workshop held in Riyadh last year.
Jeddah's Effat University has enjoyed continued HFEA success since 2017, having launched the first-ever women-only The Entrepreneurship Journey workshop in Saudi Arabia.
These HFEA workshops over the past two years have been offered to complement Saudi Arabia's Vision 2030, a government plan for economic and social reform that empowers women with the aim of increasing their numbers in the workforce.
"On the back of its most successful year in the region to date, training close to 300 entrepreneurs across six cities in three different countries, the Henry Ford Entrepreneurship Academy is continuing to have a positive influence among some of the Kingdom's brightest business minds," said Simonetta Verdi, director, government and community relations, Ford Middle East and Africa.
"The workshops provide a high quality and interactive environment for aspiring businesspeople to experiment with their ideas in direct exchange with mentors and coaches, who offer invaluable experience," Verdi added.
Jay Markiewicz, executive director of entrepreneurship programs at VCU School of Business and lead architect of HFEA, said:
"Our workshop is designed to equip current and future entrepreneurs with a set of tools to develop their skills and acumen around entrepreneurship.
"The workshop is built around an innovative learning meta-framework titled 'The Entrepreneurship Journey,' from which participants emerge with increased personal capacity to be successful as entrepreneurs, as they learn how to connect with and deliver their unique value contribution."
http://www.arabnews.com/node/1462011/corporate-news
--------
Chennai: BJP Uses Triple Talaq Ordinance to Win Over Muslim Women
Mar 6, 2019
CHENNAI: Ahead of the Lok Sabha elections, the state unit of the BJP conducted a survey among Muslim women voters to ascertain the popularity of the Union government's ordinance against triple talaq.
The survey was conducted in constituencies in Chennai, Tiruvallur, Kancheepuram and Vellore districts with significant number of Muslim women. It was aimed at assessing support for the BJP among Muslim women, and how it would translate into votes.
The survey is significant as more than 10 of the 39 LS constituencies in Tamil Nadu have substantial Muslim voters with a high percentage of women among them.
It's a two-question survey, which was carried out by a private firm two weeks ago among 2,000 Muslim women. To the first question on their sentiment about the Triple Talaq ordinance, 24% of the women expressed "happiness" and 42% said they felt "secure". The remaining 34% said the ordinance went against their religion.
As many as 1,540 women said "no comments" while responding to the second question on whether they wanted to vote for Modi. A total of 460, accounting for 23%, said they would not vote for Modi.
"The survey vindicates our stand that majority of the Muslim women are pleased with the Modi government and support the ordinance that prevented instant divorce and ensured their security," said a BJP functionary, seeking anonymity.
"Though 77% of the participant refused to answer the question on whether they would vote for Modi, we are hoping that a substantial percent of them will surely exercise their franchise in favour of the NDA," he said. "It will be a powerful election campaign tool for us in social media," he added.
It would give the NDA an edge as the Congress-led UPA has said it would scrap the ordinance if it won the LS polls. "The Congress leadership took the stand to appease the Muslim parties, but women are a majority in the community across the country. This will reflect in the election and bring us a sizeable number of votes," said the BJP leader.
https://timesofindia.indiatimes.com/city/chennai/chennai-bjp-uses-triple-talaq-ordinance-to-win-over-muslim-women/articleshow/68278793.cms
--------
Shenwari appointed as New Chief of Electoral Complaints Commission
05 Mar 2019
Zahra Bayan Shenwari was appointed as the New Chief of Independent Electoral Complaints Commission of Afghanistan during a voting session of administrative delegation of the commission on Tuesday..
The commissioners of Independent Electoral Complaints Commission elected their Chief, Deputy chief, and Secretariat Chief of the Commission during their first working day.
Zahra Bayan Shenwari managed to secure most votes among the other candidates to secre the seat as Independent Electoral Complaints Commission chief, Mawlavi Din Mohammad was elected as Deputy Chief of the commission while Mohammad Qasim Elias was appointed as Secretariat Chief of Independent Electoral Complaints Commission.
This comes as Mohammad Qasim Elyasi, Zohra Bayan Shenwari, Mawlavi Din Mohammad Azimi, Mohammad Younus Toghra, and Syed Qutbuddin were on Monday sworn in as new members of the Independent Electoral Complaints Commission.
Chaman Shah Etimadi was sworn in as the secretariat chief of Independent Electoral Complaints Commission.
The election commissioners were elected by 18 presidential candidates during a voting session which was organized on Friday.
https://www.khaama.com/zahra-bayan-shenwari-appointed-as-new-chief-of-electoral-complaints-commission-03427/
--------
Iran lawyer convicted after defending women protesters
MARCH 6, 2019
DUBAI, United Arab Emirates — A prominent human rights lawyer in Iran who defended protesters against the Islamic Republic's mandatory headscarves for women has been convicted and faces years in prison, an activist group said Wednesday.
The conviction of Nasrin Sotoudeh, who previously served three years in prison for her work, underlines the limits of challenging Iran's theocracy as it faces economic pressure exacerbated by the U.S. pulling out of Tehran's nuclear deal with world powers.
It also highlights the limits of Iran's civilian government as well, as the administration of President Hassan Rouhani and others have signaled an easing of their concern over the mandatory hijab.
It shows "the insecurity the regime has to any peaceful challenge," said Hadi Ghaemi, the executive director of the New York-based Center for Human Rights in Iran, which reported Sotoudeh's conviction. "It knows a large segment of the country . are fed up with the hijab laws."
Sotoudeh, 55, was convicted in absentia after she refused to attend the trial before Tehran's Revolutionary Court as she was unable to select her own counsel, Ghaemi said. The Revolutionary Court conducts closed-door hearings over alleged threats to Iran's government.
The charges range from her membership to a human rights group to "encouraging corruption and prostitution." That suggests her detention in part relates to her defense of women who protested the mandatory hijab.
Sotoudeh's conviction was not immediately reported by Iranian state-run media. Iran's mission to the United Nations did not immediately respond to a request for comment Wednesday.
The Center for Human Rights in Iran relied on information about Sotoudeh's case provided by her husband Reza Khandan, who separately faces a six-year prison sentence over providing updates on her case on Facebook, Ghaemi said.
Sotoudeh received the awarded the prestigious Sakharov Prize for Freedom of Thought by the European Union in 2012. Her previous clients also include Nobel laureate Shirin Ebadi.
One of Sotoudeh's clients in the hijab protests received a 20-year prison sentence, showing the sensitivity authorities felt about the case. Ghaemi said he believes Iran's theocracy connects the hijab protests to the nationwide economic protests that happened around the same time at the end of 2017 and the beginning of 2018.
"It is part of the same pattern of wanting to put an end to any peaceful protest on the street," he said.
The hijab and chador — the flowing, all-encompassing robe for women — have long been parts of Persian culture. They became political symbols in 1936, when Iran's pro-Western ruler Reza Shah Pahlavi banned the garments amid his efforts to rapidly modernize Iran. The ban became a source of humiliation for some pious Muslim women in the country.
As the 1979 Islamic Revolution took hold, Ayatollah Ruhollah Khomeini ordered female civil servants to wear the chador. At first, thousands of women protested the decision in Tehran and Khomeini later said officials should not insult women who chose not to wear it — though he also called the chador "the flag of the revolution."
The hijab and loose-fitting clothing later became mandatory for all women in Iran.
In Tehran today, some fashionable young women wear tighter clothes with a scarf loosely covering their head, technically meeting the requirements of the law while drawing the ire of conservatives.
In December 2017, Tehran's police said they would no longer arrest women for not observing the Islamic dress code as video clips of women choosing not to wear hijabs and walking the streets with their heads uncovered spread across social media.
Protests followed, including a much-circulated image of a woman atop a junction box at an intersection of Tehran's famed Enghelab, or "Revolution," Street, waving her white hijab as if it was a flag.
http://www.startribune.com/iran-lawyer-convicted-after-defending-women-protesters/506748762/
--------
Iranian Forum Looks to Address So-Called 'Sexual Crisis'
Fereshteh Sadeghi
March 5, 2019
TEHRAN — A 1970s building on Tehran's Enghelab (Revolution) Avenue that ends in Azadi (Liberty) Square has recently been the site for a series of meetings on an unusual subject given Iranian social norms. Every Tuesday, experts and members of the public come together there to talk, sometimes heatedly, about sex.
Since Dec. 4, "Forums on Sexual Crisis in Iran" has been bringing together academics, documentary filmmakers, clerics, journalists, students and women activists to discuss such issues as polygamy, sex education, homosexuality and transsexuality. The participants have also looked at temporary marriage (nikah mut'ah) and semi-independent marriage (in which a young couple officially marry and then live with his or her parents for a while), the pros and cons of Western approaches to sex-related matters and sexuality.
The sessions generally revolve around the so-called sexual crisis in Iran. Most of the speakers interpret the term to refer to the phenomenon of young Iranians turning away from the sexual mores advocated by Islam, namely no sex outside marriage.
The forums have been organized by Safir Films, a company founded in 2010 by a group of students from the Sharif University of Technology. The company produces long-form documentary films as well as video and audio clips. Most of the content, including a documentary called "I am Rouhani," espouses hard-line views. A member of the company who spoke to Al-Monitor on the condition of anonymity denied rumors of the operation being linked to the Islamic Revolutionary Guard Corps (IRGC), describing it as "an independent media group."
He conceded, however, "[One] could not be really independent when it comes to documentary making in Iran because you must sell some of your products to either the OwJ, the Hozeh Honari or the Documentary and Experimental Film Center." The OwJ is the IRGC's media company, and the Hozeh Honari, the nation's largest cultural center, is under the Office of the Supreme Leader. The Culture and Islamic Guidance Ministry oversees the Documentary and Experimental Film Center.
Despite the seemingly daring subject of the Safir conferences, the speakers mostly present conservative views, which participants occasionally contest. Speaking at the first forum, Mohammad Reza Zibaee Nejad, head of the Family and Women's Research Center at the Qom seminary, dismissed the idea that there is a sex crisis in Iran.
"[Rather, the situation is that] our young generation has questions regarding sexual subjects," he said. "A new rationality that stems from the Western schools of liberalism and individualism are exerting changes on our society. There are new developments regarding sexual matters. … The first step to address is sexual education."
That said, Zibaee Nejad further stated, "We should be careful to provide education to our youngsters at the right time without playing into the hands of the Western policymakers who have a totally different agenda from us regarding sexual education, its goals and language."
At the Dec. 21 session, Ebrahim Fayyaz, an anthropologist from the University of Tehran, told the audience that Iran is going through a phase of sexual crisis during which young people seek sexual relations outside marriage, an institution in which they have no interest. While extramarital sex is generally frowned upon by traditional norms and condemned by religious and political authorities in Iran, it is quite common.
Fayyaz remarked, "Men are turning into women while women are turning into men." He also asserted, "Encouraging society to look at woman as the axis of family and society is the approach that could turn the current tide." Fayyaz indicated that he is clearly for resolving the "sexual crisis," which, to him, is the "tsunami of homosexuality."
Alireza Lavar, a researcher at the National Family Foundation, agreed that there is a sexual crisis of young people turning to extramarital relations. The antidote, in his eyes, is therefore marriage.
He told conference participants, "Islamic teachings encourage marriage as one of the ways to prevent or decrease social harms and improve the quality of life, therefore the society and the government should facilitate marriage by paving the ground, creating jobs, changing some traditional attitudes and views that hinder marriage between the young."
On a more progressive note, Lavar said that women should play the main role in fighting back against some traditions, such as polygamy and nikah mut'ah.
One of the forum organizers, who spoke to Al-Monitor on condition of anonymity, said, "We wanted to address the social and religious issues preventing some of the 20 million young men and women of sexually active ages from having legal and socially normal relationships."
The figure he referenced stems from the 2016 census, published by Iran's Statistics Organization, which showed that 11.5 million men and 8.6 million women over the age of 18 had never been married. He also noted that from 2015 to 2017 the rate of marriage fell by 16%, and the divorce rate increased by 7%, with the highest rate in Tehran.
When asked to assess the "Forums on Sexual Crisis in Iran," Fatima Seraj, who has a doctorate in gender studies, gave the sessions a mixed review. "The forums were a good platform to ask questions but were not successful in offering solutions," she told Al-Monitor. "The problem with debating such topics in a religious society such as Iran's is that all discussions are from the Islamic point of view, particularly the Shiite branch of Islam, and they don't take into consideration Western points of view."
Documentary filmmaker Fatima Ismaili has been happy with the content. "They are trying to professionally address sex and sexual matters from an Islamic perspective," she told Al-Monitor. "Some sessions really turned into a battlefield, especially the one about polygamy, when the female speaker who opposed polygamy, could not convince the audience [of her position]."
The forum sessions will conclude in the coming days. Asked whether Safir Films might revive the series at a later date, the organizer who spoke to Al-Monitor said, "We have to evaluate our achievements. If we are convinced that more discussions are needed, then yes, we may continue with them."
https://www.al-monitor.com/pulse/originals/2019/03/how-this-iranian-forum-does-not-talk-about-sex.html
--------
URL: https://www.newageislam.com/islam-women-feminism/at-least-two-women-were/d/117939
New Age Islam, Islam Online, Islamic Website, African Muslim News, Arab World News, South Asia News, Indian Muslim News, World Muslim News, Women in Islam, Islamic Feminism, Arab Women, Women In Arab, Islamophobia in America, Muslim Women in West, Islam Women and Feminism