New Age Islam News Bureau
1 Dec 2015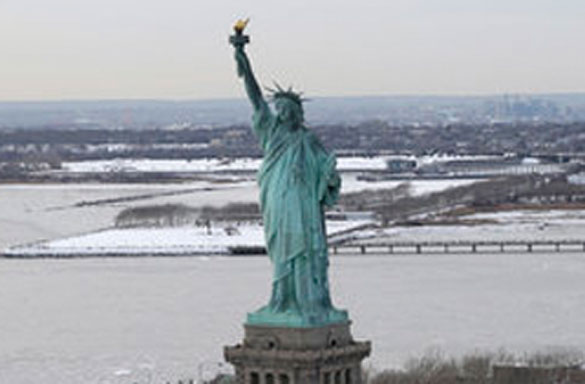 Photo: The Statue Of Liberty
-------
• The Statue Of Liberty 'Based On A Muslim Woman'
• In Saudi Arabia's First Election Open to Women, Feminists Have Been Excluded
• Position of women in society
• Women find odds heavily stacked against them
• Baby girl abandoned
• Sindh enhances women quota in govt jobs
• High turnout of women witnessed in rural areas
• Cricketer Shahadat's wife gets 47-day bail
Compiled by New Age Islam News Bureau
URL: https://www.newageislam.com/islam-women-feminism/new-age-islam-news-bureau/at-aligarh-muslim-university-malappuram-girls-protest-all-male-panel-probe-harassment/d/105477
----------
At Aligarh Muslim University Malappuram, girls protest all-male panel to probe harassment
Dec 1, 2015
Days after girl students of Aligarh Muslim University's (AMU) Malappuram campus alleged harassment by a male faculty member, they have now expressed concern that an all-male committee has been set up to probe the matter.
The students, who were on a strike for seven days (November 20 to 27), had called off their strike after AMU constituted a two-member committee — comprising two male staff — to probe the matter. They had also written to the AMU V-C, following which, faculty member M H Faridi was removed from the post of proctor.
Over 100 students, including over 50 girls, have alleged that Faridi, despite having no official authority, visits the girls' hostel often without intimation. He also makes girls sit in his chamber for long hours. Moreover, at odd hours, he calls up girls and asks for information about others. He had even called up the parents of some girls and given them false information about their activities. Already, one girl had left the campus due to his alleged high-handedness.
"There should be at least one woman in the committee. It is better to discuss such things with a woman teacher. It is also prescribed by the Supreme Court. The charges are of a serious nature. The faculty member is still in the campus," a girl student told The Indian Express.
She added that in main campus, a committee — headed by a woman — is already functional to probe harassment cases related to girls. "University should have taken the matter more seriously," said another student.
When contacted, AMU's centres' coordinator, Pervez Talib, said: "Since harassment of girls was not the main issue, no woman was included in the committee. Their complaint against Faridi has already been resolved… he was removed from the post of proctor… only other issues were left."
The probe team had returned from Malappuram. "We have not yet received the report yet but the team has returned after conducting its inquiry. It will soon submit a report," said Talib.
He admitted that recently, in a similar incident reported at AMU's Kishanganj centre, a woman member was included in the inquiry committee. "It is usually done in such cases… we have zero tolerance policy… but in the Malappuram incident, this was not the main issue," said Talib, adding that several other issues were given air by "external political elements".
http://indianexpress.com/article/cities/lucknow/at-aligarh-muslim-university-malappuram-girls-protest-all-male-panel-to-probe-harassment/
----------
The Statue Of Liberty 'Based On A Muslim Woman'
11/30/2015
The Statue of Liberty was originally conceived of as being a peasant Muslim woman in traditional Islamic dress, according to the Smithsonian Institution's magazine.
She would have stood guard over the Suez Canal in Egypt instead of New York Harbor, were it not for the economic prudence of the reigning Egyptian Khedive of the time, the museum reports.
French sculptor Frédéric Auguste Bartholdi initially wanted to place an 86-foot-high statue of an Egyptian woman in Port Said on the northern approach to the man-made waterway connecting the Mediterranean Sea to the Red Sea, the Daily Beast reports.
The statue -- named at the conceptual stage as "Egypt Carrying the Light To Asia" -- would have been a symbol of "progress" and the lantern in her upraised hand would have acted as a lighthouse, according to the National Parks Service.
But Egyptian ruler Isma'il Pasha dismissed the project, inspired by Bartholdi's visit to the Nubian monuments in Abu Simbel in 1855, because it was too expensive, writes Edward Berenson in "Statue of Liberty: A Transatlantic Story."
Bartholdi modified his designs, which the Musee D'Orsay in Paris, France, said was influenced by the mythical Colossus of Rhodes. The copper statue was finally built in France by lead structural designer Gustave Eiffel -- creator of the Eiffel Tower.
It was shipped to the United States in crates, assembled and unveiled on Oct. 28, 1886, as a gift to the U.S. from the people of France.
From ground to torch, "Lady Liberty" stands about 305 feet tall -- almost four times the height of Bartholdi's initial design.
It is 125 feet higher than the 180-foot lighthouse later constructed in Port Said. The Suez Canal was completed in Nov. 1869.
http://www.huffingtonpost.com/entry/statue-liberty-muslim-woman_565b30d9e4b08e945feb7680?section=india&adsSiteOverride=in
----------
In Saudi Arabia's First Election Open to Women, Feminists Have Been Excluded
NOV 30, 2015
Hundreds of Saudi women were announced as political candidates on Sunday ahead of the kingdom's municipal elections in December, which mark the first time women have been permitted to run for office as well as cast a vote.
While the historic campaigns should be cause for celebration, a group of women's rights leaders are holding their applause. Nassima Alsadah, Tamador Alyami, and Loujain al-Hathloul told The Wall Street Journal they were barred from running for office, and Alsadah suspects her feminist activism is to blame.
Alsadah said that she and the other disqualified women were all involved in campaigning to gain the right to drive in Saudi Arabia—the only country where women are banned from getting behind the wheel of a vehicle.
While the government did not provide a reason for excluding the women, each of the would-be candidates said she planned to appeal the decision. On Sunday, al-Hathloul said on Twitter that she'd be filing her "objection via the appropriate channels." The activist was detained and imprisoned last year when she defied the ban on female motorists and attempted to drive her car to Saudi Arabia from the United Arab Emirates.
The Dec. 12 election marks the first time women have have been permitted to participate in local politics following a 2011 order by then King Abdullah, who passed away in January. While many human rights organizations cheered the decision Human Rights Watch called "long overdue," some advocates were skeptical about the municipal council's power to create change in a system where half the candidates are appointed by government. Not only that, but women are still fighting for the right to move freely throughout the country without the supervision of a male guardian.
While Alsadah and others continue to seek a spot on the ballot, she worries that even if she wins her appeal, the looming election leaves little time to campaign. Without weeks to promote herself, she told the Journal, "objection is useless."
http://www.takepart.com/article/2015/11/30/saudi-election
----------
Position of women in society
November 30, 2015
Dubai
The United Nations (UN) states that violence is not just physical; it can also be psychological. One in three women worldwide have experienced physical or sexual violence, mostly by an intimate partner. The problem persists in the UAE, too. According to a Gulf News report published on November 25, more than 1,500 cases of domestic violence against women have been reported to the Dubai Foundation for Women and Children (DFWC) during the past seven years. The cases involved women over the age of 18, who are of various nationalities and have faced physical, emotional or psychological domestic violence by men in their families.
Violence against women has been referred to as a global pandemic by the UN, which takes place in public and private spaces. The UN is currently conducting research, which will lead to more definitive strategies and interventions to prevent violence. They hope to "tackle the unequal power relations and structures between men and women and highlight the necessary attitudinal, practice and institutional changes", according to an official press release issued by them on the International Day for the Elimination of Violence against Women.
"Imagine how different the world would be for girls growing up now if we could prevent early marriage, female genital mutilation, the turning of a blind eye to domestic violence, abusive text messages, the impunity of rapists, the enslavement of women in conflict areas, the killing of women human rights defenders, or the hostility of police stations or courtrooms to women's testimony of violence experienced," the press release reads.
Around the world, 125 countries have laws against sexual harassment, 119 have laws against domestic violence, but only 52 countries have laws on marital rape.
This year, the UN launched the campaign UNiTE to raise awareness about violence against women. They invited the world to participate with "orange events" between November 25 and December 10. The campaign was also promoted on social media with #orangetheworld and many landmarks around the world were lit in orange.
To continue their mission, the UN marks December 10 as Human Rights Day to commemorate the day the UN General Assembly adopted the Universal Declaration of Human Rights. The day aims to promote and raise awareness about "freedom of speech, freedom of worship, freedom from want and freedom from fear".
In addition to this, society is also raising its voice against the discrimination by participating in social media campaigns. To name a few, there's #LeanIn, #LikeaGirl and #ChangeTheRatio. Each of these campaigns, and many others like them, allows women around the world to stand for women empowerment and change people's perception of their position in society.
http://gulfnews.com/your-say/your-reports/position-of-women-in-society-1.1629025
----------
Women find odds heavily stacked against them
1 December 2015
RIYADH: Difficult terms and conditions as well as the complicated process have disappointed many women who aspired to contest the third municipal council elections.
This resulted in limiting the number of women candidates to just 979 against 5,938 men running for positions, according to an online newspaper.
The newspaper said that many women withdrew their names before the announcement of candidates due to social and administrative reasons which hindered their march toward the final stage in the contest for municipal council seats.
The primary reasons were the lack of financial support and difficult terms and conditions, in addition to the social perspective and tribal loyalties.
Norah Al-Soyan, founding member of the "Baladi Initiative" and training supervisor of elections in the Riyadh region, said that many women withdrew from the elections due to social and financial issues, and administrative reasons.
Many women realized running a campaign is not an easy task in a society which doubts women's leadership capabilities.
Many women did not have sufficient financial support to run electoral campaigns because their income level is less than that of men.
She said that women still face social pressure when it comes to entering a new area, which is still seen as an embarrassment by tribes.
The social awareness campaign launched for the purpose was not strong enough to change minds.
As far as the election process is concerned, the Baladi Initiative tried to educate them.
But may women withdrew from the contest due to the lack of knowledge about the election process.
Haifa Al-Bikr, one of the candidates who withdrew from the fray, blamed difficult terms and conditions for the change of mind of many
women who aspired to run and had shown initial interest. She said the use of social media was barred as a tool for announcements or advertisement of a candidature.
"Contrary to men, women have less financial support. I, as a candidate, spent lots of money on my election campaign from my personal account.
It was a clear loss compared to men who get support and sponsorship of companies and institutions, tribes and families."
Women were not allowed to speak in front of men to announce their electoral platforms. They were just allowed to seek help of a Mahram, or pay a person to speak on her behalf, she said.
Haifa described the participation of women as candidates in the elections as less than aspired, and many lacked strategic planning due social conditions.
It was difficult for them to break traditional social barriers.
http://www.arabnews.com/saudi-arabia/news/843656
----------
Sindh enhances women quota in govt jobs
December 01, 2015
KARACHI - Sindh Chief Minister Syed Qaim Ali Shah has decided to increase the quota of women in government jobs from 5 per cent to 7 per cent with immediate effect and directed the chief secretary to implement it strictly.
"It was the dream and mission of our leader Shaheed Mohterma Benazir Bhutto to empower women and my government is committed to fulfill it in true letter and spirit."
He took this decision while presiding over a meeting of Women Development Department (WDD) here at the CM House Monday. The meeting was attended by Chief Secretary Siddique Memon, Additional Chief Secretary (Dev) Aijaz Ali Khan, Principal Secretary to CM Alamuddin Bullo, Secretary WDD Aijz Mangi, Special secretary Finance Hassan Naqvi and others.
The chief minister said that at present the women quota in government jobs is 5 per cent.
"This is not enough and it must be at least 7 percent," he said and directed he chief secretary to ensure its implementation in true letter and spirit.
The chief minister also taking another landmark decision for women empowerment decided that in women development department all the vacant positions would be given t women only.
"It is another policy decisions that the women development department would fill all their vacant positions from amongst the suitable women candidate. The application of male candidate would not be entertained in WDD," he directed the chief secretary and secretary labour.
Secretary WDD Mr Aijaz Mangi replying to a question said that his department has constructed a `Working Women Hostel' in Shaheed Benazirabad for Rs13.2 million. The scheme has been completed but police have occupied the hostel and a DIG office has been housed there. On this, the chief minister expressed displeasure and directed his Principal Secretary Alamuddin Bullo to vacate the hostel and report him.
"This hostel is meant for working women only, it must be returned and be used for the purpose for which it has been built," he said.
Briefing the chief minister on the legislation so far made by the Sindh government, Secretary WDD Mr Aijaz Mangi said that under `Protection Against Harassment of Women at Workplace Act 2010' some 107 cases have been registered, of them 887 have been solved so far. He said under the Act, 1000 provincial Watch Committees have been formed all over Sindh. For proper implementation of the act, a committee under Justice (retd) Peer Ali Shah has been formed, he added.
Talking about Domestic Violence (Prevention and Protection) Act 2013, the secretary said that rules have been prepared in consultation with the stakeholders and submitted to Law Department for vetting. Once the rules are approved by the chief minister, the act would be implemented properly, he assured.
Secretary WDD Mr Aijaz said that `Early Child Marriage Restraint Act' has been passed by the Sindh Assembly and now it is in the process of implementation. The rules for the act have also been sent to law department for vetting.
On this, Additional Chief Secretary Aijaz Ali Khan said that Sindh was the first province in the country which has enacted law against child marriage and it has been appreciated widely.
The secretary said that Sindh Commission on Status of Women Act 2015 has also been passed by the provincial assembly on March 2, 2015.
"The commission has to examine the policy, programmes and other measures taken by the government for gender equability, women empowerment, political participation etc," the secretary said and added that it would also review all provincial laws, rules, regulations, pre-judicial to legitimate interest and right of women. Chief Secretary Siddique Memon said that `Provincial Home-based Women Worker policy' is also under process. "The draft bill has been discussed by the cabinet committee and it would be presented in the assembly very soon," he assured.
The chief minister said that he had released Rs130 million for developing an Endowment Fund to give small loans to women artisan.
"The policy for grant of loan from Rs50,000 to Rs100,000 through Sindh Bank has also been approved," he said and question why it has been delayed.
The chief secretary said that the fund has been established in Sindh Bank. "I am personally monitoring to design the application form. The first draw of the loan would be performed by the chief minister in the first week of January," he vowed.
The secretary also told the chief minister that there was a Day Care Centre with the capacity of 30 kids is working in Karachi. On this the chief minister said that one centre was not enough.
"We have to facilitate working women/mothers by establishing more centers," he said and directed the chief secretary to establish such two more centres in Karachi and one in each divisional headquarter and there must be hostels for working women. Presently, Rs400 million 10 development schemes of the department under ADP 2015-16 are in progress, of them eight are on-going and two are new. The chief minister directed the ACS (Dev) Aijaz Ali Khan to approve the schemes of Day Care Centres and hostels in next ADP for which chief secretary would personally monitor the process.
http://nation.com.pk/karachi/01-Dec-2015/sindh-enhances-women-quota-in-govt-jobs
----------
High turnout of women witnessed in rural areas
December 01, 2015
Islamabad - The polling stations of rural areas witnessed long queues and huge turnout of women as a record number of women turned to polling stations to exercise their right to vote in the first ever local government elections of the federal capital.
A high turn out of women voters was recoded in rural areas than urban where polling staff facilitated the voters without any breaks.
Thus, the urban and rural areas presented a contrasting view on the polling day.
But the record turnout in rural areas, lengthy procedure of data entries to casting votes as every voter had to cast almost six votes, and mismanagement caused delays and problems for the women voters.
Plagued by poor basic amenities hoping the exercise may bring them at par with residents of posh areas, Many poor women from rural areas queued for hours at various voting centres waiting to cast votes.
In Bara Kahu, the wait was far longer as polling stations were inundated with huge queues of voters since morning.
A security official, M.
Mansha, at Islamabad Model School for Boys, Bara Kahu, said women had started gathering since the start of the polling time and they witnessed the same rush throughout the day since morning.
Rubina Zafar, a 42-year-old widow, at the Bara Kahu polling station in UC-4 said, she has been standing for the past two hours in the queue still there is no respite in sight as still many candidates were standing before her.
"People from various parties have been giving pick and drop to their voters but I have come own my own by foot," she said.
"I have no affiliation with any party but I feel its our national obligation to cast vote so I'm here waiting for my turn," she added.
Some female voters standing in queues alleged that the polling staff and agents of various parties favoured the few known women to cast votes with out any wait while commoners, including elderly women, waited for hours in long queues to exercise their right.
The officials of Election Commission of Pakistan had to visit the area to facilitate the voters.
Unlike rural areas turn out remained quite low in various sectors till midday and after the closure of offices at 2pm the number of both males and females voters increased.
At a polling station in Islamabad College for Boys G-6/3, UC#27, assistant presiding officer Ghazala said out of 503 registered voters in the polling stations only 35 had turned up to cast their ballot by 1 pm.
Process was quite slow in cities because most of the people remained at work, as there was no public holiday for the elections, said Fakhara Abbasi who was coming out of the station after casting her vote.
"Most of women also work in cities or prefer to accompany their husbands or other family members to cast vote, that's why women turnout is also low in cities," she explained.
"The schools have been turned into polling stations and there is no academic activity.
So being a teacher I have come to cast my vote with my friend," she said.
After 2pm the pace of the activity was picked up a bit when people returned to homes from work and women also had finished their household chores.
Riffat Sultana, presiding officer at a G-9/2 polling station said: "Out of 969 registered female votes, only 300 were cast by 4pm.
But the pace has increased a bit after midday and more women are coming in the evening after finishing their tasks or returning from work.
"
Good turn out was reported in the evening from sectors G-7/4, G-7/3-1.
Hajara Nisar, a student of Quaid-I-Azam University said she was busy in research work and then had to help her mother at home.
"I could find time only in the evening to cast the vote and I did not want to miss the chance to be a part of the process initiated for the first time in capitals history," she added.
http://nation.com.pk/islamabad/01-Dec-2015/high-turnout-of-women-witnessed-in-rural-areas
----------
Cricketer Shahadat's wife gets 47-day bail
December 01, 2015
Former national team cricketer Shahadat Hossain's wife Jesmine Nahar Nrittya was granted bail for 47 days in a case filed for torturing their 11-year-old domestic help.
Judge Kamrul Hossain Mollah of Dhaka Metropolitan Sessions Judge's Court granted the bail till January 17, 2016 as she is the mother of an infant.
Earlier on October 4, police arrested her in the capital's Malibagh area, around a month after the case was filed with Mirpur Police Station against the couple for torturing their domestic help.
Two days after the arrest, Shahadat surrendered before a Dhaka court that sent him to jail. On September 13, Bangladesh Cricket Board (BCB) suspended the pacer over the allegation.
On September 6, the domestic help, Mahfuza Akhter Happy, brought the allegation of torture by Shahadat and his wife.
http://www.thedailystar.net/country/cricketer-shahadats-wife-gets-47-day-bail-180730
----------
URL: https://www.newageislam.com/islam-women-feminism/new-age-islam-news-bureau/at-aligarh-muslim-university-malappuram-girls-protest-all-male-panel-probe-harassment/d/105477
New Age Islam, Islamic Website, Online Islam, Islamic World News, Womens in Islam, Islamic Feminism, Arab Women, Womens In Arab, Islamphobia in America, Muslim Women in West, Islam Women and Feminism