New Age Islam News Bureau
3 Jan 2019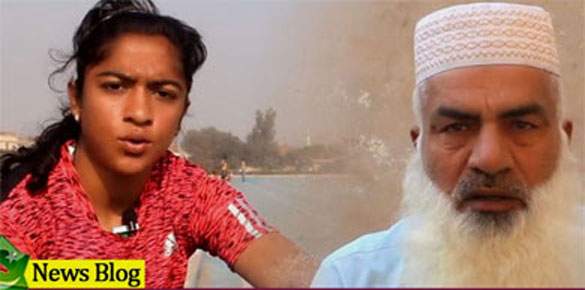 Sahib e Asra is the daughter of an Imam Masjid – a position associated with conservatism
------
• Democratic Congresswoman Rashida Tlaib, Will Be Sworn in to US Congress with Jefferson's Quran
• Pakistani Women Face Most Harassment on Facebook, WhatsApp: Report
• UK MPs Request To Visit Detained Female Saudi Activists
• Indian Muslim Women Oppose Triple Talaq Bill, Seek Instant Rollback
• Women Strive to End Genital Mutilation in Kurdish Iraq
• Triple Talaq Row: BJP to Appoint 100 Women 'Teen Talaq Pramukhs' In January
• Massive Protests across Iran with Significant Participation of Women
• Women-Led Businesses in Turkey Flourish With State-Sponsored Loans, Incentives
Compiled by New Age Islam News Bureau
URL: https://www.newageislam.com/islam-women-feminism/asra-becomes-pakistans-fastest-runner/d/117353
--------
Asra Becomes Pakistan's Fastest Runner, With the Exemplary Support of Her Father, Imam of a Masjid
by Asma Malik
January 3, 2019
FAISALABAD – Pakistan has had some great women role models and they have struggled for every inch of the way and we are proud of all such Pakistani women. Without any doubt, Pakistani women are the most impressive and accomplished females on earth.
One such shining star of Pakistan named Sahib-e-Asra is not just killing competition but also breaking the stereotypes. She is Pakistan's fastest female athlete and is a proud daughter of an imam (scholar).
Asra, who is a citizen of Faisalabad, started her career as an athlete runner back in school, taking part in division and district level competitions as much as she could. She also proved herself and started to sprint at province-wide tournaments. It is then that she truly arrived, as she bagged a gold medal in one of those tournaments.
Asra was a gold medalist before she started her professional career as a sprinter. She was intent on pursuing her passion despite the lack of resources for sportspeople in the country.
The young athlete was told that support for sportspeople in Pakistan was far behind even when compared to countries like Bangladesh, yet she remained determined to continue. Asra shared that her father, who is an imam, was rather supportive of her career as a sportswoman, despite what people could generally assume.
She also revealed that it was people that they knew, associates and acquaintances, that were opposed to the idea and tried to convince her father not to let her carry on with a career as an athlete. Asra said that her father paid no heed to the unsolicited advice and let her continue with her passion.
Qari Alam Khan is a proud father and he shared with a daily publication 'Pro Pakistani' that when her (Asra) school teachers told him that his daughter was a sprinter and a fairly good one at that, it made him happy.
He said that while he was proud of his daughter he was let down that the government was not doing much for athletes.
"I am as proud of my daughter, as I am of my son," said Qari Alam.
https://en.dailypakistan.com.pk/lifestyle/meet-sahib-e-asra-pakistans-fastest-female-athlete-daughter-of-an-imam/
--------
Democratic Congresswoman Rashida Tlaib, Will Be Sworn in to US Congress with Jefferson's Quran
Jan 03, 2019
WASHINGTON — Rashida Tlaib, the newly elected Democratic congresswoman from Michigan, will be sworn in to Congress on Thursday on a Quran that once belonged to Thomas Jefferson.
"It's important to me because a lot of Americans have this kind of feeling that Islam is somehow foreign to American history," Tlaib told the Detroit Free Press.
"Muslims were there at the beginning. … Some of our founding fathers knew more about Islam than some members of Congress now," said Tlaib, who along with Minnesota's Ilhan Omar, will be one of the first two Muslim women sworn into the US House.
She said she was not making a religious point.
"I believe in secular government (and) my swearing in on the Quran is about me showing that the American people are made up of diverse backgrounds and we all have love of justice and freedom," she said. "My faith has centered me. The prophet Mohammed was always talking about freedom and justice."
Tlaib, whose parents are from the West Bank village of Beit Ur al-Foqa, near Ramallah, has already announced plans to wear a traditional Palestinian robe for her swearing-in ceremony on Thursday.
Jefferson's personal copy of George Sale's 1734 translation of the Quran into English, a two-volume work that resides in the Library of Congress, was also used by Keith Ellison, the first Muslim Congressman.
Traditionally, new representatives take the oath with a Bible, but that is only a custom, and no book is called for by law.
Tlaib said she was aware that using a Quran could cause outrage in some circles, but said those who were upset would be angry regardless.
"My mere existence, that I'm even of Muslim faith, is going to be a problem for them with or without me swearing in on any Quran," she said.
Last month she announced she would wear a traditional Palestinian outfit, posting a photo to her Instagram account showing the hand-woven garment, called a thobe, she said she will wear at the event.
"Sneak peek: This is what I am wearing when I am sworn into Congress," she wrote of the thobe, which was black with a deep red flower pattern.
Palestinian women wear hand-embroidered gowns with a unique pattern that represents the city of origin of the wearer.
Last month Tlaib said she plans to lead a trip of incoming US lawmakers to the West Bank.
Tlaib told The Intercept that her trip will focus on issues like Israel's detention of Palestinian children, education, access to clean water and poverty – and perhaps a visit to Beit Ur al-Foqa, where her grandmother still lives.
Her trip is a counterpoint to the traditional Israel trip for first-term lawmakers sponsored by the education arm of the American Israel Public Affairs Committee, or AIPAC, which includes touring and meetings with leading Israeli figures in business, government, and the military.
She said at the time she did not yet know when the trip will take place and which Palestinian advocacy group she would partner with to provide the thousands of dollars in needed funding.
Tlaib in the interview also came out in support of the Boycott, Divestment and Sanctions movement against Israel, which she said brings attention to "issues like the racism and the international human rights violations by Israel right now."
J Street withdrew its endorsement of Tlaib during her campaign for Congress after she called for a one-state solution to the Israeli-Palestinian conflict. Tlaib also called for a reduction in foreign aid to Israel, and told Britain's Channel 4 that she supported slashing US military aid to the Jewish state.
J Street, the liberal Mideast policy organization, advocates for a two-state solution to the conflict, among other things. Tlaib had previously received the endorsement of the lobby's JStreetPAC based on her support for two states.
Omar of Minnesota, the other Muslim woman elected to Congress in November, said in an interview shortly after the November election that she supports the BDS movement, after saying during her campaign that it was "counteractive" and prevents dialogue.
https://www.timesofisrael.com/rashida-tlaib-to-be-sworn-in-to-us-congress-using-jeffersons-quran/
--------
Pakistani Women Face Most Harassment on Facebook, WhatsApp: Report
Jan 03, 2019
A report released by the Digital Rights Foundation (DRF) claims that complaints of online harassment by women in Pakistan are mostly in reference to Facebook and Whatsapp.
According to data analysed from the phone calls made to DRF's online harassment helpline from December 2016 to November 2018, women report being blackmailed, deceived, having their information shared non-consensually and their personal data and photographs manipulated etc.
Of the 2,781 complaints received by the organisation between this timeline, 660 of the complaints (29pc) were related to Facebook. Whereas, complaints pertaining to the mobile messaging application Whatsapp have also risen from 2.6pc to 9.5pc in the past six months.
The report recommends that investigation officers dealing with such complaints should receive sensitivity training in internet governance and criminal prosecution and there should be a minimum of 33pc female representation among them.
https://www.pakistantoday.com.pk/2019/01/03/pakistani-women-face-most-harassment-on-facebook-whatsapp-report/
--------
UK MPs Request To Visit Detained Female Saudi Activists
03.01.2019
By Muhammad Mussa
LONDON
A cross-party panel of British parliament members and lawyers has written an open letter to the Saudi Arabian ambassador in London asking permission to visit female activists detained in the Kingdom.
In the letter to Prince Mohammed bin Nawwaf bin Abdulaziz on Wednesday, they expressed their concern for the imprisoned activists and requested permission to check on their wellbeing.
The group includes Conservative MP Crispin Blunt, who chairs the panel, Labour MP Dr. Paul Williams, who worked with refugees, Liberal Democrat MP Layla Moran, the first MP of Palestinian heritage, Dr. Tim Moloney QC, a leading British lawyer, and Tayab Ali, a senior partner at ITN Solicitors representing a detained Saudi activist.
"You will be aware that there have been some serious allegations made about the treatment of Women Activist Detainees in Saudi Arabia," Blunt said in the letter.
"I have been asked by ITN solicitors, on behalf of a Saudi Arabian citizen (the Client), to convene together an independent panel of UK parliamentarians to review the conditions of these Women Activist Detainees (the Detainees) currently in detention in Saudi Arabia," he added.
"I am therefore writing to you as Chair of the Detention Review Panel for Detained Women Activists who have been detained and/or imprisoned by the authorities in Saudi Arabia. We would like your assistance in arranging a visit to Saudi Arabia to visit and speak with these Detainees."
The letter also said the panel will conduct an independent review of the conditions of the detained women activists and will inquire into the conditions in which they are living and how they are being treated. Once the review has been conducted, its findings will be released in a report.
Among the detainees the panel hopes to visit are those named in Human Rights Watch's November 2018 report, including Loujain al‐Hathloul, Aziza al‐Yousef, Eman al‐Nafjan, Nouf Abdelaziz, Mayaa al‐Zahrani, Samar Badawi, Nassima al‐Saada and Hatoon al‐Fassi, all of whom are women's rights activists.
The panel highlighted their concern over allegations made about the treatment of the activists and that such allegations that have been documented by human rights organizations "appear to be credible, but we acknowledge that the Saudi Arabian government says that the allegations are unfounded".
They include torture with electric shocks, being tied down to a bed and whipping with a rope, sexual harassment, threats of rape and assault, threats of the death penalty or life imprisonment for "treason" and denial of access to family members or independent lawyers.
"The allegations made and recorded by these human rights advocates are extremely damaging to the credibility of the progressive reforms announced recently by the Saudi Arabian government," said the letter.
"We hope that following our review, we will be able to assist Saudi Arabia in regaining confidence from the international community that its commitment to progressive reform and the protection of the rights of peaceful pro‐reform activists is both credible and sincere."
https://www.aa.com.tr/en/europe/uk-mps-request-to-visit-detained-female-saudi-activists/1354522
--------
Indian Muslim Women Oppose Triple Talaq Bill, Seek Instant Rollback
Jan 3, 2019
CHARMINAR: Echoing the sentiment of several others from across India, women's wing members of the All India Muslim Personal Law Board, from the Old City, too deplored the move of the Narendra Modi-led government while demanding an immediate rollback of the controversial Triple Talaq Bill. According to them, the bill, drafted without much thought and in haste by lawmakers, will play a negative role and adversely impact Muslim families.
"Despite the Muslim Women (Protection of Rights on Marriage) Bill, 2018 being widely opposed by the Muslim community across the country, the bill was presented twice in the Rajya Sabha. It will deal a massive blow to the institution of marriage and existing family. Muslim women will get nothing out of this bill. Instead, they are the ones who will be left abandoned. The condition of these women will only become more miserable,'' said Asma Zohra, chief organizer, All India Muslim Personal Law Board (Women's Wing).
Claiming that the bill is against criminal jurisprudence -- as it makes provision for the husband to be jailed based on allegation of the wife -- members said that it wouldn't serve any purpose as it is ultimately a magistrate who decides whether to grant someone bail and not the victim. "Also, the bill should be fair to both men and women. Decriminalization of Section 377 is an example of freedom in personal and civil matters. Going by that logic, why should a Muslim then be needlessly penalised for divorce?'" Zohra asked.
https://timesofindia.indiatimes.com/city/hyderabad/muslim-women-oppose-triple-talaq-bill-seek-instant-rollback/articleshow/67356842.cms
--------
Women Strive to End Genital Mutilation in Kurdish Iraq
January 02, 2019
SHARBOTY SAGHIRA, IRAQ —
Dark skies were threatening rain over an Iraqi Kurdistan village, but one woman refused to budge from outside a house where two girls were at risk of female genital mutilation.
"I know you're home! I just want to talk," called out Kurdistan Rasul, 35, a pink headscarf forming a sort of halo around her plump features.
For many, she is an angel — an Iraqi Kurdish activist with the Germany-based nonprofit Association for Crisis Assistance and Development Cooperation (WADI), on a crusade to eradicate female genital mutilation (FGM).
FGM, in which a girl or woman's genitals are cut or removed, was once extremely common in the Kurdish region, but WADI's campaigning has reduced the practice.
Rasul, who herself was cut at a young age, is helping to eradicate FGM in the village of Sharboty Saghira, east of the regional capital, Irbil.
She has visited 25 times, challenging its imam on perceptions FGM is mandated by Islam and warning midwives about infections and emotional trauma.
That morning, she used the mosque's minaret to vaguely invite villagers to discuss their health. When eight women entered the mosque, she patiently described FGM's dangers.
At the end, a thin woman approached Rasul and said her neighbor was planning to mutilate her two toddlers.
That sent Rasul clambering up the muddy pathway to the house, first knocking, then frantically demanding to be allowed in.
But the door remained shut.
"We are changing people's convictions. That's why it's so hard," Rasul told AFP, reluctantly walking away.
'Just a child'
FGM appears to have been practiced for decades in Iraq's Kurdish region, usually known for more progressive stances on women's rights.
Victims are usually between 4 and 5 years old but are affected for years by bleeding, extremely reduced sexual sensitivity, tearing during childbirth, and depression.
The procedure can prove fatal, with some girls dying from blood loss or infection.
After years of campaigning, Kurdish authorities banned FGM under a 2011 domestic violence law, slapping perpetrators with up to three years in prison and a roughly $80,000 fine.
The numbers have dropped steadily since.
In 2014, a U.N. children's agency (UNICEF) survey found 58.5 percent of women in the Kurdish region had been mutilated.
This year, UNICEF found a lower rate: 37.5 percent of girls aged 15-49 in the Kurdish region had undergone FGM.
It compares with less than 1 percent across the rest of Iraq, which has no FGM legislation.
"She cut me, I was hurt and cried," said Shukriyeh, 61, of the day her mother mutilated her more than 50 years ago.
"I was just a child. How could I be angry at my mother?"
Shukriyeh's six daughters, the youngest of whom is 26, have all been cut, too. But with so much campaigning against FGM, they have declined to do the same to their girls.
Years ago, Zeinab, 38. allowed female relatives to cut her eldest daughter, then 3.
"I was so scared that I stayed far away and came to wash her after they cut her," she recalled, squirming.
After WADI's sessions, she protected her other two daughters from mutilation.
"At the time I accepted [it], but now I wouldn't. Yes, I regret it. But what can I do now?"
'Women against women'
Rasul told AFP it was hard to combat a form of gender-based violence that women themselves practiced.
"Young men and women agree FGM should stop. But after we leave a village, older women talk to them and tell them: 'Be careful, that NGO wants to spread problems,' " she said.
UNICEF's 2014 survey found 75 percent of women saw their own mothers as the most supportive of cutting.
"I tell these women: This is violence that you're carrying out with your own hands — women against women," said Rasul.
That proximity has also made FGM victims less likely to seek justice.
"The 2011 law isn't being used because girls won't file a complaint against their mothers or fathers," said Parwin Hassan, who heads the Kurdish Regional Government's anti-FGM unit.
Hassan has wanted to work on the issue since she narrowly escaped it: Her mother pulled her away from their midwife after a last-minute change of heart.
"I've been working on women's issues since 1991, but this is the most painful for me. That's why I promised to eradicate it completely," she told AFP.
She said Kurdish authorities would unveil a strategy next year to strengthen the 2011 law and carry out more awareness campaigns.
And for its part, the U.N. expects it can better fight FGM in 2019, partly because of the reduced threat posed by the Islamic State group.
After IS emerged in 2014, U.N. agencies scrambled to deal with displaced families and combat operations, said UNICEF gender-based violence specialist Ivana Chapcakova.
"Now that the acute emergency is over, we can regroup to have that final push towards making FGM a thing of the past everywhere in Iraq," she told AFP.
https://www.voanews.com/a/women-strive-to-end-genital-mutilation-in-kurdish-iraq/4726195.html
--------
Triple Talaq Row: BJP to Appoint 100 Women 'Teen Talaq Pramukhs' In January
Jan 02, 2019
The BJP party's minority wing in UP is all set to appoint 100 women as Teen Talaq Pramukhs in the state this month as the Triple Talaq Bill shall be taken up for debate in the parliament tomorrow.
The party's minority wing has announced of appointing women pramuks for each of its organizational districts in the month of November to ensure the rehabilitation of the victims and their children.
According to Haider Abbas Chand, the state president of the BJP's minority wing, the party is still considering the names it has received and said that the appointments will come through only in January, ET reports.
"We have been receiving recommendations and our committee is looking into them," he said.
A statewide survey of victims of the practice will be taken up after which appointments will be carried out.
The modalities for the process were being drawn up and an announcement would be made next month, he said.
As far as numbers go around 248 cases have been reported so far after the Supreme Court banned Triple Talaq said Union Law Minister Ravi Shankar in Lok Sabha this month.
However, the minister added a detailed data of such cases is not available but according to data in UP the state alone had the highest number of such cases.
The Centre introduced the Triple Talaq bill in parliament on December 17 and it is expected to replace the ordinance of September.
https://www.siasat.com/news/triple-talaq-row-bjp-appoint-100-women-teen-talaq-pramukhs-january-1452189/
--------
Massive Protests across Iran with Significant Participation of Women
Jan 2, 2019
The country's retirees held a massive protest across from the mullahs' parliament in Tehran on Tuesday, January 2, 2019, demanding restitution of their rights. A considerable number of women participated in this massive protest.
Security forces arrested two protesting retirees in order to control the scene but were confronted by the protesters shouting at them, "Let them go, let them go." The protesters rushed to the help of the two men who were being arrested and unanimously chanted slogans.
The retirees participating in the massive protest chanted against injustice and discrimination, called for unity of all social strata.
On the same day, another group of retirees held a massive protest in Mashhad against the authorities who have not responded to their demands.
On Wednesday, January 2, 2019, a group of defrauded clients of Shideh Company held a rally to protest swindling of their properties. The company, affiliated with the Aviation Organization, had sponsored a 1100-unit project and another 4000-unit project but has not delivered the housing units to their buyers after 10 years.
On the same day, a group of workers and employees of the Khomeini Hospital in Karaj held a massive protest in protest of their wage payment delays. They have held similar protests for consecutive times. Qassem Taheri, Vice Chairman of the Islamic Labor Council at the hospital, said, "We have not received between 7 and 8 months of our wage demands. In today's gathering, apart from trying to bring our demands to the attention of the authorities, we want to show our solidarity with the workers of Ahvaz steel, Haft Tappeh Sugarcane, HEPCO, and Agh Darreh. (The state-run ILNA news agency – January 2, 2019)
On Wednesday, January 2, 2019, the families of the arrested workers of the National Steel Group of Ahvaz staged a protest and demanded the release of their loved ones.
At the same time, the families of the farmers in Isfahan joined the massive protest of the hardworking farmers of Varzaneh in a protest gathering on Wednesday, January 2, 2019.
massive protestOn Tuesday, January 1, 2019, a group of defrauded clients of the Caspian Credit Institute in Rasht, mainly consisted of brave women, held a protest gathering and called on the authorities to meet their demands. They chanted slogans against Rouhani's deceptive government and chanted, "The motto of every Iranian is death to Rouhani."
https://women.ncr-iran.org/2019/01/02/massive-protest-across-iran/
--------
Women-Led Businesses in Turkey Flourish With State-Sponsored Loans, Incentives
Jan 03, 2019
Government loans and incentives for female entrepreneurs help boost the participation of women in the male-dominated workforce in Turkey, where women still lag behind in employment.
In recent years, the government rolled out a series of incentives for working women, from longer maternity leaves to financial support for daycare needs, as well as payments to grandparents caring for their grandchildren with working parents.As for female entrepreneurs, the government already provides up to TL 50,000 ($9,320) in loans and plans to extend them to more women willing to set up their own businesses.
Zehra Demir, a young woman from Şanlıurfa, a southeastern province where a rural poor population usually head west as seasonal workers in agriculture, is among the women who benefited from the loans. For six months every year, I've been working as a seasonal worker in a canvas tent without water and electricity. I thought I was destined to spend the rest of my life like this. But all is changed, and now I live a life beyond my wildest dreams," said Demir, who applied for an interest-free loan after she heard from her relatives. Demir and her husband bought one-and-a-half acres of land and started growing peppers, tomatoes and cucumbers. She later joined forces with her relatives to expand the land and the business. "I am proud to earn money for my family. I have no trouble running the business. I advise all women to be brave and take a risk," she said.
Hundreds of kilometers away from Demir's humble field, Nurcan Bayram enjoys the tranquil weather of the Black Sea highlands interrupted by the clanging sounds of forks, spoons and plates in her restaurant. A small wooden building in the tradition of houses built by highland people of the region, Bayram's restaurant on the Kayabaşı plateau in Trabzon province benefited from a TL 142,000 loan from the state-run Agricultural and Rural Development Support Institution (TKDK). She added more from her own pocket, and Bayram is now a successful businesswoman employing eight staff from nearby towns. "This is not a place you would leave after finishing your meal. It offers you a place to rest throughout the day," Bayram said. Her investment paid off in a short time, and the restaurant nowadays hosts both Turkish patrons and tourists from Saudi Arabia, Kuwait, Qatar and Iran seeking to sample famous Black Sea cuisine.
Elsewhere in the region, Emine Tuğ, a native of Samsun, benefits from a loan she received two years ago to build a mushroom plant. I knew it was a profitable business but I had reservations because I didn't even know how to plant a flower," she said.
She failed when she first started out. She was forced to dump 5 tons of mushrooms when she couldn't find buyers, but Tuğ did not give up. Her resolve to stay in business paid off, and now she exports mushrooms abroad in her two plants where 60 tons of mushrooms are grown yearly.Zehra Sema Demir, who lives in the capital Ankara, differs from other entrepreneurs with her background. An academic with regard to Turkish folklore, Demir decided to better promote and preserve it. She set up shop in Beypazarı, a historic town near the capital that largely preserved its rural traditions and beautifully ornate houses, which was the perfect location. Two years ago, with the help of state loans, she launched the Living Village, a museum with a small hotel and eatery where guests are given insight into daily life in the countryside in the past. She employs 30 staff, including her former students and locals, and along with tending and curating the museum, she is involved in producing crops in a field near the museum. "We do everything here to help people experience what it meant to live in Anatolia. This is a museum where old Turkish rituals such as Hıdrellez are being performed for our guests, where children can hear the ancient Turkish tales," she said.
https://www.dailysabah.com/economy/2019/01/03/women-led-businesses-in-turkey-flourish-with-state-sponsored-loans-incentives
--------
URL: https://www.newageislam.com/islam-women-feminism/asra-becomes-pakistans-fastest-runner/d/117353
New Age Islam, Islam Online, Islamic Website, African Muslim News, Arab World News, South Asia News, Indian Muslim News, World Muslim News, Women in Islam, Islamic Feminism, Arab Women, Women In Arab, Islamophobia in America, Muslim Women in West, Islam Women and Feminism