New Age Islam News Bureau
11 Jul 2015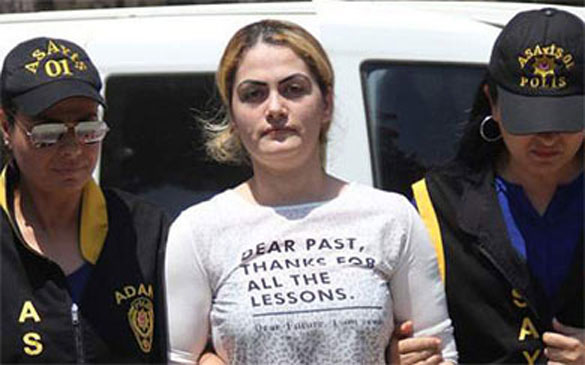 Cilem Karabulut admitted killing her husband Hasan Karabulut after he repeatedly beat her and tried to force her into prostitution Photo: www.olay.com.tr
-----------
• Dearborn Heights Police to Allow Muslim Women to Wear Hijab after Arrests
• Najib's Wife Rosmah Target of Online Allegations
• Turkish Woman Detained Over 'Honour' Killing of Husband
• Boko Haram Resumes #Bringbackourgirls Talks, Govt Not Involved
• Nicola Sturgeon Wants More Young Muslim Women in Politics
• Report Exposes Rampant Sexual Violence of Syrian And Iraqi Women in Refugee Camps
• Women in Rural Pakistan Champion the Cause of Population Planning
Compiled by New Age Islam News Bureau
URL: https://newageislam.com/islam-women-feminism/aseefa-bhutto-asks-sindh-govt/d/103864
----------
Aseefa Bhutto Asks Sindh Govt To Ensure Every Child Gets Polio Booster
HASAN MANSOOR
11th July 2015
KARACHI: After the detection of a new polio case in Quetta, Aseefa Bhutto-Zardari, an ambassador for polio in Sindh who champions Pakistan's fight against polio, on Friday asked provincial health department officials and representatives of various local and international organisations to increase their efforts for polio eradication in Sindh.
"(I) held a high level briefing on #polio today with repres of @UNICEF @WHO @gatesfoundation & health sect Sindh with strong focus on missed children," tweeted Ms Bhutto-Zardari after chairing a meeting held at Bilawal House to review progress on Sindh government plans to curb the crippling disease.
The first child to be administered with polio drops after her mother, slain prime minister Benazir Bhutto had introduced countrywide polio campaigns in 1994, she in another tweet stated: "I call on all political leaders to re double their efforts for upcoming low season #polio campaigns."
A spokesperson of the ruling Pakistan Peoples Party quoted her as saying that workers and female volunteers played a key role in polio campaigns. She appreciated their role in their local communities for polio eradication.
She asked the Sindh government to reach out to each and every child and administer them with polio drops.
The meeting was earlier briefed that a total of 30 cases of polio were reported from across Sindh last year, which included 23 in Karachi alone, while the remaining cases were reported from other districts of the province. Since October 2014, however, no case of the polio virus had been reported from Karachi, while four cases were reported from other parts of Sindh, the meeting was informed.
The officials said there were 1,607,260 children under the age of five years were to be focused in polio campaigns in various parts of the province.
Officials in the meeting quoted Ms Bhutto-Zardari as saying that it was a dream of her mother to root out polio from Pakistan and it was she who started the anti-polio drive as a national campaign.
The Sindh health secretary, provincial coordinator for polio Shehnaz Wazir Ali and representatives of Melinda and Bill Gates Foundation, World Health Organization and Unicef attended the meeting.
Published in Dawn, July 11th, 2015
http://www.dawn.com/news/1193660/aseefa-asks-sindh-govt-to-ensure-every-child-gets-polio-booster
----------
Dearborn Heights Police to allow Muslim women to wear hijab after arrests
July 10, 2015
Under pressure from a lawsuit, the City of Dearborn Heights has agreed to change its booking procedures to allow Muslim women who wear Islamic head scarves to keep them on during photos and to be searched by female officers without men present.
Also under the agreement, reached Wednesday, Muslim women who are jailed will now have the right to wear a hood made of Tyvek, a synthetic fiber that is tear resistant, preventing women from using it to hang themselves.
The detailed new policy reflects the changing demographics of Dearborn Heights, where 22% of the residents are of Arab descent, many of them Muslim. In cities across Michigan, woman are fighting for the right to keep on their headscarves, known as hijabs, the Free Press reported last week.
In Dearborn, which has an even larger Arab-American Muslim population, the police still don't have any updated policies to deal with hijab, prompting a lawsuit last Tuesday.
Malak Kazan, 27, of Dearborn Heights sued Dearborn Heights Police in January for ordering her to remove her headscarf after she was arrested last July for driving on a suspended license. Kazan said she asked to have a female officer search her and take her photo but was refused. His supervisor also refused the request, she said.
Kazan and other observant Muslim women who wear hijab believe that they should not show their hair and must dress modestly in front of men who are not members of their family.
Initially, Dearborn Heights fought the claims, saying that Kazan "is a scofflaw and an individual who habitually drives on a suspended license," in their legal response. The city said it doesn't always have a female officer available and that women arrested "may be hiding contraband in the hijab, such as a razor blade, or an illegal substance."
But the city agreed to the policy change, which was approved by Police Chief Lee Gavin. The new policy applies to women who wear hijabs, which covers the head but not the face, as well as burkas, which cover all or most of the face.
If a Muslim woman with a covering is arrested, "attempts will be made to reach a female officer immediately to stand present while the arrestee/prisoner removes her religious headscarf," the new policy reads. The female officer will search the woman and her clothing to check for any hidden dangerous or illegal items such as razor blades and drugs.
Dearborn Heights has only three female police officers. So if one isn't available, they will rely on a female employee, most likely a dispatch officer, says the policy.
The Muslim women will be processed away from the presence of other men. The booking photos can be taken with the hijab on.
But if the Muslim woman has an identifying mark like a scar or tattoo, an additional photo will be taken of that unique mark. Any photos of the marks will not be available to the public through the Freedom of Information Act.
A similar policy will be in place for women with burkas. But there will be two sets of photographs in those cases: photos with the burka on and photos without them. In the photos without the burkas, the women have to remove the part of the burka that covers the face area.
Michigan's Secretary of State allows driver's licenses with hijab, but not full burkas or niqabs.
A joint statement from Kazan, Kazan's attorneys, Cyril Hill and Amir Makled, and the City of Dearborn Heights praised Dearborn Heights Mayor Daniel Paletko for ensuring all residents have "their civil and constitutional rights protected."
Gavin did not return calls on Friday. Kazan could not be reached.
In her lawsuit, Kazan stressed the importance of her hijab for her faith: "Wearing a head scarf is a reminder of her faith, the importance of modesty in her religion ... as well as a symbol of her own control over who may see the more intimate parts of her body."
Contact Niraj Warikoo: nwarikoo@freepress.com or 313-223-4792. Follow him on Twitter @nwarikoo
http://www.freep.com/story/news/local/michigan/wayne/2015/07/10/dearborn-heights-hijab-settlement/29995839/
----------
Najib's wife Rosmah target of online allegations
The Straits Times/ANN, Kuala Lumpur
July 10 2015
- See more at: http://www.thejakartapost.com/news/2015/07/10/najibs-wife-rosmah-target-online-allegations.html#sthash.fjAZJluy.dpuf
Fresh allegations emerged yesterday about multimillion-ringgit deposits in a bank purportedly in favour of Prime Minister Najib Razak's wife Rosmah Mansor, even as the Malaysian leader dismissed the "nonsense on social media".
He vowed to ensure that the truth emerges at the end.
The Sarawak Report news site, claiming documents from an investigation into the financial affairs of state investor 1Malaysia Development Berhad (1MDB), alleged that a man had made cash deposits into the account of Datin Seri Rosmah at a Malaysian bank totalling 2 million ringgit (US$527,000) between February and April this year.
The site, set up by British journalist Clare Rewcastle-Brown in 2010, last Friday reported, like the Wall Street Journal, similar allegations of US$700 million deposits in the bank accounts of Najib in AmBank, the country's fifth biggest bank.
In its latest allegation, Sarawak Report showed pictures of what it said were copies of the transactions. They showed eight alleged deposits being made into the account of Madam Rosmah in Affin Bank, Malaysia's ninth largest lender.
Prime Minister Najib yesterday said he will ensure that the truth about himself and 1MDB will emerge, The Malaysian Insider website quoted him as saying.
"Don't listen to nonsense. There is too much nonsense on social media," Mr Najib said in a speech after a breaking-of-fast function in Kuala Lumpur.
"Don't listen to it all. Not all of it is true. We will ensure that the truth will emerge in the end."
He said: "If (they) say billions of ringgit from 1MDB have disappeared, listen to the Auditor-General's report and find out if it is true or not."
He also said that he would not take what rightfully belonged to the people.
Meanwhile, a WhatsApp message claiming that former Malaysian cop Sirul Azhar Umar will testify that he was ordered by Madam Rosmah to kill a Mongolian translator is a hoax, said his lawyer.
The message claimed that according to Australia's Herald Sun newspaper, Sirul will reveal in an Australian court next week that Madam Rosmah had ordered him to kill Altantuya Shaariibuu for blackmailing Najib.
Said Sirul's lawyer Hasnal Rezua Merican: "I have checked with Sirul and he has absolutely no knowledge of saying any such thing or speaking with any journalist from the Herald Sun", The Star newspaper said yesterday. (hhr)
http://www.thejakartapost.com/news/2015/07/10/najibs-wife-rosmah-target-online-allegations.html
----------
Turkish woman detained over 'honour' killing of husband
July 11, 2015
ISTANBUL - Turkish authorities have detained a 28-year-old woman for murdering her husband out of "honour" after he repeatedly beat her and tried to force her into prostitution, reports said Friday.
Cilem Karabulut admitted in testimony to police killing her husband Hasan Karabulut, 33, in the southern Adana region with a pistol stored at home.
"Why do women always have to be killed? Men can also be killed. I killed for honour," the Hurriyet daily quoted her as saying in her testimony to the police.
The cause has sparked huge media attention in Turkey, in particular because of the defiant demeanour of Cilem Karabulut as she was taken to court on Thursday handcuffed by two female police officers. Giving the thumbs up sign, she wore a T-shirt emblazoned with a slogan in English: "Dear Past, thanks for all the lessons. Dear Future, I am ready." Reports said that the murder took place on Wednesday afternoon and Cilem Karabulut called the police to give herself up.
She said that her husband had repeatedly beaten her in the past and then ordered her to become a prostitute.
The pair had a one-and-a-half year old daughter but were already estranged at the time of the killing.
"I killed my husband because he constantly beat me and feared he would lead me to prostitution, drug crime and that he could kill me," Hurriyet quoted her as saying.
Turkish authorities acknowledge there is a grave problem of violence against women in the country, in particular with women killed by their husbands and close relatives.
Violence by women against their husbands is by contrast far rarer.
According to the non-governmental Platform to Stop Violence Against Women, 286 women were murdered in Turkey in 2014 and 160 so far in 2015.
http://nation.com.pk/international/11-Jul-2015/turkish-woman-detained-over-honour-killing-of-husband
----------
Boko Haram Resumes #Bringbackourgirls Talks, Govt Not Involved
11th July 2015
ABUJA - Fresh negotiations have started with Boko Haram militants for the release of more than 200 schoolgirls kidnapped last year but the Nigerian government is not currently involved in the talks, a human rights activist said on Friday.
Fred Eno, who was involved in negotiations for the release of the Chibok girls last year but not the current talks, said others had resumed contact with the Islamist group independently of the government. He did not say who they were.
"Preliminary contacts were made with the insurgents by those ... involved in the previous negotiations, with a view to reviving the deal we struck last time," Eno said. "They [Boko Haram] have responded in the affirmative and so various channels are being explored."
He did not say when the approach had been made to Boko Haram or give details of the previous deal, but said the government of President Muhammadu Buhari, elected earlier this year on pledges to quash the insurgency, was not involved.
"There are no formal negotiations going on now between the current government and the insurgents for the release of the girls as such," Eno said.
A spokesman for the presidency said it had no knowledge of the talks and was not trying to reach out to Boko Haram although it has previously said it was not averse to negotiation.
Boko Haram gained global notoriety in 2014 after it kidnapped the schoolgirls from the town of Chibok in Borno state, the heartland of its campaign to carve out an Islamic state in Nigeria's northeast.
Sustained lobbying by campaign group Bring Back Our Girls has made the mass abduction a symbol of the devastation wrought by the insurgency, which has seen thousands of other women and children taken.
Efforts to end the violence and to secure the girls' release have repeatedly failed, including a 2014 deal fostered by Chad.
"When we negotiated with the insurgents we made it clear then that the release of the Chibok girls was only the beginning of a process that would lead to a complete end of hostilities," Eno added, referring to last year's agreement.
Buhari, who said at his inauguration in May that victory could not be claimed until the Chibok girls were freed, is building up a base in Chad's capital N'Djamena out of which regional forces can deploy and attack the militants.
He met with the Bring Back Our Girls campaigners this week.
After taking swathes of territory last year, Boko Haram militants were pushed back into their Sambisa forest stronghold by Nigerian and regional forces but have since reverted to guerrilla tactics, hitting towns outside Borno in recent weeks.
http://ewn.co.za/2015/07/10/Talks-with-Boko-Haram-reopened-government-not-involved
----------
Nicola Sturgeon Wants More Young Muslim Women In Politics
Jul. 10, 2015
Scotland's first minister Nicola Sturgeon has urged young Muslim women to get involved in politics and aspire to join the Scottish parliament.
In a interview on Thursday evening with Radio Ramadhan, a Glasgow-based community radio station aimed at the city's Muslim community, Sturgeon discussed ethnic minority representation in parliament, as well as the Scotland bill currently passing through the Westminster parliament.
When asked what she would say to young Muslim women who wear scarves – hijabis – and think they could never become first minister, Sturgeon said: "If you want to do it, follow your dreams."
Sturgeon is leading the first gender-balanced cabinet in the Scottish parliament. She added: "If you want to be first minister, there's no reason why you can't be… To all young Muslim women listening out there, we want you in the Scottish parliament."
Later in the show, Sturgeon was asked about diversity in Holyrood and spoke of the need for more women and people with disabilities in political parties.
"The more representative of the country parliament is then the more it will take decisions that are represenataive of the needs and priorities of the people out there," she said.
In the interview, she was also asked about full fiscal autonomy, as well as whether or not Scots should expect taxes to go up if powers are transferred to the Scottish parliament.
But Sturgeon was more closely guarded on this front. "I'm not going to take taxation decisions tonight," she said, before adding," no matter how tempting it is to announce these things on Radio Ramadan."
http://www.buzzfeed.com/sirajdatoo/aspirational-sturgeon#.ob7y1eNgW
----------
Report Exposes Rampant Sexual Violence of Syrian And Iraqi Women in Refugee Camps
By Hajir Sharifi
11th July 2015
Syrian and Iraqi women refugees who escaped the violence brought by the Islamic State now face another threat in refugee camps. These women may not live in fear of ISIS anymore, but new research shows many are in grave danger from sexual predators.
According to the latest United Nations figures, the Kurdistan region now has over 1.7 million refugees and internally displaced Iraqis, with 43 percent of those being women aged 4 to 60. These refugees are mainly resettled in 13 refugee camps and transit sites.
A yet-to-be published report has found a shocking number of rapes, sexual assaults and other violence against women in these camps.
The new research, conducted by the Norwegian Refugee Council, UN Women, UNHCR, the Warvin Foundation and Salahaddin University in Erbil. Rudaw spoke with the university lecturer and human rights activist Bayan Azizi, who was the research top adviser. Azizi teaches law, politics and human rights at Salahaddin University in Erbil. She is also the head of the women's program at the Jiyan Foundation for Human Rights in Kurdistan.
udaw: Describe the refugee condition in general and that of female refugees in particular in the Kurdistan region of Iraq.
Bayan Azizi: Syrian refugees who due to the regional war and insecurity have moved to Iraq are facing numerous challenges that our research has just revealed some of them. All those problems that have ever existed for any refugee throughout history have now accumulated in the Iraqi Kurdistan, and have emerged as a critical situation for all refugees.
Female refugees in particularly face numerous problems, such as domestic and social violence. Poverty and unemployment, lack of housing or even a proper shelter for them all together have deepened the crisis. There is no proper accommodation available to the families in the area. On top of that, mental problems of the youth, rape and sexual abuse in return for money, formation of human trafficking gangs that transfer girls over 16 to the Arab states of the Persian Gulf and low security for refugees are among the problems that these refugees have to deal with.
Despite the aid provided by the Kurdistan Regional Government and occasional contributions by generous people and civil centres and national and local organizations, due to the large population of the refugees and lack of preparation for accepting refugees, many problems have arisen. These include hygiene problems such as shortages of medical facilities, food and restrooms. In Domiz camp, for example, there is one restroom in the poorest hygiene condition for more than 50 people.
What are the particular challenges for female refugees in the Kurdistan region of Iraq?
Lack of security for women and girls both at home and in society is conspicuous. Women's main problems include sexual aggression, rape, sexual violence and sexual abuse by husbands, male family members, other men, colleagues, neighbours, police, government employees and NGO staff. Also, verbal abuse by husbands, male family members and other men in society.
Our research found that illiteracy or low levels of literacy and education and prohibition of girls from going to school, psychological problems and the feeling of internal weakness, early marriage, forced marriage and circumcision, lack of security—whether at home or outside, lack of familiarity with health services, disinheritance and unawareness about their rights are the most prevalent issues among refugee women in the Kurdistan region.
Human rights activists and aid workers claimed a soaring rate of sexual assaults and violence among the refugees. To what extent are the claims true?
The statistical results and our field studies and observations strongly support the claim. Since the entrance of Syrian refugee women into Iraq, only 18 percent of them have not been subjected to verbal aggression and disrespect. In the meantime, 82 percent of refugee women have been subjected to a degree of aggression or abuse, while considering the culture, language and religion (Kurdish and Islam) shared between refugee women and the host community, this percentage was expected to be much lower, but in fact it is high.
Refugees have been identified as a high-risk community. Among them, women and children are the most vulnerable. In addition to all of these problems the refugee community in general is exposed to, women face aggression and violence from both sides. First from their family and men in their family, and second, from the host community; a community which due to its numerous internal problems is dealing with special political and cultural issues. Yet in spite of all these issues, Iraqi Kurdistan's men lack of respect for Syrian women has been mentioned as one of the main reasons for insecurity in the refugee community. Men in the host community refer to Syrian women as beggars, prostitutes, etc. They are enduring high level of verbal and physical violence every day.
Why this is happening?
One main reason that increases violence against women in society is the lack of specific punishment for aggressors, and the fact that the refugee community is not accepted by the host community mounts to further suffering.
Government employees, international and national NGO staffs in those camps are supposed to help refugees and victims of violence, but our report found that instead of solving problem and relieving the psychological pressure on women 35 percent of government employees and 24 percent of international and national NGO staffs added more problems on top of other difficulties for female refugees.
Statistically, on average 63 percent of women and girls have been subjected to verbal abuse at least once, which is a high and alarming rate for a rather small statistical population.
We found that since the entrance of refugees into Iraqi Kurdistan, violence has dramatically increased and only a small percentage of women have not experienced verbal violence or other forms of violence, which due to limitations for speaking out about such issues, even this small percentage could be ignored.
Psychological factors, poverty, shortage of welfare facilities and consultation centers, lack of laws to punish assailants have led to the poor security condition of women which lays the foundation to many other social problems in future.
Where women and girls are most exposed to danger? Who are the assailants?
The locations of assaults vary, but we found that women at home, on the street and public places, public offices, at NGOs, at workplaces, at schools and in taxis are exposed to danger and sexual harassment. According to the obtained results, the highest percentages are respectively that of taxis with 34.9 percent, streets and public places with 32.4 percent, workplace with 16.5 percent, homes with 6.9 percent, other places with 4.2 percent, schools with 2.3 percent, public offices with 1.7 percent, NGOs with 0.6 percent and 0.5 percent did not answer the question.
Given the culture of victim-blaming and a stigma that in general dominates rape and sexual assault, how have the refugee community and families reacted to the issue?
Sexual issues are interwoven with family honour, if issues disclosed by a woman to her family; she will face intense and lethal punishment. For example, in honour killings—which are committed to preserve family honour—women are primarily considered guilty.
Among the refugees, 86 percent of the population has witnessed an honour killing at least once. Out of this, 86 percent 50 percent have observed more than three honour killings, which as a social issue is a shocking statistic.
There are two types of family reactions to sexual assaults and rape depending on the kind of sexual violence committed against the women: An assault that resulted in the loss a girl's virginity or a rape that is committed against married women.
The loss of a girl's virginity is equivalent to their family honor in a patriarchal society. According to our research findings, 91.7 percent of refugees who participated in the survey described the loss of virginity prior to marriage as "unacceptable." When we asked, 'Do you know or have you heard of a woman or girl being killed in order to preserve the family honour?' more than 87 percent said "Yes, we have information about that fact.' In such a situation, disclosing the rape or sexual assault to the family equals the death or killing of the victim by her family.
According to the results, 97 percent of married women never report the rape crime to their family members. It's slang in the traditional community: "the victim is the culprit and guilty."
This opinion is firmly embedded in the society and families, even women themselves believed it. So they are left with no other option other than silence, and remaining silent has become their only mechanism to cope with rape and sexual assaults.
Revealing the issue of rape without punishment for the aggressors results in just shame for women in the paternal community in general, and refugee camps in particular.
Our research found that most of the women, 81 percent, don't believe in the justice system for punishing the sinful men or protecting female victims.
Is there any shelter or health centre that could treat the victims? In case of pregnancy and possible health issues where a victim has to be treated? Or is there any legal support available to them.
There is no shelter that could take care of and host the victims in the refugee camps. According to the obtained social and health results about women's centres in their residence in Iraqi Kurdistan, 57.6 percent of women answered: "There is no centre for pregnancy and possible health or social services."
When we asked, "Are there legal assistance centres in your residence in Iraqi Kurdistan?" more than 64 percent of women reported there is no legal support centre or they never hear about the existence of legal services. A significant number of victims who went to the women's centres complain that staffs who provide services have behaved badly with them. It's clear that awareness of services related to sexual issues or access to the women's services are very weak.
Are KRG authorities aware of the issue? If yes, what measures that they have taken?
There are lots of police officers or security guards in all of the camps belonging to the KRG. They are responsible for maintaining security in those camps. There are also numerous political organizations and parties. It would be so naive to think that they are not aware of the issue.
During the research process, we held many meetings, interviews, discussion and closed sessions with different officials with the KRG regarding refugee issues. Interestingly, most of them were aware of the tragic situation of refugees. We described facts about refugee life by statistics and in detail to them, but they already had enough information about everything.
The tragic situation of women is ignored, any stories that reveal the issue are not allowed to be disseminated, or simply framed as a rudimentary and insignificant topic.
We all know that the KRG is wrestling with countless problems. The Syrian refugee issue is just one of those serious predicaments, especially since the menace of ISIS.
However, I believe that they have abandoned the issue.
What can be done to help victim women in refugee camps? What can the international community and human rights organizations do?
The rape victims in the first place are war victims. War and displacement destroy the lifestyle and personal and social situation of women in the family and society. Thus, the first step would be to find a long-term solution that puts an end to this devastating war in the region. Sexual violence in the host society is one of the consequences of this ruthless war.
The rights of refugee women were mentioned in many International Conventions and other international Protocol and other international law-related treaties. The KRG as a part of Iraq is signatory to all of these international legal documents, so it is responsible for protecting women and children in the war and displacement. In these treaties ways in which victims could be supported are articulated in full detail.
The international NGOs can use their power, facilities, budget and their legal status to cover victim women and protect them in Kurdistan or elsewhere. The refugee women in Kurdistan region need to receive much more international and local health, social, legal and family centers with professional staff.
Each form of violence apart from its short-term effects inflicts extreme mental and psychological damage on the victims. The violence victims live in a long state of trauma. Therefore, they need long term psychological rehabilitation, clinical services, greater number and more accessible health centers.
Refugee camps in Kurdistan region need more police officers with professional staffs, especially female employees and aid workers that with their presence avert the crime against female refugees. Furthermore, victims of violence need a legal centers and free lawyers to punish those who commit crime against them. A legal avenue available to them would be significant move in fighting crimes committed against refugee women.
The existing support services are absolutely not enough for them. The international community and human rights organizations are responsible for the unfolding humanitarian crisis; they should get involved more actively and effectively.
http://rudaw.net/english/kurdistan/10072015
----------
Women in rural Pakistan champion the cause of population planning
By Farahnaz Zahidi
July 11, 201
KARACHI: Her father earns a meager Rs4000 a month as a gate keeper in the village school. Yet, this 18-year-old girl, whose biggest dream in life is to have her own computer, choses to do social work free of charge. "Anything that will help my people," she says. She visits every home in the tiny village of Allan Chandio in district Shaheed Benazirabad, Sindh, convincing them to practice family planning (FP) and allowing their daughters to study so that they can make informed decisions about their lives.
"I even visit my uncles," says Benazir Chandio with a broad smile. She does this in a culture where issues like contraception are brushed under the carpet. "They say you are too young to be teaching us. I reply that if God has given me more awareness than you, then I have every reason to teach you."
Benazir, who has been given a well-deserved place in Shirkatgah's "Building Momentum – Strengthening Champions" initiative, convinced two families to delay the weddings of their very young daughters. "Postponing those weddings for two years gave those girls some time to get ready for marriage and motherhood," she says, and shares with pride that one of those girls recently gave birth to a baby girl at the right time. For women in her village, having anywhere between eight to 12 children is a norm. But she feels that with counseling, villagers are getting convinced to plan their families.
Standing at number six among the world's most populous nations, Pakistan needs more such girls. In absence of satisfactory performance from the government, the onus to cause a change has fallen on the civil society.
Read: Addressing the baby boom: Women's reproductive health an urgent issue
Experts like Country Director Population Council Zeba Sathar express dissatisfaction over Pakistan's success in FP. "Pakistan's performance in lowering its fertility is indeed dismal; while we had some success in the 90s, the last 15 years have been a virtual standstill," says Sathar. According to the Pakistan Economic Survey 2014-15, Pakistan's estimated population is over 191.71 million. While there seems a definite decline in Pakistan's population growth rate (1.49 per cent in 2014, according to CIA's World Fact Book), there is much to be done.
At the 2012 London Summit on Family Planning, Pakistan had committed to increase the contraceptive prevalence rate to 55 per cent by 2020. Five years short of 2020, the world looks on to see if the commitment will be honoured. "Pakistan's pledge at the London Summit is an opportunity, perhaps the last, to actually ratchet up efforts, drum up the political will and redesign the programs to accelerate family planning in Pakistan," says Sathar.
Dr Azra Ahsan, technical consultant to the National committee for Maternal and Neonatal Health (NCMNH), says that health care providers need to be convinced first. "When they are not on board, how can we convince patients? What our medical students are taught is not relevant to ground realities. We know more about endoscopic and robotic surgeries, but our medical graduates don't know about maternal health or public health policies."
Ahsan adds that every health care provider should be trained to guide patients in FP. "Why is it just the gynecologist's job? Between being referred from one specialist to another, patients slip away," says Ahsan, and suggests that The World Health Organization's (WHO) medical eligibility criteria (MEC) wheel should be on every doctor's table. "It is such a simple guide advising which contraceptive is advisable for whom."
Dr Farid Midhet, demographer and Country director Jhpiego, feels that one factor could be the general instability on many fronts in the country. "We are struggling with the same issues since the last two decades." One thing that could work, according to Midhet, is integrating population planning into the public health system.
Talking about unmet needs of contraceptives, he says that the use of traditional methods of contraception have gone up by ten per cent, citing the latest PDHS results. However, traditional methods in his opinion are not reliable enough.
"A Population Council Pakistan research on Barriers to Contraceptive Use, 2013, shows that contrary to popular belief, neither religion nor male dominance are the main reasons for unmet need. Supply is the main factor here," he says, adding that if supply is steady and is accompanied by counseling, use of contraceptives in Pakistan can go up by 50 per cent safely.
Sharing research showing the gap between what women want and the four million unwanted and mistimed pregnancies that are happening annually, Sathar says, "Two million of these end up in abortions, which could be avoided by better family planning programs."
The aforementioned Population Council study confirms what most experts say – that Punjab is way ahead other provinces in terms of reaching developmental goals, including FP. "Punjab is the only province that may abide by its commitments in this regard. It is initiating the post-partum contraception program, which will be putting to use new technology," says Midhet, adding that in comparison, Sindh faces more serious issues like lack of implementation of policies, corruption and shoddy governance.
Read: One death too many: One death in childbirth every 37 minutes
"The provinces are ready to play their role and have set ambitious goals for 2020," says Sathar, expressing hope that the provincial governments now realize that they must set family planning as a priority. "While there are improvements in the budget lines for contraceptives (previously supplied by donors), funds and priority still lag behind."
Conflict and insecurity has affected more than just health initiatives, with mental illnesses on the rise in Pakistan, especially in women, says Dr Rukhsana Ansari from Indus Hospital, Karachi. "It has a close link with inflation and poverty. Too many children exacerbate women's problems," she says, adding that mothers from underprivileged backgrounds suffer from nutritional deficiencies, muscular and skeletal diseases and sleep deprivation. In turn, the children they give birth to are also malnourished.
Mothers feel frustrated when they cannot go back to work because of their small children dependent on them, in situations where earning could alleviate their miseries. "If at all women chose to use contraception, the decision is not theirs. It is either the husband or the mother-in-law who decides."
If the Lady Health Worker (LHW) program is re-focused on FP, it could yield results. Mehnaz is one such promising LHW. She has succeeded in convincing most households in the village of Kahazana Dheri, District Mardan, in Khyber-Pakhtunkhwa, to use contraceptives. "I can safely say that now at least half of the couples in our village are using contraception," says the 36-years-old woman, another one of the Shirkatgah Champions. Yet, the obstacles are many. "Our area was devastated by the 2010 floods. Additionally, incidences of terrorism affect everything – when roads and bridges are blown off in bomb attacks, how will contraceptives reach small health facilities? People lose jobs in conflict areas. For an unemployed man, feeding his family becomes priority instead of buying contraceptives."
http://tribune.com.pk/story/918815/women-in-rural-pakistan-champion-the-cause-of-population-planning/
----------
URL: https://newageislam.com/islam-women-feminism/aseefa-bhutto-asks-sindh-govt/d/103864